Nusa Dua Beach
Entrance Fee: Rp5.000 - Rp10.000
Opening Hours: Open 24 Hours
Telp. Number: -
Address: Kawasan Pariwisata ITDC Jl. Raya Nusa Dua Selatan, Benoa, Kuta Selatan, Badung, Bali , Indonesia, 80363.
Nusa Dua situates in the southeastern peninsula of Bali. Nusa Dua translates to two islands that connect to the mainland by white sand. Dubbed as the cleanest beach in Bali, Nusa Dua is a dazzling gem in an elite area enclosed with 5-star hotels and resorts. Facing the east favors Nusa Dua Beach as a perfect spot for sunrise.
Bali Tourism Development Corporation (BTDC) developed Nusa Dua as an elite area. The complete facilities and natural beauty support many international-level events. The next one is the prestigious G20 Summit in November 2022. The area is the first in Asia-Pacific that received a "Green Globe". It is a certificate awarded by the Green Globe Certification for eco-friendly destinations.
Nusa Dua Beach offers a brilliant, white sandy beach with well-organized parks surrounded by international-level facilities. Not only is home to a line of magical beaches, but also is home to art performance shows, international-level museums, and water blow attractions.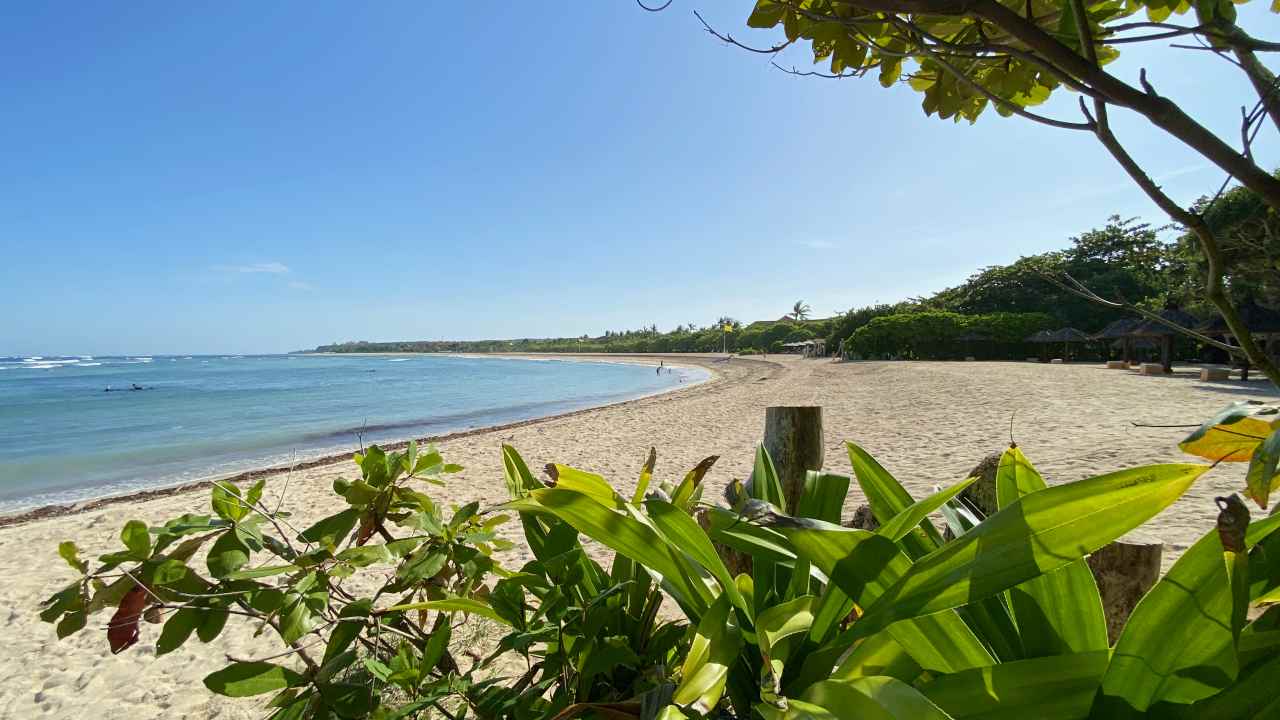 Nusa Dua Beach Entrance Fee
To explore the beach, tourists will not be charged an entrance fee. However other attractions within the Nusa Dua beach area such as the museum, Devdan show, and the water Blow charge an entrance fee.
See: Guide To Jimbaran Fish Market, Restaurant & Seafood Feast.
Nusa Dua Beach Opening Hours
The beach is open 24 hours. Travelers surely can't miss the sunrise in Nusa Dua Beach. So, be at the beach at 06:20 AM. Leave the beach before midday when the sun is at its' peak. To visit other spots, the best time to enjoy Water Blow is before 9 AM or after 4 PM. And, July or August is the high tide season that is the best to see the water surge.
Nusa Dua Beach Opening Hours
Every day except Nyepi
Open 24 Hours
See: Melasti Beach, Top Things To Do & Kecak Dance Show.
Top Attractions Within ITDC Area
Nusa Dua Beach is prominent for its' long, slope coastline and calm waves. It is safe to do beach activities like swimming, and playing sand or water. Parents can have a relaxing sunbath while watching children. Moreover, resorts offer sun beds that guests may use after a minimum sum spent on the bars.
There is also a track for joggers and cyclists, and the booth rents bikes and gear for water activities that start from Rp25.000. Enjoying arts is a great way to cool down after outdoor activities at the beach. Only 1 km to the south situates Museum Pasifika.
The museum houses the masterpieces of Indonesian maestros such as Affandi, Raden Saleh, Hendra to Kobat, and foreign ones like Jean Lee Mayeur, and Walter Spies. With Rp100.000 entrance fee, it opens from 10 AM to 5 PM. Pay attention to applicable policies regarding large bags and taking photos and videos during museum visits.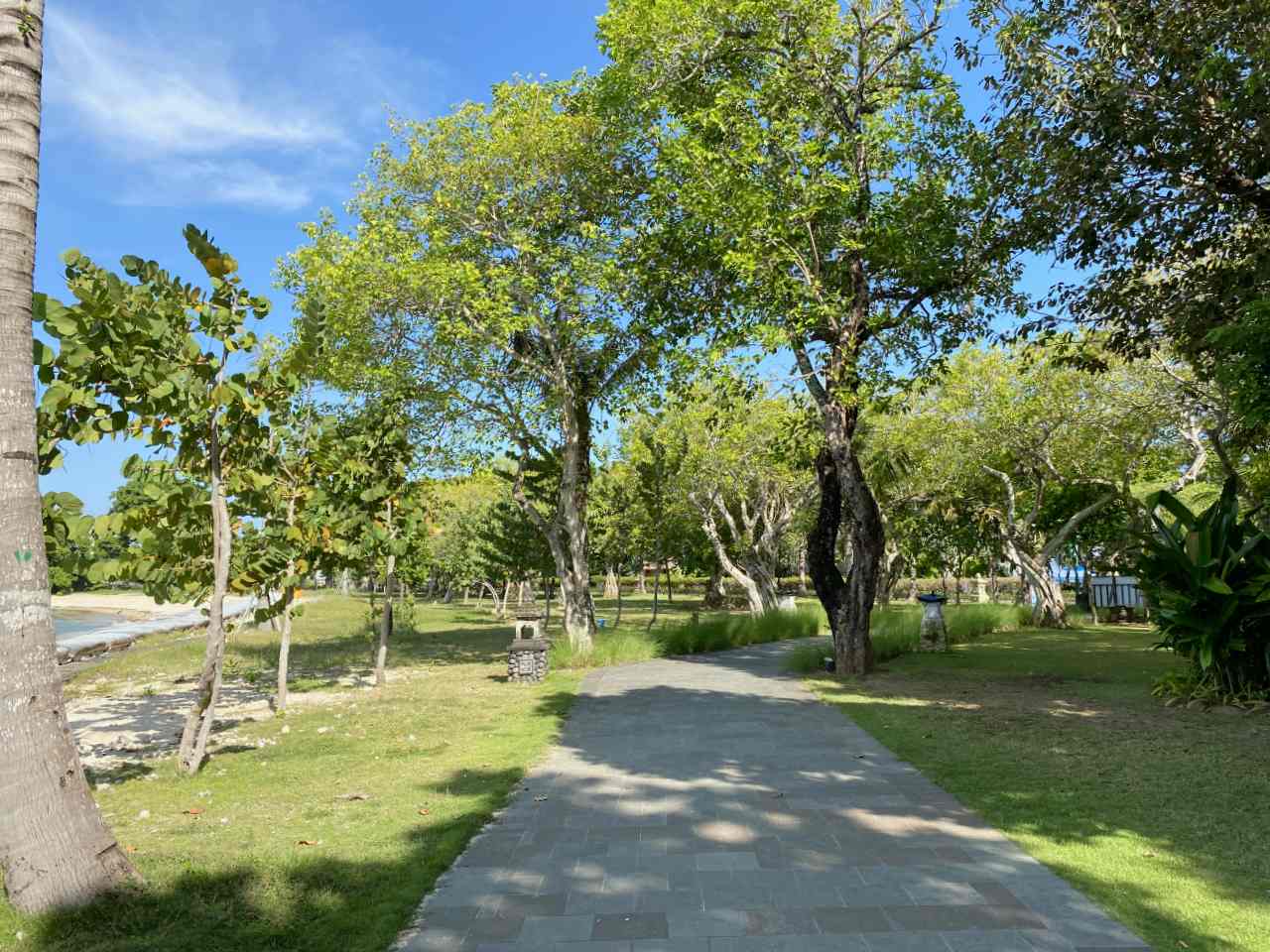 Then, there is a show in Nusa Dua Theater, only 400 meters away from the museum. It features a combination of traditional culture with a modern, contemporary dance called Devdan. Stands for Deva Dhana which means God's Grace. This show is a story of 2 teenagers separating themselves from the tour group.
Deciding to climb a cliff, the two find a chest filled with the treasures of Balinese, Sumatran, Javanese, Kalimantan, and Papuan cultures. The show plays for 90 minutes on Monday, Wednesday, Friday, and Saturday from 07:30 to 09:00 PM. The ticket costs Rp127.000, available online and ready to book 3 months in advance.
Watersports
Watersports is another best way to spend vacation from up above to down underwater. Go a little to the north; it is a 14-minute ride to Tanjung Benoa. Starting from less than Rp100.000, tourists may have fun on Banana Boat, Jet Ski, or donut boat to enjoy the surface.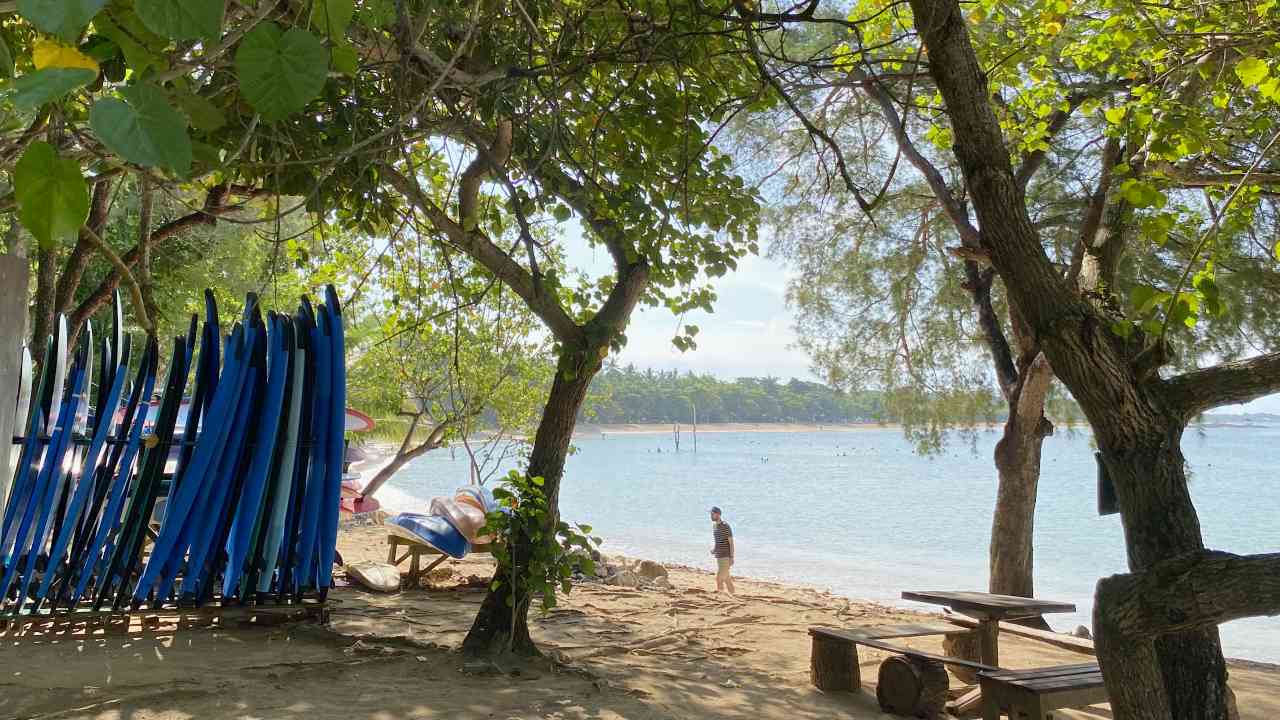 If it sounds ordinary, feel the thrill of riding flyboard or jetovator and enjoy the view from a different perspective up above. Or, have a bird-eye view of the area on parasailing. Sea walker is a must try to feel a different way of enjoying the underwater view. A helm-like gear allows breathing underwater. The fare starts from less than Rp100.000 for 15 minutes.
However, the photographer and videographer services of the activities may add another Rp450.000 to the bill. And don't worry, the sea walker activities are guided by an instructor.
Pura Geger Temple
One of the icons that mark Balinese cultural tourism is the temple. Geger Temple overlooks the namesake beach at the cliff edge. It situates 5 km to the south of Nusa Dua Beach. On the bay, tourists may enjoy the temple's impeccable look to complement landscape photographs.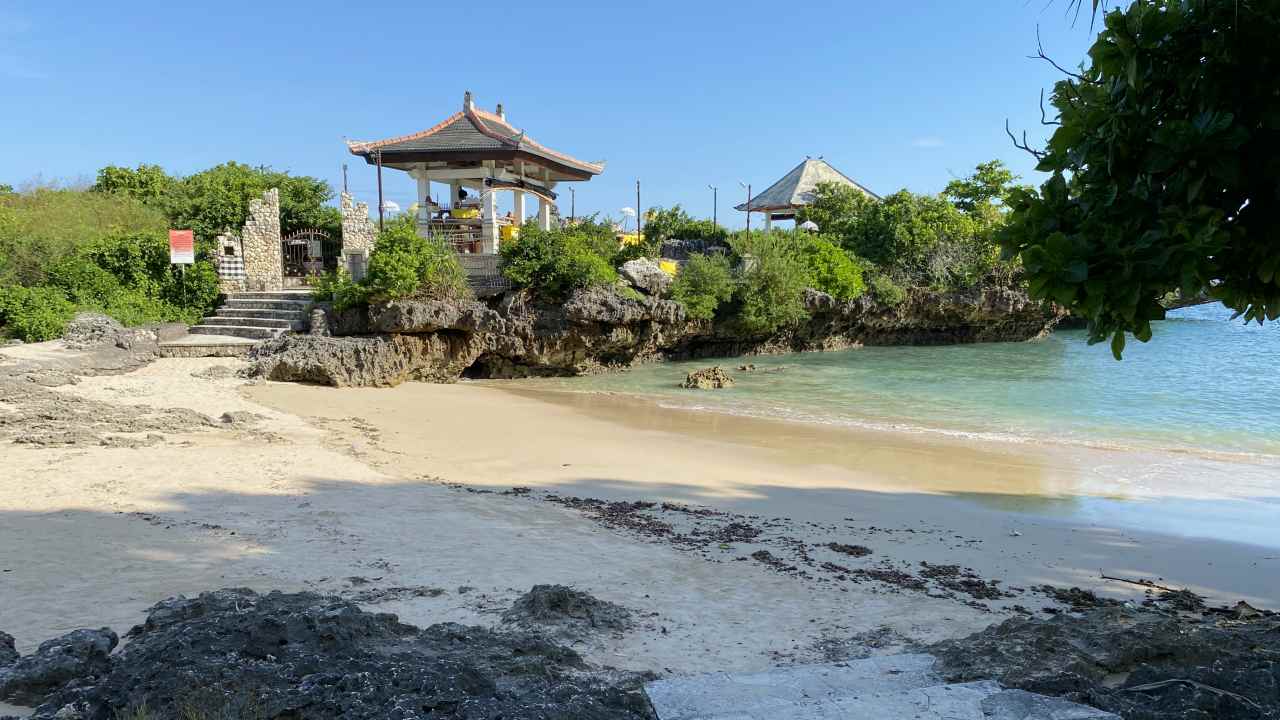 The temple opens only for ceremonies when the priest and pilgrims gather here. Geger Temple becomes the center to celebrate Purnama Kanem or the sixth full moon in the Balinese calendar. However, tourists may participate in Melukat ceremony here through activities some hotels offer.
First, the instructor will guide the guests in some yoga poses and continues with chakra and aura meditation to exercise focus. Both processes last for 45 min to 1 hour. Then, the final one Melukat, is at one of the shrines in Geger Temple. A priest will splash holy water and bless participants as part of the Melukat ritual. The whole process of the ritual charges Rp1.000.000.
Waterblow
For a more thrilling attraction, still within walking distance from Nusa Dua Beach situates a water blow spot. Water Blow is totally in the opposite direction of Nusa Dua Beach. The entrance fee here is Rp25.000 for adults to witness a surge of water that can reach up to 30 meters high, striking its' stony coastline.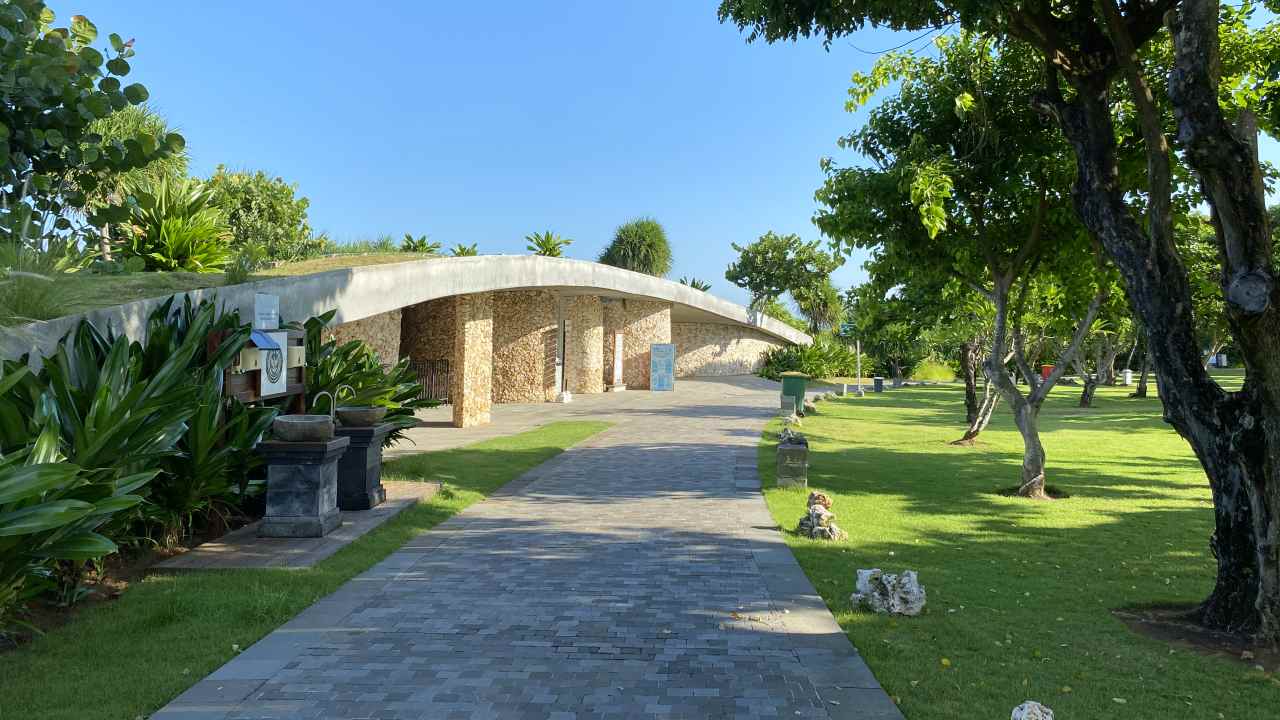 Water Blow is a dangerous area marked by strong currents, slippery rocks, and sharp coral. There is an observation deck from which tourists may enjoy the sweeping views of the Water Blow site. Nonetheless, there is no lifeguard around. And, be sure to protect camera gear from unpredictable splashes and sprays.
See: Guide To Explore Sanur Night Market & Street Food.
Facilities
ITDC Nusa Dua provides supporting facilities such as a vast parking area, jogging and cycling track, and toilets. Public toilet charges Rp5.000. While the parking lot charges motorbike at Rp5.000 and car at Rp10.000. The area is also guarded by security officers that work for hotels or resorts.
There is a popular 18-hole golf course in the ITDC area that won the Top 5 Golf Course in Asia Pacific and the Top 3 Best Renovated Golf Course Worldwide. At the center stands BIMC, an international-standard Hospital that is ready to serve both locals and tourists. Food and beverage are also something tourists won't have to worry about.
There are many stalls that serve local foods that start at only Rp25.000. Restaurants and cafes also cater to everyone with various menus that start from Rp35.000 to Rp1.000.000. And last, ATM machines are scattered near the parking lot before the entrance to the beach.
See: Tourists SIM Card Guide, Price, Registration & Providers.
How To Get To Nusa Dua Beach
Nusa Dua is a developed area that is easily accessible. Trans Sarbagita is the most affordable transportation mode that serves this area with only Rp3.500 fare. Just go to the shelter at the pick-up zone of the domestic and international terminal. Ngurah Rai Airport to Nusa Dua route bus will leave the shelter at 09:15 AM, 13:15 PM, and 17:15 PM.
From Ngurah Rai Airport, it is a 15 to 25-minute drive to Nusa Dua beach through Mandara toll road. A metered taxi may cost Rp175.000 excluding the toll ticket of Rp13.000. Guests may use mobile apps like Grabcar at their lounge at a similar fare. Or, outside the airport, a solo traveler may rent a moped for Rp75.000/24 hours. Car rent will charge Rp550.000 for 12 hours depending on the car type and excluding gasoline.
See: Bali Airport Guide, Airport Transfer & Public Transportation.
Address & Location
Nusa dua beach is located in Kawasan Pariwisata ITDC Jl. Raya Nusa Dua Selatan, Benoa, Kuta Selatan, Badung, Bali 80363.