Bingin beach
Entrance Fee: Rp5.000 - Rp10.000
Opening Hours: Open 24 Hours
Telp. Number: -
Address: Jl. Pantai Bingin, Pecatu, North Kuta, Badung, Bali , Indonesia , 80361.
Bingin Beach is one of the best-unspoiled surfing points in Bali. It is located in Pecatu village which is 50 minutes from the Kuta center. And less than 10 minutes from the sacred landmark, the Uluwatu Temple. The beach has breathtaking views of cliffside coral reefs with well-established amenities like cafes and villas.
The coastal stretch of Bingin Beach allows travelers to expand exploration to other prominent beaches like Dreamland and Padang Padang beach at low tide. It is among the quietest beach to surf, watch a sunset, and sunbathe with a cozy yet lovely atmosphere.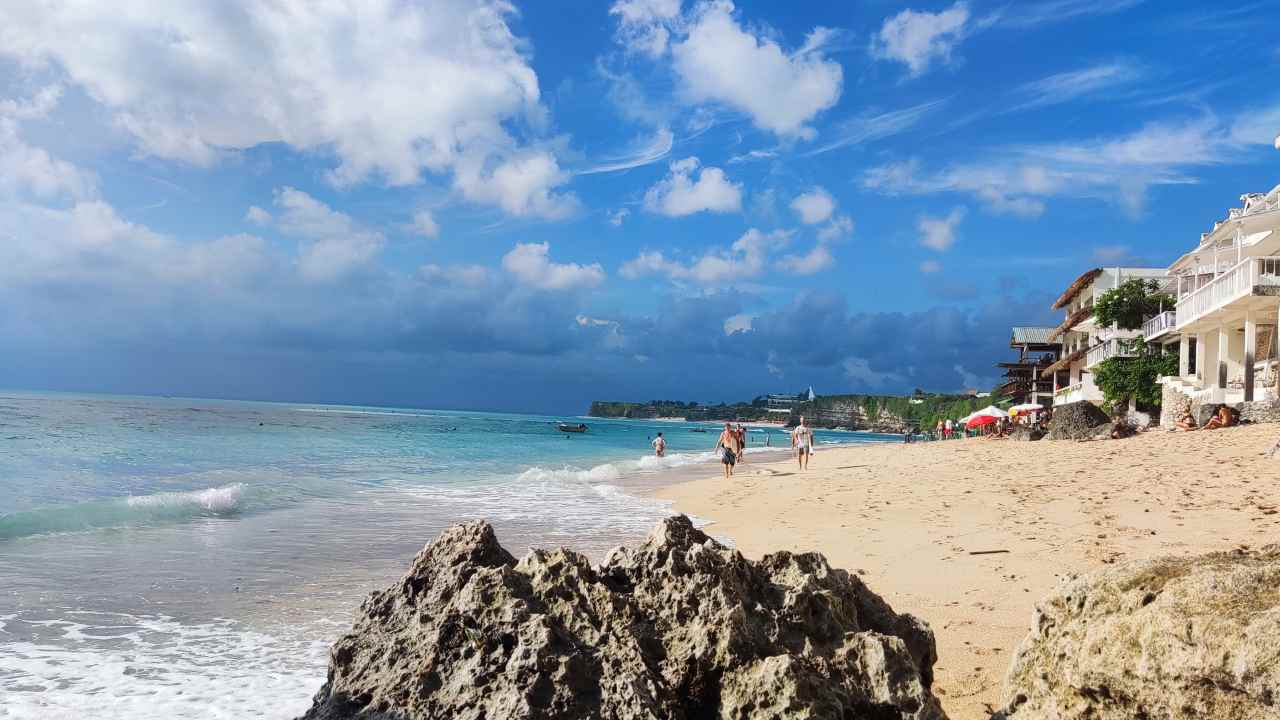 Bingin Beach Entrance Fee
Luckily visiting the beach will not cost anything but a parking fee. Tourists only have to pay for the parking ticket, which is Rp5.000 for a scooter and Rp10.000 for a car.
Bingin Beach Entrance Fee
Entrance Ticket
Free Entry
Nearby: Guide To Padang Padang Beach.
Bingin Beach Opening Hours
Generally speaking, Balinese beaches are open for 24 hours and include Bingin. It is accessible, and open to the public at any time except on Nyepi. Since Bingin beach is one of the quietest places to catch a sunset. Visitors will start flocking to this place in the afternoon around 12 to 3 PM.
Bingin Beach Opening Hours
Every day except Nyepi
Open 24 Hours
Nearby: Dreamland Beach, Guide & Top Things To Do.
The Path To Bingin Beach
Just like other beaches that are facing the south coastline of Bali. Access to Bingin beach is not easy. From the parking area, visitors have to walk down through a narrow alley with over a hundred stairways. The walking distance will take give or take 15 minutes.
Along the way, the walls are decorated with bright bougainvillea and other tropical flowers that are worth it to stop by to take pictures.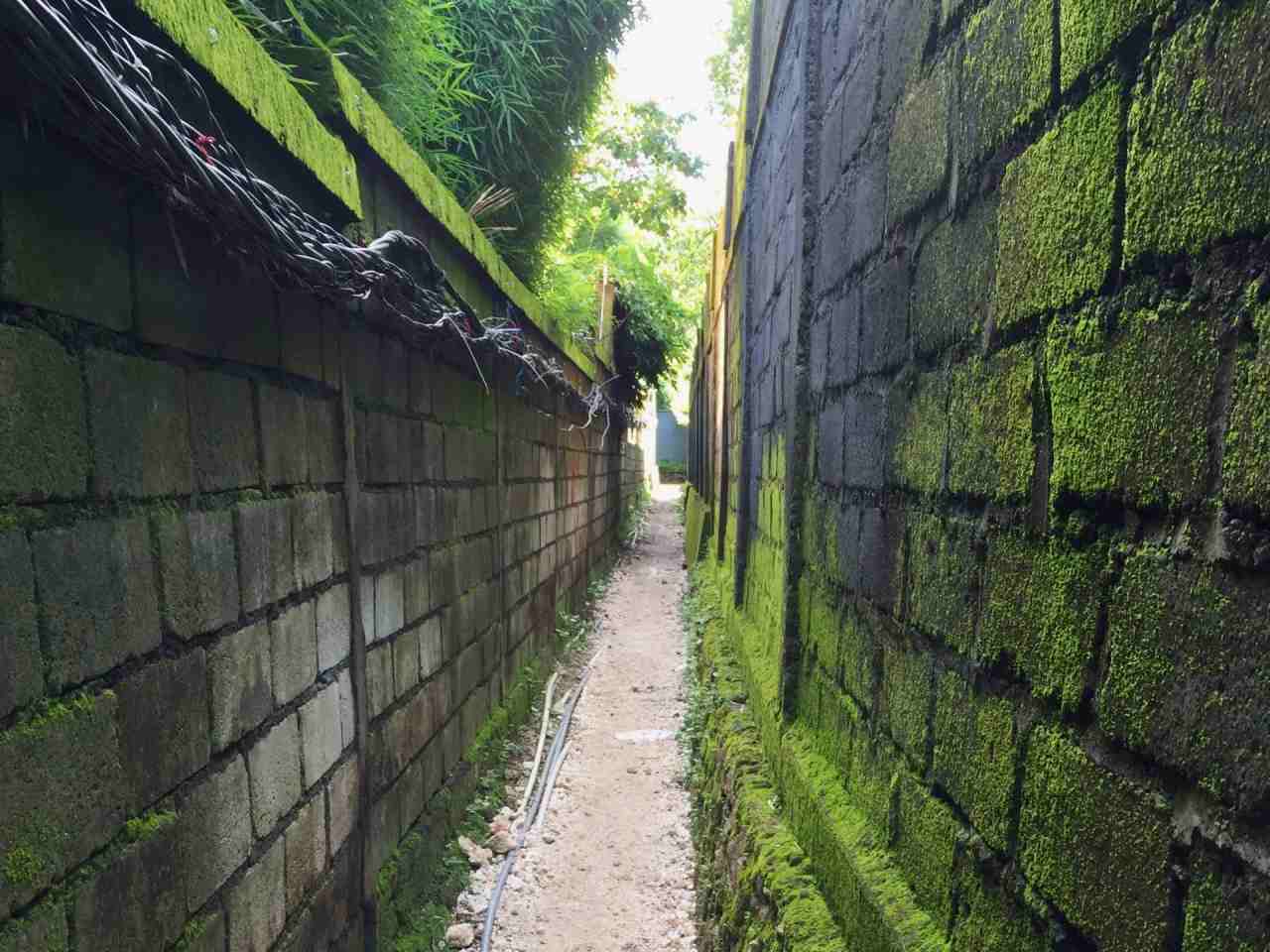 Surfing Paradise
Situated between two other famous surfing points namely Padang-Padang Beach and Dreamland. Bingin Beach offers a similar experience with a more quiet environment. It makes Bingin Beach the best place for intermediate beginners to learn surfing.
The fierce wave's height is around 5 to 8 meters is suitable for intermediate-level. For the utmost reason, surfers will not have to worry someone will hit the surfing board. Several places offer surfing board rentals like beach resorts, nearby lodging, and cafes.
The average surfboard rental will cost $4 USD for two hours of use. Other services are also available like surfing lessons with a qualified instructor, and surfboard repair. In fact, it's not just surfboards, surfing equipment like fins, leashes, wax, and a wet suit are available too.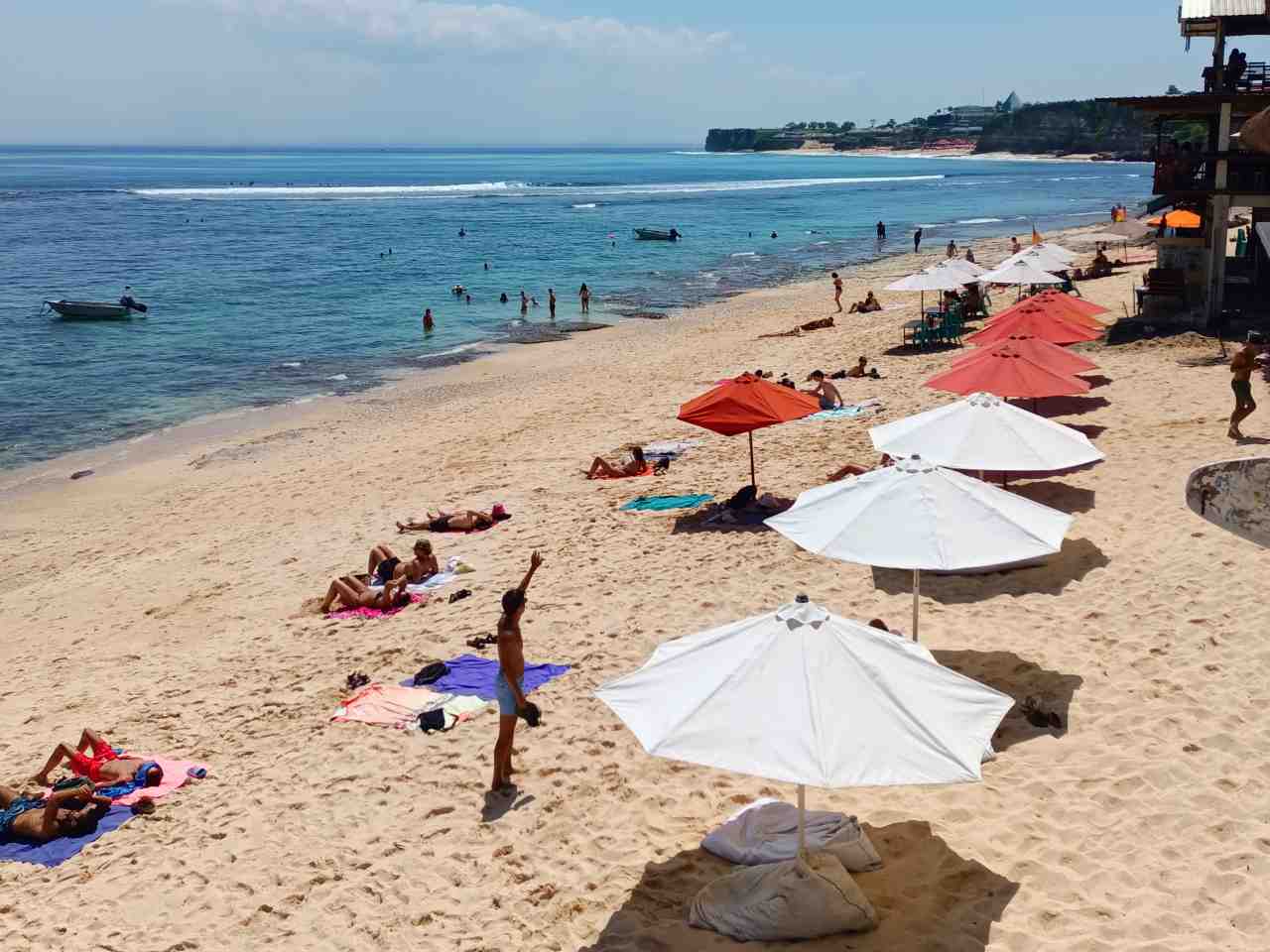 Finest Sunset Point
Although there is a bunch of great spots to watch the sunset in Bali. Bingin Beach offers a more serene situation where people are unbothered by noisy disturbances. Laid down and enjoying the me-time with the gentle sound of beach waves are the best pair to witness the sunset.
Keep in mind some wild monkeys hide behind the massive rocks, so watch carefully the bag and belonging.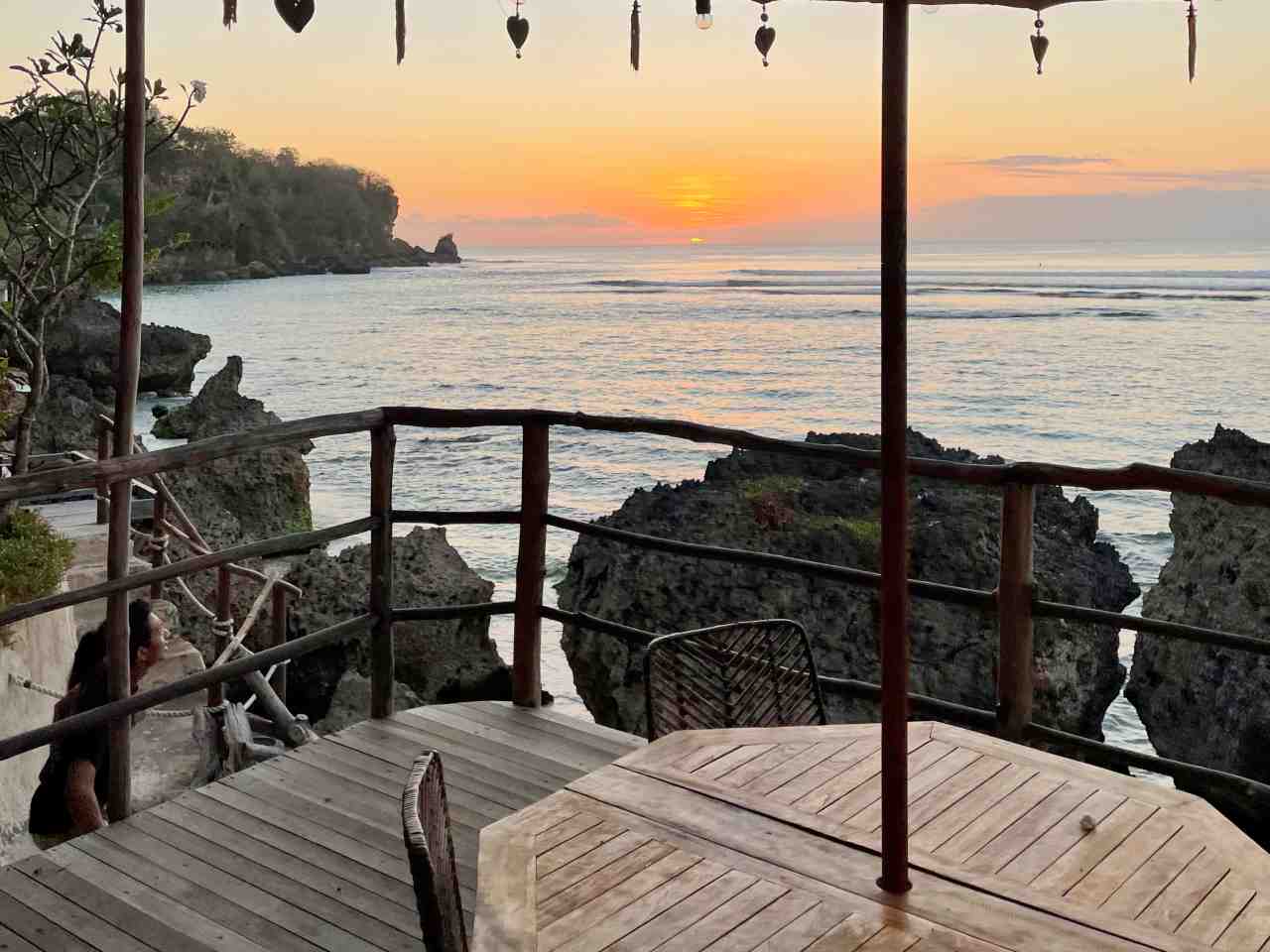 Eyewitness the Marine Animals
Apparently, Bingin Beach is not really good for a swim due to the dense coral reefs. However, it is home to marine animals like sea urchins, crabs, starfish, and small fishes. Some of the sea creatures are hiding by the shores and massive rocks.
In the meantime, leave no plastics or other trash to keep and protect this marine diversity.
Dine-Out by the Cliff-Side Cafe
Plenty of well-established cafés and restaurants are available on the cliff-side of Bingin Beach. The menu mainly covers family-friendly modern cuisine, seafood, vegan dishes, and an epic list of cocktails.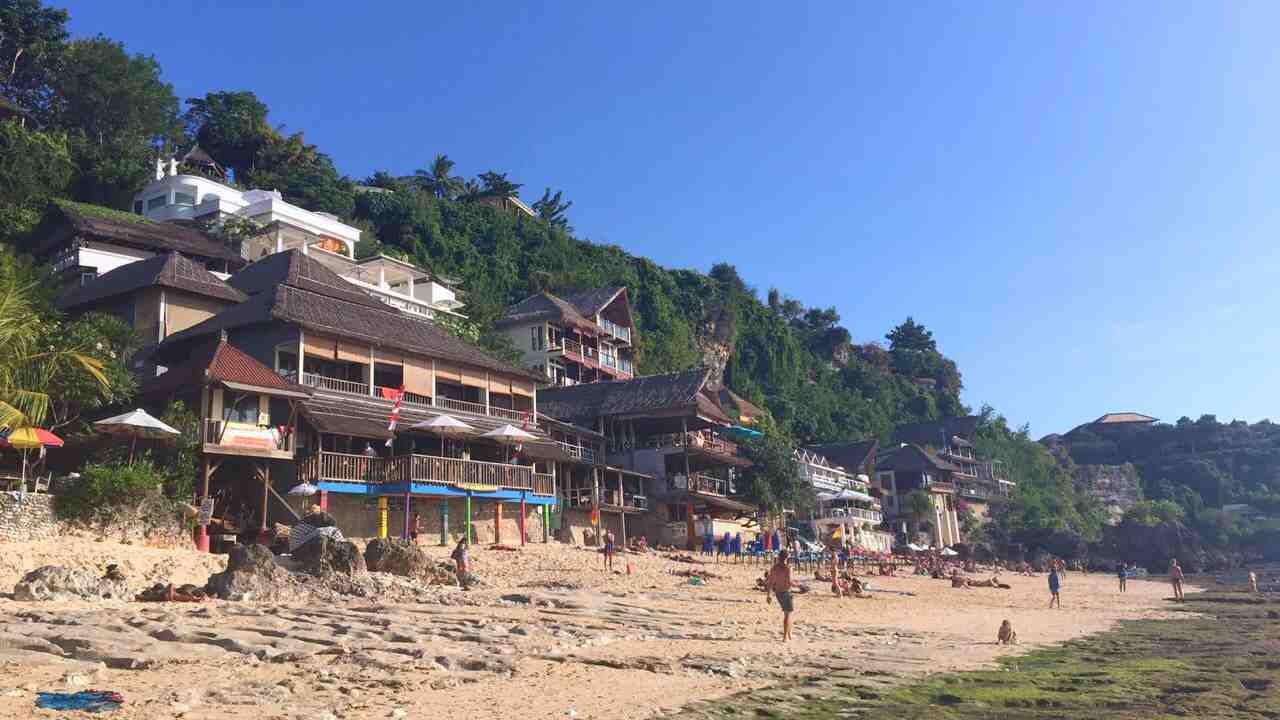 Some cafés even cater to tourists to personalize the dish and beverage menu. So people with a strict workout program and allergies can enjoy the dish too. The price point to dine out in Bingin Beach start from Rp80.000 ($5).
See: Uluwatu Temple Guide & Kecak Dance Ticket & Schedule.
Facilities
Located in an established tourist area, the facilities at Bingin Beach will exceed everyone's expectations. There are multiple beachside cafés and restaurants. Plenty of accommodations options like villas, cottages and bungalows, a surfing club, and a wide parking area.
The accommodations and additional facilities really depend on the lodging type. An upscale accommodation provides free cocktails, towels, and access to an infinity pool, and kid's playground. Bingin Beach is also included as the best pre-wedding venue in Bali.
The white sand beach and unique coral reef with a stunning background of a tropical oasis café are adding colors and balance to the photos.
See: Tourists SIM Card, Provider, Internet Package & Price.
How To Get To Bingin Beach
Situated among popular tourist destinations, public transportation makes reaching the beach easy. There are a few options to get here. First, public transport Trans Sarbagita bus heading to GWK statue and cultural park. The Trans Sarbagita line 1 departs from Denpasar, passing Benoa Square and Jimbaran 1 bus shelter.
Once arrived in GWK, there are 2 options to continue with ride-hail apps like Gojek/Grab. Or else take the feeder bus Trans Serbagita that heading to Uluwatu Temple. Bingin Beach is located 9 km away from Uluwatu temple. From there, travelers can grab a local motorcycle taxi or take a walk for nearly 15 minutes.
The total cost of using public transportation is Rp3.500 ($0.24) and another Rp26.000 for a scooter ride. The second option is to rent a scooter. There are numerous rent providers as well, so finding out a motorbike or scooter is easy and affordable. The rental price is somewhat between Rp50.000 to Rp120.000 depending on the scooter brand.
The last option is to rent a car with a driver. The price for a car rental with a driver is around Rp600.000 to Rp800.000 ($40 to $55) per day.
See: All About Bali Airport, Public Transportation & Transfer.
Address & Location
The beach is located in Jl. Pantai Bingin, Pecatu, North Kuta, Badung, Bali 80361.