Dreamland Beach Entrance Fee: Donation Opening Hours: Open 24 Hours Telp. Number: - Address: Jl. Pantai Dreamland, Pecatu, Kuta Selatan , Badung, Bali, Indonesia , 80361.
Dreamland Beach is living up to its name by being one of the most dreamlike vacation spots in Bali. It has a wide shoreline with beautiful white sand plus an unobstructed view of the Indian Ocean. It was even dubbed as one of the most Instagram-worthy beaches in Asia-Pacific back in 2018.
The beach location is in Pecatu village, inside a huge elite area of New Kuta golf. Hence turning the locals called it the New Kuta Beach. With a crystal clear ocean, and a long stretch of white sands. The highlights of the beach include a great number of international resorts, high-end villas, and even a world-class golf course.
Despite being in a glamorous location, Dreamland Beach is relatively quiet and peaceful. It's nearly a tranquil spot for relaxing, sunbathing, watching the sunset, or just sightseeing. There is a huge rocky cliff towering over the beach and the waves are great for surfing.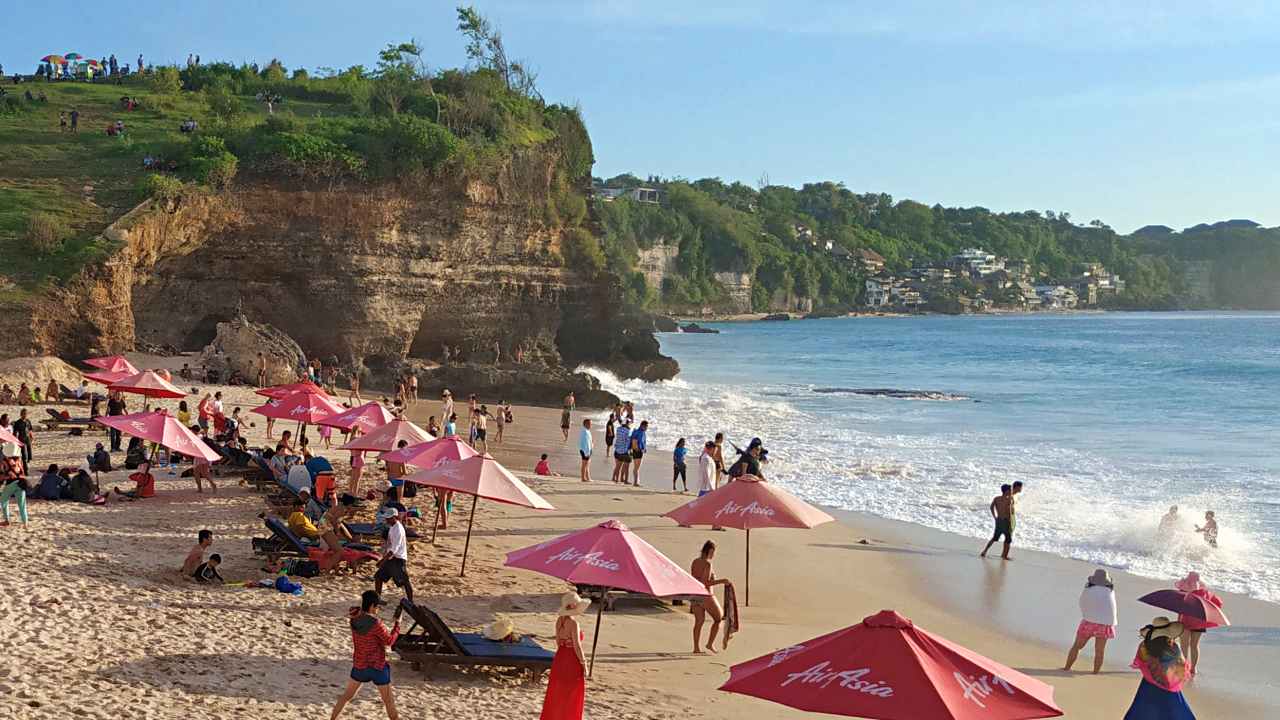 Dreamland Beach Entrance Fee
The beach is practically a free beach. Visitors will not be charged any fee for entrance, however, a donation is expected. However, people coming with a vehicle will get charged for parking. And it cost Rp5.000 for a scooter and Rp20.000 for a car to use the parking lot near the beach.
Dreamland Beach Entrance Fee
Ticket
Donation
Parking Fee
Rp5.000 (scooter) / Rp20.000 (car)
See: Jimbaran Fish Market Guide & Seafood Culinary Spot.
Dreamland Beach Opening Hours
It's better to pay a visit in the early morning when Dreamland Beach is less crowded and has a low tide. To witness the sunset, tourists can come before 5 PM to pick the best view spot. There is no limitation on visiting hours. However, the restaurant and cafe are closed after 10 to 11 PM.
Dreamland Beach Opening Hours
Every day except Nyepi
Open 24 Hours
Nearby: Guide To Explore Bingin Beach & Top Things To Do.
Dreamland Beach Waves Like Kuta
Dreamland Beach is mainly popular for its waves. Some even said that the waves in Dreamland are much the same as in Kuta Beach. It has a beach break wave and is pretty challenging for a beginner to medium-level surfers. However, it is not easy to find a surfboard rental nearby. It's better to rent elsewhere.
Although the waves are loved by the surfers, the currents are too strong for swimming. Unpredictable waves can easily drag unskilled swimmers. And children are also at risk of hitting unseen submerged rocks on the shoreline.
Massage On The Beach
For those who don't want to surf, Dreamland Beach is still enjoyable. Have a picnic under the beach hut nearby. Sunbed and umbrella beach available to rent for Rp100,000. Some locals would also offer back massage services for Rp50,000 to Rp100,000.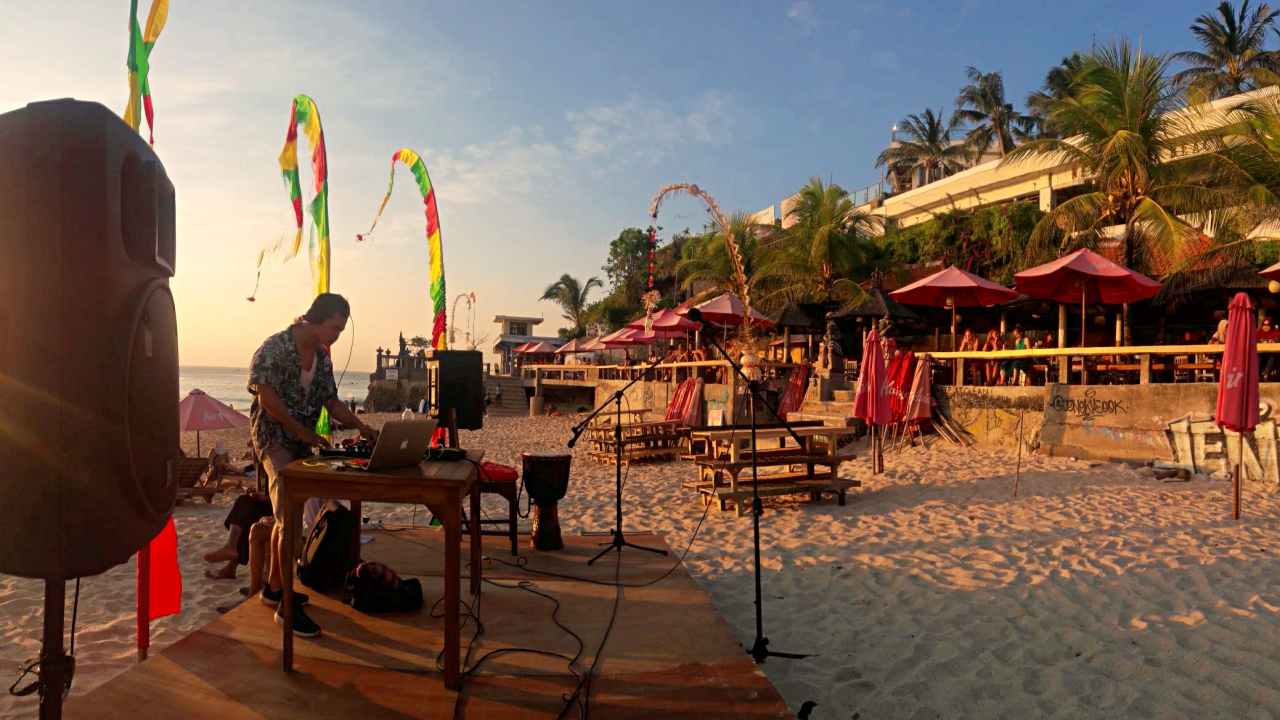 Remember to always agree on a price first, plus on the good side, everything is always negotiable. Since it is dangerous for children to swim, family trippers better bring along a beach bucket toy set. Kids can play and build sandcastles freely here.
The tropical vibe is undoubtedly nice for relaxing and hanging out with friends. Visitors can grab a local beer, cold drinks, or snacks from stalls nearby and watch surfers riding the waves from afar.
Dining Spot & Beach Club
Like its name, Dreamland provides tourists with a dream-like sunset. Photo takers can have a dramatic view of the reddish sky and silhouette of the rocky cliff. It should be no surprise that Dreamland is also popular among couples for pre-wedding or honeymoon photoshoots.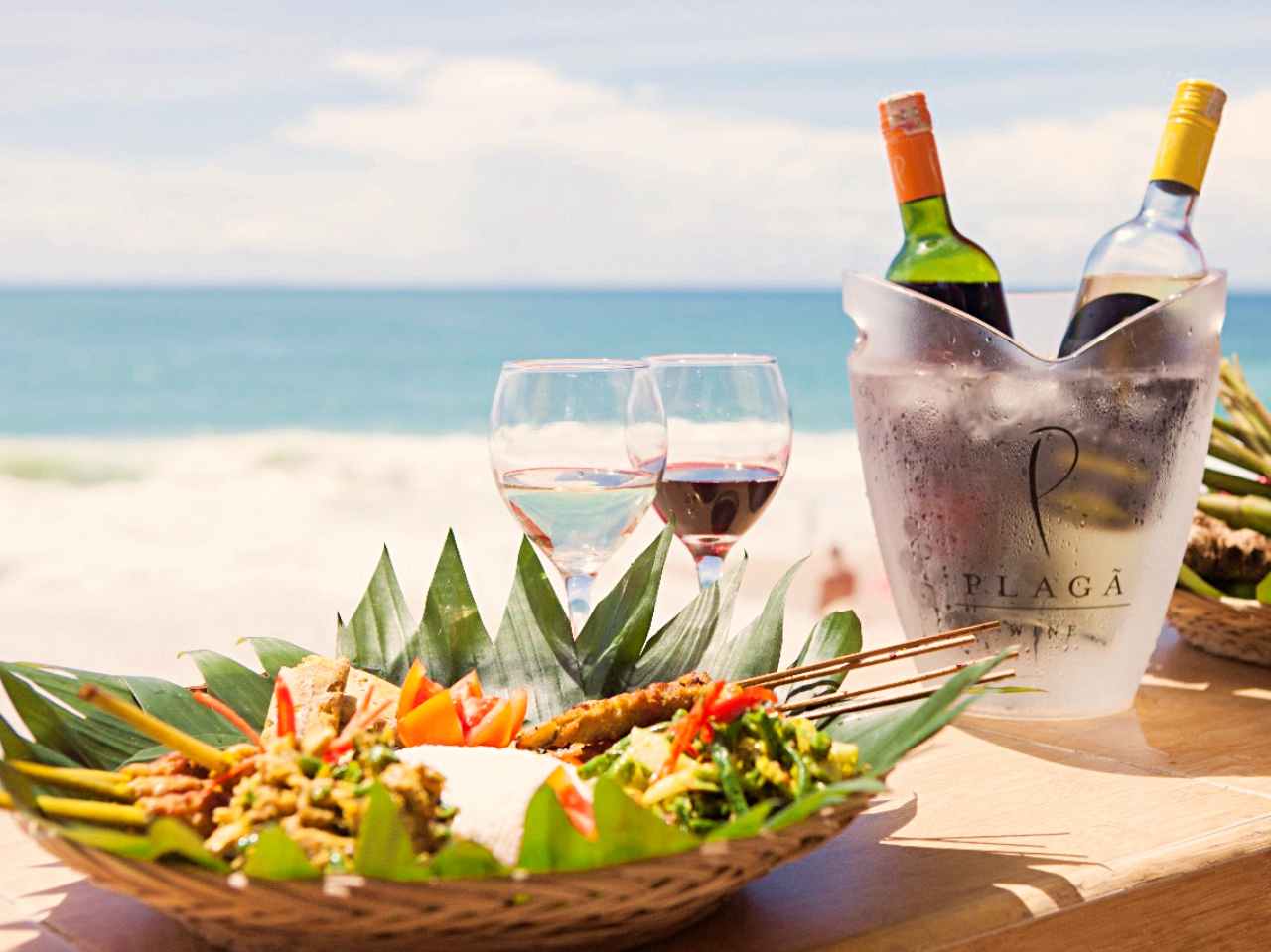 After the sun goes down, don't just leave. Although there aren't many spots for dining compared to Kuta Beach. The beach still has a few restaurants worth trying. From a romantic menu package to a quick bite snack and cocktails too.
Price range from Rp75,000 to Rp 200,000 for snacks and BBQ sets. While for beverages, it ranges from Rp30,000 to Rp350,000 for cold drinks and a bottle of wine. There is also a beach club near Dreamland with an infinity pool overlooking the ocean.
Nearby: Balangan beach, Surfing Course & Top Things To Do.
Towering Coral Rock
What makes Dreamland different from other beaches is the presence of a huge cliff on the left side. This large coral rock is covered with vegetation. It gives another charm by adding a more tropical and 'isolated' impression to the beach. Visiting Dreamland Beach is not complete without taking a picture in front of this grandiose cliff.
See: Melasti Beach Guide & Kecak Dance Performance.
Facilities
Dreamland Beach has basic facilities such as toilets and shower rooms. There is a lineup of shops for souvenirs and beach hats at the entrance area. A local restaurant or 'warung' can also be easily found around the beach. Tourists can order some food and beers at a reasonable price here.
For more luxurious facilities, visitors can find a better option in the neighboring area. There is a popular restaurant with Spanish and Mediterranean cuisine and a cliff club with a spectacular view for visitors to have some cocktails or beers.
A small cottage at an affordable price is also available near the beach. It has a greenery view and basic necessities for resting. For the mid-range option, there is also a resort with a rooftop pool and ocean-view suite.
See: Prepaid SIM Card for Tourist, Price & Internet Package.
How To Get To Dreamland Beach
Administratively, Dreamland Beach is located in Pecatu village, South Kuta, Badung. It takes about 45 minutes or 21 KM from Kuta and Legian region. Situated in a strategic area, Dreamland Beach has the same route as many popular tourist sites. It only takes around 30 minutes to the north from Dreamland to reach Uluwatu Temple. Garuda Wisnu Kencana is also located 10 KM or about 22 minutes trip from the beach.
It will be more convenient to use a taxi or rent a vehicle than public transportation. Scooters can be rented at a fair price from Rp60,000 to Rp100,000 for one day. For first-timer, better to use GPS during the trip. Dreamland Beach is located in the New Kuta Golf area, so it can be tricky to find.
See: Airport Transfer & Public Transportation In Bali Airport.
Address & Location
Dreamland Beach is situated in Jl. Pantai Dreamland, Pecatu, Kuta Sel, Badung, Bali 80361.