Balangan Beach
Entrance Fee: Rp10.000
Opening Hours: Open 24 Hours
Telp. Number: -
Address: Jl. Pantai Balangan , Jimbaran , Kuta Selatan , Badung, Bali, Indonesia , 80361.
Balangan Beach may not sound familiar among first-timer tourists visiting Bali. The beach is indeed relatively quiet compared to big names such as Kuta Beach or Nusa Dua. The beach location is not far actually, at Balangan village in south Kuta. It will take only 20 minutes to the south side of the airport. Yet the neighboring beach, Dreamland, is a far more popular spot.
However, Balangan Beach is not a new name among seasoned surfers. It is a hidden getaway flanked by two rock cliffs on both sides. The water is clean and blue with nice reef breaks. The topography results in nice swells favorable for left-handed surfers. The shoreline stretches for approximately 700 meters facing the Indian Ocean.
The headland on Balangan's west coast is part of a golf course and inaccessible to the public. The east headland is called Balangan Bay. It is a viewpoint where tourists love to take bird-eye selfies. Officials warn tourists to be cautious, especially after an accident in July 2018 where a student fell from this 30-m high cliff.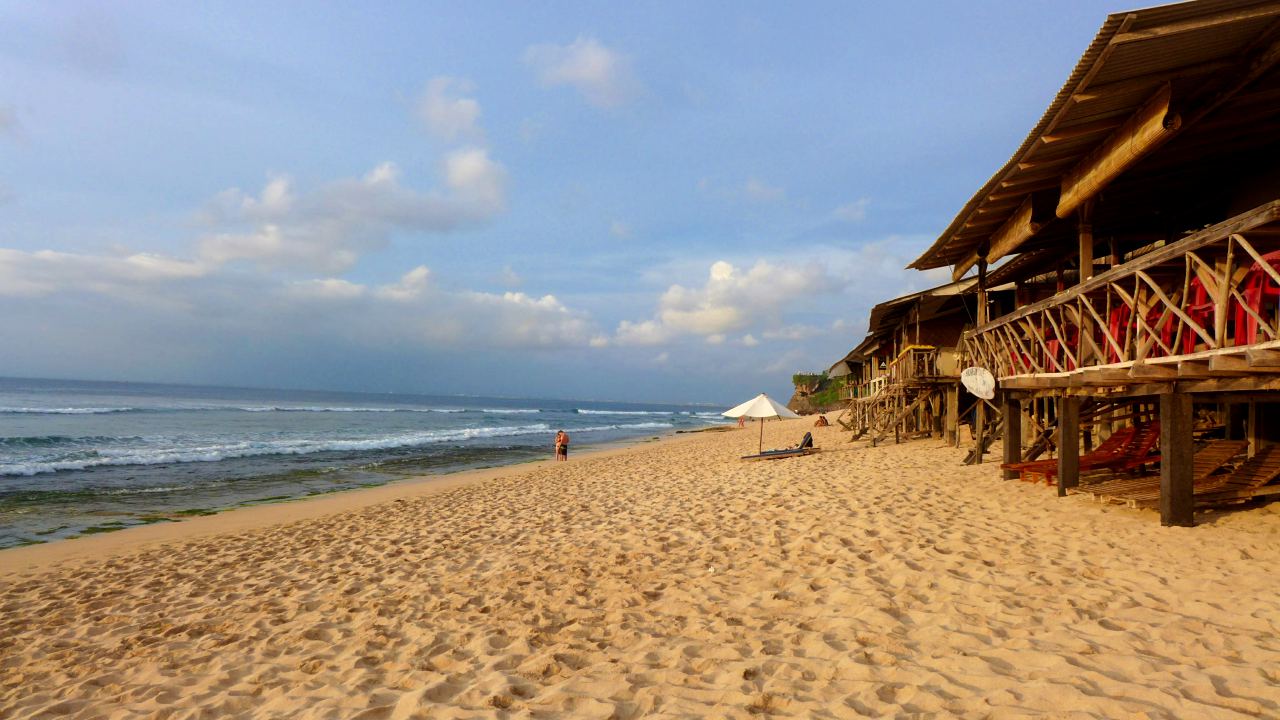 Balangan Beach Laidback Vibe
Despite its close proximity to the city, Balangan is one of the few places where the old Bali feel still persists. It hasn't yet been overrun by massive development. Small shops and stalls dominate instead of beach bars and cafes. Surfer's huts stand in the place of luxury resorts.
Nature-wise, Balangan beach is the epitome of a perfect tropical beach. Palm trees, blue water meets white sand, and surfers chasing waves, the beach has it all. There's nothing perfect other than lying on a beach chair, beer in hand, and watching surfers in action. Relax and let the breeze hit the face gently.
Surfer's Playground
Whether experts or newbies, there are types of waves for both levels. Waves at the left point have two main peaks. Experienced surfers can take the biggest and strongest second peak. Meanwhile, beginners better stick to the shoulders inshore – the leftover waves from the previous peak.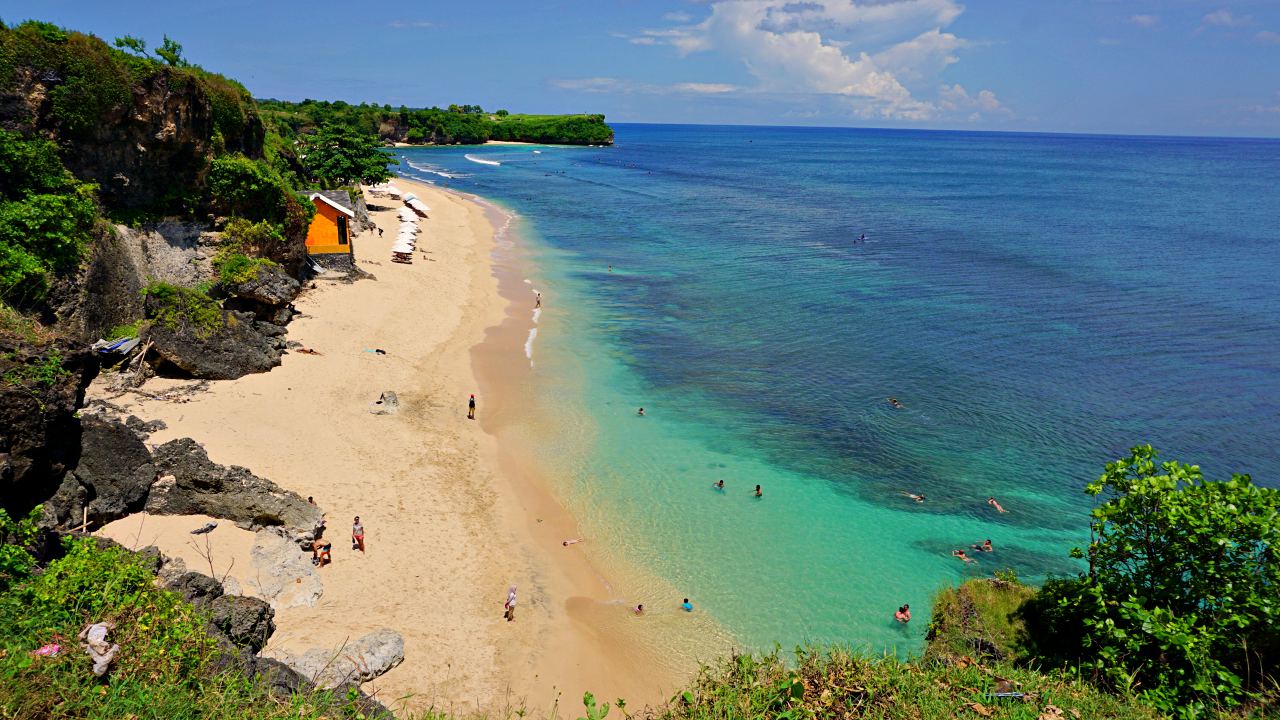 Get a coach from one of the surfer schools here. A package starting from Rp350.000 for a two-hour session seems reasonable – haggle to get a better price. Surf during high tides to avoid getting injured by the bottom reef. Sometimes it's also wise to use water shoes since there are plenty of sharp corals at the bottom of the sea.
Sunset at Balangan Bay
From the parking lot, instead of heading straight to the beach. Take a little detour to a little path uphill. This path heads to Balangan Bay. The little peninsula offers a clearer view of the whole coast. Recently it becomes a favorite photo spot for pre-wedding. Sunsets are especially dramatic from this point of view. So make sure to get to the hill before evening.
Snorkeling
Under the left headland, there is a nice reef with corals and some reef fish. Although Balangan is not popular for snorkeling, this part of the beach makes it a possible activity. Be careful to not go too far. The strong waves make it hard to swim back to the shore.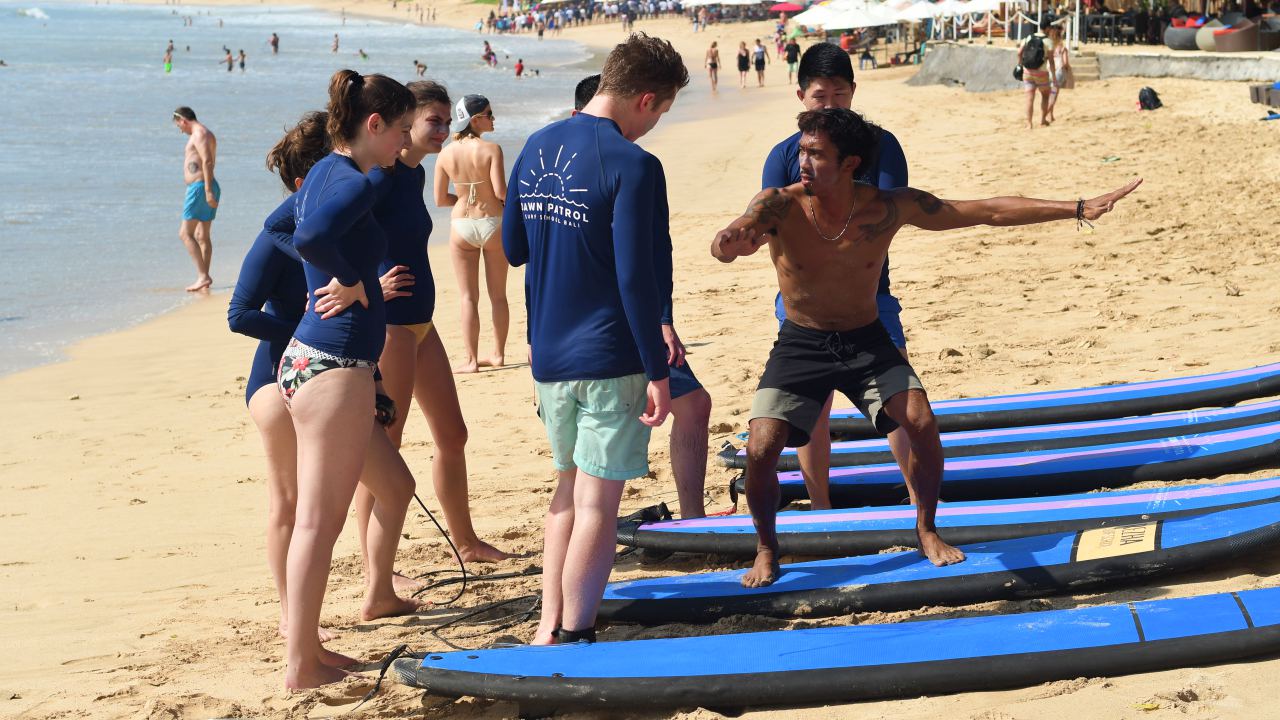 Yoga Retreat
Aside from surfing lessons, Balangan Beach also offers yoga classes. And what's more relaxing than doing yoga while enjoying the ocean breeze? Check out for an open yoga class, usually around the afternoon. Follow the instructor going through some dynamic postures. By the end of the session, feel the difference in body and mind.
Dreamland Beach
When the tide is low, there will be an opening at the bottom of the western headland. It is possible to walk around the bottom of the cliff and arrive on the other side, Dreamland Beach. Save 10 minutes driving – or 40 minutes walking – if using the regular street. However, prepare to get a bit wet.
Dreamland's highlight is the beach resort in the area. It has an infinity pool upstairs. Non-guests can swim here for Rp40.000. Come near the evening to catch a sunset while enjoying the infinity pool. Food and drink are upgrade versions from warung's (also the price), and DJs entertain non-stop.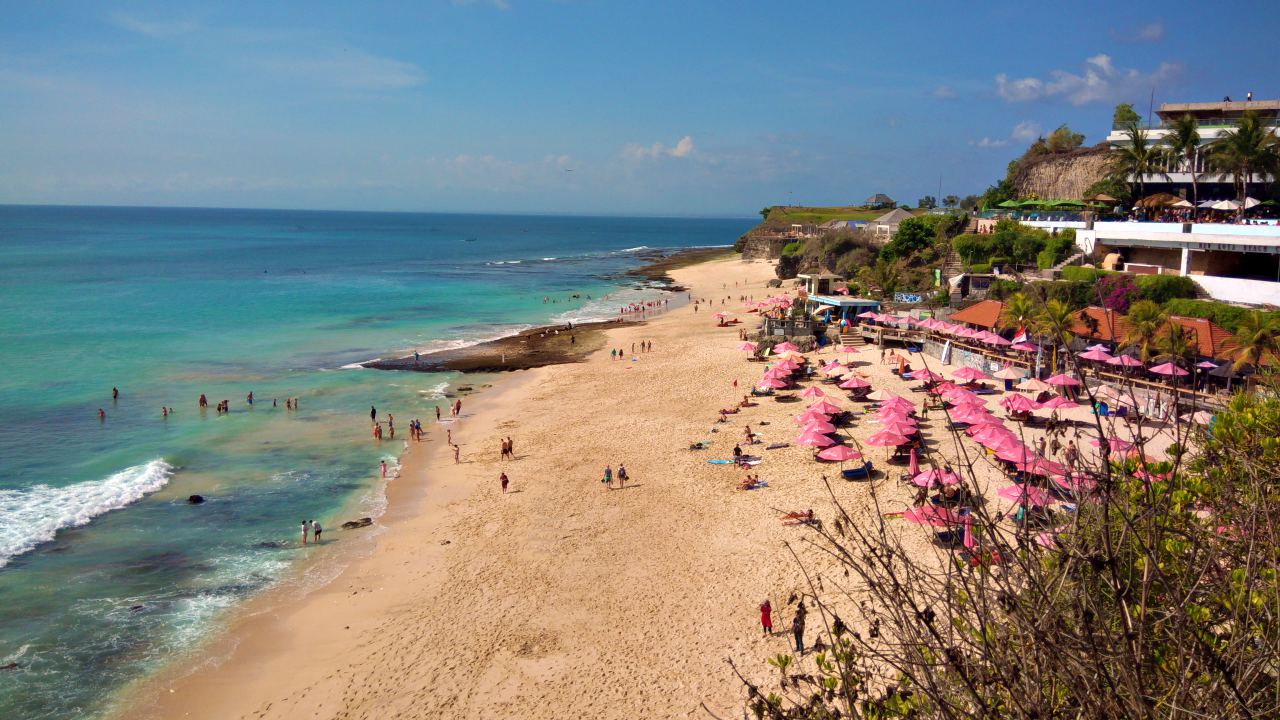 Balangan Beach Opening Hours
Just like any other beach in Bali, there are no operational hours for beach guests. Balangan Beach opens 24 hours every day except on Nyepi.
Balangan Beach Opening Hours
Every day except Nyepi
Open 24 Hours
Nearby: Uluwatu Temple & Kecak Dance Performance.
Balangan Beach Entrance Fee
Balangan beach used to be free but nowadays tourists will have to pay Rp5.000 for the entrance fee. There is an additional parking fee of Rp3.000 for motorcycles. And Rp5.000 for cars. Renting a beach umbrella is Rp50.000 for two hours, visitors can always negotiate to get a cheaper price for a longer duration.
Balangan Beach Entrance Fee
Entrance Fee
Rp10.000
Parking Fee
Rp3.000 motorcycle / Rp5.000 car
Beach Umbrella
Rp50.000 / 2 hours
Nearby: Guide To Explore Kubu Beach & Beach Club.
Facilities
Basic public facilities are available such as toilets and parking. There are small warungs selling decent food with a big portion suitable for surfers. Board rentals, surfing lessons, and everything related to surfing is available. There are plenty of affordable accommodations nearby. A bungalow room starts from Rp300.000/night.
See: Guide To Jimbaran Fish Market & Seafood Feast Restaurant.
How To Get To Balangan Beach
There is no public transport option to Balangan Beach. Avoid using a taxi because, on the way back, visitors will be subjected to some kind of scam. Taxis aren't allowed to pick up passengers around Balangan. Tourists will have no other option than to use a local service with a very inflated price.
The best way is to use private vehicles, either a motorcycle or a car. Renting a motorcycle in the Kuta area is around Rp60.000/day while cars cost Rp650.000/day. The route is as follows: Bypass Ngurah Rai – Ulu Siwi road – Raya Uluwatu Street – turn right to Bukit Permai Street – Karang Mas Street – B. Boulevard – Balangan Beach. Balangan is a 40-minute drive from Kuta.
See: Prepaid SIM Card Guide for Tourist, Price & Coverage.
Balangan Beach Location
The beach is located in Jl. Pantai Balangan, Jimbaran, Kuta Sel, Badung, Bali 80361.