Kubu Beach
Entrance Fee: Free Entry
Opening Hours: Open 24 Hours
Telp. Number: -
Address: Jl. Karang Mas Sejahtera, Jimbaran , Kuta Sel, Badung , Bali , Indonesia , 80361.
There is an endless list of hidden gem beaches in Bali that pointed behind rugged limestone cliffs. It typically offers heavenly stunning views without heaps of tourist footprints. This list includes Kubu Beach located underneath Ayana Resort and Spa Jimbaran Bali.
With a narrow seaside landscape, it definitely gives a private beach vibe that also provides exclusive services and amenities. The best feature of the beach is the natural decoration of the coral rocks of the seashore. The unique spot is hollowed stone and resembles a tunnel.
The panoramic views of the white sand beach with crystal clear water are eye-pleasing as well. Many visitors enjoy the calming environment with the companion of birds carping and waves crashing.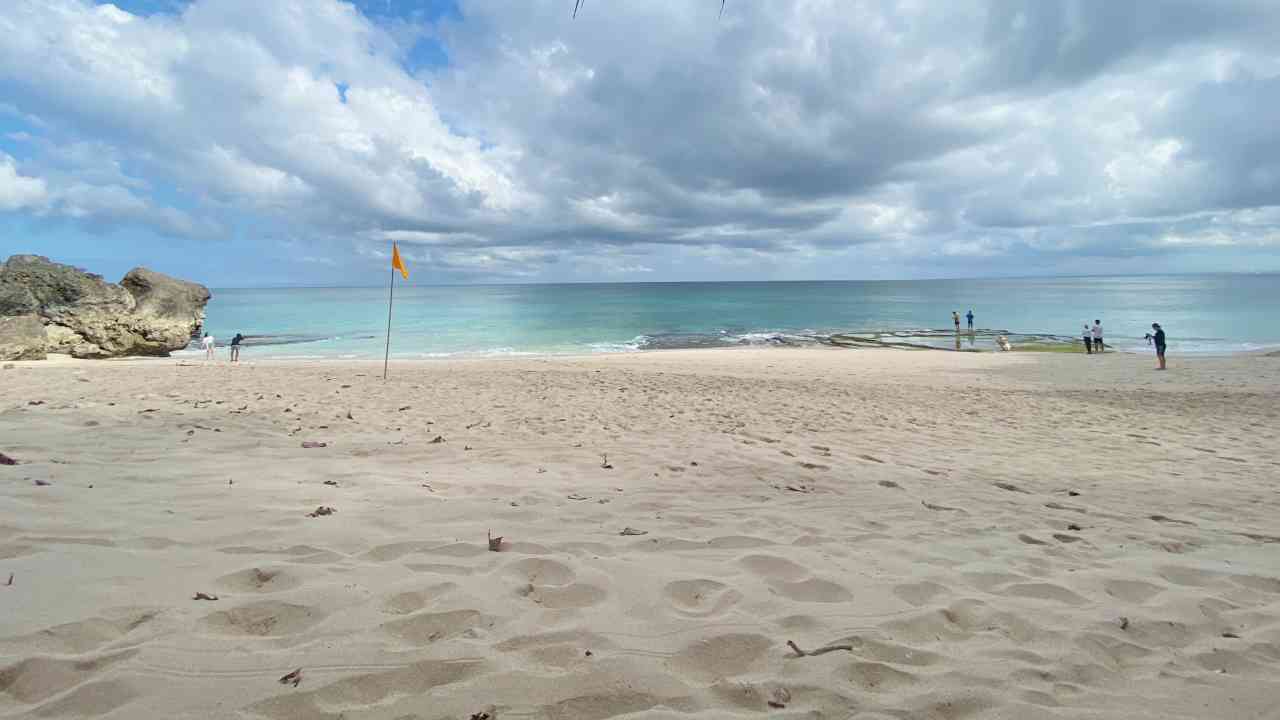 Kubu Beach Entrance Fee
Apart from the resort rate that requires guests to book accommodation. The beach access from Goa Peteng Temple will not cost anything. It is absolutely free including the parking ticket and entry pass.
Kubu Beach Entrance Fee
Ticket
Free Entry
Nearby: Guide To Balangan beach & Top Things To Do.
Kubu Beach Opening Hours
Just like other beaches in Bali, Kubu Beach are generally open 24 hours for public access. But bear in mind, that most of the resort facilities are open from 7:30 AM until 7 PM. This means there is a time limit for guests to access this private beach. The same goes for public entrance from Gua Peteng Temple, the journey back to the parking stop may even more strenuous.
Kubu Beach Opening Hours
Every day
Open 24 Hours
See: Jimbaran Seafood Restaurant & Fish Market Guide.
The Access To Kubu Beach
Access to Kubu Bech is carved up in two opposite ways. The first route is quite challenging terrain that starts from Goa Peteng Temple at Tunjung Mekar. The narrow path is demand scooter skills through sandstone along the way. So far better to park the motorbikes at the temple and take walk for the rest.
Visitors have to walk down the alley of the hellish jungle, crossing the bushes and wilderness for approximately 30 minutes. The second way is far more sensible from Ayana Resort and Spa. The reservation for staying at the resort will also cover other convenient facilities to reach Kubu Beach.
Catch a Sunset
Kubu beach has a remarkable natural setting of heights cliff with quartz-like sand and stones making it one of the great sunset viewing points in Bali. The best tip is to go to the beach before golden hours at 5 PM.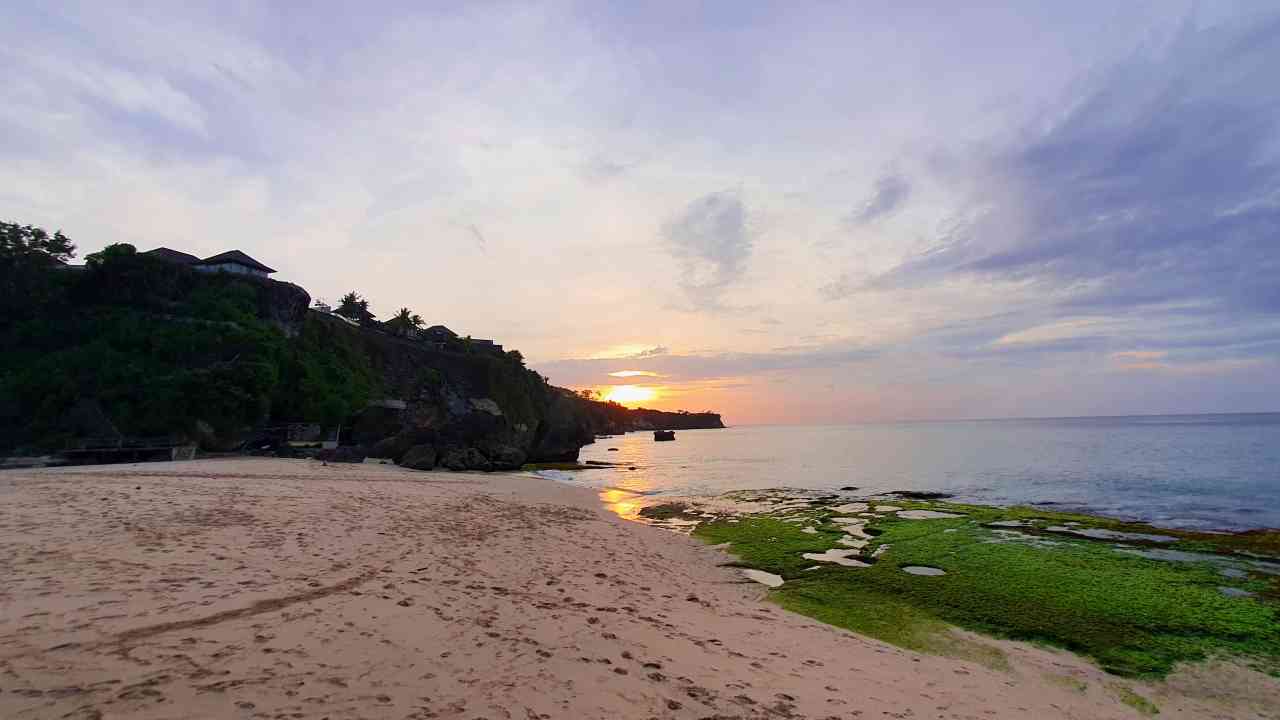 In the meantime, visitors might get lucky to watch the planes landing from a distance. Situated in a private environment, this beach is also a favorite place for photo shoots and a pre-weeding venue.
Take a Dip in Natural Pool
Kubu Beach is not really a good spot to swim due to dense coral reefs and frequent yet sudden massive waves that commonly happen throughout offshore winds. Luckily during the period of low tide, those coral reefs create a shallow natural pool with refreshing water. It is totally worth soaking in the little holes for some time during sunset.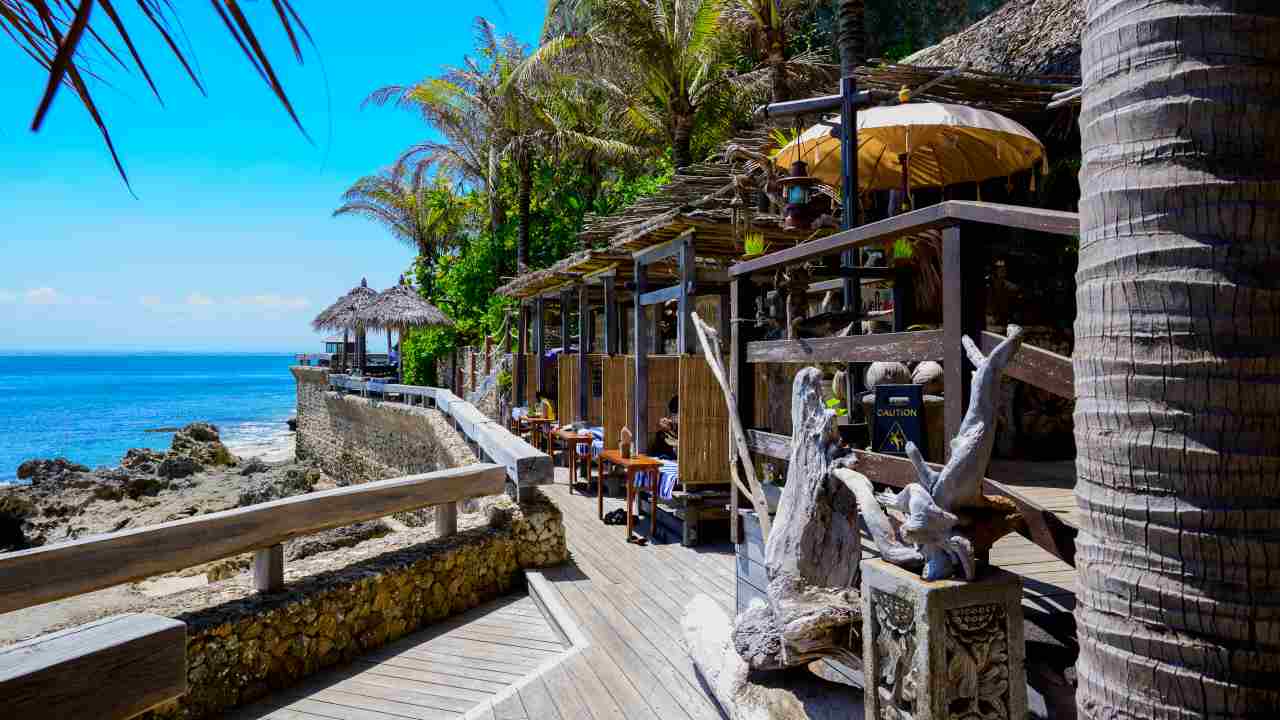 Chill-Out At Kubu Beach Club
On the east side of Kubu Beach, there is a lovely setting Beach Club. It has desert woods architecture and design with a spacious place to sit and lay down. The price is reasonably high, with tropical drinks prices ranging from Rp70.000 to Rp100.000. And light snacks start from Rp90.000. This beach club also provides massage and tattoo services.
See: Guide & Top Things To Do In Dreamland Beach.
Facilities
As a private beach of a five-star resort, Kubu beach facilities are designed to satisfy resort guests. First, it has a tram shuttle that goes every 10 minutes around the resort. An inclinator that will deliver the guests from the upper cliff directly to the beach. Then there is a beach club to dine in and hang out.
Some lifeguards to ensure safety and protection, lodging areas like gazebo and lounger couches with free towels. Finally, there is also an extra installation of wooden swings, a picnic set, and a children's playground.
These comforts amenities are free to access for in-house guests who stay at the resort. However public visitors will be charged accordingly.
See: Tourist SIM Card, Price & Where To Buy.
How To Get To Kubu Beach
Kubu Beach is hidden behind the cliff-top of Jimbaran in South Kuta. Approximately it takes 30 minutes from Ngurah Rai Airport and 50 minutes from touristy areas like Seminyak and Legian. The most favorable way to enjoy Kubu Beach is by booking a stay at Ayana Resort.
To get there, visitors can call a taxi, online transport, or pick-up services from the resort itself. Applying this transportation option will cost around Rp200.000 (under $15).
Planning to go to Kubu Beach from Goa Peteng Temple at Tanjung Mekar entrance, visitors have a choice to rent a scooter or motorbike that will cost between Rp70.000 to Rp100.000 per day. The rent price depends on the type and brand. Riding a car to Gua Peteng street is not recommended because the road is quite narrow.
See: Bali Airport Guide, Airport Transfer & Public Transportation.
Address & Location
The beach is located in Jimbaran, Kuta Sel, Badung, Bali 80361.