Ubud Night Market
Entrance Fee: Free Entry
Opening Hours: 17:00 - 23:00
Telp. Number: -
Address: Jl. Raya Tebongkang No.39, Singakerta , Ubud , Gianyar , Bali, Indonesia , 80571.
Not to be mistaken with Gianyar Night Market or Ubud Art Market, Ubud Night Market is quite different. It's rare to find tourists roaming around here. There are few, several seemingly at-a-loss foreigners hoping for a different kind of fun. Other than that, the night market is a hot spot for locals mostly.
It's a quick stop for a cheap dinner after work. It's a place for late-night hangouts. The lively market is located not far from the heart of Ubud. Precisely at the T intersection between Tebongkang and Sayan Street. For this reason, it contributes to the market's other name, Sayan Night Market.
Travelers need to specifically ask for Sayan Night Market when asking locals for directions. Or else, locals will point it to Gianyar Night Market or other night markets.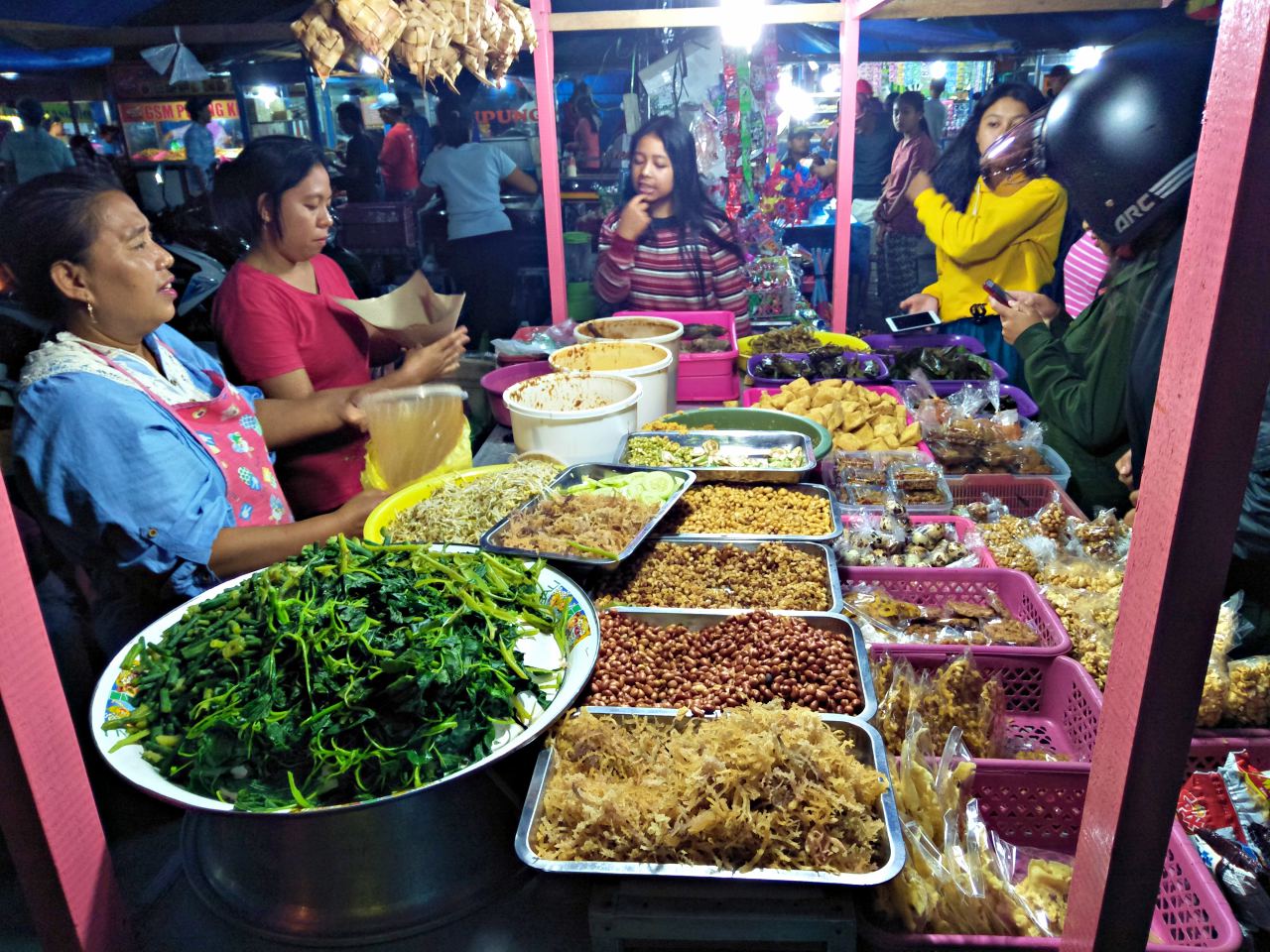 Ubud Night market is not a typical night scene a tourist would go to while in Bali. A stark contrast with western-influenced Kuta nightlife. To be clear, this place is humble and traditional. It's mostly make-shift tents that host vendors.
An inviting aroma of spices and dishes blended well with the smell of incense. A flow of local customers hustles coming and going. Forget DJs, the chattering of locals is the music of the night.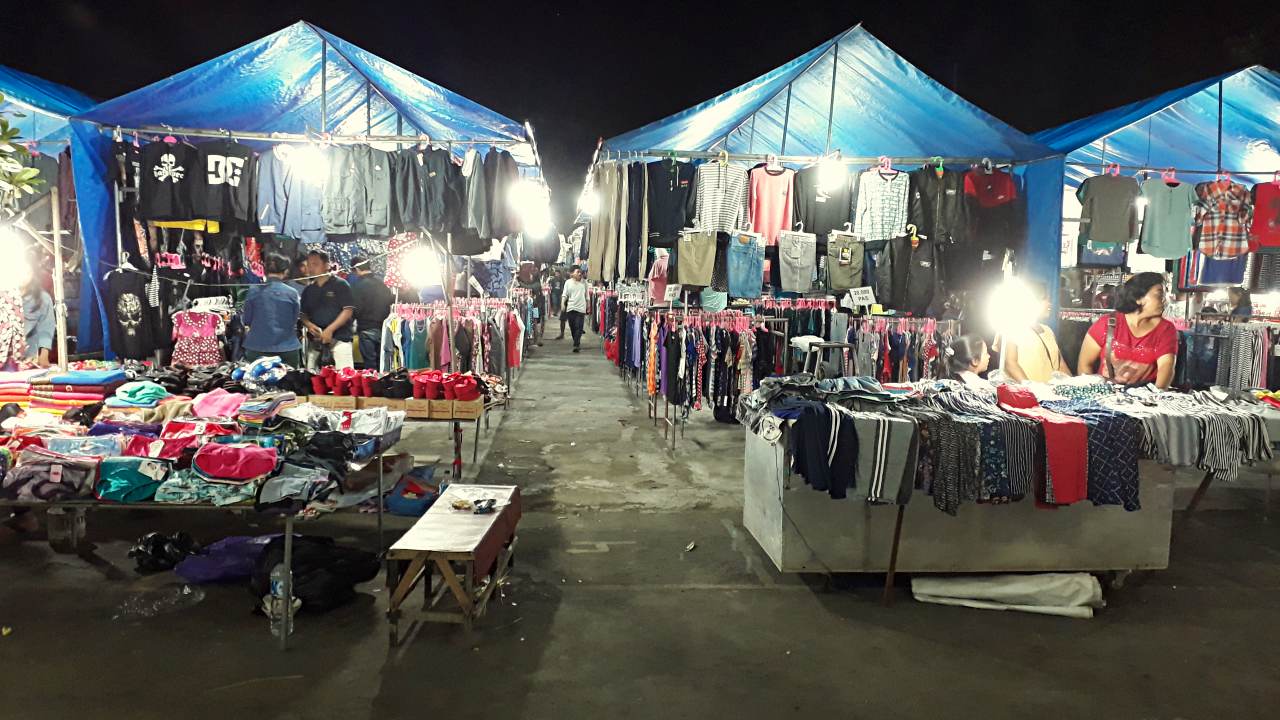 Balinese Number One Delicacy
There's no other famed food in Bali than the famous "Babi Guling" (suckling pig). The pork dish has a tendency to make onlookers drool just by looking at it. Just see the display of a pit-roasted pig at one of the stalls here. Its reddish skin hid very juicy meat underneath.
The stuffing is far from simple. It's a rainbow of spices all mixed into one. Endure the spiciness from turmeric, garlic, lemongrass, coriander seeds, and black pepper. Taste this heavenly mix dancing around inside the mouth, enhancing the flavor of the meat.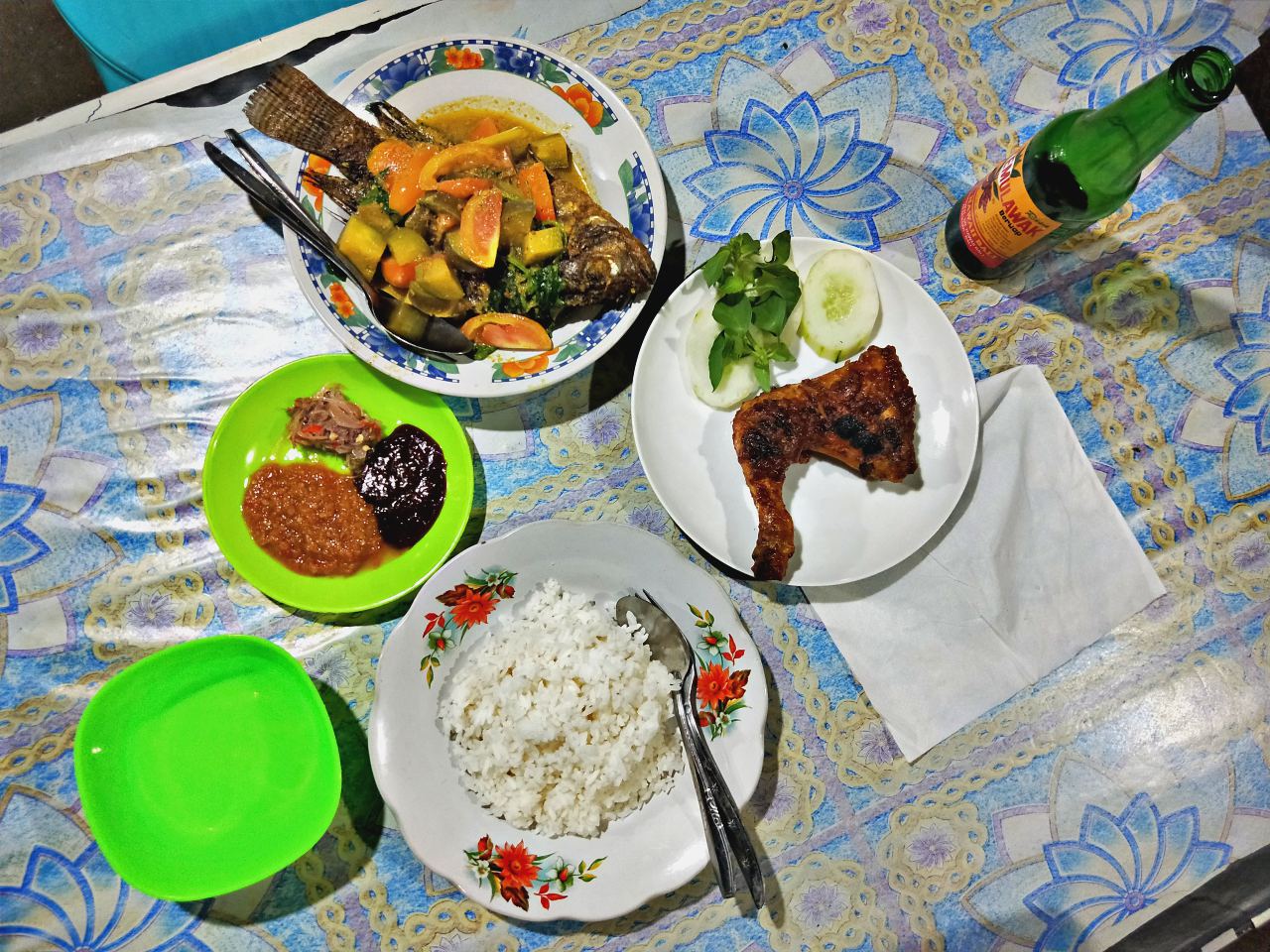 Classic Indonesian delight
It's never short of choice when it comes to classic Indonesian food here in Ubud Night Market. Try Bakso, the meatball soup sold in almost every corner of the country. However, if typical Bakso uses beef as its main ingredient. Meatballs in Bali use chicken instead. Given that not all Hindu Balinese eat beef.
Hungry customers looking for heavier soup should try Soto. The greenish-yellow broth tastes slightly like curry, only with a clearer gravy. Unlike meatballs, rice accompanies this soup along with glass noodles. Still hungry? Satay (also chicken, not beef) and fried rice are next to devour.
Ubud Night Market Cheap Street Snacks
The street snacks can serve either as in-between meals or appetizers. Sample a different kind of Gorengan. Gorengan literally means fritters. These are little balls of delight made from various ingredients dipped into flour. It can be tofu, sweet potato, tempeh, banana, and many more. Enjoy a crunchy and savory sensation with each bite.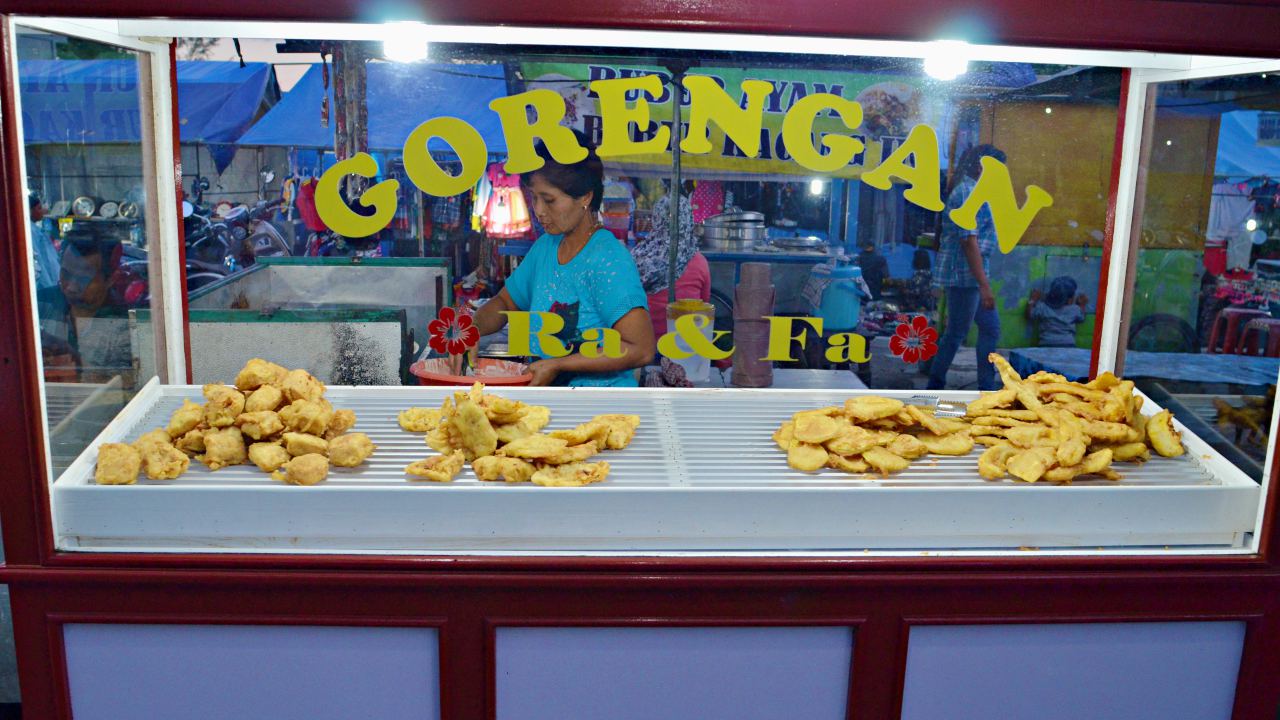 Dessert Choices
No matter how full a stomach is, there's always room for dessert. Spare some space for Martabak Terang Bulan. The same stall usually sells both of these pancake-like delicacies. Salty fans can pick Martabak Telur, and people with a sweet tooth can pick Terang Bulan. With this in mind, everyone will be satisfied.
A portion of the sweet Indonesian pancake starts from Rp10.000 and it depends on the filling. In addition to that, customers could request more customized filling. As for martabak telur, the price starts from Rp12.000 for 1 egg. Of course, the same as the pancake, people could ask for up to 5 eggs.
A healthy option for dessert will be fruit juice. Pick from a heavenly option of tropical fruit. From avocado, mango, and pineapple to dragon fruit. Anyone who cannot be satisfied with one option of fruit can try Es Campur (mixed fruit with ice drenched in condensed milk and syrup).
The beverage slash fruit soup contains slices of watermelon, pineapple, and other fruit served with an iced cinnamon-spiced broth – very colorful and refreshing.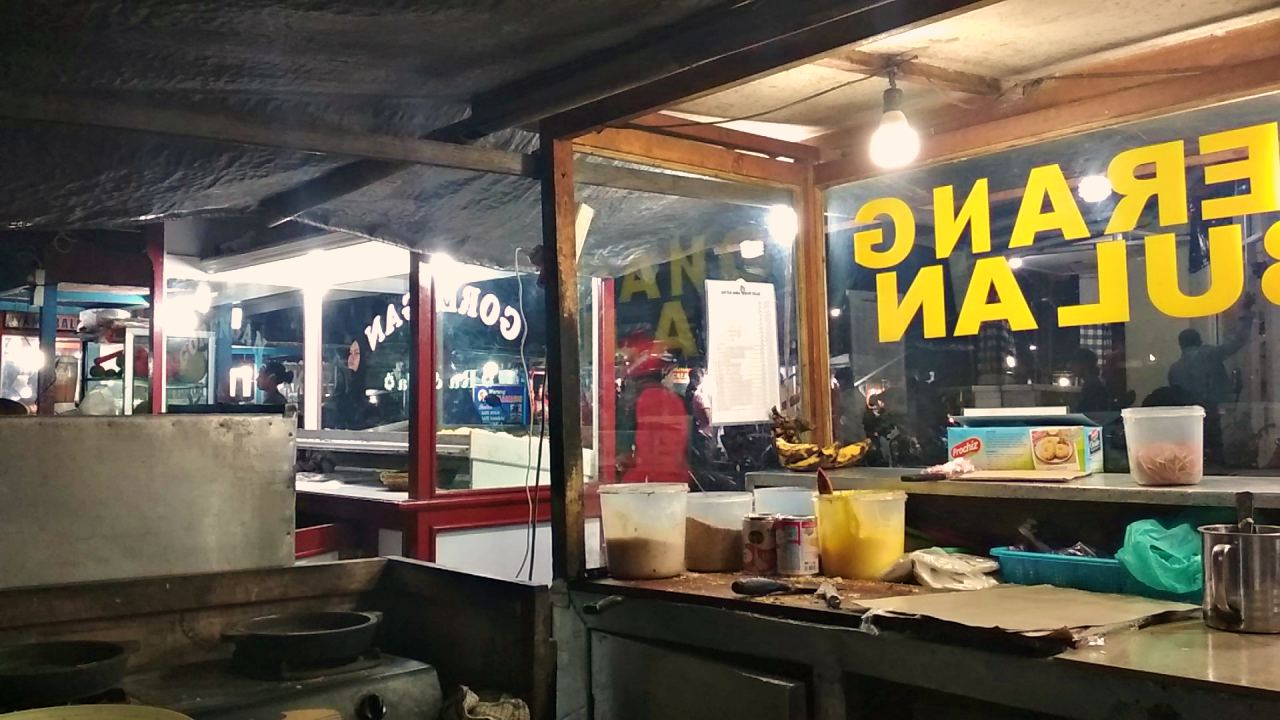 More than just food – it's the people
The atmosphere of Ubud Night Market is authentic Bali to its core. Away from mass tourism, people are friendly and eager to get acquainted with tourists. Feel special in their warmth and friendliness. A few hours at this establishment will leave a lasting remark of Balinese hospitality.
See: Indonesian SIM Card, Price & Data Package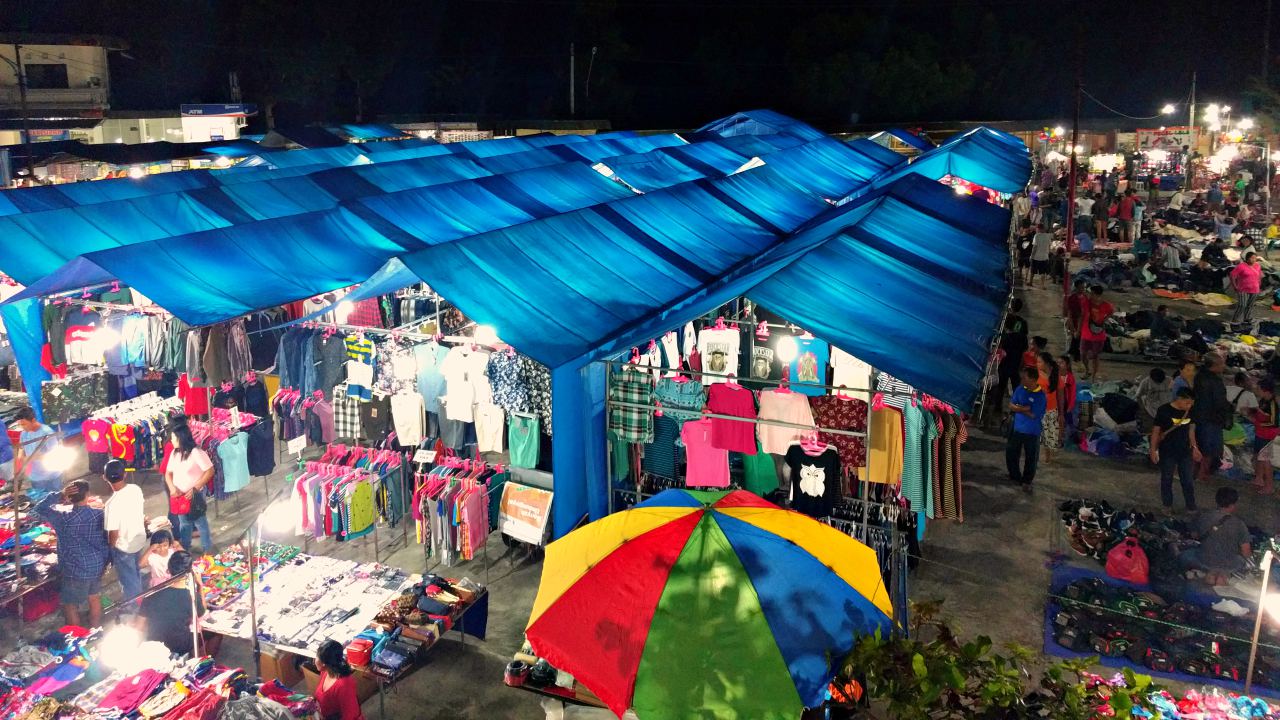 Ubud Night Market Opening Hours
Ubud Night Market starts opening at 5 PM every day. The market closes at 11 PM. However, it can be earlier for some vendors, depending on whether their goods are sold out or not. Food is dirt cheap, starting from Rp5.000 for snacks. A full belly only requires less than Rp70.000 for more than two dishes. Local parking officials will take care of travelers' scooters for Rp2.000.
See: Guide To Explore Souvenir Shopping Spot, Ubud Art Market. 
Facilities
Let's not hope for many facilities here. After all, Ubud Night Market is an "unofficial" market. Or what Indonesians called "Pasar Senggol" (sudden night market). Parking is available near the security post. There are toilets, but other than that, there are no more public facilities.
See: Guide To Explore Sukawati Art Market.
How To Get To Ubud Night Market
Ubud Night Market is a 10-minute drive from the center of Ubud, Raya Ubud Street. It's better to opt for a scooter because there won't be much parking space for cars. Renting a scooter at Ubud is around Rp 50,000/day (it's cheaper than renting one in Kuta).
From Raya Ubud, follow this route: Hanoman Street – Singakerta Street – Rayan Street. The market is on the right side of the street. Visitors from Kuta or Denpasar can take Ngurah Rai Bypass Road heading north to Ubud. Then, the route can follow as mentioned above. It's better to visit the market after a day tour around Ubud so that the trip can be efficient.
See: All About Bali Airport, VAT Refund & Public Transport
Address & Location
Ubud Night Market or known as Sayan by locals located in Jl. Raya Tebongkang No. 39, Ubud, Gianyar, Bali 80571.