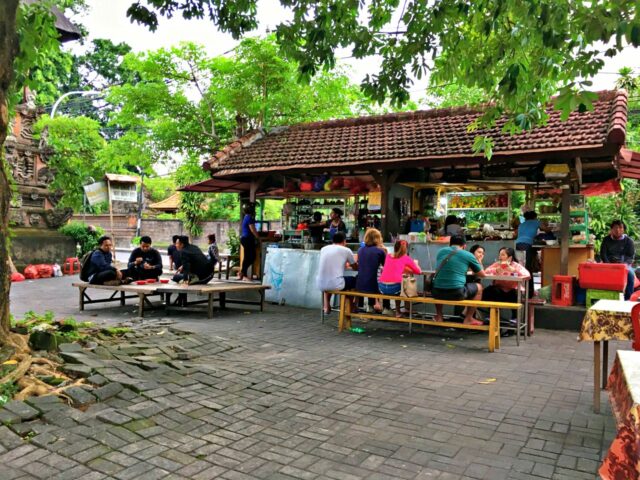 Kuta, as beautiful as its beaches and as grand as its shopping centers, its crowd can be overwhelming. Step away from this usual hustle of tourism in Kuta. Not far from the beach, there is a hidden enclave where several stalls offer non-touristy culinary experience. This enclave is called Kuta Night Market.
The small market sits in Blambangan Street, Kuta, Bali. It is where locals go daily, especially in the evening, for food and drinks after work. Kuta Market initially targets nearby local workers. It has existed since the 80s. Many locals would associate this small market with a sweet childhood memory.
Kuta Night Market is actually not a market in a traditional sense. It's more like a food court. There are only 5-6 food stalls. The market is overlooked by tourist mostly because of its lack of hygiene. Which is quite not up to western standard. However, smart tourists will find good value-for-money food here. Just prepare a strong stomach beforehand.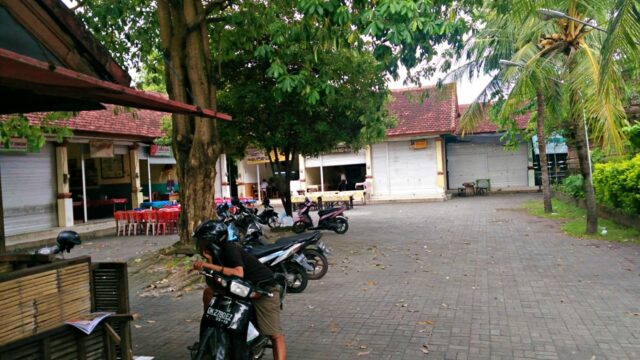 Kuta Night Market Highlight
Options are plenty for everyday meals. Savor classic options such as fried rice, chicken noodles, and fried noodles. Chinese food is also among the menu. People's favorite the flat noodle dish kwetiau or the stew cap cay. As for other vegetable dishes, order asparagus soup or stir-fried water spinach "kangkung".
The highlight is the goat and chicken satay from one of the stall here. When ordering for satay, also request a bowl of Gulai as the companion dish. Gulai is an Indonesian meat soup with a thick and flavorful sauce.
It's curry-like, only heavier and richer with spice. The taste, in short, is heavenly. Some would argue that Gulai is one of the most delicious Indonesian dishes. Competing closely with rendang.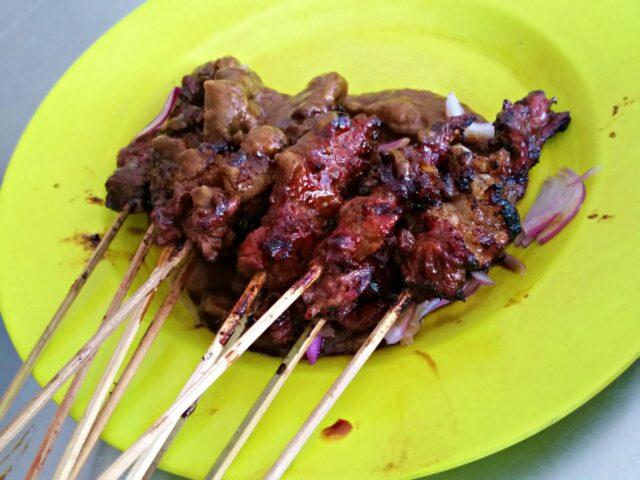 Unusual Dish
Kuta Night Market has an unusual menu, frog legs. Head to Warung Strawberry to try this delicacy. The dish contains fried frog legs smothered in chili sauce. On top, the sliced chili adds extra spiciness.
The meat is tasty, although the whole idea of eating a reptile may sound peculiar to some. Keep an open mind, that's the only way to get past the weirdness when sampling the dish.
Seafood Menu at Warung Strawberry
The safer option from frog meat would be the prawns, also dipped into the same chili sauce. Seafood also a specialty of Warung Strawberry. Pick from any fish, prawns, calamari and other sea products customers' like. The owner will happily cook it on the spot into a hearty and tasty meal.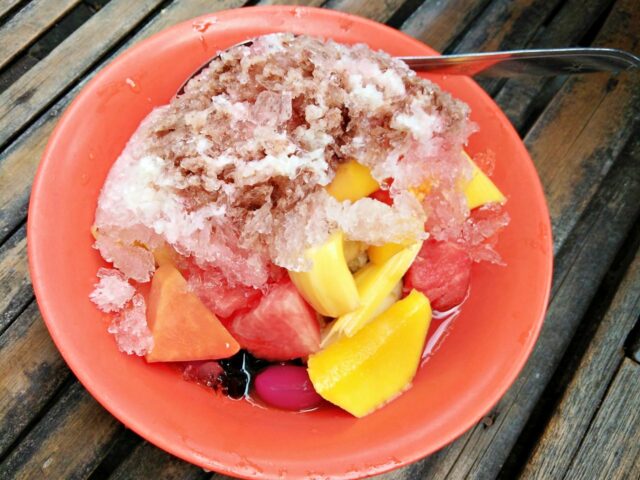 Warung Strawberry itself is quite legendary in Kuta Night market. Its owner, the couple Mr. Made and Mrs. Ketut, has been managing this restaurant for 30 plus years. Enjoy their hospitality. Besides good food, this place is also known for its friendly service.
Dessert Choices
For drink and dessert, order a cup of fruit milkshake from the fruit stand. There are various fresh fruits to choose from. Try the exotic dragon fruit juice. Its refreshing taste complements well with heavy meals, especially the curry. Other options for dessert include fresh fruit salad and shaved ice Es Campur.
Start With Sunset
Before heading off Kuta Night market, spare several minutes to enjoy the famous Kuta sunset. Join among the anticipating onlookers on the beach. When the sun goes into hiding, the sky displays a breathtaking cascade of colors. From golden to dramatic red, prepare to be amazed.
Kuta is quite close to Denpasar's Ngurah Rai International Airport. The silhouette of planes taking off or landing is another feature that makes sunset in Kuta looks dramatic. It is certainly not to miss.
Kuta Art Market
Kuta Art Market is just a hop away from the beach. Around 800 meters from Kuta Night Market. Like the night market, the establishment is quite small. However, it's enough for a quick souvenir shopping. Here, get lost among the sizable display of arts, handicrafts, clothes, and accessories.
Items at this beachside market have a comparatively high price since its located in a strategic place. Tourists are welcome to bargain. Remember, get polite, playful and friendly when haggling. Not only it will land into a lower price, but it's also a way to make local friends here.
See: Gianyar Night Market, From Sweet Traditional Snack to Balinese Trademark Dish.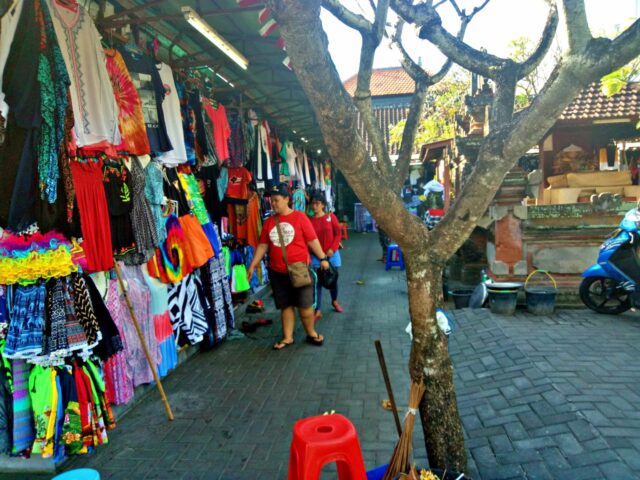 Kuta Night Market Opening Hours
The market opens from 5 PM to 10 PM. The closing hour can be earlier so to be safe, visit early in the evening. Also, visit on weekdays because Kuta Night Market is closed on weekends. There will be a parking fee around IDR3k-5k. On average, dish price is around IDR 20k.
Kuta Night Market Opening Hours
Every day
17:00 – 22:00
Nearby: Kuta Beach, Famous Sunset Spot & What To Do.
Facilities
Not many facilities can be found in this market. There is a small parking lot in the center area, only accommodating for scooters. Table and chairs are simple pieces of furniture made of plastic. Around the area, there are plenty of ATMs and accommodations. The night market is also close to the office of the Indonesian Tourism Information Centre.
How To Get To Kuta Night Market
Kuta Night Market is easily accessible from any point of Kuta. It's only 1 km from the beach. Tourists can just walk through Kuta Art Market street for around 8 minutes. The night market is situated on the right side of the road. Ask local about "Pasar Senggol" for direction.
Sadly there isn't a public transport line passing through this market. It is quite a small road, so it's better to reach here by scooter. The rental motorcycle is a popular way to get around Bali in an easy and affordable way. The rental fee for a motorcycle usually costs IDR 65k per day.