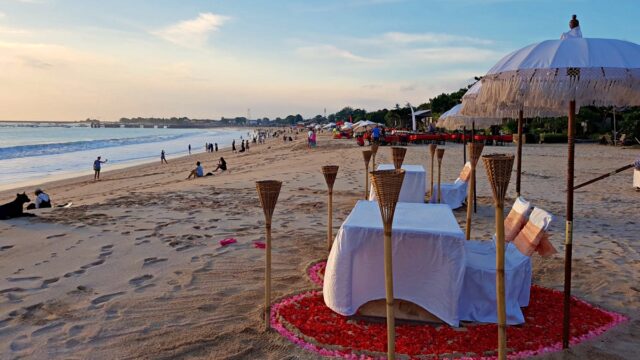 Jimbaran Beach Entrance Fee: Free Entrance Opening Hours: Open 24 Hours Telp. Number: - Address: Jl. Pantai Jimbaran, , Jimbaran, , Kuta Selatan , Badung , Bali, Indonesia , 80361.
Jimbaran beach is one of the famous beaches in southern Bali. The beach's close location from Ngurah Rai airport seems to attract tourists to come here. Although the shoreline is not that long, visitors don't mind about that. Almost every day the beach is never short of tourists.
In the afternoon, catch the sun to tan the body. Rent sunbeds or simply walk on the beach. Exotic shoreline with occasional high tide makes surfing possible to do. For more fun, have some splash play or swim in the vast sea. Breathtaking sunset is another reason to visit Jimbaran beach, at least once in a lifetime.
Hard to believe that Jimbaran beach was once closed due to bomb attacks in 2005. The beach is now fully recovered – with those restaurants lining along its shoreline. Everyone knows that Jimbaran is a seafood paradise. Reserve a seat and enjoy their grilled fishes, lobsters, prawns, or squids – all in one place!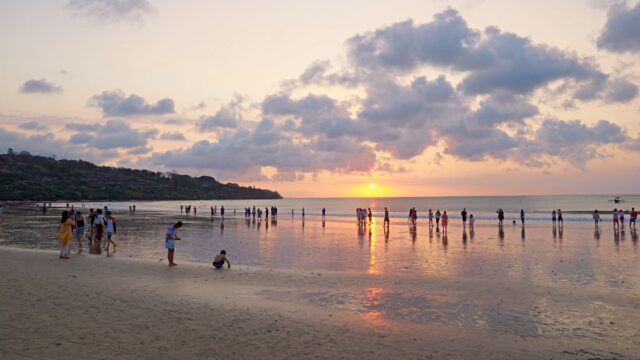 Water Activities Jimbaran Beach
West-facing Bali beaches have similar characteristics of sea tide. As Jimbaran beach is one of those, surfing is something visitors like to enjoy in here. However, the tide is not that challenging for pro surfers. So, novice surfers can benefit from this situation.
Not many locals offering the surfing class. There are 4-6 local surfing schools available, with surfboards rent out as well. If visitors ask for a session, locals will gladly accommodate. A session costs differently at places. But the range is around Rp250.000 for 1.5 hours. Although locals sometimes put a higher fee, simply bargain the price to get a nice deal.
Swimming & Sunbathing
The relatively calm tide makes the beach-friendly for children swimmers. As no lifeguards are around, parents should always keep an eye on them. Don't go too far from the beach as the wave gets wilder in farther areas. No floaties rental place here, so buy one on the way there.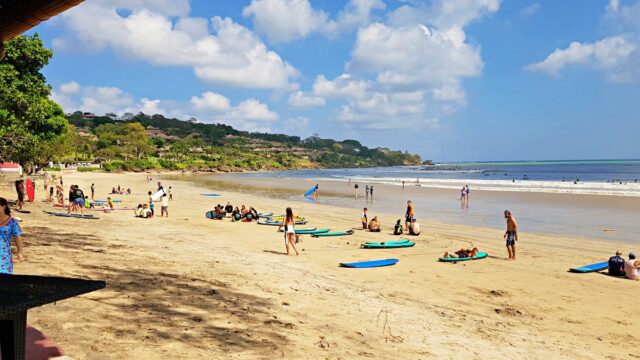 A sun-kissed body from Jimbaran, why not? Rent a sun lounge for Rp50.000-Rp100.000 or simply lay a mat on the beach. The southern part of the beach is the right place to lay the mat. The northern part of the beach is already crowded with those warungs and local restaurants. Not to mention, some detest the northern beach for the piling trash.
Jimbaran Beach Live Music Entertainment
As the night approaches, Jimbaran beach gets even busier. Because the sunset hunters flock the way here. As the mighty sun makes the way to rest. The vanilla dusk sky becomes the main attraction. People enjoy that while sipping the ice-cold beer or eating spicy roasted corn (this costs Rp10.000).
Some pose for silhouette photos, some others only sit and watch the sunset. During high season, occasional acoustic musicians will be invited to perform. Some restaurants even invite dancers to perform traditional Balinese dance too.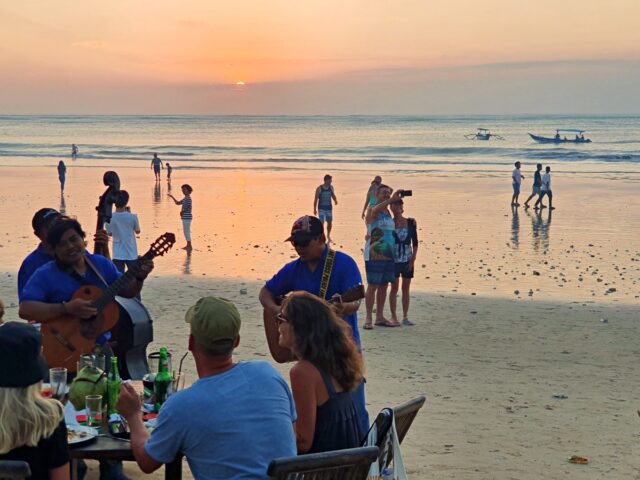 While the dance show starts around 8 PM, the live band starts earlier – shortly after sunset. What makes Jimbaran beach more special is the fireworks. Definitely a fun thing to witness.
Seafood Haven
Enjoy the dinner time at Jimbaran beach. The sea view and candlelight accentuate the romantic vibes. Dining chairs and tables are many on the premises. Reserve a seat beforehand to avoid missing the beachfront dining experience.
Jimbaran is a haven for seafood junkies. Lobster, prawns, squids, clams – the locals serve them here. Upon the visit, one will witness the busy live kitchen. Excellent seasoning of the seafood brings Jimbaran as the seafood center in Bali. There are seafood packages to order with the price range from Rp150.000 -Rp1.100.000.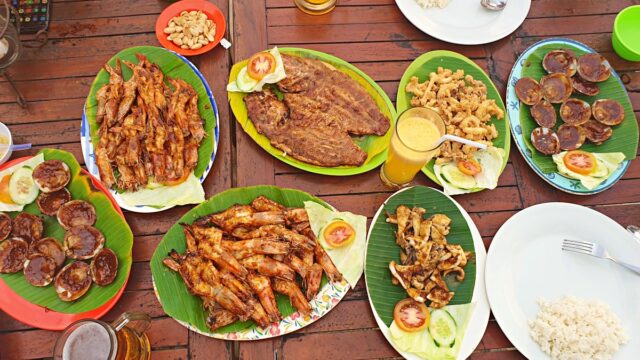 The most expensive price is for the seafood family package (4 portions). Included with the price are fruits, 1 large Bintang beer, 3 bottles of mineral water, 1 French fries, soup, salad, rice, vegetable, and three different sauces.
The cheaper packages are mainly for 2 people (the range is Rp350.000-Rp900.000). Included with the price are the same amenities but with fewer amounts. Bear in mind that the price isn't tax included. Diners will have to pay the additional 10% tax.
Other Options To Munch
Jimbaran Beach isn't only stuffed and famous for its seafood. Taste the Indonesian style fried rice. The dish is served with variations of side dishes. Choose egg, shrimp, squid, meat, or assorted seafood for the side dishes. Egg fried rice is the cheapest one, it's only Rp30.000. Fried rice with assorted seafood costs the highest, which is Rp50.000.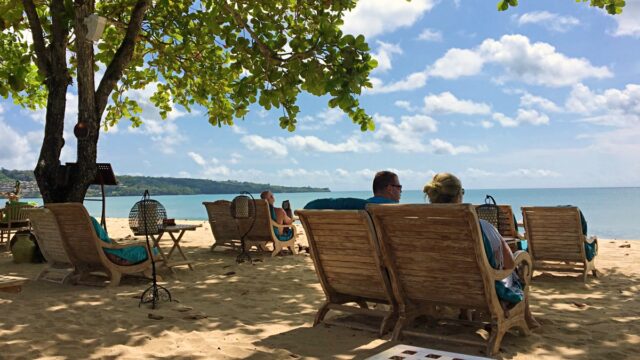 Other menus one can choose are capcay (mixed sautéed vegetables cooked with savory sauces), fried noodles, grilled chicken, and chicken skewers. Too bad there are no truly Balinese delicacies offer in Jimbaran. For these four dishes, diners will get charge Rp35.000-Rp50.000/portion. Remember, an additional 10% tax is not yet included.
Jimbaran Beverage Selection
Drinking options in Jimbaran beach doesn't differ much compared to other beaches. Bintang beers, wine, and arak are the main drinks offer in here. Arak is a locally produced liquor from distilled coconut sap, sugarcane, or red rice.
For the price, Bintang beers cost Rp25.000 – Rp50.000 depending on the size. Wine prices start from Rp60.000 per glass and Rp250.000 for a bottle. For non-alcohol drinkers, mineral water, coconut, tea, and soft drinks are the options.
Some places may offer fresh fruit juices as well. The cheapest drink to get is a small bottle of mineral water, which is Rp8.000. Fruit juices are the most expensive with Rp30.000. The tax is not yet included.
See: Bali Airport, Guide & Transportation.
Jimbaran Beach Opening Hours
The beach is open for 24 hours. But, since most people go here as culinary hunters, not many come in the morning or late at night. The beach houses and restaurants open at noon, and usually close around 11 PM. Oftentimes, local fishermen are spotted during the quiet hours.
However, nearby resorts are ready to serve breakfast with the beach view. Having breakfast in resorts can be done as early as 6:30 AM. These resorts start to close their business at 10:30 PM. One can have high expectations for the service (compared to those beach houses), but the price is for sure higher.
Jimbaran Beach Opening Hours
Every day except Nyepi day
Open 24 Hours
Restaurants
06:30 – 23:00
See: Pandawa Beach, Water Sport & Attraction.
Jimbaran Beach Entrance Fee
There is no entrance fee to enter the beach. People are free to roam and stroll on the beach. However, people coming with a vehicle will have to pay for the parking fee.
Jimbaran Beach Entrance Fee
Entrance Ticket
Free
Parking Fee
Rp10.000 (car) / Rp5.000 (motorcycle)
See: Batu Belig Beach, Local Culinary & Attraction.
Facilities
Aside from those abundant menus to order, Jimbaran is armor with decent facilities as well. Toilet and showering places are available. Prepare at least Rp5.000 to use each facility. A wide parking lot can accommodate visitors' vehicles during the high-season. While the official, highest parking fee is Rp10.000 for a car and Rp5.000 for a bike, sometimes some local guys will ask more.
How To Get To Jimbaran Beach
From the Ngurah Rai airport or Kuta area, the distance is around 7-10 km. It'll take an hour to walk in the heat. So, the options are renting a scooter or hailing a taxi. App-based car/bike order doesn't work although the price is better. Hailing a taxi is faster and less-drama. But that'll cost a higher price around Rp50.000 for a trip.
There is a reason why one cannot order a ride-hail vehicle. Locals in Jimbaran don't allow Gojek/Grab to enter the place – only taxis are allowed. Budget-wise, one trip with ride-hail bike costs less than a taxi's half price. One can use the service actually, but passengers can't stop right on the spot.
Hence to get to the beach there's going to be a bit of walking. From the airport, head to the airport by-pass road. The route goes south for 3 km before turning right onto Ulun Siwi street. Keep on track for one more kilometer to get to Pantai Jimbaran street. This means visitors will pass through Pemelisan Agung street as well.
Address & Location
Jimbaran beach located in Jl. Pantai Jimbaran, Jimbaran, South Kuta, Badung Regency, Bali 80361.