Rengganis Suspension Bridge
Entrance Fee: Rp120.000 - Rp150.000
Opening Hours: 07:00 - 17:00
Telp. Number: -
Address: Patenggang , Patengan, Rancabali, Bandung, West Java , Indonesia , 40973.
Looking for a thrilling adventure in Bandung? Then Rengganis Suspension Bridge is worth a visit! Located in the Rengganis Crater, Rancabali, this wooden bridge attraction is a 1-hour drive from the main city of Bandung.
Rengganis Suspension Bridge is dubbed to be the longest suspension bridge in ASEAN Region with 370 meters in length. Hanging over 75 meters high above the ground, travel across this suspension bridge will be nerve-wracking but exciting at the same time. Here's what to know before visiting Rengganis Suspension Bridge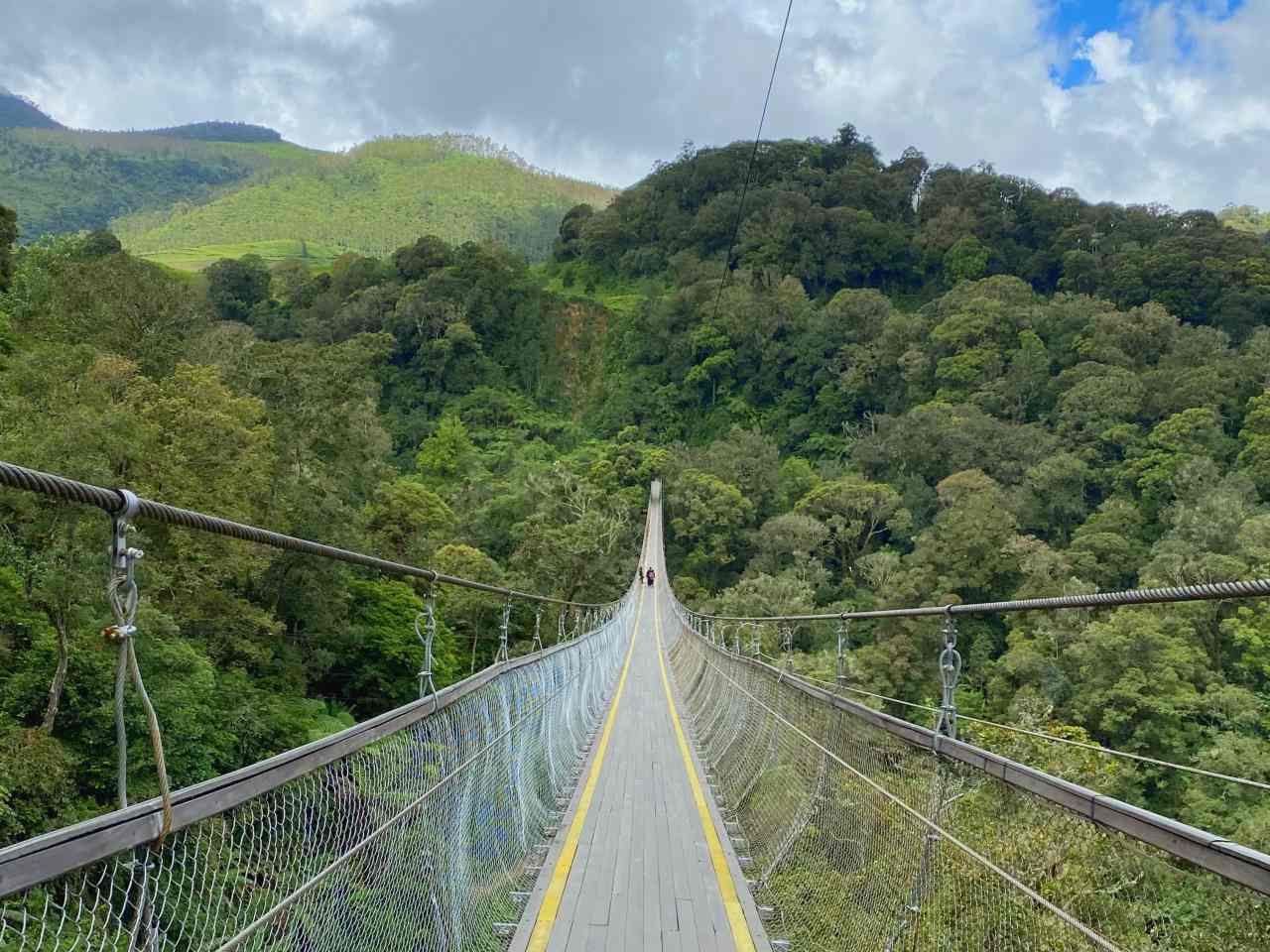 Rengganis Suspension Bridge Entrance Fee
There are several entrance fee packages that include the suspension bridge ticket. Given that the Rengganis crater, suspension bridge, and Situ Patenggang location are close to each other. The VIP package is Rp150.000 for international tourists. And that includes access to Rengganis Suspension Bridge for a round trip, Sultan Basket ride, Rengganis Crater, Patenggang Lake, and Pinisi Glamping Lakeside. The regular package is Rp120.000 and it gives the same access but visitors can only access the bridge one time.
Rengganis Suspension Bridge Entrance Fee
VIP Package
Rp150.000
Regular including all rides
Rp120.000
See: Kawah Putih Bandung Guide, Activities and Entrance Fee.
Rengganis Suspension Bridge Opening Hours
The bridge and Rengganis crater have the same opening hours from 7 AM to 5 PM every day. Avoid rush hour by visiting early in the morning. However, the weather might get too foggy to see the whole scenery. For the best view, come in the afternoon when the fog descends and the weather gets warmer. There is a possibility of a long lineup, especially at the Sultan Basket attraction. And since this destination is located in the highlands, the weather is cold so better to use warm clothes and bring a jacket.
Rengganis Suspension Bridge Opening Hours
Every day
07:00 – 17:00
See: Ciater Hot Spring Entrance Fee and Sari Ater Guide
Longest Suspension Bridge
Rengganis Suspension Bridge is relatively new and was built as a shortcut route to reach Rengganis Crater. The idea to build a bridge is to preserve the Patuha Mountain forest beneath it. Who knows this notable deed to protect nature is later known to be a famous attraction in Bandung!
For a suspension bridge, the Rengganis Suspension Bridge is relatively stable. The platform is made of high-quality wood complete with a sturdy chain railing. To ensure tourists' safety, the maximum limit to cross the bridge is 70 people at the same time. Tourists will be equipped with harnesses as well.
Don't hesitate to take the time while crossing the bridge. Get immersed in the scenery of the forest and unfolding tea plantation from above.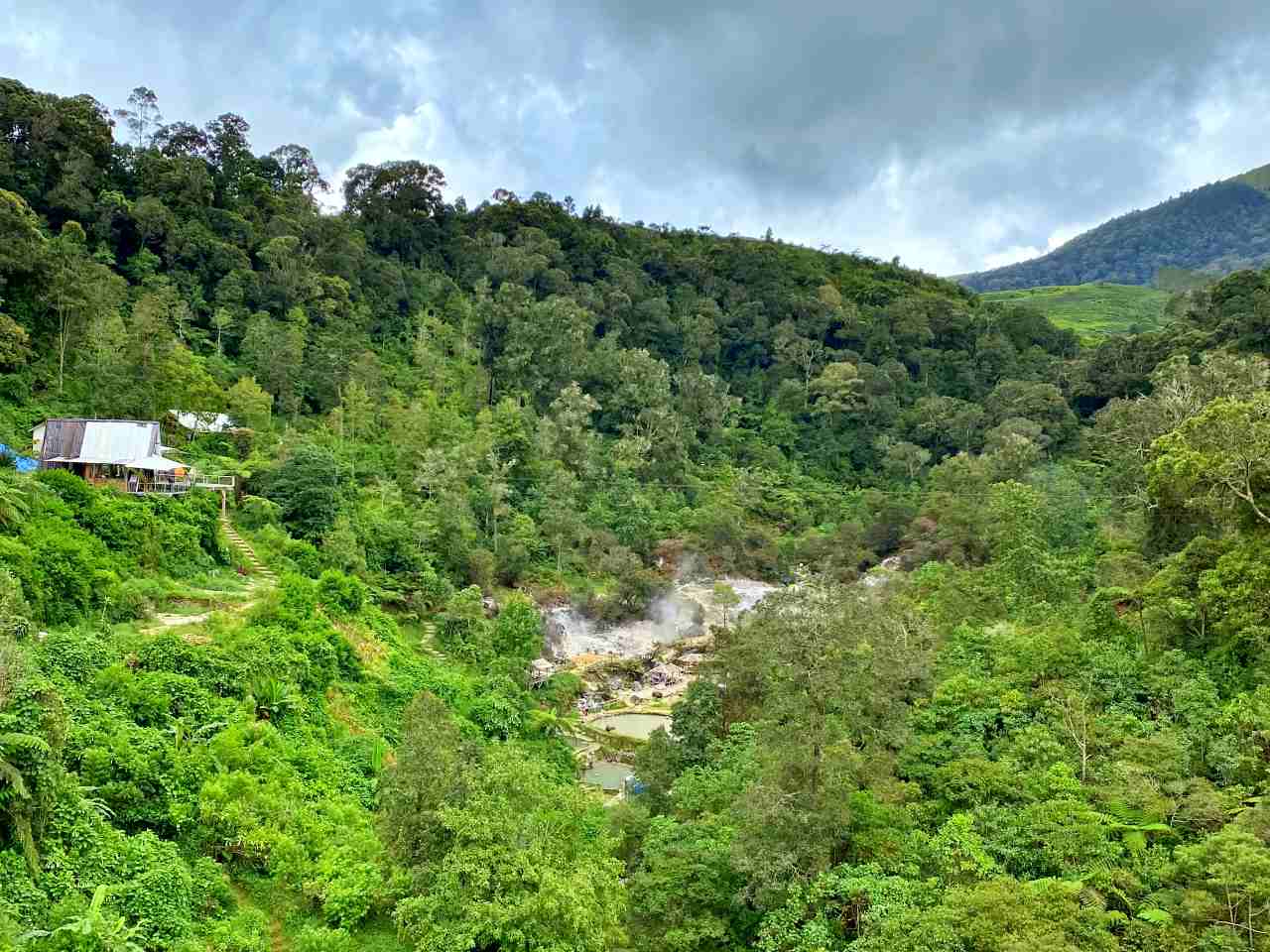 Hanging on a Basket
If crossing the bridge is not challenging enough, then try hanging on Sultan's Basket. Sultan's Basket attraction is one of the most favorite spots on the Rengganis Suspension Bridge. Tourists will get to sit on a bench-like cable car and ride across the hill with both feet dangling in the air.
There is no additional fee to try this attraction. Although the queue might take so long, about 1-hour wait, especially during weekends. So plan the schedule wisely!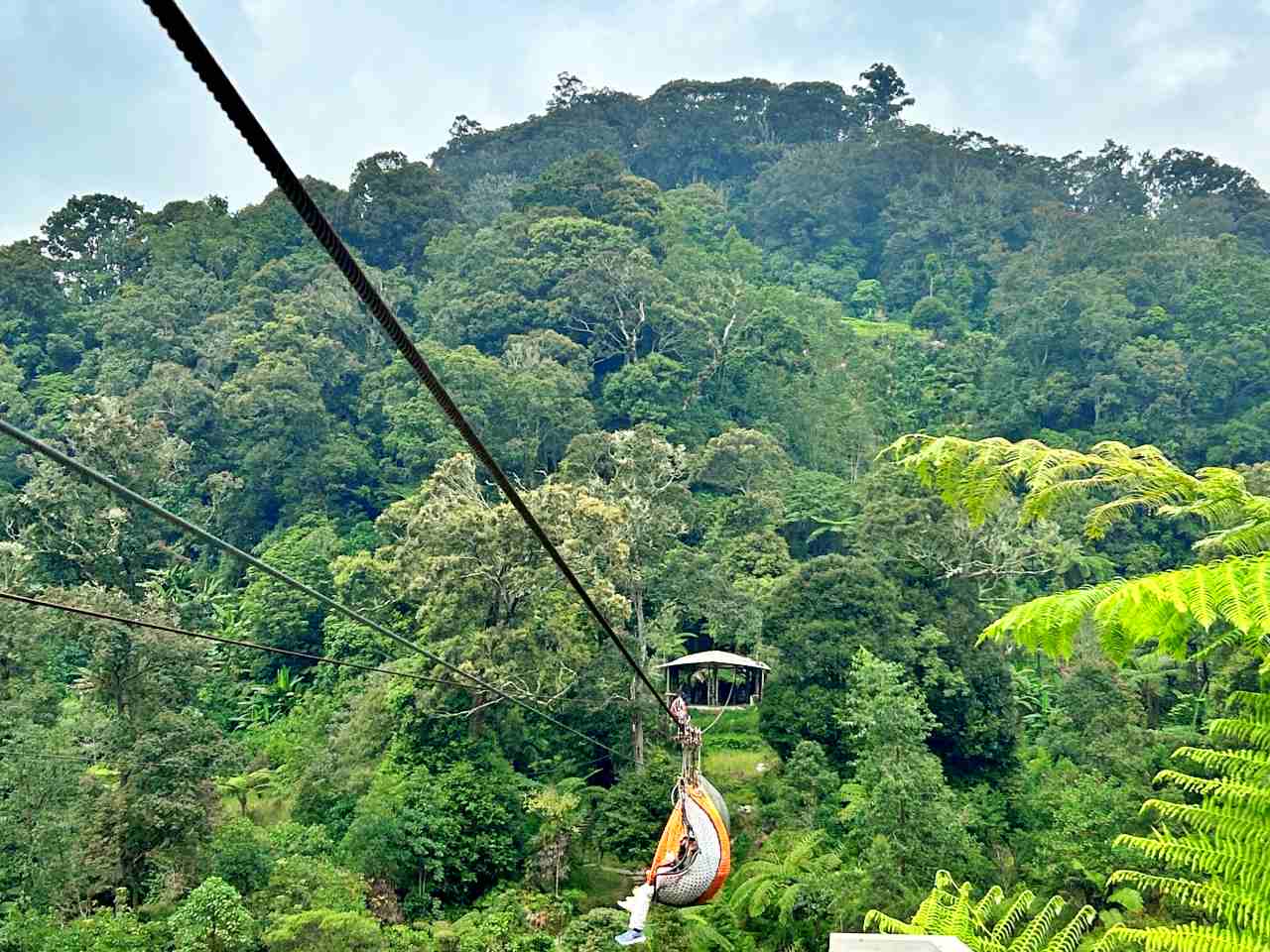 Rengganis Hot Springs Crater
After crossing the suspension bridge, tourists will find the Rengganis Crater, also known as Cibuni Crater. It is an active sulfur hot spring with a mud pool. The hot spring is so large, divided into two tiers of pools. As it is believed to have health benefits, many people soak in and bathe here.
Near the natural hot springs, there is a restaurant with a decent menu. Grab a meal and hot tea here after a good hot bath in the crater. There is a changing and shower room nearby as well.
Situ Patenggang Pine Forest
Not far from Rengganis Suspension Bridge, there is Situ Patenggang Pine Forest. This place is an excellent spot for a picnic with family, especially near the vast lake in the middle of the forest. The fresh air of the forest along with the lake's tranquil scene is a good way to end the adventurous trip to Rengganis Suspension Bridge. Tourists can also take a boat to explore the lake and reach a small island that cost another Rp40.000/person.
Batu Cinta
Batu Cinta, or Love Island is lying in the middle of Patenggang Lake. The island is only reachable by taking a boat from Patenggang's front gate or glamping site. Batu Cinta has a folklore background about the Rengganis goddess's love story. Nowadays, it is frequently visited by Rancabali tourists. Not far from there, there is a ship-like restaurant above the hill, overlooking the lake wrapped by a lush of trees underneath.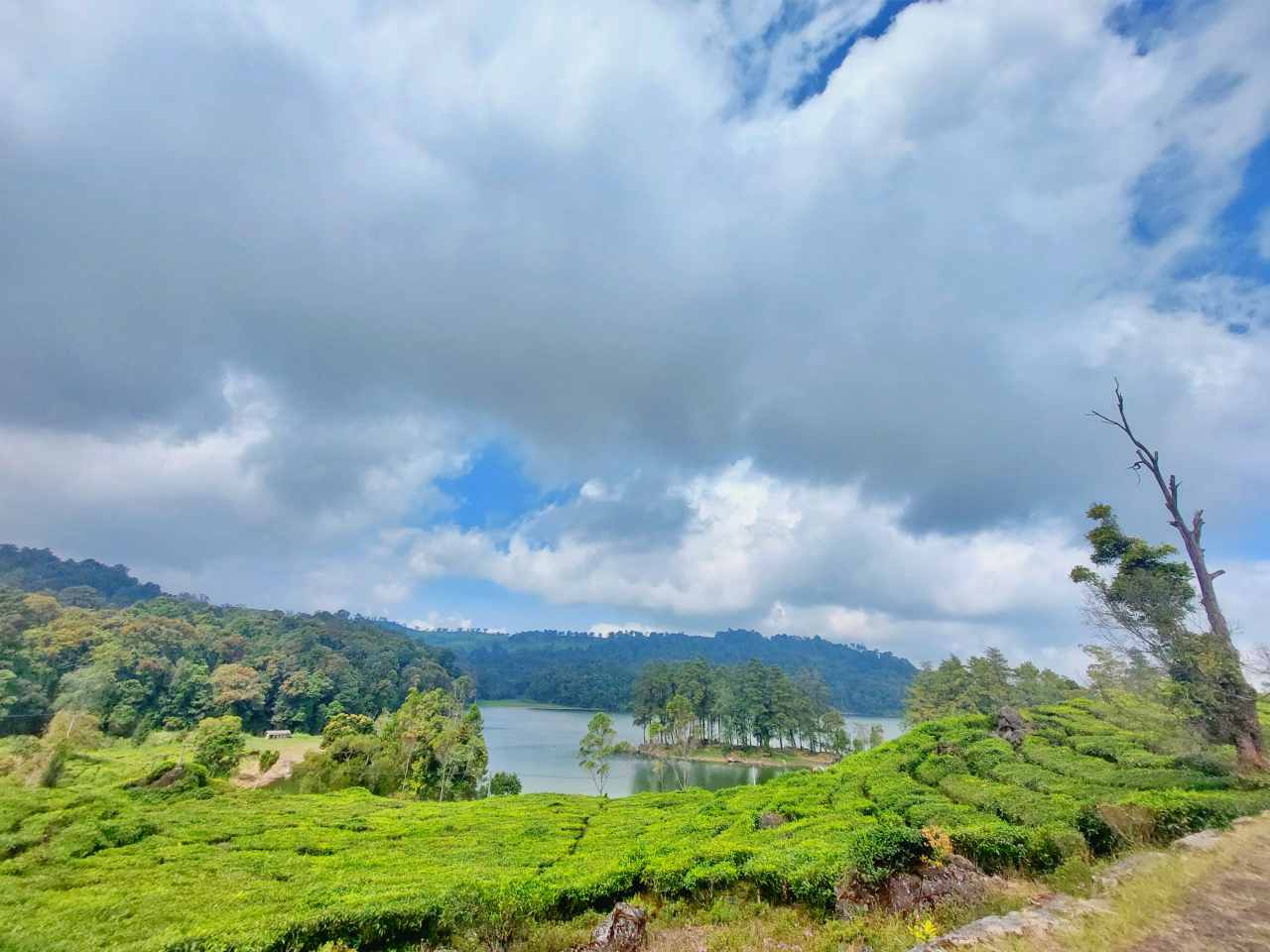 Rancabali Tea Plantation
Besides the pine forest, there is also a beautiful tea plantation, about 40 minutes drive to the east from Rengganis Suspension Bridge. The Rancabali Tea Plantation is one of the largest tea plantations in Bandung. Tourists can take a stroll into the rows of tea plants and take pictures. Climb up to the top of the hill, and enjoy the view of an unfold greenery.
The tea plantation is a free entrance site, as it is located on the side of the road. There is not much space to park vehicles and be careful when passing the road. There are many food stalls along the way, that offer traditional hot drinks, such as Bandrek, to warm the body.
See: Ranca Upas Bandung, Deer Park and Camping Ground
Camping
For the uttermost nature experience, camping in Rancabali can be a good option. Rancabali campsite is located between Rengganis Suspension Bridge and Patenggang Lake. It is an open space facing the pine trees and the shore of Patenggang Lake.
The campsite is well-managed and convenient for tourists. There is a full-packaged rental camp kit for tourists. The package starts from Rp250.000 per person/night, including ticket fee, tent for 6 people, cooking equipment, table set, and electricity access.
See: Punclut Ciumbuleuit Culinary Spot and Top Things To Do
How To Get To Rengganis Suspension Bridge
From the heart of Bandung City, it takes about a 1.5-hour drive to reach the destination. The quickest route is by taking Jl. Terusan Pasirkoja Highway to the Jl Raya Ciwidey-Rancabali. Get pass through lots of Ciwidey tourist spots before reaching onto Jl Raya Patengan where Rengganis Crater is located.
Rengganis Suspension Bridge is only 30 minutes away from Ciwidey and 21 minutes drive from Glamping Lakeside Rancabali. Unfortunately, there is no public transportation to get to the suspension bridge. The option is to rent a car with a driver. The price for a half-day rent range from Rp450.000 to Rp750.000 depending on the car's capacity. The rent already includes the driver's fee and gasoline.
See: Jakarta Airport To Bandung Transportation Guide
Address & Location
Rengganis Suspension Bridge is located in Patengan, Rancabali, Bandung, West Java 40973. This bridge is half an hour away from Kawah Putih Crater.