Ciater Hot Spring
Entrance Fee: Rp20.000 - Rp75.000
Opening Hours: 00:00 - 24:00 WIB
Telp. Number: -
Address: Jalan Raya Ciater, Ciater , Ciater , Subang , Jawa Barat , Indonesia , 41281.
Nothing is more soothing than taking a dip in a natural hot spring. With azure mountains as the background and surrounding green trees, it is a hands-down paradise. If that is what vacationers are looking for, then Ciater hot spring is the right place. It has been a landmark of Subang, West Java, renowned for its volcanic bathhouses.
The hot water comes from the active volcano Tangkuban Perahu, about 9.4 kilometers from Ciater. In fact, hot spring spots are scattered in Ciater. And one of the most popular locations is in Sari Ater Hotel. This three-star establishment offers a complete package of beds, (hot) baths, or both.
Tourists can come only for the hot springs and stay somewhere else—no problem. The hotel's guests, however, do not need to pay for the entrance. Covering a 30-hectare hilly area, Sari Ater hot spring provides numerous pools and shallow creeks. All the private and public pools, even hot waterfalls, are in the open air.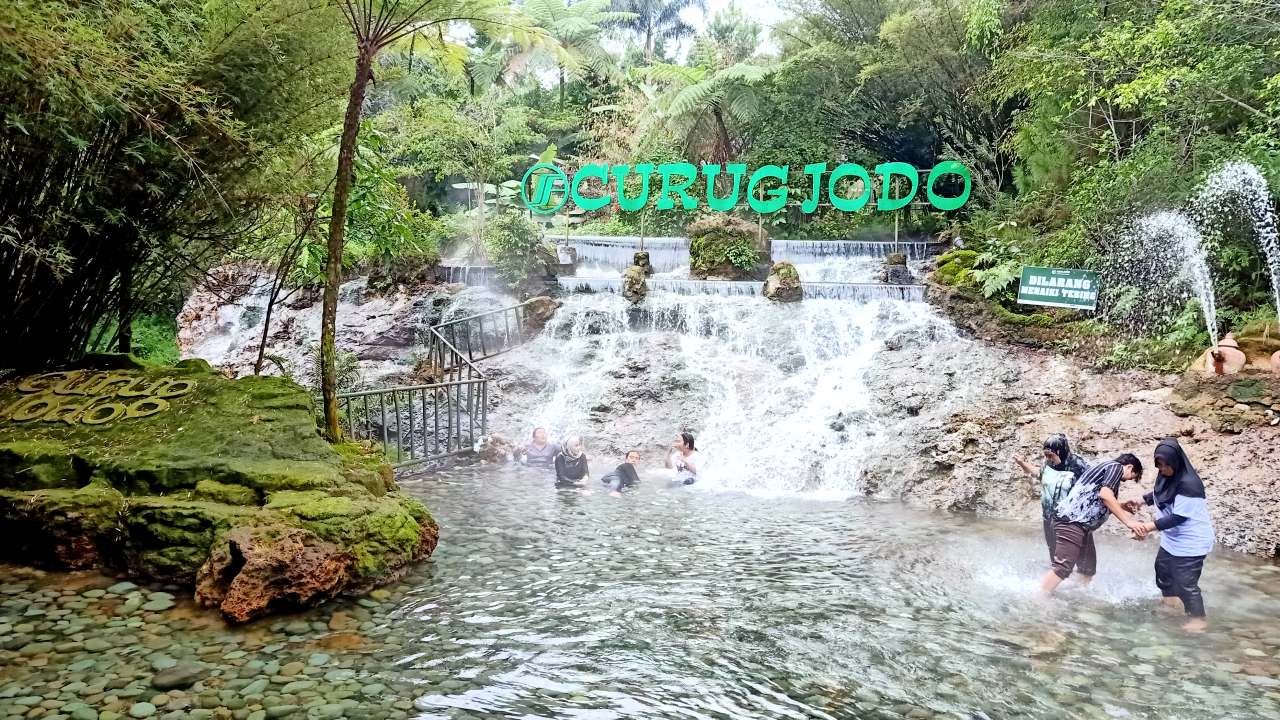 At least 70,000 people flock here every month to enjoy bathing or swimming. Some simply sit down and soak their feet as it is believed to cure rheumatics. Thanks to its high sulfur level, elders spend hours in the water for health.
Ciater Hot Spring Entrance Fee
To stay and soak in the hot spring pool, visitors will need to pay for entrance tickets plus the pool access fee. For example, to enter Ciater hot Springs, guests will have to pay Rp35.000. There is an additional entrance fee to enter and dip in one of the hot spring pools.
Ciater Hot Spring Entrance Fee
Recreation Park Area
Rp35.000
Mayangsari package (entrance fee to the park included)
Rp70.000
Wangsadipa, Pulosari Package
Rp50.000
Leuwisari Pool
Rp20.000
Ciater Spring Valley Park
Rp35.000 (weekday) Rp40.000 (weekend)
In-room soaker tubs
Rp 60.000
Nangka, Kunang-kunang
Rp75.000
Kiara
Rp50.000
Car parking fee
Rp30.000 additional Rp15.000 for deposit
Foot Reflexology
Rp40.000
See: Tangkuban Perahu, Volcano Crater & Top Activities.
Ciater Hot Spring Opening Hours
The hot spring includes one in Sari Ater formerly open for 24 hours. But now from Monday to Friday, it is open from 8 AM to 10 PM. While on Saturday and Sunday, the hot spring opens from 6 AM to 12 PM. To enjoy the hot springs in a green ambiance under the blue sky, come before dusk. Stargazers can admire the night sky while taking a hot bath in the evening.
Ciater Hot Spring Opening Hours
Monday – Friday
08:00 AM – 10:00 PM
Saturday – Sunday
06:00 AM – 24:00 PM
Staying guests at Hotel
24 Hours
Ciater Springvalley Waterpark
09:00 – 17:00
See: Kawah Putih, Volcano Crater & Top Activities.
Ciater Hot Spring
Long ago, this used to be a wilderness and no natives dared to come around. The desolate forest was full of ater trees, leading to its name later. One day, clean running water was scarce and the surrounding villages were in a crisis. When an unnamed local cut off an ater tree, water gushed out from the trunk. Soon they discovered that those trees were rich in the water they lacked.
Nevertheless, the forest remained scary to the people and they were reluctant to explore more. So, a local shaman Embah Ebos took this matter into his own hands. He cleared a small portion of the jungle to pave way for a new settlement. He nailed it and soon villagers relocated to this new site called Ciater Hot Spring.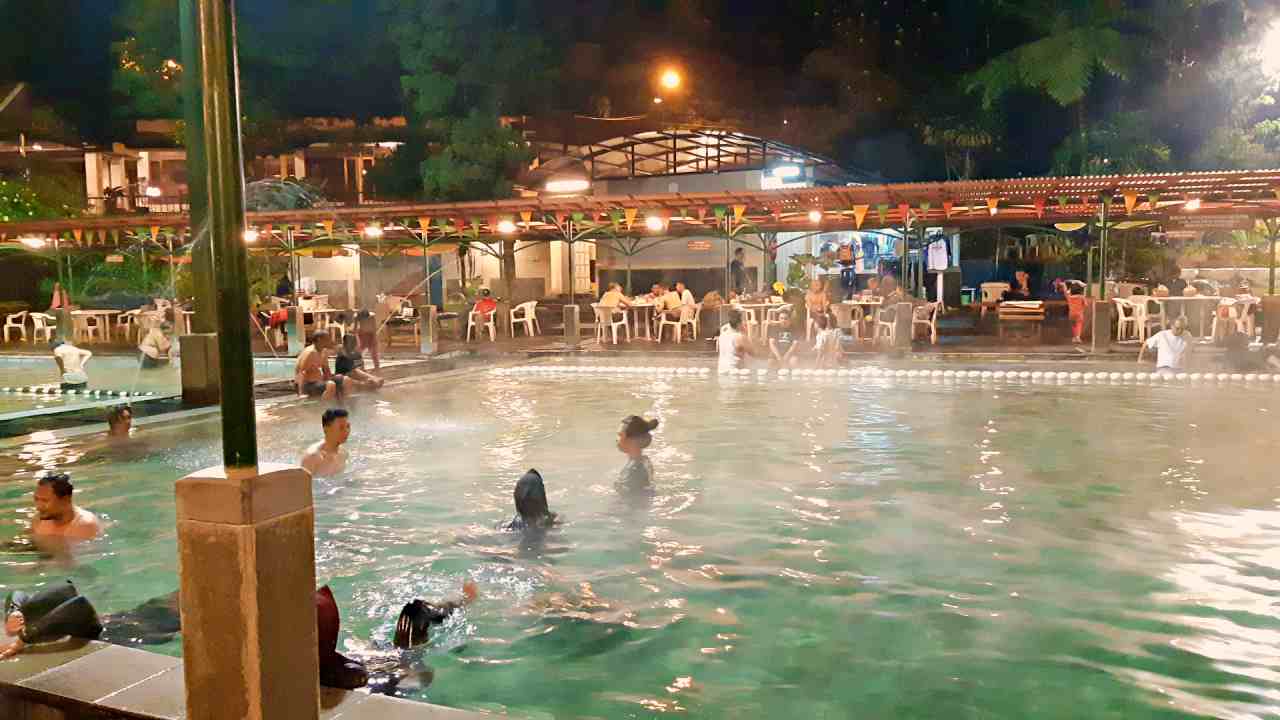 Its geothermally heated groundwater attracted Subang Government. Knowing that it could benefit the regency's economy. Therefore, in 1968, they started to develop and manage the area more intensively.
Their hard work paid off as Ciater Hot Spring slowly but surely soared to fame years later. Both Subang's hot springs and agricultural products still stride in pride to this very moment.
Keep Calm and Take a Plunge
Ciater Hot Spring or Sari Ater is only about one thing: to get soaking wet inside out. Don't stick around, sit, and do nothing without having some splash on the skin. The chill weather invites everyone to find warm comfort in the water. It is like a cozy blanket in the form of a liquid.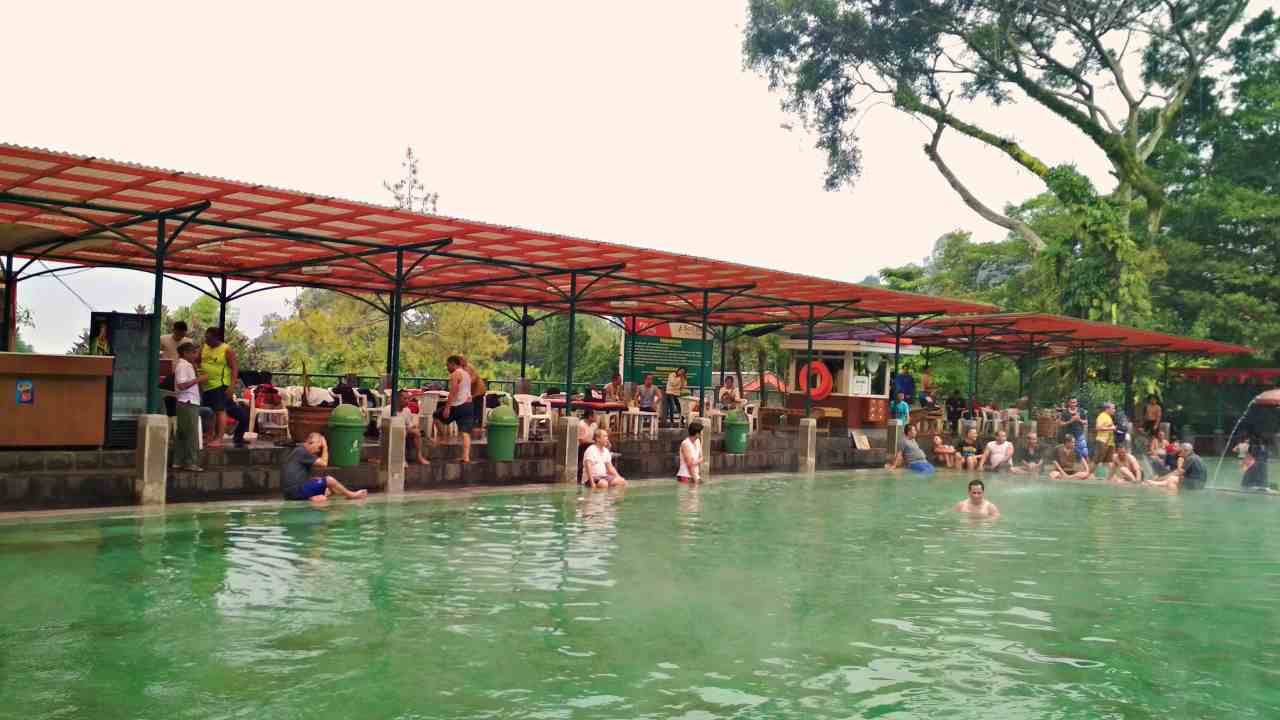 The water temperature of the hot springs ranges from 37 to 42 degrees Celsius. There are two types of pools based on the model: modern pools and traditional pools. The modern ones are like swimming pools in general—square-shaped with ceramic tiles. They are 1-1.5 meters deep so they are suitable for swimming and complete submerging.
The traditional ones, on the other hand, have rock-based bottoms and are shallower. There is a long bench made of rock as well along with each rock pool. The water is lukewarm at ankle-depth ponds and the temperature rises as it gets deeper. When the water reaches the knees, tourists can feel the intense yet still bearable heat.
It is better to slowly and gradually adjust the body temperature with the water. Before diving in, sprinkle some water on the hands, arms, feet, and thighs. When the body has had time to adapt, visitors can slowly submerge into the water. Since it is open 24 hours, it is best to come in the evening.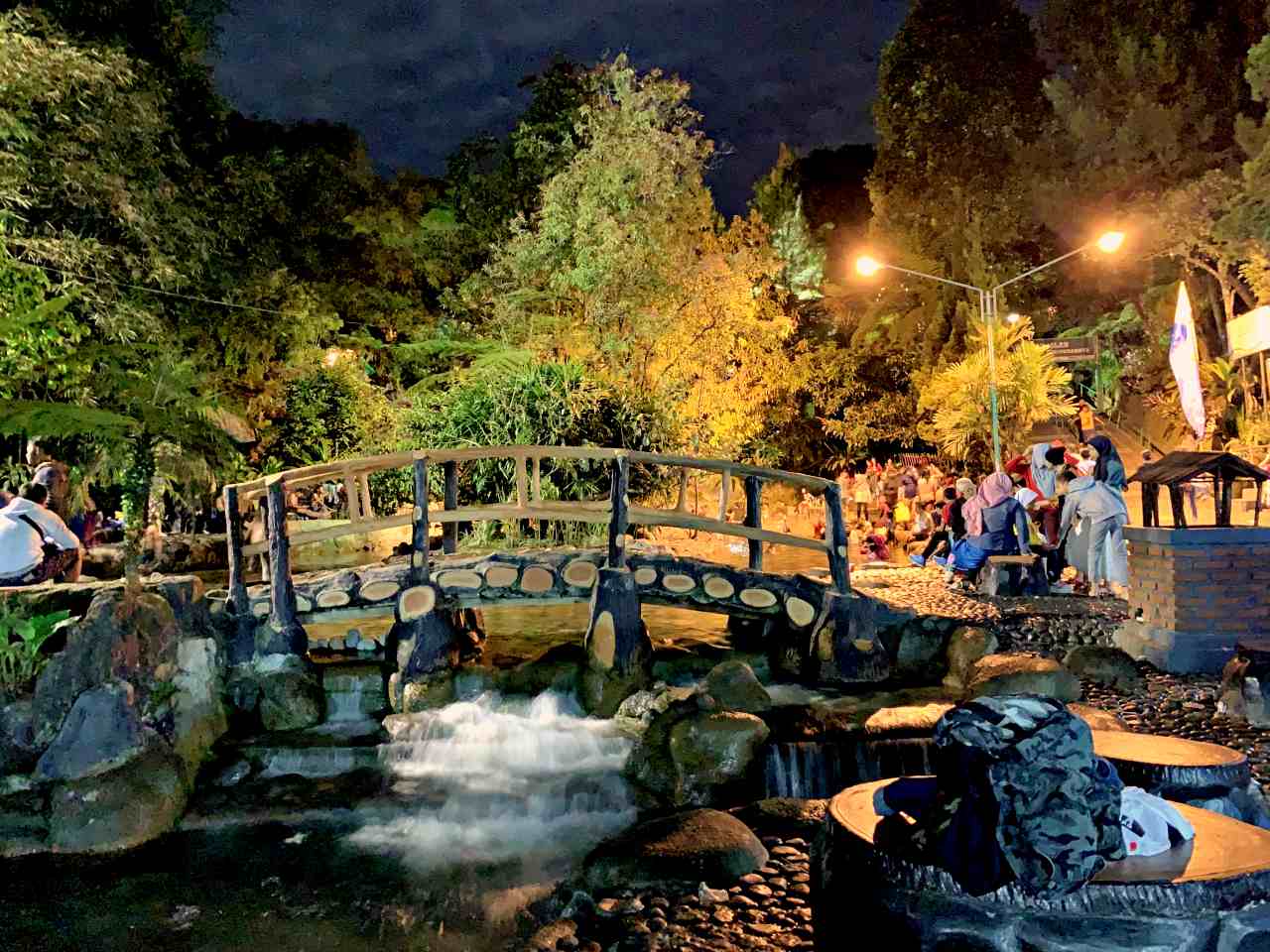 Families with children have already headed home by then, so it will be less crowded. Nothing compares to bathing in a hot spring with the starry night sky in serene silence. The orchestra of the wild—owls' soft coo and crickets' high-pitched chirp —creates more tranquility.
Activities & Food Vendors
Other than getting wet, tourists can also sign up for Sari Ater's physical activities. It surely has everything from flying fox, go-karts, fishing, wall climbing, and horse riding, to paintball. These fun leisure activities cost different prices though, starting from a minimum of Rp 20.000 per person.
Sari Ater Hot Spring also provides pastime packages for groups that include some of the activities. On this occasion, guests could sign up and book on the spot. After spending hours swimming and cheerfully screaming the lungs out, hunger creeps in. In short, it is time to turn on the food-gathering mode.
With lines of food stalls cooking traditional and international dishes, the options are limitless. Munch on authentic West Javanese savory snack batagor—fried fish cakes smothered with peanut sauce. The Sundanese complete meal of rice, chicken, vegetable, and hot chili sauce sambal is available too.
If the cold breeze gets even colder, take some sips of the indigenous drink bandrek. This warm ginger-based traditional concoction has every element to heat up the body. The caramel-like fragrance of palm sugar mixed with cinnamon and pandan leaves is very irresistible. It tastes even better with a dash of pure milk that enriches the flavor.
Read: Indonesian SIM Card for tourist, Data Package & Coverage.
Facilities
Ciater and Sari Ater hot springs have basic facilities such as public restrooms, showers, a little mosque, and lockers. Visitors can easily find those facilities almost anywhere within Sari Ater's area. Despite the early opening hour and closing at midnight, the food vendors here are not. Therefore, guests are recommended to bring food, just in case the food vendor close already.
See: Punclut Ciumbuleuit Highland & Bandung Top Culinary Spot
How To Get To Ciater Hot Spring
Start the journey from West Java's capital city, Bandung, as it is closer to Subang. Bandung-Subang is approximately 32 kilometers away, it takes about a 1.5-hour drive by car. Bandung has many car rentals so travelers can get a car and drive away.
As for public transportation (angkot), take the one serving Ledeng-Lembang route at Ledeng Terminal, Bandung. Stop at Lembang Terminal, get on Lembang-Subang angkot, and stop at Jalan Cagak, Ciater.
See: Jakarta Airport to Bandung Public Transportation Guide.
Address Location
The hot spring is located right at Raya Ciater, Nagrak, Ciater, Subang district, West Java 40154.