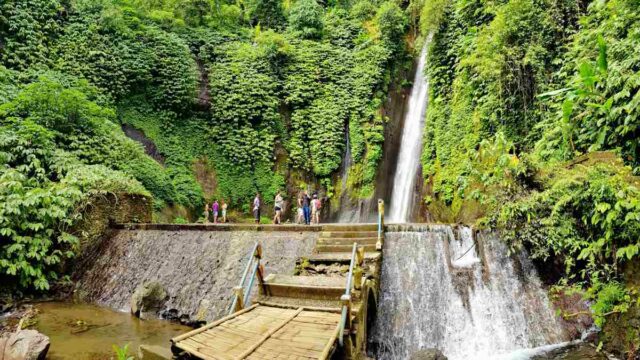 Munduk Village at Buleleng, Bali, is an agricultural center for precious commodities. Such as coffee, vanilla, and cloves. Tourism is not their main income focus for most villagers. The village is quiet, scenic and pure far from touristy. It takes a certain poking around to discover Munduk's hidden gem, Munduk Waterfall.
Munduk Waterfall is a 15-height waterfall located in the north part of the village. It is a slightly similar landscape with the popular Gitgit Waterfall, only a lot smaller. The water at Munduk Waterfall contains a small concentration of sulfur. An ingredient that has a healing effect.
Treating skin inflammation and other beautifying results. At least that what the locals believe. Looking back at the Indonesian colonial era. Munduk area is not entirely unknown from the outsiders. Dutch officers used to go to the village for a retreat.
The earliest guesthouse in Munduk was opened in 1908. Long before Bali became popular internationally. Nowadays, history seems to repeat itself. Only it's tourism rather than imperialism. Munduk Village is a retreat place for tourists. Especially those looking for an escape from Bali's tourist area. 
Munduk Waterfall Easy To Walk
The entrance to Munduk is a muddy path. Down the lush forest that will soon turn into a paved road. The trek is easy downhill with distance around 500 meters. After 15 minutes walking, there's a wooden bridge leading to the waterfall. Munduk waterfall stands among a magnificent jungle setting.
Water flows down from a small crack surrounded by thick shrubs. Since the waterfall is not quite high, try to stand under the waterfall. It is refreshing as the strong shower hits the head. Stay in the water for some time so the sulfur can work its wonder for the skin's health.
Enjoy the beneficial effects, no need to go to a spa for glowing and healthy skin. Later on, restore the body's heat by ordering a cup of hot coffee from a warung nearby.
More Waterfalls
Munduk Village has other waterfalls aside from Munduk Waterfall. Continue to take the off-beaten path to Melanting Waterfall. It is an hour trek from Munduk. And the waterfall can easily be accessed from the same forest. Melanting Waterfall is 30 meters high.
The dew coming from the water flies more wildly here that at Munduk, creating a natural shower. Other waterfalls include Laangan Waterfall, a waterfall located in a villager's private land. Befriend the old man whose family own the place. And ask him how it feels to have a waterfall at one's backyard.
The last waterfall is Golden Valley, which is popular for its Eco Cafe. The cafe is situated in front of the waterfall. Order a hot beverage from the menu. While enjoying the view of the waterfall from this cafe.
Munduk Waterfall & Village Old Retreat Area
There's a reason why Dutch officers from Singaraja liked to visit Munduk in the past. Munduk is situated at 500 to 1200 meters above sea level. It has average temperatures of 20 to 25°C. Singaraja was hot and crowded. While Munduk had a milder climate, smaller population, and a scenic landscape.
Exploring Munduk Waterfall, notice leftovers from the colonial era. There are many houses at the village with colonial-style architecture. The agriculture here is also an evidence from the colonial era. It was the Dutch who introduced cloves, coffee, and vanilla farming.
Find a coffee shop at Munduk Village to try the local specialty: a cup of Luwak Coffee. Walk around Munduk to feel how the village has transformed. From a humble settlement of Bali's mountain people. Survived during the colonial period, to be what Munduk is today. A trekking journey will bring visitors along the plantations.
Where cloves scent fills the air. Some of the old retreat houses are transformed into guesthouses for tourists. Stay in this place to have a time travel experience at Munduk. 
Munduk Waterfall Opening Hours
Munduk Waterfall opens from 6 AM to 6 PM every day. Moonson is the least favorite time to explore the waterfall. It's slippery and muddy. Pay attention to the weathercast. If it's raining a day before. There is a high chance the water is brown.
Munduk Waterfall Opening Hours
Every day
06:00 – 18:00
Nearby: Cliff Jumping and sliding in Aling-aling Waterfall.
Munduk Waterfall Entrance Fee
The entrance fee is IDR 20,000 for adult and IDR 10,000 for children. There's an additional parking fee of IDR 5000 per vehicle. Other waterfalls beside Munduk Waterfall need separate tickets, typically around IDR 15,000 – IDR 20,000/visitor.
Munduk Waterfall Entrance Fee
Children
Rp10.000
Adult
Rp20.000
See: Explore The Tallest Waterfall in Bali, Gitgit Waterfall. 
Munduk Waterfall Facilities
Munduk Waterfall has basic facilities. There is parking space and toilets for visitors. The small path to the waterfall is clean and well-maintained. There's a couple of small coffee shops selling hot beverages and snacks along the trek toward the waterfall. For tourists looking for a place to stay the night, there is no short of options for hotels alongside Munduk Street.
How To Get To Munduk Waterfall
From Denpasar, visitors will need around 2 – 2,5 hours to reach the Waterfall. Visitors can rent a car, usually cost around IDR 600,000/day. Tourists coming from Singaraja is recommended to rent a motorbike since it's closer (rent IDR 50,000/day). As for public transportation, there's a 'Perama' bus line to Bedugul either from Singaraja and Denpasar, fare around IDR 40,000/person.
From Bedugul, rent a motorbike to get to Munduk Waterfall. The route from Denpasar is as follow Singaraja-Denpasar Road – Bedugul – Wanagiri Intersection – U-turn to Wanagiri Road – Munduk-Wanagiri road. Once at Munduk Village, pay attention to road signs to the waterfall location.
For visitors departing from Singaraja, the journey will take an hour to Munduk Waterfall. Visitors can take Singaraja – Denpasar road and then take a similar route as visitors from Denpasar once arrive at Wanagiri Intersection.