Gitgit Waterfall
Entrance Fee: Rp20.000
Opening Hours: 07:00 - 17:00 WITA
Telp. Number: -
Address: Jl. Raya Bedugul - Singaraja, , Gitgit, Sukasada , Buleleng , Bali, Indonesia , 81161.
In general, northern Bali is dense in terms of nature. Hills and mountains, covered by vast green tropical rainforests, dominate this region. Small rivers and springs including waterfalls are abundant. And Gitgit Waterfall is just one of the many natural gems on the north side of Bali.
These water sources, combined with the mountainous terrain, create various beautiful waterfalls. And it spread across Bali's town Singaraja. Gitgit Waterfall is one of the most popular ones among locals. Compared to other waterfalls such as Sekumpul, Munduk, and Carat Waterfalls. Gitgit is remarkable, especially because of its height.
At 35 m, it is the tallest waterfall in the Bali region. Gitgit Waterfall is located in Gitgit village, only 11 km from downtown. Rocks and green vegetation form a natural corridor along the small path toward the waterfall. In the end, a small temple guards the roaring waterfall in silence.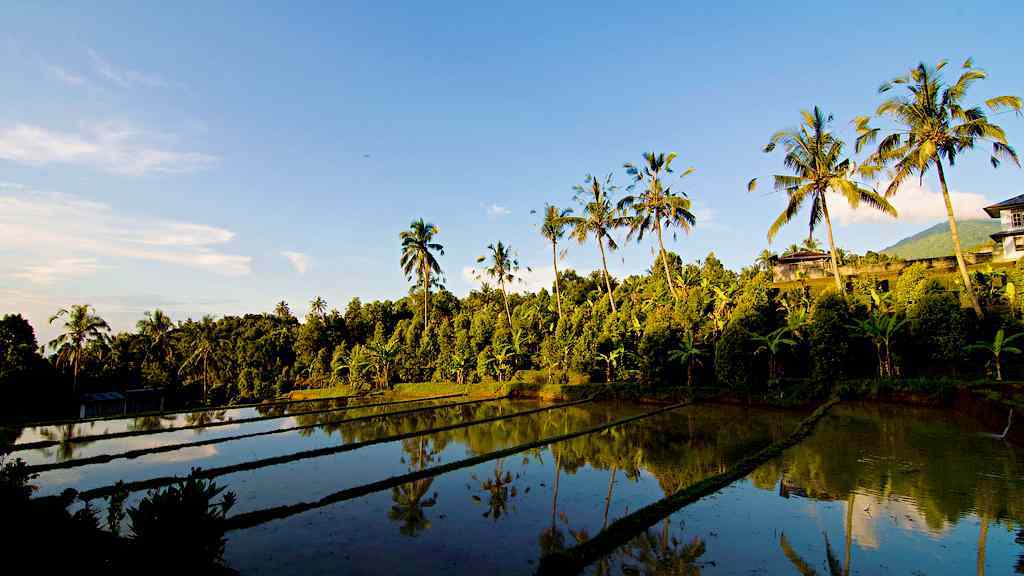 Droplets of water spray the temple almost all the time, yet it stays firm. Balinese believe this water temple, or Pura Segara, serves as both a guardian and a bearer of blessing to the site.
Gitgit Waterfall The Tallest In Bali
After walking down the paved steps for around 15 minutes from the parking lot. A panorama soothing to the eyes welcomes visitors as they finally arrive. A gentle breeze blows along with the dew from the waterfall, caressing visitors' faces that it feels so fresh. Sounds of birds and cicadas singing can be heard in the background.
All of those and with the sound of torrential water flowing, ready to take away the exhaustion. A wooden gazebo, built with a Balinese style, only meters in front of the waterfall. The roof is not enough to shield from the wandering dew. But at least there are benches to sit on. Take a break in here and enjoy a gentle shower from mother nature.
The waterfall forms a natural pool below, filled with shallow water safe enough to walk through. Although it's not a deep pool and not enough to swim.  it's quite refreshing to dip in here. The water is cold but feels refreshing for tired feet. Plus, a quick splash will help freshen up the body from the tropical humidity.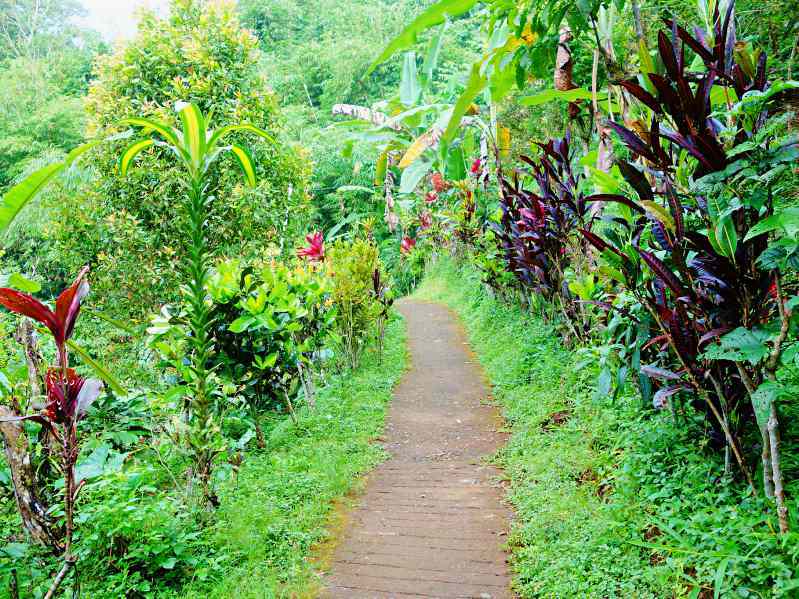 Observing from a bit further
It is not wrong not wanting to get wet. For those who are reluctant to get too close to the splashy waterfall. Luckily a bridge walkway is built to serve as some kind of a viewpoint.
The water runs among the rocks in the river below. Very relaxing to watch while admiring the waterfall from afar. The bridge is also people's favorite to take pictures. Besides the best angle, people would not have to worry about water splashing the camera.
Other waterfalls
Gitgit village has more waterfalls to offer. A twin waterfall nearby Gitgit, called Campuhan Waterfall, consists of two waterfalls each flowing from a different river. One has a height of 10 meters and the other is 20 meters. This waterfall is considered one of Bali's most beautiful waterfalls for its unique formation.
Campuhan's location is quite deep in the forest. Sunlight struggles to get through the forest canopy. Hence it is considerably dark under the trees. But soon, as hikers get to the waterfall. The dark ambiance is compensated by sunlight bias above the waterfall.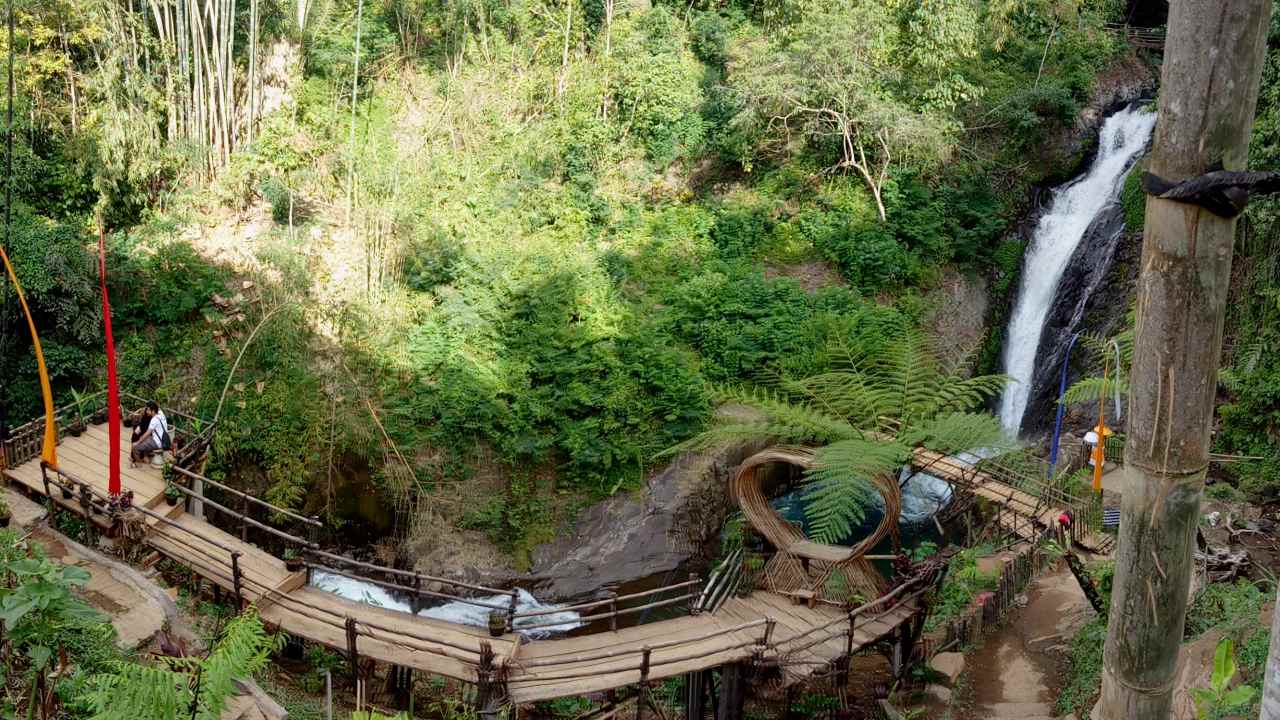 This combination creates a chilling, mystical yet beautiful atmosphere one can experience. Another waterfall is located even deeper in the forest. The locals called Colek Pamor Waterfall. This is where everything gets interesting for the hiker.
The roads are unpaved as it's muddy, and nature is barely touched by human hands. To add to the difficulty, there's no helpful sign whatsoever along the route. Hiring a local guide is a wise decision to avoid getting lost here.
Discover local specialties
Lastly, before leaving discover unique goods here like no other place in Bali. Local specialties such as coffee, vanilla, and cloves are ready for tourists to bring home. These products are produced at the nearby plantations, so it's most definitely fresh.
The locals run their small local garden and sell it to tourists and buying it might help the locals get an additional income.
See: Guide To Explore Aling Aling Waterfall & Top Things To Do.
Gitgit Waterfall Opening Hours
Gitgit welcomes visitors every day from 7 AM in the morning to 5 PM. It is closed to the public during Nyepi day. A silent day will affect the entire island.
GitgitWaterfall Opening Hours
Every day except Nyepi
07:00 – 17:00 WITA
See: Guide To Explore Banyumala Twin Waterfall & Entrance Ticket.
Gitgit Waterfall Entrance Fee
The official ticket price is Rp 20.000 both for locals and foreigners. There is an official ticket counter right by the entrance of the waterfall. Some people will try to scam and say the official ticket is way more than that. Or foreign visitors will have to be with a local guide. Just avoid, walk straight and pay Rp20.000 in the booth.
Gitgit Waterfall Entrance Fee
International tourists
Rp 20.000
See: Guide To Explore Banyu Wana Amertha Waterfall & Ticket.
Gitgit Waterfall Facilities
Basic facilities are available here such as parking spaces and toilets. A modest changing room is provided for visitors who want to change into bathing suits near the waterfall. For hungry visitors, restaurants and food stalls are plenty nearby. Souvenirs shops selling typical Bali merchandise such as wood carvings and paintings are also available here.
See: Top Thing To Do In Lovina Beach.
How To Get To Gitgit Waterfall
Travelers visiting Gitgit waterfall usually rent cars from Denpasar or from Singaraja. Just follow the provincial road of Denpasar-Singaraja and tourists are good to go. The road sign indicating the waterfall's location can be seen several kilometers before the destination. Making it easier not to miss this place. The journey will take approximately 2,5 hours from Denpasar (90 km).
See: Bali Airport Guide & Public Transportation.
Address & Location
The Waterfall is located in Jl. Raya Bedugul – Singaraja, Gitgit, Sukasada, Buleleng, Bali 81161.