Peguyangan Waterfall
Entrance Fee: Rp15.000
Opening Hours: 06:00 - 19:00
Telp. Number: -
Address: Jl. Tirta Bhuana Sari, Batukandik, Nusa Penida, Klungkung, Bali , Indonesia , 80771.
Nusa Penida island is known for its beaches, phenomenal landscape, and underwater attractions. One of the most popular spots is Peguyangan Waterfall. Unlike most waterfalls on the island, this one is located on the edge of a cliff overlooking the ocean. Making a scenic panorama that is incomparable to any other place.
Peguyangan Waterfall has been the local's favorite destination, not only for refreshment but also to perform rituals and pray. Locals put honor on Peguyangan Waterfall because the water spring is one of their water sources. Nowadays, Peguyangan Waterfall is beloved by everyone, including domestic and foreign tourists for its beauty and view.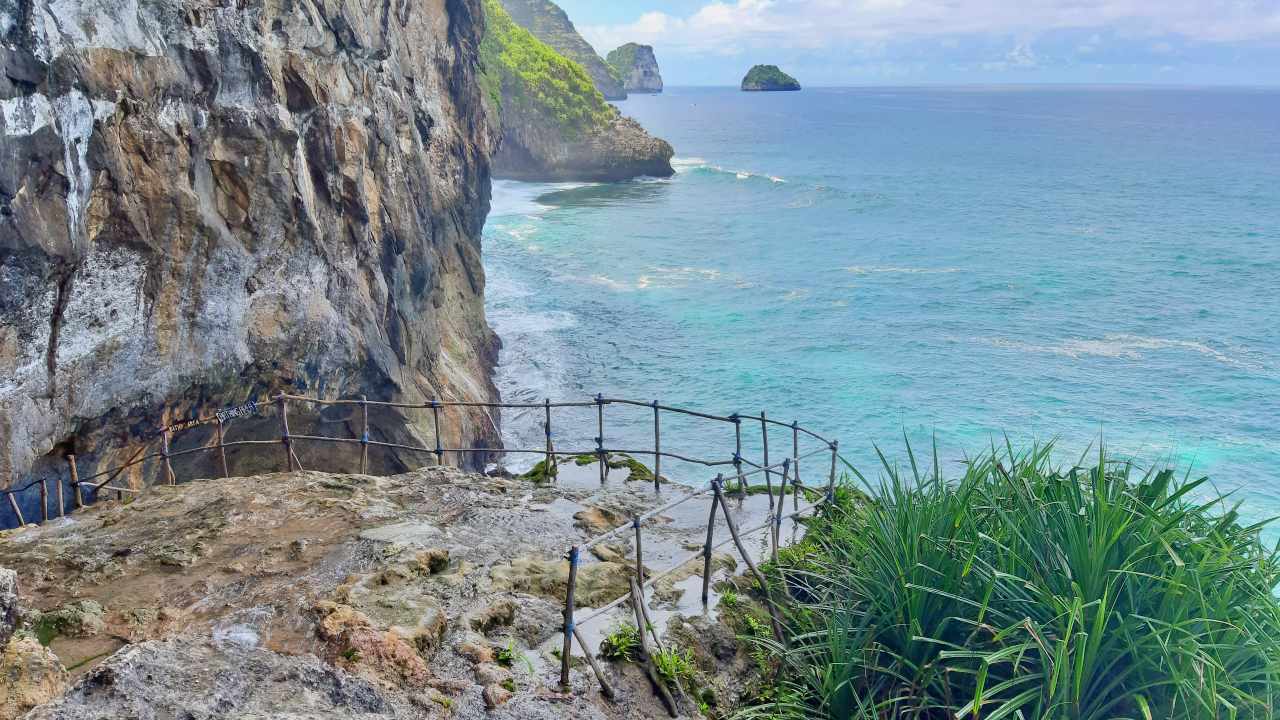 Peguyangan Waterfall Entrance Fee
To explore the waterfall and the pool, the entrance fee is Rp15.000. However, since this destination is a sacred site. Visitors will need to wear sarongs. No need to worry because visitors can pay Rp15.000 to rent one at the front gate. But sometimes they ran out of sarong to rent. So it's best to bring one.
Peguyangan Waterfall Entrance Fee
Entrance Fee
Rp15.000
See: Tembeling Beach and Forest, Nusa Penida Guide
Peguyangan Waterfall Opening Hours
Peguyangan Waterfall is open from 6 AM to 7 PM every day. But it's best to visit the site early in the morning to avoid heat and queues. The staircase is quite narrow so sometimes visitors would have to take turns. The sunset view from Peguyangan Waterfall is magnificent and worth waiting for. But climbing the stairs back to the top will get harder and more dangerous after dark. So plan the time wisely.
Peguyangan Waterfall Opening Hours
Every day
06:00 – 19:00
See: Nusa Penida Island Guide and Top Attractions List.
Steep Staircase
Unlike most waterfalls that gush out from a river, Peguyangan Waterfall seeps from the bottom high of the cliff. It drizzles down the cliff's walls before reaching into the small pond. To reach the waterfall, visitors will need to take an adventurous path. There is a man-made staircase made of wood and rocks that leads to the bottom side of the cliff.
What makes the experience more daring is that the ladders are clinging to the cliff. The sound of waves crashing the rocks at the bottom will definitely be nerve-racking! It takes about 20-30 minutes walk to reach the waterfall. There is a railing on the ladders, but there are some slippery steps as it's wet on some stairs.
In addition to that, the gap between the ladder is so wide, it requires extra concentration just to get down. Not to mention it's quite a long walk, at least 30 minutes to get down and 1 hour to get back. It's not an easy hike, steep with dangerous stairs too.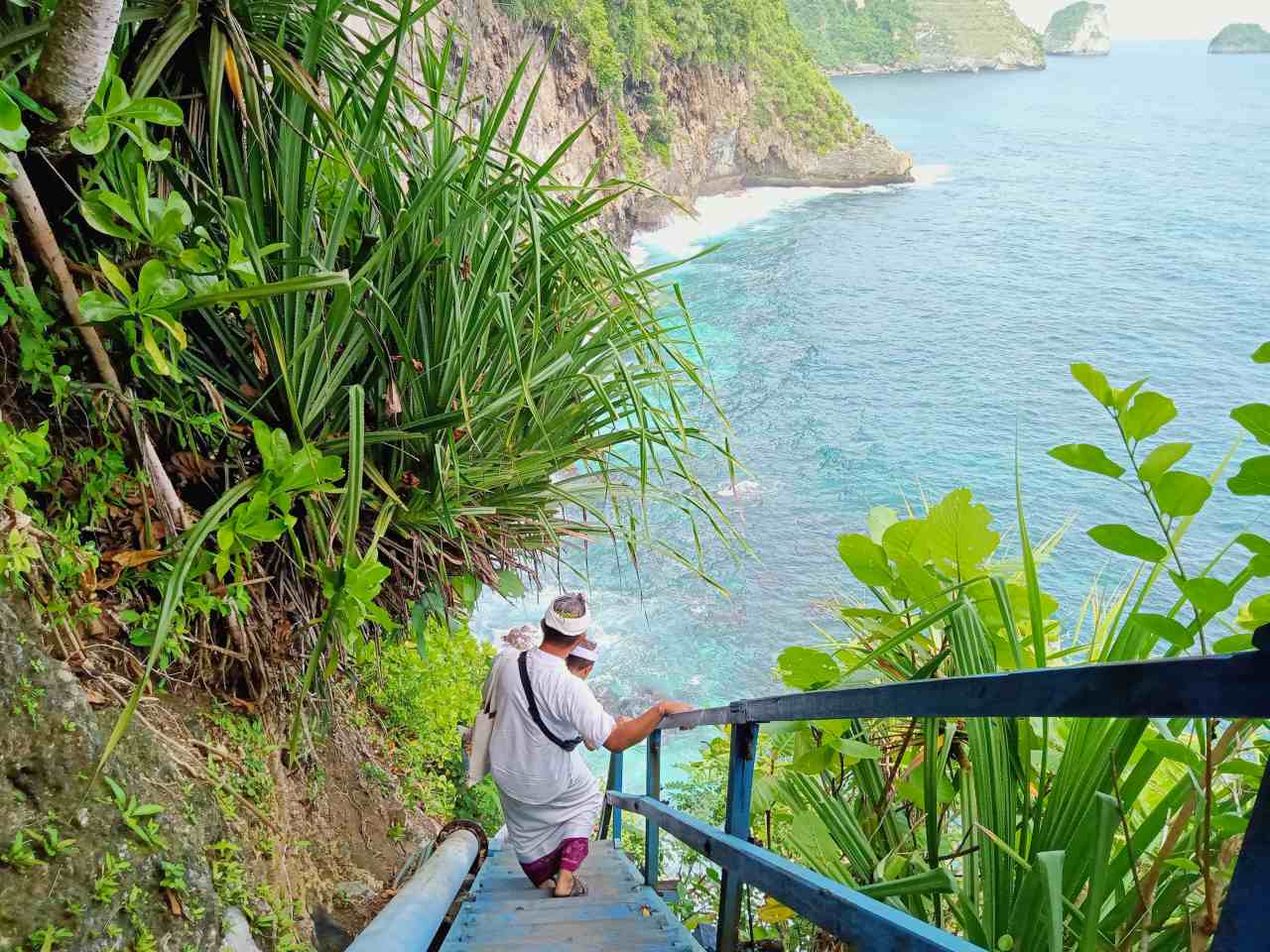 Temple and Holy Water spring
Before a walk down the pond, visitors can find Pura Segara Kidul temple with statues attached to the cliff's wall. The pool nearby is meant for locals to pray and perform the Melukat ceremony. The temple never lacks local visitors every day. But it gets busier, especially in the full moon.
The full moon is considered a good day to perform Melukat ceremony. During the ceremony, Peguyangan Waterfall is still open to visitors, but visitors are not allowed to swim in the pool.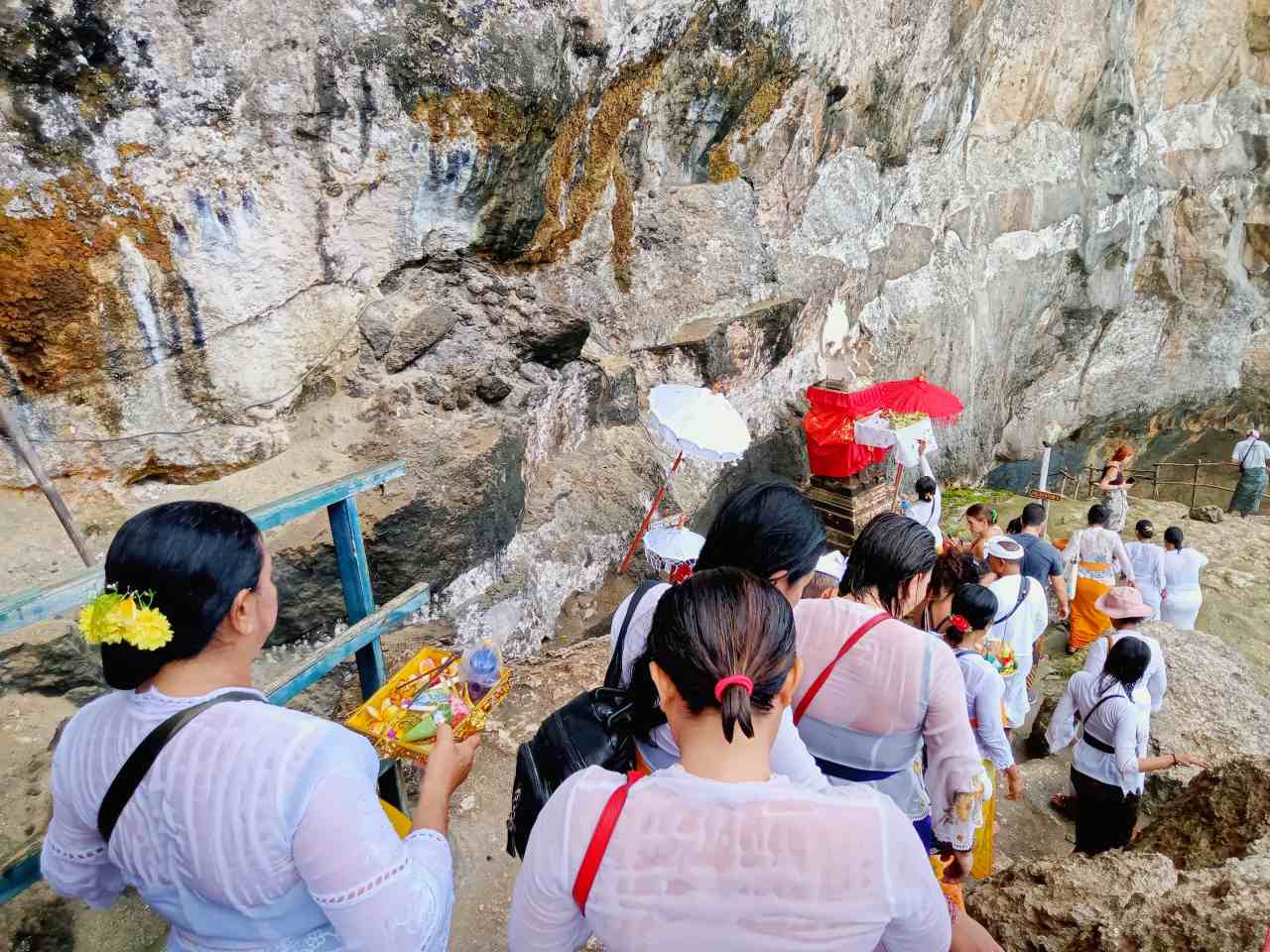 Natural Infinity Pool
After passing the temple and holy water spring, tourists can find the iconic natural infinity pools of Peguyangan Waterfall. They are actually a tier plunge pool from the waterfall that overlooks the ocean. The are three plunge pools in the area. Each of them is quite small, but enough to dip and swim in.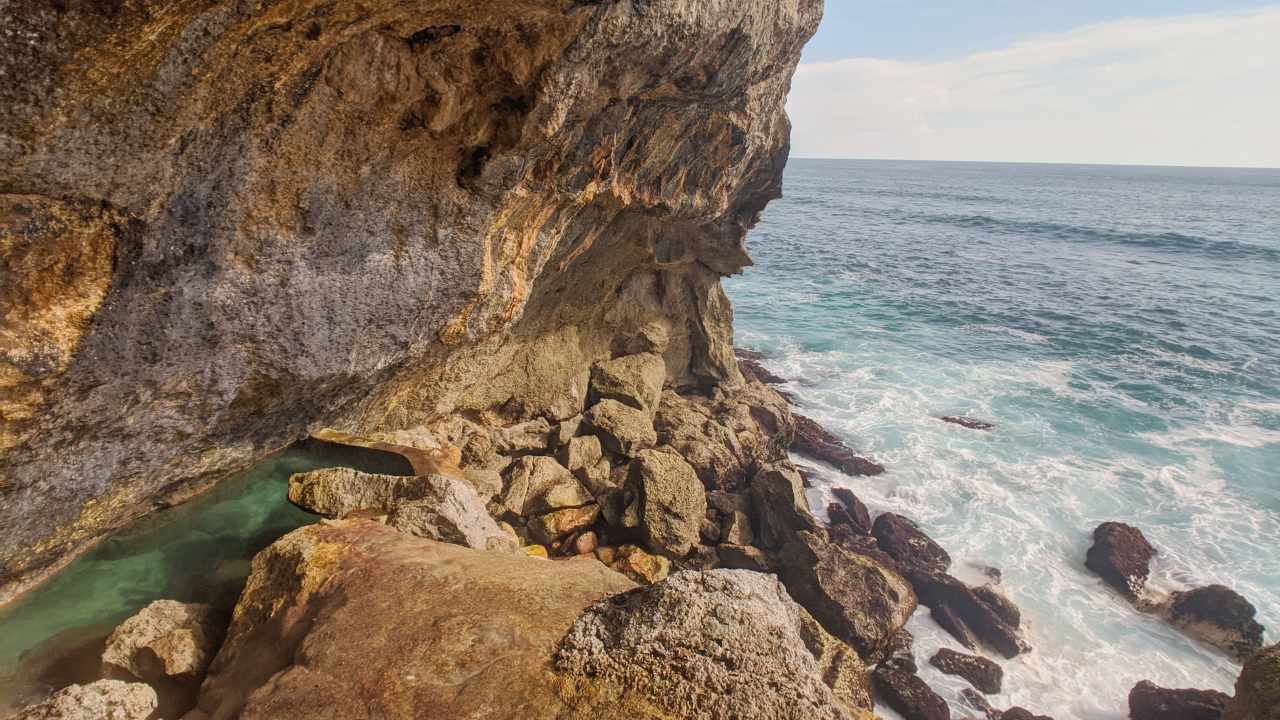 The water is refreshing and crystalline, it's good for taking a rest after a hefty walk. Enjoy and get immersed in the view of the cloudless sky touching the enormous ocean, with the sound of raging waves as a background. The pools are definitely the charm of Peguyangan Waterfall, so don't forget to snap a picture here!
See: Guide To Explore Sanur Night Market.
Manta Ray Sighting
The manta sighting spot is only 2 km away from the waterfall, so make sure to check this spot as well. This sighting spot has a breathtaking view of cliffs and the ocean. If lucky, tourists can spot mantas from the top along with boats, snorkelers, and divers down the ocean. Manta Ray Point is a popular spot for diving and snorkeling. And the chance to see Manta Rays here is quite high.
The best chance to see Manta Rays in Manta Point is in the morning. It's best to come at 8 to 9 AM to spot Manta Rays. There are a lot of diving and snorkeling operators on the island that organize this trip. The price range from Rp250.000 to Rp1.000.000 for snorkeling and diving trips.
See: Guide To Explore Kelingking Beach & Entrance Fee.
Facilities
There are no toilets or changing rooms near the cliffs and pools. Therefore, for visitors planning to swim in the pools, it's best to wear the swimwear underneath beforehand. The parking lot is not that spacious and there's a parking fee is Rp5.000 for a car and Rp2.000 for a scooter. There is a small warung selling food and beverage just 100 meters from the entrance gate.
See: Guide To Jimbaran Fish Market & Seafood Restaurants.
How To Get To Peguyangan Waterfall
Peguyangan Waterfall is not far from the Manta Ray Point and only 6 minutes away drive. There is not much signage leading to this spot. So it's best to ask the locals the direction. From Kelingking Beach, it would take 40 minutes to get to this spot. The road is paved and accessible either by car or motorcycle.
But it is best to rent a car or motorcycle, so it is easier to move from one attraction site to another. Nusa Penida island is getting popular with tourists nowadays. But unlike the mainland, Bali, there is no public transportation or ride-hail apps operating on this island. From the tourist staying area in Nusa Penida, around Crystal Bay Beach. It would take almost 1 hour to get to Peguyangan Waterfall.
As there is no public transportation on the island. That leaves tourists with 2 options. Either rent a car or a motorcycle to roam the Nusa Penida island. The price for motorcycle rent starts from Rp75.000 for a day's rent. While cars with a driver start from Rp600.000 for a half-day duration.
See: Indonesian SIM Card, Guide to Buy, Register, and Top Up
Address & Location
Peguyangan Waterfall is located in Jl. Tirta Bhuana Sari, Batukandik, Nusa Penida, Klungkung, Bali 80771.