Tembeling Beach and Forest
Entrance Fee: Rp5.000
Opening Hours: Open 24 Hours
Telp. Number: -
Address: Batumadeg, Batumadeg, Nusa Penida, Klungkung , Bali , Indonesia, 80771.
Tembeling Beach is a perfect destination for explorers who crave adventurous trips. Surrounded by the conservation forest on the south coastline of Nusa Penida. Tembeling beach is concealing two incredibly beautiful natural pools. The crystal clear water in the pool is freshwater from the spring that flows through the broken cliff. Then fill the 2 natural pools, the shallow and the deep pool.
Located in Batumadeg, Nusa Penida. Tembeling beach and forest are homes for native animals like birds, monkeys, and wild boars. Similar to other famous spots in Nusa Penida, the journey to Tembeling beach is quite challenging. To get here, people will have to conquer the steep and rocky small road.
And from the busy areas Toya Pekeh, Nusa Penida, tourists will have to travel as far as 17 km. The trip will take approximately 45 to 60 minutes rides.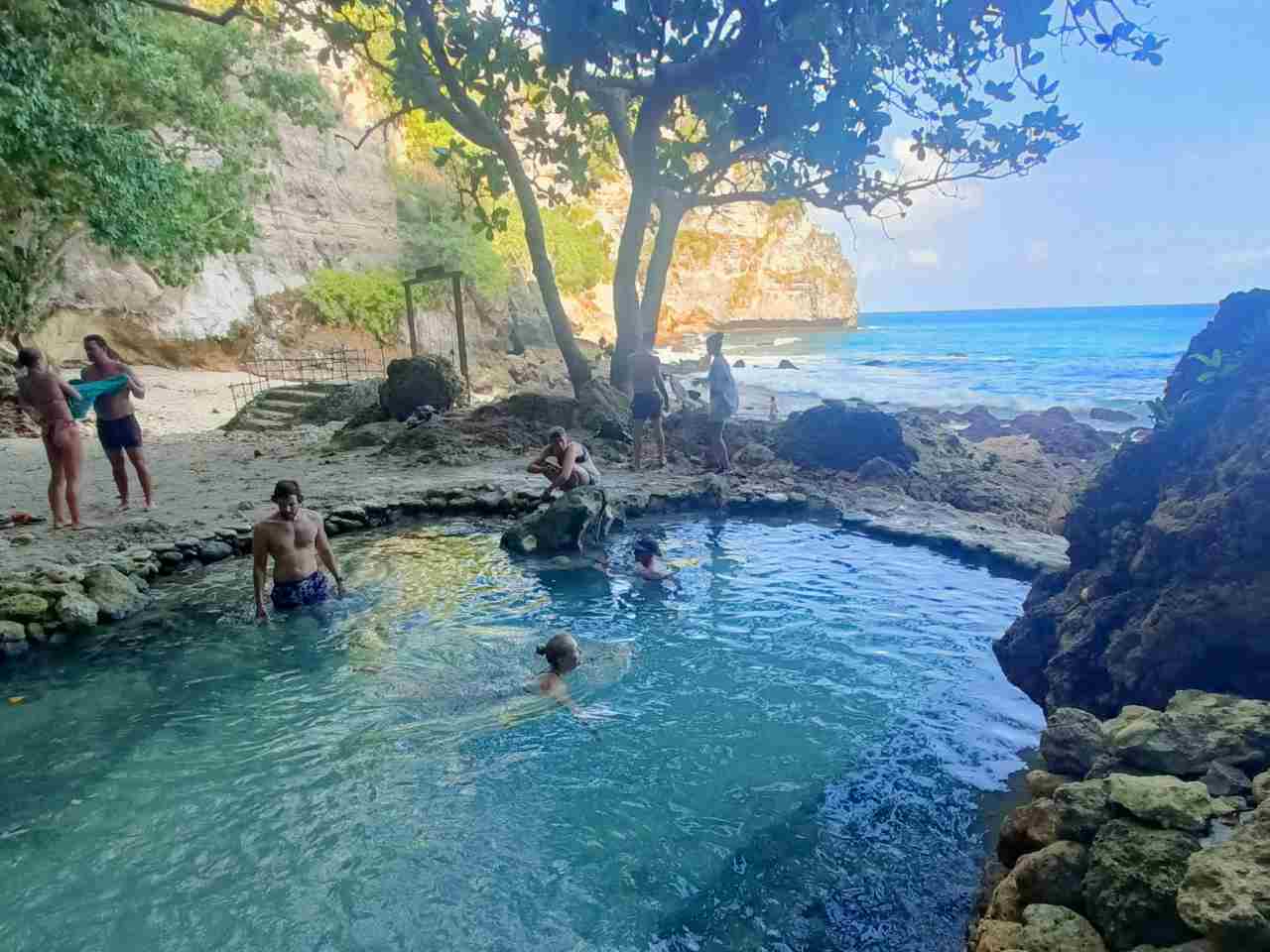 Tembeling Beach and Forest Entrance Fee
There is no entrance fee to explore Tembeling beach and the forest. Visitors will only have to pay for a parking ticket of Rp5.000. However, the village and locals are open to donations. Tourists could donate directly since the donation box is put right before the entrance point.
Tembeling Beach and Forest Entrance Fee
International tourist
Donation
Parking fee
Rp5.000
See: Guide To Explore Kelingking Beach & Top Things To Do.
Tembeling Beach and Forest Opening Hours
The beach and forest are open every day except on Nyepi day. The best time to visit the Tembeling beach and forest is early in the morning. Because it takes quite a long time to trail down and back from the parking spots.
Tembeling Beach and Forest Opening Hours
Every day except Balinese holiday
Open 24 Hours
See: Guide To Explore Angel's Billabong, Nusa Penida.
Tembeling Beach Challenging Path
The adventure begins as soon as people arrived in the first parking lot. This is where the driveway stop and easy paved road ends. The way further is a terribly broken road yet it's down the slope of a hill. It's barely enough for two scooters passing by. It's dangerous and steep.
Motorcycle taxi services are available for tourists who are either not sure about their riding skills. Or else are daunted by the bumpy roads. It cost Rp50.000 per person for a round trip by scooter. Without a motorcycle taxi, it takes 20 to 30 minutes to walk to the second parking area.
The surrounding scooter pathways are dense forests and cleavage of heavy rocks. And since it's a forest, there are also wild monkeys along the road. The nerve-wracking ride ends in the second parking area. It takes times around 10-15 minutes for a 3 km distance to reach the second parking area.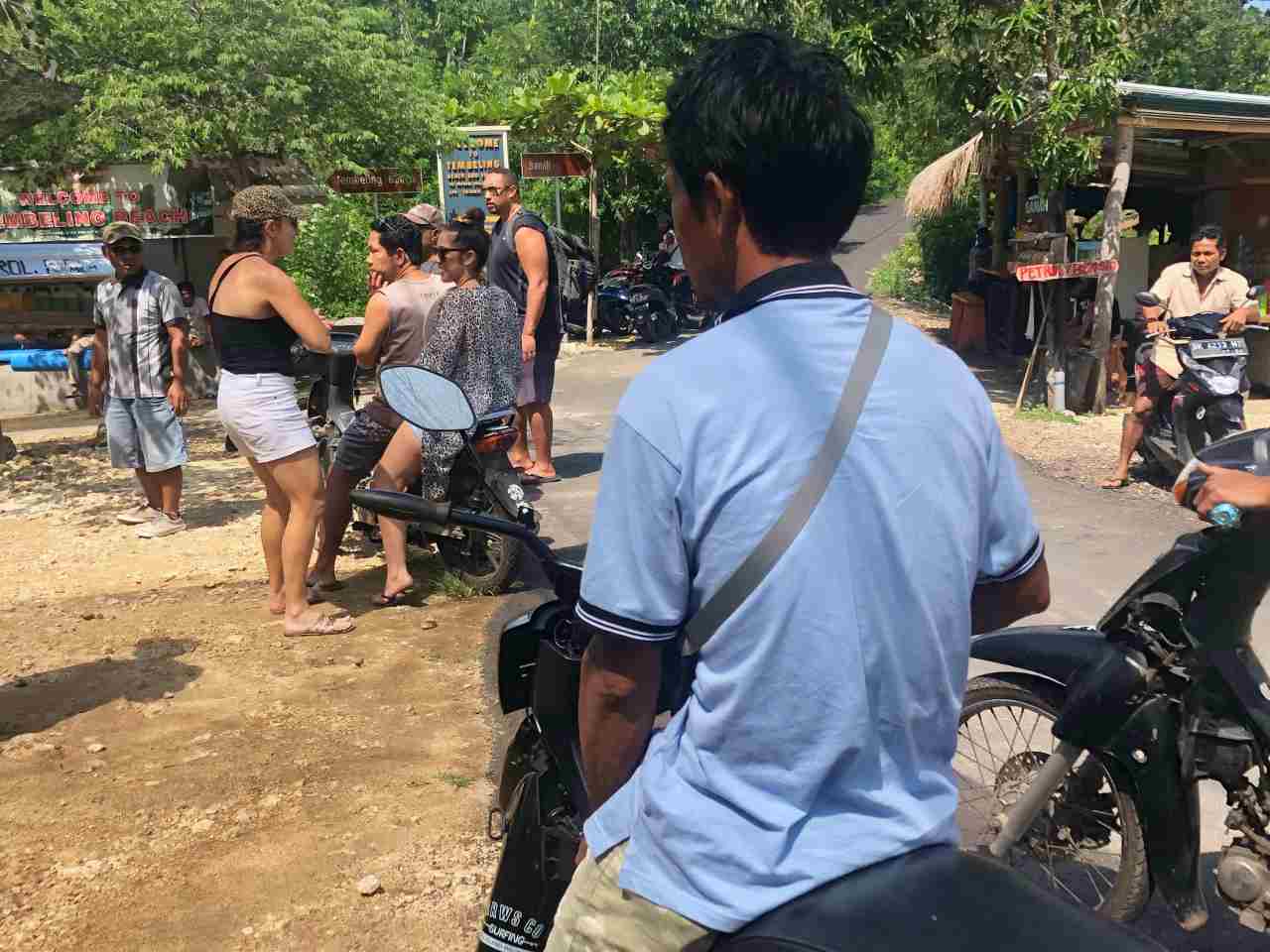 From this point, over a thousand stairway is waiting ahead. The track going down is quite steep. But don't worry because the stairs are made of concrete and equipped with handrails to protect visitors from falling. It will take another 5 to 10 minutes to get to the beach and the spring pool.
Dipping Into Tembeling Natural Pools
There are two natural pools on Tembeling Beach. The first pool is smaller, shallow, and next to the beach. The stairs are made of a stack of rocks, and water sprouts from a pipe made of bamboo. The water is refreshing and crystal clear. And last, it's overlooking the beach with ocean blue crystal clear water.
The second pool despite not having an ocean view is the main feature of this destination. Compare to the first pool, this one is larger and deep enough to dive. To even get more challenging, jumps on the side of the pool by taking a few steps into the broken cliff. Beside the pool, there are statue fountains where it's often used by locals for the Melukat ritual.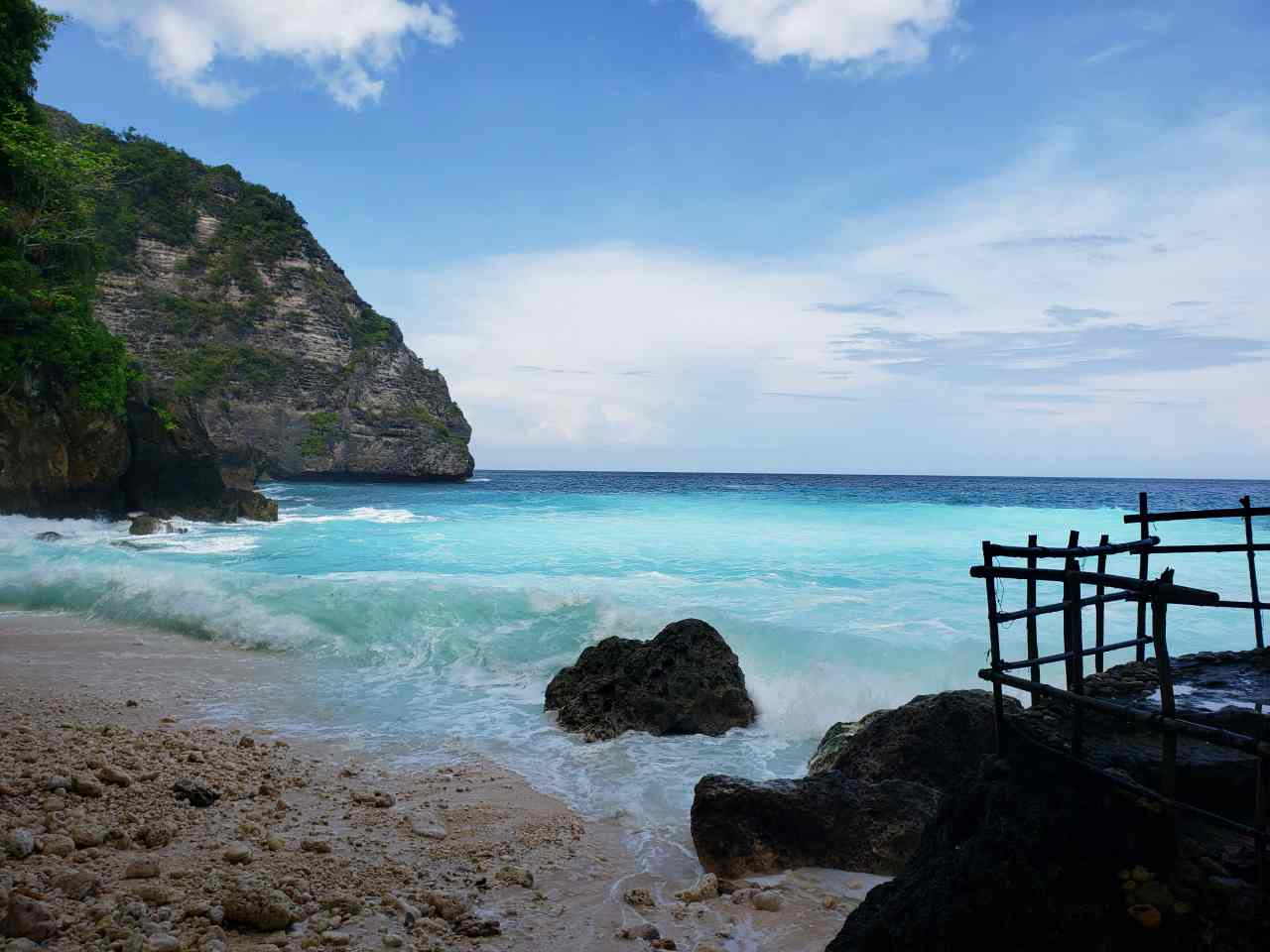 Tembeling Beach & Secret Cave
Expand the exploration by going down to the beach. Keep in mind that the massive waves with occasional water blows are quite dangerous to swim. Far better to stay by the beach while enjoying the sea breeze and taking a walk. To point out, Tembeling beach is not really for swimming.
The south coast of Nusa Penida has known for its big wave's tidal. It broke the cliff line and eventually create a secret cave that is enormously beautiful. Tembeling beach has a secret cave too. There are lots of rocks stacked beautifully in the secret cave. To reach this spot, from the Tembeling beach turn right and take a few walks. the hidden cave is just around the corner.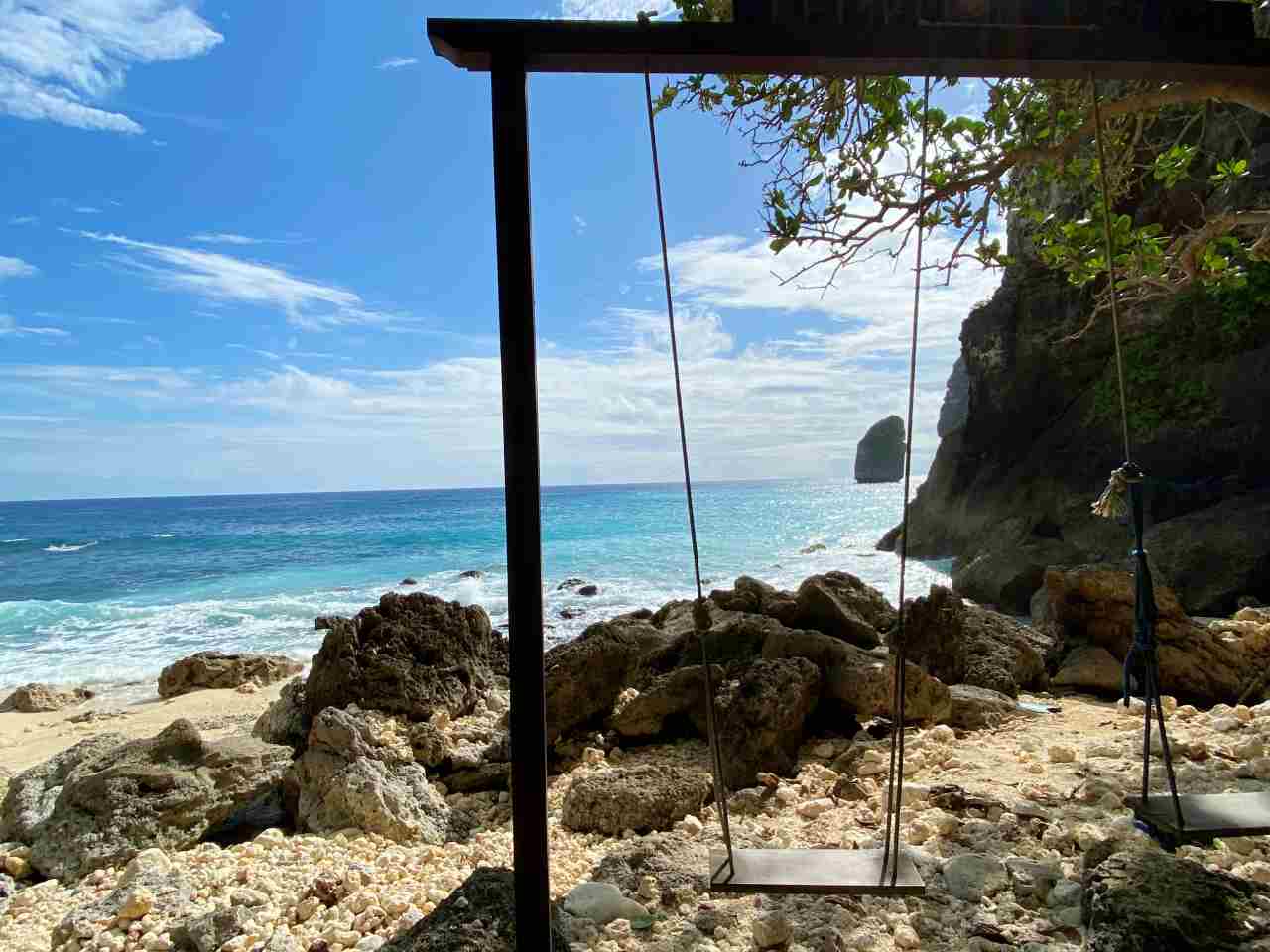 See: Guide To Explore Atuh Beach in Nusa Penida.
Facilities
The facilities at Tembeling Beach and the forest are quite sufficient to cover what tourist needs. It has a safe parking area, toilets, food and drink booths. Additionally, there are also motorcycle taxis with fees, swings, and few maintained spots for taking photos.
See: All About Indonesia SIM Card, Price & Provider.
How To Get To Tembeling Beach and Forest
From the main island of Bali, travelers have to go to Nusa Penida by fast boats at several ports like Sanur, Kusamba, and Padang Bay. The speed boat ticket price is around Rp120.000 to Rp200.000 ($8-11) each way. The boat ride takes time between 50-60 minutes.
Upon arriving in Nusa Penida, travelers will have to rent scooters that cost Rp70.000 to Rp80.000 ($4-5) for day rent. Alternatively, many tour services are available for a one-day trip to several tourist spots in Nusa Penida. The service includes hotel pick-up, boat ticket, lunch, and car with driver and guide tour. The tour price starts from Rp800.000 ($60).
From Nusa Penida harbor, the journey will take around 45 minutes. The distance is 17 km going south. While from the famous Kelingking beach, it's a halfway trip, a 20-minute ride.
See: Bali Airport Guide, Airport Transfer & Public Transportation.
Address & Location
Tembeling Beach and forest is located in Batumadeg village, Nusa Penida, Klungkung, Bali 80771.