Angel's Billabong
Entrance Fee: Free entry
Opening Hours: Open 24 Hours
Telp. Number: -
Address: Sakti, Sakti , Nusa Penida, Klungkung , Bali , Indonesia , 80771.
Angel's Billabong is located in Nusa Penida, an island off the eastern coast of Bali. It is well known for its natural infinity pool and beautiful seawater. Angel's Billabong is named after a myth story. This billabong, or a tip of the dead-end river, is believed by locals to be the bath place for angels.
Located on the west coast, the spot is always full of tourists and photographers. There is no doubt that every side of Angel's Billabong is photogenic and Instagram-worthy.
Angel's Billabong Entrance Fee
There is no entrance fee charged to get to the site. But tourists will have to pay Rp5.000 to use the parking lot.
Angel's Billabong Entrance Fee
Ticket
Free Entry
Parking Fee
Rp5.000
See: Guide To Explore Nusa Penida Island & Top Attractions List.
Angel's Billabong Opening Hours
Like any top beach in Bali, there is no limitation on visiting hours. The site is open every day except on Nyepi. Getting the best experience in Angel's Billabong would heavily depend on weather and tides. Hence, always check for weather forecasts beforehand. Make sure to come during low tide because it is the only chance to swim in the infinity pool. The spot will start to get crowded after 10 AM.
Angel's Billabong Opening Hours
Every day except Nyepi
Open 24 Hours
See: Atuh Beach Guide, Tree House & Swing Attraction.
Angel's Billabong Natural Infinity Pool
There are a lot of famous cliffs in Bali, but Angel's Billabong is surely different. The eroded coral reefs are forming a natural infinity pool between the cliffs. From above, it looks like a group of ponds made of coral reefs with a perfect ocean view.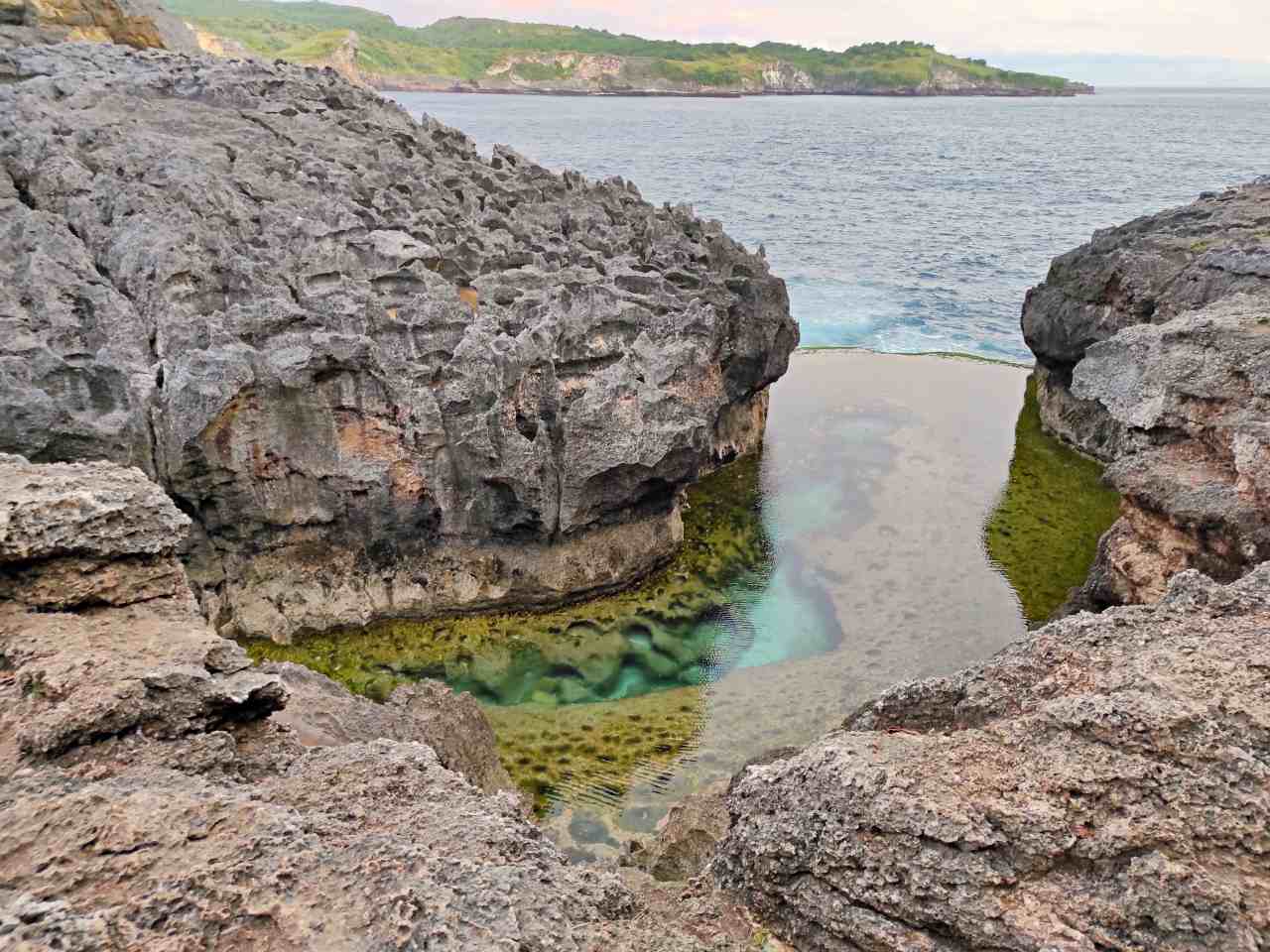 However, there is some restriction. People are only allowed to go down the cliff and have a short swim when the tide is low. It's still risky to go down, if in doubt, just take a look from the top of the cliff. Angel's Billabong is still pretty scenic from above.
Angel's Billabong is directly facing the ocean. Therefore, waves from the sea can flood at any time. Better stay alert for any caution signs. Rough waves can be dangerous for anyone, especially unskilled swimmers.
Unforgivable Waves
This site could display a contrasting characteristic, depending on the high and low tide. During high tide season, there is no way for tourists to go down the cliff. Even when the natural pool looks pretty calm, strong currents can come in any minute. Massive waves can crush Angel's Billabong cliff without warning.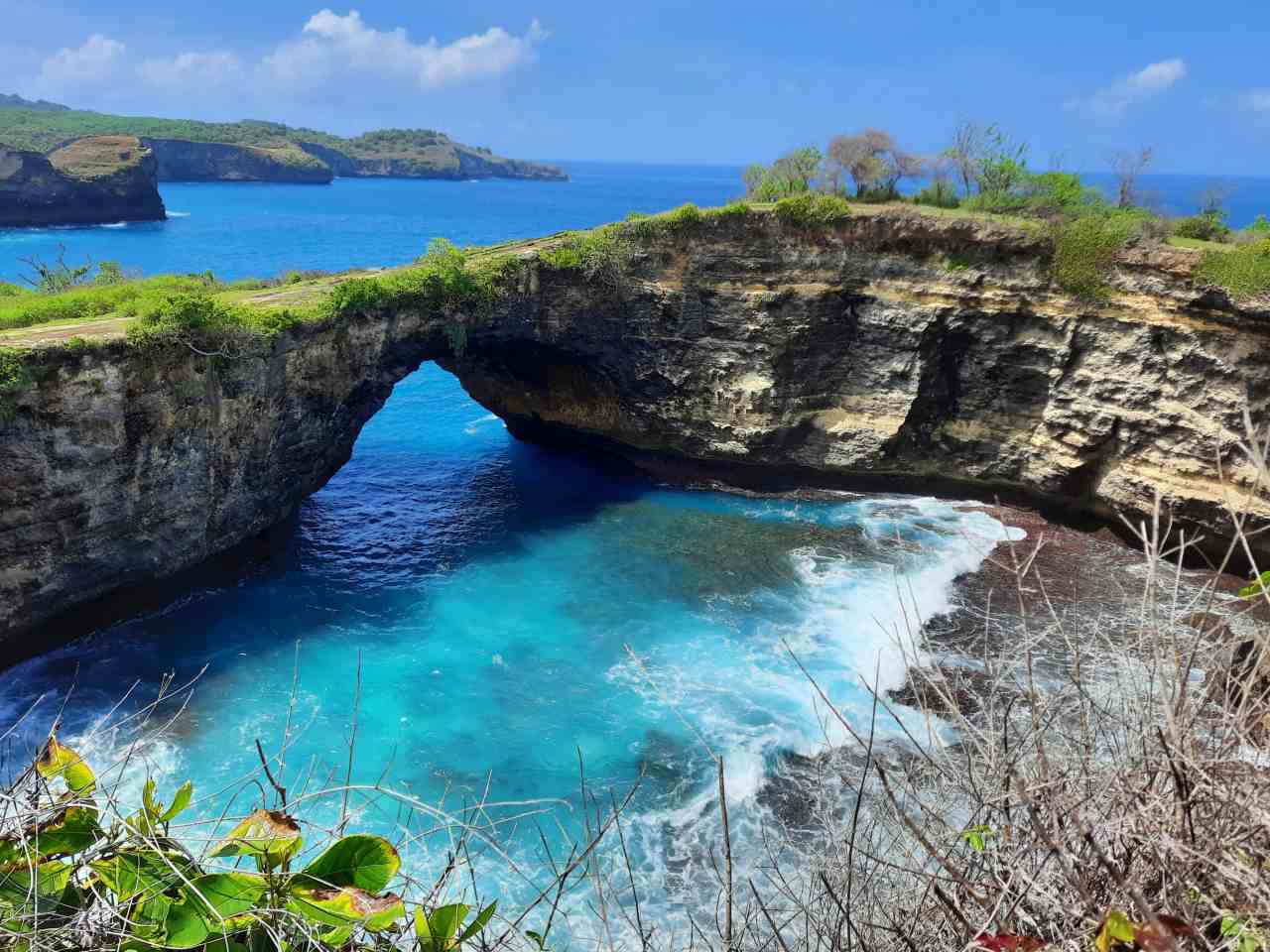 However, there's no need to worry. Officials have put some lifeguards to watch tourists' activity near the cliff. The whistle will blow to warn tourists when they are too close to the edge. The guard will warn visitors too in case of the incoming high waves.
As long as people stay alert and follow the rules, Angle's Billabong is still worth visiting. It would be such an experience to witness massive ocean waves slamming the coral cliff.
Crystal Clear Water
Besides its rock formation, Angel's Billabong is also popular for its watercolor. The water is a mix of saline and fresh river water. Onlookers can see a beautiful water gradation here. However, the color and visibility are depending on the tide level so it might be different from time to time.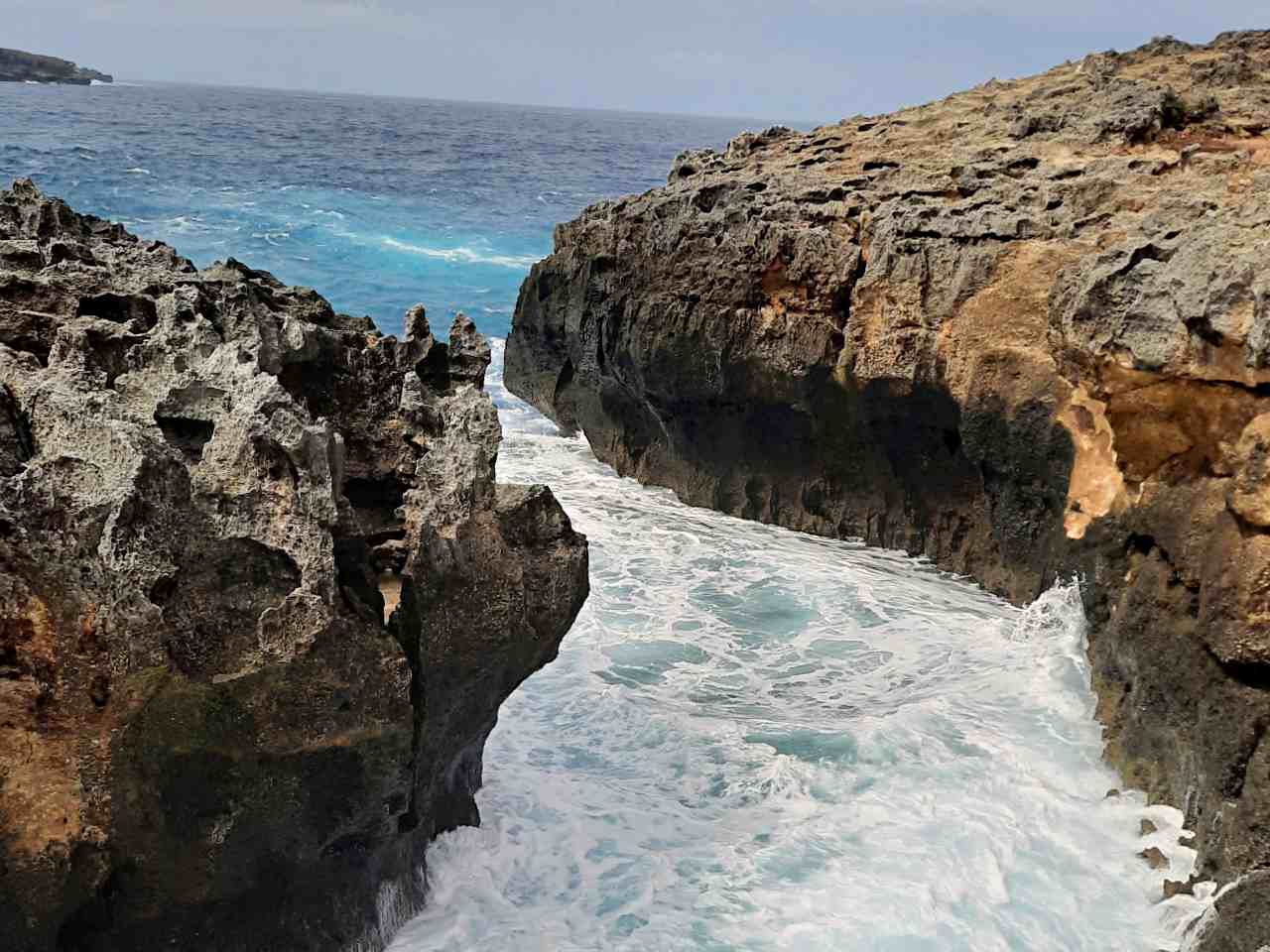 Get ready to be amazed by the crystal water when the tide is shallow and calm. It almost perfectly stay-still like mirror glass. The water will reflect shades of green and yellow from the coral reefs underneath.
The landscape will be completely different during high tides. Rather than a calm-looking pool, Angel's Billabong will look like a short waterfall. Since the spot is situated on a higher level than the ocean. The water will remain blue but might turn brown from the river mud after rain.
See: Nusa Lembongan Island Guide & List Of Top Attractions.
Broken Beach
After exploring the infinity pool, spare some time to look at Broken Beach. The beach only takes 5 to 10 minutes to walk from Angel's Billabong. It offers another stunning topographic view with its collapsed cliff.
The circular shape of collapsed cliff creates a natural bridge-like scenery. The cliff is also known as Manta Bay since people can see manta rays clearly from above, on a lucky day.
See: Guide To Explore Sanur Night Market & Street Food.
Facilities
As it is situated among the cliffs, it will be hard to find decent facilities on the spot. Tourists can still find small food stall warungs selling some coconut water. However, the shops are mostly close after 4 PM.
Hotels are available around the neighboring area. There are also beach clubs with a swimming pool and bar. Eateries and cafes with decent prices are also provided along the way.
See: Bali Airport Guide, Airport Transfer & Transportation.
How To Get To Angel's Billabong
Angel's Billabong is located in Sakti village, Klungkung regency. It shares the same location as Broken Beach, Crystal Bay, and Kelingking Beach. From Sanur, tourists could depart using a fast boat to reach Nusa Penida Island.
The cost for one way boat trip varies from Rp100.000 to Rp175.000. After arriving at Toyapake Harbor in Cristal Bay,  tourists can rent a scooter for Rp70,000 to continue the journey.
From the main harbor, expect a 40-minute ride on a bumpy road trip to reach Angel's Billabong. To point out, a parking lot is available near Broken Beach. Then, it will only take a short walking distance to the pathway towards the cliff.
See: Prepaid Tourists SIM Card Price & Where To Buy.
Address & Location
The iconic cliff spot is located in Sakti, Nusa Penida, Klungkung, Bali 80771.