Atuh Beach
Entrance Fee: Rp25.000
Opening Hours: 08:00 AM
Telp. Number: -
Address: Pejukutan village, , Pejukutan , Nusa Penida, Klungkung, Bali, Indonesia , 80771.
For those who love adventure, Atuh Beach will offer a priceless experience. Not only the far distance from Denpasar the reason behind it. It's a thrill to get down to the beach. One will have to climb down the steep stairs with only handrails. It's like putting the legs into so much work. But the view of this beach is extremely worth the effort.
Although the beach is open all day all night. No one stays here until the sky gets dark. The main reason behind it is the secluded location. Don't forget about those bumpy roads and dim street lights. The third reason is the food vendor and other facilities on the beach. Once it gets dark, local warungs start to close.
Despite its limited visiting hours. The beach features are somehow extraordinary. Take a quick dip in the sea to refresh mind and body. Suntan hunters, lie down and let the sun does the wonders. Landscape photography enthusiasts will never get short of objects.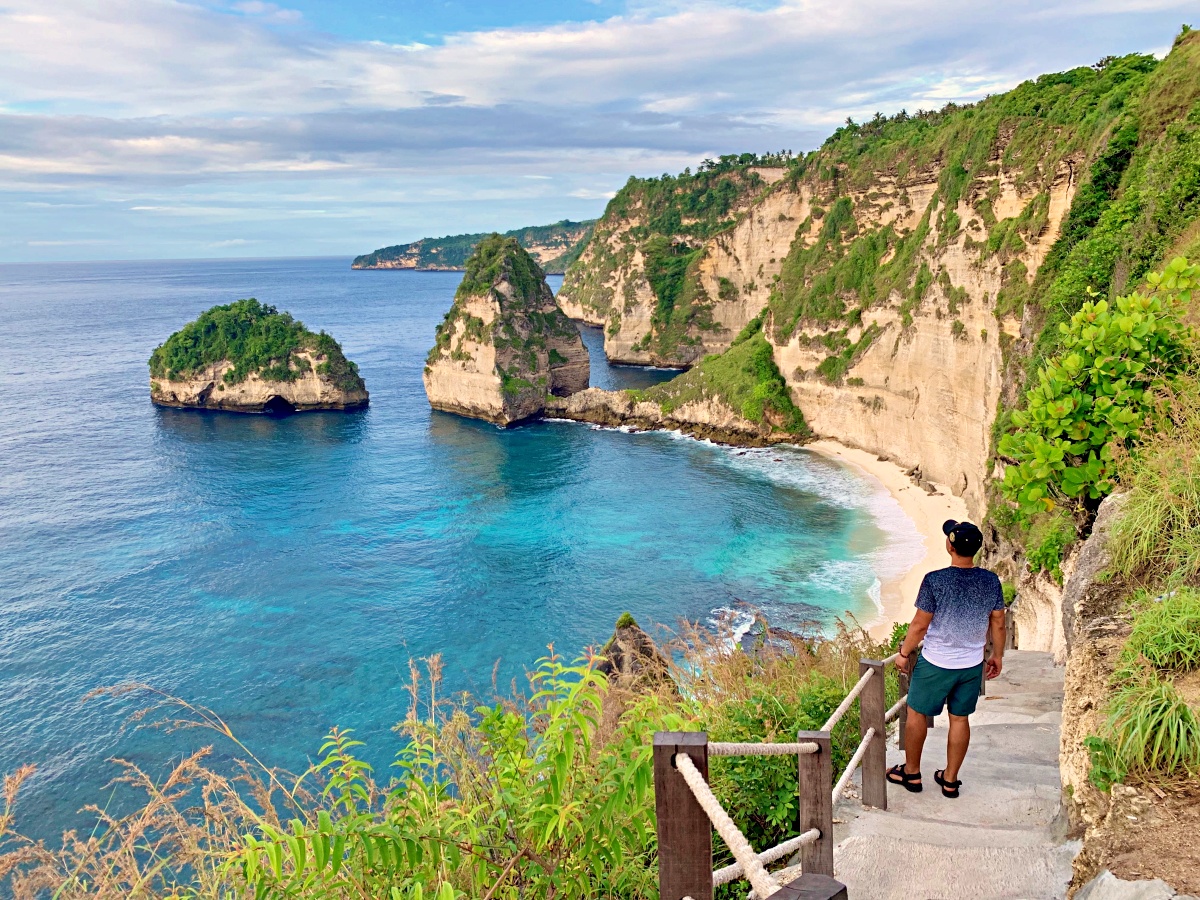 After all, Atuh Beach gives people a lot to enjoy. The sky, the sand, and the tranquility. Minus the crowd, which is a positive side indeed.
Atuh Beach Entrance Fee
The ticket counter is also open around 8 AM. Parking for a scooter cost Rp5,000. The entrance fee to Atuh Beach is now Rp25,000 which includes entrance to Diamond Beach. The parking lot's size isn't as wide as those on more famous beaches.
Atuh Beach Entrance Fee
Ticket
Rp25,000
Nearby: Angel's Billabong Nusa Penida, Activities & Guide.
Atuh Beach Opening Hours
Unlike most beaches popular on the Bali mainland, Atuh Beach has limited opening hours. Local food stalls here don't operate until dinner time. On average, warungs are open from 8 AM–7 PM. Some even run the business only until 6 PM,
Atuh Beach Opening Hours
Every day except Nyepi
06:00 – 18:00
See: Bali Waterfall Top List & How To Get There.
Atuh Beach Features
Steep stairs down will become a welcome exercise before stepping into the beach. The thrill gets wilder as only a few safety handrails are installed. 165 stairs to climb down and up are indeed tiring. But before long, one will realize such effort is worth the view.
Hidden, raw, and magnificent are words portraying how Atuh Beach is. Since its official opening in 2018, Atuh Beach has gradually gotten more exposure from tourists. High cliffs on both sides create a private beach notion for visitors.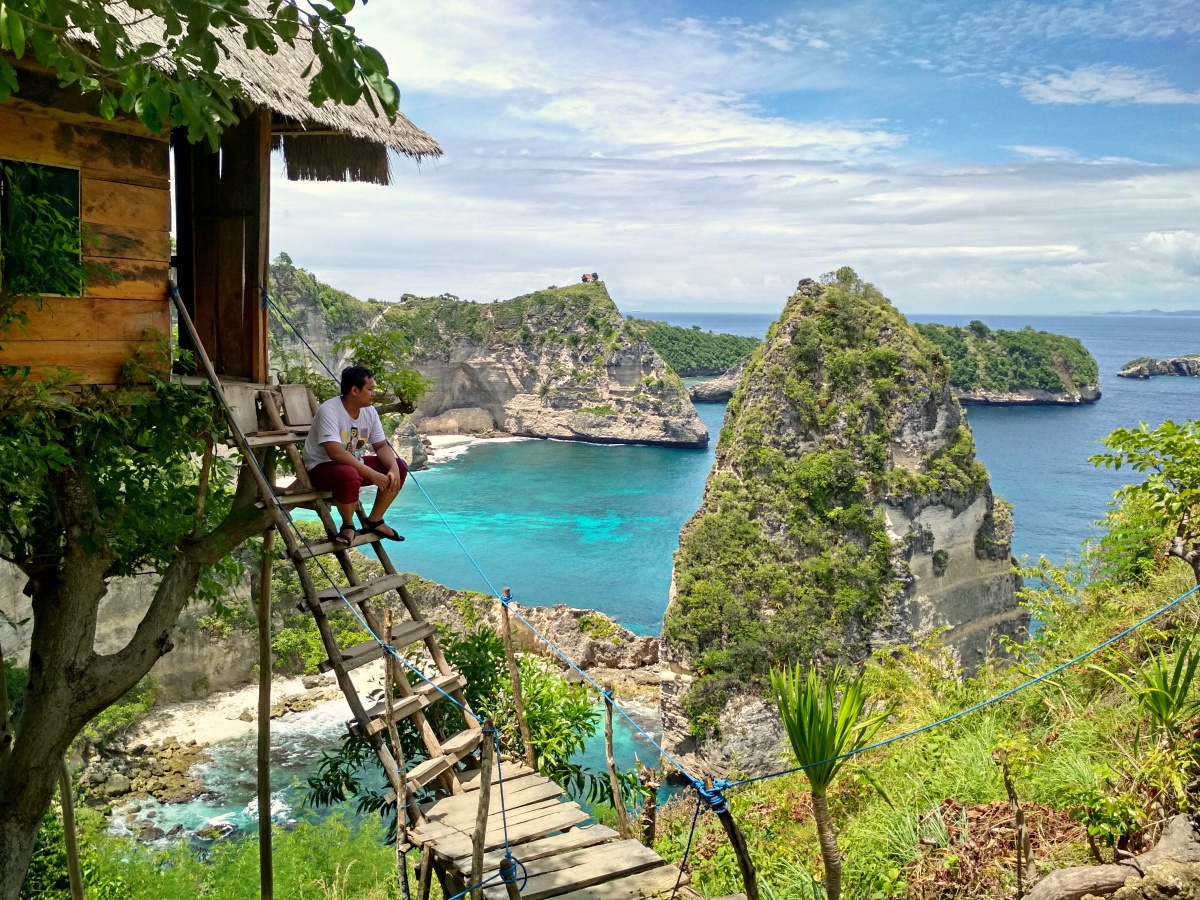 Following the cliffs are corals guarding the sandy part of the beach. And last, the bright turquoise sea never fails to lighten up the beach vibe.
Sun Lounge & Umbrella Rent
Feel the pristine blue sea by dipping into it. In contrast to the scorching sun, the seawater here feels refreshing. However, be careful about the hollow rocks. The rocks can hurt one's feet, not a good idea to later climb up the cliff.
Sun lounges and umbrellas are rented out by local warungs owners (Rp100.000/2 sun lounges). Shut the umbrella and lie on the bed for that lovely tan. Always make sure to apply sunscreen beforehand. Atuh beach's sun is often underestimated. But in fact, it's easy to get sunburned.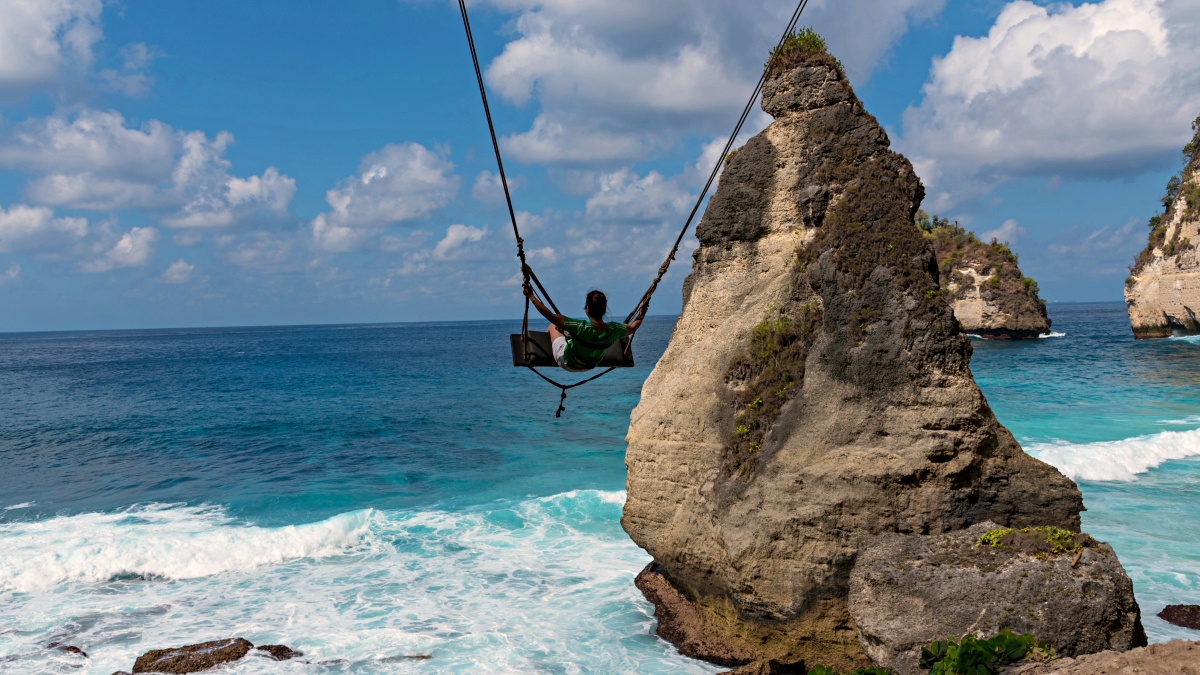 Swimming & Collecting Shells
The best time to swim at the beach is in the morning around 8 to 10 AM. And in the afternoon around 3 to 5 PM. Though the shallow water area is quite wide (around 20 meters), always swim cautiously. Not only this relates to the occasional high tide. Let's remember those rocks alongside the beach.
When the sea level is low, the shielding rocks are all seen. Looks like a big notice not to swim recklessly. When low tide times are coming, get a chance to collect some shells to bring home. Handpick those cool shells, speaking of it, the best spots are on the cliffside.
However, even in the beach's center, beachcombers can get several shells. Local children are usually picking shells as well. So, time to mingle with them, maybe?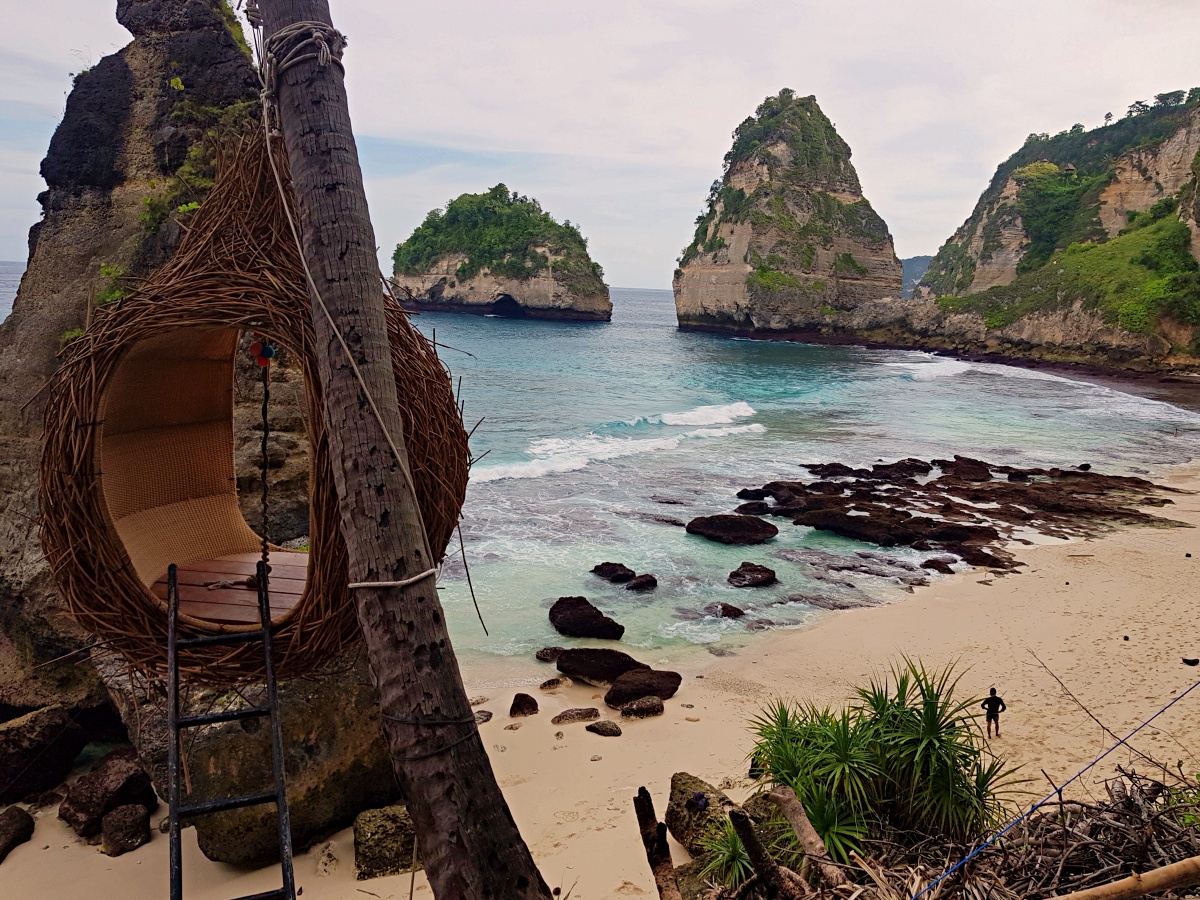 Lunch Choice At Atuh Beach
Go to local warungs when the tummy roars for food. From common fried rice to pancakes, locals can cook all of these. One can even find spaghetti for only Rp25.000. Aside from chips and other packaged snacks. There are light meals and snacks like beef burgers, spring rolls, hotdogs, and fried bananas. For one person, it will cost less than Rp100.000 to enjoy a snack and a full meal.
The food price here, on the beach, ranges from Rp20.000 to Rp50.000 for a portion. Interestingly, a beef burger costs the same as a grilled fish (Rp40.000). And for appetizers or light meal, it ranges from Rp20.000 to Rp40.000 for a plate. Coconut water from the green young coconut is Rp25.000. It costs relatively the same as various types of fruit juices.
Avocado and mixed juice are Rp35.000. Ice cream is also available but not in all stalls. Soft drinks have an average price of Rp15.000. The only alcoholic beverage choice is Beer Bintang. And it costs a bit more expensive than other beaches (Rp35.000, while on many beaches the price is Rp25.000).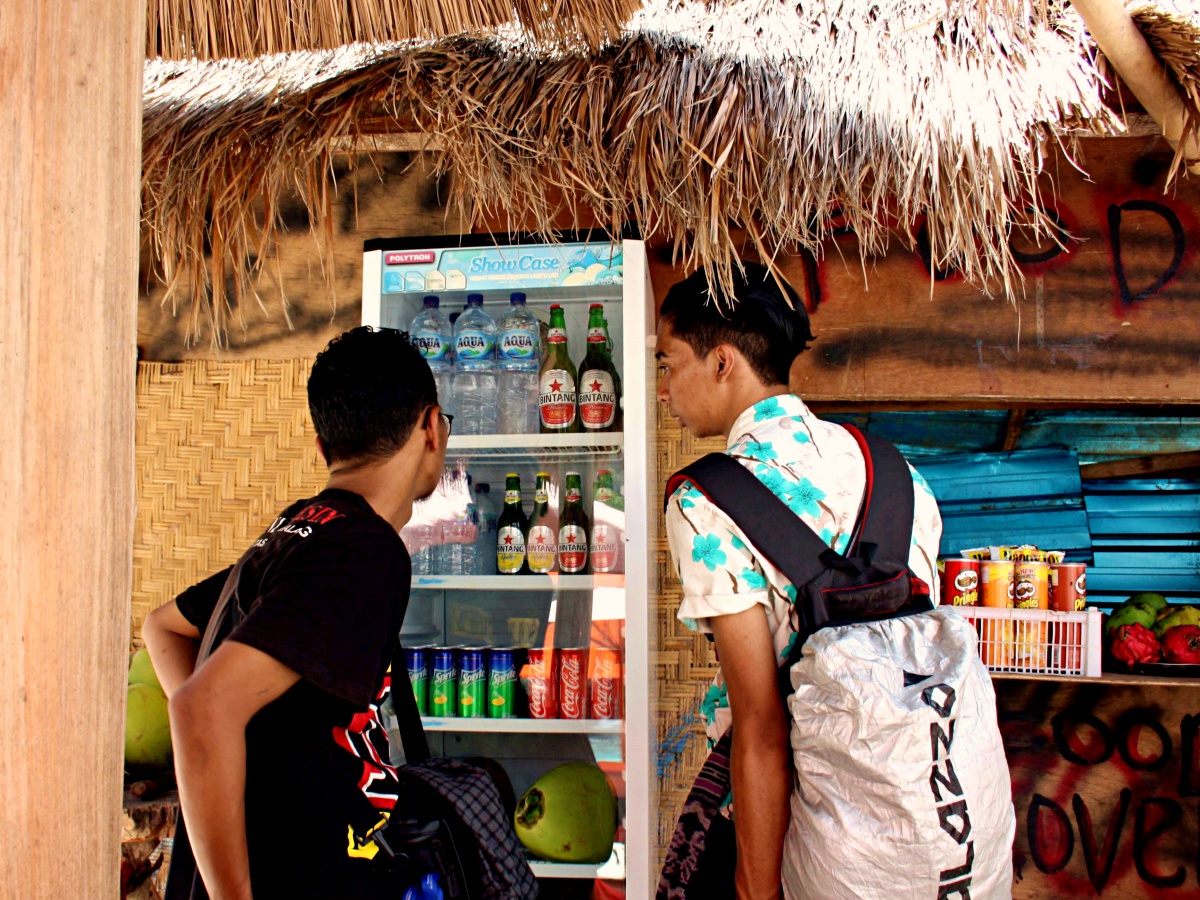 Facilities
No wonder the facilities here are not that many. Since Atuh Beach isn't that popular among tourists. The toilet is available but it's dirty and the other downside is it's far from the beach. To use the toilet, prepare a small note of Rp5.000. Aside from that, the beachfront food stalls are the must-go shortly upon arrival.
Gulp a refreshing drink or order cold coconut water while sunbathing. The food isn't the best, but satisfactory enough for the palate. While dining, enjoy the breeze and the eye-calming turquoise sea. Reggae music played by the locals will greatly add the vibe of a tropical beach day.
See: Tourists SIM Card, Internet Package, Price & How To Register.
How To Get To Atuh Beach
Atuh Beach is located separately from the main Bali island. So it requires an additional effort to get there. From Denpasar, head to Padang Bai harbor and catch a fast boat or ferry to Nusa Penida island (Buyuk harbor). The fare is Rp30.000 only. On other hand, tourists could also depart from Sanur beach harbor.
From Sanur harbor, speed boats will take visitors to Nusa Penida (Banjar Nyuh harbor) for Rp120,000 – Rp200,000. Upon arrival, rent a scooter for a daily fee of Rp75,000. Rental cars are Rp600,000/day, petrol and driver's fee included. The beach is located in Pejukutan village. From Banjar Nyuh harbor, it will take around 28 KM to the southeast.
While from Buyuk harbor, the route is 8 KM shorter. To illustrate, the road is quite narrow and at some places, it gets bumpy. Traveling by car is possible although not much recommended. Due to the narrow road, of course. Only for the first third route, the road is car-friendly. The rests are a bit hard to tackle with cars. Only choose this method to go there if coming with a group.
Bear in mind that for foreign tourists the speedboat price differs. Speedboats from Sanur are priced from Rp100.000 to Rp200.000 for a one-way trip. Hence, the round trip price is Rp200.000 -Rp400.000. Different speedboat operator means a different price. Additional services like hotel pick-up will add to the price too.
See: Bali Airport Guide, Facilities & Transportation.
Address & Location
Atuh beach located in Pejukutan village, Nusapenida, Kabupaten Klungkung, Bali 80771.