Suwat Waterfall
Entrance Fee: Rp25.000
Opening Hours: 08:00 - 18:00
Telp. Number: -
Address: Jl. Pura Dalem Suwat , Suwat , Gianyar , Gianyar , Bali , Indonesia, 80511.
Healing becomes a popular word in post-pandemic times. Most people travel to relieve the stress after restrictions the government imposed during the pandemic. Suwat Waterfall is a new tourist attraction in Gianyar, Bali. Here, tourists could enjoy the sound of discharging water and a beautiful turquoise natural pool.
The verdant trees surrounding the area. It is all-natural, soothing, and calming. Open to the public as of October 2019, Suwat Waterfall gained instant notice from many tourists. Moreover, there is an annual festival at yearend that attracts many people's interest. It increases its popularity as a must-visit destination.
Suwat Waterfall rises 15 meters high, not too high for a waterfall. Under the discharging water is a clear, turquoise natural pool. It definitely allures everyone to jump in and swim or just dip in. If those are not challenging enough, there is a spot for cliff jumping. And, the cavity behind the charging water may be one choice for tourists to explore.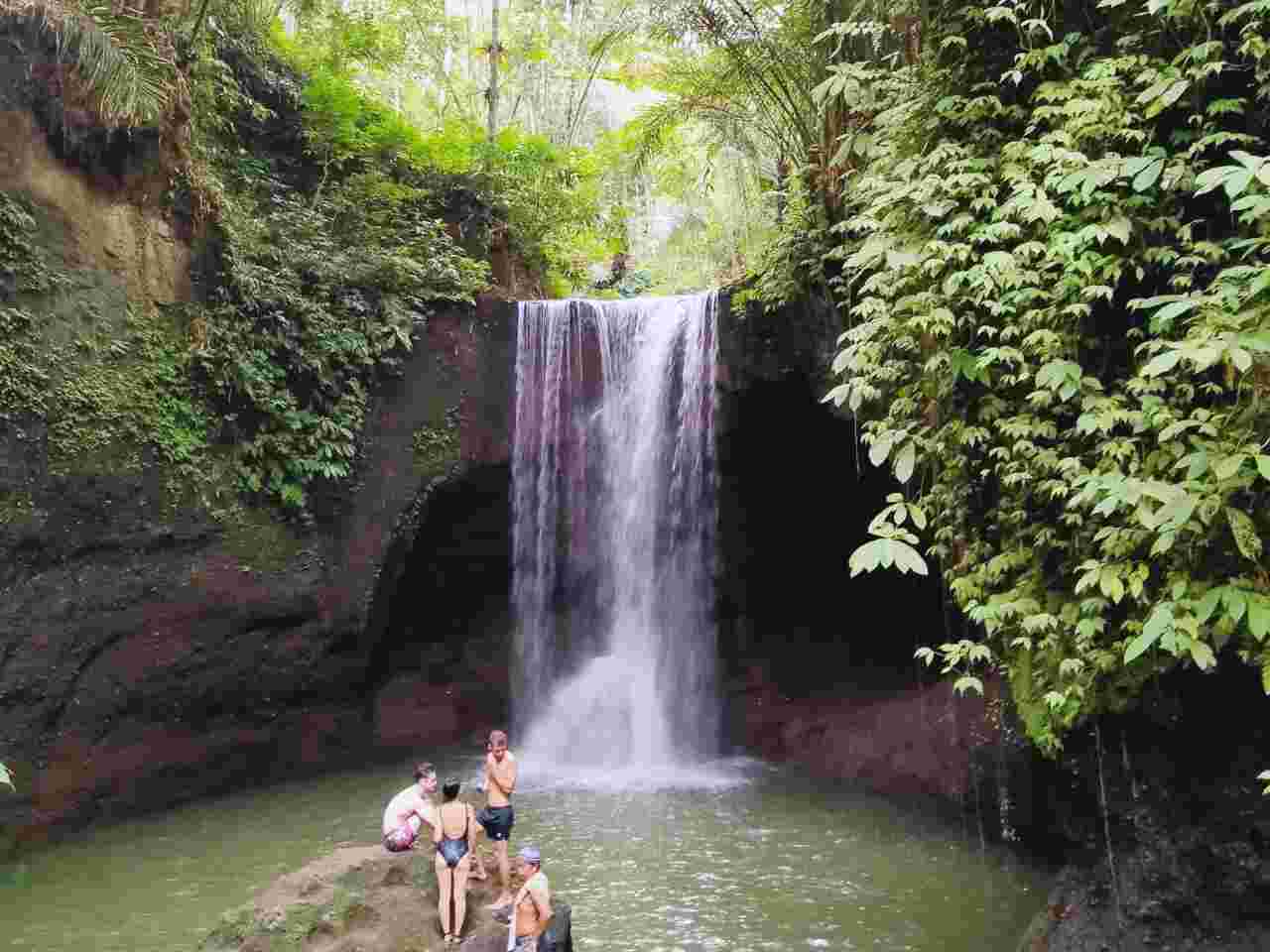 Suwat Waterfall Entrance Fee
The entrance ticket for international tourists is Rp25.000. A guide and lifeguard are standing by in the waterfall area to ensure guests' safety.
Nearby: Tibumana Waterfall & Top Things To Do.
Suwat Waterfall Opening Hours
Suwat Waterfall opens from 8 AM to 6 PM. The waterfall situates in the middle of a lush environment. Verdant trees surrounding the neighborhood make the site shady all day. So it's comfy to visit all the time. However, at noon, especially on weekends, there will be crowds here. There's a queue to take photographs.
In addition, the natural pool presents stunning turquoise color in the dry season. Nonetheless, it will turn muddy brown during the rainy season.
Suwat Waterfall Opening Hours
Every day, close on Nyepi day
08:00 – 18:00
Nearby: Guide To Visit Kanto Lampo Waterfall & Top Things To Do.
Suwat Waterfall Access
Not only has quite good access but it also presents visitors with a cool, leafy road heading to the waterfall. It takes only a short 200-m walk and climbing down a few steps. The steps are quite steep and a little slippery when damp. Then, tourists need to cross a bamboo bridge that is pretty sturdy with a handrail.
The steps after that are carved into rocks and only a few meters of boulder hopping. Nonetheless, the way back would take more effort since tourists may have to climb up a little bit. It would be hard for those who rarely exercise.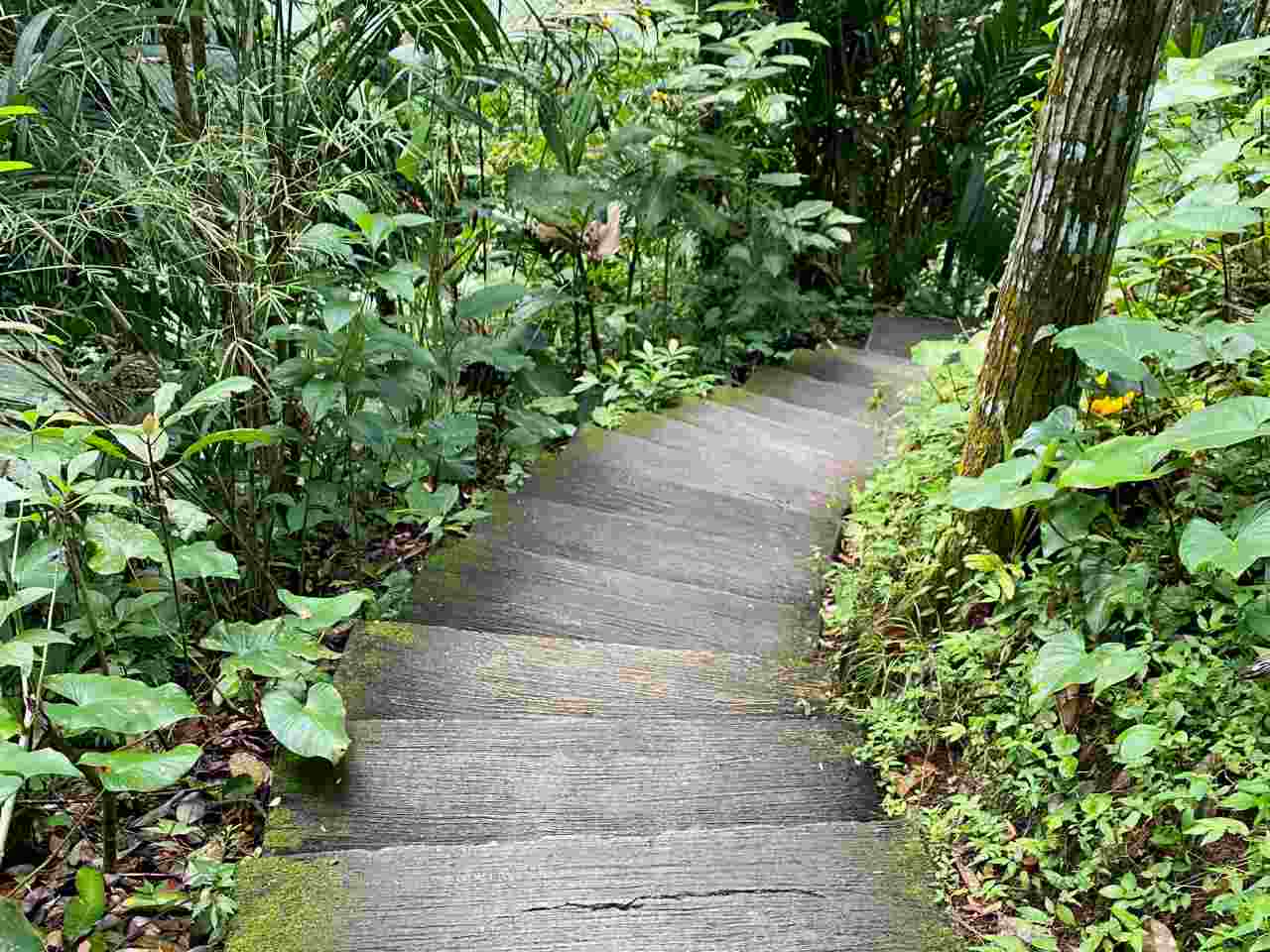 Photo Spots
Management strives to utilize and maximize the environment's potencies. A gate that resembles the shape of a giant turtle will welcome tourists at the entrance. This iconic feature will make a unique background and the second favorite photo spot by far.
However, the signature photograph is in the middle of the natural pool on a bamboo raft. The discharging water behind serves as the backdrop. Other features that also mark this spot are the stone carvings. The shapes resemble frogs and various fishes that are found here.
Water discharges onto a quite spacious natural pool with a shallow shore. It is safe enough even for children to have a dip or two. However, be careful since the middle is 5-7 meters deep. There are guards assigned to ensure tourists' safety.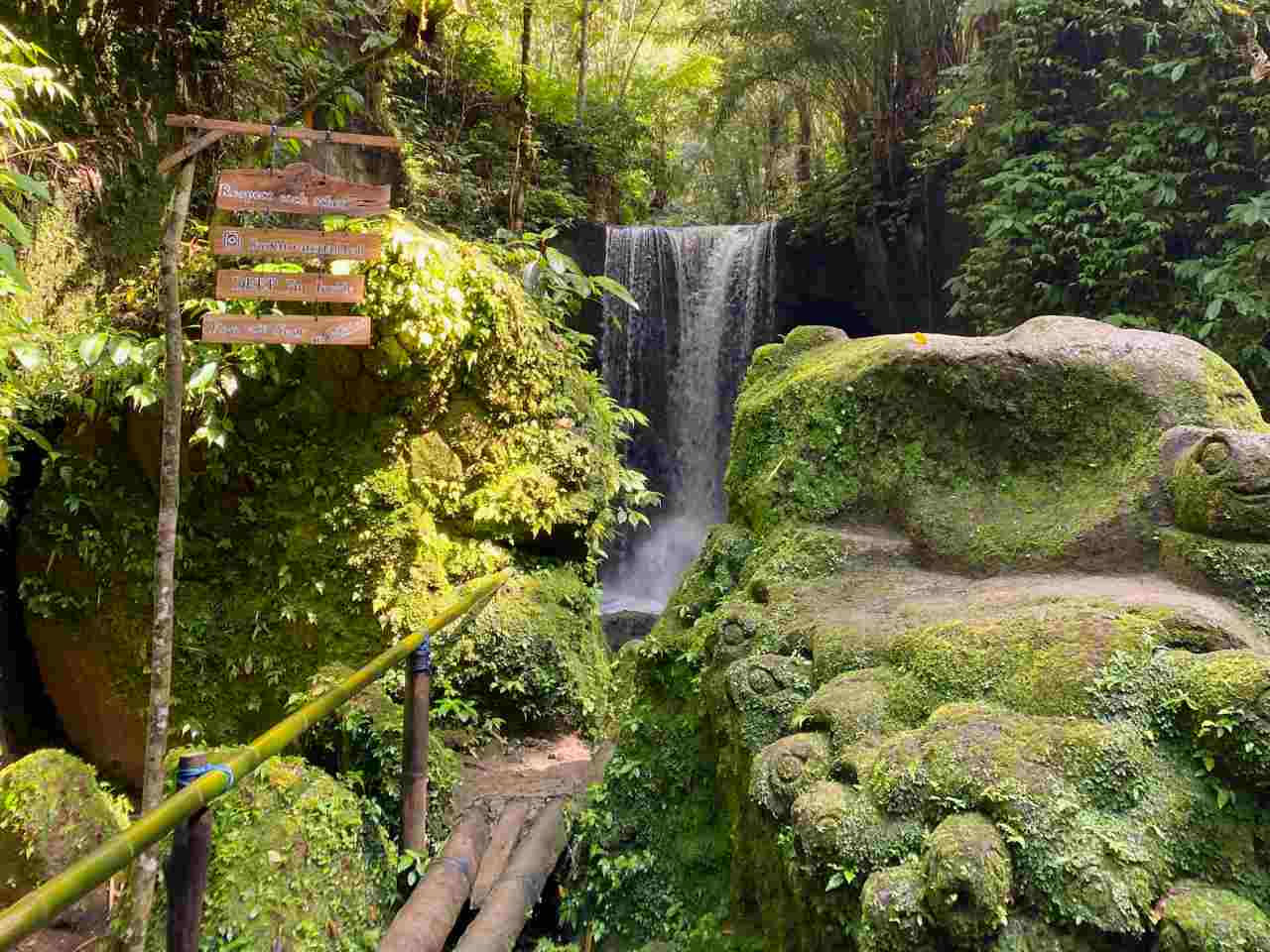 However, caution shall never be ignored to ensure everyone's safety. Don't forget to bring bathing suits and extra dresses. And, be mindful when using camera gears while taking photos on the water.
Cliff Jumping & Cave Exploration
There is a spot at the front of the waterfall where tourists can go cliff jumping. Moreover, there are not many stones in the pool area that ensure safe jumping into the pool. Climb up the rock. Then, scream from the top of the lungs and release all the tension while jumping.
Be mindful though, make sure to land in the middle where the water is deep enough for the fall. The cavity behind the waterfall is wide enough to explore. To get there, swim toward the waterfall and climb up the rocks. Being in the cavity, looking toward the pool with discharging water up front will give an outstanding sensation.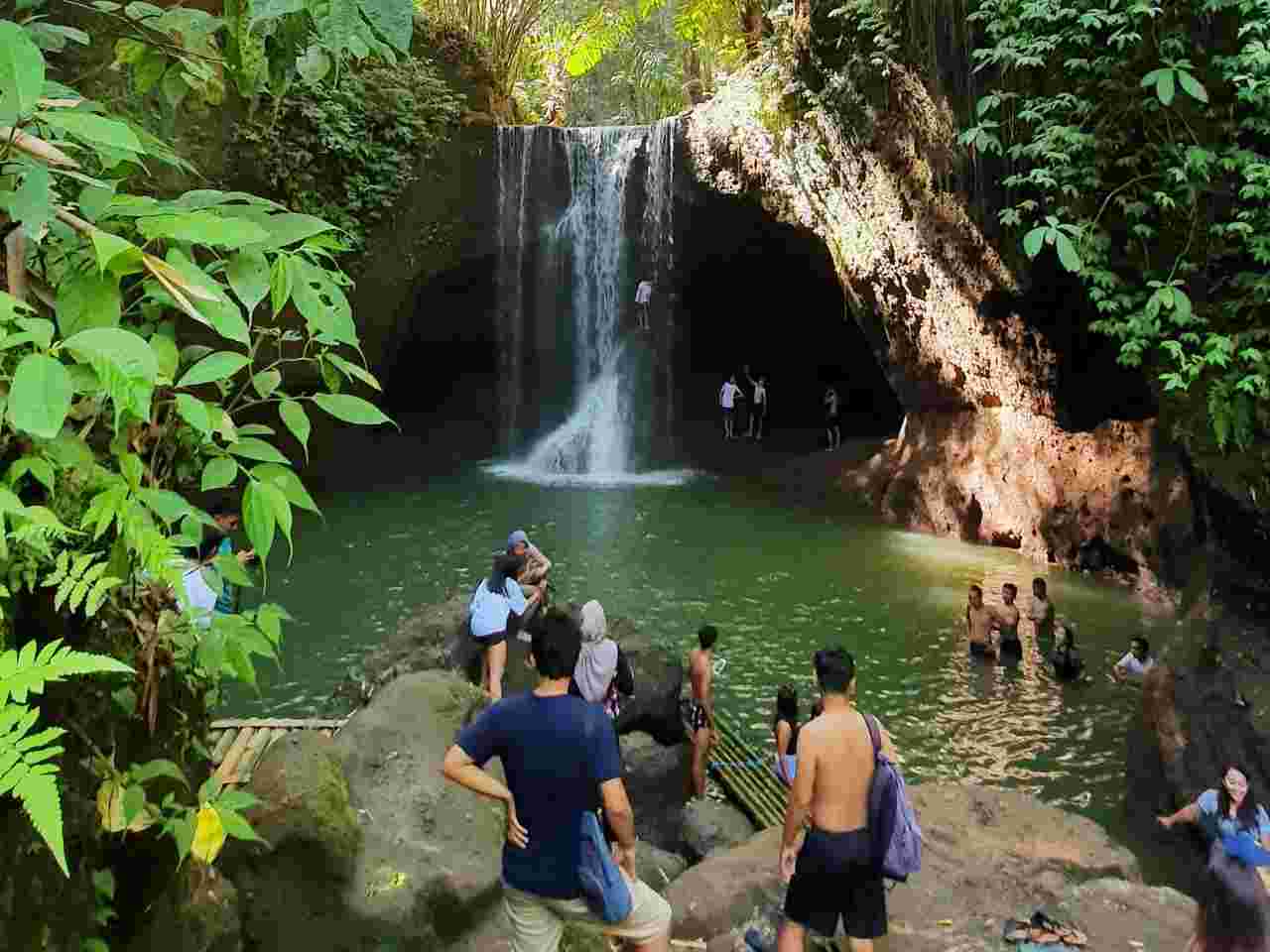 Suwat Water Festival & Panglukatan Ceremony
Water is one of the significant natural elements to purify in Balinese tradition. And once a year, people living in Suwat village hold Siat Yeh. It's an annual festival, a water war which is believed as the symbol of self-purification. The ritual intends to honor the water spring that is said to be efficacious for health.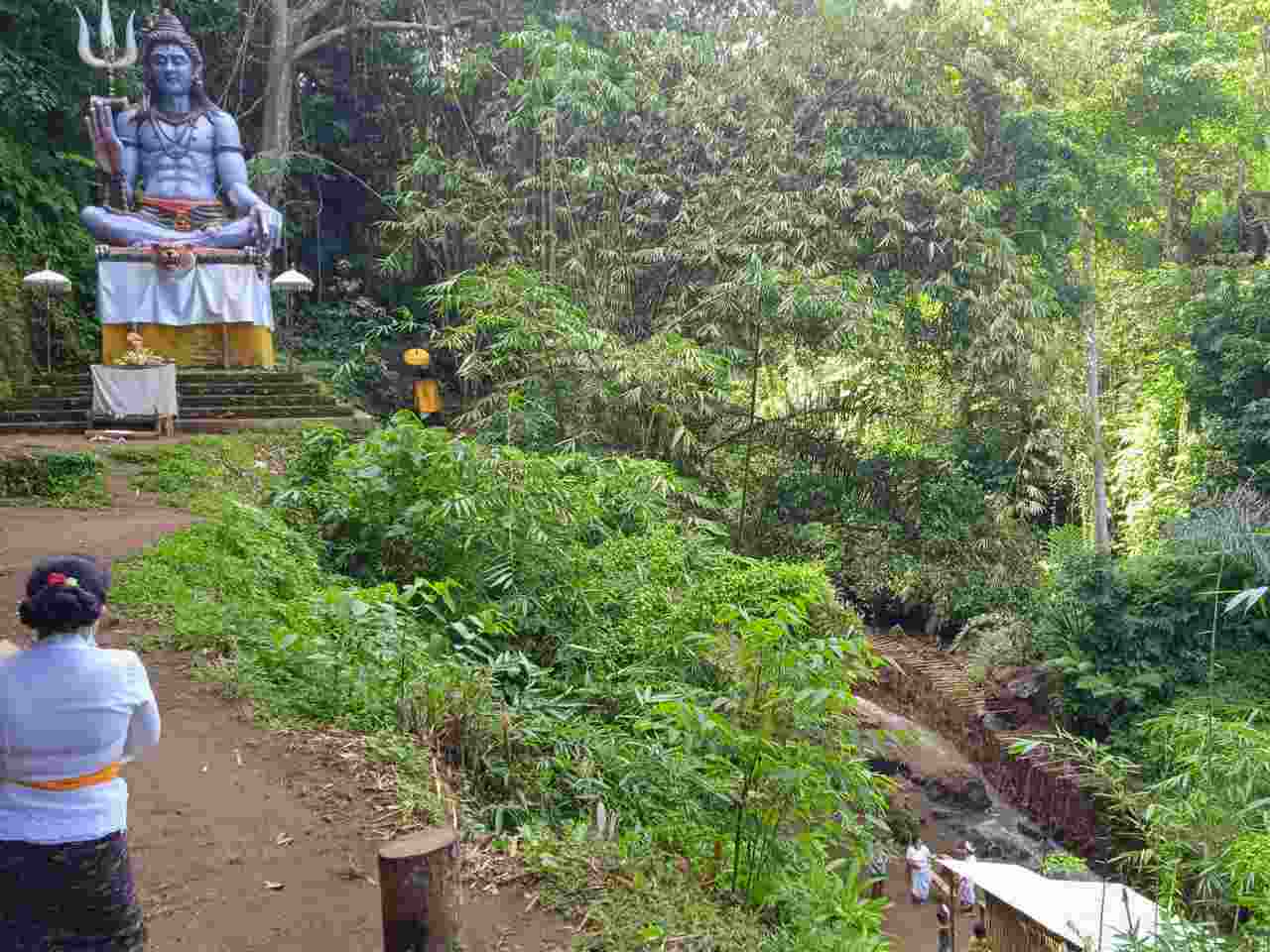 And luckily, tourists may take part and have fun all at once at this festival. The holy water spring spot is located south of the waterfall, near Pura Dalem. And just like other spots in Bali with holy water springs, tourists could take part in the purifying ceremony too (Melukat). The 3-day festival starts from 30 December to 1 January every year.
Nearby: Goa Gajah Temple, History & Entrance Ticket.
Facilities
There are spots for photographs such as bamboo rafts and heart-shaped bamboo weaving. A guide is available to help tourists get the best shots. Most of the facilities are currently free to use. Other basic facilities are available such as toilets and a bar.
Changing rooms are available 1 at the parking lot and another 1 in the waterfall area. The parking fee costs Rp2.000 for motorcycles and Rp5.000 for a car. There are 3 Bale Bengong spots for guests to take a rest on the premises.
See: Guide To Explore Gianyar Night Market & Culinary Spot.
How To Get To Suwat Waterfall
Suwat Waterfall situates in a strategic area surrounded by many destinations. Tampaksiring is only 24 minutes (11.7 km) to the north. Ubud is 1 hour and 2 minutes (15.2 km) away in the west. While Gianyar City lies only 8.5 km (19-minute drive) to the south.
Unfortunately, there is no public transportation that heading to the waterfall. The option is to book a ride-hailing app that costs tourists Rp10.200 and Rp6.500 per next km. Or, rent a car that starts from Rp200.000 for 24 hours. And the other option is to rent a scooter that starts from Rp60.000/day.
See: Where To Buy Tourists SIM Card, Price & Provider Options.
Address & Location
Suwat waterfall is located in Jl. Pura Dalem, Desa Suwat, Gianyar, Bali 80511.