Tirta Empul Temple Entrance Fee: Rp50.000 Opening Hours: 07:00 - 18:00 WITA Telp. Number: - Address: Jl. Tirta, Manukaya , Tampaksiring, Gianyar , Bali, Indonesia , 80552.
Often overshadowed by its neighbor Ubud. The quiet district of Tampaksiring is home to top destinations in Bali. One of them is an important temple, called Tirta Empul Temple. The name Tirta Empul roughly means "water that spurts out from the ground".
Referring to the springs located in this temple. Balinese believe that the spring water here holds holy properties. It is said that the God Indra himself pierced the earth to create these springs. According to the myth, the ancient king of Mayadenawa poisoned God Indra's army. It's a form of his rebellion and disobedience toward the gods.
Angered by Mayadenawa's maleficence, God Indra created a water source to counter the poison. He then defeated Mayadenawa. His triumph over Mayadenawa's evilness is celebrated annually by the Balinese as the Galungan holiday.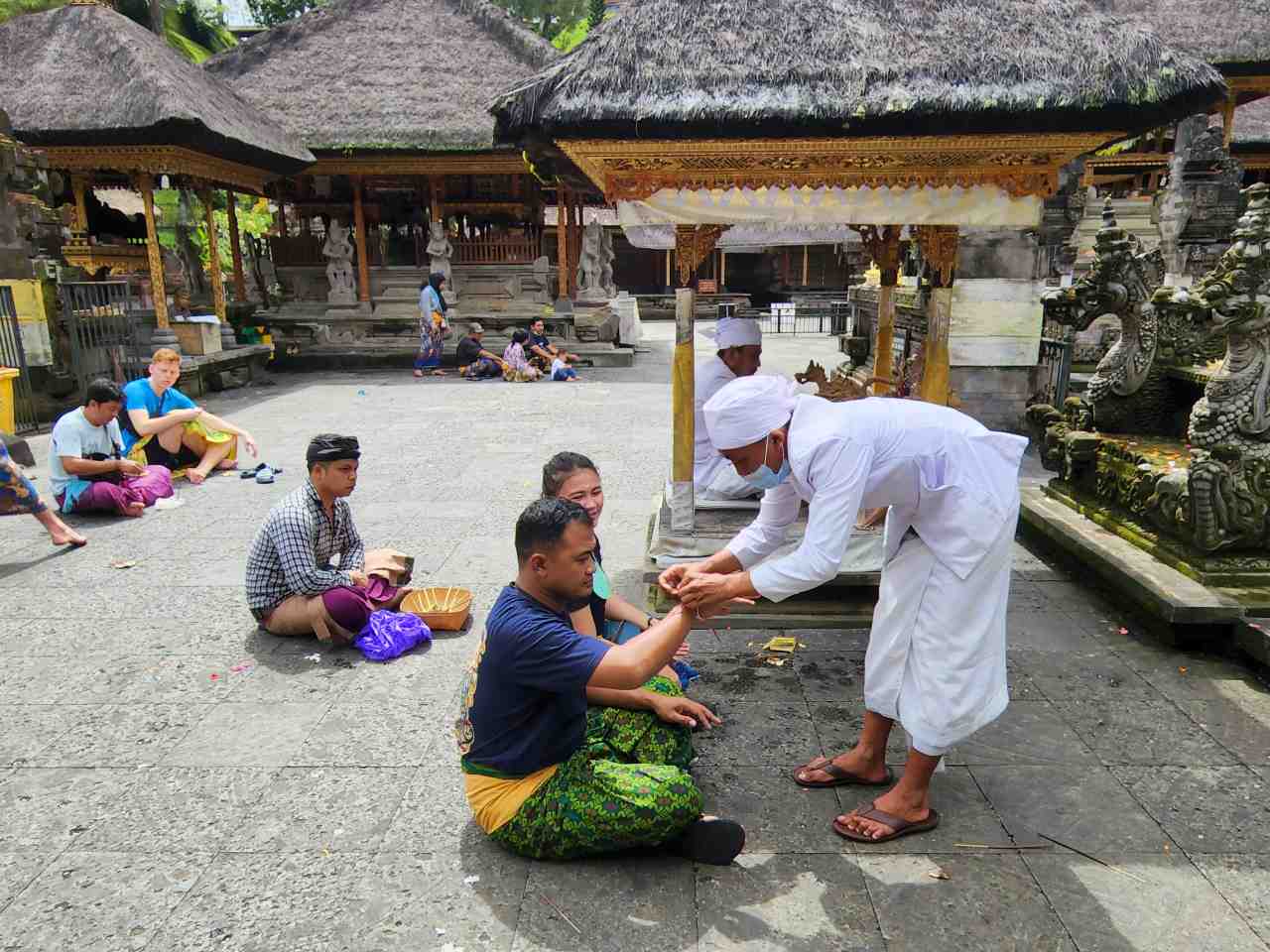 Tirta Empul temple is among the few temples in Bali with a holy water source. Balinese perform Melukat, a bathing ritual to clean one's body and soul, every year in this particular spot.
It's among the most famous temples in Bali, with both locals and tourists participating in the Melukat procession. The site even get more fame when former US president Barack Obama and his family visited Tirta Empul back in 2017.
Tirta Empul Temple Bathing Ritual Melukat
The outer courtyard is called Jaba Pura. Nothing much in this section except a sacred banyan tree with impressive roots growing near a Balinese gate 'Candi Bentar'. A large hall is built for ceremonies and meetings, but on normal days it is more useful as a shade for tired visitors.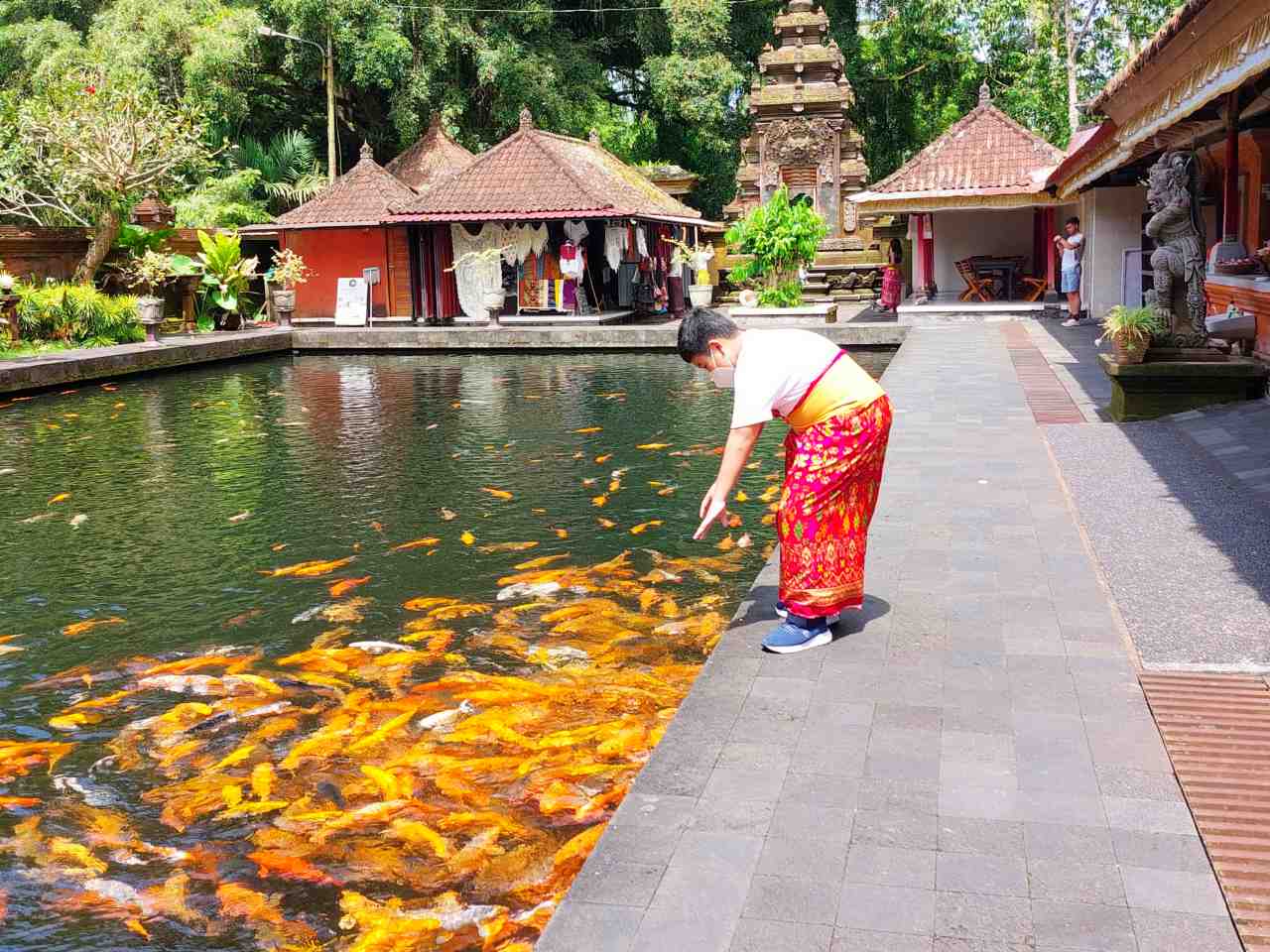 Another gate and visitors will enter the center courtyard, called Jaba Tengah. It's where the purification pools for the Melukat ritual.
For non-Hindu visitors, depending on each person's spirituality. Participating in the Melukat ritual here means a spiritual experience. Otherwise a simply refreshing bath on cold mountain water. Either way, it's just interesting to be part of this religious ritual.
Don't hesitate to get in line and follow the locals. To perform the Melukat ritual, one needs to dress in a traditional sarong wrapped around the body. After praying, shortly before entering the water, proceed to the leftmost waterspout in the first pool. Pray and wash hands, face, and head with the holy water.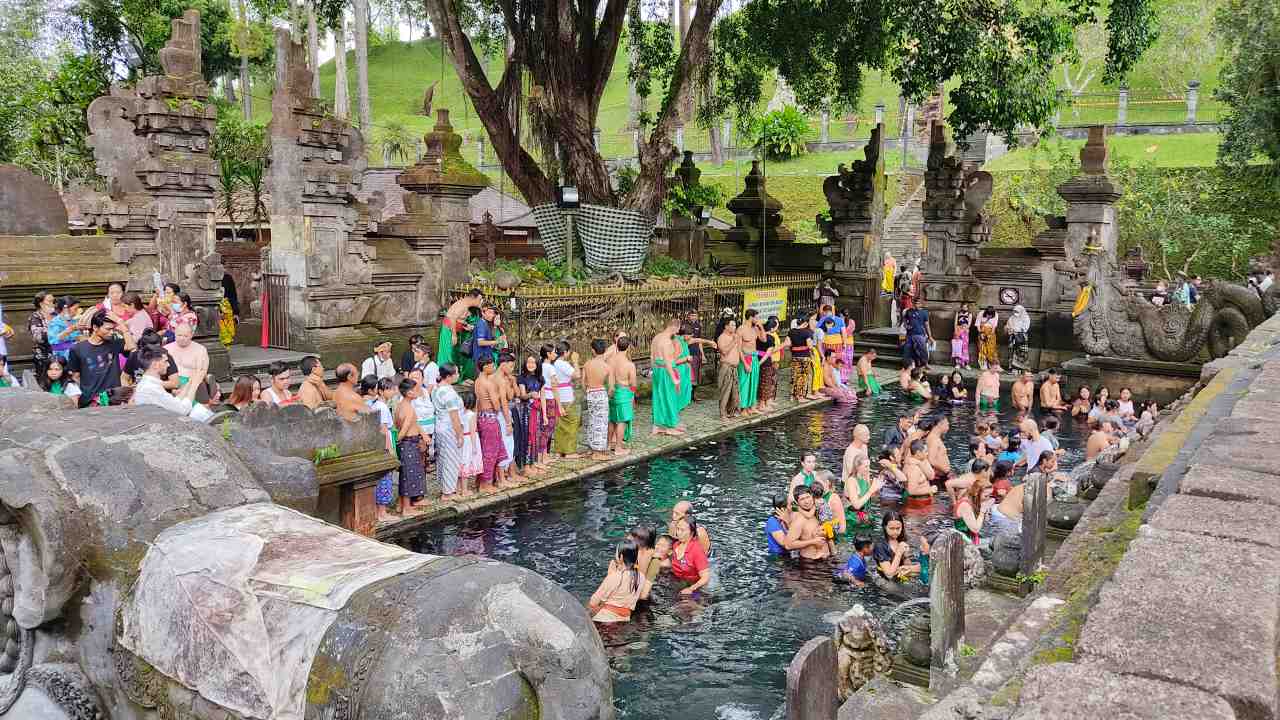 Continue to the next spout until the 13th, but skip spout numbers 11 and 12. These spouts are only for "Pitra Yadnya", a ritual for the dead ones. Lastly, head to the second pool for the final bath.
Tirta Empul Temple Inner Courtyard
Away from the crowd at Jaba Tengah and the purification pools, the inner courtyard is separated by low walls and another Candi Bentar gate. This is where worshipers pray after the purification bath. Visitors are allowed to be here and feel the tranquil atmosphere while observing the rest of the ritual.
Priests will lead the solemn procession, ending the whole ritual with sprinkles of holy water and rice pressed to pamadek's (the worshiper's) forehead. Tirta Empul Temple courtyard is also where the springs come from. Water bubbling from below the earth in a sizable pond filled with green algae and small fish. Ancient pipes channel the water from this pond to the purification pools next door.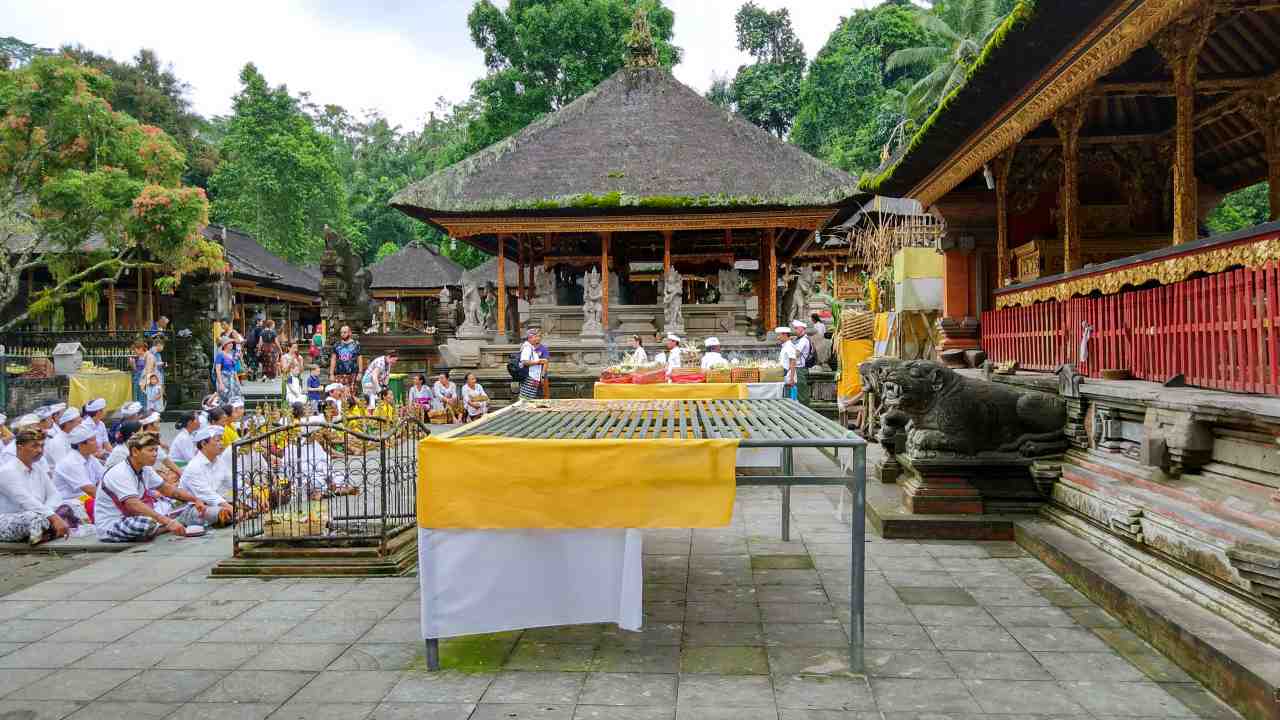 The interesting fact is, that the water also irrigates the rice paddies in the village nearby—another reason why Balinese are thankful for the spring's existence. As visitors head to the exit, another pond full of koi swimming gleefully will provide a delightful goodbye.
Tampak Siring Presidential Palace
Overlooked by many tourists, even locals seem to ignore it. There's a small pathway at the west of the temple. The small path leads to a modern building above the hill, called Tampaksiring Presidential Palace.
Tampaksiring Palace is built by the order of the first president of Indonesia, Soekarno. It becomes a retreat and a guesthouse for diplomacy guests. Aside from being a destination for a quick history lesson, the palace is also a nice spot to get a sweeping view of Tirta Empul Temple downhill.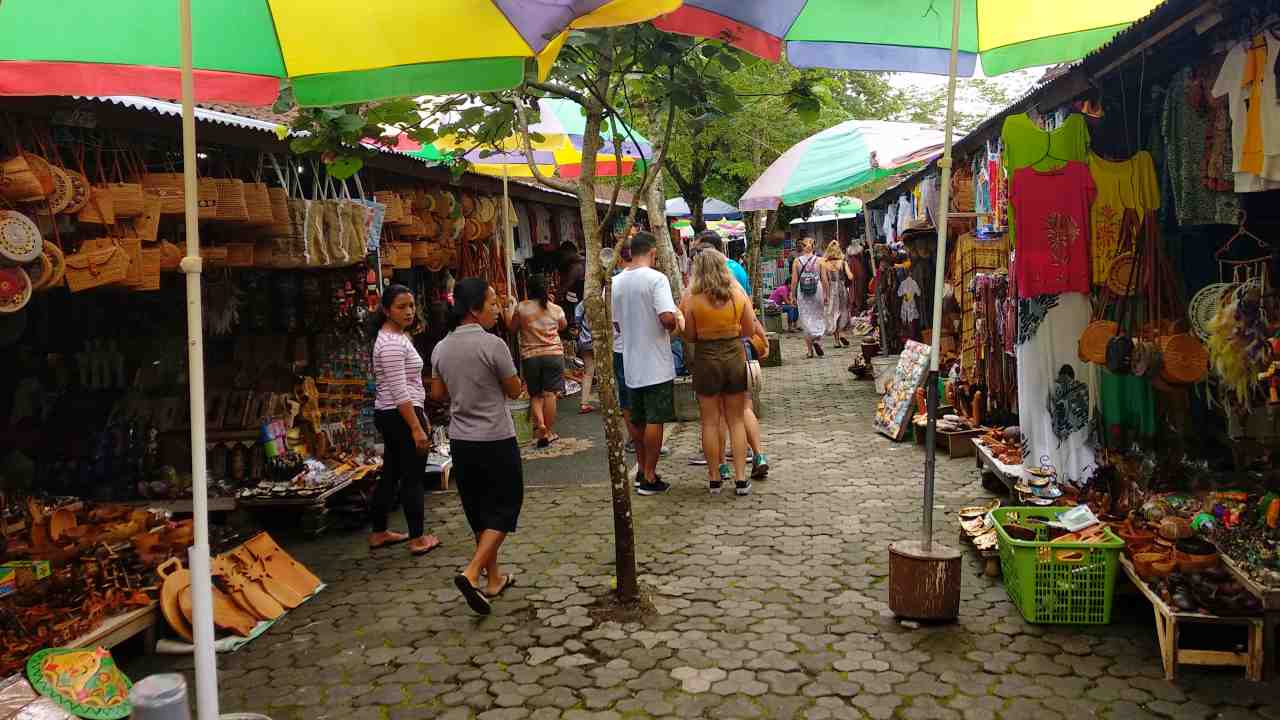 Join many school students in having a study tour here. After all, they make up the majority of visitors. In contrast with pilgrims and tourists at the temple below. They roam the palace with curiosity. Then write something in the notebooks. Otherwise gather in small groups, listening to the teacher's explanation of the national landmark history.
To get inside Tampaksiring Palace, submit an online application. In short, the application must be submit At least 3 working days before the visiting day. There is a certain dress code and a camera is definitely not allowed inside the palace.
Art enthusiasts will also love exploring this palace. Soekarno is known for his fondness for art. His passion reveals the statues, paintings, and decorations. Adorn every corner of the estate.
Nearby: Guide To Explore Gate of Heaven Lempuyang Temple.
Tirta Empul Temple Opening Hours
The temple is open every day from 7 AM to 6 PM, except on Nyepi day. The temple is never running out of visitors. As a matter of fact, the chance to mingle with local Balinese people is so high. As the temple is the top spot for locals to do Melukat.
Tirta Empul Temple Opening Hours
Every day except Nyepi
07:00 – 18:00 WITA
See: Tegalalang Rice Terrace Ubud, Guide & Attraction List.
Tirta Empul Temple Entrance Fee
The international tourist entrance fee is Rp50.000 for one person. Similar to other holy sites in Bali, visitors are required to wear clothing that covers the shoulder and a sarong to cover the knee. Planning to do the bathing ritual, Melukat. Make sure to bring another sarong to change the wet one after bathing.
Tirta Empul Temple Entrance Fee
Foreign tourist
Rp50.000
Children (5-11 years old)
Rp25.000
Sarong Rental for Bathing
Rp15.000
Locker
Rp20.000
Fish Food
Rp5.000
Nearby: Gunung Kawi Temple History, Location & Entrance Ticket. 
Facilities
As the busiest temple around the island. Obviously, Tirta Empul temple has adequate facilities. Bathroom and parking are available with a parking ticket cost of Rp5.000. Lockers to put belonging is available for rent with an additional fee of Rp20.000. Restaurants and gift shops are plenty just outside the temple premises.
Read: Campuhan Ridge Walk Ubud, Activities & Guide.
How To Get To Tirta Empul Temple
Unfortunately, until now there is no public transport to get to the site. At this point, tourists will have to rent a car or scooter. Ride hail app is available around Ubud. However, in some tourist spots, they are not allowed to drop and pick up passengers.
The good thing is Tampaksiring area still has plenty of green open space. And lots of paddy fields next to the main street. So the trip to get to Tirta Empul Temple will be full of nature sightseeing.
The route from Ubud is as follows: Ubud – Tampaksiring street continues to Ir. Soekarno street. Then take the right turn to Tirta street, where the temple is located. To point out, the trip will take 30 minutes from Ubud downtown.
See: Indonesian SIM Card, Price & Provider.
Address & Location
Tirta Empul temple location is 6 km away from Tegallalang rice terrace. It's located in Jl. Tirta, Manukaya, Tampaksiring, Gianyar regency, Bali 80552.