Green Bowl Beach
Entrance Fee: Rp5.000
Opening Hours: Open 24 Hours
Telp. Number: -
Address: Jl. Pantai Green Bowl, Ungasan , Kuta Selatan , Badung, Bali, Indonesia , 80361.
Small but beautiful might the best words to describe a hidden beauty called Green Bowl Beach. Located in South Kuta, Green Bowl Beach is slowly getting its name known among tourists. Mainly because people are starting to seek more secluded beaches which this beach is known for. The isolated location lends its quiet and tranquil atmosphere beloved by many.
Green Bowl Beach features a small stretch of sand. It is surrounded by cliffs dotted with lush greenery. The shape of the beach resembling a bowl and the surrounding greenery earns this beach its name. It is the visiting tourists who coined this name. Before long, locals started using the nickname too.
To get down to the beach, vacationers must undertake a perilous journey first. A steep and narrow set of stairs, since it is the only way down to the shoreline. The stairs are made out of concrete and built into the cliffs surrounding the beach. There are no handrails. And the chance to see monkeys on the way down these stairs is high. As there are plenty of them living in the woods nearby.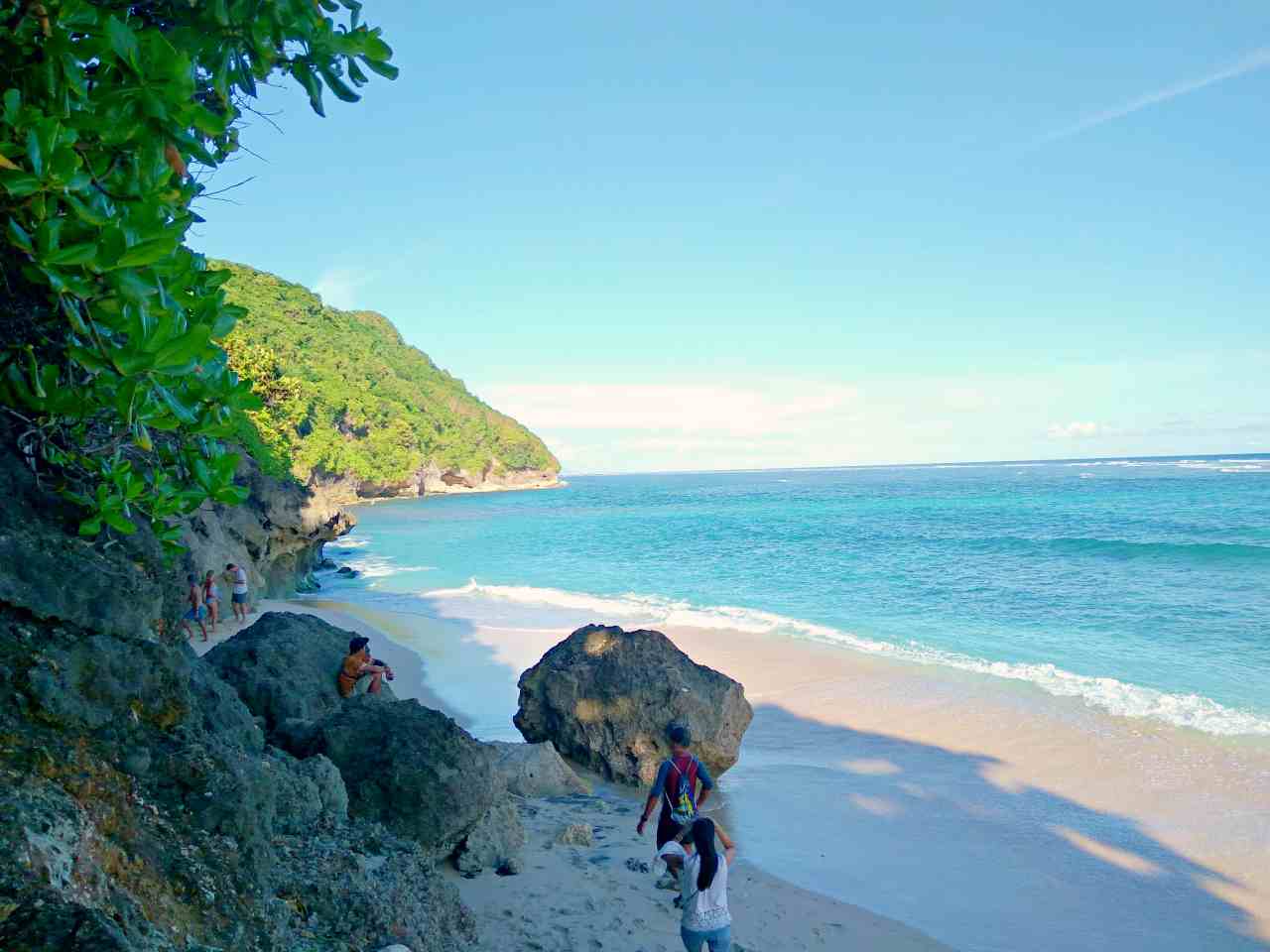 Green Bowl Beach Entrance Fee
Unlike other commercial beaches in Bali. Green Bowl Beach charges tourists Rp5.000 for the entrance ticket. This fee is used by the locals to help maintain the Batu Pageh temple. Visitors coming with a private vehicle will be charged a parking fee Rp2,000 for a scooter and Rp5,000 for a car.
Green Bowl Beach Entrance Fee
Ticket
Rp5.000
See: Jimbaran beach & Seafood Culinary Spot.
Green Bowl Beach Opening Hours
Just like any other beach in Bali. There is no restricted time for tourists in Green Bowl Beach. It's open 24 hours. Most visitors like to come before sunset, 3 PM at most. But since there aren't many facilities. It gets quiet and dark after sunset. And it's time for the local fishermen to work and cast their fishing nets anyway.
Green Bowl Beach Opening Hours
Every day except Nyepi
Open 24 Hours
Nearby: Pandawa Beach, Water Sports Activities & Guide.
A Touch Of Prayers
There are several temples in this area leading to the beach. One of them is the Taman Sari temple that guests can immediately find in front of the parking lot. Another temple the Dalem Batu Pageh will require a bit of venturing deeper into the complex. This temple lies exactly on top of Green Bowl Beach.
Locals who live nearby in Ungasan village come to Dalem Batu Pageh temple to pray and perform purification ceremonies. The temple is built inside a cave inhabited by a colony of bats. Other than the bats, a troop of monkeys lives around the area too. The monkeys aren't as aggressive as other monkeys in the Uluwatu temple though.
But still, as these are wild animals. Be careful and make sure to watch over the belongings at all times. As these monkeys like to steal from the beach guests. Other than these two temples, there is another temple erected right on the beach. It's a temple dedicated to the sea gods.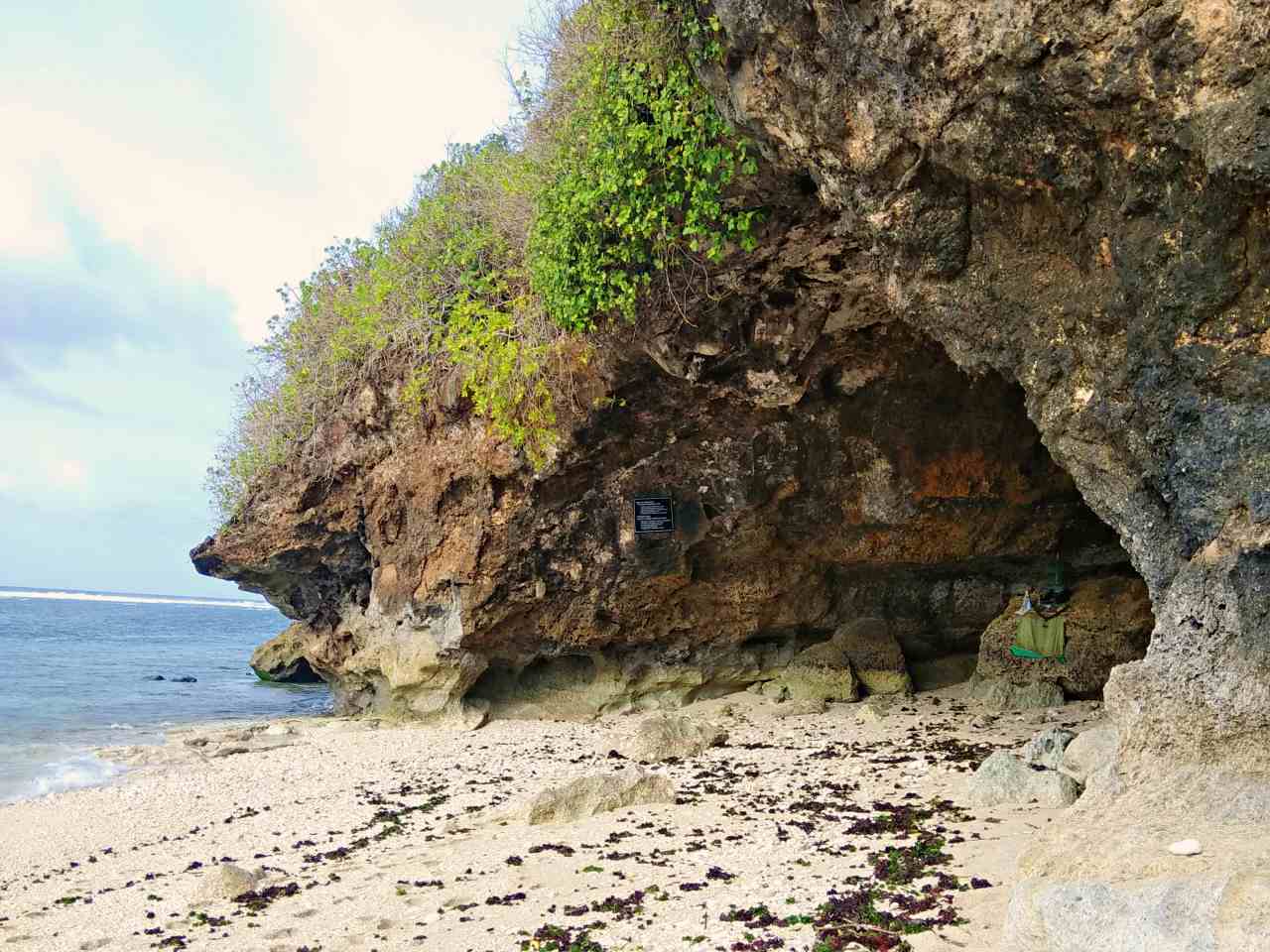 The small temple lies inside the caves near the beach area. Besides praying, the locals leave behind offerings too in this temple. Guests are welcome to watch the ritual. But keep in mind to always be respectful when visiting any of these temples.
Surf's Up
Despite its modest size, Green Bowl Beach is a destination known among surfers. Its strong waves attract surfers to check out the waves. The pros would attempt to catch the high tide in the early morning. By midday, the beach would be crowded with surfers. However, there are no rental shops in Green Bowl Beach. So rent the surfboard elsewhere.
The best time to visit the beach is in the early morning or the afternoon at the latest. Low tide usually starts at around 3 PM. And once the sun finally sets, the local fishermen around would descend on the beach. And cast away the nets to catch fish during this time.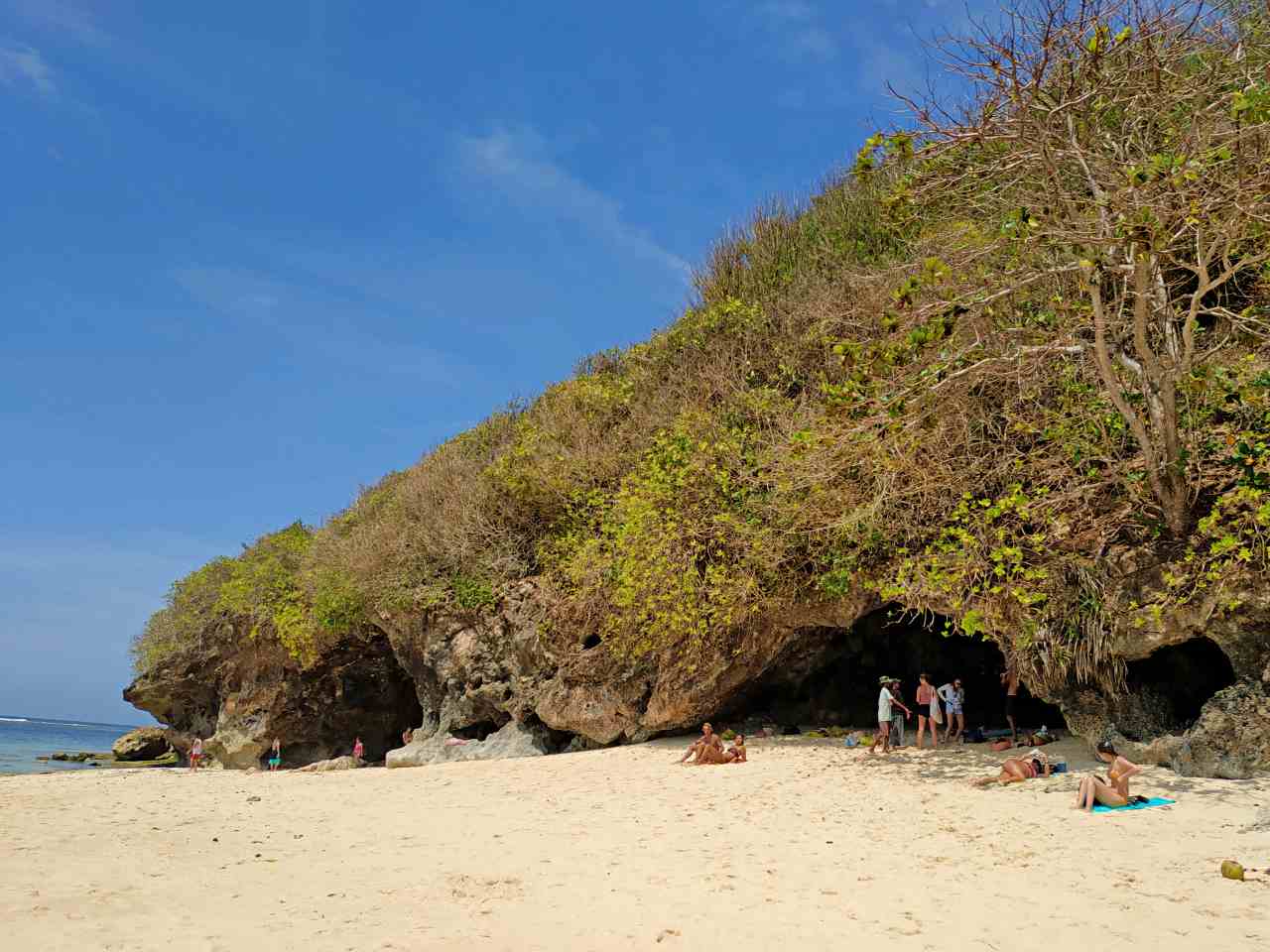 Bats in Coral Caves
Surrounded by tall coral walls, Green Bowl Beach boasts several coral caves lining up the shoreline. Some of them are marked as a place for locals to pray to the Hindu Balinese sea gods. And inside these caves lives a colony of bats. During the day, the bats hang on the caves' ceilings to sleep. And since the cave is home to hundreds of bats, the caves reek of bat droppings.
Some of the caves are empty and usually used by tourists to relax. Lie down inside these caves away from the heat of the sun. Forget about beach chairs and umbrellas, since there is not even one rental shop on the beach. It is still a pure and quiet beach after all.
Patches of sand mixed with mossy rock formations to sit on are on the right side of the beach. Soaking in the warm seawater from the coral shallow pools would feel refreshing. As Green Bowl Beach is still fairly unknown, the pool is cleaner compared to other shallow pools on other beaches.
See: Nakula Night Market, Culinary Spot, Seminyak.
Facilities
Luckily for visitors, this beach is equipped with supporting facilities such as public bathrooms, a parking lot, and food stalls. However, guests must prepare small notes to use the bathroom and pay the parking fee. The food vendors and coconut water stall are located above the beach.
The only vendors selling stuff on the beach are locals selling handmade crafts. So, best to buy snacks and drinks here before going down. There aren't plenty of choices for dine-in on the beach.
However, just 5 km from Green bowl beach, there's another more established beach. Like Pandawa or Melasti beach. Both come with adequate facilities and options for a dine-in experience. Tourists can choose from dining at humble food stalls to casual dining restaurants. Food available ranges from traditional Balinese food to Western cuisines.
See: Bali Airport, Guide & Public Transportation.
How To Get To Green Bowl Beach
There is no public transportation option to get to the beach. Beach guests could only reach the place by renting a private vehicle. The rental fee for cars without a driver is about Rp200.000/day. On the other hand, tourists can also rent motorbikes for Rp60.000/day.
For travelers starting their journey from downtown, Green Bowl Beach is about 40 minutes away depending on traffic. Tourists can start their journey from Jl. Teuku Umar then to Jl. Imam Bonjol. From there, visitors should take Jl. Sunset Road, continue to Jl. By Pass Ngurah Rai then to Jl. Uluwatu II. After that, take Jl. Bali Cliff in Ungasan then takes a right to Jl. Pantai Green Bowl.
See: Prepaid SIM Card for Tourists, Internet Package Price & Providers.
Address & Location
The beach location is in Jl. Pantai Green Bowl, Ungasan, South Kuta District, Badung Regency, Bali 80361.