Batu Belig Beach
Entrance Fee: Free Entrance
Opening Hours: Open 24 Hours
Telp. Number: -
Address: Jl. Batu Belig , Kerobokan Kelod, , Kec. Kuta Utara, , Badung, , Bali , Indonesia , 80361.
Batu Belig Beach is another beach located in southern Bali. It spoils fewer people compared to its neighboring beaches like Seminyak or Kuta beach. Despite its less popularity, Batu Belig is a scenic beach. Serenity, sunset, and surfing playground. Expect no less than a wonderful experience in this spot.
The beach is a sloping one. It suits children well as there's no coral around. The wide sandy area as the playing field combined with the strong wind is perfect for kite-flying. Traveling with a dog? The good news the beach is also a good spot to walk a dog.
Getting a tan is never a problem in Batu Belig. Feel free to lay the mat and soak up the sun. Of course, while enjoying coconut or a cold beer. Sunbathing is done, time to fill the tummy. Roasted corn or heavier meals – local vendors have them all. Palate-satiating cuisines while enjoying the ocean panorama, why not?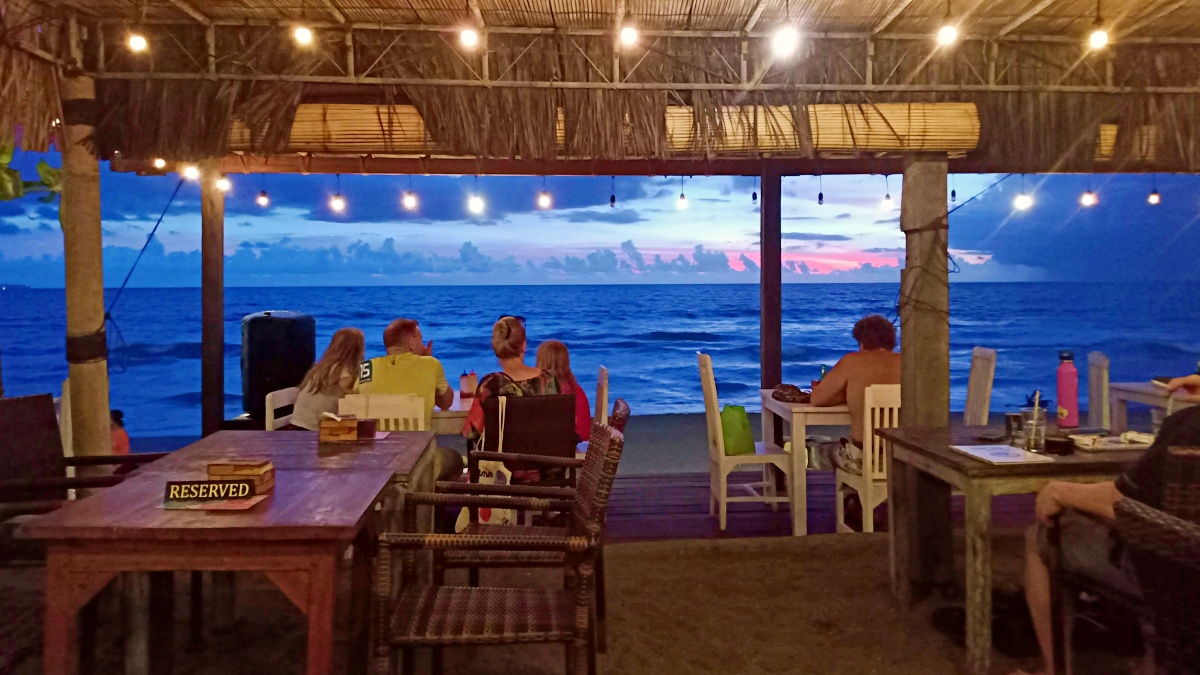 Batu Belig Beach Entrance Fee
Tourists will not be charged entrance tickets to explore the beach. However, prepare small notes of Rp2,000 to Rp5,000 for visitors coming with private vehicles.
Batu Belig Beach Entrance Fee
Ticket
Free
Parking
Rp2,000 (scooter) / Rp5,000 (car)
See: Berawa Beach Guide & Top Things To Do.
Batu Belig Beach Opening Hours
The beach itself has no closing hours. However, starting from 8 PM all the live music will have to stop. And the beach will get quieter. The restaurant on this beach serves breakfast and closes at 11 PM.
Batu Belig Beach Opening Hours
Every day except Nyepi
Open 24 Hours
Parking fee
Rp2.000 (motorcycle) / Rp5.000 (car)
See: Kuta Beach, Activities & Shopping Spot.
First Step in Batu Belig Beach
Upon arrival, let the parking guys keep the vehicles on the provided lot. The hawkers may call out for some products and services – don't worry, hawkers here aren't as persistent as those in other famous beaches. Less hassle than other beaches for sure.
Step into the medium beige-colored sand as a welcome greeting. Watch locals kids and adults test the wind and slowly drift the kites. Around noon surfers will be around as well.
Nice Place to Unwind
Batu Belig offers wider individual space for its visitors. Vacant beach chairs are many to rent. Rent one for Rp100.000 with a parasol as an additional. On some good days, vendors may offer a good deal: Rp100.000 for two vacant chairs. The beach umbrella is included too.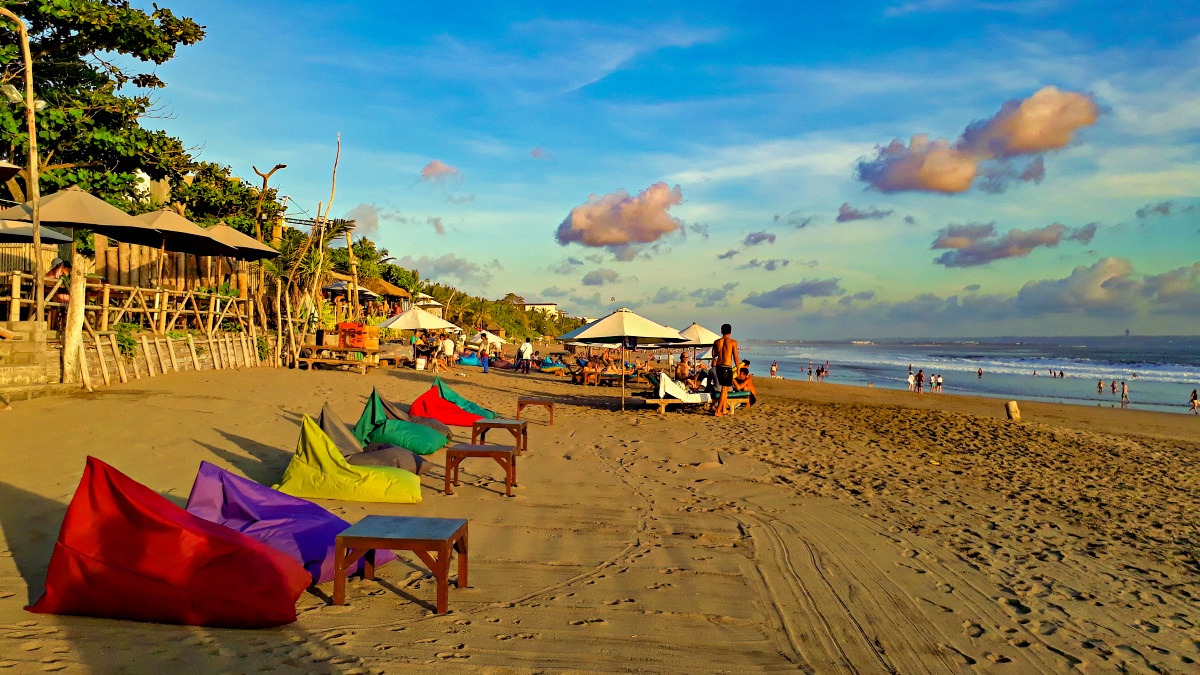 The popular top beach music sounds come from the beach bars. Bring back the childhood memoir by flying the kite. Buy the kite on the roadside as on the beach there are no kite sellers. Or, take a casual walk, and feel the wind, feel the sand.
Surfing & Tanning
Have a healthy sun-kissed body that costs nothing. Apply sunscreen beforehand to avoid damaging sunburn. To get the tan, lay the mat or simply rent a beach bed for a reasonable price. Don't forget to give proper hydration as well. Coconuts and cold beverages are ready to order.
Get acquainted with local surfers in Batu Belig. After all, the wave is rideable and so great for pro surfers. However, no surfing schools are available here. In-charge guards are available, but again – the tide is high. So, novice surfers are better to wait for the right wave to play with.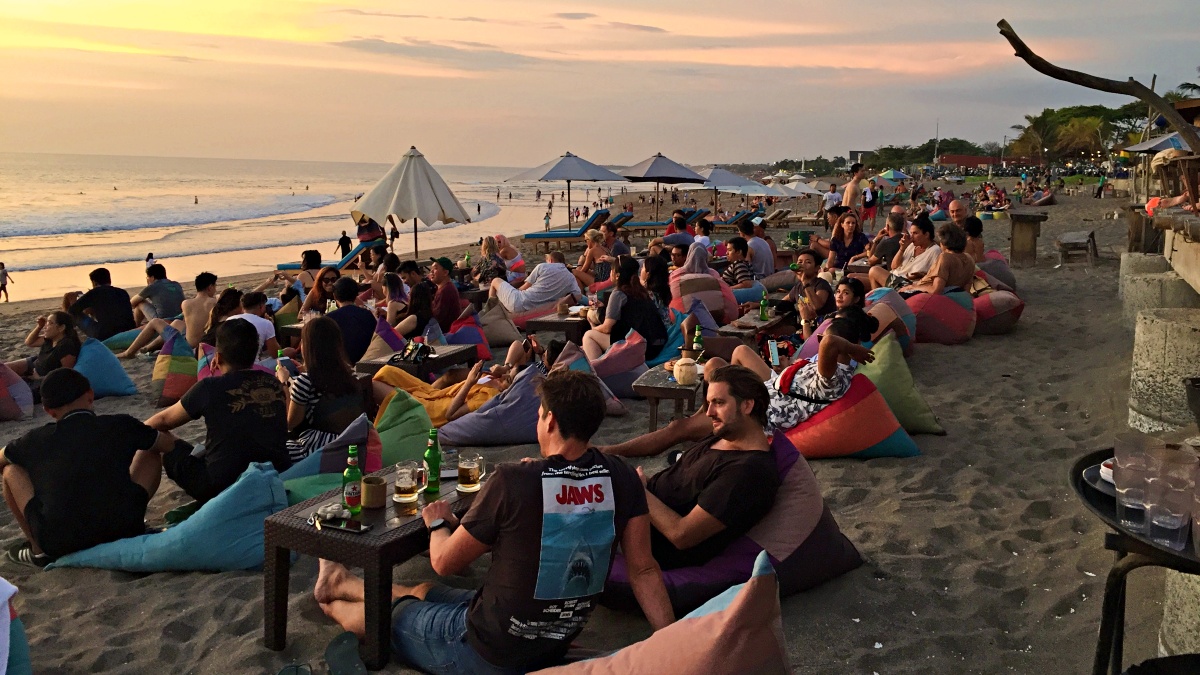 There aren't any surfboard rental places available. Surfer can rent it somewhere else and bring along the board. Go through a pleasant experience as not many surfers are around. That made the playground even broad to maneuver the board.
Batu Belig Beach Sunset & Nightlife
Sunset on the beach is something that all people agree is worth the wait. Witness the magnificent gradient of pink, yellow, purple, and blue during dusk. Lean back on the beach chair. And don't forget to go capture the vivid vanilla sky with a camera.
As the sun goes down. Sit on the bean bag chair arranged by the locals' vendor. Be sure to secure a seat with a good spot before 5 PM. Order some beer and snacks right away before it gets too busy. Some fancier spots are also available just meters away from the beach. There are clubs and cafes within easy reach.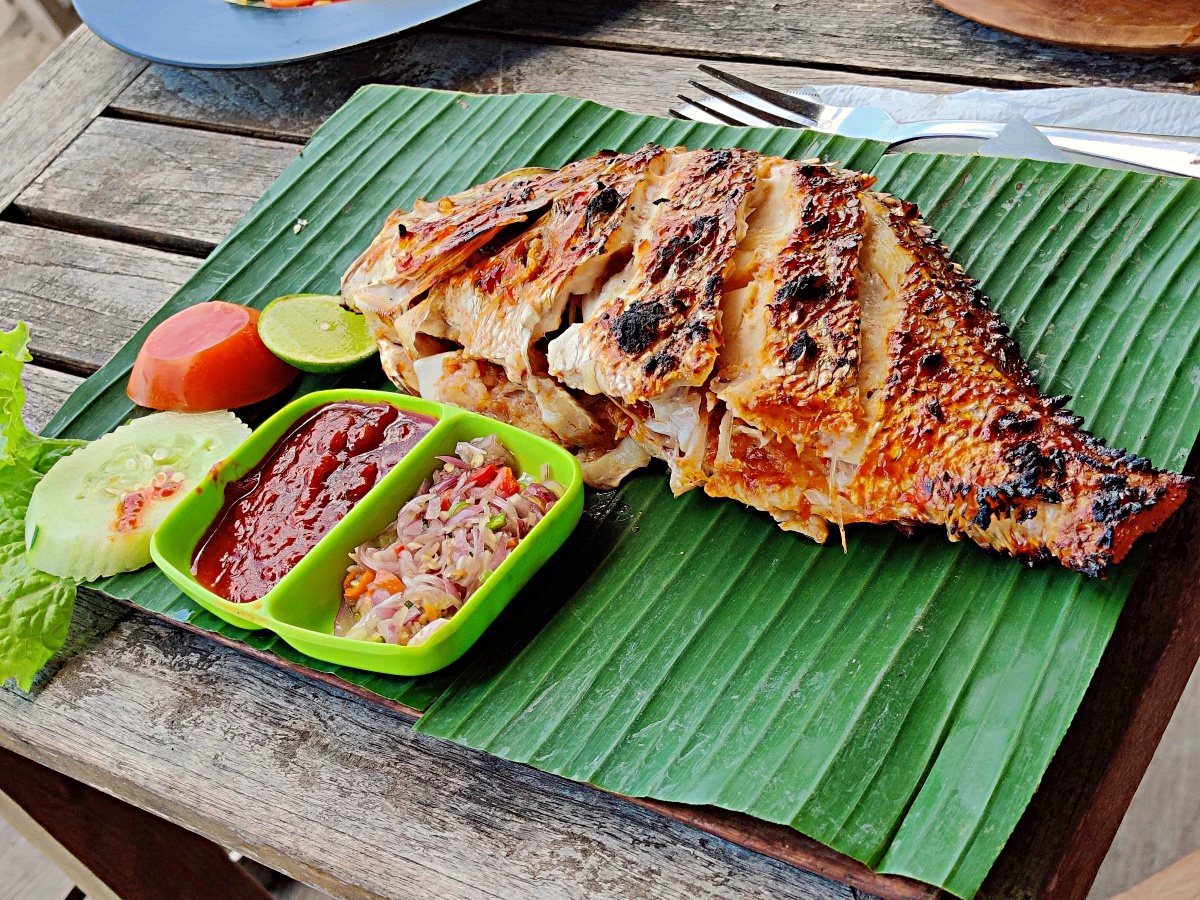 Some may object to the loud music, but the clubs have quite a lot to offer. Chill while enjoying the night beach view from the club's pool. Excellent photo spots for Instagram feeds are easily found. Perch in and relax. The bed and lounge chair is available to use for guests with a minimum purchase of Rp200.000.
Back to Batu Belig, a nearby club does not mean the beach is less interesting. Reggae music accompanies the evening corn-roasting. Sipping the beer is refreshing. If one plans to dine at this moment, the warungs are still open.
Shoreline Eateries
Feeling hungry? Grab some meals from the beach warungs. Despite its modest setting, the menu isn't local food only. There are plenty of western food choices to satisfy tourists' appetites. From fish and chips, fettucini carbonara, burgers, and even nachos.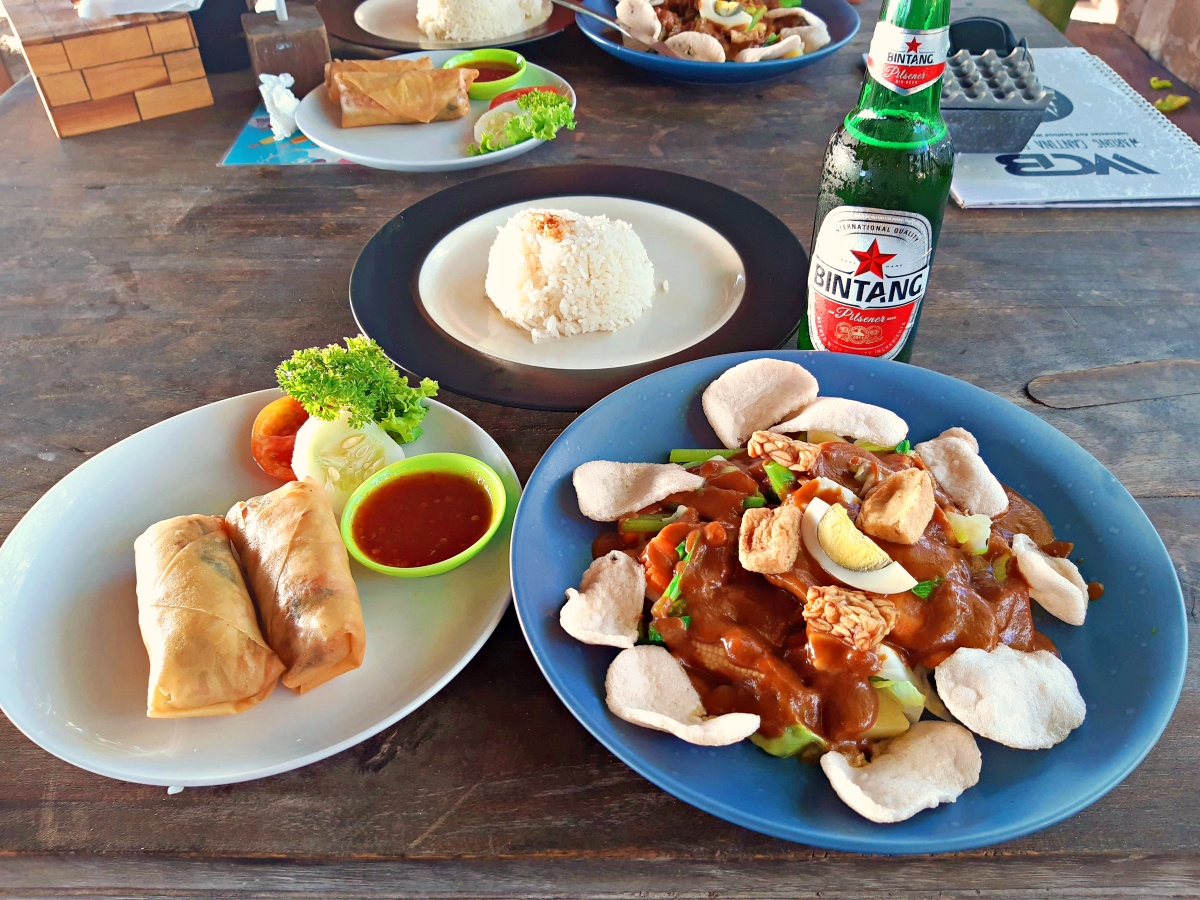 The price ranges for food start from Rp30.000 to Rp145.000. That highest price is charged for a mixed seafood grill, served on a platter. A pretty reasonable price compared to its portion. The local menu is varying as well. And the price ranges from Rp30.000-Rp85.000.
Almost all warungs have classic fried rice and fried noodles on their menu. For some variation, order meat skewers and Gado-gado (assorted veggies, boiled egg, and tofu with sweet peanut sauce). Opt one: beef, chicken, or pork for the skewers – whichever costs the same. Balinese-style curry is ready to serve indigenous culinary lovers. Not to forget, the white rice satiates hunger.
As for the drinks, the option varies from seasonal fruit juice like watermelon to smoothies. For the alcoholic drink, some warungs serve wine, arak mojito, and cocktails too. The price for cocktails and other alcoholic drinks ranges from Rp25.000 to Rp250.000.
See: Berawa Beach Canggu, Attraction & Activities.
Facilities
The place has fewer public facilities compared to other beaches. Toilets are available but only a few. In contrast, plenty of options when it comes to eateries are the upside. Beachy nightlife is just a few steps away from the beach as well.
The closest road to the beach is undeniably narrow. Therefore, only one car per lane can go through. Be careful of occasional recreation buses coming. Nearby minimart, as well as money changer place, are available. To go to both places, one has to exit the beach area first.
The parking area is quite spacious. No need to worry about the stuffy parking lot. The fee is standard, which is Rp2.000 for a bike and Rp5.000 for a car. The rate is applied for one-time parking, so if one goes out and back, the person has to pay once more.
See: Prepaid SIM Card Price & Providers For Bali. 
How To Get To Batu Belig Beach
From inns/hotels located around Kuta beach, walking to Batu Belig beach costs loads of sweat. The distance is around nine kilometers. Taking a cab, riding a rental bike, or jumping to an app-based ride-hail are preferable. The ride-hail rate is around Rp20.000-25.000 per bike. While it charges around Rp50.000-Rp60.000 for cars with 4-6 seater.
The route heads northwest following the road to Legian-Raya Taman-Petitenget-Batu Belig Beach. There might be some road congestion during the high season or on weekends. Without significant congestion, it takes 20-25 minutes only from Kuta.
See: Transportation Guide Available In Bali Airport.
Address & Location
Batu Belig beach location is in Jl. Batu Belig, Kerobokan Kelod, Kuta Utara, Badung, Bali 80361.