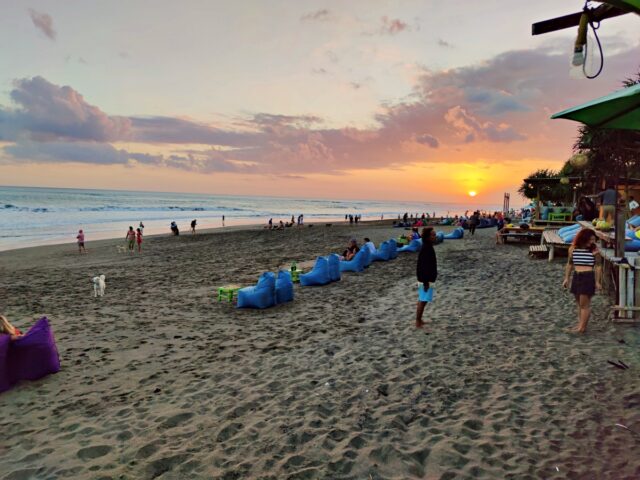 Berawa beach may not be that popular enough compared to Kuta and Seminyak. Away by seven kilometers from Seminyak, this beach has a high tide suitable for surfers. The sun is perfect for sunbathing. Feel free to lay mat anywhere, there's plenty of space. It caters to fewer people as well.
Despite its less-heard name, this exotic beach is not short of visitors. Mainly the guests are the frequent surfers and locals. Some tourists may just hear it for the first time from their fellow travelers.
Afterall fewer guests mean fast service. Enjoy leisure time, just call the beach guy. The guy will happily set and arrange the beach chair. Order a bottle of cold beer or coconut and soak up the sun at the same time. The fun part does not stop as the bright sky turns black.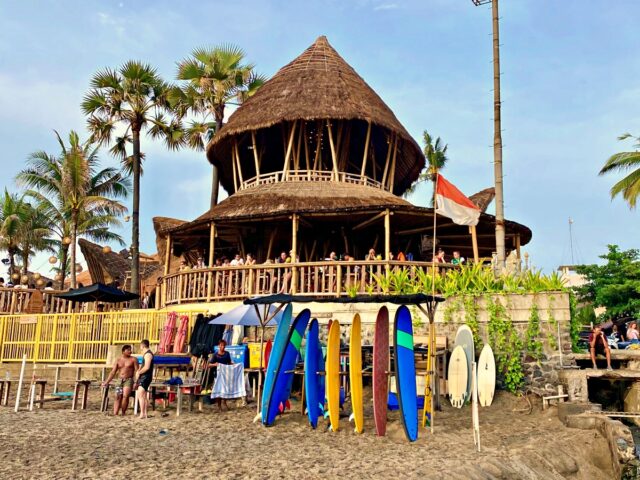 Spending dinner time in the beach cafe while chit-chatting with friends or locals is not a bad idea. As the nightlife takes a turn. The nearby beach club music marks the beginning of a long night. The infinity swimming pools overlooking the beach, the bar and food are something to look forward to.
Family Picnic Beach
While many famous beaches are 'armored' with various water tourism attractions. Berawa beach is not. Instead, Berawa beach lies in its nature to attract tourists. Dig the childhood memories by building sandcastles. Get splashed in the small creek heading to the ocean. Or, bond with the local stray dogs. Undomesticated yet friendly – that's how the dogs are here.
The sand here is darker than the sand in Seminyak. But, that does not mean building sandcastles is not fun. Bored with the sandcastles, get buried under the sand. To rinse the sand away, swim in a nearby stream. For safety reasons never let kids swim alone.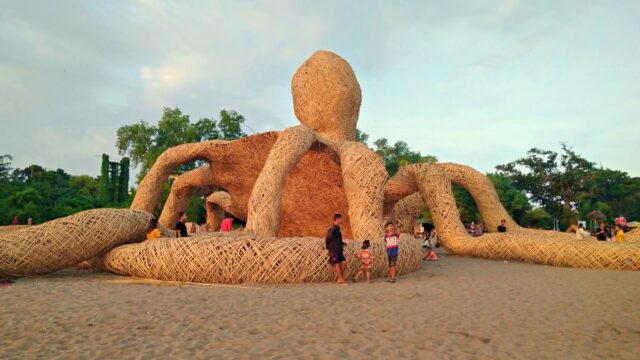 Bamboo craft installations in Berawa beach are something else kids look forward to. Its large installations are made resembling sea creatures, such as turtles and octopus. It's height reach several meters high. Beneath it, there's a stage built specifically for mainly music events.
Berawa Beach Accommodation for Surfers
The high and wild tide is the bonus for facing the Indian Ocean. Pretty much surfers-friendly. Unfortunately, there aren't surfboard renting places on the beach itself. Rent one from the nearby surfing shops. Apart from selling surfing apparel, and renting surfboards. It offers a basic surfing class too. Generally, the price for a 1 to 2 hours session at a normal price is Rp250.000.
Berawa beach may not be as commercial as other beaches in Bali. But the accommodation scatters in the area is just as good as the other. From a cheap guesthouse that cost Rp100.000 ($7) per night. Modest guesthouse for Rp300.000 ($25) per night. To a luxury villa with a swimming pool, everything is available here.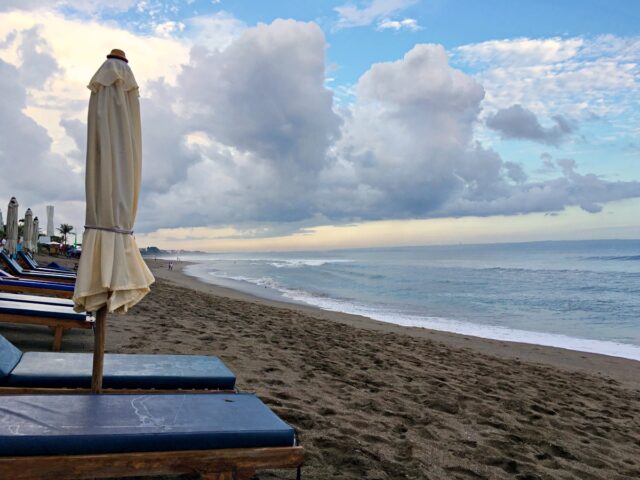 Jogging and Dog-walking
Having an afternoon walk is possible along with the furry barking friend. A unique sight to see on a beach for sure. The beach is a dog-friendly environment. Burn some calories by running on a sandy lane. Generally, people come to jogging early in the morning or late afternoon – while waiting for the sun to set.
Fondling one's eyes with the sunset of Berawa Beach is something too look forward to. Even if the beach is not as crowded as it's the neighbor beach. The sunset is of course the same. Come early at around 5 pm to get a decent spot to sit.
After Sunset
Chilling after the dusk is not impossible. Get a surreal feeling while enjoying the night with beers and roasted corn. Nearby hotels and cafes are accommodating for the food. As only a few local vendors are offering food at the beach. Shortly after that, some will leave, some will go back to the beach.
Luckily there's a nearby beach club to visit. Party-goers flock their way there. The club hosts parties every night. Loud thumping music is marking its entrance. Guests will be charged a certain amount of entrance fee.
See: Indonesian SIM Card, Data Package & Price.
Berawa Beach Opening Hours
The beach has no specific opening hours. So, basically, it opens 24 hours. Entering the beach also does not require an entrance fee. Visitors who bring vehicles to the site pay a one-time parking fee on the lot managed by the locals. Without a certain purchase, Berawa Beach is a beach that offers a cheap tourism spot – very unlikely among the other Bali beaches.
Berawa Beach Opening Hours & Entrance Fee
Every day except Nyepi
Open 24 Hours
Entrance Ticket
Free
Umbrella & Beach Chair
Rp50.000
Parking Fee
Rp2.000
See: Balangan Beach Jimbaran Activities & Entrance Fee
Facilities
The facilities in Berawa Beach are not much different from other beaches. There are beach bars that rent out folded chairs with an umbrella. Lazing around on the seat costs an affordable daily rent fee. Public showering place and the toilets are located nearby. A wide parking lot is available. Unfortunately, there are only a few vendors around the area.
Snacks, coconuts, and bottles of beers are the main commodities. Some of them only sell fried rice as a simple main course. To have some tummy-filling food, nearby eateries are offering a varied menu. To mention any, Legong Keraton – as the closest beach hotel – is ready to accommodate beach-goers who crave for delicious food or refreshing drinks.
See: Pandawa Beach, Activities & Entrance Fee.
How To Get To Berawa Beach
The beach is located around 11 km from downtown Denpasar – the capital city of Bali. Riding a rented scooter is one of the most convenient ways to reach the place. Renting a car is good for group visitors. Since the beach is not too far from downtown. Ride-hailing service is another good option, too.
The price of application-based ride-hailing service depends on which vehicle visitors want to use. For individuals, going to the beach by bike ride is cheaper. Ride-hailing a car or catching a cab service cost quite the same with an individual ride-hail price.
The bike service ranges around Rp25.000 for one trip. While the car service price starts from Rp100.000-Rp125.000 per trip, depending on the car's maximum passenger number.
Address & Location
Berawa beach location is in Jl. Pemelisan Agung, Tibubeneng, Kec. Kuta Utara, Kabupaten Badung, Bali 80361, Indonesia.