Tegal Wangi Beach
Entrance Fee: Free Entry
Opening Hours: Open 24 Hours
Telp. Number: -
Address: Jl. Tegal Wangi, Jimbaran , Kuta Selatan , Badung , Bali , Indonesia , 80361.
Located 10 minutes away from the busy Jimbaran area. Tegal Wangi Beach is unique as it lies under a small Hindu temple. A small temple, yet it sitting right at the edge of the cliff. The beach is perhaps more known to the locals as a sacred beach. On a ritual purification day, locals will be flocking to the beach. Follow by religious ceremonies in the temple atop the beach.
As a beach itself, Tegal Wangi is moderate in size. Its location makes this beach quite isolated. Unlike other beaches in Bali, there is no residential area anywhere near Tegal Wangi. To reach the shoreline of Tegal Wangi, visitors must traverse a beaten path amidst bushes. Forget about safety, there is not even a handrail at all on this path.
Surrounded by lush greenery, Tegal Wangi Beach is all beautiful white sand and turquoise water. Among locals, this gorgeous view is popular for couples coming to take pre-wedding pictures. On the other hand, Tegal Wangi Beach also boasts strong waves so it is not advisable to swim on this beach.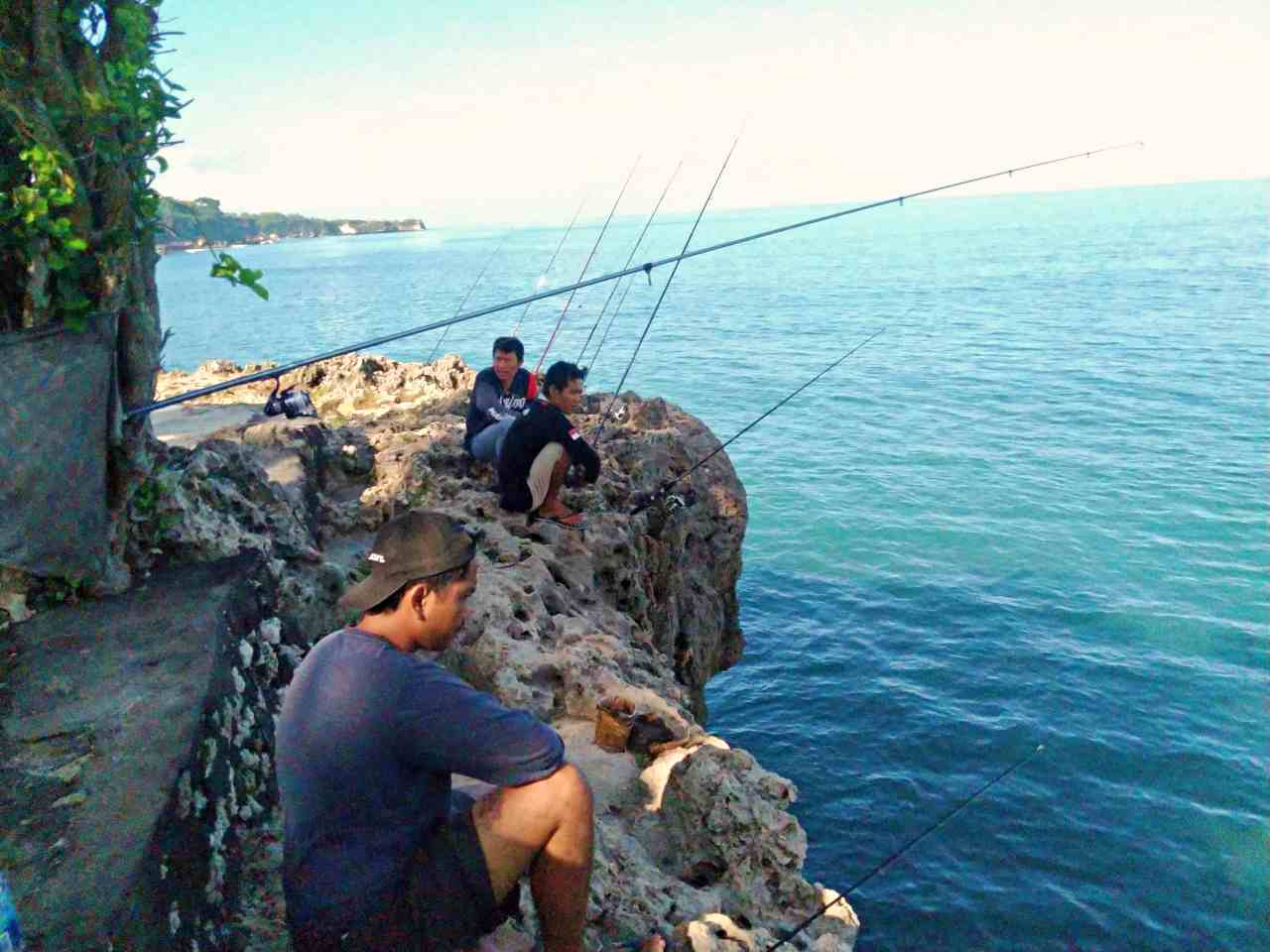 Tegal Wangi Beach Entrance Fee
Tegal Wangi Beach to this day still is a free beach. Tourists only need to pay for parking, Rp2.000 for motorbikes, and Rp5.000 for cars.
Tegal Wangi Beach Entrance Fee
Ticket
Free
Parking Fee
Rp2.000 (motorcycle) / Rp5.000 (car)
See: Dreamland Beach & Top Activities.
Tegal Wangi Beach Opening Hours
Just like any other beach in Bali, Tegal Wangi's opening hour is no different. But since there are no facilities yet, make sure to leave the beach after sunset. Visitors may come anytime but the sunsets hunter mostly arrive around 4 PM. And reserve a spot on the cliff. Beach guests must be aware too that the temple gate is closed in the afternoon and reopen again at 4 PM.
Tegal Wangi Beach Opening Hours
Every day except Nyepi day
Open 24 Hours
Nearby: Jimbaran Beach & Festive Seafood Culinary Spot.
A Temple For The Sea Gods
Right above Tegal Wangi Beach lies Pura Segara Tegal Wangi. It is a temple dedicated to the sea gods of Bali. Locals have deemed the area around the temple, including the beach, as sacred. Many religious ceremonies are performed in this temple and on the beach.
Tourists are asked to keep the beach clean whenever visiting due to this very reason. The temple is also one of the main sites for Melasti or a Hindu Balinese purification ceremony. An important event that was held several days before Nyepi.
Visitors who come during the ceremony may witness the beach being used by locals for the ceremony. By visiting this beach, tourists will also get a close-up of Bali's religious life.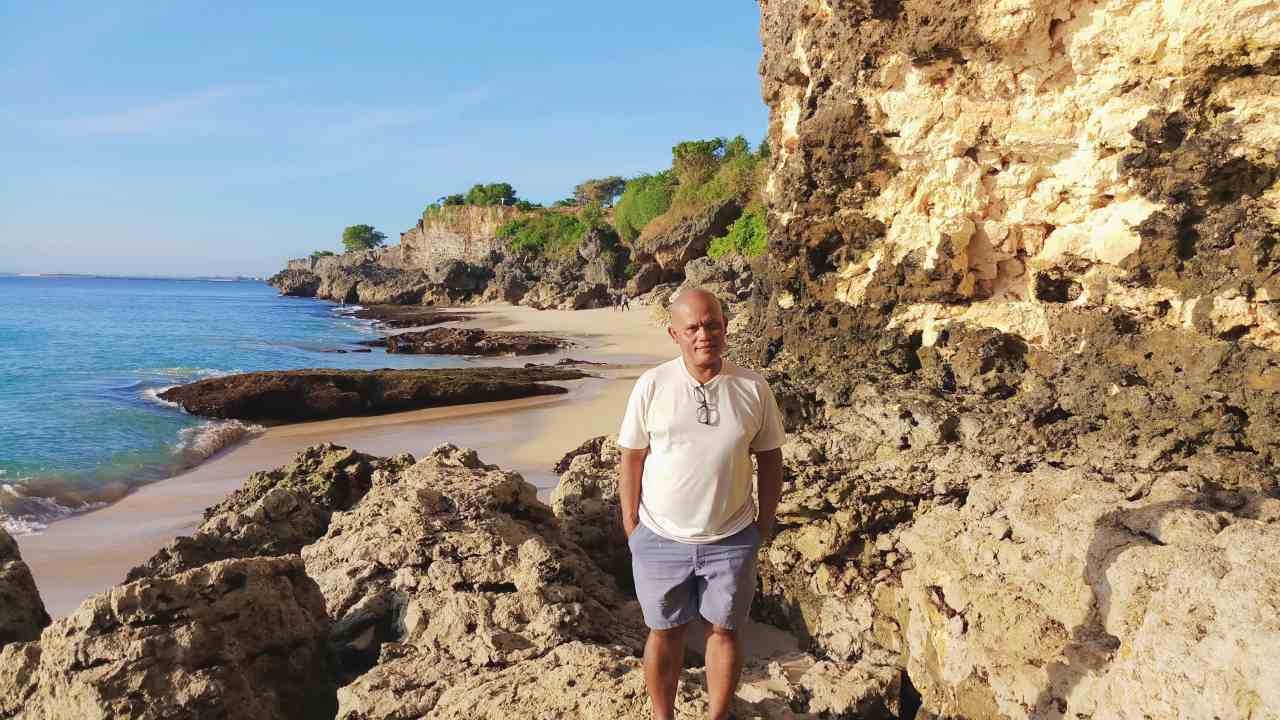 Sunset and Wedding Shots
Facing the western part of the island, Tegal Wangi seems a perfect choice to watch sunsets. Sunset hunters can choose between watching the sun sets on the cliffs or on the shoreline. Most prefer the cliffs as it offers a magnificent view of the sunset and the sea all at once.
Guests can also go down to the shoreline. Be aware that high tide can come at any time. Thus swimming on the beach is really not advisable. If tourists manage to come down during low tide, best to make sure to bring mats and umbrellas. As Tegal Wangi Beach is still secluded, there are no rental shops offering mats or umbrellas.
At night, travelers get to see the sparkling city view all the way to Kuta from here. All the aforementioned sights make this beach a popular spot for wedding photoshoots. Some like to come before dusk to get the stunning gold sunset silhouette.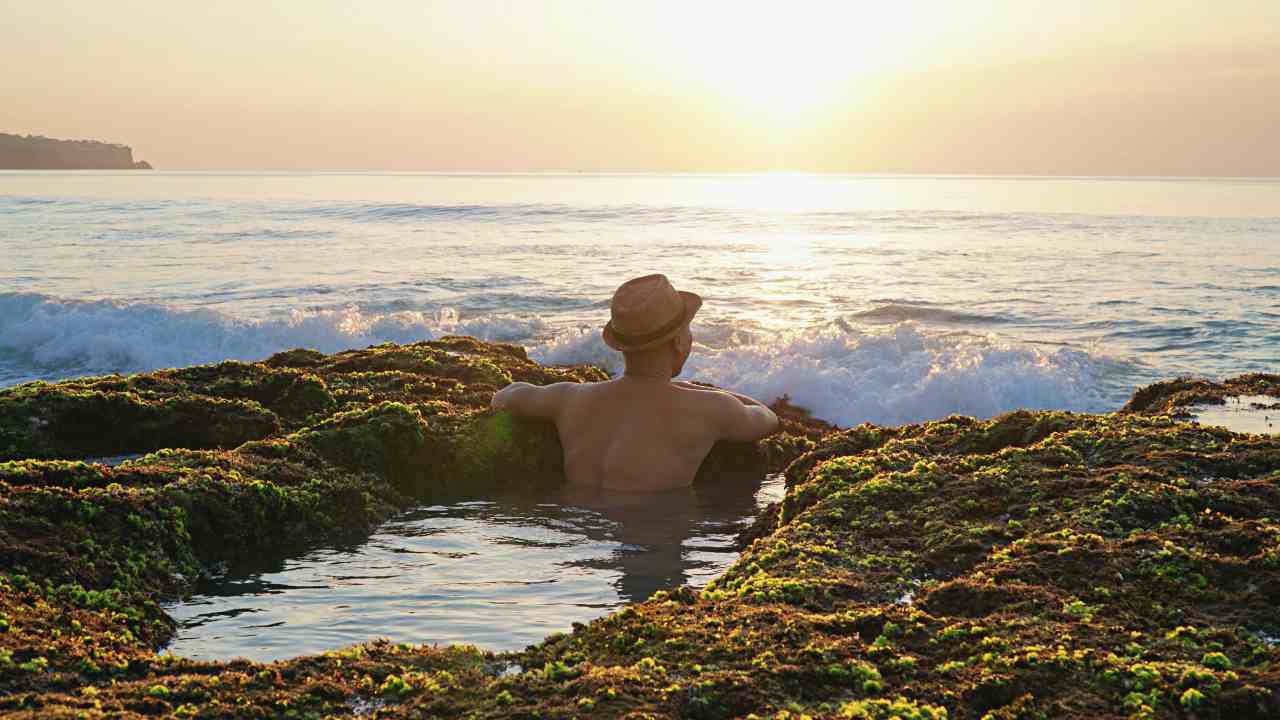 Rock Pools & Beach Cave
Visiting the beach during low tide, visitors will get to see shallow rock pools. Guests don't have to venture out far as the rock pools are very near to the shoreline. Tourists get to submerge in the water while looking at the beautiful Bali sea. Be aware that seawater can rush in quickly into these pools.
Tegal Wangi Beach has no lifeguard in the area so guests must take caution at all times. Another spot worth the effort is the hidden cave. It is not a very deep cave, just a-4 meters deep. Guests who don't want to splash around or hide from the sun can sit around in this cave. As with the rock pools, this cave is not accessible during high tide.
Nearby: Top Things To Do In Balangan Beach.
Facilities
Unlike other popular beaches in Bali, Tegal Wangi doesn't have any facilities yet. There are no public bathrooms, no kiosks, and no tourist shops. The closest accommodation to Tegal Wangi Beach is a five-star hotel. It is ten minutes away by car. Other than that, more accommodation is located around the Jimbaran area.
As Jimbaran is known for its culinary excursion, there are plenty of options for a dine-in. Currently, there are no restaurants or cafes in the Tegal Wangi Beach area. Travelers must venture out from Tegal Wangi Beach just to eat. But in Jimbaran, from five-star restaurants to humble food stalls. Tourists will have a lot to choose from Balinese food to Western cuisines.
See: Bali Airport, Guide & Public Transportation.
How To Get To Tegal Wangi Beach
The best way to go to Tegal Wangi Beach is by renting a motorbike or a car. The temple above the beach provides a spacious parking lot for visitors' vehicles. So parking should not be a problem. The rental fee for motorbikes starts from Rp60,000 for day rent.
While for a car, the price varies depending on the type of car. But for a car, the rental price starts from Rp200.000 for a small car. Tourists can rent both from online rental sites or rental shops in main tourist hubs. From Denpasar, it takes about 30-40 minutes to travel by car depending on the traffic.
Taking off from central Denpasar, tourists must head to Jl. Uluwatu II, continue to Jl. Wanagiri. And continue to drive to Tegal Wangi Street. Once Jimbaran HUB is spotted, the journey will not be that far. Tegal Wangi Beach is just another 5 minutes away.
See: Guide To Choosing Tourist SIM Card & Data Package Price.
Address & Location
Tegal Wangi is just 10 minutes away from the famous Jimbaran culinary spot. The location is in Jl. Tegal Wangi, Jimbaran, South Kuta, Badung Regency, Bali 80361.