Kuta Art Market
Entrance Fee: Rp3.000 - Rp5.000
Opening Hours: 07:00 - 20:00
Telp. Number: -
Address: Jl. Pantai Kuta , Tuban, Kuta, Badung , Bali , Indonesia , 80361.
What is considered as Kuta Art Market now is actually rows of stands that showcase various clothes and accessories. It is the temporary Kuta Art Market where vendors are relocated during the market building construction. Kuta Art Market, or what locals call Pasar Seni Kuta, will be a 4-story building to accommodate vendors' and buyers' activities.
That temporary art market is located near the popular Kuta Beach. Tourists will easily spot the line of tents where vendors sell the goods. The spot will be a parking lot once the vendors move to the market building when the construction is accomplished in near future.
Most of the goods are T-shirts and accessories. Most goods and items here are available in the big souvenir store. For example, besides clothes and small accessories, there are shops that sell paintings. House decorations from small statues to big carvings are here as well.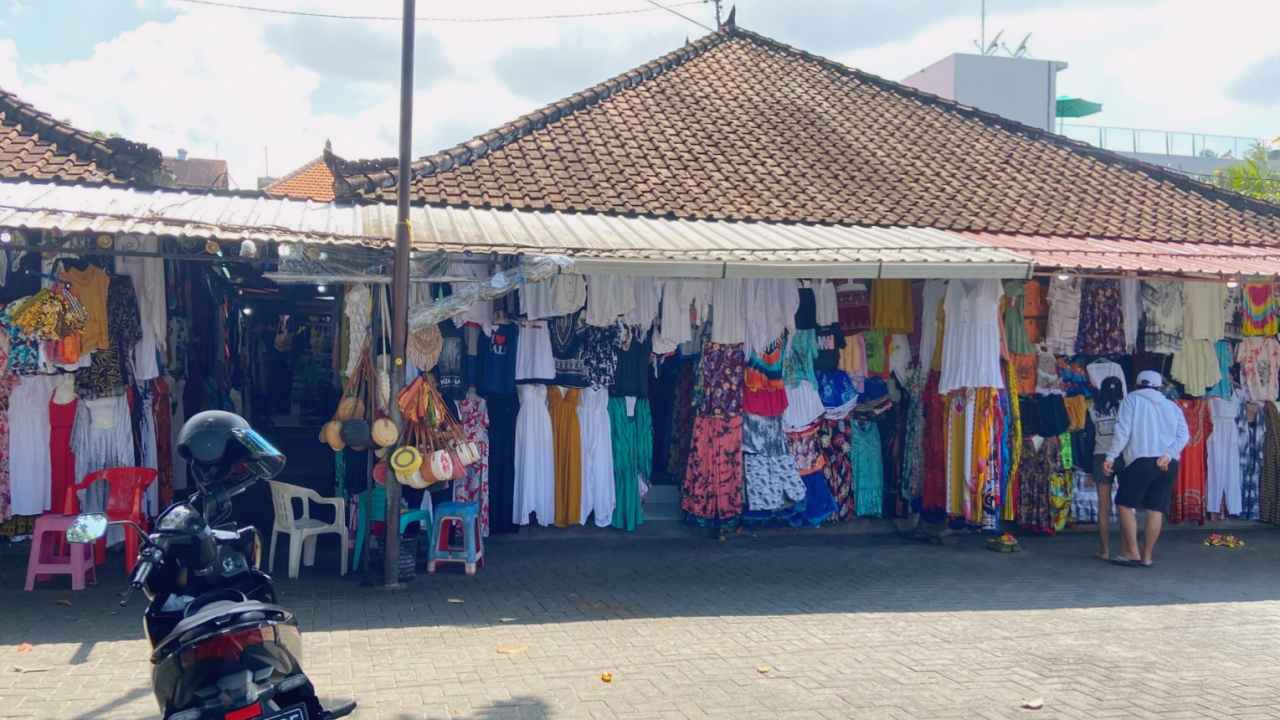 Kuta Art Market Entrance Fee
Just like other art markets in Bali, there is no entrance fee to explore the market. However, tourists coming with private vehicles like scooters or cars should prepare between Rp3.000 to Rp5.000 for the parking fee.
Kuta Art Market Entrance Fee
Ticket
Free Entry
Parking
Rp3.000 – Rp5.000
See: Guide To Explore Gate of Heaven Lempuyang Temple.
Kuta Art Market Opening Hours
Pasar Seni Kuta or as international tourists known as Kuta Art Market open every day from 7 AM to 8 PM. The best time to visit the Kuta Art market is in the morning. To point out, the prices quoted by the sellers might be slightly higher than in other art markets in Bali. But if buyers want to get the best price, be the first customer and come here in the morning. It is the Balinese belief that luck will be along all day if vendors can close the first negotiation.
Kuta art market is usually not the main destination. Most of the time people only go shopping here as they stop by. Tourists who love to enjoy the sunset on the beach will come in the afternoon before and after enjoying the sunset.
Kuta Art Market Opening Hours
Every day
07:00 – 20:00
See: Petitenget Beach Attractions & Local Food Spot.
Bargaining in the Market
There is no price tag attached to the goods showing how much it is. Buyers in the traditional market used to stroll around to compare the prices. This is the way to figure out the price range and determine what is reasonable. And the seller will usually answer with a non-fixed price which is still negotiable. Haggling is the best part to get what buyers want.
The vendors might offer higher than in other markets. However, just try to bid half of the offered price. Sometimes it works particularly when there was no sale yet. Don't forget to bargain politely.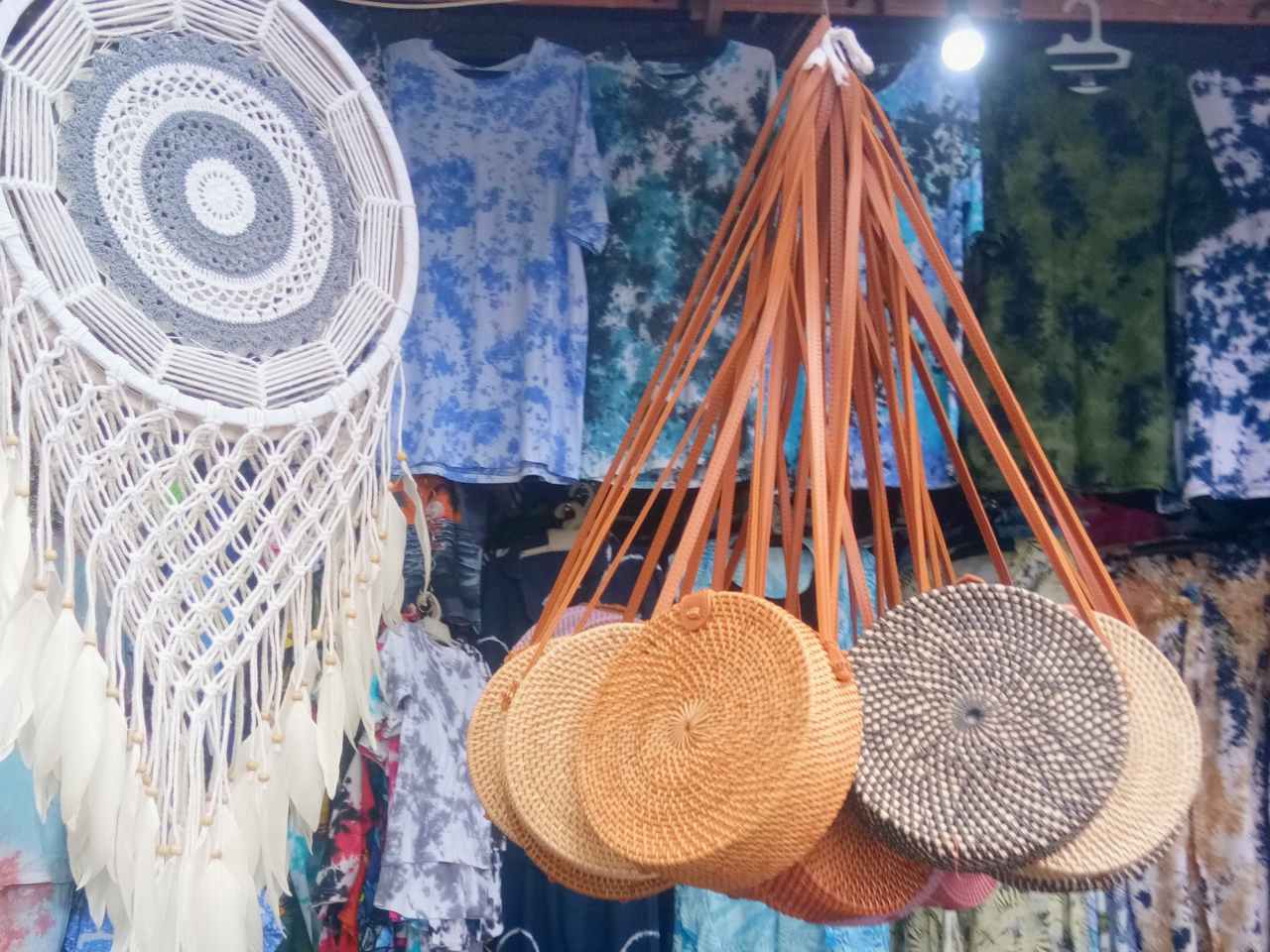 Clothing Stores
Many replicas of the leading brands are among other goods the vendors provide. T-shirts with prominent brand names printed are hanging at the stands' front. Famous signature patterns on the bags, hats, and wallets are also common views on the stands. Nonetheless, there are also traditional Balinese designs.
On the clothing line, T-shirts with Barong printings, traditional skirts—kamen, the udeng or man's headdress that Balinese man usually wears in ceremonies, and Balinese beach fabrics are amidst the merchandizes sold by the vendors. As in other regions in Indonesia, Bali also has its own Songket, Ikat, and Batik designs.
Moreover, there are fabrics and sarongs that are unique to Balinese tradition including Prada, Gringsing, Endek, Cepuk, Gedongan, Kling, Poleng, and Rangrang. Other items include bikinis, beach dresses, and crocheted wearables. Make sure the check the quality and the quantity of the goods before paying.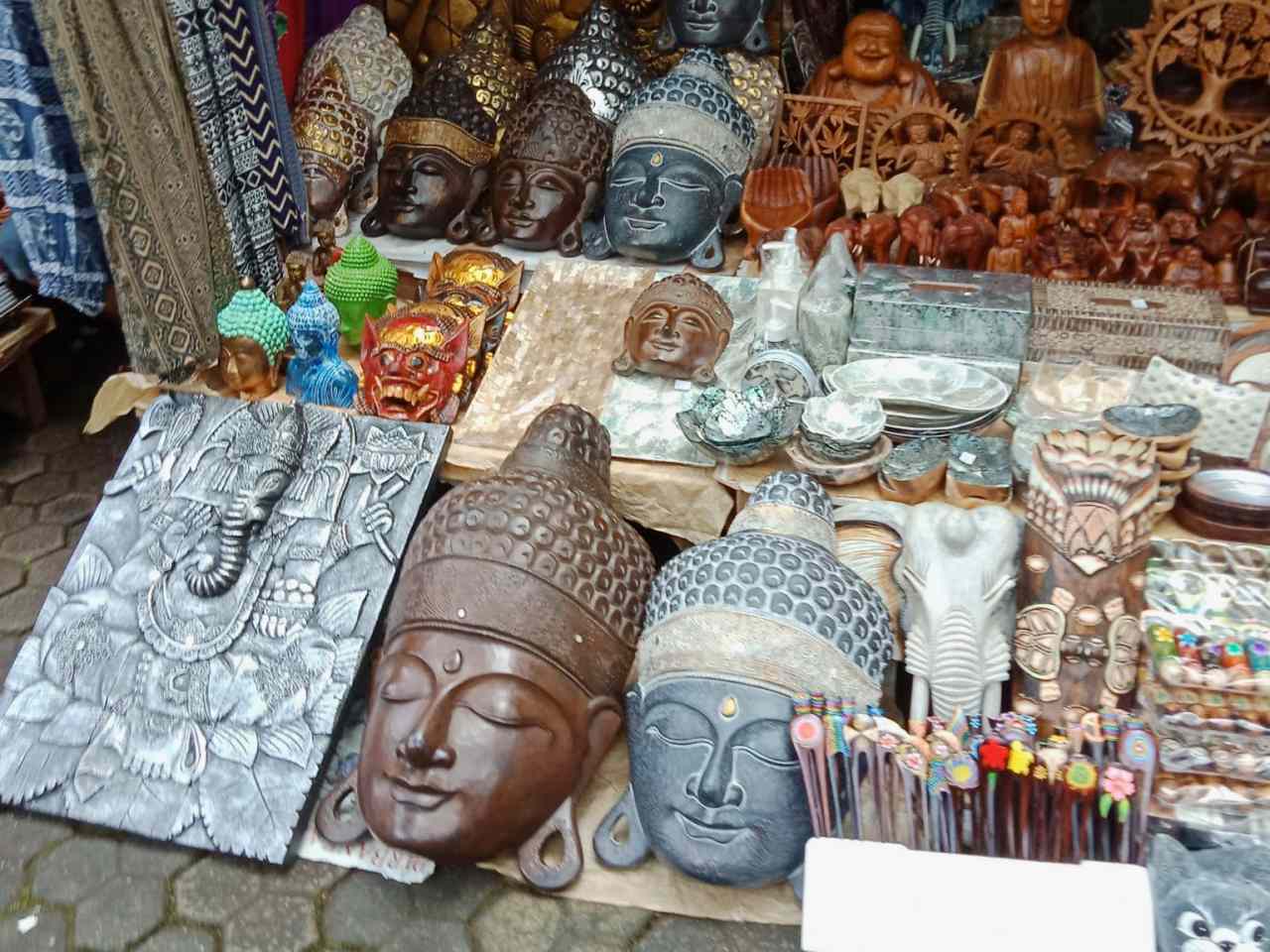 Accessories & Decoration
The accessory stands display macramé and dream catchers. Ropes and yarns are woven to form delicate patterns of mandalas and other wall hangings. Crocheted hats and bottle holders, beaded necklaces, and bangles are neatly hanging on the stands' wall and front. Don't miss the woven rattan bags that are unique to Balinese craft.
There are also handicrafts made of bamboo material. The surfboard-shaped keychains or magnets are pyrographed with custom names on them. Some stands also sell sunhats, caps, sunglasses, and footwear if tourists ever need one.
Art in the Making
In the bamboo accessories stand, tourists may see the pyrographic artist working on the accessories. The artist carefully paints the pattern or picture and writes a name on a piece using a pyrographic pen. In the other section, a woman hand-sew beads one by one, following a pattern, to make a beautiful beaded shirt.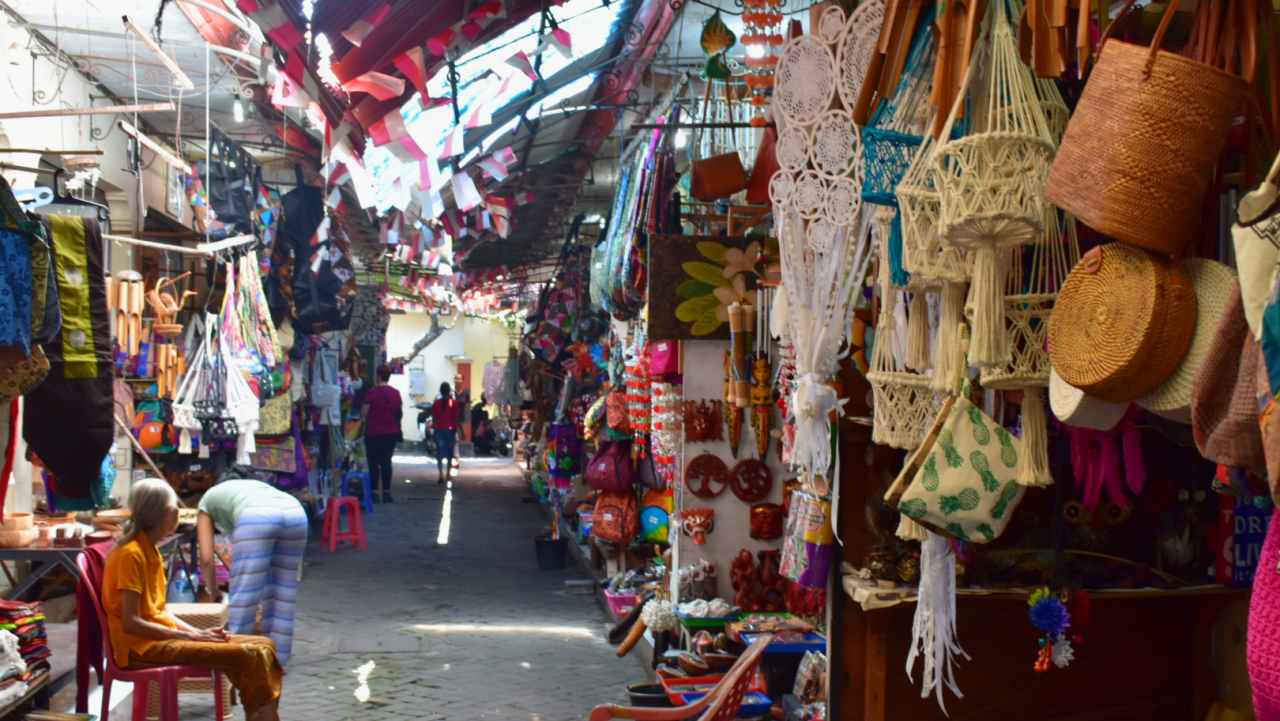 Janur or Young coconut leaves are significant material used by local people in ritual ceremonies. The offerings are plated on plates made of the janur, and placed on their small shrine as they offer the prayer. Tourists may see the woman making various sizes of coconut leaf plates here, it's what the locals buy for the daily offerings.
See: GWK Park Entrance Fee & Performances Schedule.
Facilities
Facilities such as a parking lot, toilets, ATMs and money changers, restaurants, and lodgings are available since the market location is in a tourist staying area. Prepare changes of Rp3,000 to Rp5,000 for parking and toilets. The average meal starts at Rp50,000 per person. Lodgings range from humble homestays that cost under Rp200,000 to 5-star hotels that cost over 1 million Rupiah.
See: Guide To Explore Jimbaran Fish Market & Seafood Restaurants.
How To Get To Kuta Art Market
For tourists staying near Kuta Beach, no transportation is necessary because the market is only a 1-minute walk to the northeast or about 130 meters away. Transportation is also easy from the airport. Trans Sarbagita is the cheapest mode that serves passengers daily from Ngurah Rai International Airport. With only Rp3,500 per trip, tourists can take the Corridor 2 bus and stop at Kuta Central Parking Shelter.
The more comfortable trip is taking a taxi or ride-hailing app. It costs around Rp100,000 to Rp140,000, it depends on the traffic from Canggu to Kuta Art Market using a car. For tourists who prefer renting a motorcycle, the cost is Rp50,000 to Rp100,000 per day to rent one. The market is 10 km from Canggu or about a 30 to 40-minute drive.
Kuta Art Market Location & Address
Currently, all the vendors are relocated to Jl. Pantai Kuta, in ex Bali Anggrek Inn.