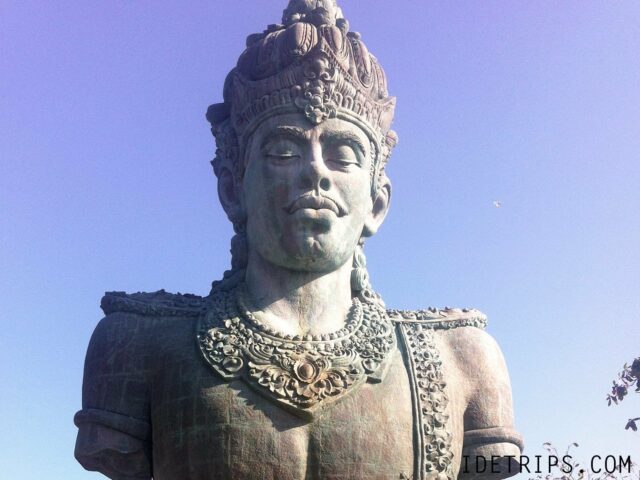 Garuda Wisnu Kencana is a popular attraction for its statue and cultural performance in Uluwatu. The cultural park lies in a 60-hectare area surrounded by gigantic limestone. The GWK statue itself is an impending monumental for a long time. Today it is the statue is the number one icon in Bali.
Aside from the magnificent statue visitor will get a chance to see the free show. An entire show of Balinese music and theatrical dance. GWK location also allows visitors to see the sea view up from the top.
The Iconic Garuda Wisnu Kencana Statue
The idea of Garuda Wisnu Kencana statue begins in 1989. And the initiative came from I Nyoman Nuarta, the famous sculpturer. In the beginning, Nuarta bought abandon land in Ungasan. He then begins the first step of ambitious work GWK statue in 1997.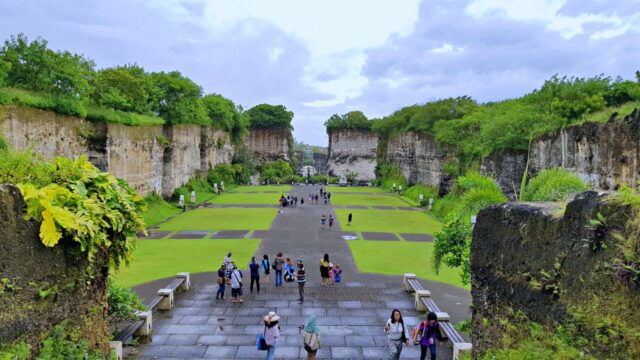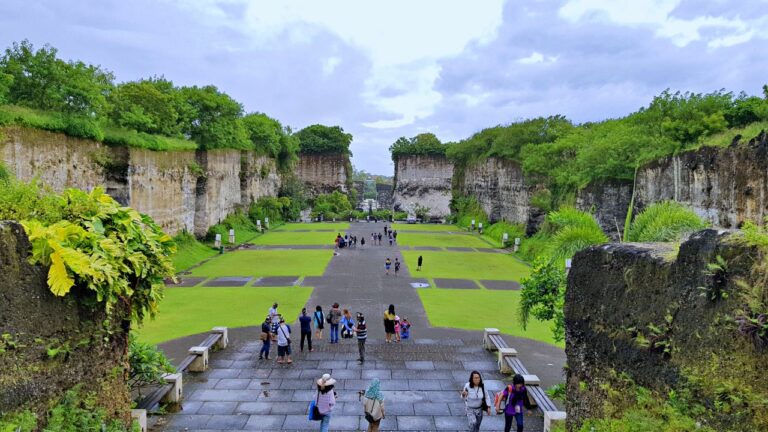 The Balinese sculptor, Nuarta is also the artist behind the iconic statue all over Indonesia. GWK statue is not his first idea. Nor his first art piece. His first recognition is the monumental sculpture Jalesveva Jayamahe in Surabaya. The statue to him portrays the optimism of the next generation in accomplishing Indonesia goals.
As for GWK itself, the sculpture artist Nuarta hope it becomes a symbol of Balinese culture. But then there are many obstacles in the making of Garuda Wisnu Kencana statue. Mainly because of the funding. The monumental statue of Vishnu riding Garuda designed to be as high as 120 meters.
There was a lot of phase in the making of GWK statue. The statue exhibit in a different area. The first statue exhibit in Garuda Wisnu Kencana area is the body of Vishnu. While in a different area, there is the face of Garuda. The project of GWK Cultural Park is now done. The 25 years project is finished in 2018.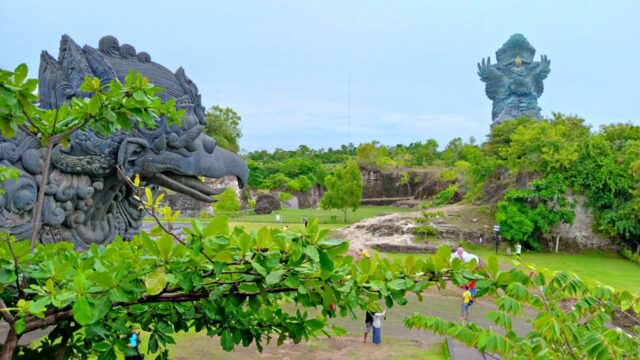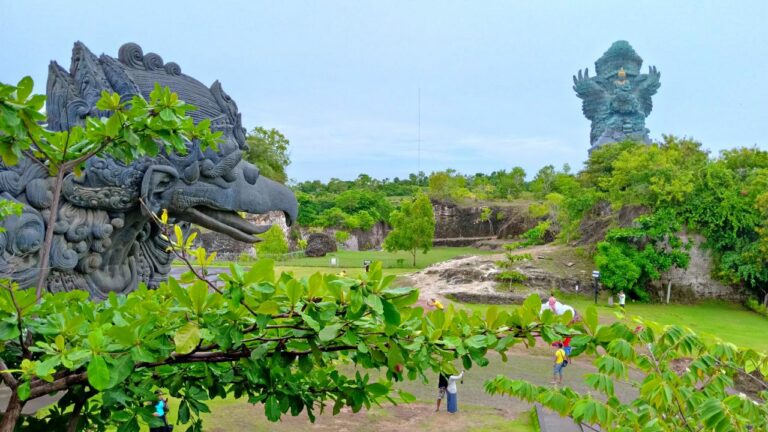 The Story of Garuda Wisnu Kencana Statue
Garuda is also known as the national symbol in Indonesia. The myth of Garuda superpower mention not only in Hindu script. The Buddhist and ancient Indian religion Jainism for instance. They know Garuda as the legendary bird. The bird creature describes as the superpower bird and the kings of all bird.
As a superpower bird, not only fast, Garuda wings portray as the strongest wing. It can flap tirelessly and spin in heaven, earth, and even hell. They even can shape into a different form and massive that it can block the sun.
Garuda Devotion Story
Garuda portrays as a half bird and half human. The kidnapping of his mother leads him to God Vishnu. In order to rescue his mother from the mother of the dragon. Garuda is asked to gets nectar in heaven. And it's heavily guarded by weapons and snakes. With his ability and superpower, Garuda succeeds in stealing it.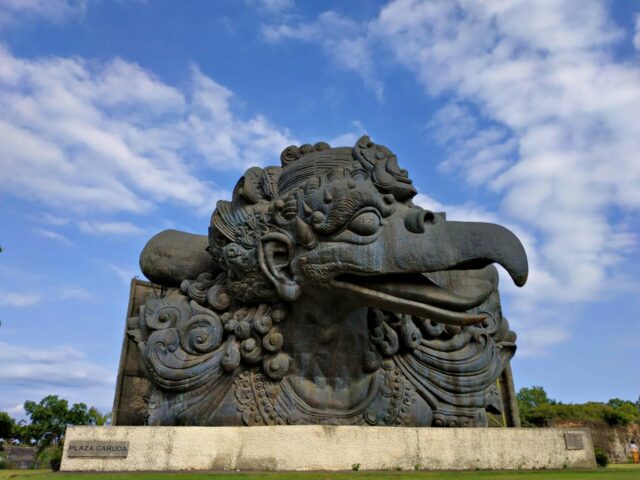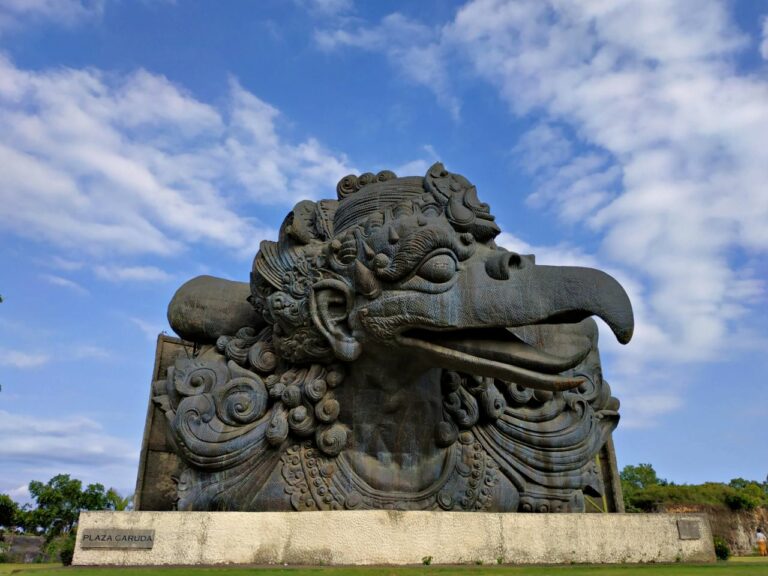 He then returns to earth and met God Vishnu. Knowing that the nectar is stolen by Garuda. God in heaven pleads help from Vishnu. Later on, Vishnu met Garuda. But instead of fighting, Vishnu offers him immortality. So he can rescue his mother. In the proposition, Vishnu also asks Garuda to return the nectar.
And by giving him immortality Vishnu also asked Garuda loyalty and devotion. It's not only one deal. Garuda made another deal with the God King Indra. He agrees to help the God-king reinstate the nectar on earth. As soon after he rescues his mother. As soon as his mother release by the stepmother after he gave the nectar.
God Indra seize the nectar and with the help of Garuda. He is able to stop the snake who wants it back. After the kidnapping incident and rescue his mother. Garuda fulfills his promise to God Vishnu. From that day on, he serves as the vehicle of God Vishnu. In Indonesia especially Bali there is innumerable cultural aspect related to Garuda.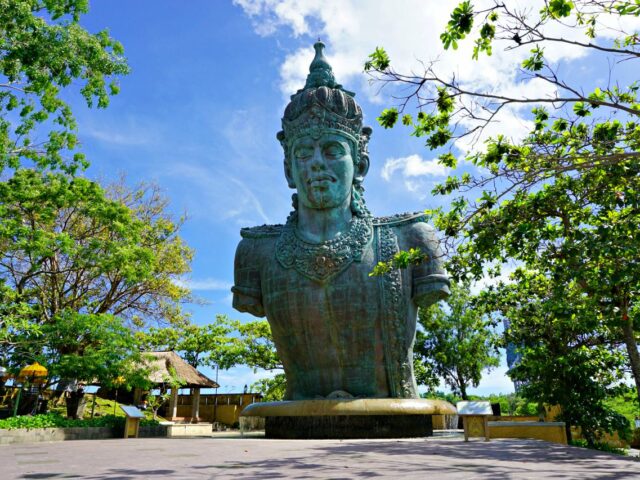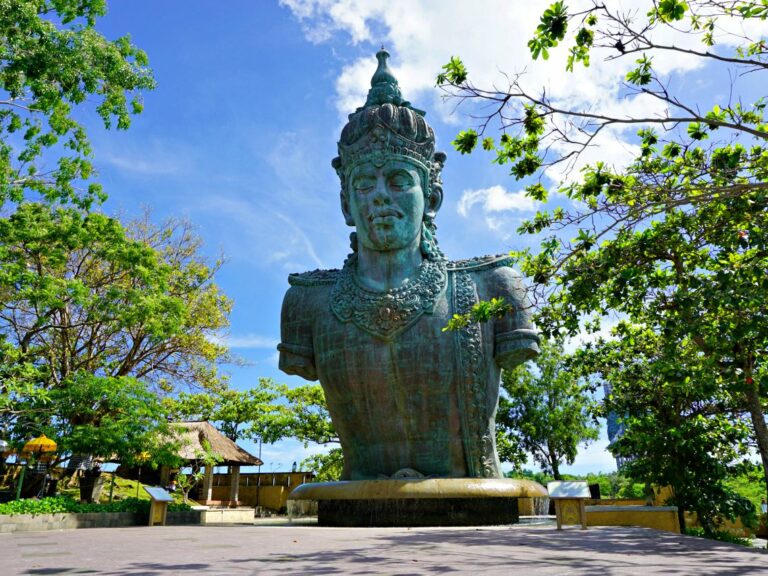 The Symbol of Indonesian
There is a lot of Balinese dance related to the appearance of Garuda. The majestic creature not only influences Bali in culture. But to the entire region Indonesian as well. The legendary bird Garuda manifest into many forms of Indonesia's pride and dignity. For example, the national airline in Indonesia known as Garuda Indonesia.
Another example is the Indonesian Peace Force known as Garuda Contingent. The Indonesian national football team in international even recognize as the Garuda team.
GWK Cultural Park Facilities
Street Theater – is the main gate and starting point to enter GWK cultural ark. A souvenir shops and restaurant is line up in the street theater. Visitors of Garuda Wisnu Kencana cultural park can easily purchase Bali souvenir and merchandise as well in this area.
Relaxation area and aromatherapy product are also available in Street Theater. Visitor can experience Balinese spa and reflexology in a tranquil environment. There is also 2 restaurant offering a different kind of atmosphere.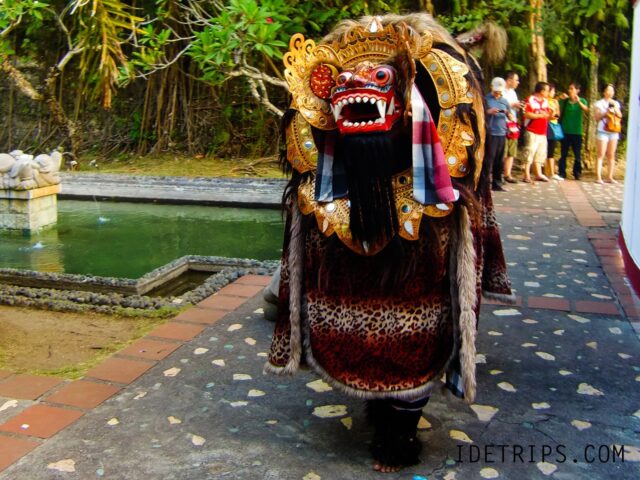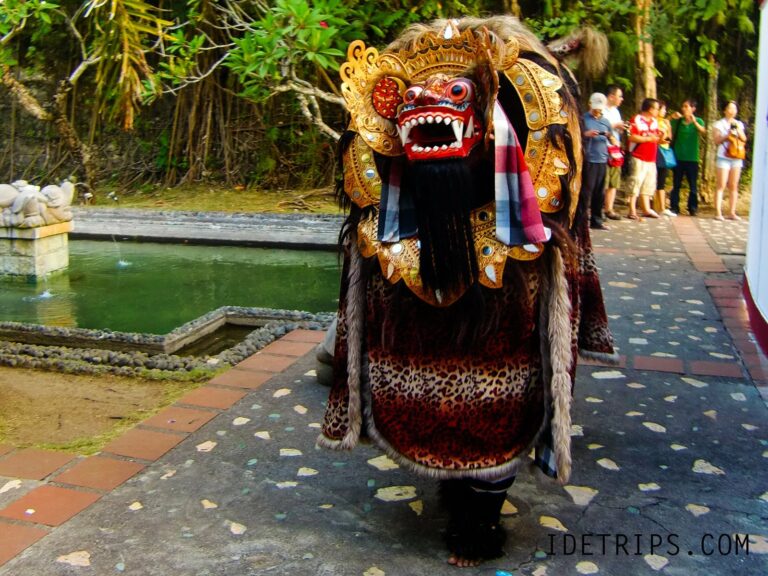 Beranda Restaurant in street theater is a restaurant where the visitor can experience dining while watching a show. The restaurant also offers all you can eat package for Garuda Wisnu Kencana visitor. A parade and Balinese performance dance can be enjoyed by visitors in the outdoor area. Since the walk of parade point starts at Street Theater.
Jendela Bali Restaurant is another favorite restaurant in Garuda Wisnu Kencana. The restaurant is set as a viewing restaurant where guest can sit back and watch the sunset. Panoramic views and best cuisines prepared by the best chef will make an unforgettable dining experience for the guest.
Garuda Wisnu Kencana Attraction
Lotus Pond – is the largest outdoor area in Garuda Wisnu Kencana Cultural Park. Lotus Pond occasionally hosts a large scale outdoor events like the music concert.
The Pond is an area in Garuda Wisnu Kencana complex surround with limestone pillars making the area even more dramatic. Representing beauty, prosperity, and fertility, lotus also known as a carry flower of almost Hindu Gods including Vishnu.
Indraloka Garden – Indraloka Garden with the beautiful panoramic view is one of the favorite places for visitors in Garuda Wisnu Kencana Cultural Park. The Garden is named after Indra God.
Amphitheater – Visitor can enjoy a marvelous performance of Traditional Balinese Dance accompanied by the gamelan music. For the afternoon agenda, Amphitheater performs the famous Kecak Dance.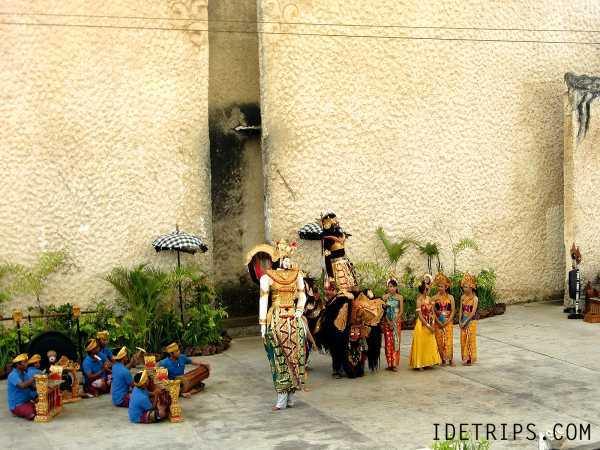 Wisnu Plaza – Wisnu Plaza is the highest place in Garuda Wisnu Kencana Cultural Park. The highest place where visitors can see the statue of God Vishnu. Since the location of the statue is in the top of the hill, visitors will be able to see the coastline of Bali island.
Vishnu statue as the core of Vishnu Plaza is surrounded by a beautiful fountain. The locals believe the water in one of the fountain is holy water.
The holy water that never runs out even in the summer dry season. The holy water that place next to the Vishnu statue for locals has magical power. To cure illness and as a place to pray to God asking for rain during the dry season.
Garuda Wisnu Kencana Entrance Fee
Garuda Wisnu Kencana Entrance Fee for foreign can only be paid using Indonesian Rupiah Currency. For a regular ticket, visitors can simply purchase the ticket at GWK ticket counter. As for the Garuda Wisnu Kencana Package Play Pass. The ticket is also sell through GWK Official Website.
Garuda Wisnu Kencana Entrance Fee
Ticket For
in IDR
Children (3-18 years)
95.000
Adult (>18 years)
115.000
Admission + Meal Children (3-10 years)
150.000
Admission + Meal Adult
185.000
Notes : Garuda Wisnu Kencana Package Play pass must be used within 1 month from the date of purchase and valid for 1 day as a stipulated time of the play pass.
For visitors who want to dress up in Balinese traditional costume. Visitor can simply walk to Garuda Wisnu Kencana Photo Studio.
Garuda Wisnu Kencana Photo Studio Package
Package
In IDR
Personal Balinese Package/person (1 background choice + 1 instant print 6R)
200.000
Couple Balinese Package  (3 background choice + 2 instant print 6R)
300.000
Family Balinese Package (maximum 5 pax with 6 background choice + 3 instant print 6R)
600.000
GWK Photo Studio Operating Time : 10:00 – 19:00 WITA
Read: Kecak Dance Performance After Sunset in Uluwatu Temple
Garuda Wisnu Kencana Opening Hours & Theater Schedule
Garuda Wisnu Kencana Opening Hours & Theater Schedule
GWK Cultural Park
08:00 – 22:00
Jendela Bali Panoramic Restaurant
10:00 – 22:00
Beranda All Day Dining
10:00 – 22:00
Daily Live Performance Schedule
Balinese Dance (Amphitheater)
10:00 – 10:40
Rindik Instrument *(GWK Area)
10:00 – 16:00
Barong Keris Dance (Amphitheater)
11:00 – 11:40
Garuda Wisnu Ballet (Amphitheater)
12:00 – 12:40
Joged Bumbung (**Commercial Strip)
12:00 – 15:00
Nusantara Dance (Amphitheater)
13:00 – 13:40
Barong Keris Dance (Amphitheater)
14:00 – 14:40
Balinese Dance (Amphitheater)
15:00 – 15:40
Joged Bumbung (**Garuda Plaza)
15:30 – 17:30
Okokan Parade (**Wisnu Plaza)
16:00 – 17:20
Joged Bumbung (**Street Theater)
17:30 – 18:20
Kecak Garuda Wisnu ***(Amphitheater)
18:30 – 19:20
Legong Dance **** (Jendela Bali)
19:30 – 20:30
** Depends on weather condition
*** Every Saturday & Sunday Kecak Dance Perform on Lotus Pond
**** Every Sunday, Monday, Tuesday, Wednesday, Thursday & Saturday
See: Water Adventure in Waterbom Bali.
Garuda Wisnu Kencana Address & Location
Jl. Raya Uluwatu, Ungasan, Kuta Selatan, Badung 80364, Bali-Indonesia. Telp : +62 (361) 700 808 ; +62 (361) 703 626