Garuda Wisnu Kencana Cultural Park
Entrance Fee: Rp100.000 - Rp125.000
Opening Hours: 08:00 - 22:00 WITA
Telp. Number: -
Address: Jl. Raya Uluwatu, Ungasan , Kuta Selatan , Badung , Bali , Indonesia , 80364 .
Garuda Wisnu Kencana statues lie in a 60-hectare area surrounded by gigantic limestone. The GWK statues that once were an impending landmark for a long time now are finished. The original plan was to build a 120-meter-tall statue.
Despite having shifted from the initial plan. A building structure beneath the statue. GWK statue and its cultural park definitely worth visiting. The statue is still the number one icon in Bali. It offers a full experience with tons of performances held every day in its cultural park.
Its location also has the best spot for city sightseeing. From the top of Ungasan cliff, visitors will get a glimpse of the city landscape and the radiant sea view.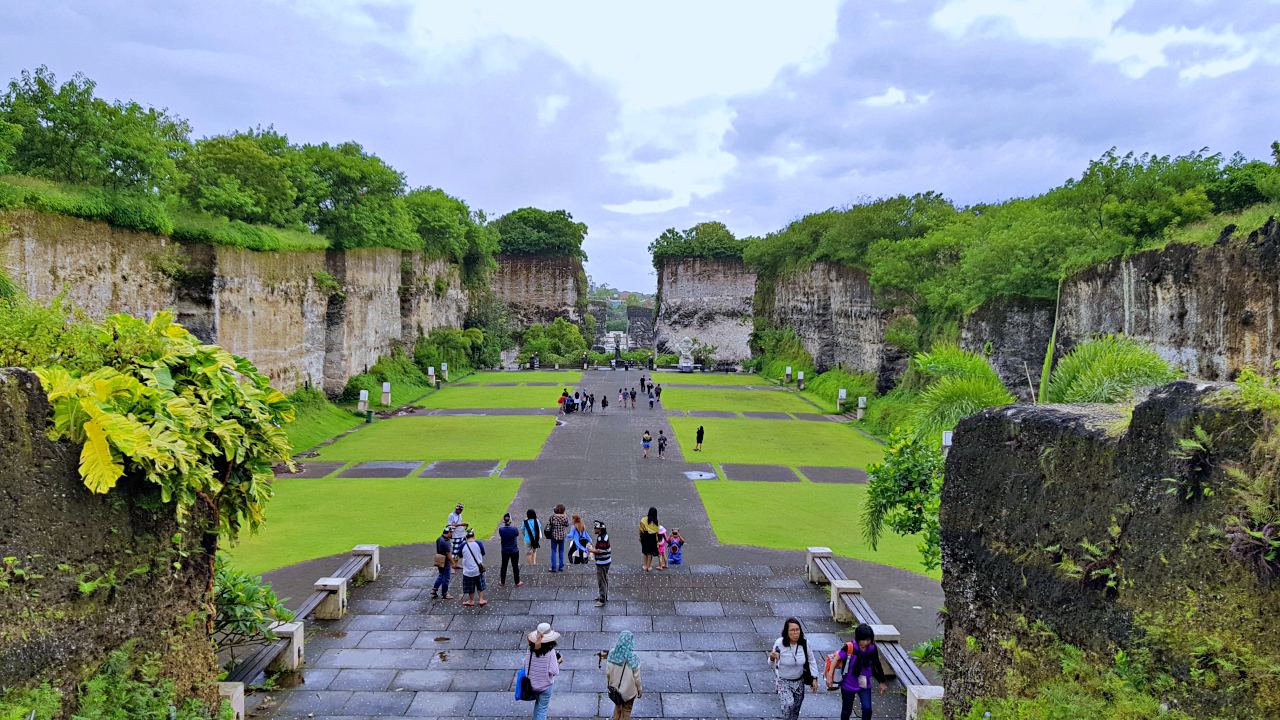 Garuda Wisnu Kencana Entrance Fee
GWK entrance fee for international tourists is Rp125.000 for adults. And Rp100.000 for children and seniors. The ticket includes a free pass to watch performances in GWK venues like the Balinese dance and Kecak dance. And people that purchase the ticket on the spot will get a free welcome drink.
Garuda Wisnu Kencana GWK Cultural Park Entrance Fee
Buy Online GWK Cultural Park Ticket
Rp115.000
Adult
 Rp100.000 (children) / Rp125.000 (adult)
Shuttle service (round trip)
Rp30.000
Observatory floor (23rd floor)
Rp50.000
Bicycle Rent
Rp20.000
Segway
Rp60.000
Nearby: Uluwatu Temple & Kecak Fire Dance Show.
GWK Opening Hours
On normal days, Garuda Wisnu Kencana cultural park is open every day from 8 AM to 10 PM. However, due to covid circumstances, now it is open from Friday to Sunday. From 10 AM to 6 PM.
Garuda Wisnu Kencana GWK Cultural Park Opening Hours
GWK Cultural Park
10:00 – 18:00
Nearby: Dreamland Beach, Sunset & Top Things To Do.
Garuda Wisnu Kencana Initial Project
GWK statue plan is coming from I Nyoman Nuarta, a Balinese famous sculpture. Initially, it is his individual project. He begins by buying deserted land in Ungasan from farmers. And start building the statue in 1997. Garuda Wisnu Kencana statue isn't his first statue.
Nuarta has built several statues in Indonesia that becomes widely recognized. Such as the monumental statue Jalesveva Jayamahe in Surabaya. A statue that portrays the next generation's optimism in accomplishing Indonesia's goals.
As for GWK, the artist Nuarta believes it becomes a symbol of Balinese culture. But then there are many obstacles in the making of the Garuda Wisnu Kencana statue. In this case, mainly because of the funding.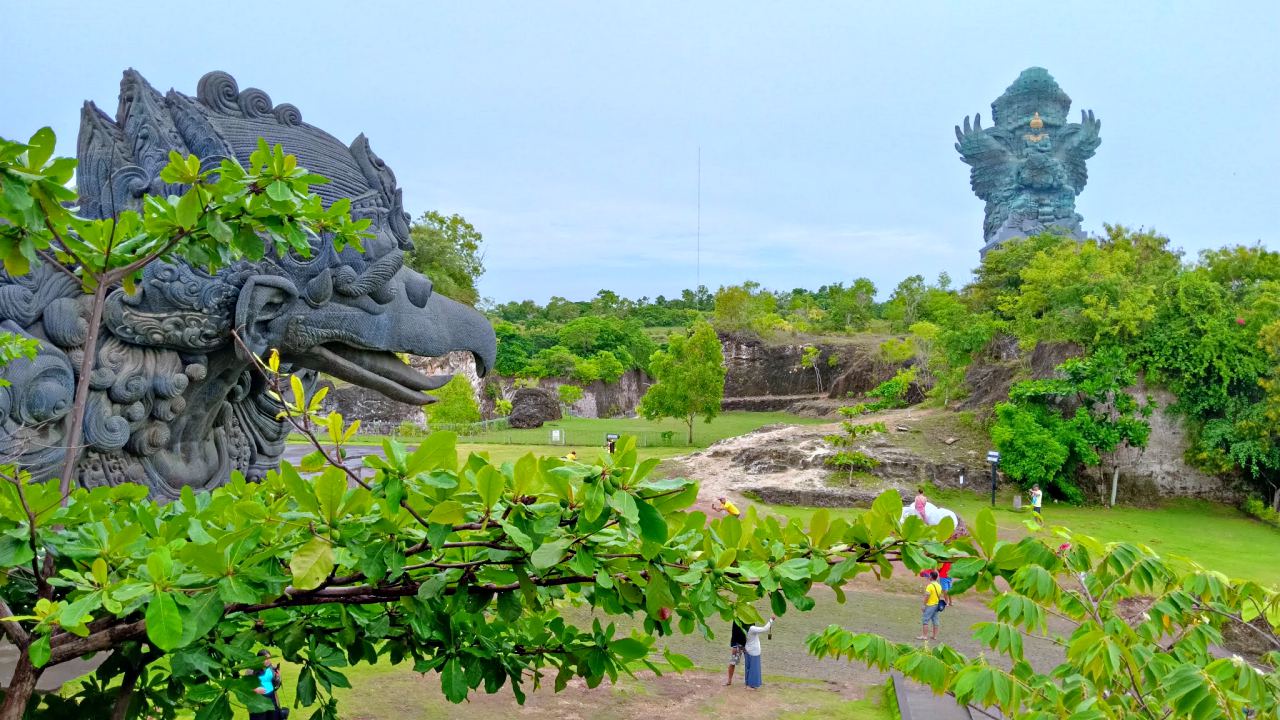 The statue of Vishnu riding Garuda was designed to be as tall as 120 meters. In the end, there are several adjustments made in order to finish the plan. The whole statue that was finished in 2018 is 120 meters high from the ground. However, the GWK statue is built above 40 meters building structures.
And Vishnu's body and Garuda's head from Nuarta's 25 years of work are not used. The statue remains and is exhibited in a different spot.
Balinese Dance Performances & Cinema
It's not exaggerating to say that GWK Cultural Park is a one-stop destination. Because here tourists could watch several performances in one place. It's common to watch dance shows in tourist spots in Bali. For example, Uluwatu temple has a Kecak fire dance show before sunset.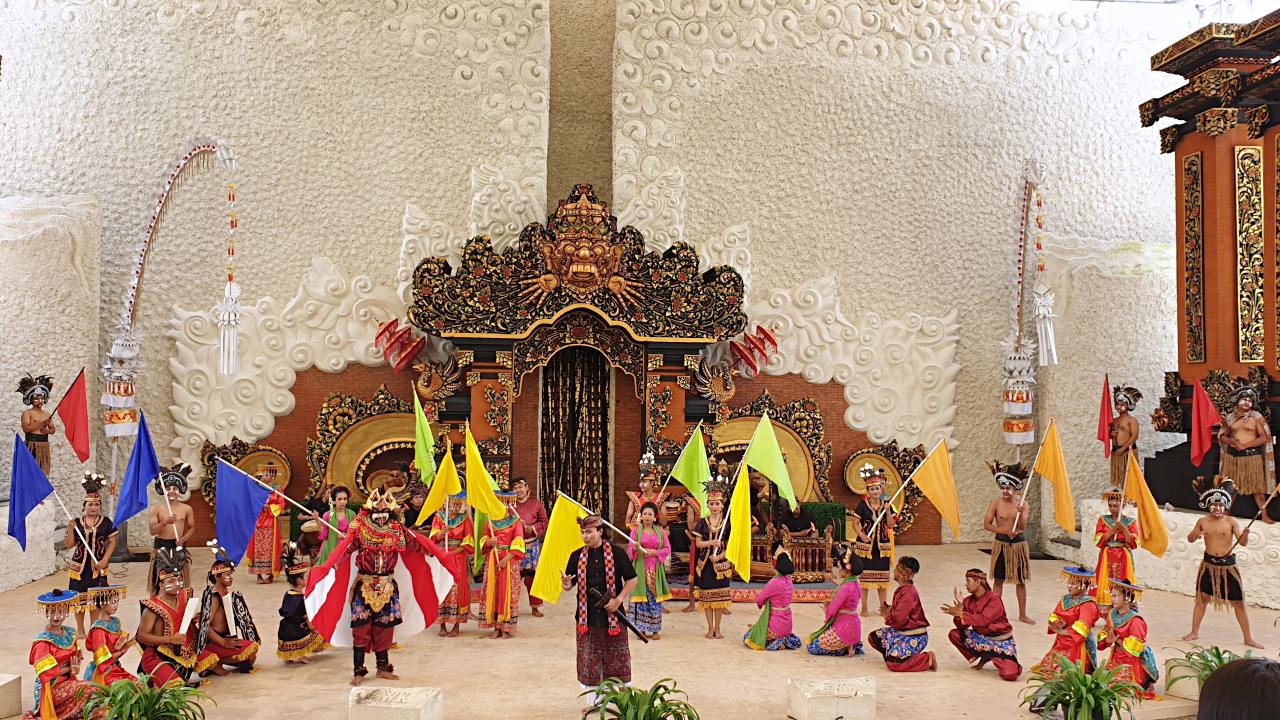 But in Garuda Wisnu Kencana Cultural Park, there are different dance shows and performances held every day. From traditional Balinese dance to Barong dance. And the most theatrical show perform in Amphitheater is the Garuda Wisnu ballet. To close the evening, GWK even does Kecak dance too.
And for travelers with young children, don't worry. GWK does not cater to adults visitor only. There is Garuda Cilik animation cinema for kids to enjoy.
Garuda Wisnu Kencana Statue
The landmark of GWK cultural park is of course the iconic statue. To point out and portray how grand the statue is. People in Jimbaran beach could actually see it. In total there is 3 spot to see the statues. The first spot is the whole statue, of Wisnu riding Garuda.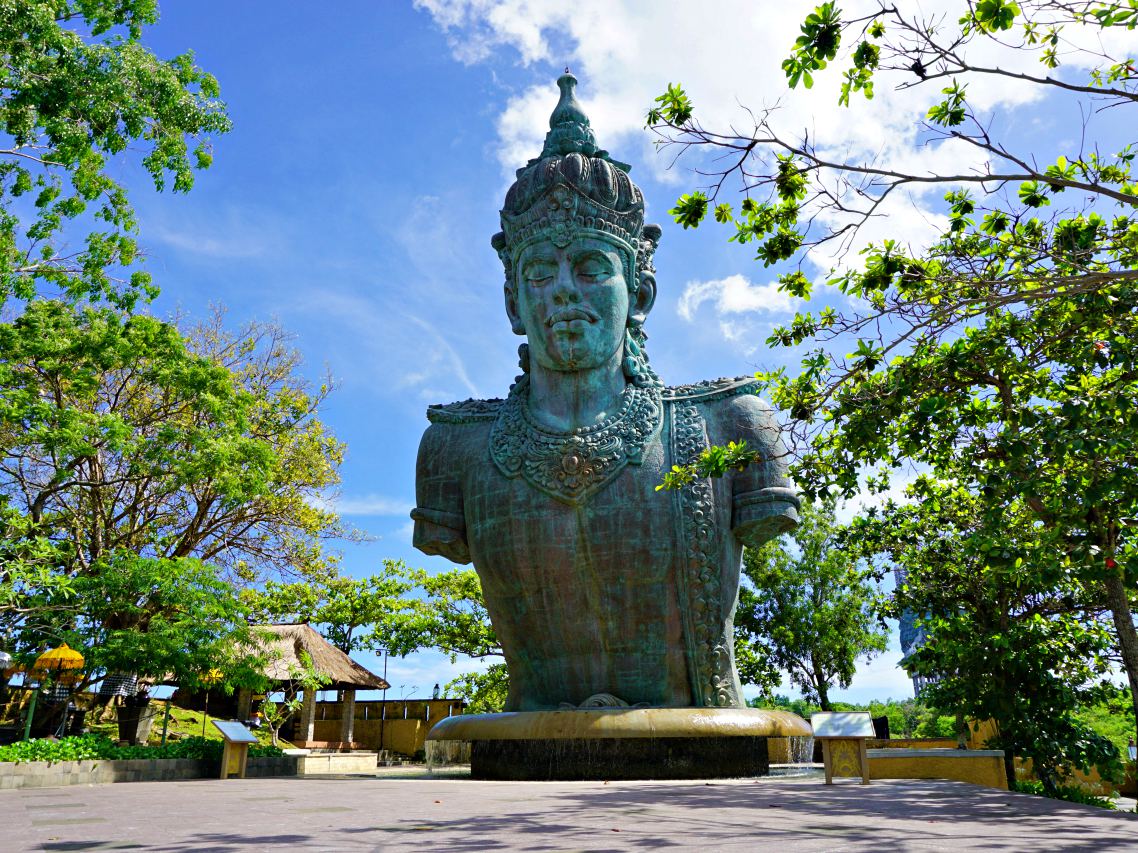 Here visitors could know more about the statue-making process. There is a museum with statue documentation on the ground floor. And to make it even more interesting, visitors could go to the 23rd floor and get a glimpse of the Jimbaran cliff. In addition to that, learn more about the statue's meaning for Balinese people from the guide.
The other spot to see the half-done statue is Wisnu plaza at the top of a hill. The highlight at Wisnu plaza beside the Wisnu statue is the beautiful fountain around it. What's more, one of the fountains sprouts holy water. The water will never run out even in the dry season. The locals also believe the holy water in the fountains has magical power in curing illness.
Explore Lotus Pond
The lotus area is the largest outdoor zone in Garuda Wisnu Kencana cultural park. Occasionally, the area is used to host large-scale outdoor events like music concerts. It features limestone pillars surrounding it, making the area even more dramatic. Although the area is quite vast, worry not.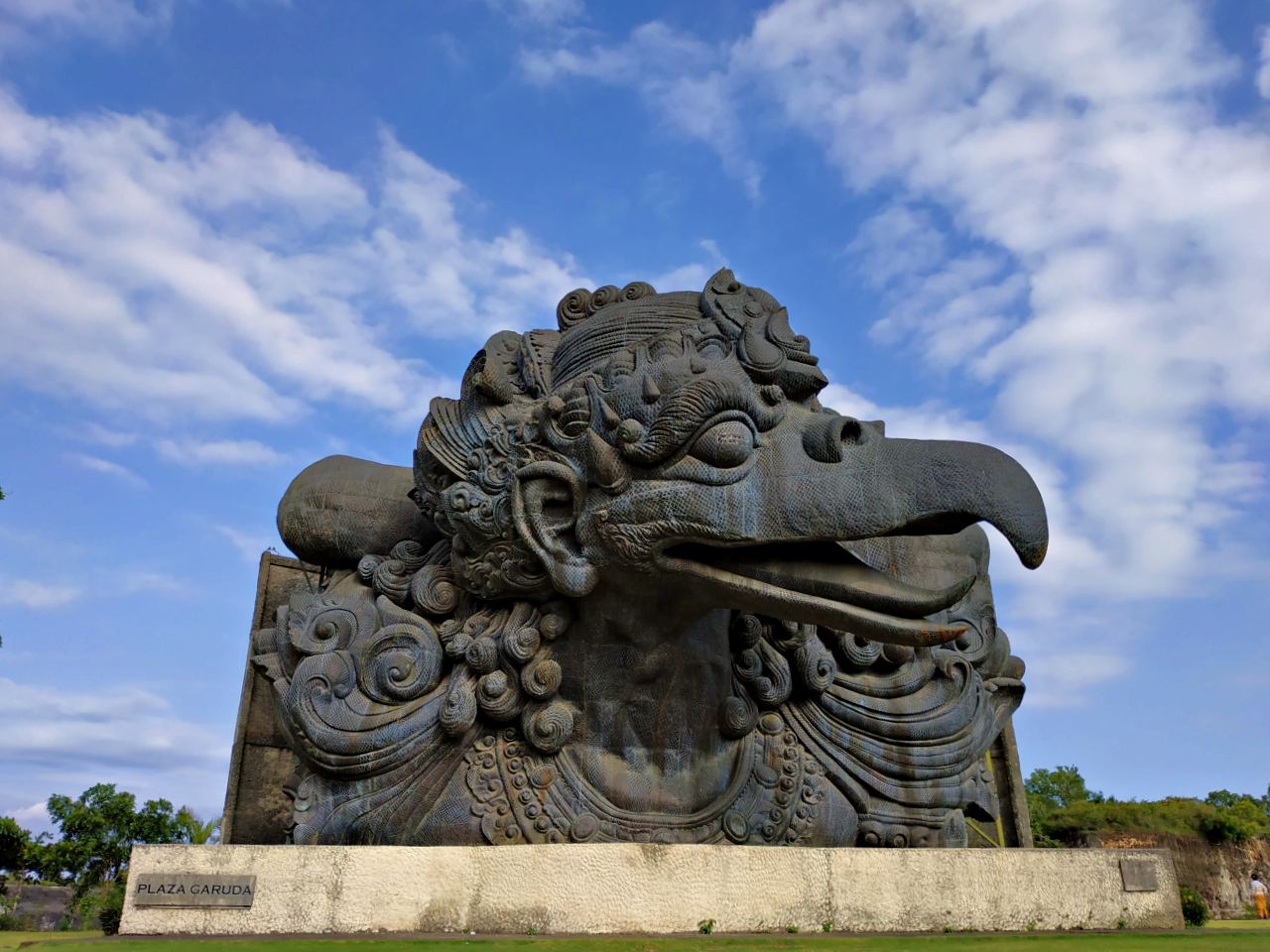 Visitors could explore the lotus pond and Indraloka garden comfortably. Rent either bicycle or an electrical scooter to travel to Garuda Wisnu Kencana park conveniently. While for travelers with young children, GWK also has a small bicycle for kids to use. The price for bicycle rent starts from Rp20.000.
Nearby: Top Things To Do in Melasti beach.
GWK Performances Schedule
There are tons of shows and dances performance every day in GWK cultural park. To point out, the shows in this cultural park are a free attraction. Visitors don't need to spend additional costs to enjoy the show. Except for the show that takes place in GWK restaurant.
Daily Live Performance Schedule
Venue: Amphitheater
Balinese dance
11:00, 12:00, 13:00, 14:00, 15:00
Venue: Lotus Pond
Joged Bumbung
16:00
Parade
17:00
Kecak dance
18:00
Nearby: Guide To Suluban Beach & Top Things To Do.
Facilities
Basic facilities such as toilets and huge parking spaces are available on the premises. There are 2 restaurants on the spot that offers a wide variety of menu. One restaurant overlooks the city landscape. While the other offers a buffet dining experience.
The souvenir shop and stall are available near the exit and entrance gate. All kinds of souvenirs from small to big statues, jewelry, and clothing are there. There is even a food and beverage section that sells traditional snacks and coffee.
See: Bali Airport, Public Transportation & Airport Hotel.
Address & Location
Garuda Wisnu Kencana cultural park location is in Jl. Raya Uluwatu, Ungasan, Kuta Selatan, Badung, Bali 80364.