Bali Spirit Festival Entrance Fee: 32.64 - 895.45 Performer: Jim Larkin & The Saucy Soul Band, Cacao Ceremony, DJ Keigo, etc Start: 2023-05-04 End: 2023-05-07 Event Place: Bali Purnati Telp. Number: -Address: Jl. Gunung Abang, Br Penataran, Batuan, Sukawati, Batuan, Gianyar , ID, 80582
Bali Spirit Festival (BSF) invites people to come to a healing retreat in Bali. Surrounded by Balinese tropical greens, BSF celebrates the art of healing and rediscovering one's inner self. It offers a chance to reconnect with mind and body amidst the busy modern life.
The essence of the Bali Spirit Festival is summed up in these three words: Yoga, Dance, and Music. This festival has been an annual yoga gathering since 2008. First started as an attempt to rejuvenate Bali tourism after the Bali bombing. Bali Spirit Festival has turned into one of the greatest yoga festivals in the world.
This year's event 2022 starts from 19 to 22 May. And just like another year's event, the festivities will take place in Ubud, the yoga heaven. Bali Spirit Festival this year will be held for 4 days and nights.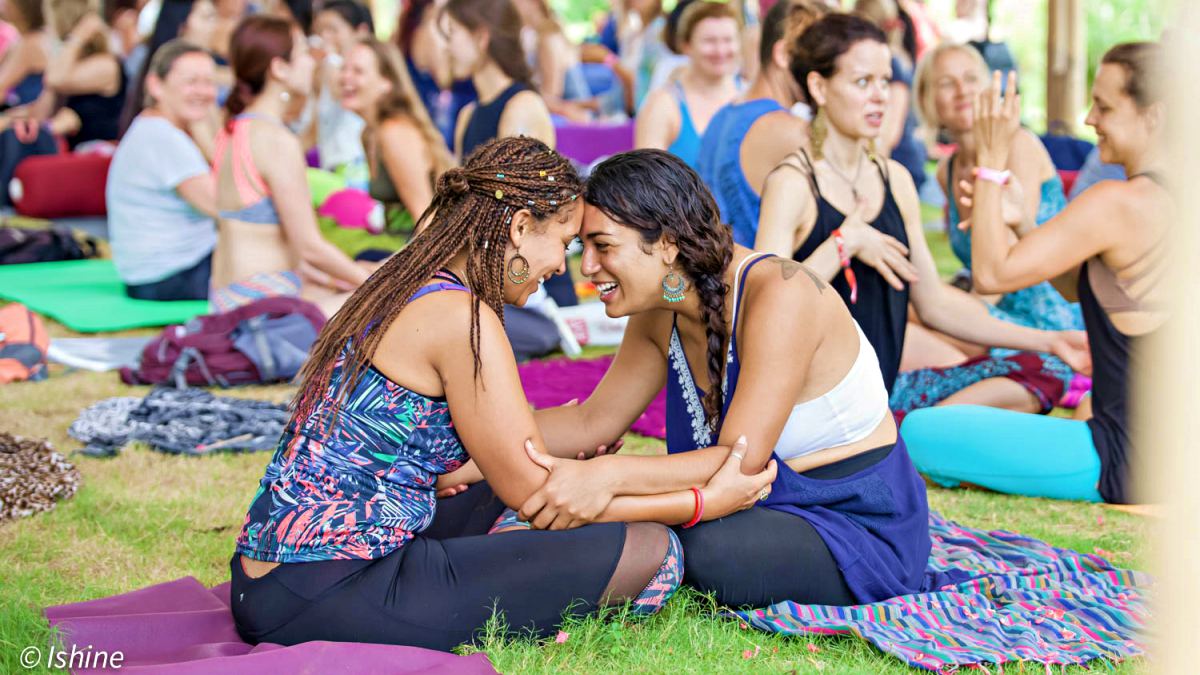 In detail, the daytime activities include yoga classes, meditation workshops, healing sessions, and many more. On contrary, the nighttime is for participants to relax and enjoy music and partying. Called Bhakti night, the music event offers an interesting lineup. At this point, participants will get to enjoy guest performers from the wellness-inspired genre.
A Yoga Festival At Heart
Bali Spirit Festival is truly for yoga enthusiasts. For instance, the line of workshops and events that is available every day. The diversity of yoga teachers comes from every corner of the world. Each embraces different styles and teaching techniques. Participants are free to pick any favorite type of yoga, from Visana to Yin yoga.
Or even a fusion of both, as taught by yoga teacher Tymi Howard at this festival. Whether a participant is a beginner or a seasoned yoga practitioner. Bali Spirit Festival has room for yoga lovers level. It's all down to loving oneself and how to achieve that through yoga.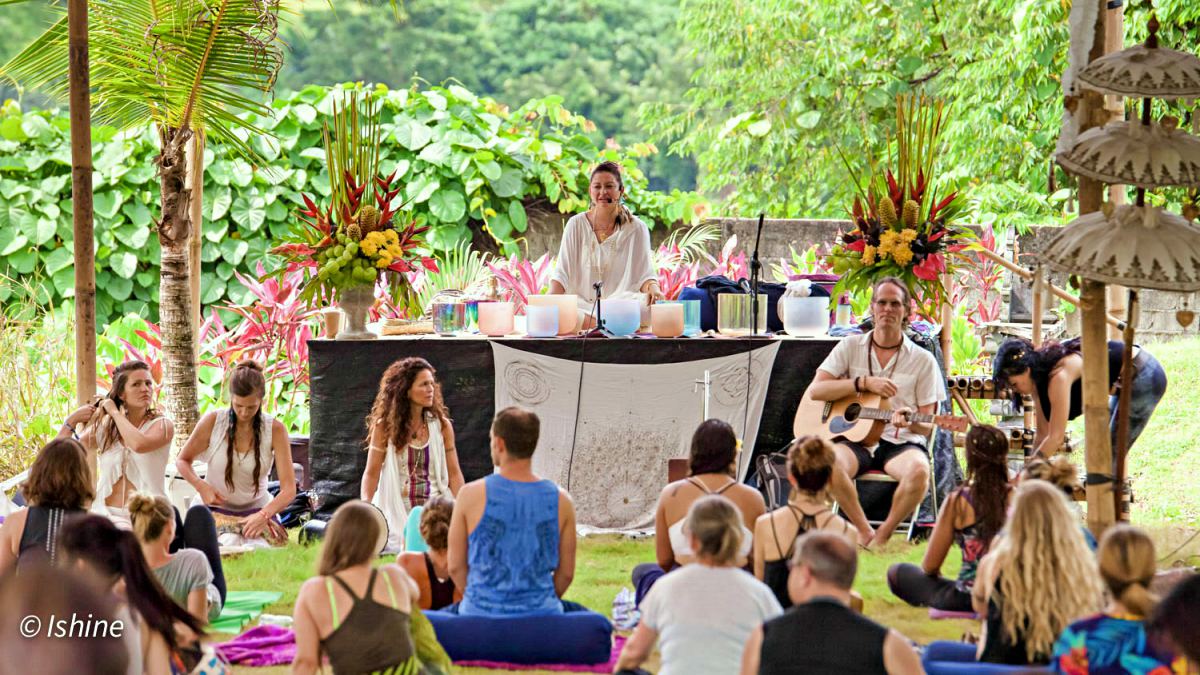 Lay down the mat and engage in every session. From one asana to the next. It's time to give the body some exercise through movement and breathing exercises.
Bali Spirit Festival It Goes Beyond Yoga
The classes at Bali Spirit Festival extend beyond just regular yoga. For example, go for their unique classes. In short, it offers elements such as meditation, music, and even burlesque dance. Chocolako from Nigeria, for example. She merges her heritage in her African drumming meditation session.
Or go for the unusual yoga class by Melody Henry. Melody Henry combines black metal in her yoga session. Her life experiences have taught her much. In essence, part of the healing process is by embracing the dark side. Then make peace with it. If metal is not one's cup of tea, go for a calmer option.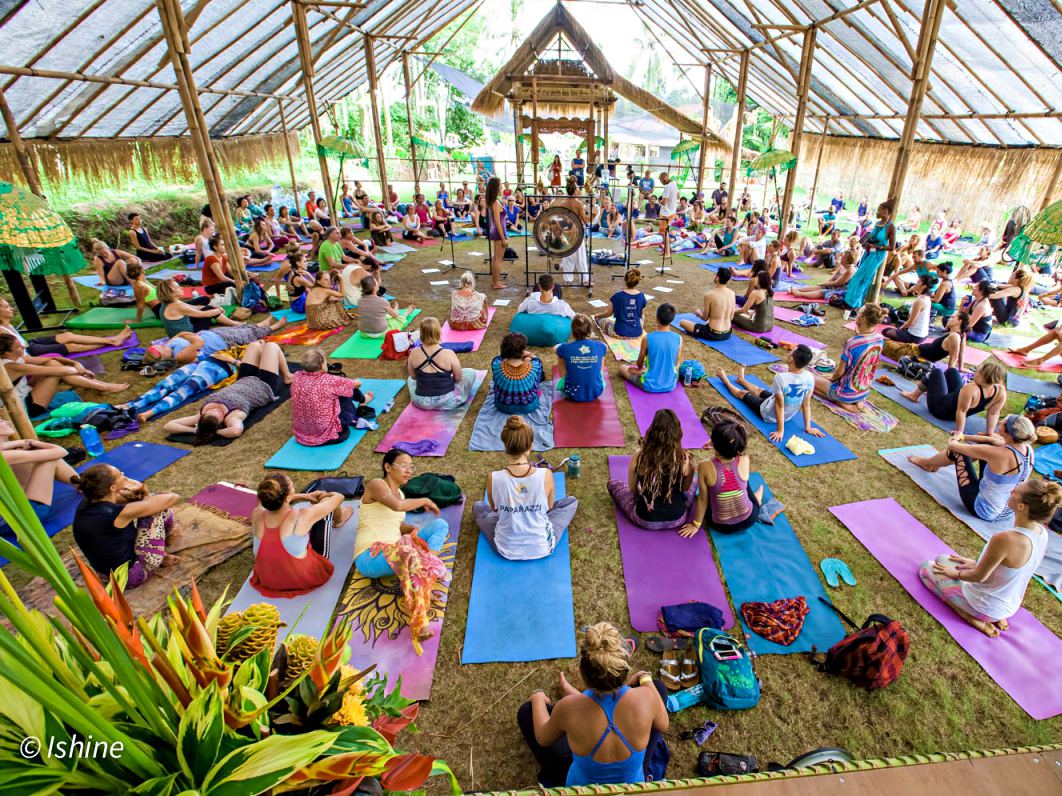 In another class, Paul Teodo will play live meditative music while co-teacher Leah Santa Cruz leads the yoga session. Gypsy Bast, in the past BSF event, had a successful burlesque dance session. Gypsy teaches women to embrace feminine self-care through dance.
Get loose as participants follow her instruction, moving the body in an uninhibited way. There are more interesting classes to join, such as the crystal sound session by Awahsosi. And breathwork classes by Dana-Dharma Devi and Ashanna Solaris.
Coco Love Daytime Music Stage
From 12 PM to 5 PM, the coco stage gives performances to visitors in-between classes and sessions. Jackson Mullane with his meditative piano and Sito Loops with his afro-Latin medicine music are among the list of performers.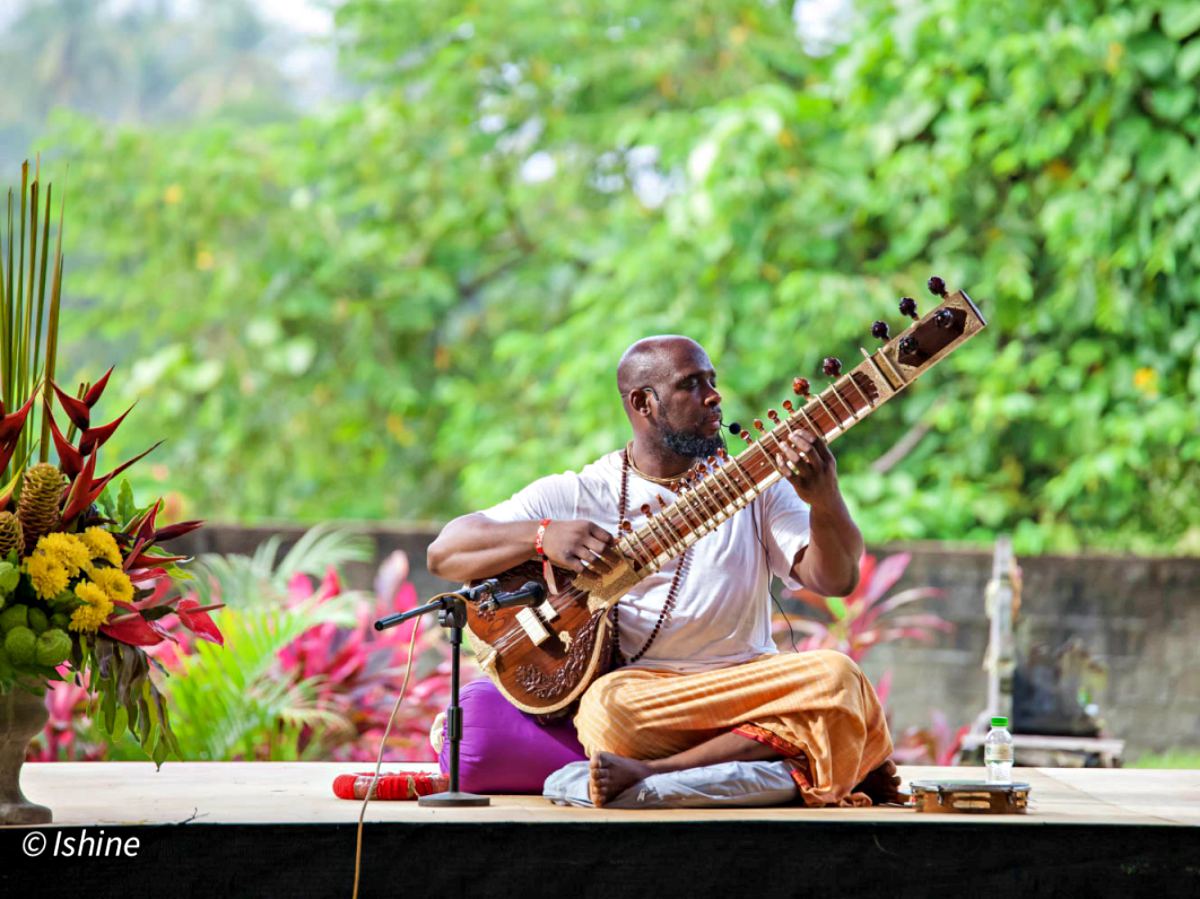 The movement arts also have a place at this stage. The genre is varied. From modern capoeira, and hip hop, to traditional counterparts of Kathak dance from India and Balinese dance.
One-on-One Session At Healing Huts
With over 20 skilled practitioners in various forms of alternative healing. The healing hut is open for participants seeking personal treatment. From a Thai massage to alternative therapy such as Watsu or Chiropractic.
Participants could join in a private session tailored specifically. In fact, everyone can address their concerns and problems in private. Want to get an insight into life and the future? There's also a reading session ready to book. Healing huts provide tarots, Mayan Calendar, and other forms of astrology reading.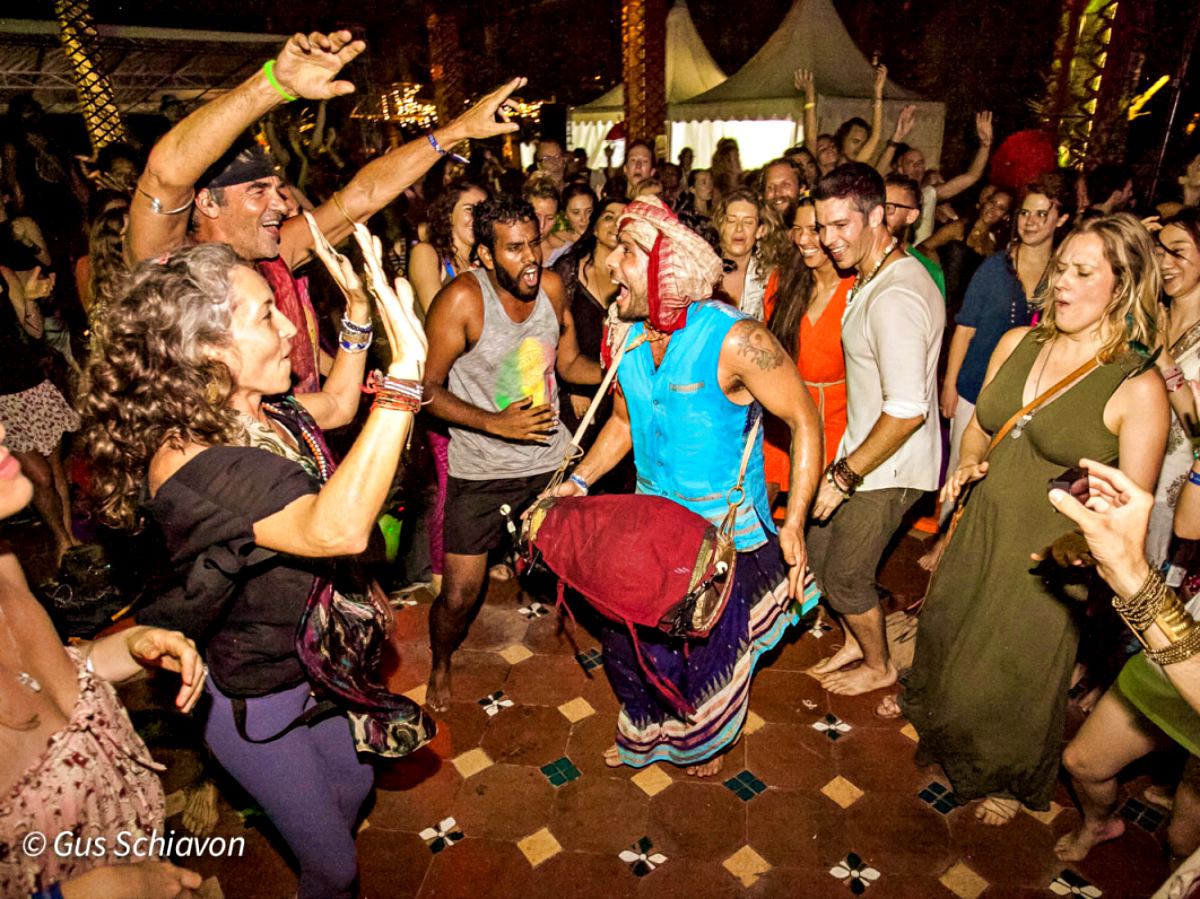 Music Bhakti Night
Bali Spirit Festival's music lineup goes beyond the usual music one hears on the radio. Genres like tribal folk, world soul, blues, and tribal electronics fill the list of performers. Not only for the ears, but these musicians also play for the mind and heart. Their sounds are soothing, meditative, and conscious.
The Bhakti Night offers participants a chance to rest their souls. After the previous rigorous body works throughout the day. It's also a perfect chance for participants to mingle with others. On this occasion under a fun-fill yet mindful atmosphere. Among the performers is Setsuna Miyashita with Indian fusion music. And Aju, a tribal electronics DJ from Argentina.
See: Prepaid SIM card for Tourists, Prices & Providers.
Bali Spirit Festival Venue 2o23
The Bali Spirit Festival venue this year has not been announced yet. However, the venue will be in Ubud. This year's events will start from 4 to 7 May 2023.
Bali Spirit Festival Venue 2023
Venue
Yoga Barn, Ubud
Date
4 – 7 May 2023
See: Guide To Explore Hidden Canyon Beji Guwang.
Bali Spirit Festival Ticket Price 2023
Tickets range from a single-day pass to a full 4-days pass. The single-day pass cost US$140 and is one-day access to the festival. In short, participants can join all workshops and music nights on a selected day. On the other hand, the full 4-day ticket grants participants access to the entire workshop and music night. However, it doesn't include access to join the special event.
Bali Spirit Festival Ticket Price 2023
1-day pass
$50
4-days pass
$190
See: Gianyar Night Market Guide To Taste Cheap Local Food. 
Facilities
Bali Spirit Festival does not provide accommodations. However, it's easy to find accommodations nearby the venue. From charming homestays to luxury hotels. The facilities provided by the organizer include shower facilities, a free drinking water station, a kid's area, pools, and a parking space. As for food, festival-goers can find booths on-site offering organic and healthy menus.
See: Bali Airport Guide & Public Transportation.
How To Get To Bali Spirit Festival Venue
To get to Bali Purnati, participants can take advantage of the shuttle service provided by the organizer. It costs Rp70.000 for one way trip from central Ubud. Since the venue is a 20-minute drive from Ubud, passengers could find ride-hail cars/motorcycles through Grab/Gojek apps.
Another transportation choice includes renting a car or motorcycle. Rentals are available around the Ubud center with rates starting from Rp50.000/day for a small scooter. From Central Ubud, the Ubud Palace, head southward toward Hanoman street. Continue to A.A. Gede Rai St. and then Raya Mawang Street to reach the venue.