Lagoi Bay Entrance Fee: Free Entry Opening Hours: 07.00 - 23.00 Telp. Number: - Address: Jl. Gurindam Dua Belas, , Sebong Lagoi , Teluk Sebong , Bintan , Kepulauan Riau, Indonesia , 29152.
Lagoi Bay at Bintan Island might be an unfamiliar name among travelers visiting Indonesia. It's not surprising. As the island itself is located far away from Indonesia's tourism jewels (Bali, Lombok, and Java). Bintan is one of the islands in Riau Islands province. It's located near Batam Island and surrounded by the south china sea.
However, Lagoi Bay is not a strange name among Singaporeans and Malaysians. This is due to the island's close proximity to the Malaka peninsula. One hour ferry away and there it is. A tropical escape from the cosmopolitan life. Many tourists come to Bintan's Lagoi Bay for its luxurious resorts, golf courses, and private beaches.
In the past, to enjoy the beach here, one must be a guest at these resorts. Luckily it's no longer the case. Lagoi have open itself to more audience since several years ago. And apart from beaches and resorts. Lagoi Bay has more to offer such as museums, parks, plazas, and lakes.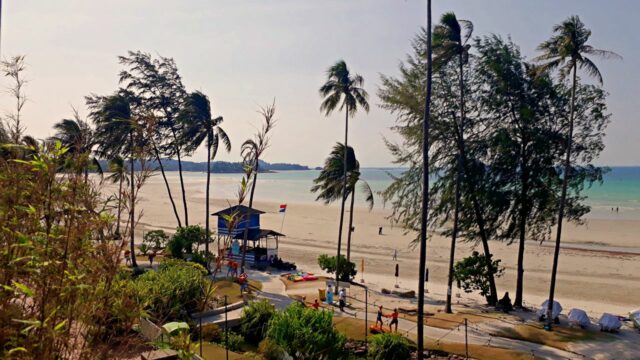 Lagoi Bay & Beach
Lagoi Bay and its beach are the perfect starting point for the beginning of the Bintan experience. Meet a beach with a 3,5 km long shoreline. Pristine white sands meet the turquoise water of the South China sea. Colorful bean bags appear in contrast with the sand below them.
The wind is mild and as is the wave. The weather is sunny all year round. Lay the mat under the swaying leaves of coconut trees. Let the feet sink under the warm sand before going swimming. Play with the sand, it is a good material for building sandcastles.
Or simply choose a bean bag and lazying around under the sun all day. No need to rush because this is what Bintan offers first and foremost: an ultimate island experience.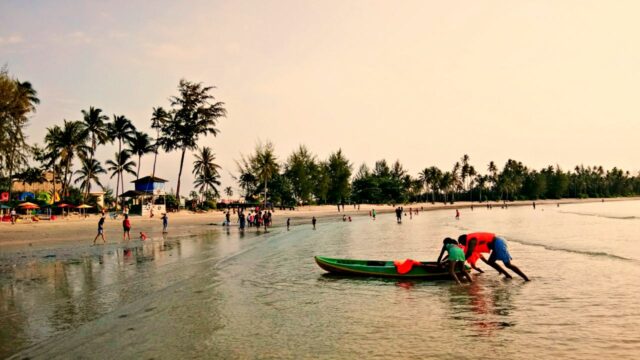 Watersports In Lagoi Bay
Jet Ski, snorkeling, and kayaking. Pick among these watersports when beachgoers are bored with just sunbathing. Not only that the options are plenty. But they also come at a reasonable price too.
An hour kayaking is only Rp30.000 while the jet ski is Rp250.000 for 15 minutes. Preferring just "sport" without "water"? Participate in beach volleyball or beach soccer.
Lagoi Lake
The irregularly-shaped reservoir is located within a walking distance of the beach. A pedestrian track is built circling the lake to have a little jog. The garden surrounding is well-tended and clean. Just sitting at the park bench is relaxing. But for people who love fishing, there's a floating platform for that.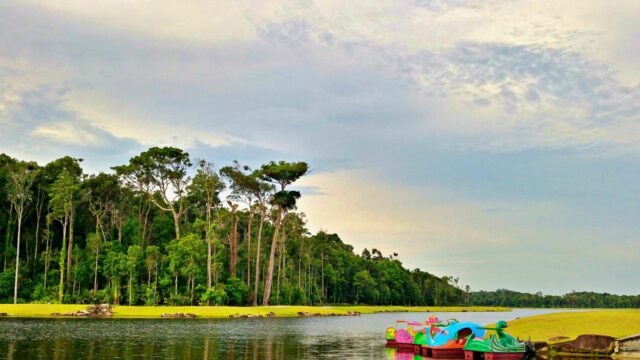 Rumah Imaji
Lagoi Bay has its own trick-eye museum. It is called Rumah Imaji and tourists can find it inside Lagoi Plaza. Interact with 3D paintings made by artists from Yogyakarta and snap selfies as creatively as possible. The museum is also a good spot to know more about Malay costumes and traditions.
Step into a traditional Malay house to get to know more. Be prepare though. Since it's called Rumah Imaji, the House of Imagination. The Malay house is a bit modified here: everything is upside down!
Warung Yeah!
The tastiest restaurant in the area is located not far from Lagoi Beach. Warung Yeah! serves both delectable Indonesians and western food alike. They offer Indonesian food such as ayam penyet. Also fried noodle Indomie in a fast-food setting at an affordable price.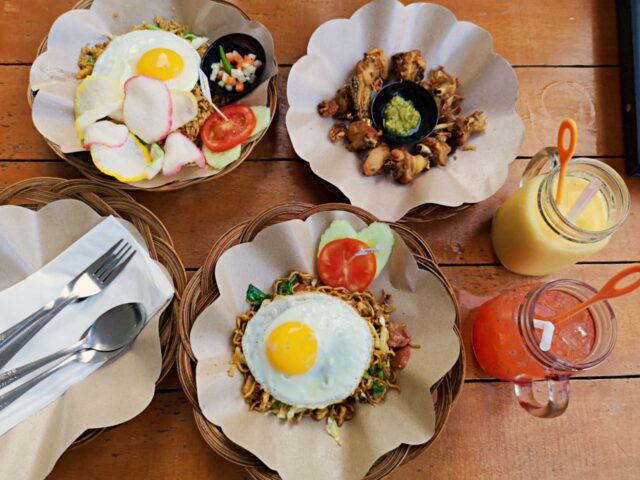 While waiting for the food to come, appreciate the mural paintings on the restaurant's wall. There's also outdoor seating where visitors can dine with a view of the sea. Tourists feeling like drinking can head to the upper floor Yeah! Lounge and order mojito – or any other cocktails.
Lantern Park
When the evening comes. It's not the time yet to call it a day and going back to the hotel. Instead, take a peek at lantern park. The lanterns take the form of animals, particularly endangered animals in Indonesia. Like Rhinoceros, komodo dragon, and Sumatran tiger. The Lantern park is sitting right at the back of Warung Yeah!.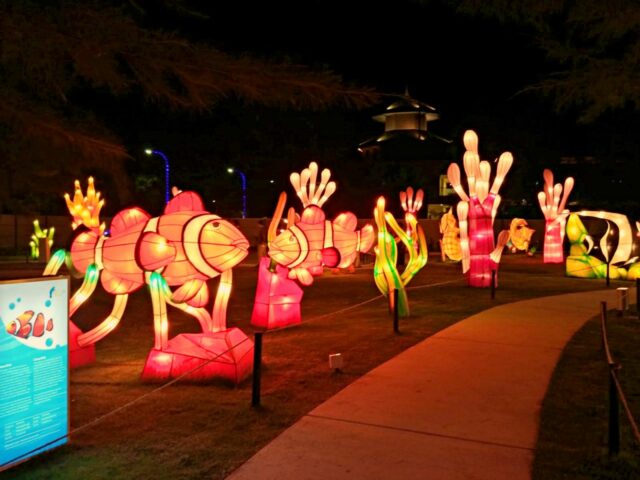 Lagoi Bay & Attraction Opening Hours
There's no entry ticket to visit Lagoi Bay. The gate starts to open at 7 AM every day and closes near midnight. Although the beach is free. Prepare cash for watersports activities and renting bean bags. Entrance to Rumah Imaji is Rp50.000 for adults and Rp25.000 for children.
Lagoi Bay & Attraction Opening Hours
Lagoi Bay & Beach
07:00 – 23:00
Rumah Imaji
Children Rp25.000 / Adult Rp50.000
See: Top Landmark, Museum to Amusement Park in Jakarta.
Facilities
One word to describe Lagoy Bay facilities is mindblowing. The cleanliness of the beach is admirable. The washroom is of a resort level. It's nicely decorated with a Zen garden interior and is equipped with hairdryers. Minimarket sells daily necessities at a normal, non-touristy price. There are also ATMs, souvenir shops, and restaurants at Lagoi Plaza.
See: All About Jakarta Airport & Public Transportation.
How To Get To Lagoi Bay
There are two options to reach Bintan Island. Either from Singapore or from other parts of Indonesia. Bintan resorts ferries provide regular ferry service from Singapore's Tanah Merah Ferry Terminal to Bintan. A one-way ticket is SGD 45 for an economy class.
From the ferry terminal, tourists can reach Lagoi bay using the free shuttle bus. From Indonesia, there's a flight from Jakarta to Tanjung Pinang. After arriving at the airport, take a DAMRI bus to Lagoi Bay (fare is Rp16.000/trip).
The land transfer needs approximately an hour. Bintan Island is also reachable by public ferries from Batam. The service runs daily from 7 AM to 6 PM with a ferry available every 15 minutes. The ticket costs Rp110.000 for a return trip.