cibodas botanical garden
Entrance Fee: Rp22.500-Rp32.500
Opening Hours: 08:00 - 16:00
Telp. Number: (0263) 512233
Address: Jl. Kebun Raya Cibodas, Sindangjaya , Cipanas , Cianjur, West Java , Indonesia , 43253.
There's a spot just 2 hours away from where city dwellers can experience the feeling of cool breeze and clean air. That spot is Cibodas Botanical Garden. The cool breeze is due to the location of Cibodas Botanical Garden on the slopes of Mount Gede. In addition to being a picnic destination, this garden happens to be a conservation site.
Cibodas Botanical Garden is perhaps known for its exotic collection of plants. Many of the plants here are one of the kind in Indonesia. Take for example the famous cherry blossom trees or Sakura trees. It is the only place in Indonesia where these trees can thrive. Here in Cibodas Botanical Garden, it blooms twice more than its counterpart in its origin country.
The garden has other fascinating spots such as themed gardens and waterfalls too. And next to it is Mount Gede Pangrango National Park. It's one of the popular camping spots due to its location at the foot of the mountain. There is no air pollution in the area. Thus the bright stars would appear at night for campers to enjoy.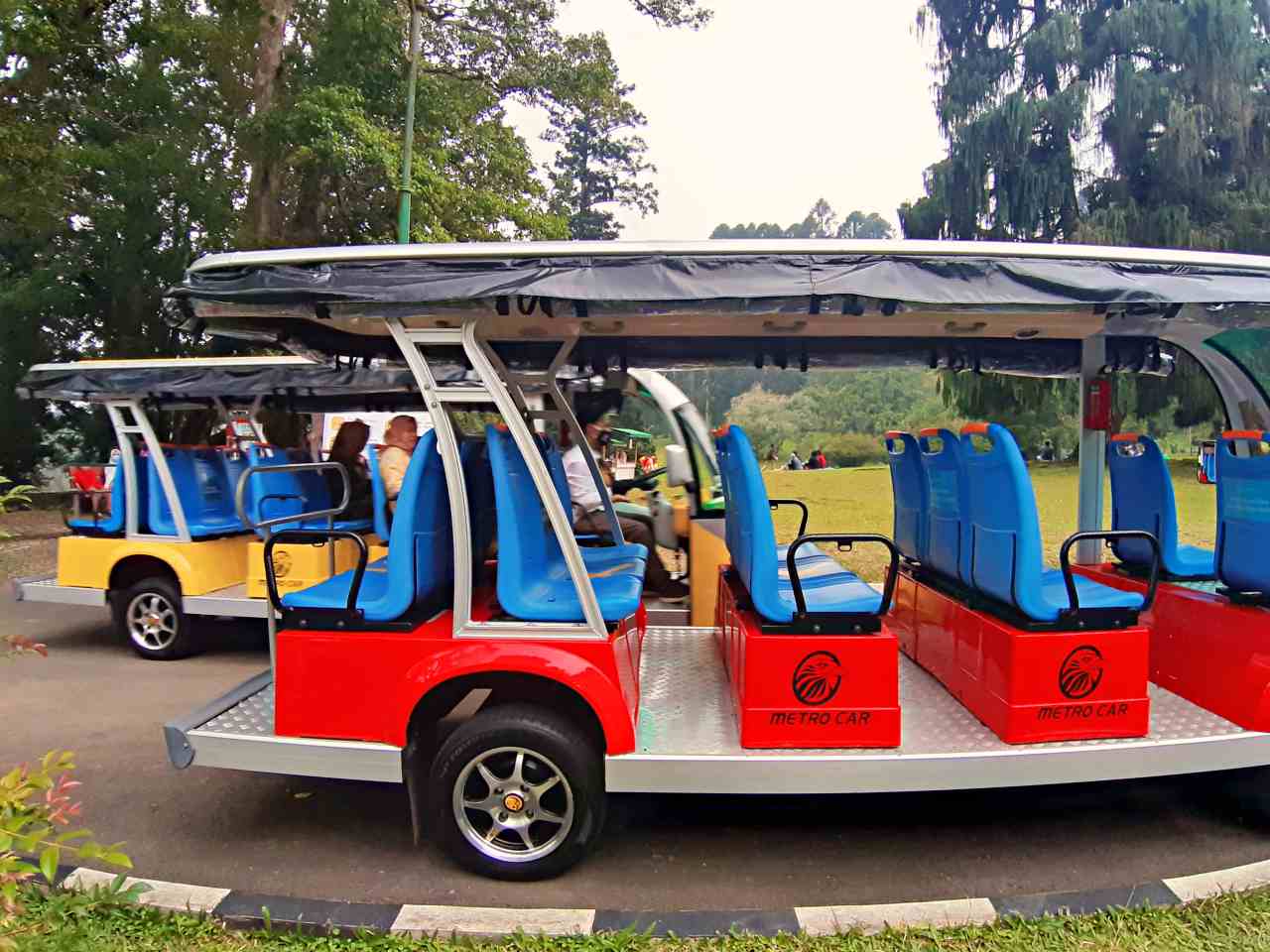 Cibodas Botanical Garden Entrance Fee
The entrance fee for international tourists is Rp15,500 for the weekday entrance fee. The parking fee varies depending on the vehicle. For cars, the parking fee is Rp35.000 and for motorbikes Rp5.000/vehicle.
Cibodas Botanical Garden Entrance Fee
Weekday
Rp15,500
Weekend
Rp25,500
Car Entrance Fee
Rp35,000
Wara Wiri Shuttle Bus
Rp15,000
See: Bogor Botanical Gardens, Things To Do & Attraction.
Cibodas Botanical Garden Opening Hours
Cibodas Botanical Garden opens every day from 8 AM to 4 PM. On weekends the garden is always packed with local tourists. Either for a picnic or camping at the nearest camping ground Mandalawangi.
Cibodas Botanical Garden Opening Hours
Every day
08:00 – 16:00
See: Jakarta Airport To Bandung Guide, Bus, Train & Shuttle Bus.
Cibodas Exotic Gardens
Cibodas Botanical Garden is home to various exotic plants, some native to Indonesia and some not. For example, the cherry blossom trees. Originally from Japan, this plant thrives living and growing in Cibodas. It's a remarkable sight to see the blooming Sakura in a tropical country.
The Indonesian native plants, Rhododendron are something worth looking too. An entire section of the garden is dedicated to these flowery shrubs with vivid-colored petals in red, pink, and purple.
Other gardens are filled with ferns, lianas, and medicinal plants. Guests could also visit the glasshouse, where orchids, cacti, and succulents grow. The cacti section is especially fascinating. Towering thorny plants amidst white gravel paths. This section would be the perfect Instagram backdrop.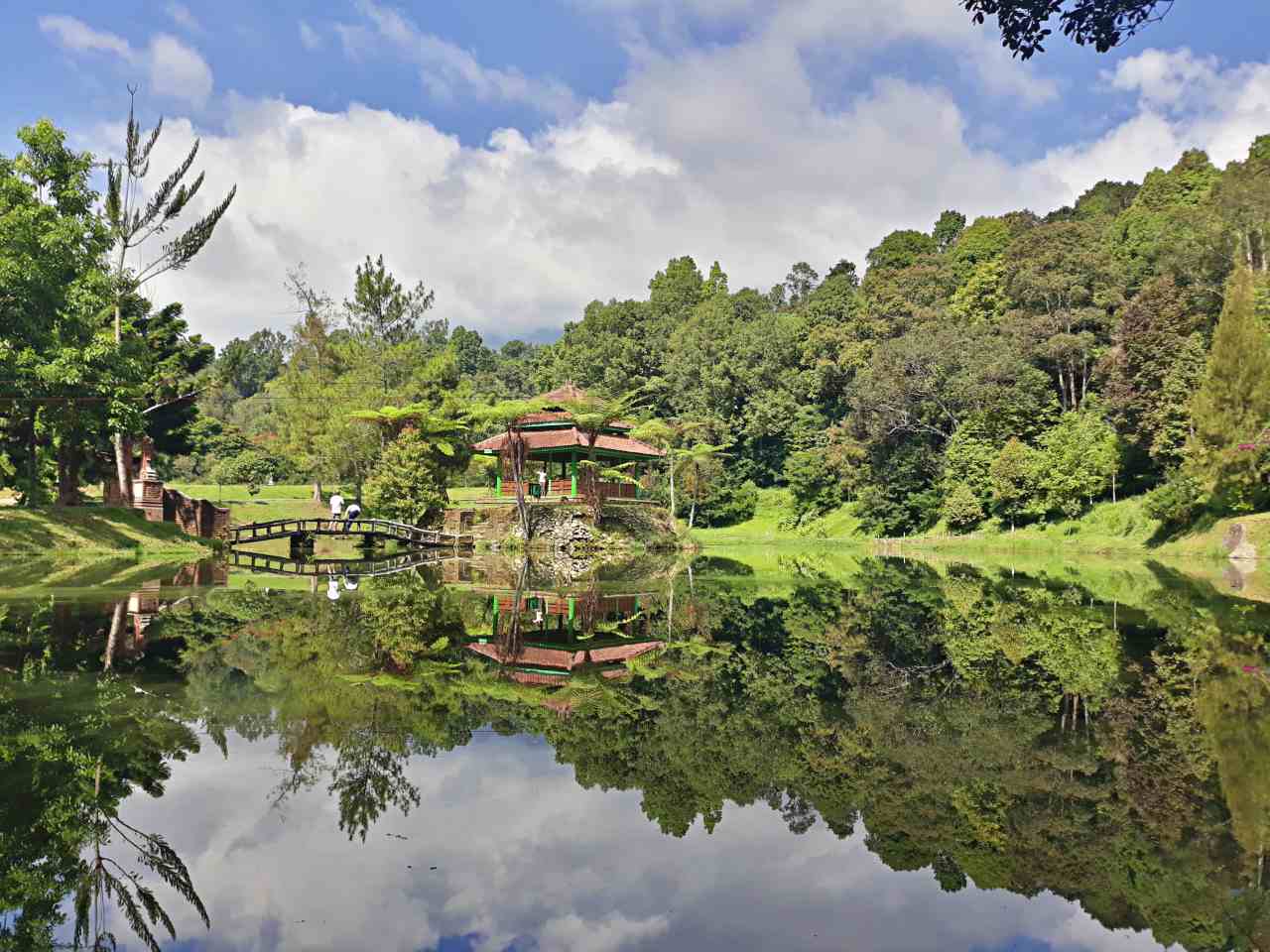 Lastly, Cibodas Botanical Garden owns the largest outdoor bryophyte park in the world. This section of the garden is shrouded by tall trees to protect the moss growing here. It's a bit slippery so be careful when navigating in this park. The bryophytes park is best visited at midday as the trees would give visitors protection from the glaring sun.
Splashing Around Under Waterfalls
In Cibodas Botanical Garden, visitors will be able to find two waterfalls or Curug in the area. Among the two, the Cibogo waterfall is the nearest to the entrance gate. Guests only need to walk about 10 minutes to reach the waterfall. Walk along cobbled paths overflowed with water discharge from the waterfall.
It is not a big waterfall but it has a little pool under it where travelers can swim. The second one is Curug Ciismun. Visitors need to walk uphill as this waterfall is farther up in the garden. It is about a 45-minute walk from the entrance gate. This waterfall is bigger and because it is farther away, the water is clearer and colder than the first waterfall.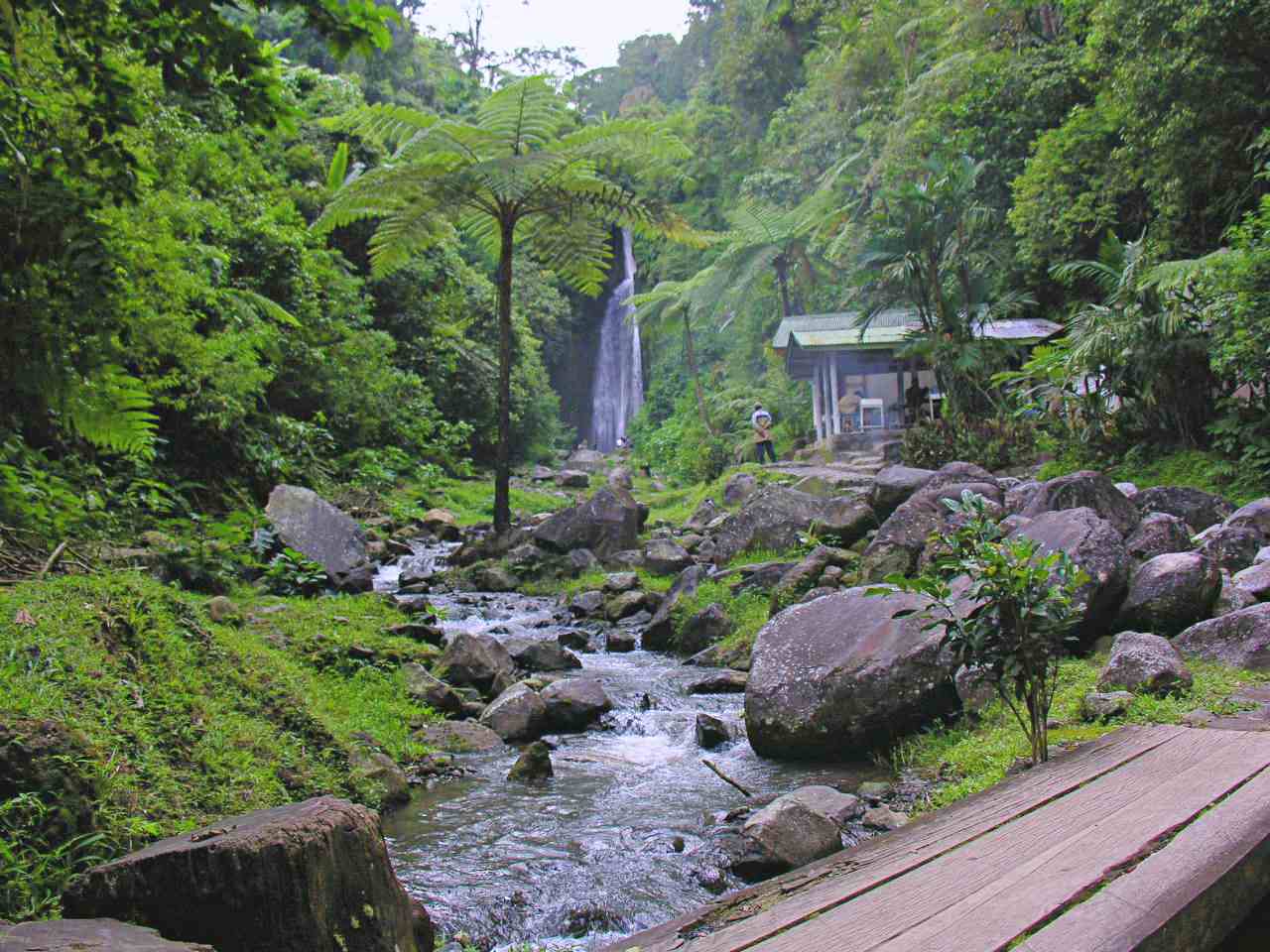 Camping In Gede Pangrango National Park
Among lot of fascinating things about Cibodas Botanical Garden is the camping ground nearby. The allotted space is around 3ha and can host around 200 tents. The site itself is part of Mount Gede Pangrango National Park. Located just 800 meters away from the botanical garden.
Visitors can camp in one of the available camping grounds, Mandalawangi or Bukit Golf. Both sites provide cafeterias, public bathrooms, and a parking lot. Or try more challenging activities. Spare a day and go on a hike to Mount Gede or Pangrango.
The fee for an overnight stay on the camping ground is not included in the garden's entrance ticket. For visitors who don't bring tents, don't worry. The camping ground provides rental tents and other camping necessities.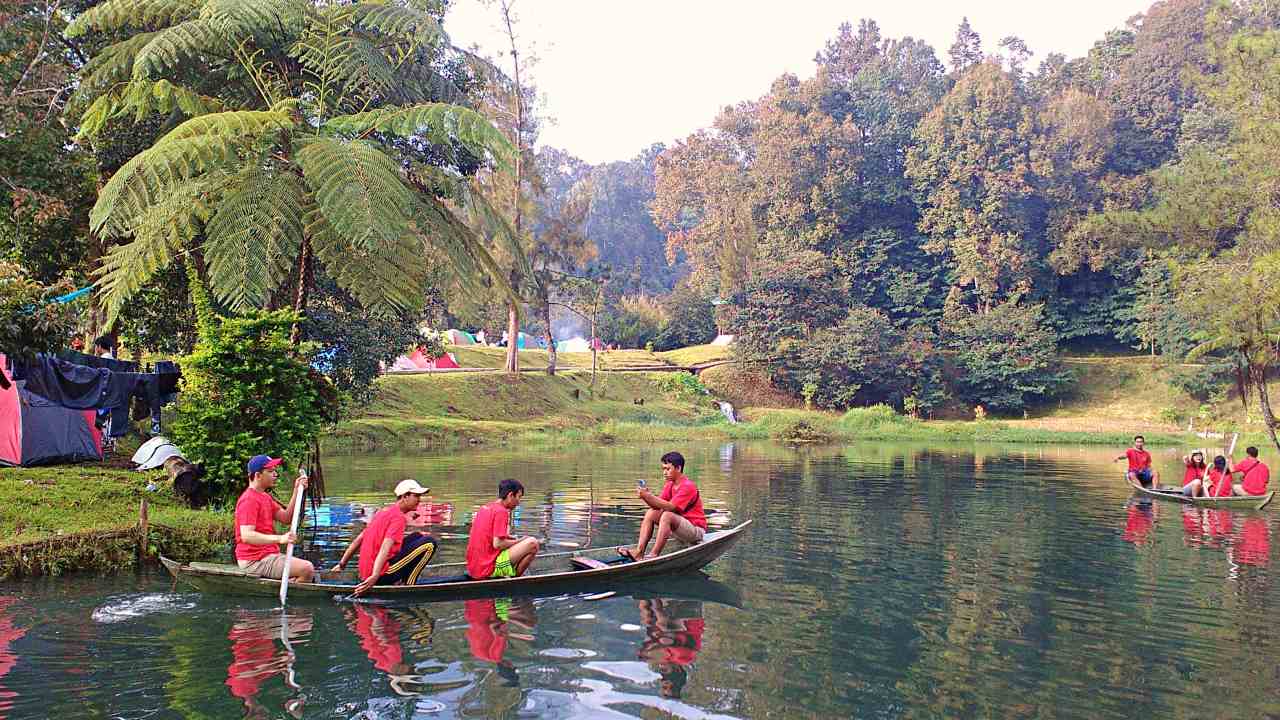 The rental price for camping equipment ranges from Rp15,000 to Rp200,000. While for an overnight stay, foreign tourists will have to pay Rp315,000 on weekdays. And Rp465,000 on weekends, it's quite expensive since it is the national park entrance fee.
See: Guide To Explore Bandung Culinary Spots.
Facilities
Facilities inside the Botanical Garden are quite exhaustive. For visitors traveling with private vehicles, the garden provides a spacious parking lot. Other facilities provided are public bathrooms, gazebos, food stalls, and a cafeteria. Another thing that is unique to this garden is its camping ground. Cibodas Botanical Garden provides a spacious camping ground for campers.
Another way to navigate the garden is by using the shuttle bus, Wara Wiri. The fare for one lap going around the garden is extremely cheap Rp10.000. Other than the shuttle bus, visitors are also welcome to bring bicycles and ride around the garden.
See: Jakarta Airport, Guide & Public Transport Downtown.
How To Get To Cibodas Botanical Garden
The Botanical Garden is a 2.5-hour journey depending on traffic. From Jakarta, travelers can take Jl. Tol Jagorawi all the way until reaching the exit to Taman Safari. Continue on for another hour until reaching the garden. It will be on the left side of the road.
Going to Cibodas Botanical Garden with public transportation will be a bit uncomfortable. This is because travelers need to make several transits before reaching the garden. Most would take big buses until reaching Bogor. The bus fare starts from Rp25.000/person. From Bogor, trippers can transfer to minibusses heading to the garden with a fare of Rp20.000/person.
See: Indonesia Tourists SIM Card, Price & Provider List.
Address & Location
The vast garden location is in Jl. Kebun Raya Cibodas, Sindangjaya, Cipanas district, Cianjur, West Java 43253.