Gandrung Sewu Festival
Entrance Fee: Free Entry
Performer: Gandrung Dance
Start: 2023-10-01
End: 2023-10-31
Event Place: Marina Boom Beach
Telp. Number:
Address: Jl. Ikan Curut , Banyuwangi , Banyuwangi , ID, 68419
The traditional dance Gandrung is a Banyuwangi's pride. It's one of the authentic arts born in this city of East Java. A well-preserved dance and yearly celebration in a tourism event Gandrung Sewu Festival. As indicated in its name, Sewu which means "Thousands", the event involves thousands of dancers.
The first Gandrung Sewu festival was held in 2012. It stole the attention of people nationwide for its unique concept. The first festival only had 1000 dancers. It's way less compared to today's number of 1300. But it was the first event in Indonesia to have so many dancers.
As a result, the Indonesian Record Museum log the achievement and gave the city an award. For eight years, Gandrung Sewu Festival has proven to be a success. A lot of visitors come from all over the country and abroad.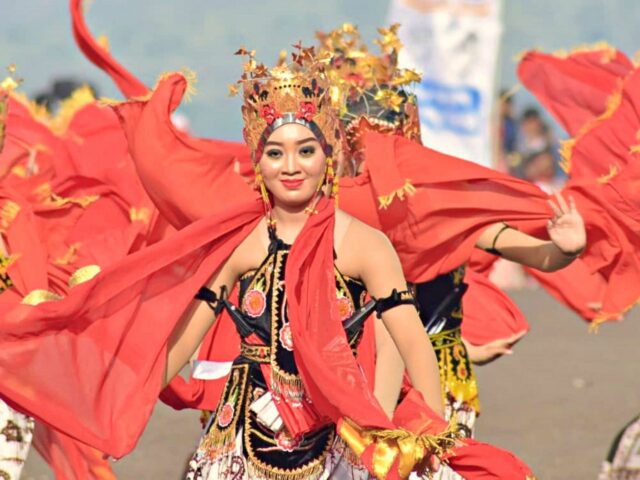 This is also because Gandrung Sewu is performed in an exotic location. A seaside venue overlooking the view of Bali Strait and mountains. No wonder many people find it magical.
One Dance To Impress The World
A few months before the event. The committee holds auditions across the city for potential dancers. Many people enroll as it is a pride to be able to be involved. The audition welcomes both professionals and amateurs. There also isn't an age restriction. The youngest dancer in 2018 was a 4-year-old little girl.
After weeks of rehearsing, the dancers are ready. Taking place in Marina Boom Beach, the gray sand of the beach is their stage. Behind, the expanse of Bali Strait is the backdrop, as well as Bali island and its volcanoes. The sun above serves as natural lightning.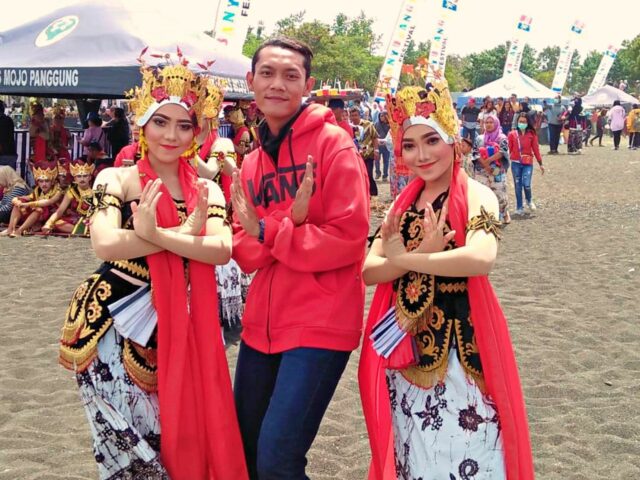 Dancers come to the sandy stage fraction by fraction. At first dozens enter. An orchestra of traditional gamelan accompanies them. After performing a number of choreography for a few minutes, dozens of other dancers enter. The procession continues until all of the dancers have come into the stage. Now what's left is to witness what a grand presentation is this festival.
Gandrung Sewu Festival Thematic Performance
Each year, Gandrung Sewu Festival comes with a theme. In the early years for example. The theme is the history of Gandrung Dance and its philosophy. Gandrung dance itself is originally a religious dance for the Goddess of Rice, Dewi Sri. It is a dance performed after harvest as gratitude to the Goddess.
Lately, the themes are more about Banyuwangi's role in the Indonesian independence struggle. In between the dance, enjoy a theatrical choreography. A dance portraying life and struggle during the colonial era. The 2017 theme "Kembang Pepe" is about Gandrung dancers' role in the independence war.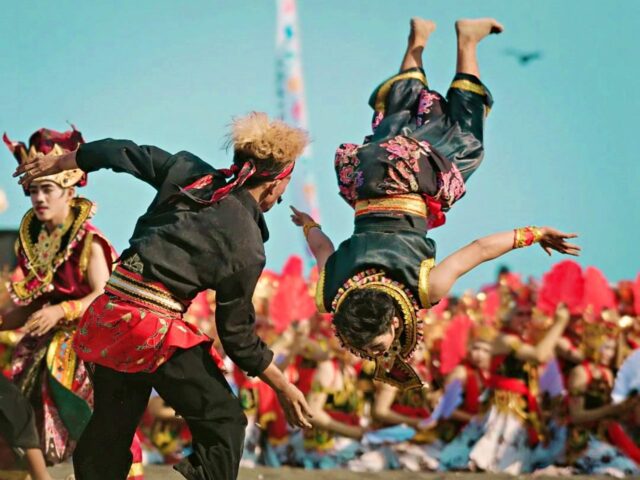 Gandrung was apparently a tool to lure colonial soldiers. Dancers enticed them with a beautiful dance while independence fighters secretly prepared for an attack. Meanwhile, the 2018 theme revolves around the life of Raden Mas Alit. He is the first Banyuwangi Regent and a hero for the Banyuwangi people.
Gandrung & Religious Blessing
Gandrung Sewu Festival actually begins with something else instead of the dance itself. The first performance is music art called Hadrah Kuntulan. Also a Banyuwangi's traditional art, Hadrah kuntulan is heavy with Islam influence.
Audiences will get a chance to see a group of tambourine players and a singer. Only it's singing a type of Islamic/Javanese song Shalawat. While the Hadrah group opens the festival. Some Gandrung dancers are dancing and accompanying them. Notice a difference in the costume of these backup dancers.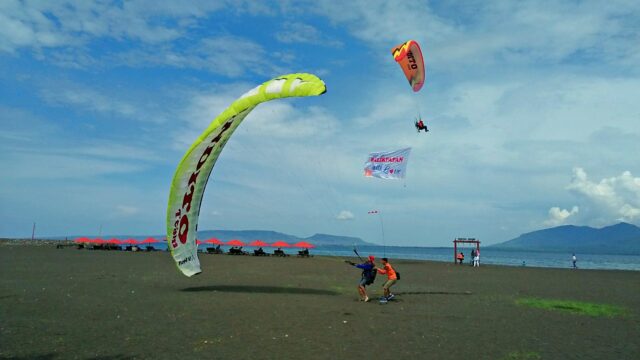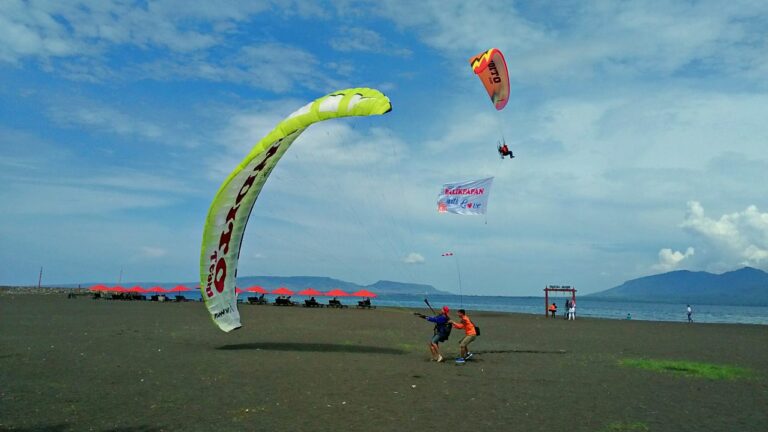 It is more covered than a typical Gandrung costume, adhering to the Islamic value of modesty. This Hadrah performance also carries a religious meaning. For the Banyuwangi people, it's to ask for a blessing from God. In order for the festival to run well until the end.
Marina Boom Beach
Amidst the excitement, take a moment to appreciate the venue, Boom Beach. There's more to this beach than a regular stage for Gandrung Sewu. For example, Boom Beach faces eastward and resides at the tip of Java. Here is where people seek the so-called "Sunrise of Java". A tip: come very early in the morning to catch one.
The dark-colored sand of Boom Beach also bears a dark past. In the south part lies a cemetery of Indonesian fallen soldiers. In the past, the area was a war zone. Thankfully the beach now is back to what it is supposed to be: A peaceful place to enjoy the sea, swim, play water sports, or simply sunbathe in a lounge chair.
Gandrung Sewu Festival Venue & Ticket 2023
Gandrung Sewu Festival venue previous year is Marina Boom Beach, Banyuwangi. The event is public and requires no tickets. The festival in 2023 will be scheduled for October this year.
See: The Blue Fire Ijen Crater, Activities & Guide.
Facilities
Marina Boom Beach provides basic facilities such as parking lots and toilets. The organizer provides tents for shade since the venue is an open area. Plenty of food vendors and peddlers selling food and beverage at the venue.
As for accommodation, it's easy to find one in the city. Demand for hotels soars during Gandrung Sewu Festival. Tourists better book rooms weeks or months in advance. Prepare to pay high season rates as well.
Read: Seeing Javanese Bull at Alas Purwo National Park. 
How To Get To Gandrung Sewu Festival Venue
Tourists usually fly to Surabaya first before heading to Banyuwangi. From there on, continue taking a train. Either Probowangi, Sri Tanjung, or for business/executive class, Mutiara Timur Selatan. Banyuwangi is also accessible by direct flights from Jakarta and Surabaya.
Tourists coming from Bali mostly opt for land transfer, a bus, or a car. To reach the venue, from the airport visitors can use the DAMRI bus heading to the city. Stop at Sri Tanjung park. For the rest 2 km to Boom Beach, take an ojek (motorcycle taxi). From the railway station, take angkot line 6 stopping near Blambangan Park. From there on, also continue with ojek.