Alas Purwo National Park
Entrance Fee: Rp150.000
Opening Hours: 07:30 - 16:30 WIB
Telp. Number: (0333) 428675
Address: Desa Kalipait , Tegaldlimo , Banyuwangi , Banyuwangi, Jawa Timur, Indonesia , 68484.
Alas Purwo National Park in East Java has a complete adventure package. Here, everyone can explore the forest, beaches, caves, and even savanna all at once. Greet the morning sun at a vast pasture with Javanese bull banteng playing around. Stroll under the shadow of the skyscraping trees to escape the scorching afternoon ray.
Put an end to this wondrous experience by walking along the warm sandy shores. This wildlife haven on the southeast tip of Java Island stretches to 43,420 hectares. Other than banteng, it is a peaceful home of endangered animals like green peafowls. It also possesses a wide array of plants of various species such as leadwood.
The vegetation is so dense and lush, that it creates a massive empire of greeneries. The Alas Purwo Park has four zones: Sanctuary Zone, Wilderness Zone, Intensive Use Zone, and Buffer Zone. As it strategically lies at the most eastern point of Java, it has numerous beaches.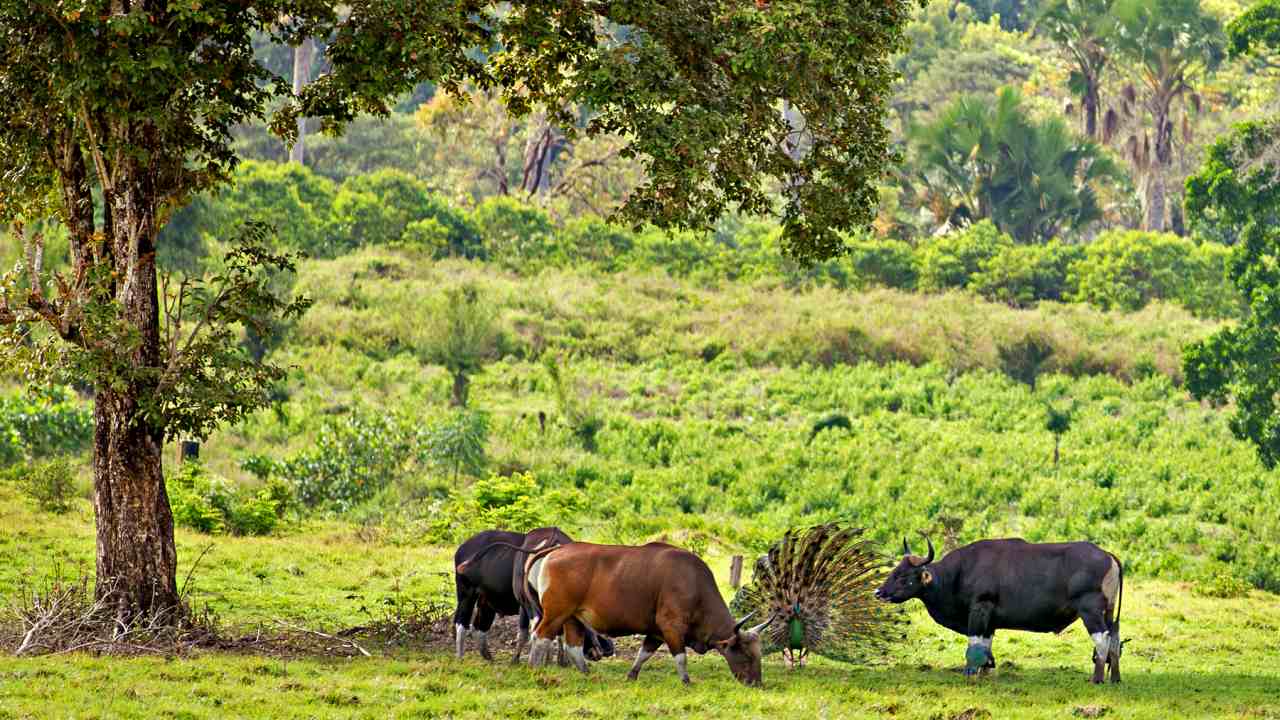 In fact, they occupy the entire edges of Alas Purwo National Park, kilometers upon kilometers. As many as eight beaches and one bay remain popular among tourists. There should be more new beaches to be found concerning its long coastline.
Alas Purwo National Park Entrance Fee
International tourist has to pay Rp150.000, on weekdays or weekends. The entrance fee doesn't include activities such as camping, trekking, and cave expedition.
Alas Purwo National Park Entrance Fee
International visitor (Adult & Student)
Rp150.000
Camping
Rp5.000
Trekking
Rp5.000
Caving
Rp5.000
Wildlife Observation
Rp10.000
See: Red Island Beach, Banyuwangi, Snorkeling Spot & Temple.
Alas Purwo National Park Opening Hours
The Alas Purwo Park is open 24/7, meaning that it keeps its gates always open. The ticket counter is closed on Saturday and Sunday.
Alas Purwo National Park's Opening Hours
Park Access
24 Hours
Ticket Office Monday – Thursday
07:30 – 16:00 WIB
Friday
07:30 – 16:30 WIB
Nearby: Ijen Crater Blue Flame Guide & Largest Acidic Lake.
Alas Purwo National Park It's Safari Time!
No need to pack the bags for a journey halfway around the world to Africa. Sadengan Savanna in Alas Purwo National Park offers a safari trip for adventurers. Its meadow reaches 84 kilometers and serves as the natural playground for the animals. Carpets of grass cover the whole area while wavy hills are lining at the back.
No one can make direct contact with the animals though as no one is allowed to. The rules strictly prohibit anyone to enter the savanna for the sake of the wildlife. It also prevents any injuries that visitors might suffer from interacting with the beasts. However, a three-story observation tower will give a full look at the savanna from above.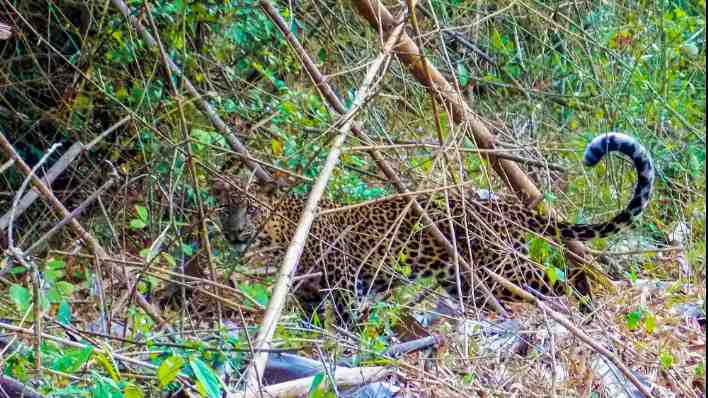 Surf Up
Plengkung Beach is definitely a paradise for surfers given its gigantic waves. Many surfing addicts from abroad have made their mark here by riding these powerful babes. Although locals call it Pantai (beach) Plengkung, foreigners call it G-Land, referring to its shape. Aerial photos show this site is uniquely shaped like the letter G.
As it is face-to-face with the notorious Indian Ocean, the waves are merciless. There are three types of waves: Kong Waves, Speedis Wave, and Many Waves. Kong Waves are the big boss as they reach six to eight meters tall. Speedis Wave and Many Waves are 5 – 6 meters and 3 – 4 meters, respectively. This spot is suitable for experienced surfers given the size and power of the waves.
Baby Sea Turtles' First Voyage
Surfers are not the only ones who find Alas Purwo's beach heaven. Sea turtles even call Ngagelan Beach (one of the eight beaches) their home. Unlike other white sandy beaches at the national park, Ngagelan's sand is dark brown. Some adult sea turtles lay their eggs in the sand of this tranquil coast. Lucky vacationers by chance might witness baby sea turtles crawl their way to the sea.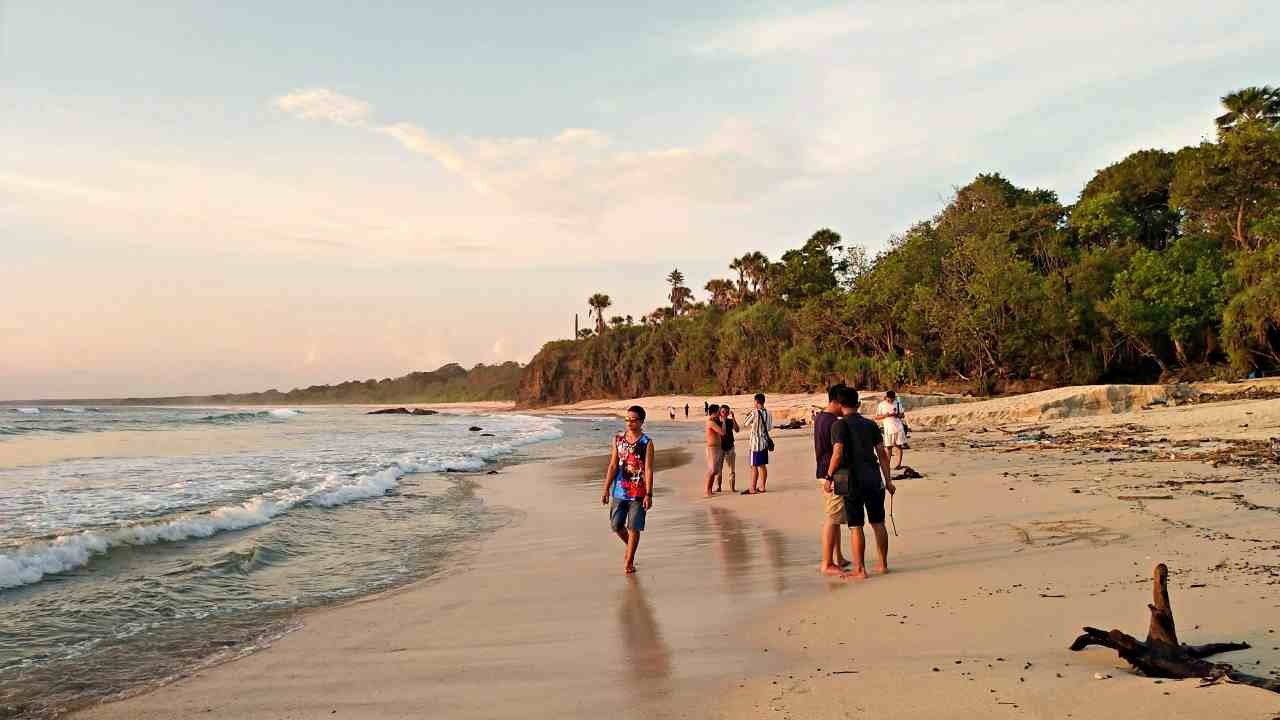 More and More Beaches
Other than the previous two, Alas Purwo National Park has other beaches that include Pancur, Trianggulasi, and Cungur. Actually, there are some more but those three make the top list. Pancur Beach has chalky white sand and black rocks scattered along the seashores.
There are a freshwater creek and camping ground close to the beach. At Trianggulasi beach, travelers can enjoy a sunset and even a glimpse of wildlife. Gray apes, long-tailed primates lutung, boars, and lizards sometimes make a sudden brief appearance.
Cungur Beach, on the contrary, is full of birds from the surrounding area, even Australia. At least 39 species of Aves hunt for fish and nestle here.
Remnants of Majapahit
The once-mighty kingdom from pre-colonial Indonesia, Majapahit, left its mark in Alas Purwo National Park. Here, there is a temple called Situs Kawitan—similar to the Hindu house of worship pura. Just like most temples, it consists of a narrow gate, staircases, and barricading walls.
The bricks are not bright reddish-orange like Balinese temples as the color has faded. The whole structure is almost entirely black due to its old age and weather.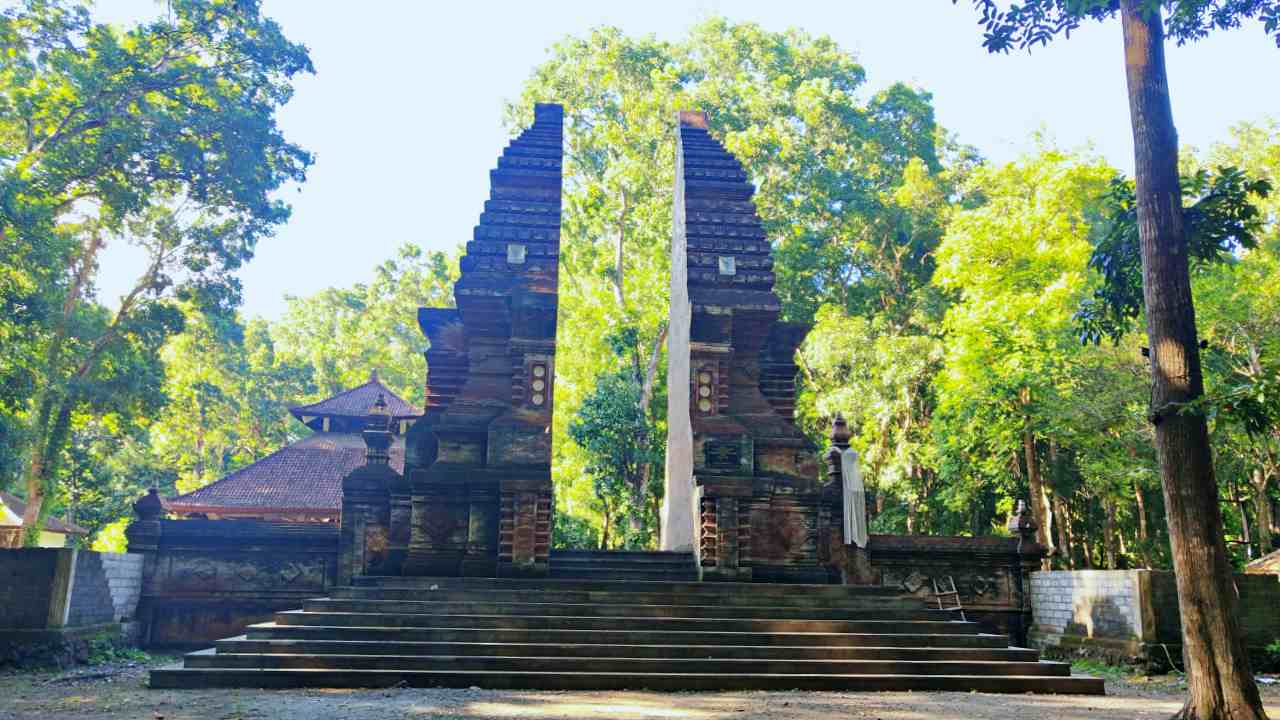 Locals discovered Situs Kawitan by accident when they were clearing a part of the jungle. Back in 1967, they noticed piles of bricks beneath the earth—parts of the temple. As they were, and still are, very superstitious, they believe it is a sacred site. Therefore, they built another structure, also a temple, called Giri Salaka Temple. Salaka is right next to Kawitan and its construction was finished in 1996.
Mangrove Maze
The mangrove area is 1,350 hectares wide and it has murky gray rivers. The mangroves' aerial roots dangle and dance in the air as the wind blows. Explorers can cruise through the swamps by a wooden vessel called Gondang-Gandung. This modest boat can contain ten to 15 passengers in one go.
See: Sukamade beach, Activities & Turtle Hatchery.
Facilities
Both the National Park and beaches offer complete facilities that even include hotels. Public restrooms are available at each attraction, not merely at the gate of Alas Purwo. Professional park rangers stand by on-site, and they can act as guides as well. The fee for a park ranger/guide is about Rp75.000 to Rp150.000 per day.
See: Gland Plengkung Beach, Activities & Top Things To Do.
How to Get To Alas Purwo National Park
There are no public transportation yet. The only option now is to rent a car or motorcycle. The route from Banyuwangi: Banyuwangi – Rogojampi – Srono – Muncar – Pasar Anyar – Tegaldimo – Makadam – Rawabendo – Alas Purwo.
Adventurers can start their trip from East Java's capital Surabaya, but it is much further. The route is Surabaya – Jember – Gunung Kumitir – Kalibaru – Glenmore – Genteng – Rogojampi – Banyuwangi. From Banyuwangi, simply follow the route previously stated to get to Alas Purwo.
Read: Indonesian SIM Card, Data Package & Price.
Address & Location
Alas Purwo National Park is located in Kalipait village, Tegaldlimo, Banyuwangi Regency, East Java 68484.