Baluran National Park Entrance Fee: Rp100.000 - Rp240.000 Opening Hours: 07:00 - 16:00 WIB Telp. Number: (0333) 461936 Address: Desa Sumberwaru , Sumberwaru , Banyuputih , Situbondo , Jawa Timur, Indonesia , 68374.
Thanks to its tropical climate and unique geography, Indonesia is rich in thick forests. One of the jungles that have been a tourist magnet is Baluran National Park. This trove of wildlife has been a local asset of Situbondo Regency, East Java. Stretching to 25,000 hectares area. Baluran Park is a habitat for endangered bull banteng, peafowls, and more.
Baluran's vast savanna and dry cracked earth are very similar to those in Africa. Locals called Baluran the Africa van Java. Maybe what they see and know about Africans on TV are alike. The vegetation and atmosphere particularly. For an ultimate safari experience in Indonesia, this national park definitely has it all.
It has five zones: Main, Wilderness, Intensive Utilization, Specific Utilization, and Rehabilitation. The Wilderness Zone is the largest one. It nearly reaches 12,000 hectares of the area and half of the park's territory. Savanna remains the dominant type of vegetation as it occupies 40 percent of the park.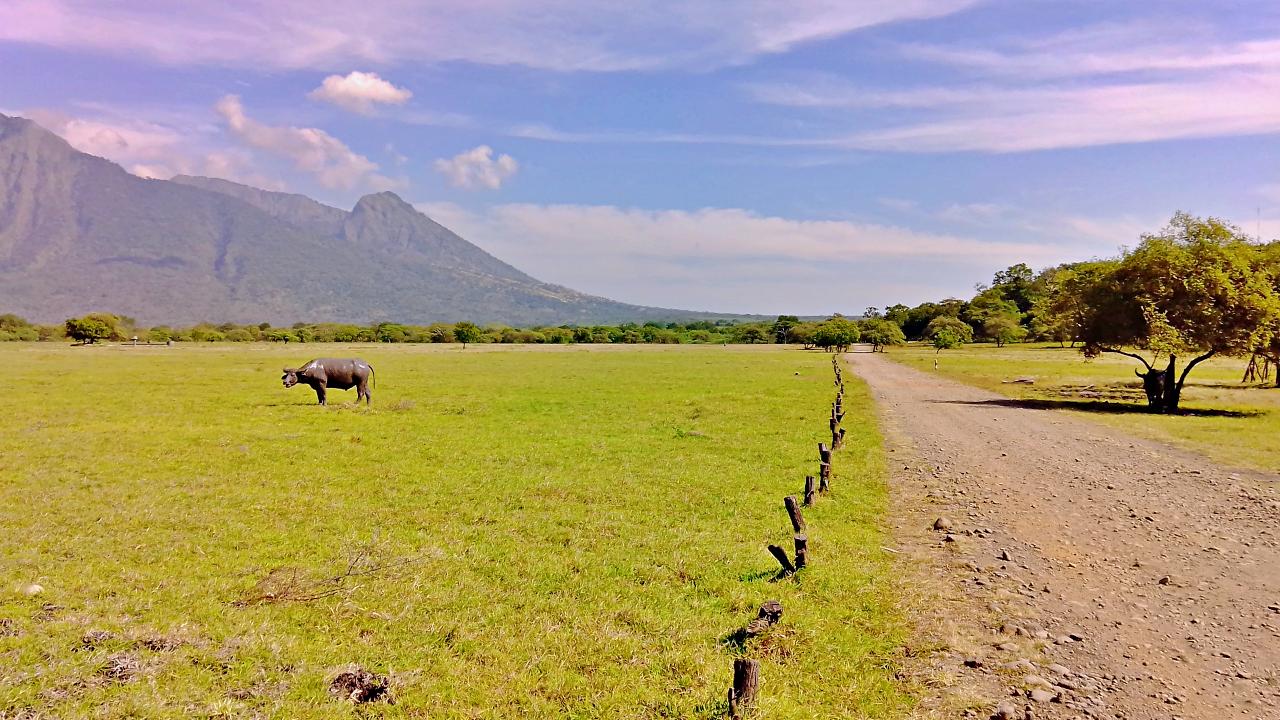 Compared to the savanna in its neighboring Alas Purwo National Park, Baluran's savanna is larger. In fact, it's the largest savanna in Java—a quality that emphasizes this park's value.
Baluran National Park Entrance Fee
One admission ticket for international visitors is Rp165.000 on weekdays and Rp240.000 on holidays. Students with valid id cards are entitled to pay cheaper to enter the national park.
Baluran National Park Entrance Fee
International Student Weekday
Rp100.000
Student Weekend
Rp150.000
Insurance
Rp5.000
International tourist weekday
Rp165.000
International tourist weekend
Rp240.000
See: Guide To Explore Alas Purwo National Park & Top Spots.
Baluran National Park Opening Hours
Baluran National Park is open every day including on a national holidays. However, for ticket and accommodation reservations the information office is open only on weekdays during office hours. Planning to see a sunrise in Baluran National Park, despite its opening hours. Visitors can arrange a sunrise tour in Baluran National Park. With prior notice to the national park officer a day before.
Baluran National Park Opening Hours
Every day including the national holiday
07:00 – 16:00 WIB
See: A Hike To The Phenomenal Blue Flame, Ijen Crater.
The Best Time To Visit Baluran National Park
To smoothen the safari trip, make sure to check the weather prior to visiting. The best time to visit Baluran National Park is during the summer season.
Mating Season Information
Deer mating season
June – July
Peacock mating season
August – September
Monsoon
January – April
Summer
May – December
See: Guide To Explore Gland Plengkung Beach.
Baluran National Park Safari Adventure
Bekol Savanna is the perfect spot to start this whole safari experience. This Baluran National Park's main attraction offers a pasture kilometers wide. The carpet of grass changes its color depending on the course of the season. It is green during the wet season and it is golden during the dry season.
A parade of its wild inhabitants such as Javan mouse-deer will greet everyone. They usually are busy grazing or playing around in a group under the shady trees. Sumatran wild dogs, Javan long-tailed primate lutung, and even Javan leopards are sometimes in sight.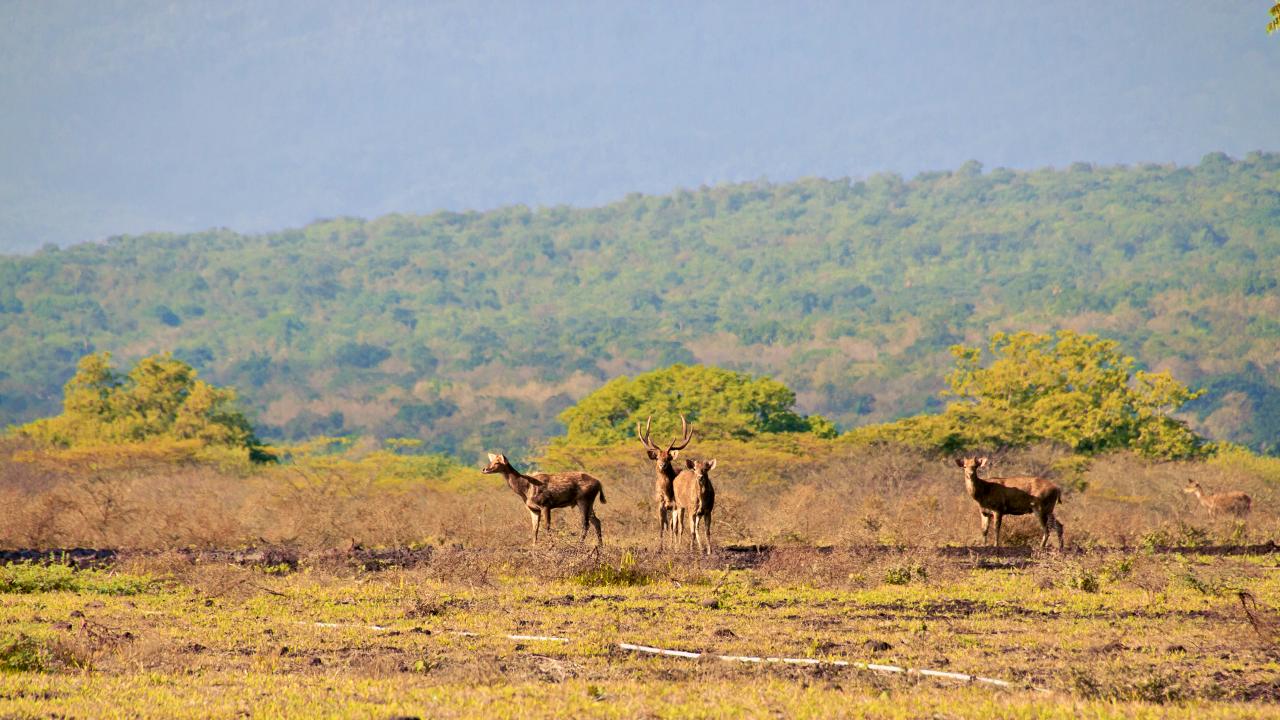 A total of 26 species of mammals and 155 species of birds make the list. They all live in harmony among 44 kinds of trees and plants in the park.
Everlastingly Green
Near the main gate, there is an evergreen jungle that will greet the explorers. It is five kilometers wide and just as its name implies, is very green. Thanks to the underground river, the water is never scarce, resulting in its fertile greeneries. Walking or driving through the area feels like being in a green tunnel of leaves.
Water Wonderland
Baluran National Park is on the northern tip of East Java, near Madura and Bali. Its coastal area blesses the park with pretty beaches to get some tan and fun. One of them is Bama Beach, about three kilometers away from Bekol Savanna. Its powdery gray sand and calm blue waves are very irresistibly inviting.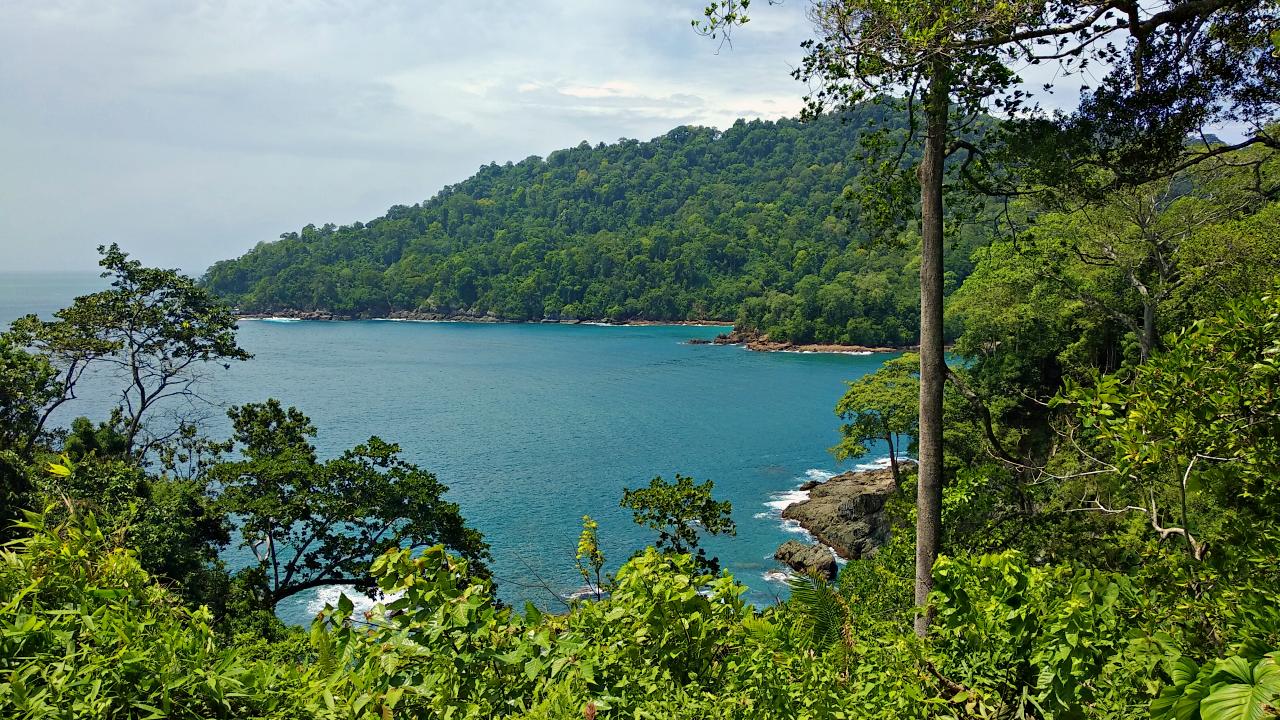 It offers a gorgeous sunrise panorama as it sits right in the east. Don't take too long to get change and make a big splash. Vacationers spend at least an hour swimming and snorkeling here while playing with the fish.
Colorful corals and reefs look so vibrant amidst the crystal clear blue sea. Guests can spend the nights here as it has fully-furnished motels, and even an outbound area.
Mangrove Expedition
The mangrove territories are along the northern and eastern sides of Baluran National Park. Adventurers can find mangroves in several regions such as Bilik, Lambuyan, Mesigit, and Tanjung Sedano. Travelers can pick just one of course, if not all of them.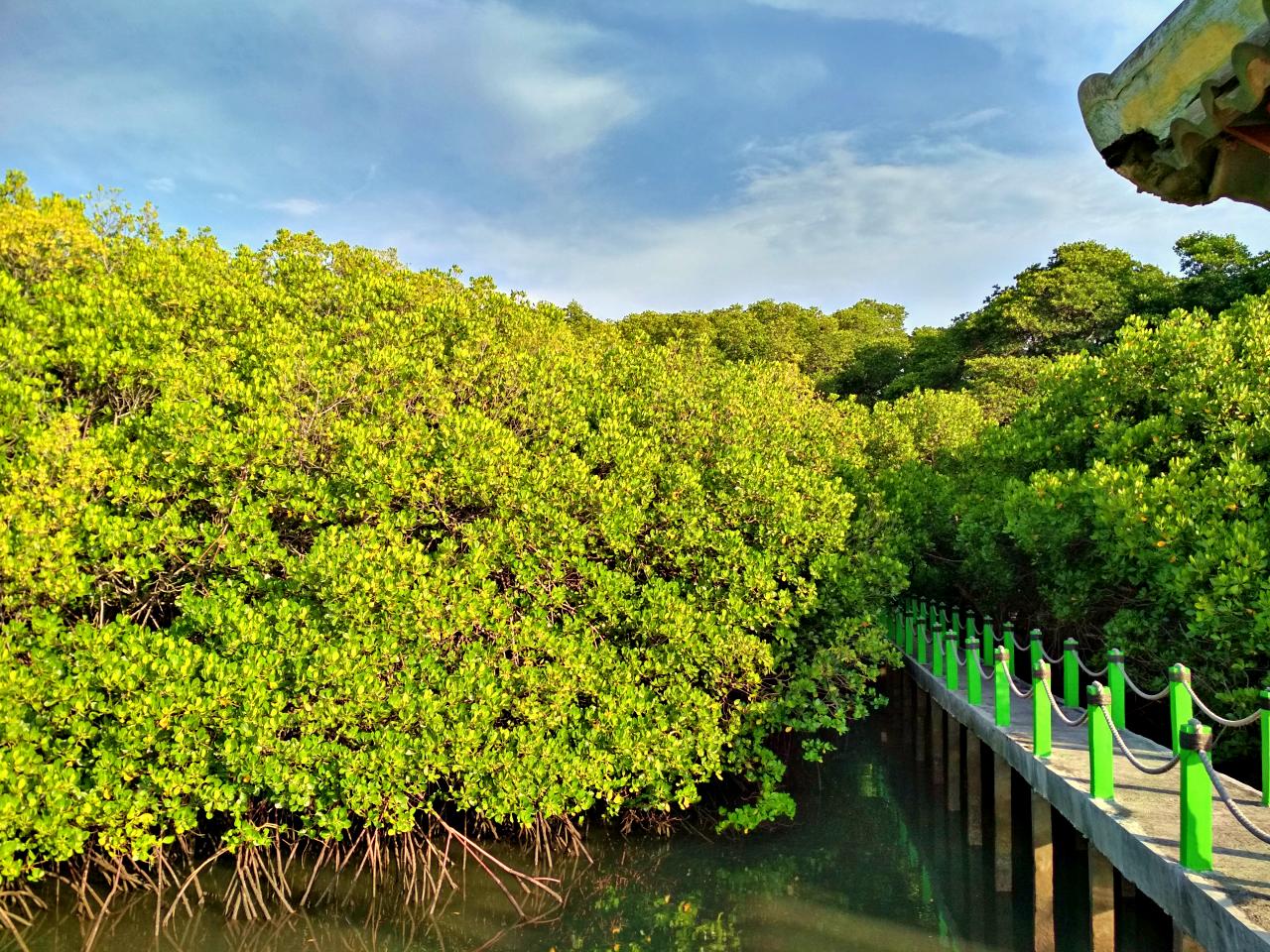 However, there is one serene yet romantic mangrove spot at Bama Beach. It has a small wooden dock surrounded by gigantic mangroves facing the exotic ocean.
Fishing Trip
Make a series of unforgettable fishing memories at another calm-waved shore, Kajang Beach. Its yellowish sand goes on for kilometers with no footprints on it. Its tranquil and quiet atmosphere suits everyone looking for peace of mind. And, it is a paradise for fishing enthusiasts thanks to its abundance of marine life.
However, it requires hiking through the density of Baluran's wilderness to get to Kajang Beach. Interested tourists have to inform the officials at Bama Beach first before going. The officials later will lead the way to make sure that no one is getting lost. In addition to going on foot. Travelers can reach it by motorcycle as well.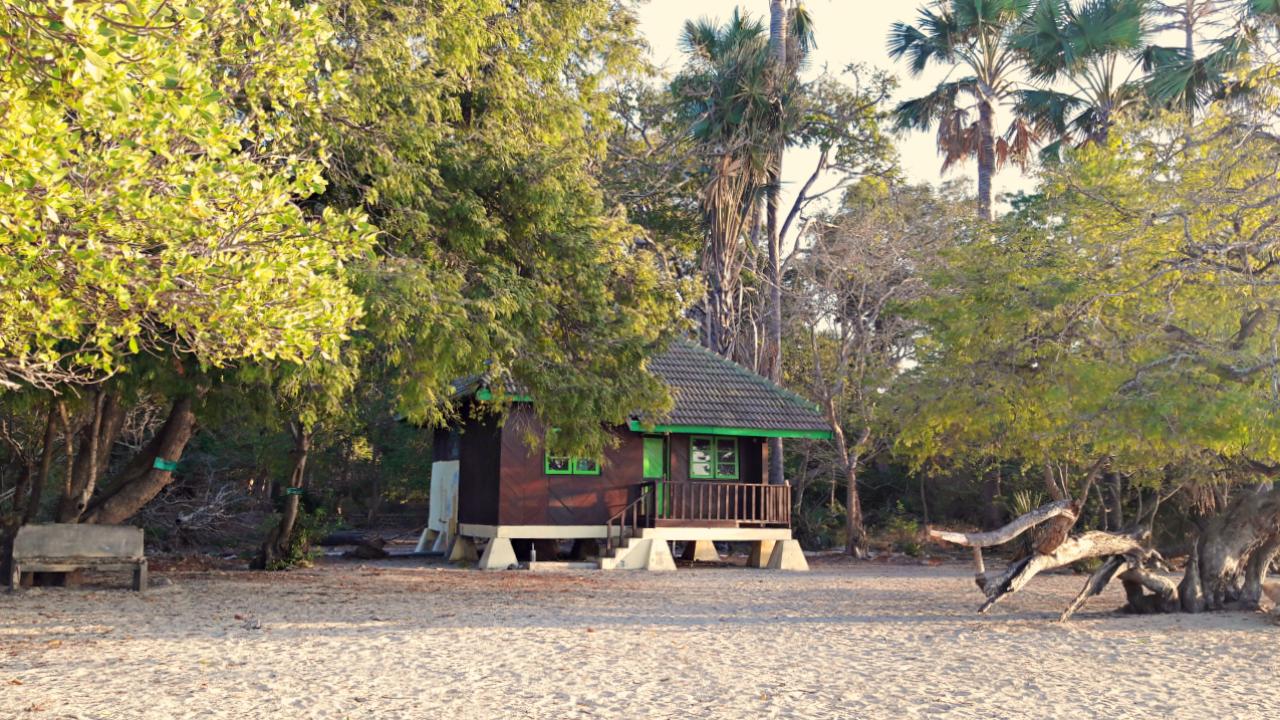 Rock Climbing Sensation
Extreme sports lovers better strengthen their grips for the challenging sky-high karst at Curah Tangis. There are so many climbing routes to choose from, each has its own difficulties. It towers at 10 – 30 meters high and the slope inclination is 85 percent. Many have come a long way to conquer it and climb to the top.
See: Guide To Explore Bromo Crater & National Park.
Facilities
Basic facilities like toilets and a prayer room are available on the premises. Small food vendors selling bottled water, snacks, and food are available before the ticketing office, and near the beach. There are professional guides and park rangers to ensure guests will get a great experience.
Even though there is no fixed price for the guide, people usually pay Rp100.000. There are affordable guest houses at both Bekol Savanna and Bama Beach. The guest house price range from Rp100.000 to Rp400.000 (prior reservation is required). The room price is for a maximum capacity of 2 people.
Baluran Accommodation and Guest House Rate
Wisma Rusa
Rp100.000
Wisma Merak
Rp150.000
Wisma Banteng
Rp400.000
Pilang Guest House (Bama Beach)
Rp200.000
Read: Green Bay Banyuwangi Highlight & Activities. 
How To Get To Baluran National Park
Getting to the destination by renting a car is way more convenient. Adventurers who opt for a rental car can start from East Java's capital Surabaya. It takes about six hours to get to Baluran, passing the cities of Pasuruan, Probolinggo, and Situbondo.
Surabaya to Baluran is 263 kilometers away. And unlike its fellow national park Alas Purwo, Baluran is accessible by public transportation. From any city in Java, vacationers can take any bus leaving for Surabaya. And stop at Surabaya's Bungurasih Bus Terminal.
From Bungurasih Bus Terminal, just get on another bus going to Probolinggo. Next, hop on another bus to Ketapang and tell the driver to stop at Baluran.
See: Surabaya Airport, Guide & Transportation
Address & Location
Baluran national park is located in Area Hutan Sumberwaru, Banyuputih, Situbondo, East Java 68374.