Mount Bromo National Park
Entrance Fee: Rp220.000 - Rp320.000
Opening Hours: 24 Hours
Telp. Number: -
Address: Area Gn. Bromo, , Podokoyo, Tosari , Pasuruan, Jawa Timur , Indonesia , -.
One of Indonesia's popular mountains, Mount Bromo, has been supporting the country's skyline for ages. Although it is not one of Indonesia's highest peaks, do not take it for granted. At 2,329 meters above sea level, it sits peacefully among the clouds. At the break of dawn, it creates a glowing silhouette adorned with the faint sun.
Four East Java regencies of Pasuruan, Malang, Lumajang, and Probolinggo surround the mountain. As it belongs to Tengger Karst, Mount Bromo neighbors with Mount Semeru and Mount Batok. Tengger Caldera, Widodaren Mount, and Penanjakan Mount also crowd the mountainous complex.
Other than the mountains, tourists can enjoy panoramic lakes Ranu Pane, Ranu Regulo, and Ranu Kumbolo. These are parts of Bromo Tengger Semeru National Park, a government-run, vast, natural site. Despite its status as an active volcano, Mount Bromo is relatively safe and friendly.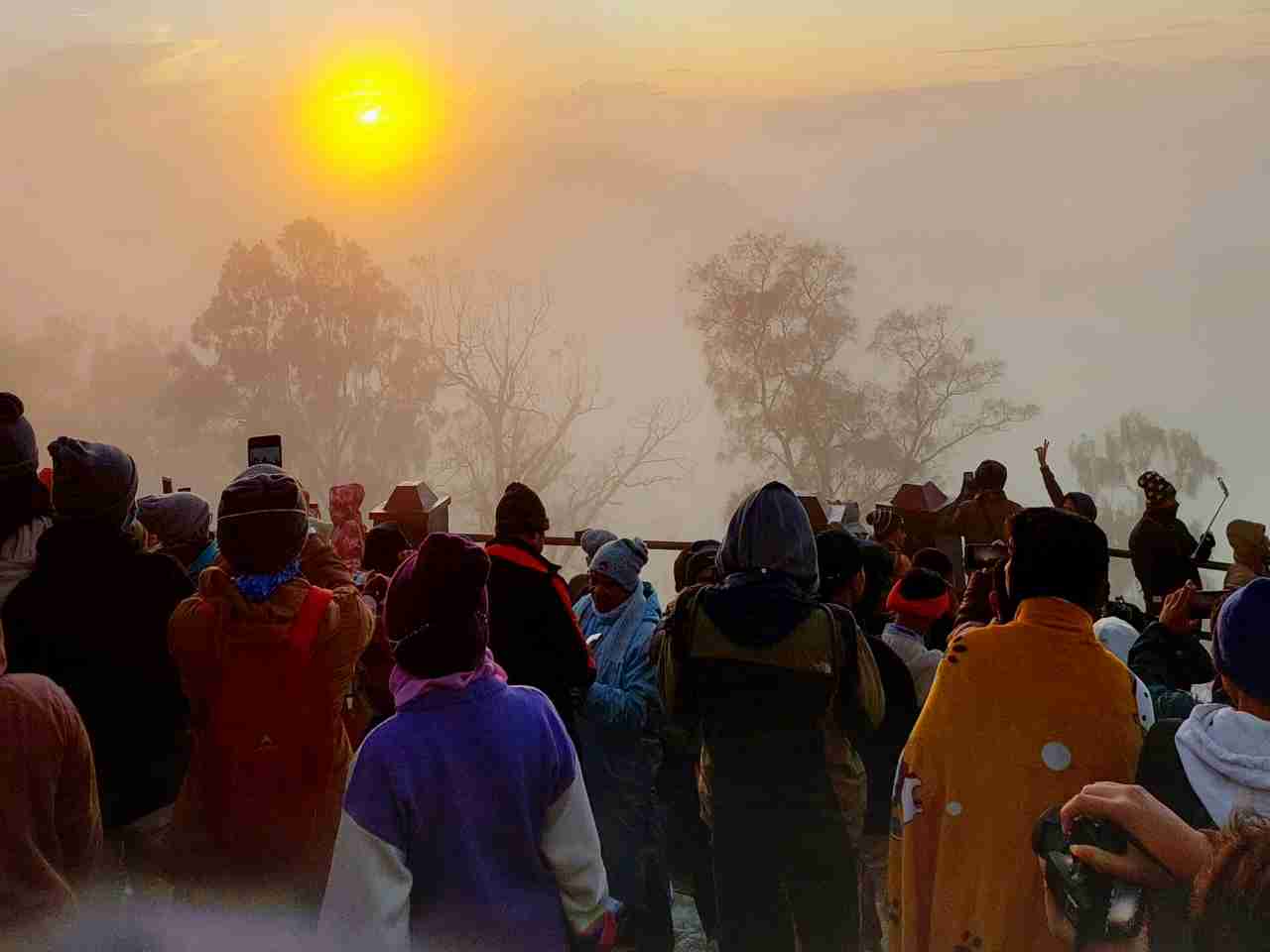 It does not erupt that much, and when it does, it is not fatal. The country's Center of Volcanology and Geological Hazard Mitigation keeps a constant eye on it. The last eruption occurred in 2015, resulting in the closure of the area for months. And not quite much volcanic activity ever since.
Mount Bromo Entrance Fee
The entrance fee for foreign tourists is Rp220.000 on weekdays and Rp320.000 on weekends. A jeep tour for 4 spots will cost Rp600.000 to Rp1.000.000 for 5-6 people. It depends on the negotiation skill. Traveling with a group or sharing with a fellow traveler on the spot to save cost. During peak season, visitors will have to bargain harder or end at an expansive price.
Mount Bromo National Park Entrance Fee
Weekday
Rp220.000
Weekend
Rp320.000
Jeep Rent
Rp600.000 to Rp 1.000.000
Horse Ride
Rp75.000 – Rp100.000/1 way
See: Tumpak Sewu Waterfall, Extreme Track & Magnificent View.
Mount Bromo Opening Hours
Vacationers can visit anytime as Bromo National Park is open 24 hours. Hence, everyone can experience Mount Bromo at any time of the day, or night. It allows sunrise hunters to standby around the top of Bromo hours before. Sunset hunters can make their way back to the hotels much later after 6 PM.
Mount Bromo Opening Hours
Everyday
Open 24 Hours
See: All About Coban Rondo Forest & Waterfall Malang.
Mount Bromo Myths and Mysticism
The superstitious locals have their own interpretation of the origin of Mount Bromo. Legend has it that a childless couple Joko Seger and Roro Anteng prayed for offspring. They prayed to the deities of the mountains and one day their wish came true. Roro Anteng was pregnant and gave birth to 25 children as the years went by.
However, the gods wanted to have their 25th kid, Raden Kusuma, join them. In other words, the gods required a human sacrifice of the couple's flesh and blood. It was a heartbreaking deal and they did not want to give up Kusuma. The family then fled and hid their last child somewhere away from Bromo's crater.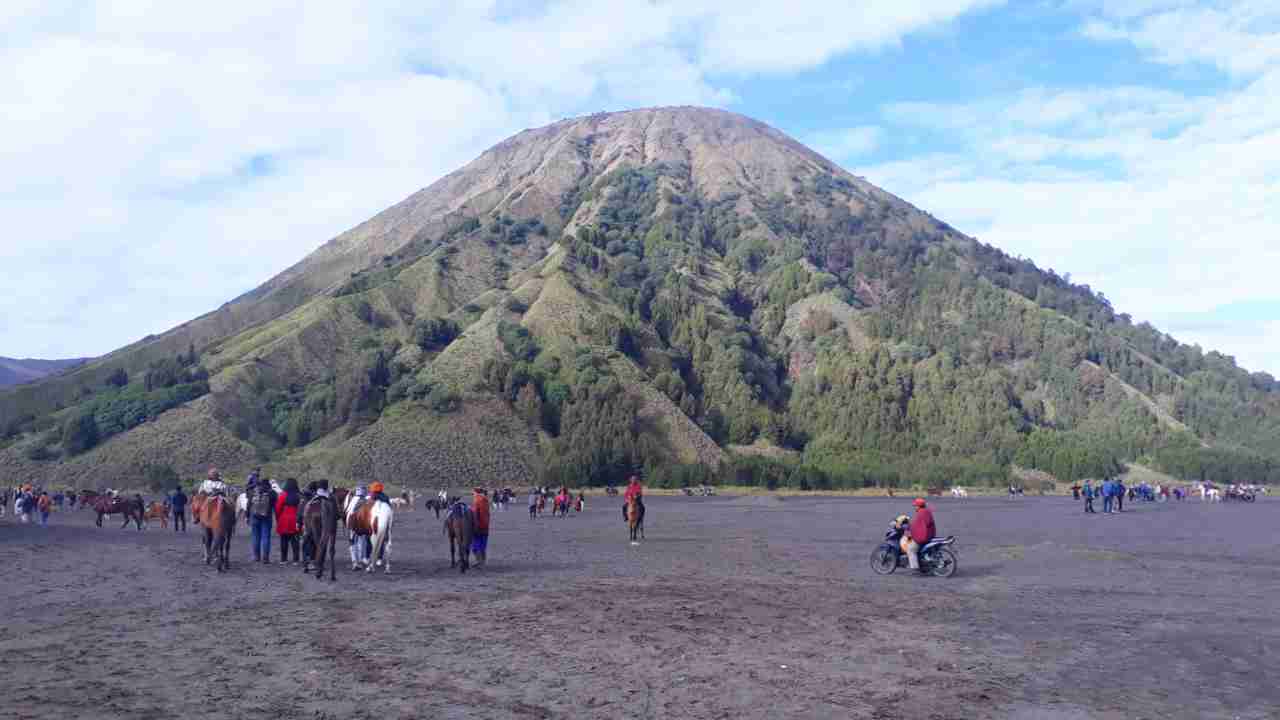 No one surely could ever fool gods and soon they found the escapees. Furious, the deities reached out their fiery hand, made of the volcano's flame, for Kusuma. They snatched away his small body and dragged him alive into Bromo's crater. His parents and 24 siblings were crying and devastated—they had lost the boy.
The Myth Ending
Amidst their sobs, the torn family heard Kusuma's voice preaching from inside the crater. He told them he was happy to sacrifice himself for the sake of the family. Tells his brothers and sisters to love and take care of each other. And asked them to give him offerings of food and natural goods once a year.
It seems that Bromo's folklores revolve around the sad-romantic couple Joko and Roro. Tenggerese tribe, natives residing around the mountains, have their own theory of the name "Tengger". They believe that Tengger is derived from the couple's names: Anteng + Seger = Tengger.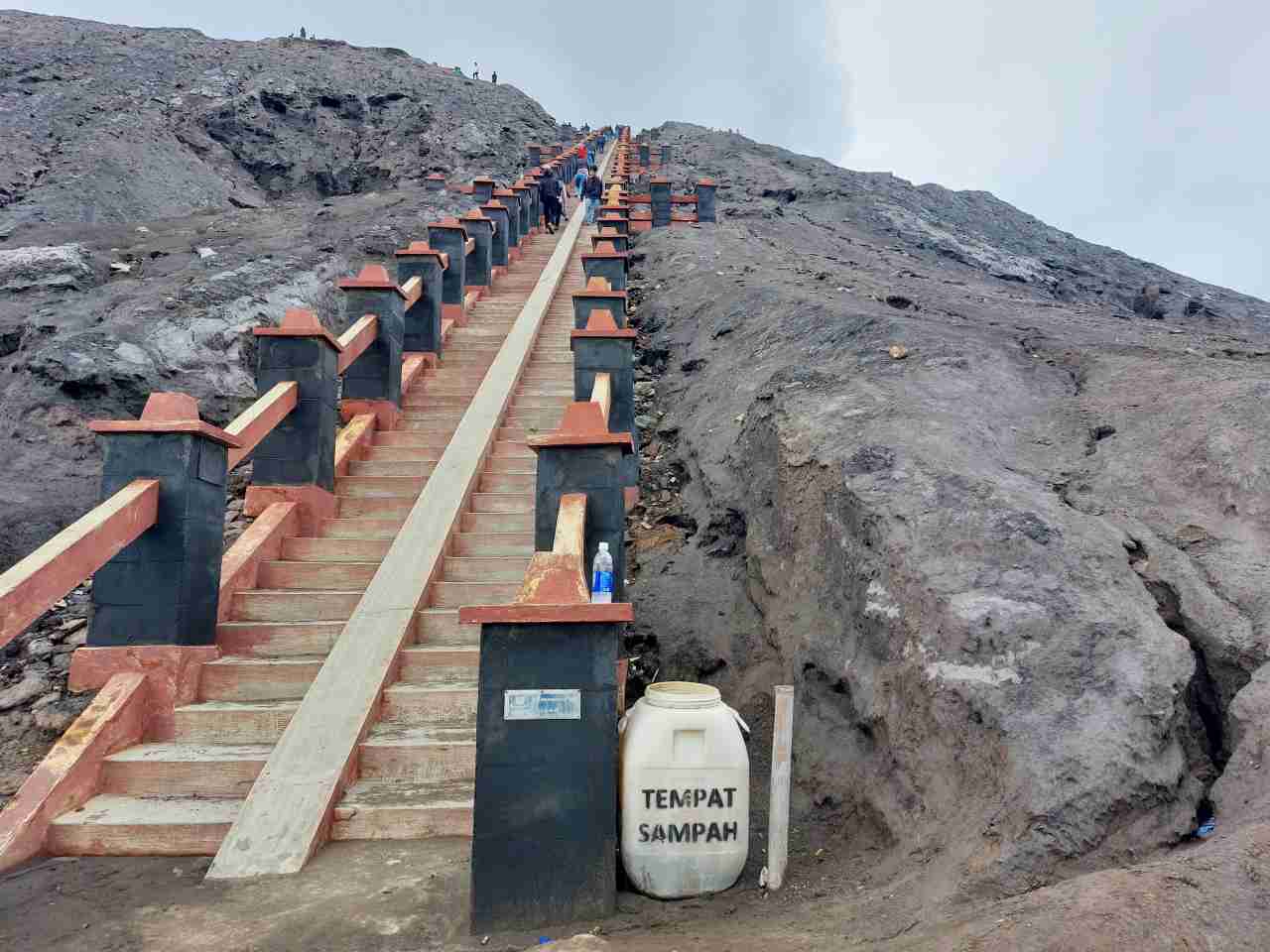 Another belief says that Tengger actually reflects the tribe's way of life "Tenggering Budi Luhur". In English, it means "High Morals"—something that the people hold true to their hearts. The mythical sacrifice of Raden Kusuma led to a traditional religious ceremony Yadnya Kasada.
Pura Luhur Poten temple
It is an annual, one-month-long event, in which Tenggerese people commemorate Kusuma's altruism. On the 14th day of the Javanese month Kasada, they gather at Pura Luhur Poten temple. They pray together for wealth and health at the temple near Mount Bromo's crater. Later, they march to the crater and toss some offerings like livestock, food, and even money.
The show does not stop there though as things are about to get more intense. Some locals attempt to climb down the crater to regain the sacrificed objects. They believe that by doing so, they will be blessed with fortune and luck. No matter how risky that is, they apparently are willing to tease death.
Although tourists cannot enter the temple, they can see Pura Luhur Poten from the outside. The ancient Majapahit aura surrounds the temple located at the ocean of sand Segara Wedi.
Penanjakan Sunrise Viewpoint
Penanjakan is the famous and most crowded spot with so many sunrise hunters. A jeep tour will make the first stop at Penanjakan viewpoint. Despite the overcrowded visitors, Penanjakan is the best sunrise sight spot. Experience a low temperature while waiting for the golden sunrise.
Not a morning person, avoid the crowd and come to see Mount Bromo and Batok after 7 AM. Because the best sunrise view relies so much on the weather, sometimes the sunrise hunter gets disappointed too. When a thick fog thwarts the entire effort in experiencing the golden view including waking up early. Arriving after 7 also means less crowd as most people go down to see the crater.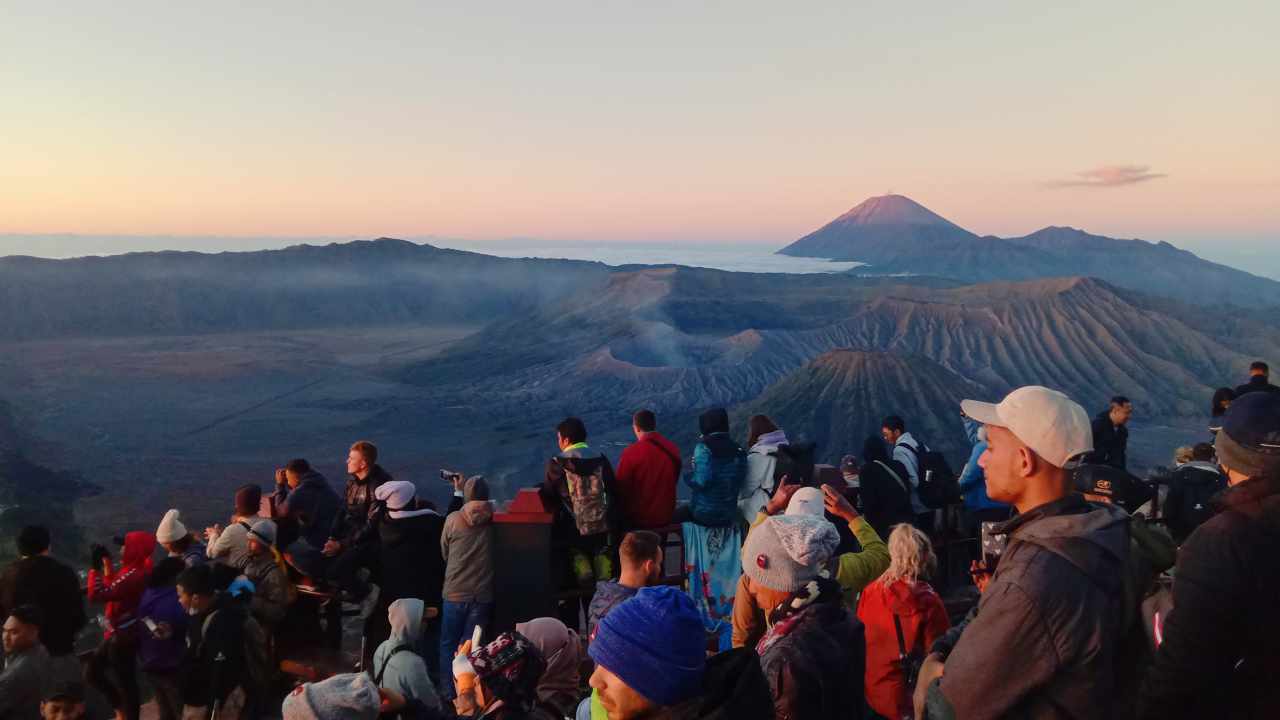 Mount Bromo Crater
After looking from the distance, get closer to the base of an active volcano. The jeep will wait 1 km away from the first stair-step to the crater of Mount Bromo. Not feeling too excited about doing the morning walk. A horse ride with an additional cost will escort tourists right to the base of the volcano.
From the base, prepare to climb hundred of stairs to see the smoking crater. The top of the rim will definitely be full of hundreds of people. A narrow edge and broken safety rail surround the crater. Be careful and walk safely and carry at least a bottle of water.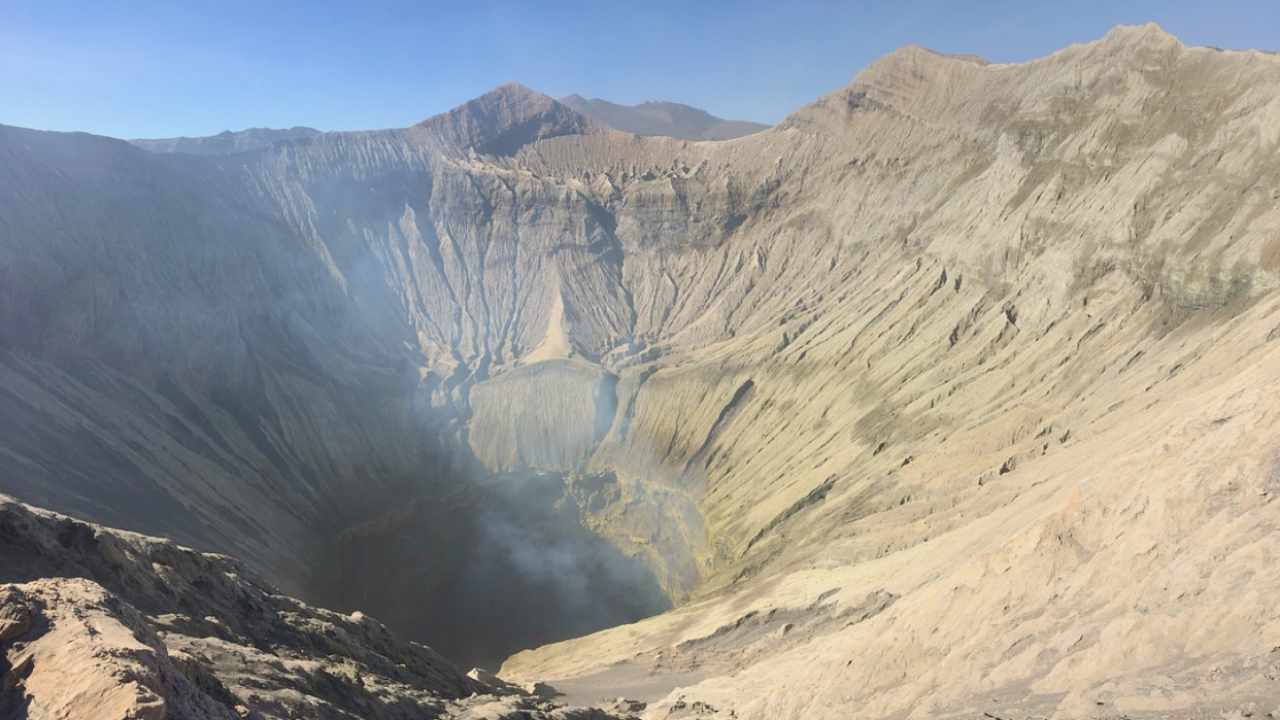 Sea of Sands (Pasir Berbisik)
Another beauty comes in the form of a spacious landscape blanketed with sand, Segara Wedi. It has no vegetation or any type of plant but grass and shrubs. The desert is so wide that up to the horizon, it is nothing but sand. This grey magnificent spot was the setting of the Indonesian drama "Pasir Berbisik" (Whispering Sand).
The Trio Lake
Bromo Tengger Semeru National Park also offers a trio of picturesque lakes (local: Ranu). They are Ranu Pane, Ranu Regulo, and Ranu Kumbolo which are situated in Panupane village. The village itself is still around the mountainous area, close to Bromo and Semeru. Mountaineers can start their hiking route from one of these three lakes as well.
They may be different in size, but each has its undeniably captivating charm. Ranu Pane is about one-hectare wide while Ranu Regulo covers 0.75 hectares. Both are 2,200 meters above sea level with thousands of pines and tall trees around. Given the altitude, the temperature can drop to as low as -4° celsius.
However, it is hard to stop admiring their mirror-like surfaces with rolls of mist hovering above. Ranu Kumbolo is the biggest one and is located slightly higher than the two. At 2,390 meters above sea level, this lake expands to eight hectares. The water is indeed colder but it is very safe to drink and consume.
Dozens of colorful tents along Kumbolo's shore are like joyful decor around this reflective lake. Hundreds of wooly, yellowish-white, Edelweiss make the atmosphere lit up with numerous hues.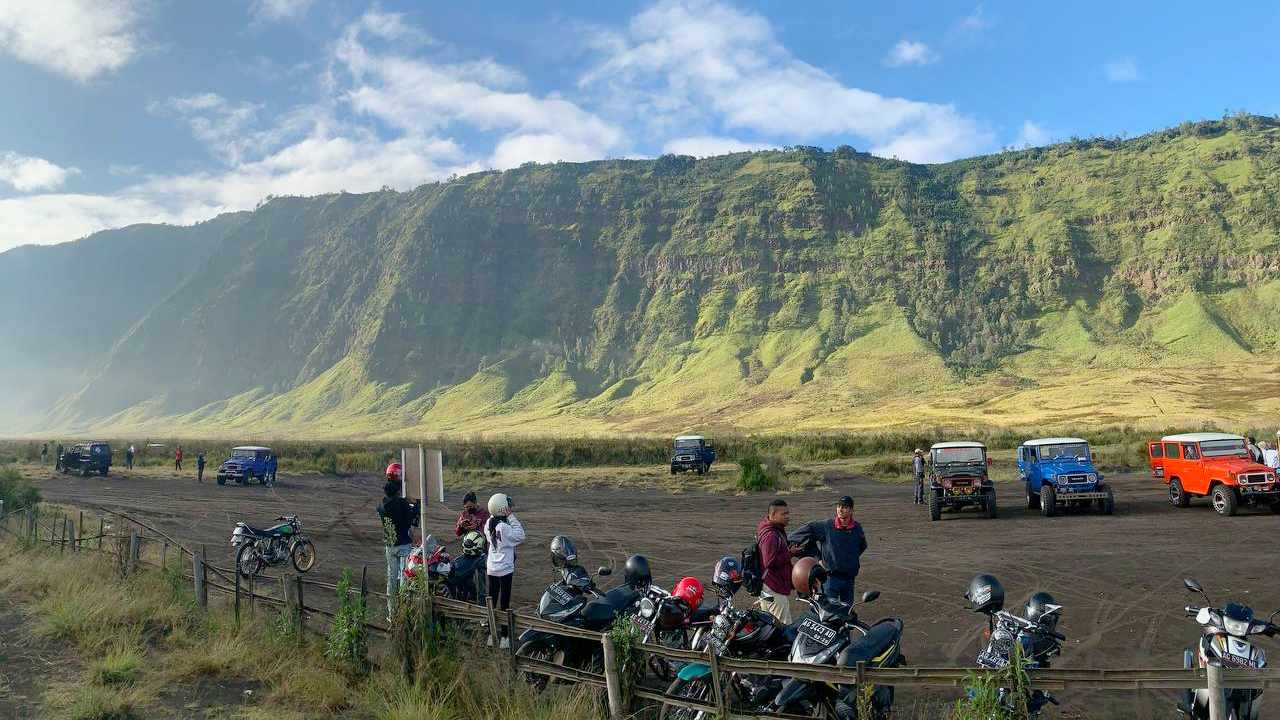 Facilities
Hotels, restaurants, and small eateries of various prices are available at Bromo's lower sides. Near and at the top of the mountain there are completely none though. It has to be this way to keep the environment unharmed from any man-made construction.
However, there are a few people selling cups of noodles and hot coffee near the top. Visitors can rely on them for some quick in-between meals or hot drinks. Tourists can get to the top and the surrounding objects by jeeps rented by locals. One jeep (including fuel, and driver) could cost 1 million per day, very expensive indeed.
See: Surabaya Airport Guide & Transportation
How To Get To Mount Bromo
Start the adventure from Malang city as it takes roughly 2.5 hours to Mount Bromo. A tour package will mostly cost Rp 600.000 to 700.000 per person from Malang. That includes a private car and exchange transportation mode to a jeep. Pick up and drop off from and to the hotel in Malang.
To avoid waking up at midnight, then staying overnight in the village of Bromo is the best option. If in the past going to Bromo is expensive and required a private rental car. Now, public transportation is available to deliver tourists to Bromo national park.
From Surabaya, the Damri bus to Bromo National Park departs from several bus stations and train stations. And the bus fare from any point in Surabaya to Bromo is Rp50.000 for a one-way trip. While from Malang to Bromo National Park, the bus fare is Rp30.000 for a one-way trip.
See: Tourists SIM Card, Internet Package & Price.
Bus To Bromo National Park Time Table
From Surabaya, there are 3 departure points, Pasarturi train station, and Gubeng train station. And last Bungurasih bus terminal. The earliest departure is from Pasarturi train station at 05:30 AM. And from Sukapura Bromo to Surabaya the bus departs at 7 AM and 1 PM.
Surabaya To Sukapura Bromo National Park
Pasarturi
05:30 & 17:15
Gubeng train station
06:45 & 18:25
Bungurasih bus terminal
08:00 & 19:30
While from Malang city there is only 2 departure point, from Malang train station and Damri pool bus. The first departure is at 7:30 AM from the train station. And from Bromo, the bus that departs for Malang is at 07:30 and 13:30.
Malang To Tosari/Wonokitri Bromo National Park
Malang train station
07:30 & 16:00
Pool Damri bus
08:00 & 13:00
See: Coban Pelangi Waterfall, Top Activities & Ticket.
Address & Location
Bromo Tengger National Park is located in Gn. Bromo area, Podokoyo, Tosari, Pasuruan district, East Java 67254.