Tumpak Sewu Waterfall
Entrance Fee: Rp20.000
Opening Hours: 08:00 - 17:00 WIB
Telp. Number:
Address: Desa Sidomulyo, Sidomulyo , Pronojiwo , Lumajang , Jawa Timur, Indonesia , 67374.
Lumajang might not be as famous as the neighboring big urban cities Malang and Surabaya. However, this regency in East Java has stolen the spotlight with its Tumpak Sewu Waterfall. Both national and international tourists have raced to these waterfalls that plunge from 120 meters.
The water source comes from the majestic Mount Semeru that travels down to the Glidih River. The river then channels the water to Tumpak Sewu, the well-guarded treasure of Sidomulyo village. Locals call this smaller version of Indonesia's Niagara Coban Sewu Waterfall.
The two have sewu at the end, which means a thousand in Javanese. This refers to the numerous cascades that go into free fall at the same time. Thus, they together create a thousand waterfalls, Tumpak Sewu, which covers the steep cliff sides. The distance between the main entrance and the waterfall is roughly 100 meters.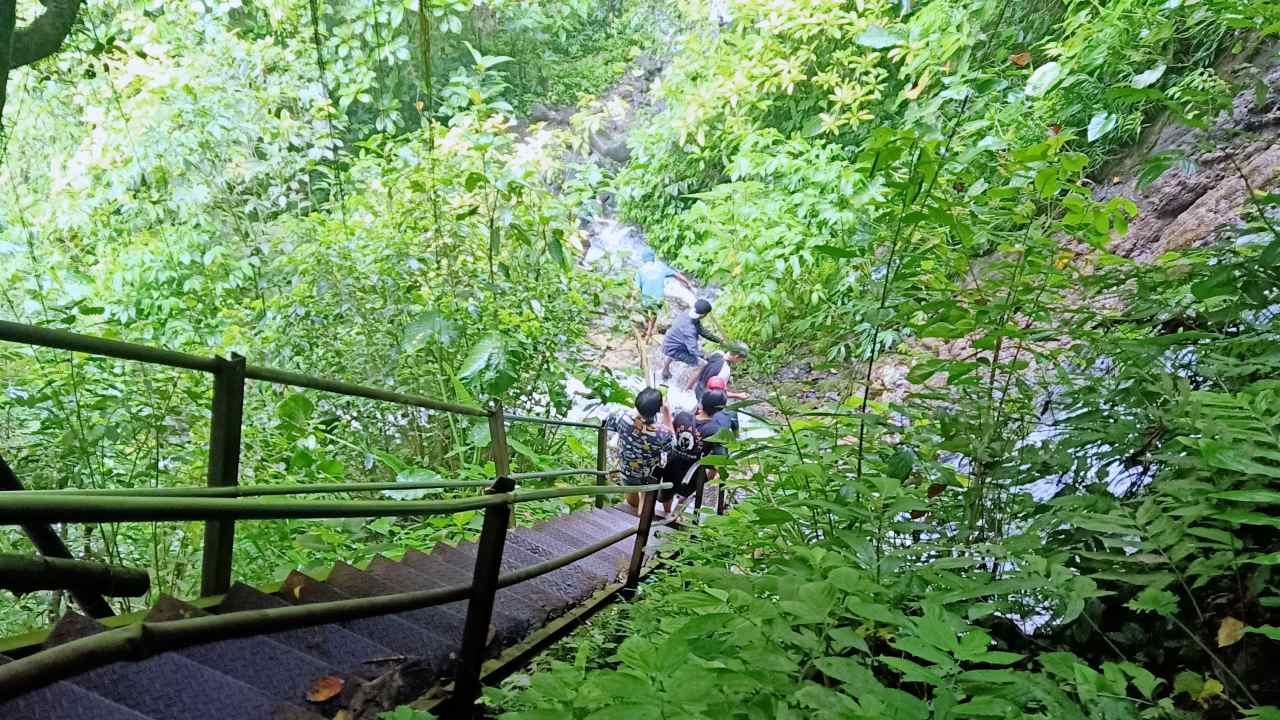 Hundreds of snake-skin fruit trees greet the explorers with a narrow path in the middle. Soon, they will see the daunting track to get to the waterfalls. Visitors have to conquer lots of rickety bamboo staircases that stretch 800 meters long. This nerve-wracking trek pays off—Tumpak Sewu is waiting with its thousands of water curtains.
Tumpak Sewu Waterfall Entrance Fee
Both local and international tourists will have to pay the same price to explore the waterfall and cave. Tickets to see the waterfall from the panorama viewpoint cost Rp20,000. Visitors will have to pay another Rp20,000 to see the waterfall from the bottom and another Rp10,000 for the cave ticket.
Tumpak Sewu Waterfall Entrance Fee
Waterfall
Rp20.000
Cave
Rp10.000
Observation deck
Rp20.000
See: Madakaripura Waterfall Guide & Bromo National Park.
Tumpak Sewu Waterfall Opening Hours
Tumpak Sewu is open every day from 8 AM to 5 PM. Remember that vacationers can visit the bottom of the valley before 3 PM. The day can turn dark soon—it is best not to come after 3 PM. It's best to come early so there is plenty of time to explore the waterfall and the cave.
Tumpak Sewu Waterfall Opening Hours
Monday – Sunday
08:00 – 17:00 WIB
See: Guide To Explore Mount Bromo & Volcano Crater.
"Toddler" Waterfall
Tumpak Sewu is actually the newest addition of natural attractions in Sidomulyo Village, Lumajang. It is only three years old as it was officially open for tourists in 2015. That is why not so many tourists know about it as it is relatively new. However, the words about these grand, newly discovered, waterfalls spread rapidly like fire in the bushes.
This is the place to experience the feeling of being surrounded by thousands of waterfalls. Years ago, a local Abdul Karim felt moved to improve the village's economy. Since Sidomulyo has much untapped natural potential, he decided to focus on it. The man took a long time to find another hidden gem behind the dense forest.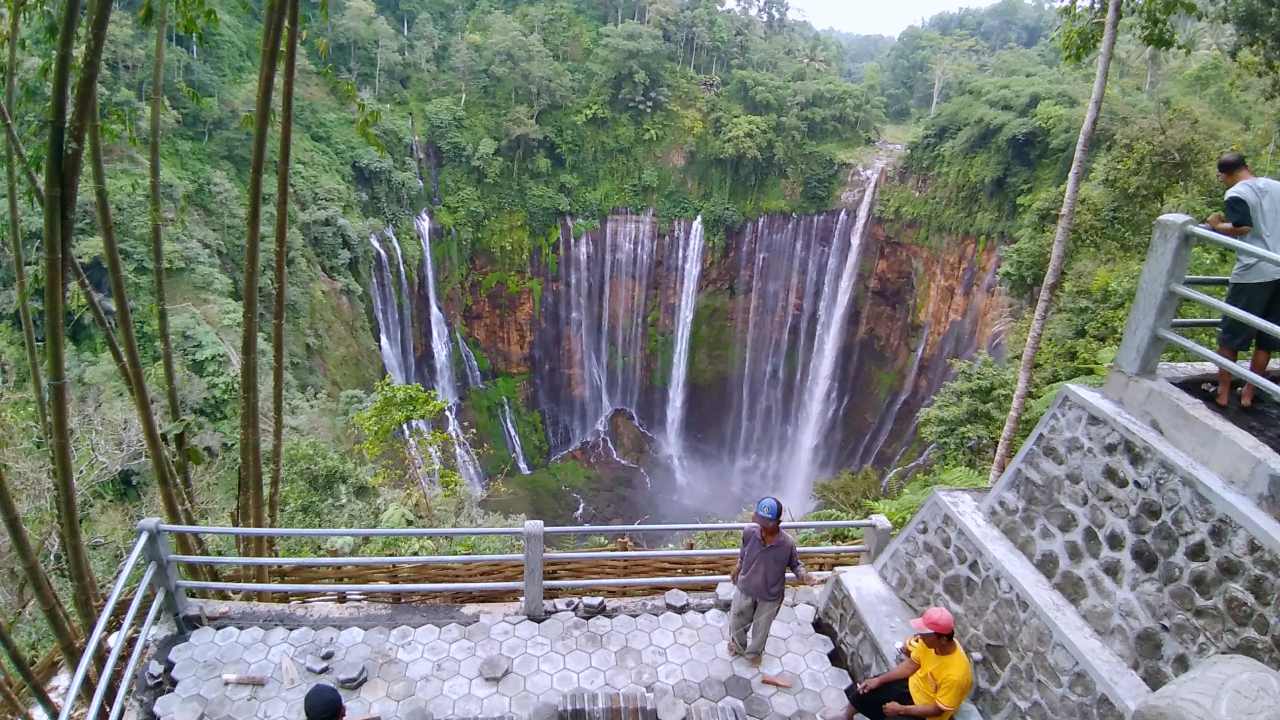 He found a round-shaped canyon with water gushing down on its sides from many directions. The moment he laid his eyes on it, he knew it was the "Holy Grail". Karim quickly snapped pictures of the then-unnamed waterfalls and showed them to the community. He told them they could run this watery site together to improve their income.
It was not easy to get the majority's approval as most villagers resisted. But, after a while, they approved and started managing the waterfalls together with Karim. According to Karim, there are several reasons why they call it Tumpak Sewu Waterfall.
Tumpak means Saturday in classic Javanese while Sewu, as mentioned before, means thousands. They officially launched it on a sunny afternoon on Friday, March 13, 2015. Based on the Javanese calendar, it was Saturday already, so they named it tumpak instead.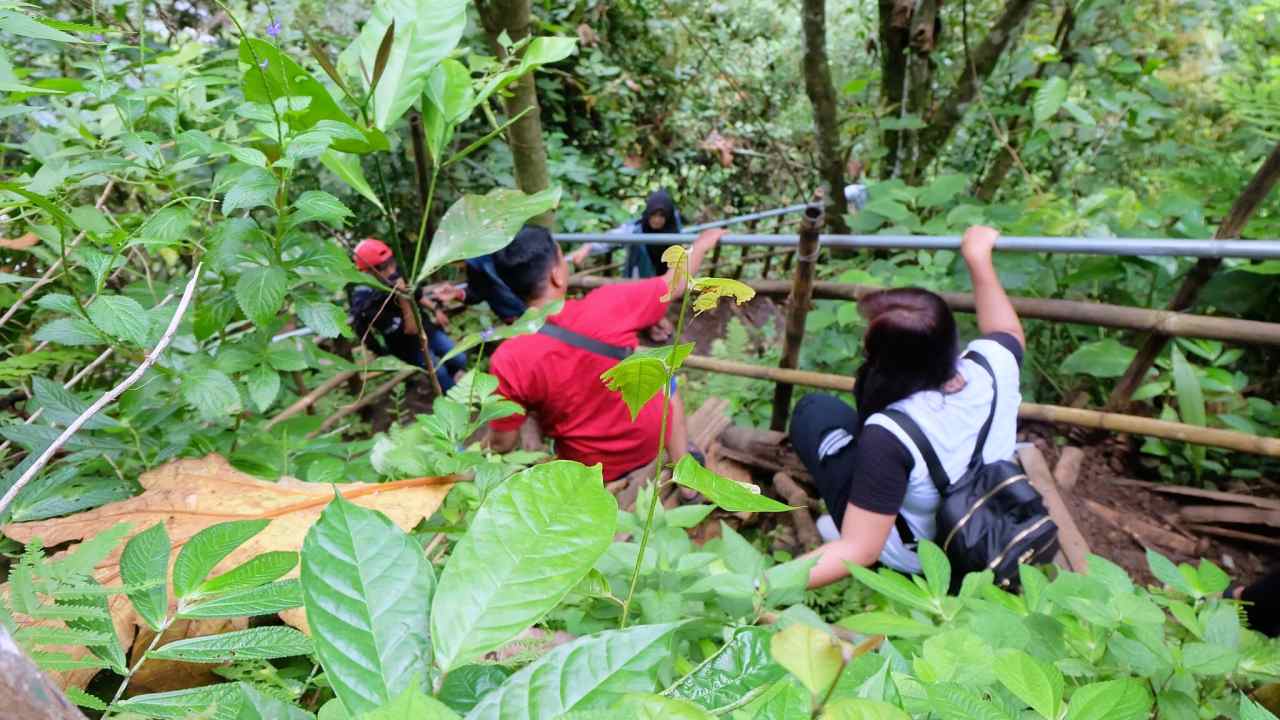 Physically Demanding, Emotionally Satisfying
Taking on 800 meters of bamboo staircases is definitely not an easy task. Deep, steep, almost vertical rocky gorges flank the staircases—one wrong step, and everything ends. The staircases copy the contour of the hilly terrain, so it goes up and down.
Many staircases and banisters have been rotten or completely destroyed as they are not permanent. Adventurers, therefore, have to hold onto a thin rope to help balance the body.
The Panorama Post
This is the perfect spot to admire the magnificent Tumpak Sewu Waterfall from above. It provides an aerial view of the waterfalls, including the almost round-shaped of its ravine. At a glance, it resembles the movie sets of Tomb Rider or Indiana Jones.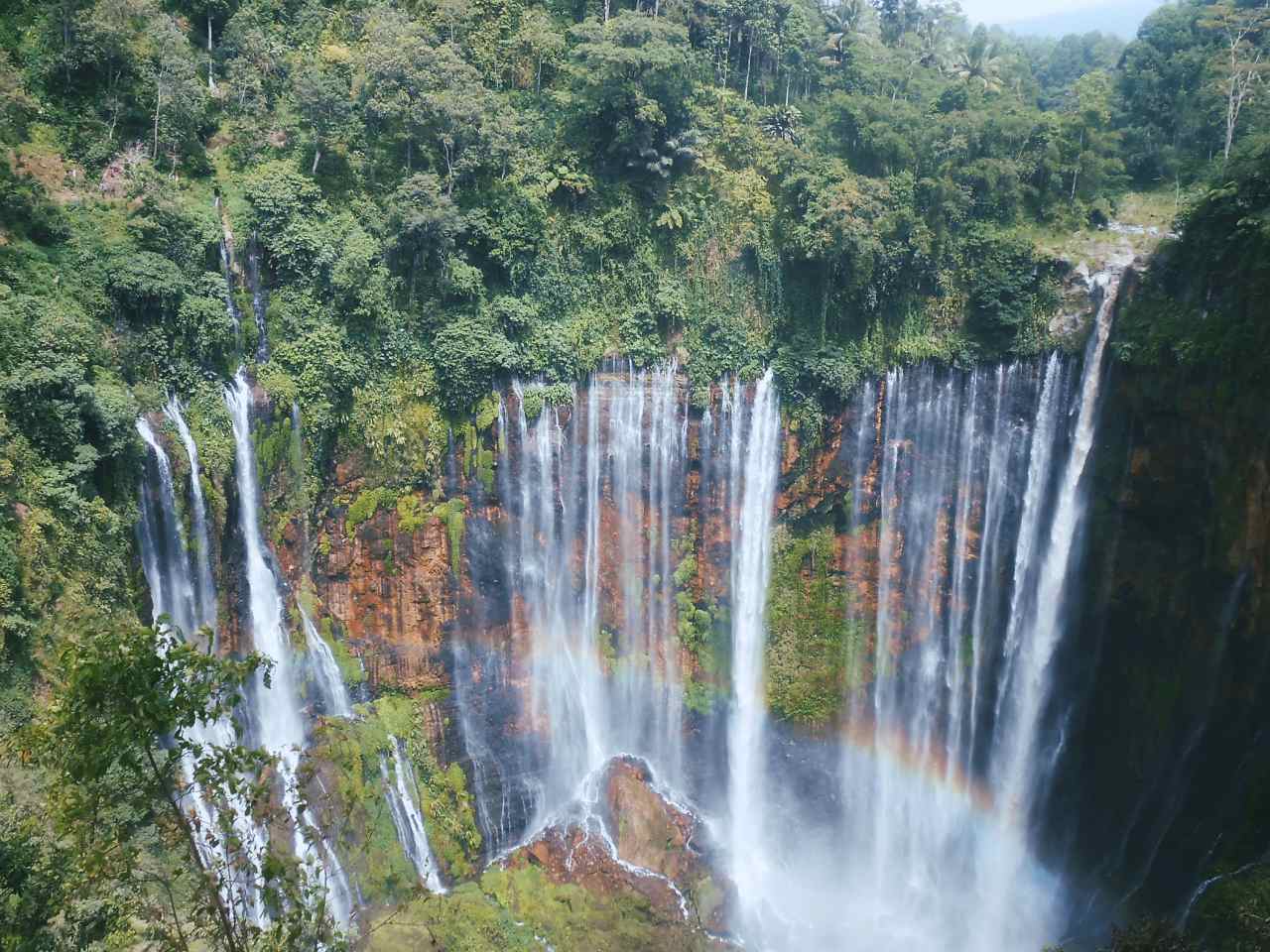 Imagine an enormous, deep, "hole" in a tropical jungle with water running down the sides. Back then, there is only some bamboo structure fences in the Panorama Post to keep anyone from falling. It's fragile, but now it's better, the ground is made of concrete with an iron fence.
Here, hours just pass by as many love to stick around enjoying the sight. On a sunny bright day, visitors can see Mount Semeru peeking at the back. Tumpak Sewu Waterfall is still stunning under the dark gray sky though, it even looks mystical. To complete the whole journey, why not go down to the valley and get wet? A trip to a Tumpak Sewu waterfall should be soaking as that is the fun part.
Extremely Dangerous Track
Keep in mind that the track to the bottom of Tumpak Sewu Waterfall is extremely dangerous. It is much harder than the previous route leading to the Panorama post. If tourists step on an unsteady rock or get tripped, it can cost their lives. As for adrenaline junkies, this kind of ordeal might be a fun challenge for them.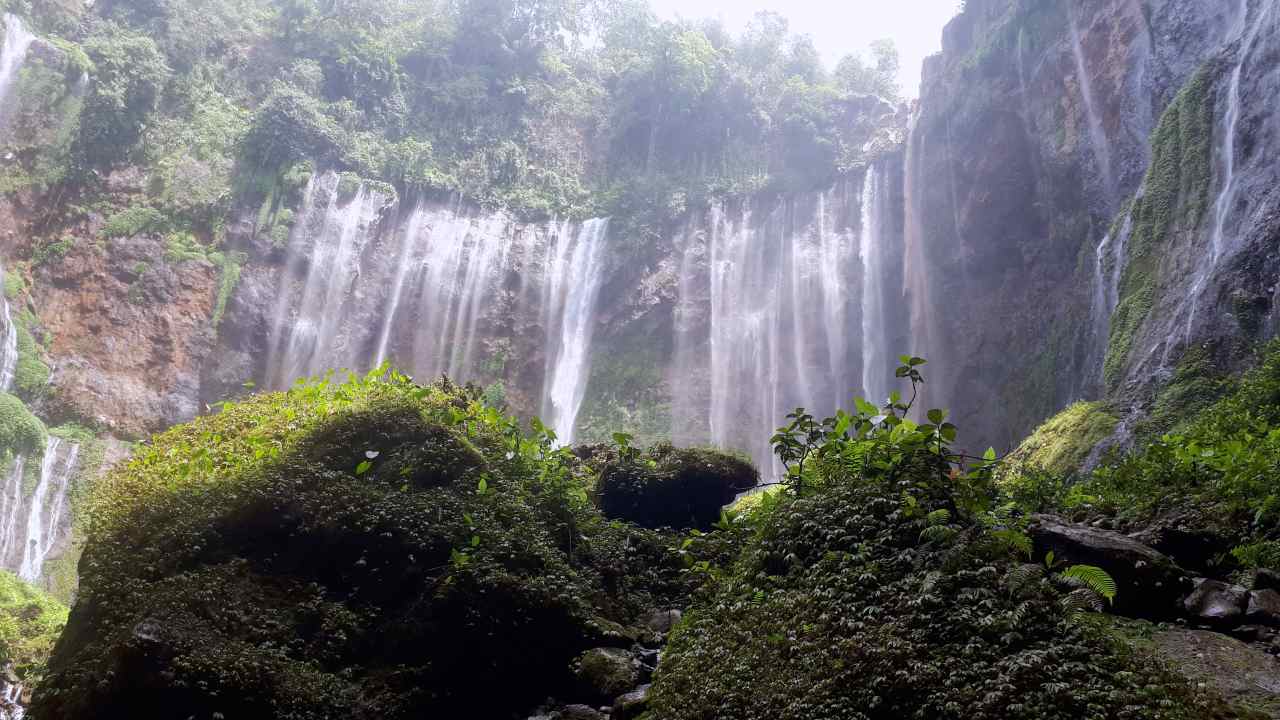 From Panorama Post, it takes about a painstaking 500-meter walk to the valley below. Massive unstable rocks, slippery moss, and blood-sucking leeches are some obstacles to name a few. Sometimes, visitors have to climb down, or at least half-crawl, sharp rocky surfaces and walk against the strong currents of a shallow creek. The journey back and forth including exploring the waterfall would take 2 to 3 hours.
Finally, the moment everyone has been waiting (or fighting) has arrived. Like a marathon finish line, the waterfalls are like a prize for the weary wanderers. White lines of water, flowing down from hundreds of meters above, cover the slopes. Some waterfalls have more volume of water while others have less.
Therefore, some look bigger and wider whereas others appear to be smaller in size. Down here, Tumpak Sewu Waterfall is even more breathtaking than the previous view from Panorama Post. People tend to feel dwarfed and powerless witnessing lots of waterfalls that besiege them. Looking up, it feels like being "trapped" at the bottom of a huge well.
The uneven round upper edges of the canyon are very visible and decorated with viridian trees. There are no words just pure solemn silence in awe amidst the waterfalls' thunderous roars.
See: Guide To Explore Coban Rondo Forest & Waterfall, Malang.
Facilities
Restrooms, little mosques, and food kiosks are only available in the parking lot. So, people should bring their own food and water for this journey. Travelers must go with the guide all the time so they will not get lost. There is no fixed price for a guide, better negotiate first to have a deal.
Bear in mind that Tumpak Sewu or the Coban Sewu is far from safe. Concerning the most damaged staircases. That is why a guide and the physical fitness of the travelers themselves are very critical. Tired adventurers are welcome to spend the night at the locals' or guides' houses.
Some of them offer a complete package of the waterfalls trip and homestay. There is no information about how much it costs, so it is perhaps negotiable.
See: Indonesian SIM Card, Provider, Price & Coverage
How To Get To Tumpak Sewu Waterfall
Explorers can get to Tumpak Sewu from Malang or from Jember, East Java. Due to safety reasons, they had better drive from Jember for at least three hours. The route is Jember – Rambupuji – Balung – Kasiyan – Gumuk Mas – Kencong – Yosowilangun – Tempeh – Pasirian – Candipuro – Pronojiwo. In Pronojiwo, there will be a welcome sign of the site of the waterfall.
Even though it is more convenient to go by car, adventurers may consider public transportation. From Gadang Bus Terminal, Malang, hop on a bus to Lumajang via Dampit. Stop at Tumpak Sewu, not far from the border gate of Malang-Lumajang. Near the border, there is an alley with a sign that says Tumpak Sewu. March into the alley and after 200 meters, adventurers will see the waterfalls' entrance.
See: All About Surabaya Airport & Public Transport
Address & Location
Coban Sewu is located in Sidomulyo village, Pronojiwo, Lumajang district. East Java 67374.