Red Island Beach
Entrance Fee: Rp8.000
Opening Hours: 00:00 - 23:59 WIB
Telp. Number: -
Address: Jl. Pantai Pulau Merah , Sumberagung, Pesanggaran , Banyuwangi, Jawa Timur, Indonesia , 68488.
Other than Plengkung Beach or G-Land, East Java's Banyuwangi has another surf break. The Red Island Beach in Pesanggaran, Banyuwangi, has gained international popularity as well among surfers. The wave reaches at least two meters tall and 300 meters long.
Its soft yellow sand stretches to as long as three kilometers, surrounded by mangroves. This beach on the southern tip of Banyuwangi has more things to offer. There are lines of a mountain in the east and the blue sea in the west. When the sun sets, the sky will become a mix of various colors.
It slowly turns to violet as ribbons of golden and orange intertwine. A small island close to the shore gives an extra touch to the sunset. Locals call the island Pulau Merah or Red Island referring to its red soil. It's not obvious from the shore though given the distance and thick trees covering it.
The island itself is not flat at all as it has a 200-meter-tall hill. At low tide, every one can simply walk to the island, about 100 meters.
Red Island Beach Entrance Fee
The admission ticket is extremely cheap Rp10.000, the price is the same both for local and international tourists. The entrance ticket doesn't include a parking fee of Rp2.000 for a motorcycle and Rp5.000 for a car.
Red Island Beach Banywangi Entrance Fee
Foreign & Local
Rp10.000
Beach Umbrella
Rp20.000
See: Safari & Wildlife Watching at Alas Purwo National Park.
Red Island Beach Opening Hours
The ticket counter opens from 7 AM to 5 PM. Sunset hunters can stay a bit longer of course—watch for the rising tides. Red island visitors can come early or stay late. As the beach is 24 hours open.
Red Island Beach Opening Hours
Every day
Open 24 Hours
See: Ijen Crater Guide to Explore The Biggest Acidic Lake.
Red Island Beach The Surfers' Shrine
Surfers from around the globe have come a long way to ride the tides. Many even spend weeks pumping up their adrenaline on the surfing boards. The swells can climb up to more than three meters or even higher. The waves are sometimes less rough and more friendly though, suitable for novice surfers.
Thanks to its highly reputable surf break, the Banyuwangi government has an annual surfing competition here. This international event has drawn even more people especially surfers to Red Island Beach.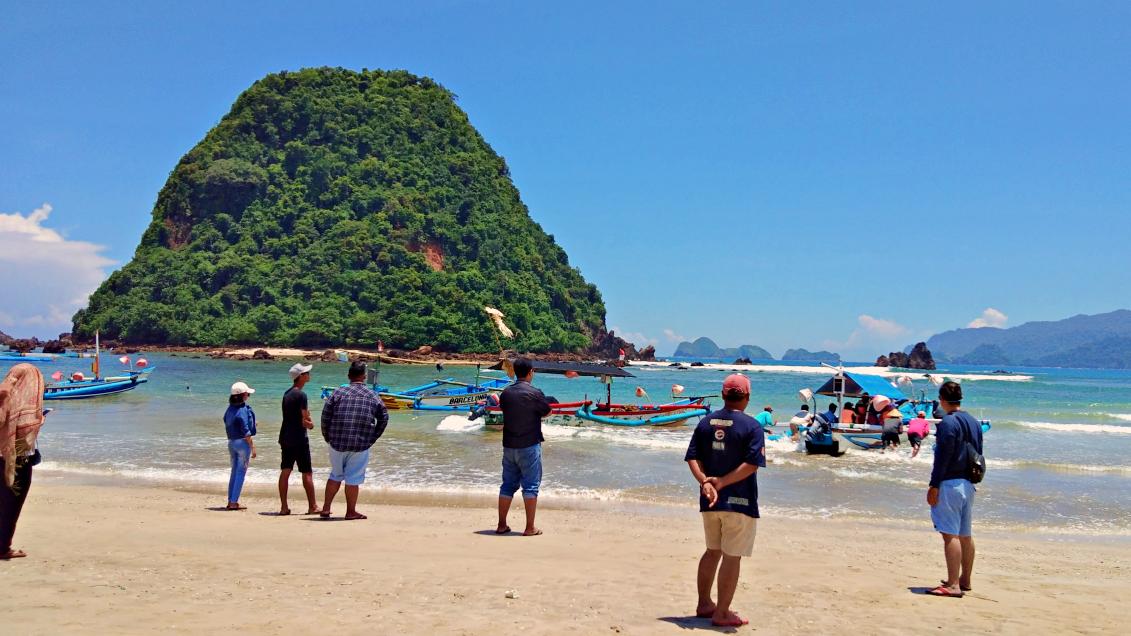 So far, as many as 20 countries join and compete every year for the trophy. Indonesia, as well as Germany, the US, Korea, Thailand, Venezuela, and more, have made the list.
Red Island Snorkeling Spot
In addition to its enchanting outer appearance, it is also blessed with rich marine diversity. Take a plunge with the snorkel and goggles on to witness such glory. Snorkeling is another favorite pastime of travelers coming to Red Island Beach. Locals rent some snorkeling gear as well, at a cheap affordable price.
Its neighbor Wedi Ireng Beach also owns a picturesque snorkeling site under its turquoise water. It is about five kilometers away from Red Island Beach and it is less crowded. If swimmers have some left energy after snorkeling at Red Island Beach, just come here. It is like having an underwater combo in two different amazing places at once.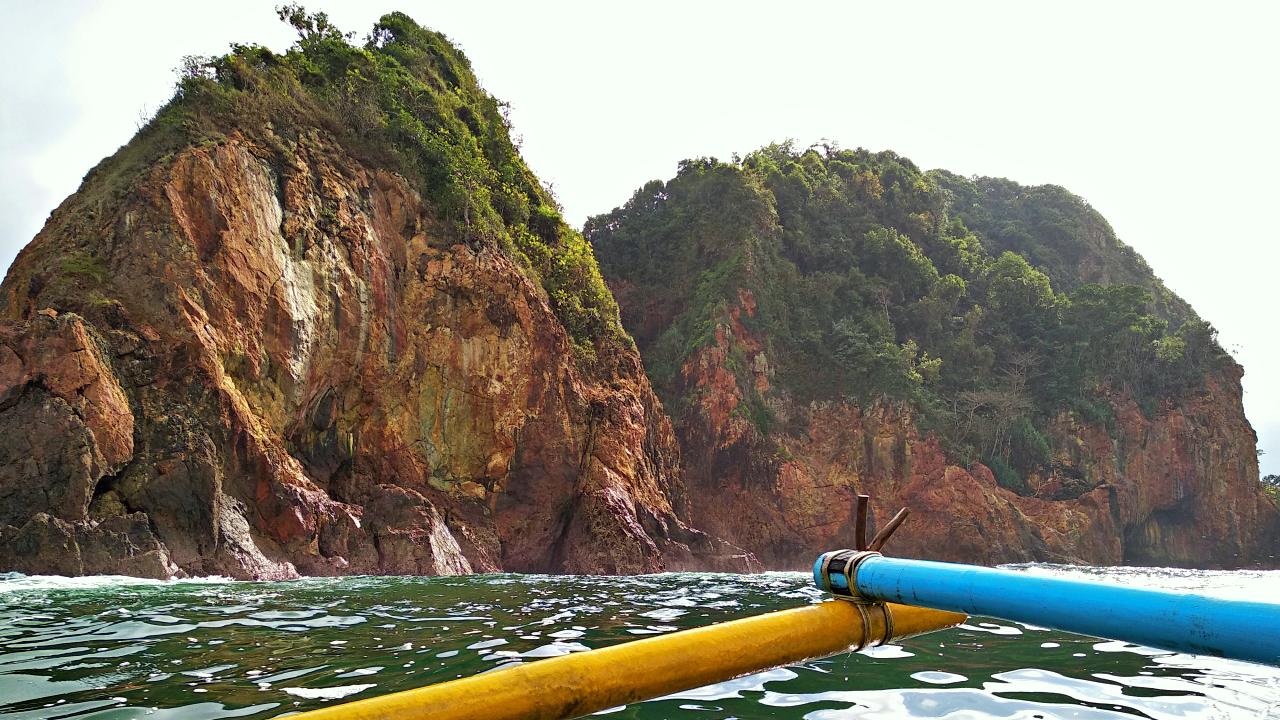 Go Fishing
Fishing fans will never regret their decision to come here in the first place. The Red Island Beach allows everyone to fish from its very shore, no boats are necessary. Just tightly grab the fishing pole and throw the fishing line as far as possible. Nonetheless, natives are kind enough to rent their boats at a varied yet affordable cost.
Segara Tawang Alun Temple
Back in the 1980s, the Hindu community built a house of worship, Pura Segara Tawang Alun. The temple is nothing like Balinese temples with their distinctive red bricks. This religious site is completely gray as it was made of gray bricks.
Dozens of sturdy coconut trees add a tropical ambiance to the holy place. When a fierce tsunami struck the area in 1994, the temple was partially destroyed.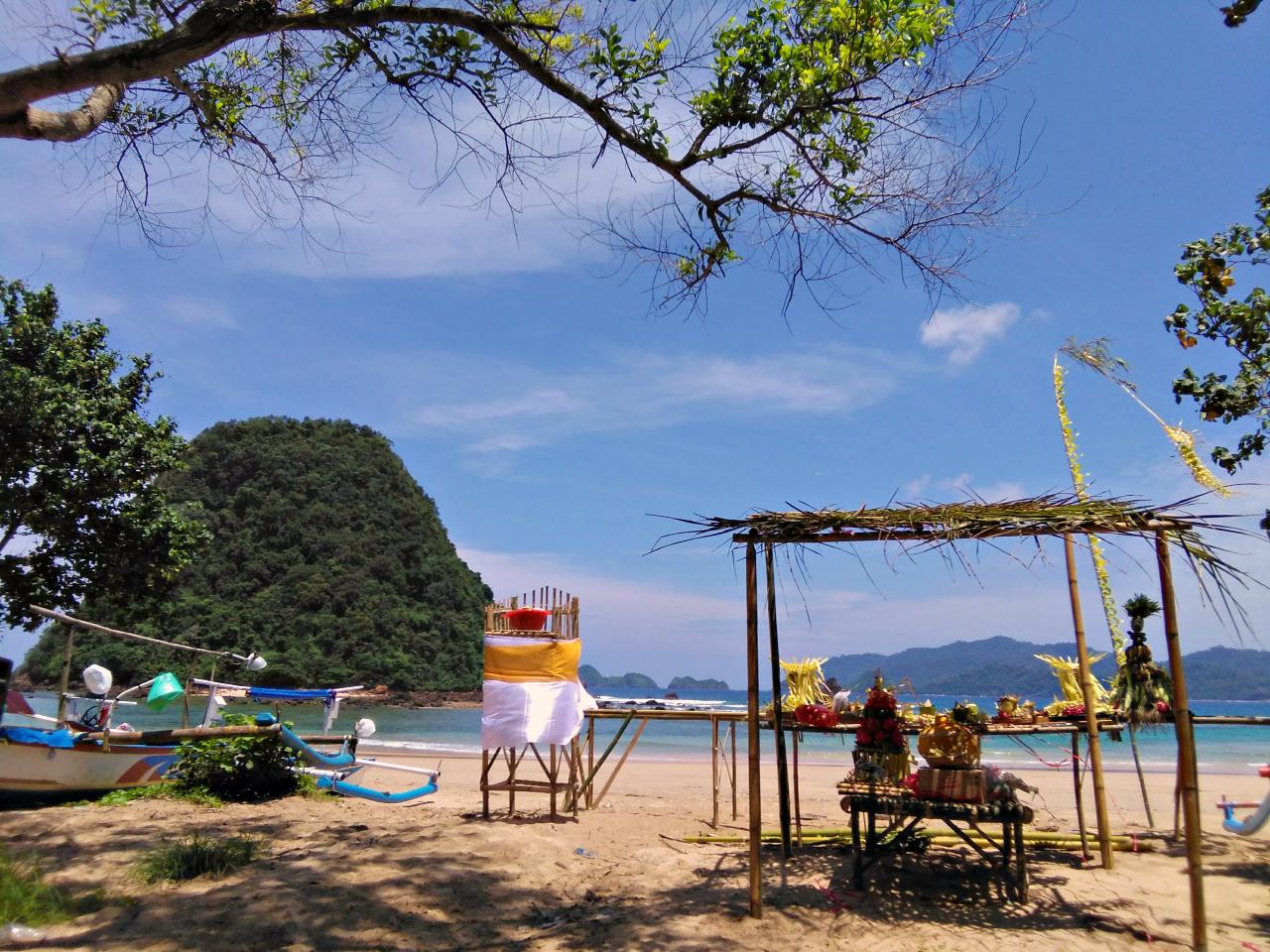 Indigenous Delights
Complete the whole experience with some local dishes sold at the kiosks along the coastline. There are light street food and hearty wholesome meals, the choices are endless. The star of the show is surely the traditional cuisine only found in the region. Rock the taste buds with Rujak Soto, Pecel Rawon, Sego Cawuk, Nasi Tempong, Jangan Kesrut.
Rujak Soto combines traditional salad rujak with beef tripe soup soto babat. Pecel Rawon offers rice with vegetables and peanut sauce along with beef black nut stew. Sego Cawuk is rice with a coconut milk soup, beef jerky, and steamed fish.
Nasi Tempong mixes rice with fried dishes (tofu, eggplant, salty fish) and chili condiment sambal. Jangan Kesrut consists of rice and a hot spicy soup of beef chunks.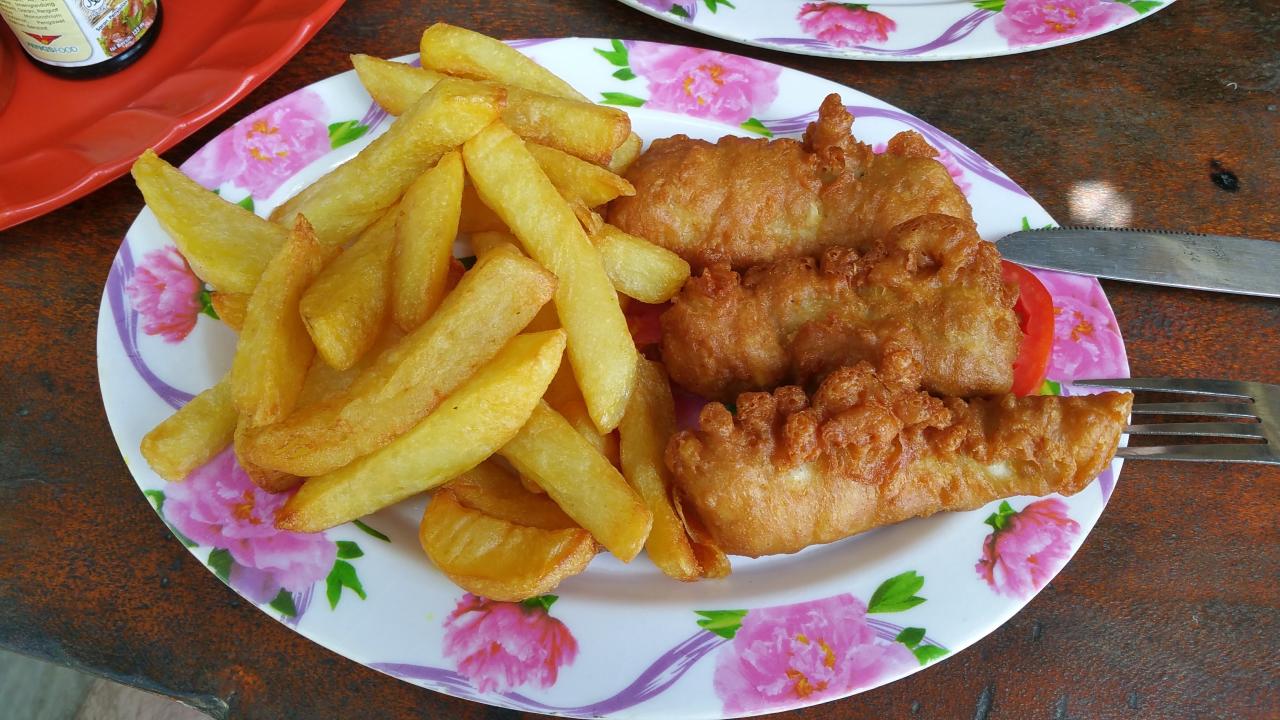 Facilities
Travelers interested to give surfing a try can rent a surfing board here. The price is Rp70.000 for the board only and Rp150.000 for the instructor. No need to fear starving—there are dozens of food stalls along the shoreline.
Hotels and bungalows are available for vacationers wanting to spend the night(s). Each offers different prices, but one room generally costs at least Rp100.000 per night.
See: Indonesian Tourist SIM Card, Price & Provider.
How to Get To Pulau Merah Beach
The bus is the perfect choice of public transportation to get to Red Island Beach. From Jajag, the bus terminal in Banyuwangi, take a minibus leaving for Pesanggaran. Stop at Pesanggaran Bus Terminal and get a motorcycle taxi ojek directly to the beach. The whole journey will take approximately 1.5 hours up to two hours.
As for visitors going by car, start the road trip from East Java's capital Surabaya. The route is Surabaya, Sidoarjo, Pasuruan, Bayeman, Probolinggo, Jember, Krikilan, Genteng, Kesilir, Pulau Merah Beach. This is a long-distance trip, more than 300 kilometers, and can take seven hours. However, the sceneries of the modest traditional villages along the way really please the eyes.
Address & Location
Red island beach is located in Jl. Pantai Pulau Merah, Sumberagung village, Banyuwangi, East Java 68488.