Green Bay Banyuwangi
Entrance Fee: Free Entry
Opening Hours: 07:00 - 16:30
Telp. Number: -
Address: Dusun Krajan, Sarongan , Pesanggaran , Banyuwangi , Jawa Timur , Indonesia , 68488.
Not merely a stopping place before crossing to Bali. Banyuwangi also has astonishing beaches comparable to those in Bali. The Green Bay Banyuwangi or Teluk Hijau is one of these beaches. Located at Sarongan village, Pesanggrahan, the bay is around 90 kilometers from downtown Banyuwangi.
As declared by its name, Teluk Hijau Banyuwangi's characteristic is its breathtaking turquoise water. Green Bay is located at Meru Betiri National Park. The national park itself is known as the last habitat of the now-extinct Javan tiger (Panthera tigris sondaica).
At present, the park focuses on turtle conservation. Beaches at Meru Betiri are nesting grounds. For the species of leatherback turtles, green turtles, and hawksbill turtles. The beach location is inside a national park and makes Green Bay have many interesting spots. 20 meters from Green Bay, there's a waterfall called Bidadari waterfall.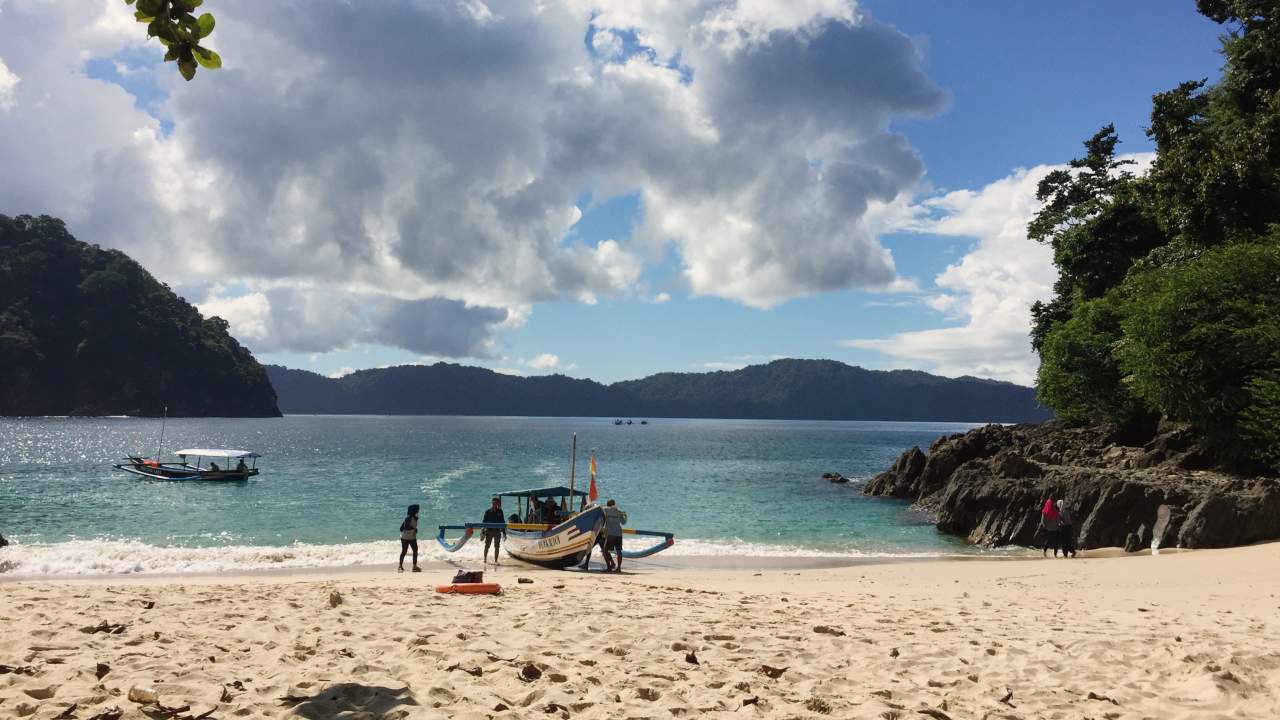 Other beaches such as Batu beach and Rajegwesi add up to the list of must-go after Green Bay. Visitors interested in turtles sightseeing can go even deeper into Meru Betiri and visit Sukamade, where the turtle conservation effort mostly takes place.
Green Bay's Banyuwangi Highlight
Green Bay or teluk hijau beach offers clear turquoise water. Which turns blue gradually into the middle of the ocean. In a beautiful contrast with the water, the white sand looks warm. Warm enough to sunbathe and tempting to play with. The surrounding forest adds more colors to this vista.
Add the blue sky on a day with perfect weather, everyone could easily stay mesmerized for hours. The beach also has calm water. Its topography shields the shore from the Indian Ocean's raging waves.
Swimming is welcome, if not a must. No one should miss the opportunity to swim in this pearly green water. Snorkeling can be fun too. Except that tourists will need to bring their own equipment since there is no gear rental on the beach.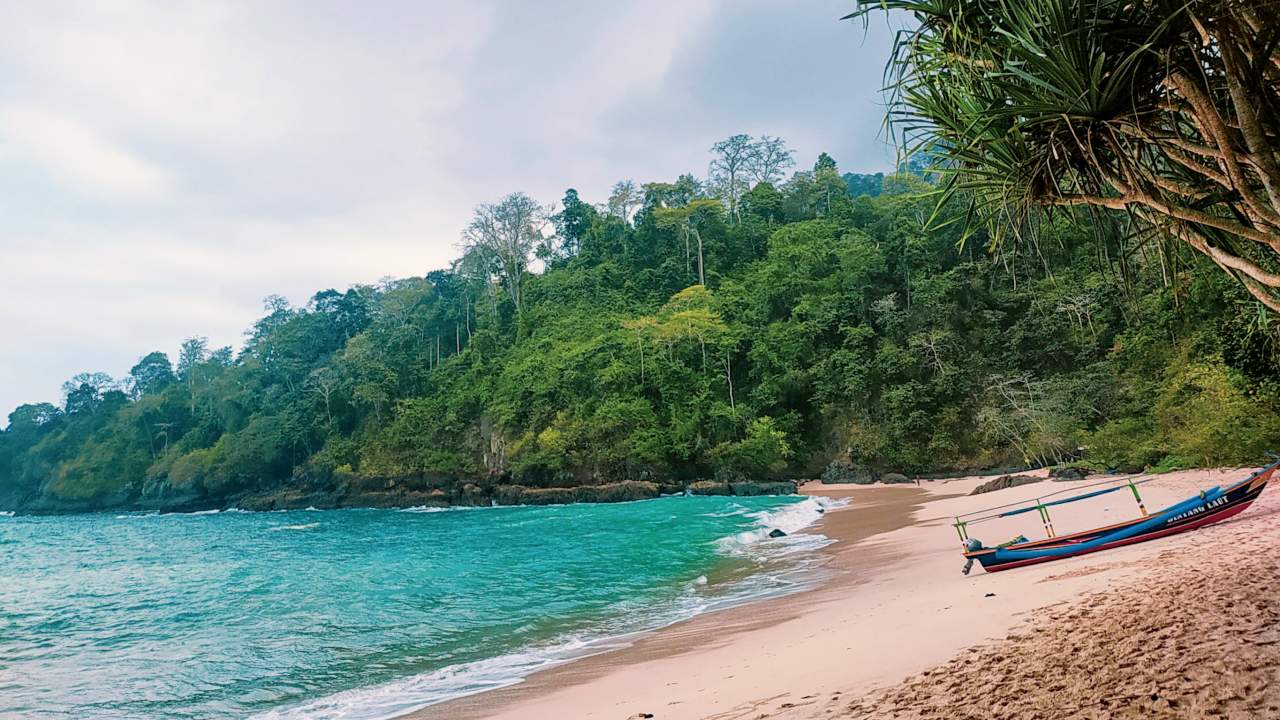 Bidadari Waterfall
Bidadari Waterfall is not far from Green Bay's shoreline. It's an 8-meter-high waterfall flowing through cliffs located on the right side of Teluk Hijau beach. The only freshwater source around the beach. Bidadari Waterfall makes an excellent showering place after swimming at the sea. The water discharge is perfect, not too big but also not too small.
Camping, why not?
Camping at Green Bay Banyuwangi is possible but only for the most adventurous. It is practically a jungle with no facilities, so expect challenges testing campers' survival skills. To go camping, first, get permission from the park's officials. Be careful with monkeys at night. They tend to steal, it's a good idea to always keep the belongings under supervision.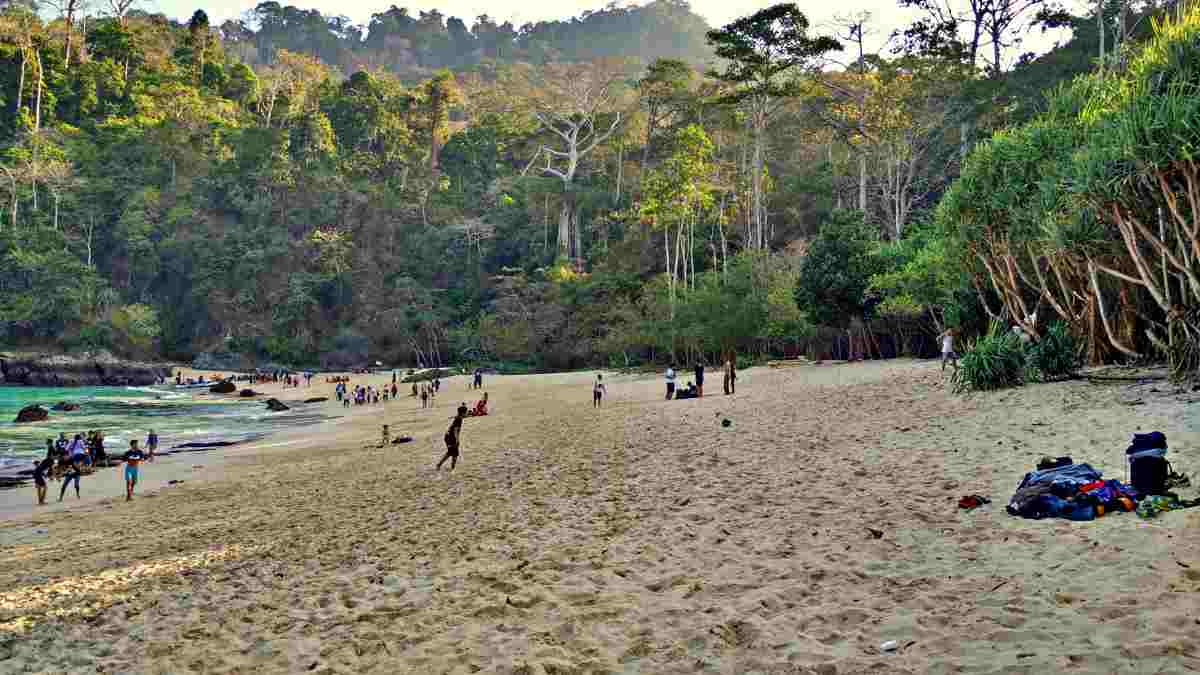 Batu Beach
Meru Betiri coast was hit by a tsunami in 1994. Although the bay was relatively unaffected, its neighbor Batu beach faced a different fate. Batu had been a sandy beach before the tsunami. But now the beach shore consists mainly of rocks because the sand was all swept away by the tsunami wave.
Batu beach is located 300 meters from Green Bay. Batu beach may look like Green bay's less interesting neighbor. But this beach is unique on its own. Enjoy the expanse of rocks, big and small, covering its shoreline.
Waves crashing into the rocks create a roaring sound that would not exist at Green Bay beach. Since it is less crowded than Green Bay. Batu beach is perfect for people seeking a totally peaceful atmosphere.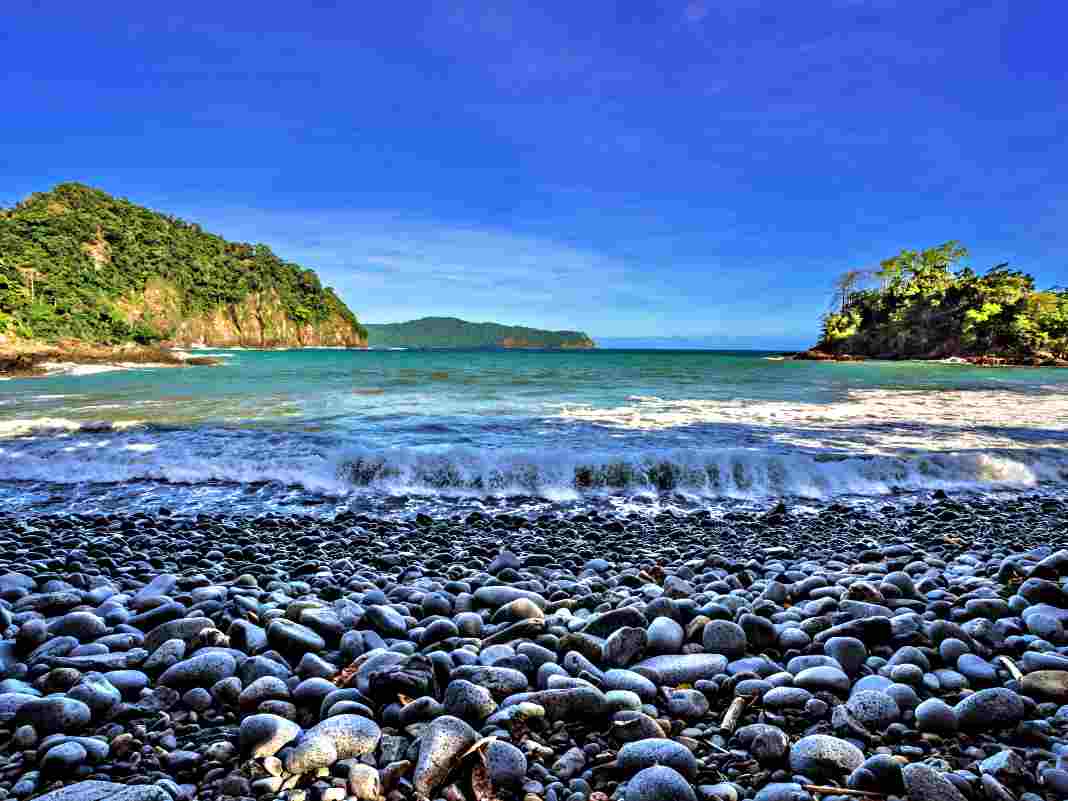 Rajegwesi Beach
A stop before Green Bay, Rajegwesi Beach is located at a little fishing village with the same name. Enjoy the sight of fishing boats lining neatly along the shore. Chat with the fishermen too, they are known to be very friendly. The beach itself is also charming. It has a yellowish sandy shore and perfect blue water.
Meru Betiri Trekking To Green Bay Beach
The 2 km path from Rajegwesi to Green Bay is only a small part of Meru Betiri National Park. But it's an interesting track nonetheless. The road is narrow and could be muddy on rainy days. It's overgrown with zalacca plants and other large trees left and right.
Although Javan Tiger is believed to be extinct. Another type of big cat still lives at Meru Betiri, the Javan leopards. Not to worry though, they reside deep in the jungle.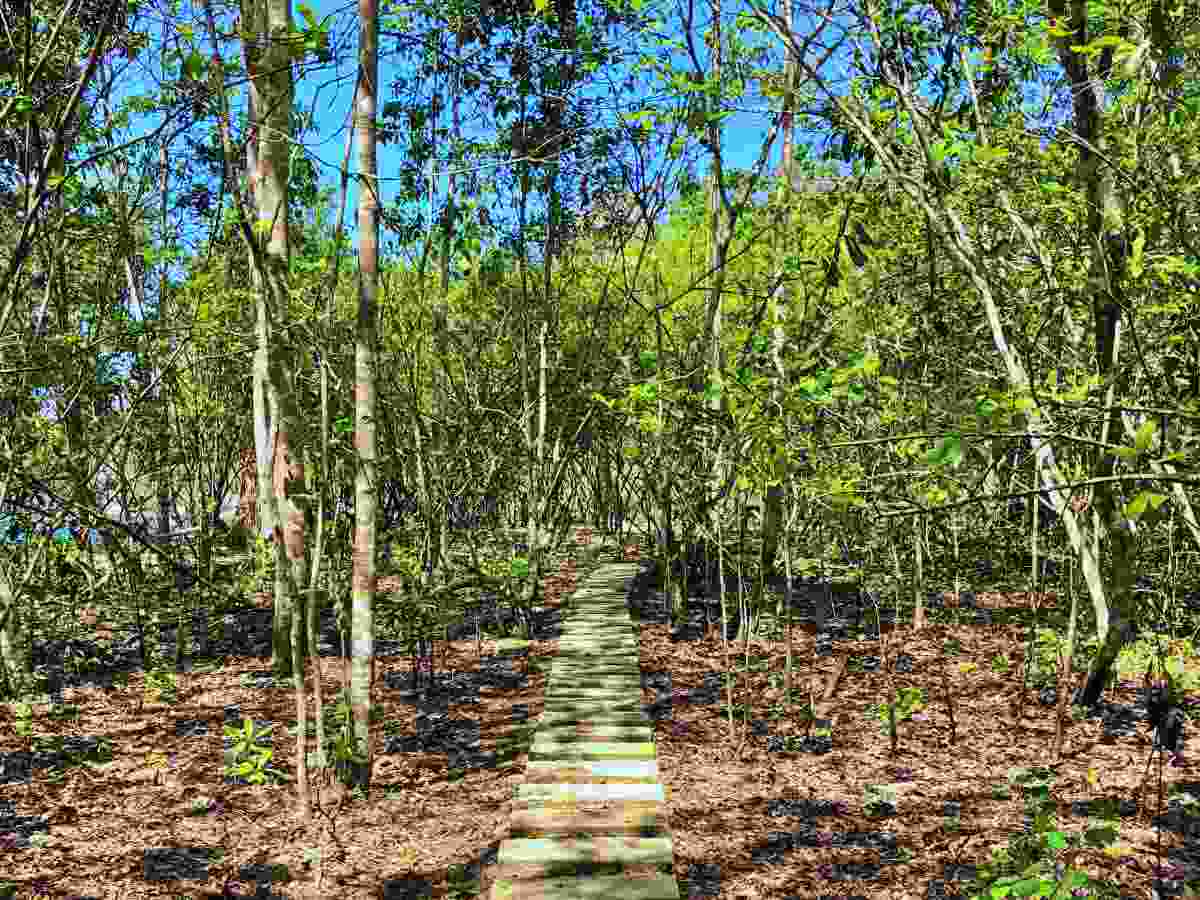 Along the path, national park visitors could also see teluk Damai. It is a cliff with concave-shaped walls and dark blue seawater below. Strong waves constantly hit the cliffs, listening to their pounding sound. The strong wave is also why tourists can only enjoy Teluk Damai from such a height.
See: Red Island Beach Guide & Top Things To Do.
Green Bay Beach Opening Hours
Green Bay visiting hours follow Meru Betiri National Park. As the beach is situated right in the national park area. The ticketing counter open from 7 AM to 4.30 PM. While the sea transport, and boat ride to the beach available from 7 AM to 4 PM
Teluk Hijau Beach Opening Hours
Everyday
07:00 – 16:30
Boat ride
07:00 – 16:00
See: Guide To Explore Meru Betiri National Park & Conservation. 
Green Bay Beach Entrance Fee
International tourists need to pay the national park entrance fee of Rp150.000. There is no additional fee for the beach. However, visitors bringing private vehicles will get charged a parking fee. For motorcycles Rp 5.000 and Rp10.000 for cars.
Green Bay Banyuwangi Entrance Fee
Retribution to Teluk Hijau Beach
Free
Meru Betiri National Park Entrance Fee
Rp150.000
Parking Fee
Rp5.000/motorcycle Rp10.000 car
See: Guide To Ijen Crater Blue Flame, Trekking & Transportation.
Facilities
There are no man-made facilities at the beach. The nearest bathroom facility is located at the parking area on Rajegwesi beach, around 2 kilometers from Teluk Hijau beach. The same thing goes with accommodations and restaurants, visitors can only find them near Rajegwesi.
It's recommended to bring food, drink, and a first aid kit when going to green bay beach. There isn't any trash bin either, trash should be kept by visitors and thrown away later.
See: Guide To Explore Alas Purwo National Park & Entrance Ticket.
How To Get To Green Bay Banyuwangi
It takes 2,5 hours to get to the beach from downtown. How to get there by public transport: From any point in Banyuwangi, head to Jajag bus station. Take a Damri bus heading to Sarongan. Then take a motorcycle taxi to Rajegwesi beach.
At Rajegwesi beach, there will be two options to access the bay. Visitors can either walk for 2 kilometers through Meru Betiri National Park or take a boat to get to the Bay.
Opt for walking when going to the beach and use boat service on the way back, hence visitors will get the best of both experiences. The boat trip costs Rp40.000 to Rp50.000 for a return trip and Rp25.000 – Rp35.000 for a one-way trip.
See: Prepaid SIM Card for Tourists, Price & Coverage.
Address & Location
Green Bay beach or as the locals called it Pantai Teluk Hijau is located in Krajan village, Sarongan, Pesanggaran, Banyuwangi regency, East Java 68488.