Sukamade Beach
Entrance Fee: Free Entry
Opening Hours: 24 Hours Open
Telp. Number: -
Address: Jln.Sukamade No.99, Dusun Sukamande, Sarongan , Pesanggaran , Banyuwangi , Jawa Timur , Indonesia , 68488.
Sukamade Beach is not a typical beach where tourists come to swim, sunbathe, or snorkel. The beach welcomes another kind of visitor, the sea turtles. Located deep at Meru Betiri National Park, Sukamade beach is a favorite nesting ground for turtles. Every night, green turtles crawl their way out from the ocean to lay eggs.
Sukamade beach is the center of the turtle conservation program in Meru Betiri National Park. The beach was discovered in 1927 by Dutch colonial and serving as a turtle sanctuary ever since. Aside from green turtles. There are 3 other species nesting at Sukamade: olive ridley sea turtle (Lepidochelys Olivacea), hawksbill sea turtle (Eretmochelys imbricata), and leatherback turtles.
Other neighboring beaches also serve as nesting grounds, such as Rajegwesi and Ngagelan. Despite the number of egg poaching is decreasing. The program still continues to conserve as much as possible. Even if the conservation program now meets another kind of challenge.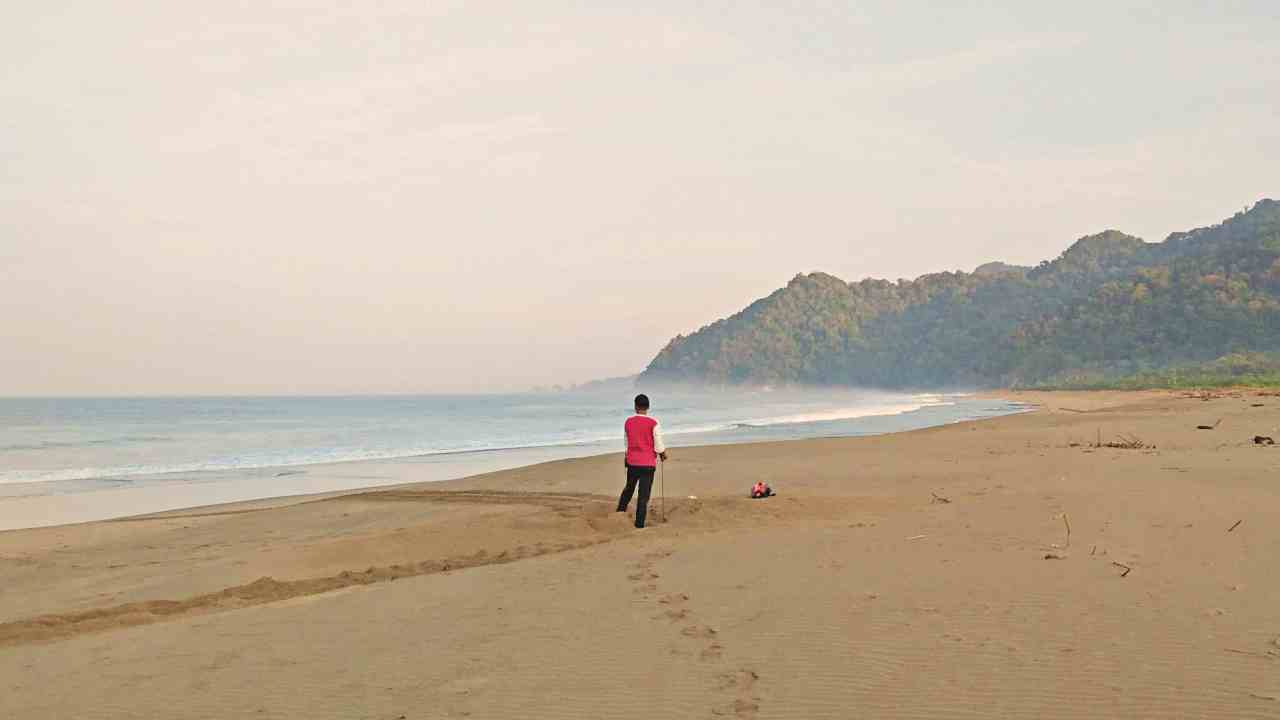 In the past, up to 80 turtles could come to Sukamade every night. The number is only a handful these days. On a certain day, it can be none. The light coming from fishing boats assume to be one of the causes, as it scares the turtles away.
Turtles Sighting
An interesting thing about turtles is that they lay eggs on the beach where they were born. Mother turtles who come to Sukamade beach were just hatchlings. The last time they were here. After decades, they come back to further their bloodlines at this warm sandy shore. The cycle of life is repeated.
Turtles always come at night. Eager onlookers, curious about the whole process. Guests are advised to lay low, light's out and noises down. If lucky, turtles will begin to emerge from the ocean after a while.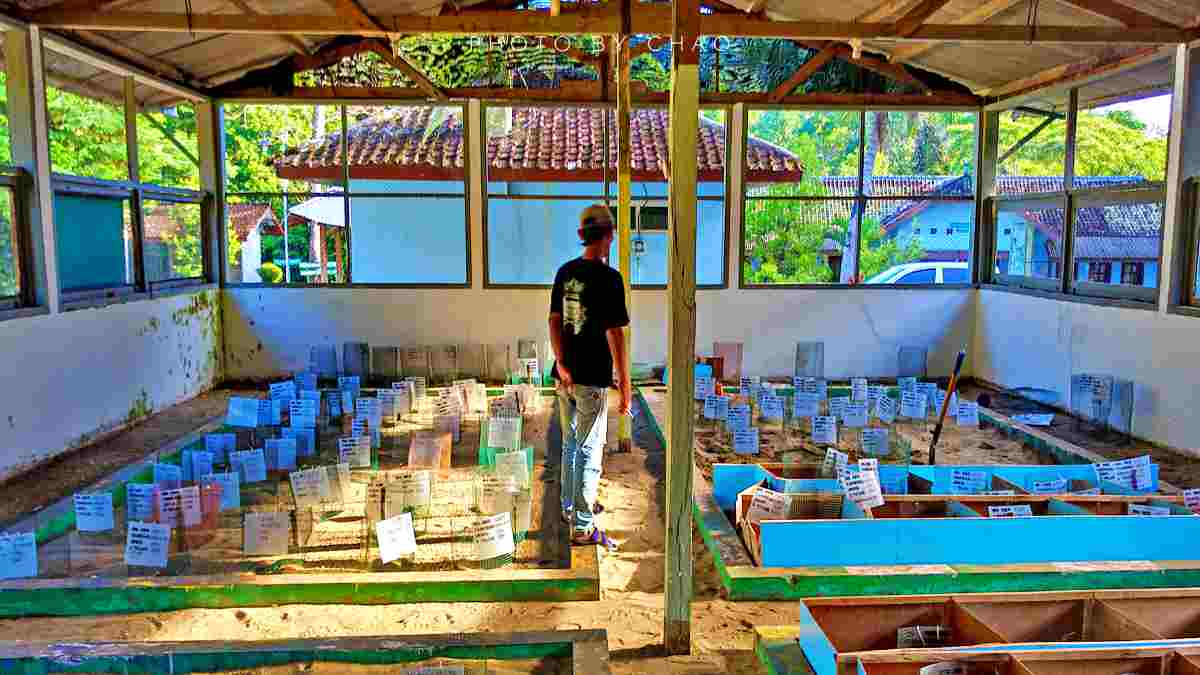 Watch as this creature lay its future offspring on the sand. Take pictures but follow the rules. Such as flash is allowed only after the turtle has laid more than 20 eggs. And do not stand in front of a turtle.
Releasing Baby Turtle
Get up first thing in the morning to participate in turtle releasing. Accompany these little creatures as they make their first journey. Park workers will guide over the starting point. Where the baby turtle should be put down on the sand. Young turtles then will start crawling toward the sea. Using the light at the horizon as a guide.
It's sad to think that many of these turtles won't reach adulthood. As the baby turtle survival rate is very low. But that's how nature works. At Sukamade beach, a human has done their part. Then let nature handle the rest.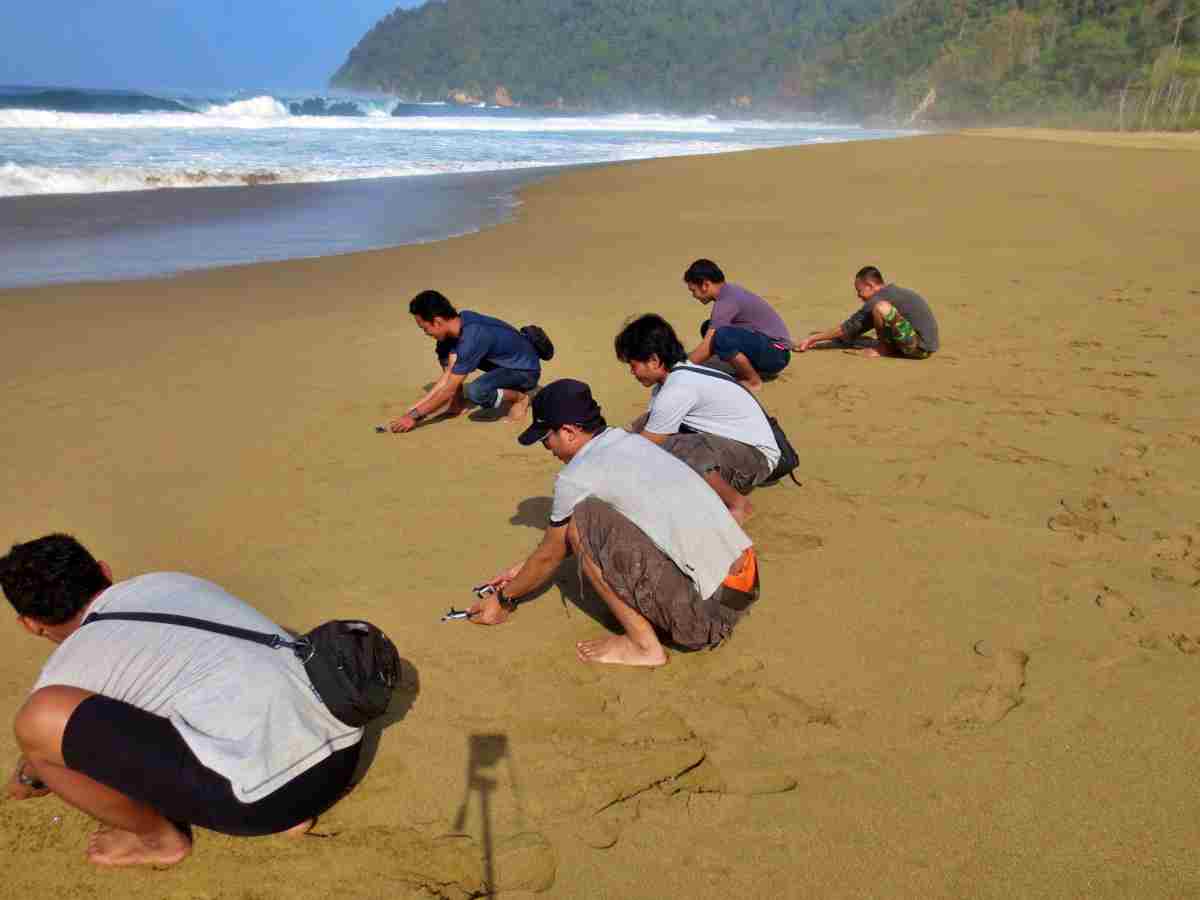 Hopefully, many females will come back around 20 years later to lay eggs. Releasing the baby turtle is probably the most emotional experience one can have at Sukamade beach.
Jungle Adventure At Meru Betiri National Park
The journey to Sukamade beach involves a bumpy ride through the jungle of Meru Betiri. It is really an off-beaten-track adventure. At a point, cars would need to cross a river, which sometimes can reach 40 cm depth on rainy days. The whole trip is a unique experience, and the animals here are also the highlight.
It's not a rare sight to encounter Javan eagles, hornbills, and monitor lizards. Even a peacock show itself along the path to Sukamade beach. Deeper in the forest, Javan leopards still roam around. Sadly its cousin, the Javan tiger, is believed to be extinct already.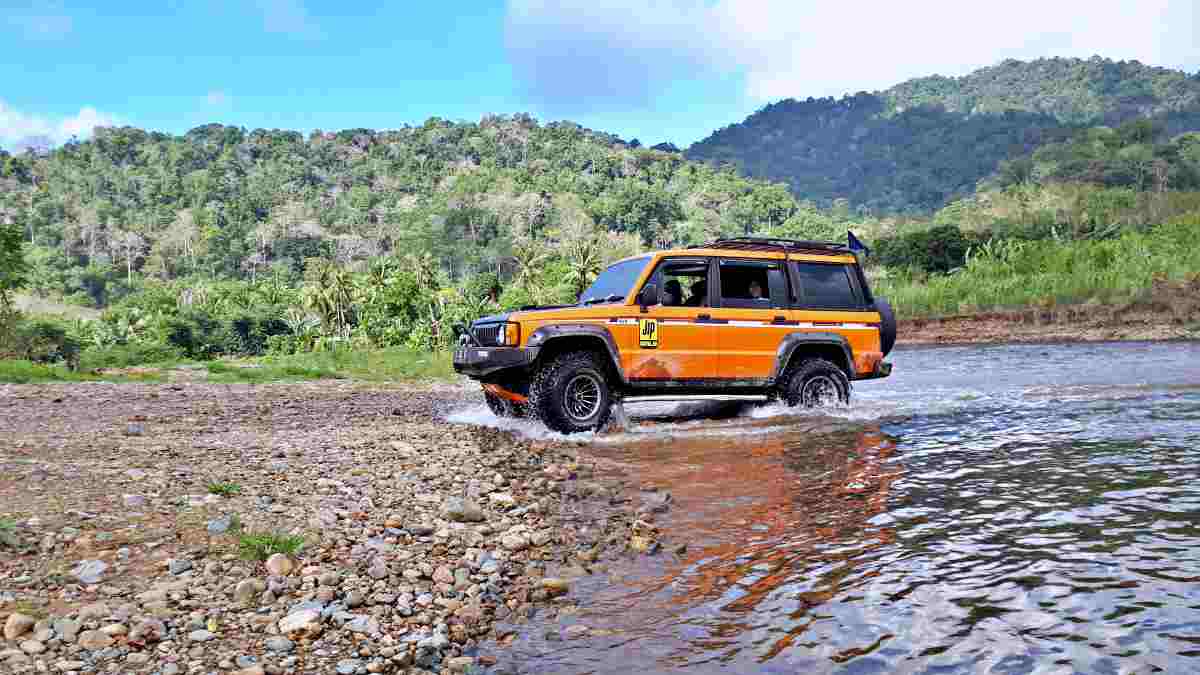 Take a stroll at night to see some mammals – wild deer, monkeys, and notorious wild boars who often hunt for turtle eggs. Since electricity is off after midnight. Tourists can also see a great display of the milky way above the sky.
Green Bay Banyuwangi or Teluk Hijau Beach
A visit to Meru Betiri National Park is incomplete without checking out the park's hidden paradise. It's a 15-minute boat ride from Rajegwesi beach. Green Bay beach offers one of the best Banyuwangi landscapes.
A white sandy beach with sparkly turquoise water. Swim, snorkel, or sunbathe, Green Bay offers the beach experience Sukamade beach lacks. There's also a little waterfall nearby where beachgoers can take a nice wash-up shower afterward.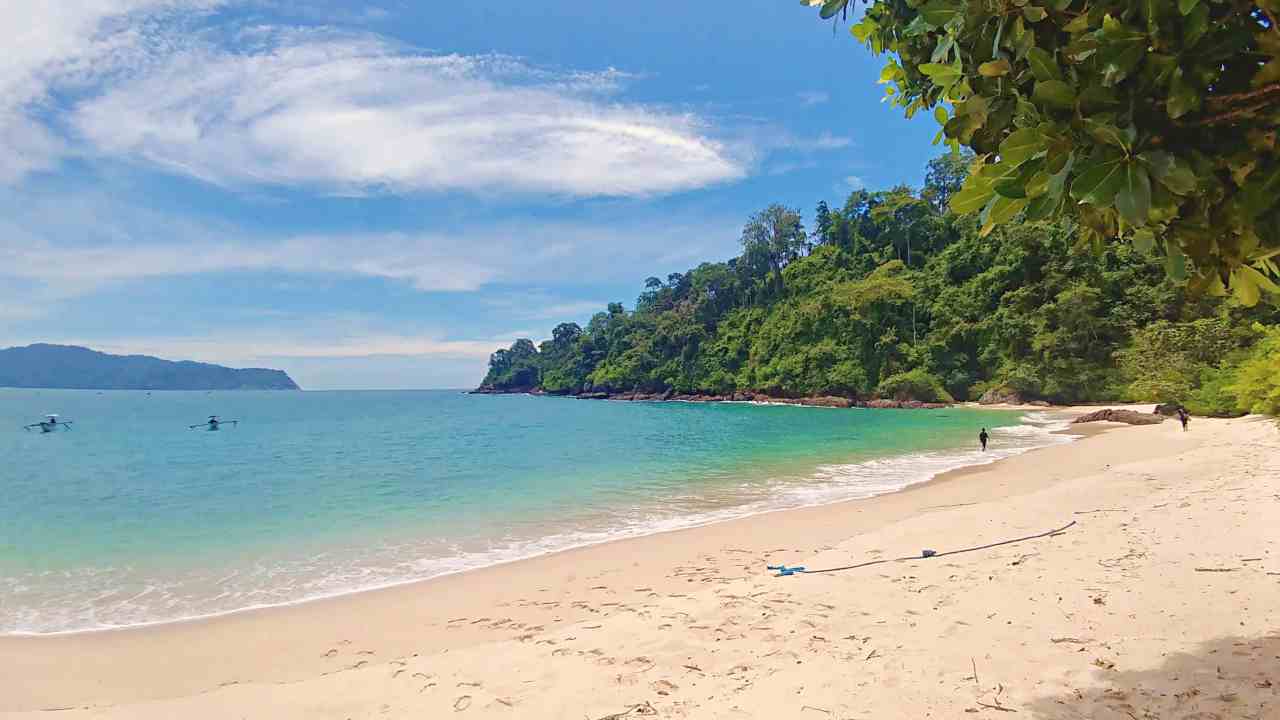 Sukamade Beach Opening Hours
Meru Betiri National Park and its beaches are accessible 24 hours. However, the ticket office open from 7 AM to 4:30 PM.
Sukamade Beach Opening Hours
Every day
Open 24 Hours
Releasing the baby turtle
06:00 – 07:00
Ticket counter
07:00 – 16:30
Nearby: Green Bay Banyuwangi, Activities & Guide.
Sukamade Beach Entrance Fee
There's an entrance ticket to enter Meru Betiri National Park. Visitors will have to pay Rp150.000 and Rp225.000 during holidays. There is an extra cost to see the turtle conservation on Sukamade beach. And participation donation to release the baby turtle. Vehicles also pay an access fee, Rp5.000 for motorcycles and Rp10.000 for cars.
Sukamade Beach Entrance Fee
Sukamade Beach
Free Entry
Releasing the baby turtle
Rp30.000
Meru Betiri Entrance Fee
Rp150.000 weekday  Rp225.000 weekend
Parking Fee
Rp5.000 motorcycle  Rp10.000 car
See: Ijen Crater Hike, Blue Fame & Guide.
Facilities
At Sukamade village, there are limited guesthouses and accommodations. Tourists can build a tent at the camping ground available here. There is a small canteen that provides basic Indonesian dishes such as fried rice and noodle.
Bathrooms and toilets are available. Other facilities include a meeting hall, laboratory, and information center. Electricity is off at midnight and expects no phone signal here.
See: Guide To Explore Mount Bromo Volcano & Public Transportation Guide.
How To Get To Sukamade Beach
A trip to Sukamade is a 90-minute drive from Banyuwangi to Rajegwesi's village. After, there's still 18 km from the park's entrance to Sukamade beach. In total it would take 3-5 hours to get to Sukamade.
The best transportation mode is rental cars, preferably off-road ones. The route is Banyuwangi – Jajag –  Pesanggaran – Sarongan –  Rajegwesi –  Sukamade. There's a public transport option but it will take even longer.
For public transport options, people can hop on the Damri bus from Jajag bus station to Sarongan village. Then head to Rajegwesi village using a motorcycle taxi. From there, visitors can rent park rangers' vehicles to reach Sukamade beach.
See: Price on Prepaid Indonesia SIM Card, Internet Package.
Address & Location
The beach situated in Sarongan, Pesanggaran, Banyuwangi, East Java 68488.