Lawang Sewu Building
Entrance Fee: Rp10.000
Opening Hours: 07:00 - 21:00
Telp. Number: -
Address: Jl. Pemuda, Sekayu , Semarang Tengah , Semarang, Jawa Tengah , Indonesia , 50132.
People associate Lawang Sewu, one of the famous landmarks in Semarang, with horror stories. The urban myth says that the historical building is haunted. Located at Jalan Pemuda, Semarang, in front of a hero monument call Tugu Muda. The three-story building, along with the surrounding area, was a witness to a long and perilous history.
Lawang Sewu is built by the Dutch in 1907 and used the building as the central office for the East Indies Railway Company. During World War II, Lawang Sewu was later occupied by the Japanese. Besides utilizing it as the transportation headquarters, the basement was converted into torture rooms and a prison.
Later in 1945, the building was a witness to the unpleasant scene of a bloody battle. The building begins to get its haunting reputation. After the war was over, and after decades of neglect, the Semarang government rebrand Lawang Sewu. And 2011 marks the beginning of it, as it becomes a tourist destination.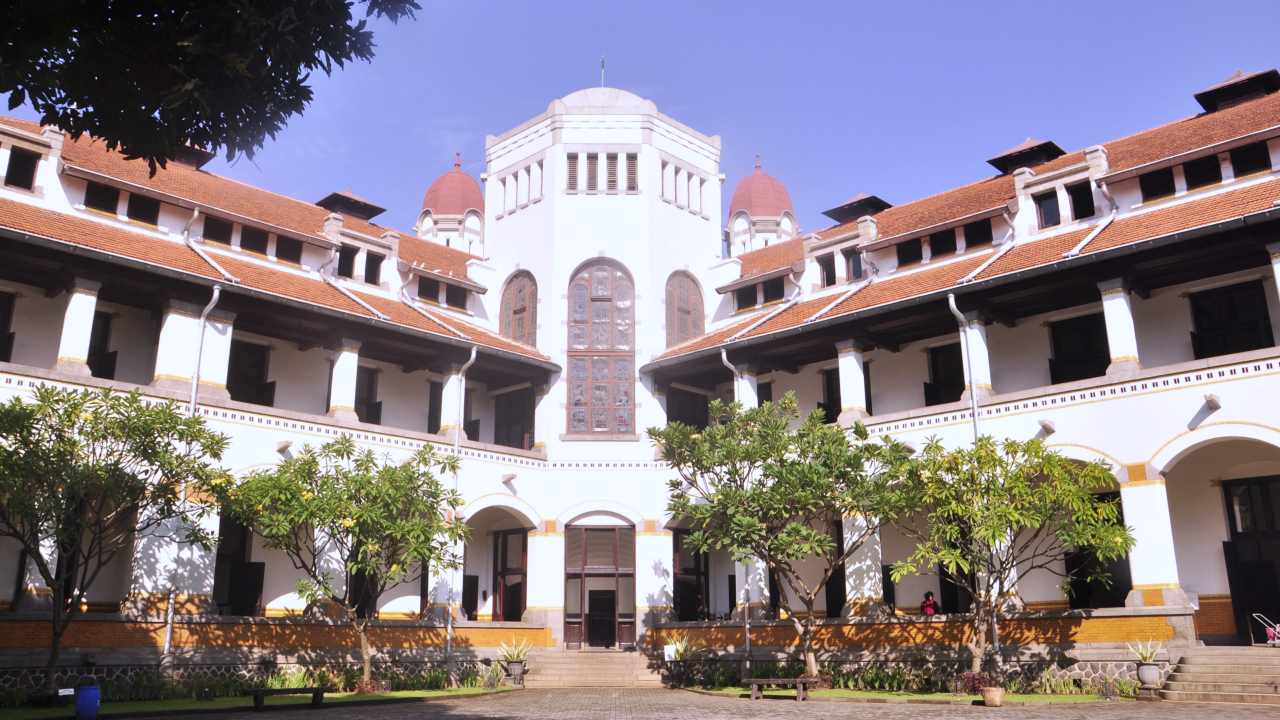 A series of work and renovations has been done to eliminate its former horror reputation. Besides renovation, it becomes a hub for cultural activities. A portion of the building also serves as a museum, the Indonesian Railway system.
The Dutch Architecture in Central Java
Lawang Sewu is an architectural masterpiece. Blasting the art deco style combines Dutch architecture with tropical practicality. Doors and large windows line up in its high-wall rooms. It specifically helps to circulate a good airflow, particularly through the summer.
This structure inspires its name, which means a thousand doors in Javanese. The lobby area adorns with stained glass. Refracting morning lights beautifully. The stained glass portrays two Roman Goddesses, Fortuna and Venus. Facing the logo of The Dutch Railway Company.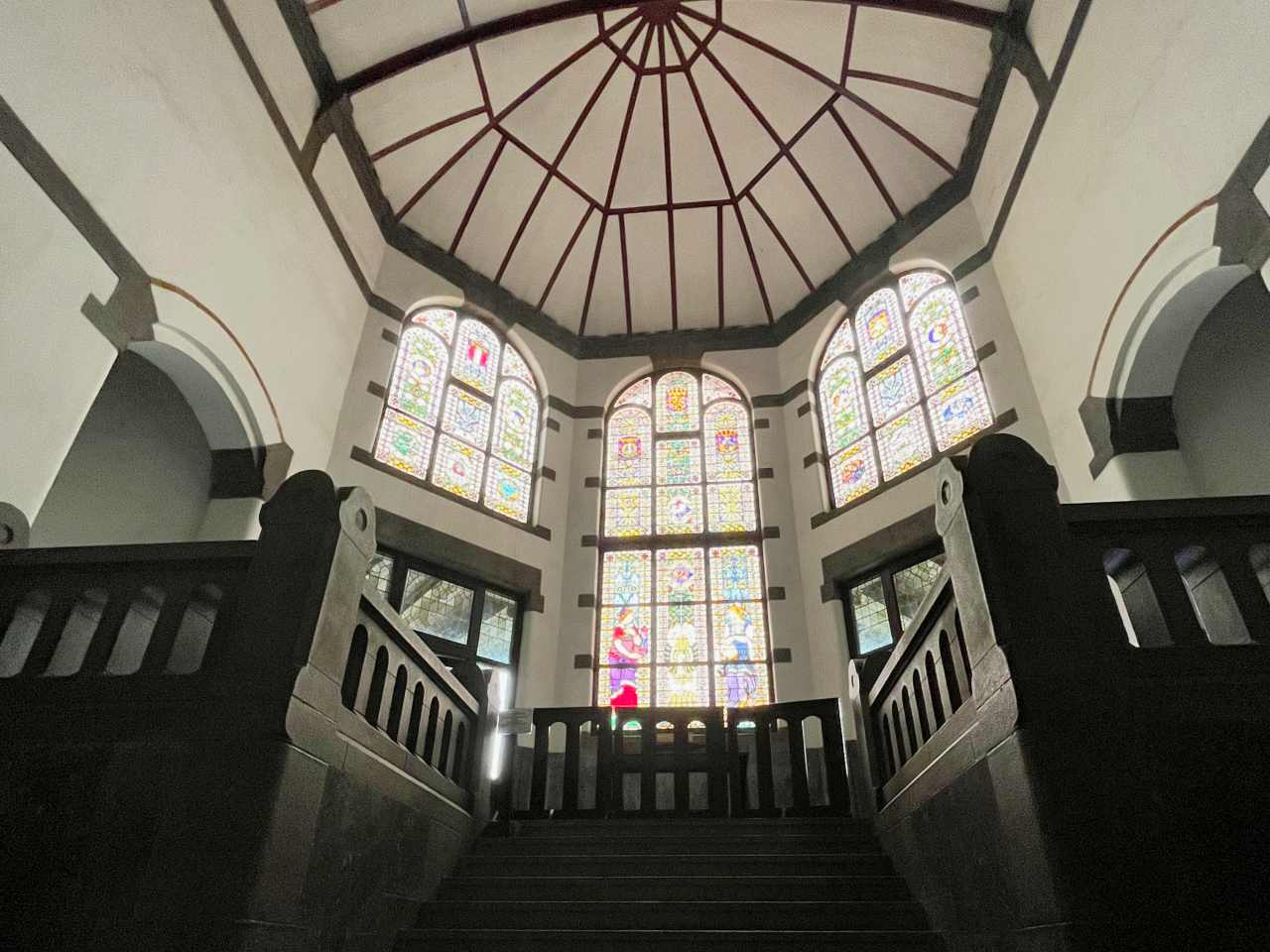 The building material is mostly imported from Europe. The granite stones for the floor come from a mine in Bavaria, Germany. Plan hours to explore every detail of the interior. Even a strange corner of the building has its own interesting story.
Or in some cases, horrors. Take a look at the basement in Building B. Where it used to be a torture room and a prison. The tour can really result in a spectrum of emotions.
Reminisce Of The Past
The beautiful building witnesses plenty of dark history. Imagine a group of soldiers going and about between Lawang Sewu's high-roof corridor. Prepare for the battle. During the five-day "Battle of Semarang" in 1945, the Sewu building is a site where bodies fall.
Many soldiers were captured and prisoners executed. Visit Lawang Sewu on 14 October. At this date every year, Lawang Sewu hosts a theatrical show to commemorate this battle.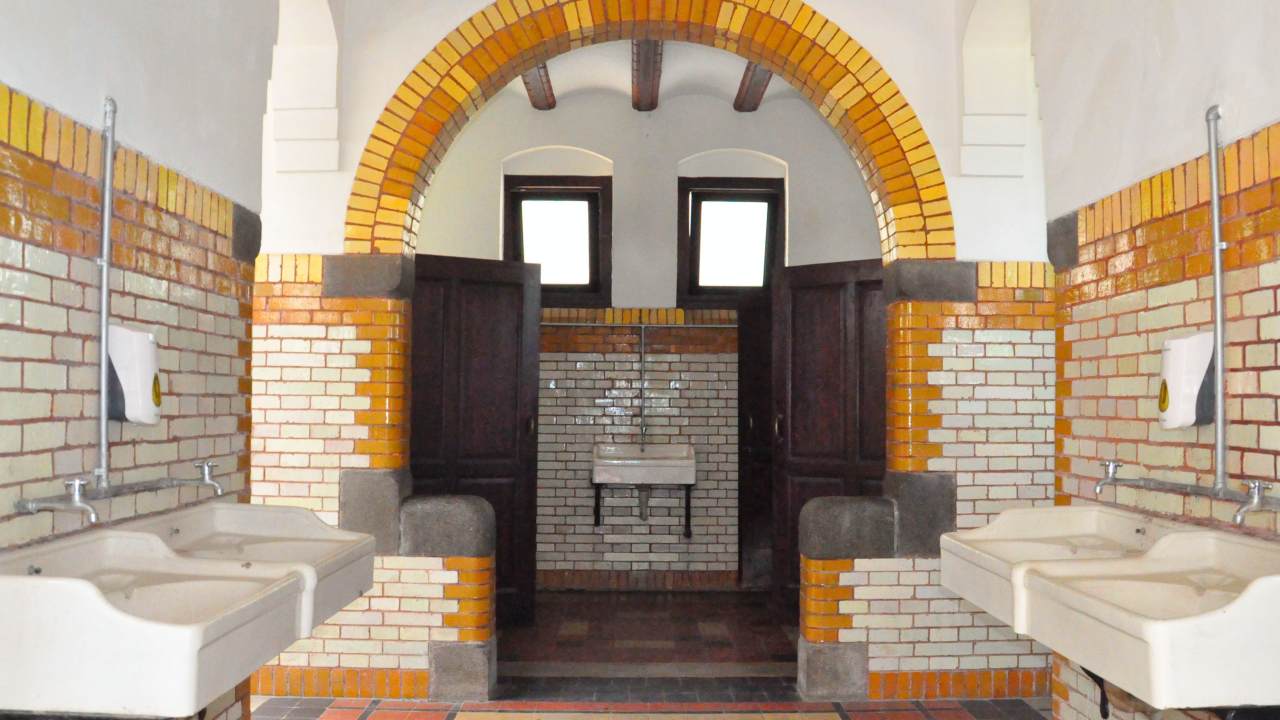 Railway Museum
Trace back the history of trains in Indonesia from the Dutch era to the present day. Before the wars, Lawang Sewu was an office for a railway company. Many pieces of equipment from that era remained here. It includes a large collection of typewriters and calculating machines.
In the front yard, a steam train locomotive is on display. Besides, the first railway line in Indonesia was built in Semarang as well. Learn a number of ancient stations in Indonesia. There are old pictures of trains, railways, and the construction of the building too.
Lawang Sewu Railway Museum also keeps a collection of old train spare parts and tools. To get more in-depth information, visit the library and the archive room.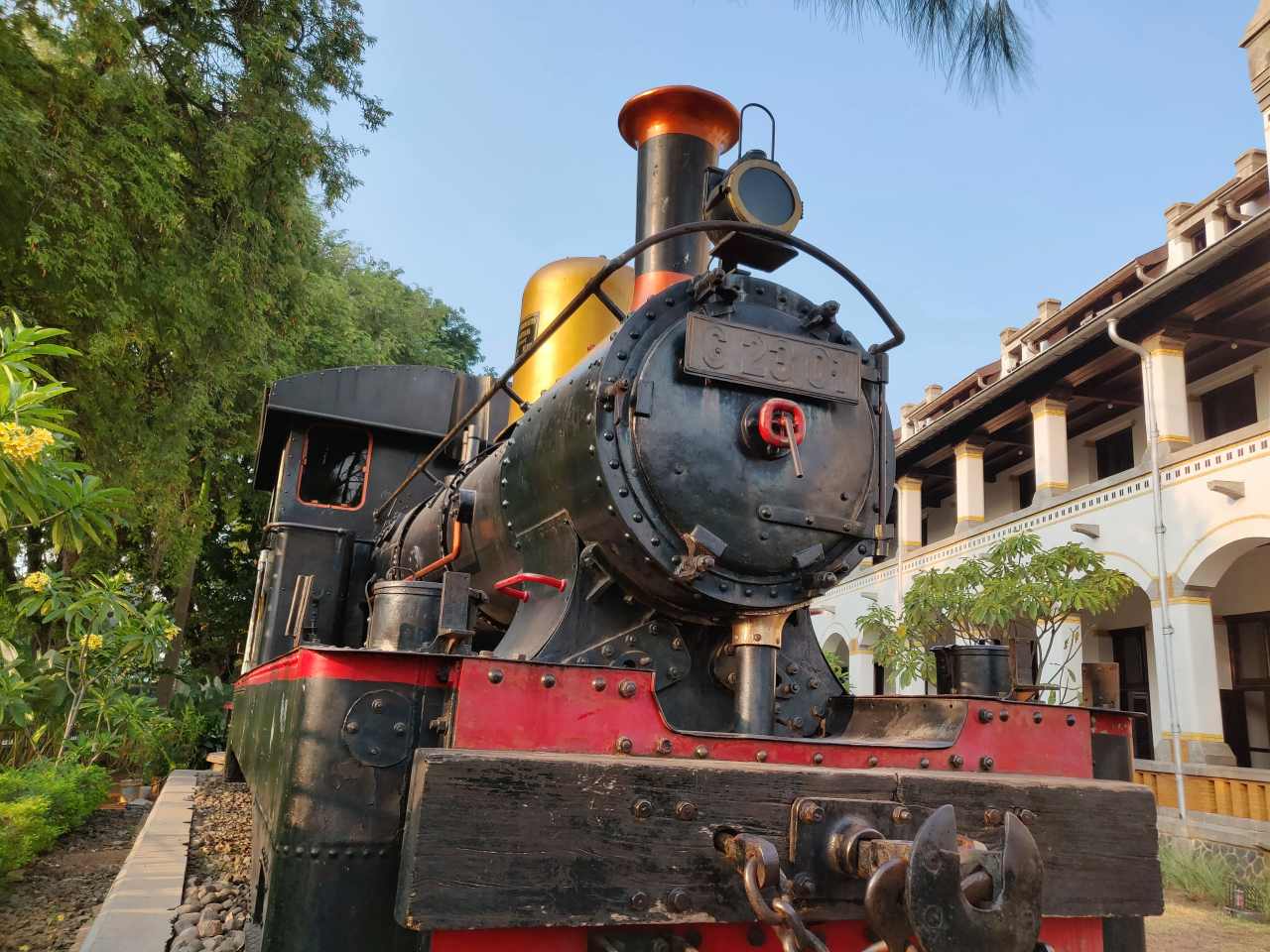 Evening at Lawang Sewu
People coming to Lawang Sewu and expecting a horror experience might as well get prepared to disappoint. The building is open until late in the evening. However, the spooky feeling that once radiated through the doors is now completely gone. As it turns out, Lawang Sewu at night is breathtakingly beautiful.
Enjoy the sparkle coming from bright, colorful lamps at the building's every corner. The lighting enhances Lawang Sewu's already remarkable architecture. Take a slow walk in its corridor on a dreamy evening. Occasionally, recognize a heartwarming scene.
As couples having their pre-wedding photos taken at this building. Lawang Sewu had witnessed too many tragedies in the past. It is time for some warmth and romance.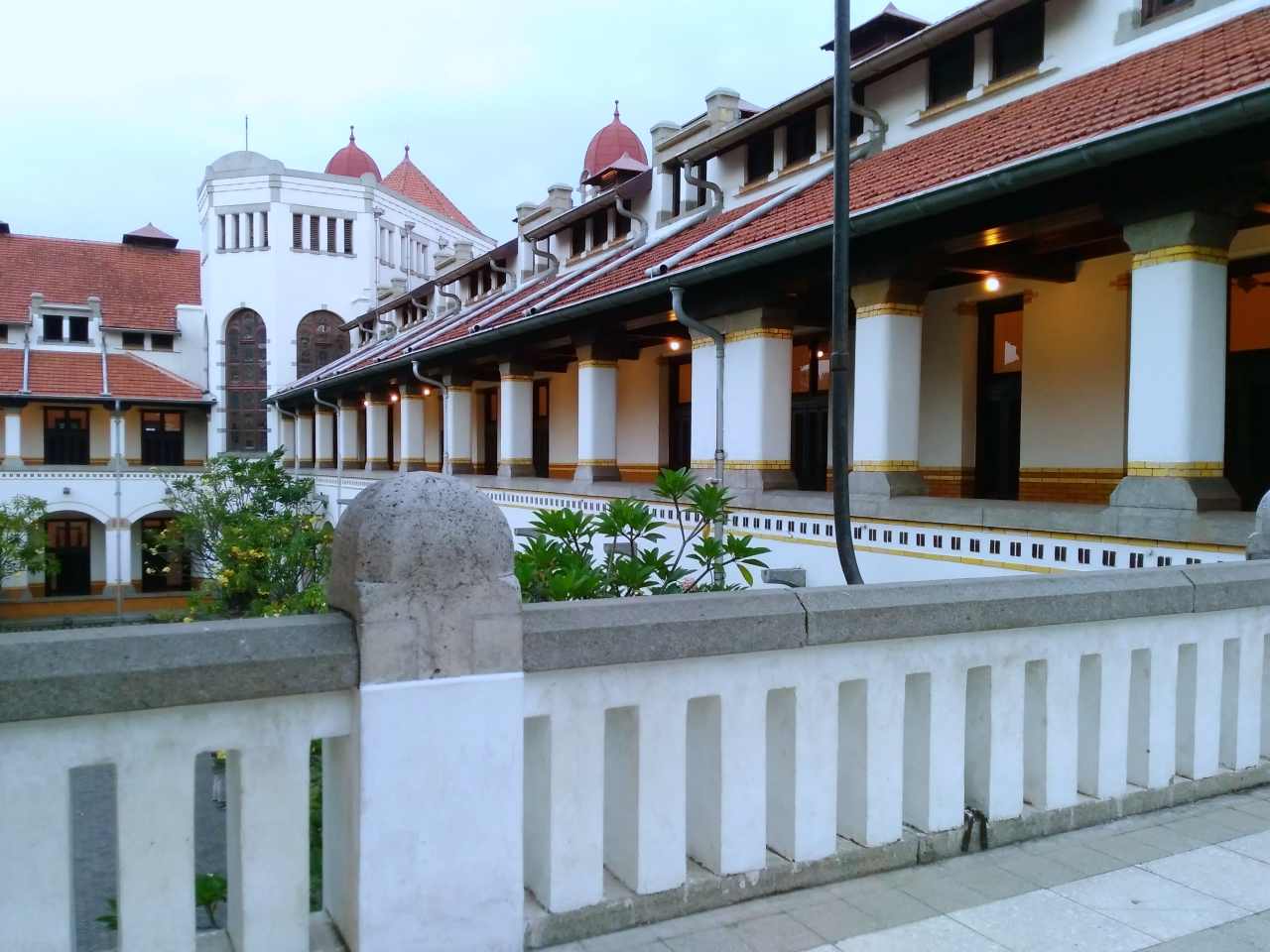 Lawang Sewu Opening Hours
From Monday to Thursday, the landmark opens from 8 AM to 5 PM. While on Friday to Sunday, it closes longer, from 8 AM to 8 PM. In addition to the longer opening hours, there is also live music entertainment on weekends.
Lawang Sewu Opening Hours
Monday – Thursday
08:00 – 17:00
Friday – Sunday
08:00 – 20:00
Nearby: Sam Poo Kong, Activities & Ticket.
Lawang Sewu Entrance Fee
The entrance ticket for international tourists now is Rp30.000. There is a guide service, Rp75.000 for an hour tour. A guide is not required but considering the buildings' has a rich history. Strolling with a guide is clearly helpful. Besides, guides here also like to tell the building horror stories.
Lawang Sewu Entrance Fee
International Tourist
Rp30.000
Guide
Rp75.000/hour
See: Guide To Explore Cetho Temple & Ticket.
Facilities
Lawang Sewu has clean and well-maintain toilets. Parking is spacious, and there are also a nursery room and a smoking area. Hungry visitors can find food and drinks at the canteen here. There's also a library and an archive room too beside the railway museum.
See: Gedong Songo Temple & Top Things To Do.
How To Get To Lawang Sewu
The city of Semarang itself is accessible from any major city in Indonesia either by plane, bus, or train. The historic building is located in the city center. And it's very easy to reach. The building is in front of the Tugu Muda roundabout. One of the busiest roads in Semarang.
Visitors can go by taxi from the airport Ahmad Yani – it is close, only 6.5 km. Lawang Sewu is only 3.5 km from Tawang Railway Station and around 7 km from Terboyo Bus Terminal. Other than using a taxi, visitors can take the public bus Trans Semarang route 1 (blue line) and stop at Jl. Pemuda Shelter to get here.
See: Prepaid SIM Card, Price & Provider for Tourist.
Address & Location
The historical building is located in Jl. Pemuda, Sekayu, Semarang, Jawa Tengah 50132.