Pesona Nusa Dua Fiesta
Entrance Fee: Free Entry
Performer: Gigi, Adheera, etc
Start: 2019-10-25
End: 2019-10-27
Event Place: Peninsula Island
Telp. Number:
Address: Jl. Pulau Peninsula , Kuta Selatan , Badung, ID, 80363
Nusa Dua Bali is famous for its kilometers stretch of beach. Their luxury resorts, and a hub for watersports. Even better, there's a fun event that makes Nusa Dua more impressive. It's called Pesona Nusa Dua Fiesta. Held annually since 1996, the event is one of the forerunner festivals organized in Bali.
The organizer, PT Pengembangan Pariwisata Indonesia, present the event as a folk party. A weekend full of agenda, competitions, and exhibitions usually held in October. Pesona Nusa Dua Fiesta showcases and celebrates the cultural diversity Bali and Indonesia have. There are three main segments in this year event.
First the Exotic Bali, This is Indonesia and followed by the International Night Run. Exotic Bali introduces visitors to the rich culture and tradition of Bali. And in This is Indonesia segment goes broader. As the audiences will get a chance to see performances from arts and tradition. And it all coming from various Indonesia's region from Sabang, Aceh, to Merauke Papua.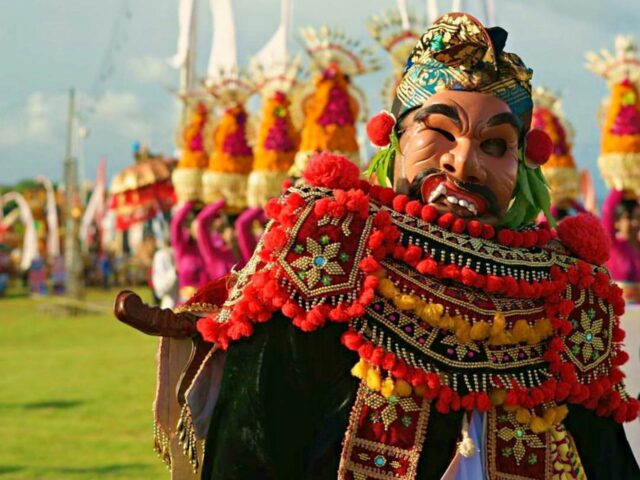 Meanwhile International Night Run is a marathon held at night. At the end of Pesona Nusa Dua Fiesta event, it even gets exciting. Join the locals flocking the music stage and watch as the popular Indonesian musicians perform.
Pesona Nusa Dua Fiesta Art Performance
Cultural performance from all over Indonesia takes turns to enliven Nusa Dua Night. Ngelawang Barong procession will mark the beginning of the festival. The ritual starts in the afternoon and lasts until midnight. Ngelawang Barong itself is a ritual to get rid of bad luck. The locals believe the ritual will bring a good omen.
The 2018 event introduced colossal dance Tri Datu Art Kollosal. It was then followed by a fire dance performance. Not only that a dozen dancers perform a beautiful choreography. But they were also juggling with fire while doing so. As if it couldn't get more dramatic than that, fireworks were flown into the sky.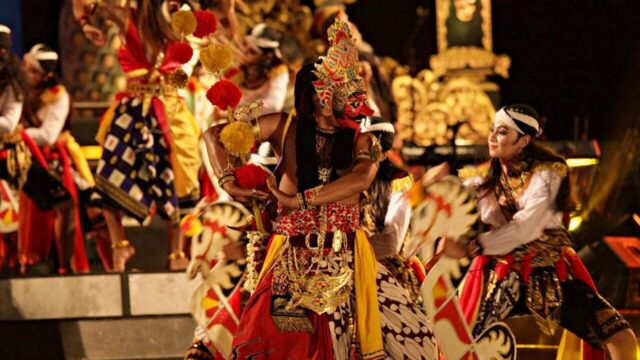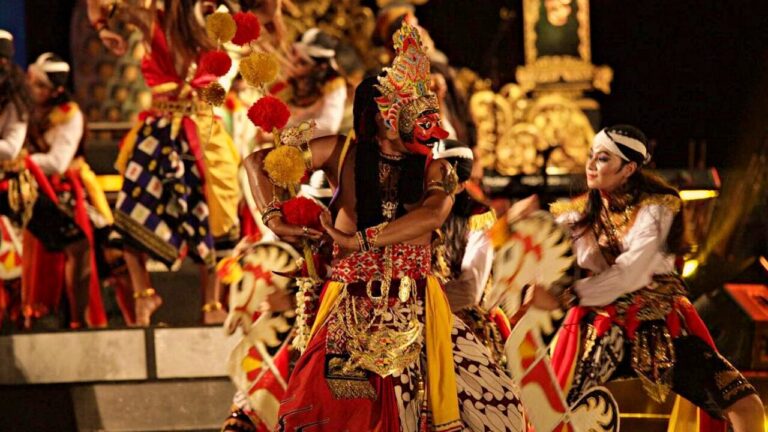 Classic Balinese dance such as Kecak and Kembang Merak Dance also made an appearance. From outside Bali, East Java sent their greeting with Reog Dance. This traditional dance is captivating especially watching the main dancer. A tiger-like character carrying a heavy mask with a peacock feather on their head.
Body Painting
The body painting competition is a recurring program at Pesona Nusa Dua Fiesta. A human body can be a beautiful painting canvas. In the hands of talented artists. Watch as models slowly turn into living statues. The result will then exhibit on the stage. For the judges to give a score and audience to applause.
Music Fest
Enjoy the finest of Indonesian music at Pesona Nusa Dua Fiesta. All the way from Jakarta. The nationwide phenomenons such as Gigi and Adheera will perform and shake the stage. Among Indonesians, their talent and reputation are undisputed. Listen to them playing and find out why fans love them so much.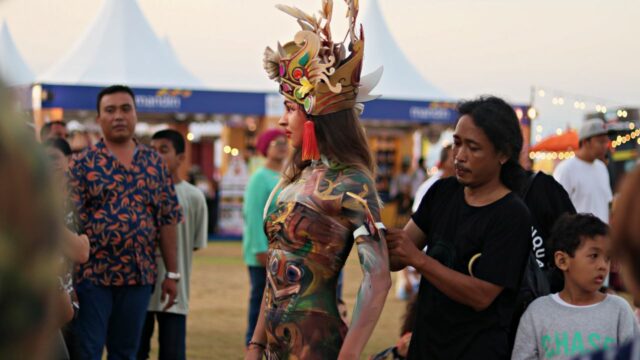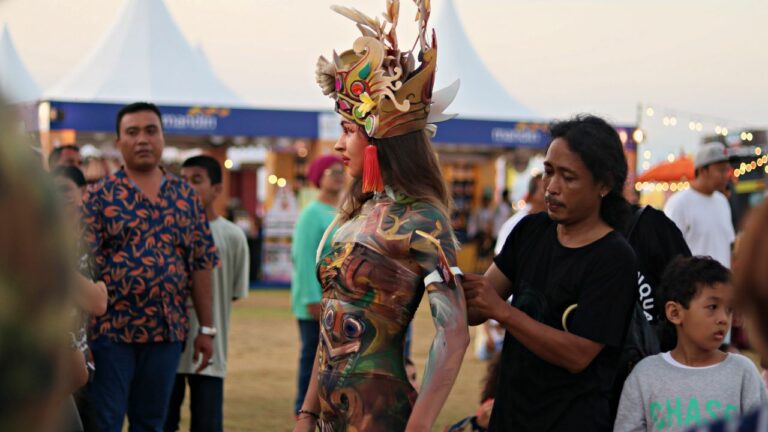 Food & Beverage Exhibition
The food market offers selections of food and beverages all over Indonesia. From Balinese delights to other region's specialty. Visitors may find themselves a bit confused with a plethora of choices. The solution: try as much as possible then decide which is the favorite. Especially since the price is dirt cheap anyway.
Night Marathon
The scorching tropical sun is no longer an excuse to not participate in Indonesian marathon. Badung International Night Run, just like its name, held at nighttime.
Thousands of participants tie their shoes and run chasing the sunrise – as well as the hundred million Rupiah money prize. Pick the most convenient and suitable category. There is the 5k run, 10k, half and full marathon.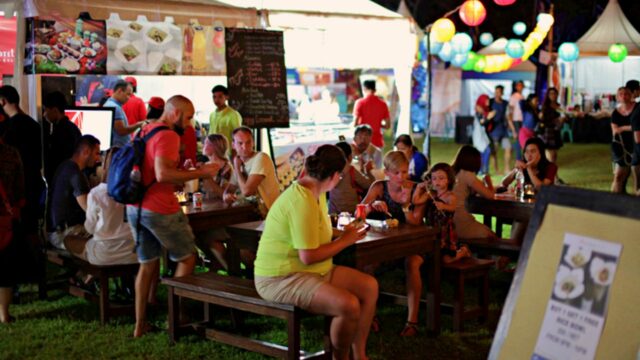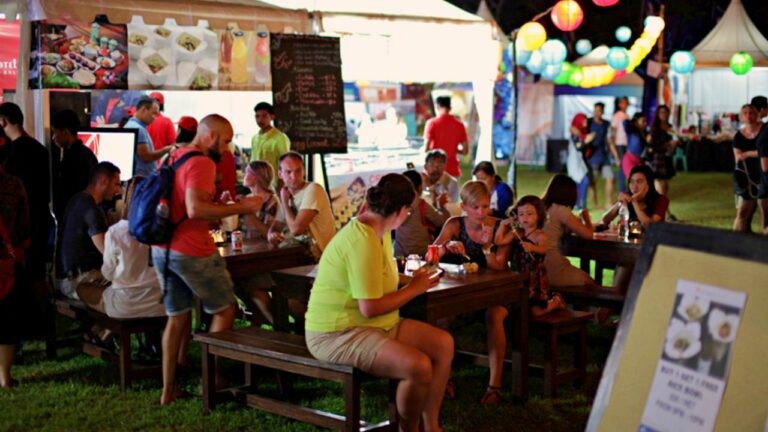 Cooking Class & Competition
Curious about the behind-the-scenes of many delicious Indonesian dishes? What a perfect opportunity. Because there are cooking classes at Pesona Nusa Dua Fiesta festival. The chefs from the Indonesian Chef Association (ICA) will demonstrate the process.
It's a perfect way to learn recipes and cooking secret from experts. Meanwhile, for those who confident enough with their skill can participate in the cooking competition.
Pesona Nusa Dua Fiesta Venue & Ticket
Pesona Nusa Dua Fiesta location is Peninsula island. It lies at the end of Nusa Dua Beach. No entrance fee is required to attend the event. However, marathon runners have to pay a registration fee. It's different for each category. The registration fee starts from IDR 250k for the 5k run to IDR 550k for the full marathon. The 2019 event is scheduled for 25-27 October.
Pesona Nusa Dua Fiesta Venue & Ticket
Date
25 – 27 October 2019
Venue
Peninsula Island, Nusa Dua
Ticket
Free Entry
Night Marathon Registration Fee
5k
Rp250.000
10k
Rp350.000
Half & Full Marathon
Rp450.000 – Rp550.000
See: Surfing Class & Other Activities in Balangan Beach, Bali.
Facilities
There's no sort of accommodation in Nusa Dua area. The closest to the venue is 4 and 5 stars luxury resorts. Such as the Grand Hyatt and Melia Hotel. Tourists opting for budget rooms still can get ample choices along Raya Nusa Dua road. The venue itself provides basic facilities such as toilet and parking.
See: Sangeh Monkey Forest, Temple & Mengwi Kingdom Legacy.
How To Get To Pesona Nusa Dua Fiesta Venue
Since Trans Sarbagita busses to Nusa Dua is still on planning. The transportation option to Nusa Dua is limited to private companies. Tour company such as Kura-Kura Bus offers a route service from Galleria Mall Kuta to Nusa Dua. The fare is IDR 50k for a one-way trip. The line stops at Grand Hyatt and Ayodya Resort, the closest to the venue.
A metered taxi costs around IDR 150k from Kuta area. A rental motorcycle is one of the popular choices of transport. It's easy to find rental services across the island. Financially-wise, it's cheaper at IR 65k/day. Aside from the fact that it's faster and more flexible.
Motorcycle taxi from an app base like Gojek and Grab cost IDR 25 to 39k. From any area in Kuta to the venue. Kuta – Nusa Dua typically takes 30 minutes to an hour ride.