Tanjung Kelayang Beach Entrance Fee: Free Entry Opening Hours: Open 24 Hours Telp. Number: - Address: Jl. Tanjung Kelayang, Tj Kelayang , Sijuk, Belitung , Kepulauan Bangka Belitung, Indonesia , 33414.
Tanjung Kelayang has been designated as one of the 10 new Bali by the state government in recent years. The name Tanjung Kelayang is quite familiar to domestic tourists. For local travelers, it was a movie that introduced the beauty of Tanjung Kelayang Beach. The pristine turquoise seawater and the soft beige sand are amongst the best features of Tanjung Kelayang.
The beach has long been a transit point for sailing boats. It's not a strange sight to see luxurious yachts docking on this beach. Especially since there are lots of islands near the beach. The crowd gets even bigger during the Sail Indonesia event. Since participants are coming from all over the world.
Aside from being a transit point, Tanjung Kelayang beach offers many fun activities. From exploring the famous granite rock formations on the shorelines to annual culture festivals. Not to mention the majestic sunset view and the clear, calm water perfect to swim in. Tanjung Kelayang is also a hub for visiting tourists to do island hopping activities.
Tanjung Kelayang Beach Granite Rock
There are quite a lot of things to do on Tanjung Kelayang. First of all, visitors can go explore the beach and see the beauty of the granite rock formations this beach is famous for. The granite stones can be found on the northern and western side of the beach.
The western side's rock formation is denser than the northern side. This section of the beach is usually rife with sunset hunters sitting on top of the stones to get the best view. Swimming spot is much more popular on the eastern side of Tanjung Kelayang beach.
This side of the beach is almost completely free from rock formations. The current is also calm enough and the water is still clean from any garbage. Hence, it is safe for even children to swim in. Another thing tourists can expect in Tanjung Kelayang beach is its annual culture festival.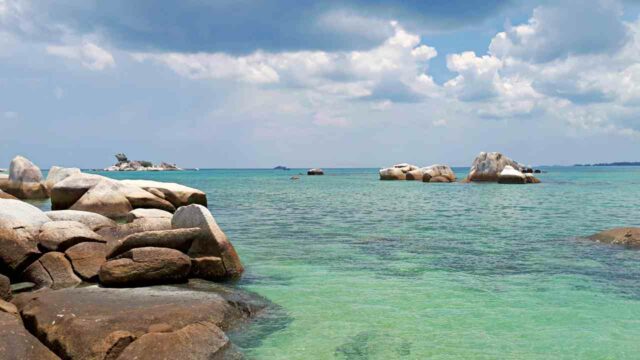 Known as Festival Tanjung Kelayang, it's usually held in the open amphitheater in the middle of the beach. During the four-day event, visitors will get to enjoy parades, fireworks, and traditional dance performances. The festival also holds marathon race, vlog competition, and fashion show. Guests are welcome to participate in the festival.
Island Hopping
Tanjung Kelayang Beach is one busy port. Apart from being the transit point for cruise ships, local fishermen also dock at this port. Almost all of them would offer visitors a tour package to hop from island to island near Tanjung Kelayang. For a complete island-hopping tour, a small-sized boat costs around Rp350.000 –Rp500.000. It's negotiable and there's an additional charge for a life vest and snorkel gear each Rp20.000.
Bigger groups can rent bigger boats for Rp600.000 to Rp800.000. Each small island has its own charm. For example, Lengkuas Island is known for its beautiful underwater view. Tourists visiting the island would always try snorkeling and see the various sea creatures living in the area.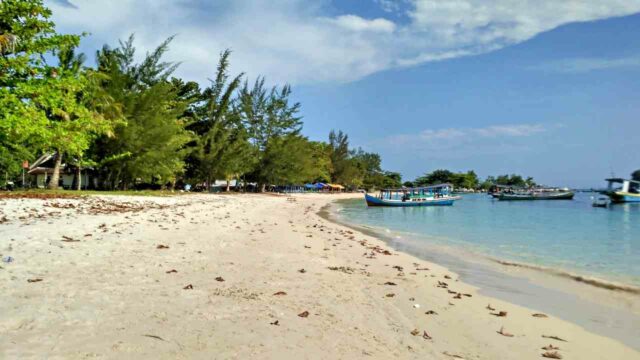 Another stop in the island-hopping tour is Kelayang Island. The star attraction of this island is Kelayang Cave where tourists get to swim in the blue waters inside the cave.
Seafood Feasts
After a fulfilling day at the beach, it's time to fill the hungry bellies. Visitors need not worry about looking for a place to eat. What a luck that Tanjung Kelayang Beach is surrounded by several restaurants. And all of it is within walking distance from the beach.
Most of these restaurants offer Indonesian food and/or fresh seafood blasting with Belitung flavor. In these restaurants, foodies will be able to find staple Belitung dishes. Such as the Gangan fish soup, Lakso, or Suto Belitung. The price for a meal here ranges from Rp30.000 to Rp150.000.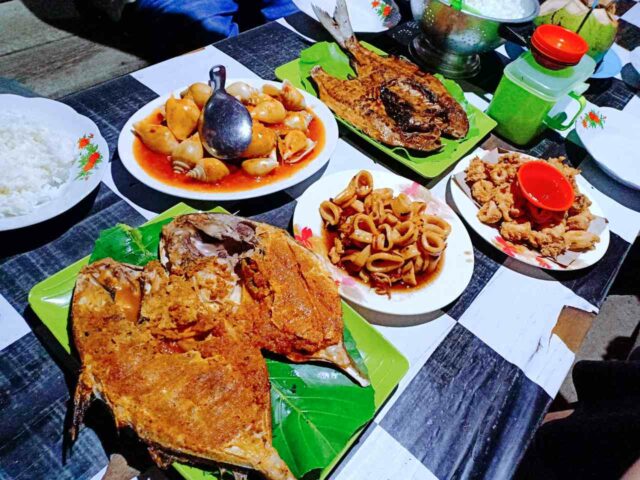 Diners will also be spoiled by the beautiful ocean view as these restaurants are right in front of the beach. The choice of seafood dish is plentiful. From crab, squid, shrimp to a wide selection of fish meat. The smoked grill seafood will never go wrong. But, try at least once the Padang sauce style. It's savory, a bit spicy plus the broth of the seafood meat will elevate the dish even more.
Tanjung Kelayang Beach Opening Hours
The beach is open all day every day. Tourists can visit the beach at any time during the day. Although, sunset hunters usually start flocking the beach from 3 to 4 PM. The best month to visit the beach and the island nearby is from April to August. The water and current are most likely calm.
Tanjung Kelayang Beach Opening Hours
Every day
Open 24 Hours
See: Lengkuas Island, Snorkeling & Lighthouse Attraction
Tanjung Kelayang Beach Entrance Fee
There is no entrance fee charge to get to the beach. Tanjung Kelayang is a free beach. Tourists could roam, swim, and explore the beach freely. However, to reach the nearby island, there are no other options except rent a boat. The boat and rent for snorkel gear are negotiable.
Tanjung Kelayang Beach Entrance Fee
Ticket
Free
Small boat
Rp350.000 – Rp500.000
Life vest & snorkel gear
Rp30.000 – Rp40.000
See: Jakarta Airport, Guide & Public Transportation.
Facilities
Tanjung Kelayang Beach comes equipped with many supporting facilities. A spacious parking lot will immediately greet arriving visitors. Public bathrooms and food stalls are available on site. This beach also has an outdoor amphitheater where festivals are held throughout the year. There is a paved path circling the beach for tourists to walk on.
Tourists who intend to stay overnight at Tanjung Kelayang Beach need not worry. There are a lot of hotels and resorts near the beach. Not only that, guesthouses and homestays are plenty near the beach site.
Some of these lodgings are even within walking distance to Tanjung Kelayang beach. The price range for hotels and resorts start from Rp350.000/night while homestays start from Rp100.000.
See: Guide To Choose Indonesian SIM Card & Price.
How To Get To Tanjung Kelayang Beach
Tanjung Kelayang Beach is less than 30km from the heart of Belitung. It can be reached by car or motorbike is around 30-40 minutes depending on the traffic. To reach Tanjung Kelayang, renting a car or a motorbike from rental shops in the city seems best. The rental fee for a car starts from Rp400.000/day.
On the other hand, the rental fee for a motorbike is cheaper at Rp60.000 for a day. But there's also public transportation DAMRI shuttle van from Belitung Airport Hananjoeddin to the beach. There are 3 different routes from the airport. And each will deliver passengers to different tourist sites scatter in Belitung island. From the airport to Tanjung Pandan, Belitung, and last Tanjung Kelayang Beach.
The first van will depart at 8 AM and the next one will be available 2 hours later. Tanjung Kelayang Beach is the last stop before the van departs back to the airport. Along the route, tourists could also make a stop at other tourist attractions like Kaolin lake. The shuttle fare is Rp45.000.
Address & Location
The beach location is in Jl. Tanjung Kelayang, Sijuk, Belitung regency, Bangka Belitung Island 33414.