Gili Meno
Entrance Fee: Rp10.000
Opening Hours: Open 24 Hours
Telp. Number: -
Address: Gili Indah , Gili Indah , Pemenang , North Lombok, West Nusa Tenggara  , Indonesia , 83352.
Gili Meno is the most overlooked islet in northern Lombok. It is no wonder since it's the smallest and the quietest of the three Gilis. The islet actually has different attractions for a perfect retreat. It is a little far from civilization but not uncivilized at all. For those who dream of being on a private island full of supporting facilities, Gili Meno is the place to go.
There is indeed no motorized vehicle and electricity is scarce. The vehicles used here are horse-drawn carts called cidomo or bicycles. That is probably why nature is so generous providing fresh air in return. The surroundings are also eye-pampering. The white beach is adorned with swaying palms and casuarinas grow everywhere.
A  saltwater lake spans 8 hectares on the west side. The placid lake is adorned by flying birds that are migrated to the complex. Dozens more bird species are tweeting and chirping, in a park within a homestay complex nearby. Also, the sea has crystal clear water of green to turquoise and blue gradient colors. Under the water, more charms await.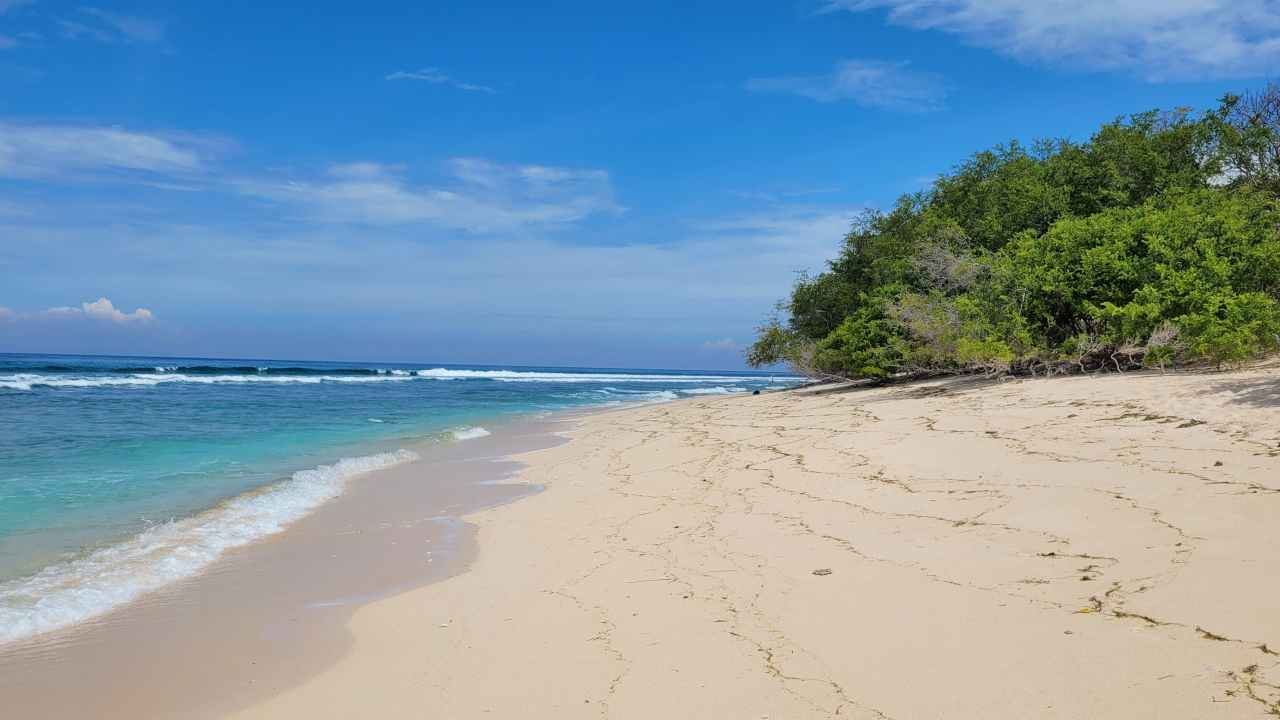 Gili Meno Island Entrance Ticket
Tourists visiting Gili's island now have to pay a small retribution fee in the port. For international tourists, the entrance ticket is Rp10,000.
Gili Meno Island Entrance Ticket
International Visitor
Rp10,000
See: Guide To Explore Mount Rinjani National Park & Entrance Ticket.
Gili Meno Opening Hours
Most attractions and diving operators on the island are open until 6 PM. While other businesses like restaurants have long operational hours and do not close until midnight.
Gili Meno Island Opening Hours
Every day
24 Hours
See: Guide To Explore Komodo National Park Island & Entrance Ticket.
Exploring the Land
The vacation should start once tourists step foot on this island. Just go out and start walking to explore the land. The first feeling everyone will get is freedom. With only one by two km area, strolling around wouldn't take too long. It is only one and a half hours to encircle the land on the beach on foot.
When feeling tired, it is not hard to find a shady place to take a rest. Grab coconut water from the vendors along the beach. It will cost tourists about $1 to get one. Once feeling satisfied, everyone is free to go back to the lodging and get prepared for the next excitement.
The more dynamic way of mobilizing is cycling. Bicycle rental is scarce but the hotel lends its occupants the bike for free. Get one and go a little inside the land. Pack the bag with a bottle of water and a small towel to do the outdoor activities. And, don't forget to apply sunscreen.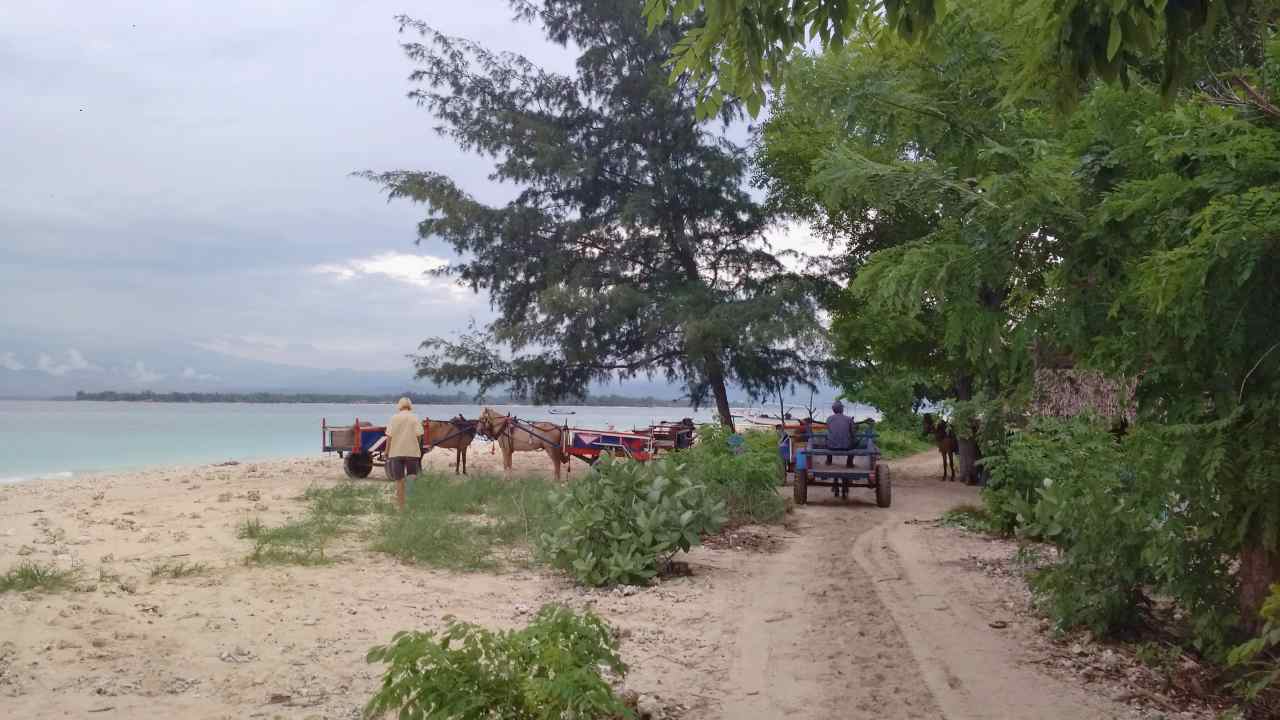 Saltwater Lake & Bird Park on Half Western Part
Near the western coast, a saltwater lake sits within a mangrove ecotourism park. In this peaceful lake, people may spot migratory species such as cattle egrets, finches, eagles, or blue kingfishers. Watercocks and monitor lizards are also easy sightings amidst the mangrove buds.
There is a wooden walkway with a timber shelter, but be careful when stepping on it. At some points, locals often sit with a fishing rod at hand, reaping nature's ample resources.  Tweeting and chirping sounds of the birds are filling the air. The beautiful sounds blend with the luscious green mangrove surroundings.
And a 5-minute walk to the southeast, a dome-like structure has over 200 species of Asian and Australian aves. The species include flamingos, cockatoos, eagles, pelicans, and many more. The bird park is not only extraordinary; it also has intriguing entrance labyrinths. Visitors must pass through it to see the bird collection.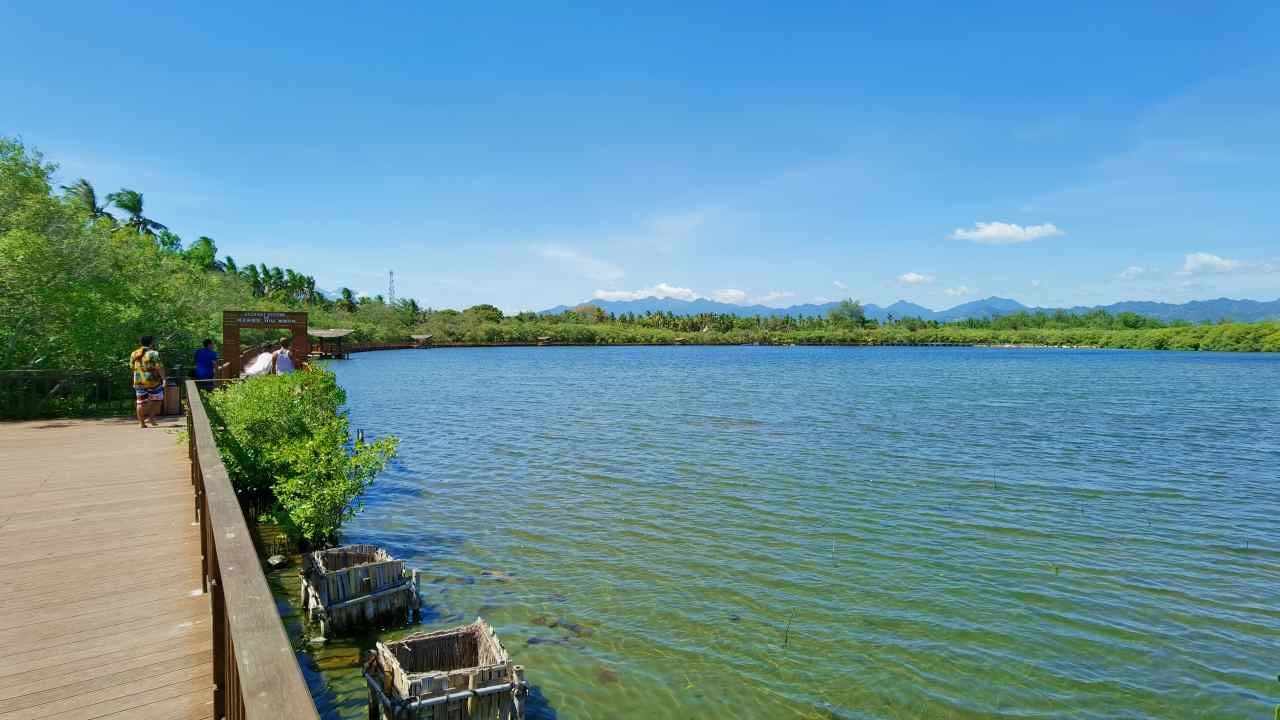 Sunrise and Sunset
The beach is slope and has fine-grain sand on the eastern side. What is more, the view is amazing when sunrise comes. Just go to the best sunrise spot at Meno harbor on the eastern coast.
After going around all day, don't go back to the lodging when the afternoon comes. Stop by on the western coast as it presents magnificent sunset.
Gili Meno Bask Nest
The nest is a collection of 48 life-sized human sculptures by an artist and underwater photographer, Jason deCaires Taylor. The art was meant to bring back marine biota to the western sea of Gili Meno. This spectacular diving and snorkeling spot is only a 10-15 minute boat ride from the west coast.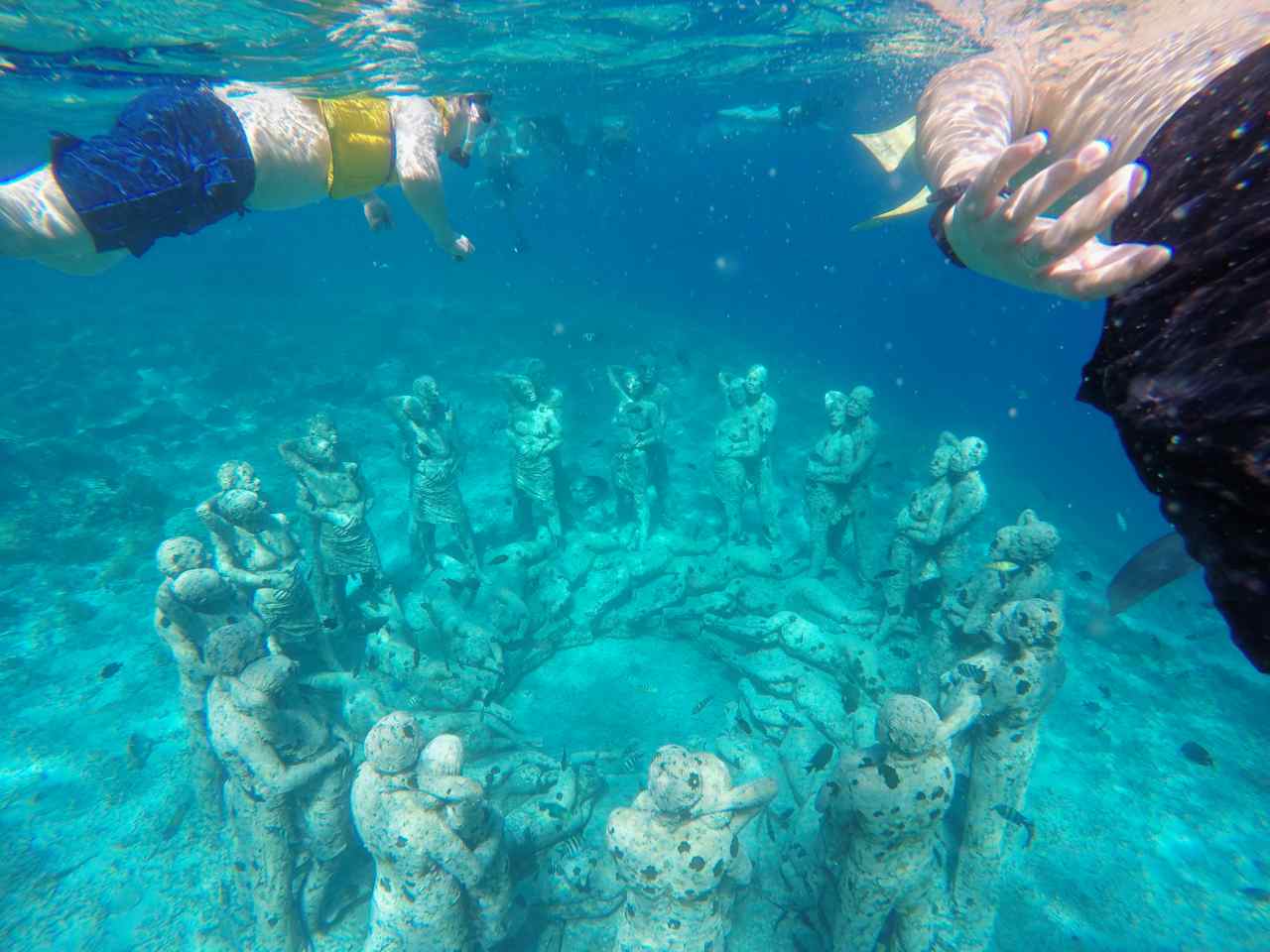 The sculptures and colorful fishes swimming around are visible from the surface. So it is possible to witness the wonders by snorkeling. However, it only takes a 7-meter free diving to enjoy them up close.
But there is one more way to enjoy them without being wet. With 1.5 million rupiahs, 10 people may rent glass bottom. The boat will take tourists there and to other underwater spots for 3 hours.
Gili Meno Wall & Turtle Conservation
Gili Meno Wall is only 10 minutes of kayaking from the eastern beach. Here, tourists will easily see a turtle swimming freely. And near the beach, there is a turtles conservation and hatchery. There are four pools measuring 1 x 1 meter with tens of green tukik, or hatchlings. It is open all day for free. However, everyone can take part in turtle release by donating Rp100,000.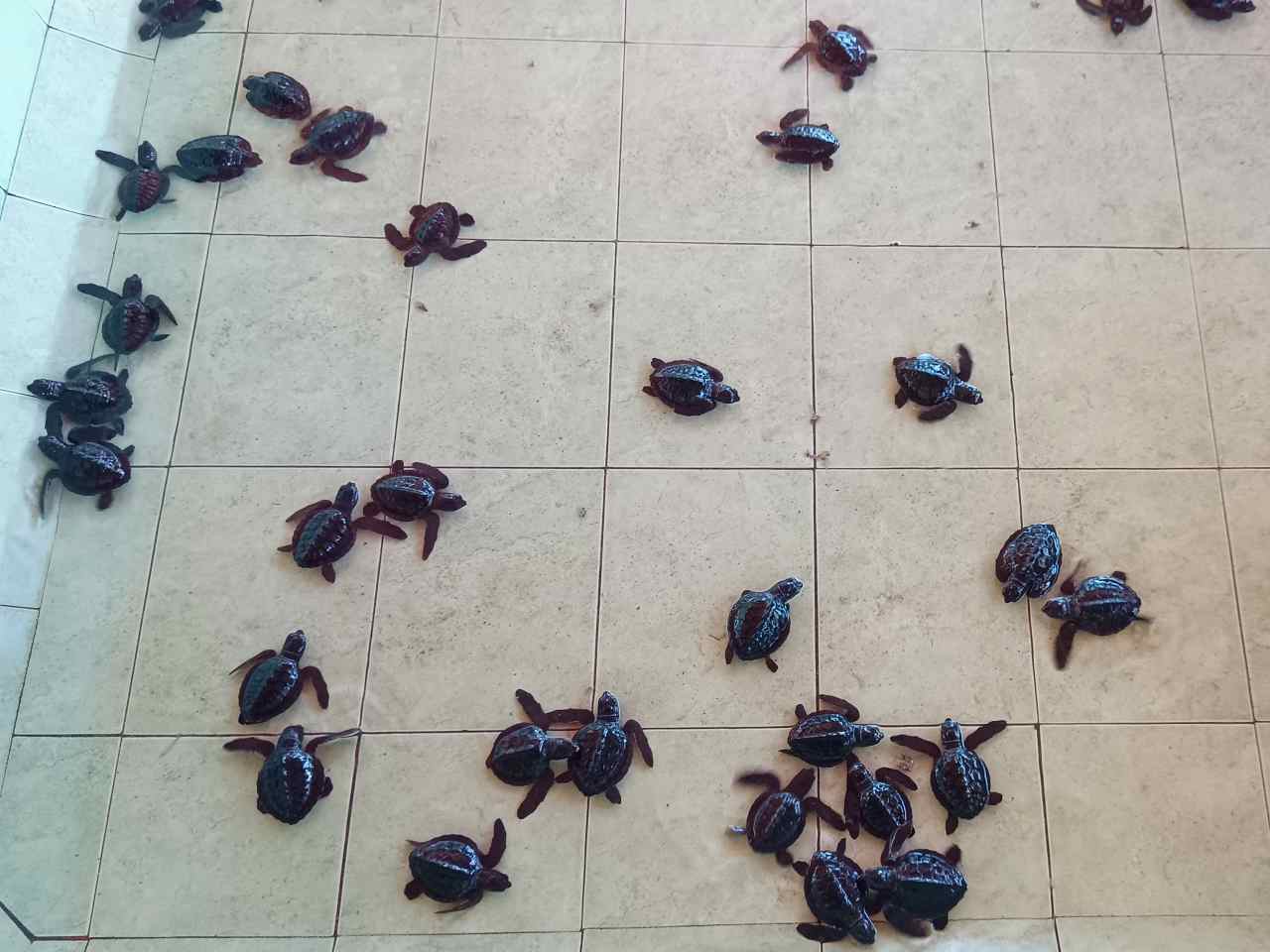 Facilities
The small paradise has complete facilities. Tourists can choose lodgings from humble bungalows that cost Rp200,000 to 3-star hotels that cost above 1 million rupiahs per night. Restaurants are available in the hotels, but there are also warungs with beach views.
The restaurants serve Indonesian and Western menus. Indonesian menu ranges from popular fried rice and noodles, gado-gado, fried chicken, curry and satay, and various kinds of seafood. In the warungs, the prices range from Rp25,000 to Rp75,000. The drinks available are mineral water, soft drinks, coffee, tea, juices, and milkshake that cost from Rp5,000 to Rp30,000.
The warungs have a beach view. However, in some of them, the owner sometimes plays guitar while singing songs. There are diving schools from which tourists may rent snorkeling and diving gear, and of course, the guide. Snorkeling gears cost Rp75,000. The diving gears cost above Rp600,000.
There are only 2 ATM machines on the island, and it's not that reliable. So it's best to pay for the accommodation before arrival and prepare cash.
See: Guide To Explore Wae Rebo Village & Top Things To Do.
How To Get To Gili Meno Island
From Bali, there are several departing points, from Padang Bai and Sanur harbor. The fast boat ticket from Bali ranges from Rp375,000 to Rp600,000 for a one-way ticket. The journey itself will take more than 4 hours to get to Gili Meno island.
Gili Meno island is also accessible easily from Lombok and the other two Gilis. There are ferries from Bangsal port that cost Rp25,000. It takes about 25 minutes to get here. From Gili Trawangan, visitors can get on a public boat that cost Rp20,000 to Rp25,000.
The boat operates twice a day and leaves at 09:30 AM and 4 PM. Another way, a fast boat leaves Gili Trawangan every 1 hour which costs Rp85,000.
See: Guide To Choose Tourists SIM Card & Where To Buy.
Gili Meno Island Location & Address
The island is located in the Pemenang district, North Lombok, West Nusa Tenggara 83352.