Lake Toba
Entrance Fee: Free Entry
Opening Hours: Open 24 Hours
Telp. Number: -
Address: Jalan Siantar Parapat, , Parapat , Parapat, Simalungun , North Sumatera , Indonesia , 21174.
The northern part of Sumatra Island, Indonesia, hosts the largest lake in the country. Lake Toba is a crater lake sitting atop an ancient supervolcano with the same name. It stretches 100 km long and 50 m wide, comparable to the size of Singapore. Lake Toba is the result of a massive eruption over 74,000 years ago.
The eruption also created several islands right in the middle of the lake. The biggest island is Samosir Island which occupies two-thirds of the lake area. Lake Toba has a depth of 500 m. Some say that the water volume from Lake Toba will be able to flood the entire area of England. To a depth of one meter.
Lake Toba attracts tourists for its mesmerizing scenery and exotic culture. Whether it is boating around the lake or catching a view from the Observation Tower, there are enough activities for a couple of days.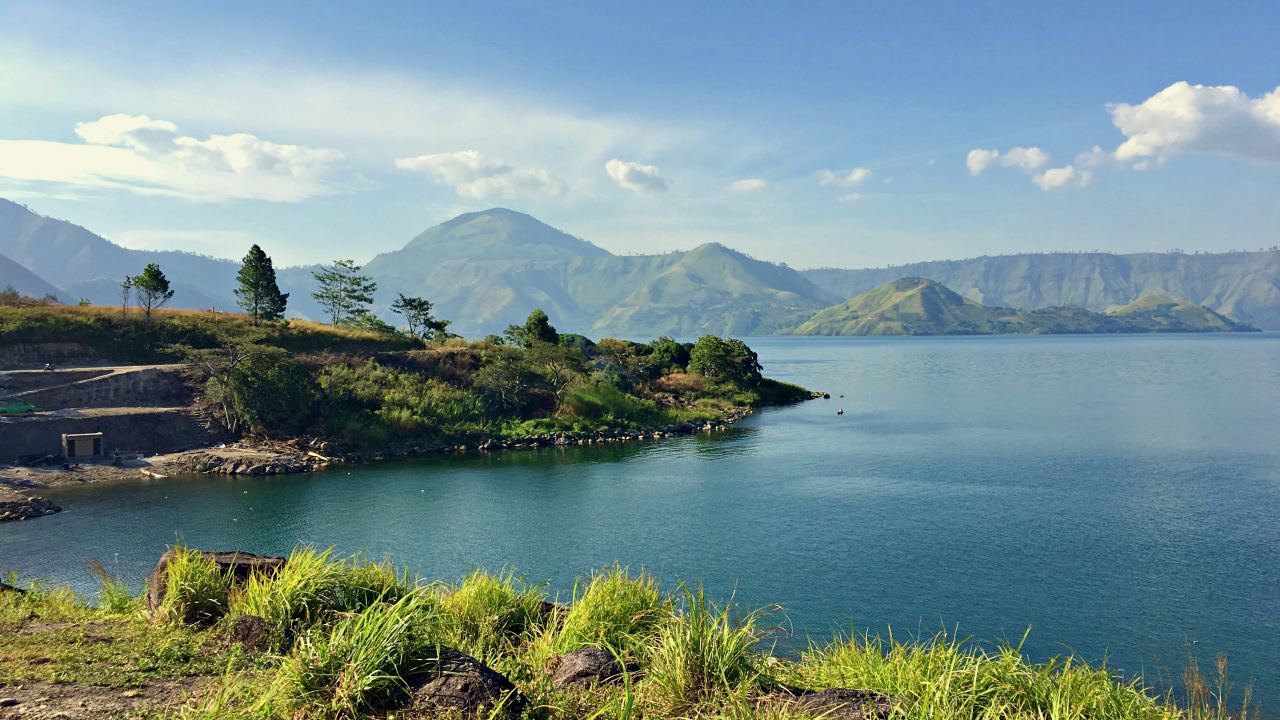 The other interesting part aside from the lake is seeing Batak Tribe. The indigenous people who've been settling in this place for centuries. The wildlife is also worth noticing, with the lake being home to the endemic Batak fish Neolisschosillus Thienemanni.
Things To Do In Lake Toba
Take a moment to immerse in the grandness of this lake. Dubbed as the largest volcanic lake in the world. Lake Toba induces this feeling of insignificance with its vastness. Get lost in the majesty of nature as visitors sit by the lakeside. Watch the stillness of the water and feel the breeze. Afar, mountains, and hills blanketed with lush forest looking as if they hug the lake.
Drive Around The Lake
Rent a scooter to drive around Lake Toba. It's the opportunity to get more of Toba besides the nature sightseeing. Experience Batak's daily life and culture. Stop by Silalahi Batak Museum to learn in-depth about this ethnic tribe. The museum displays artifacts, musical instruments, traditional costumes, and many more of Batak's cultural elements.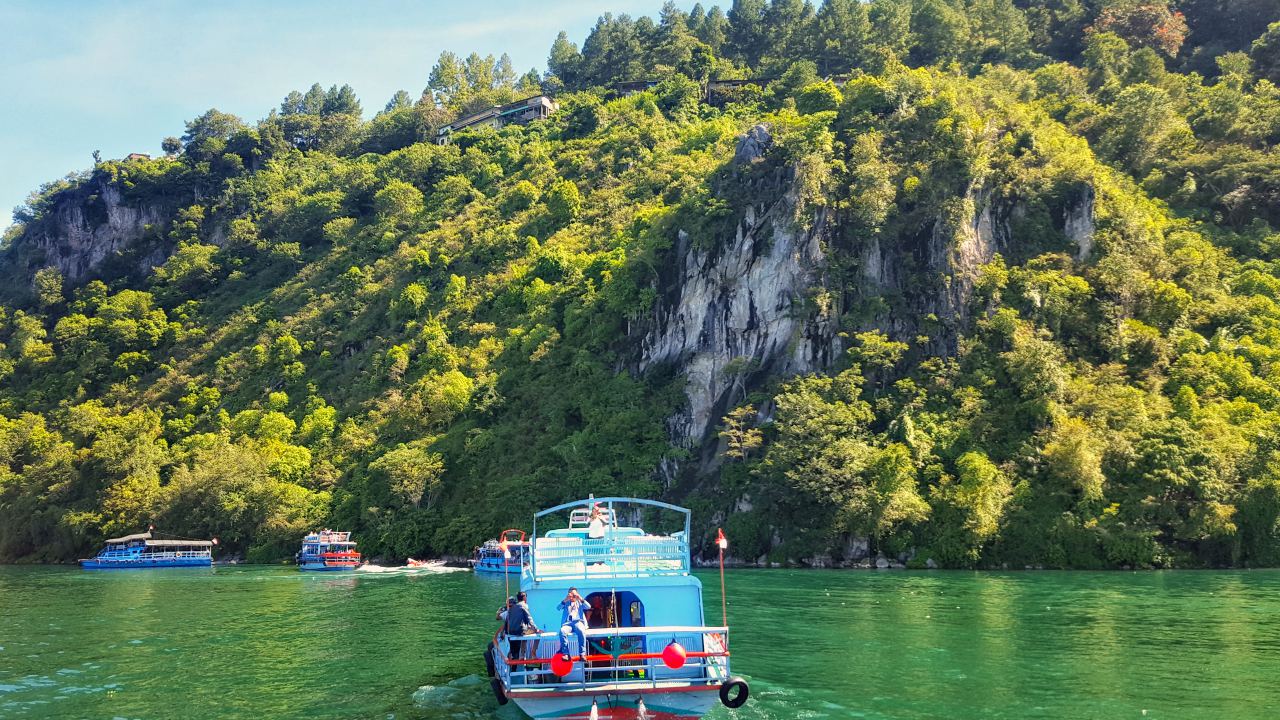 Lake Toba has some beaches around the area. The closest to Batak Museum is Bulbul beach. Bulbul will awe visitors for its white sandy shore. The water is as blue as an ocean, only it's definitely not salty. Take a plunge into the chilly water for a start.
After, do some water activities available here such as kayaking, jet skiing, and banana boating. Move to the west part of the lake, there's an observation point called Tele Viewpoint. With only an IDR 7k for entrance fee. Climb to the top of this Gadang-inspired tower.
Enjoy the bird-eye view of Lake Toba, the islands, and the mountains surrounding. When the fog hung low, it will feel like being in an above-the-cloud kingdom.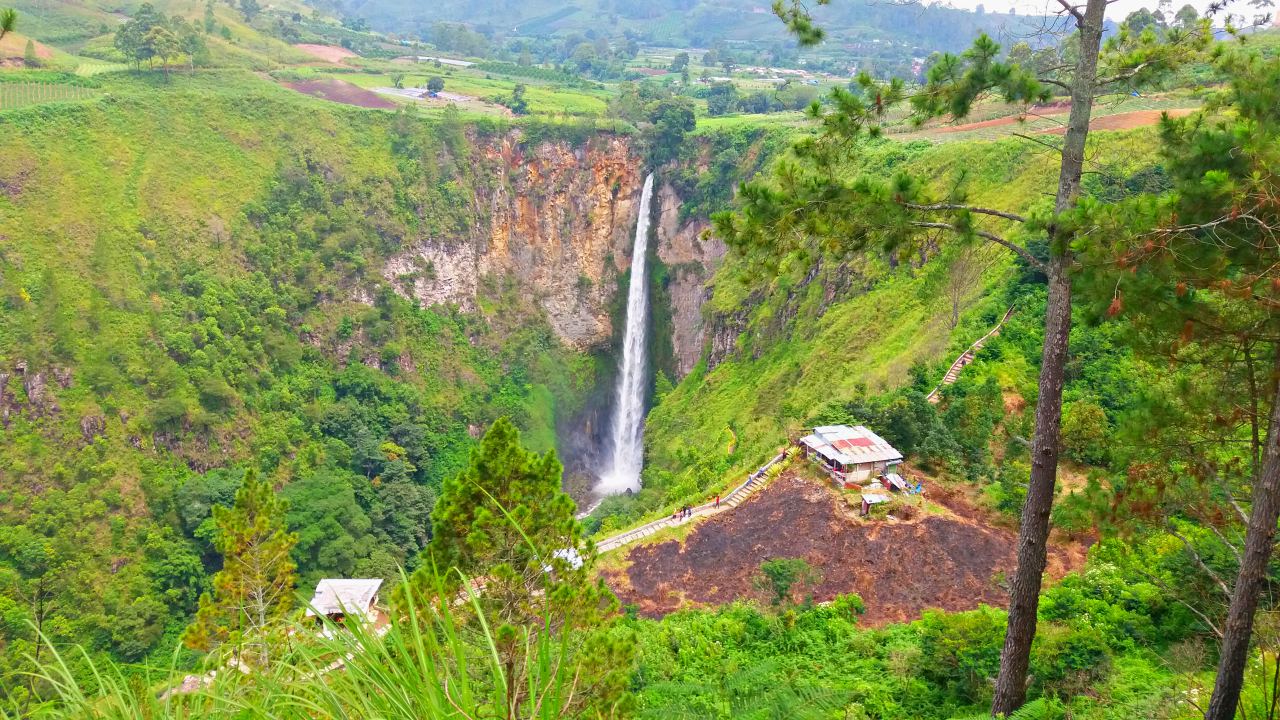 Batak Cuisine & Lakeside Dining
Indulge in Batak delight which mainly consists of freshwater fish. Restaurants offer tables just by the lakeside, providing scenic views one can enjoy while dining. Order grilled goldfish or Arsik Ikan Mas. Cook with special spices mix and Batak yellow sauce, this dish spoils the foodie with a flavorful and delightful taste.
Also, try Batak specialty grilled pork Saksang. The juicy and tender meat is served along with the blood sauce. Blood sauce is pork blood cooked with a special mixture of herbs.
As side dishes, ask for cassava leaves curry and a bowl of pork soup bones. For dessert, try the rice flour cake with palm sugar filling called lempet.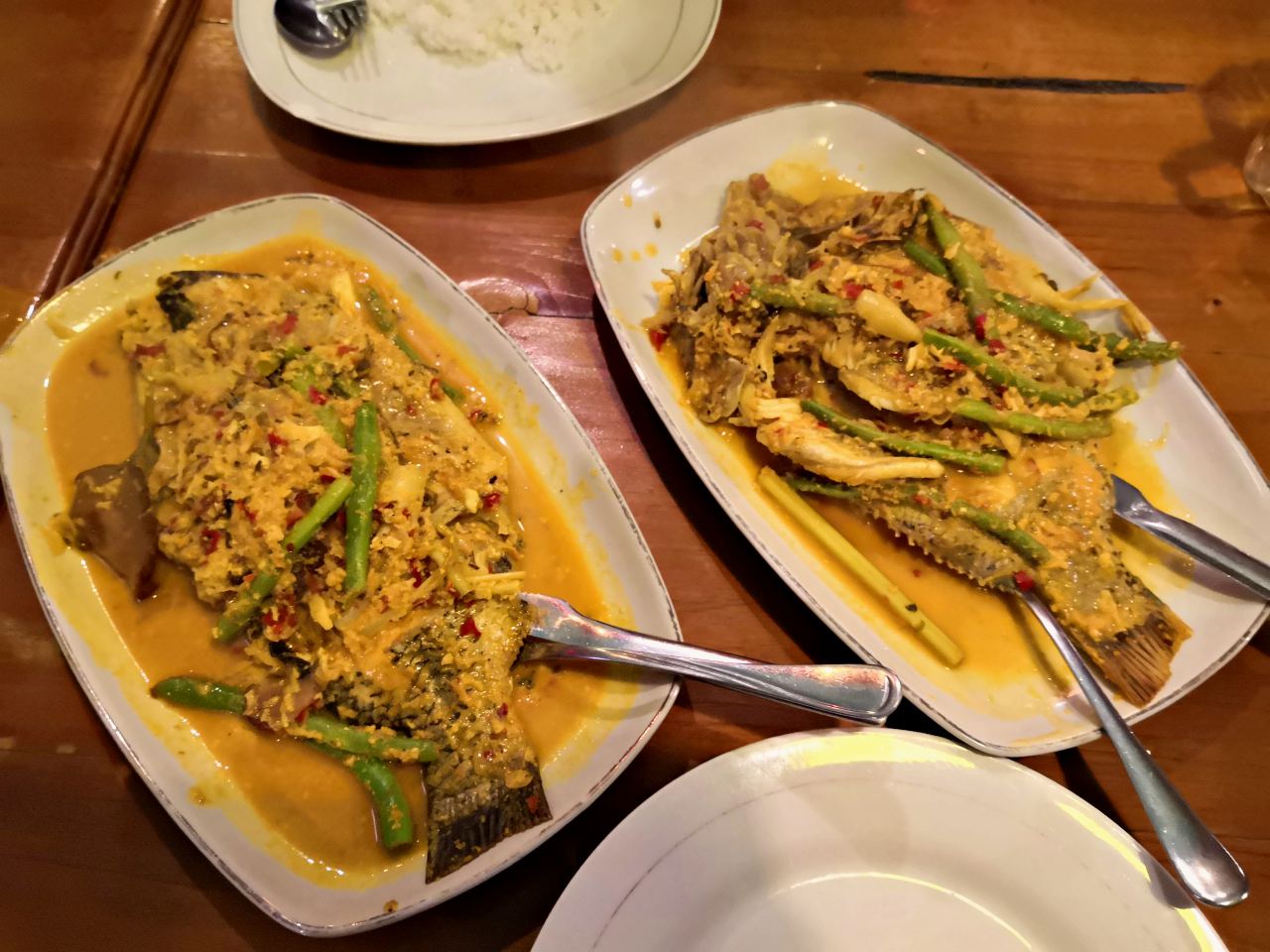 Sipiso-Piso & Situmurun Waterfall
The highest waterfall Sipiso-Piso lies in the northern part of Lake Toba. It has a height of 120 m and has a unique formation. The water goes down to an underground river which has the same level as Lake Toba. Hike down to the bottom to get the most dramatic angle of Sipiso-Piso.
Situmurun Waterfall is the only waterfall that falls directly to Lake Toba. To reach this incredible waterfall, tourists must take a boat ride. A little rocky area under the waterfall makes it possible to land ashore. The currents around the waterfall can be strong sometimes. Make sure to go with a guide and listen to their safety guideline.
Take A Ferry To Samosir Island
Hop into the ferry and head to the island of Samosir. Dedicate one full day alone to explore this beautiful island. The highlight of Samosir is the Batak Village Tomok with its traditional wooden houses and saddle-shaped roofs. Enjoy Batak dance performances, visit the museum, and shop for souvenirs. The whole village can be explored just by walking.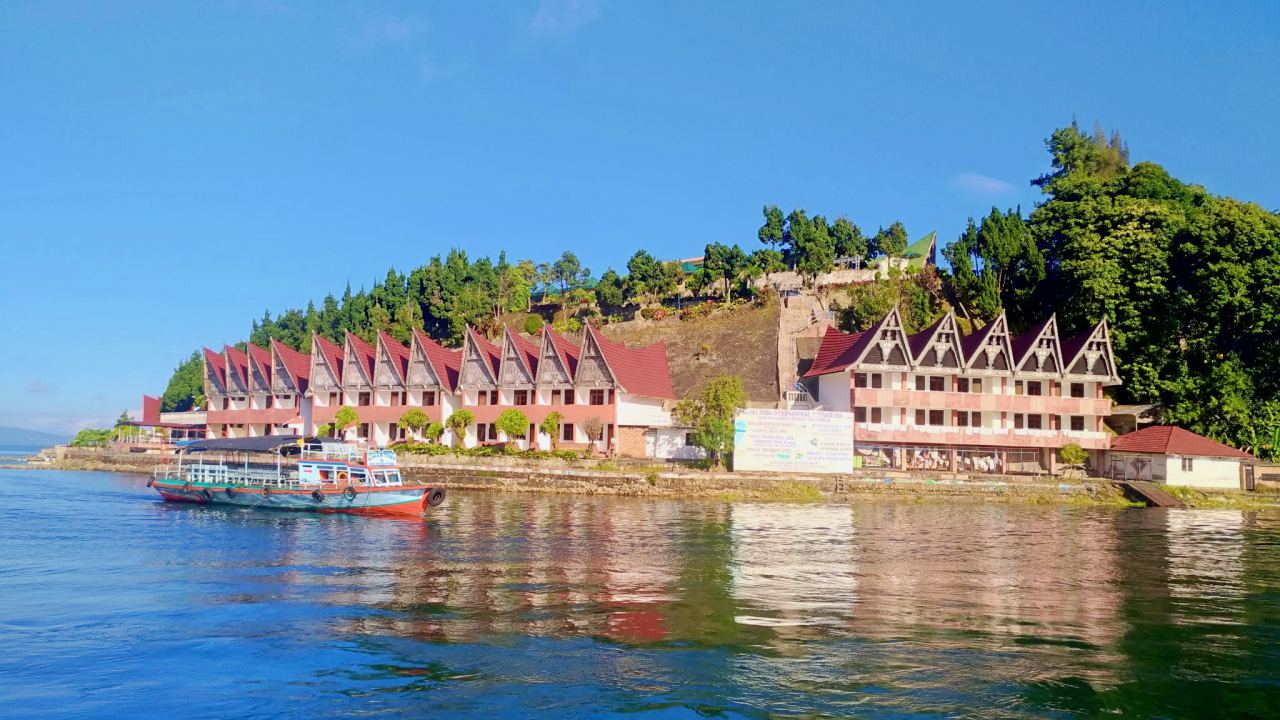 Lake Toba Attraction & Opening Hours
Batak Museum tickets are Rp5.000 each. The museum opens every day from 8 AM to 5 PM, except on Monday. Entry to Sipiso-Piso Waterfall is Rp5.000 per visitor. Prepare cash around the same amount for parking. Renting a motorcycle to get around the lake costs Rp100.000/day.
Attraction Opening Hours
Batak Museum
08:00 – 17:00
Museum Entrance Fee
Rp5.000
Sipiso-Piso Waterfall
Rp5.000
Motorcycle Rent
Rp100.000
See: Guide To Explore Sipiso-Piso Waterfall.
Facilities
There is plenty of accommodation at the lakeside available for tourists near Lake Toba. The rate starts from Rp250,000 for a night depending on type and facilities. Restaurants, cafes, and small shops are available, especially around the town of Parapat. In this town, tourists can also find facilities such as money changers, souvenir shops, and motorcycle rentals.
See: Indonesian SIM Card, Where To Buy, Registration & Top Up Credit Guide.
How To Get To Lake Toba
Lake Toba is 4 hour road journey from Medan, the capital of North Sumatra. There are several ways to go to Lake Toba from Medan's Kualanamu Airport. Tourists can opt for taxi sharing from the airport. The fare is Rp80.000-Rp100.000 per passenger. It's convenient as people will not need to step out of the airport.
If using buses, head to Amplas Bus Terminal with public van line 38/48 (fare Rp5.000). Then take a bus heading to Parapat, Simalungun. The most recommended bus is Sejahtera Bus Company. Sejahtera bus departs from Amplas terminal every hour from 6 AM. The fare is affordable at Rp50.000 and another Rp5.000 for a minivan from the bus pool to the lake.
From Silangit International Airport, there is a direct bus DAMRI heading to Ajibata pier. The bus will leave at 9, or 10 AM and another one leaves at 3 and 4 PM. The bus fare is Rp65.000 and it takes 2 hours and 30 minutes to get to the pier.
Address & Location
Lake Toba is located in Jalan Siborong Borong – Parapat, Sibaganding, Girsang Sipangan Bolon, Simalungun Regency, North Sumatra 21174.