Sipiso-Piso Waterfall
Entrance Fee: Rp7.500
Opening Hours: Open 24 Hours
Telp. Number: -
Address: Jl. Tongging Silalahi,, Tongging,, Merek,, Karo , North Sumatera , Indonesia, 22173.
North Sumatra must be lucky with its wonderful nature. Known for its largest lake, Lake Toba, North Sumatra also has Sipiso-Piso Waterfall. As the highest waterfall in Indonesia. Sipiso-Piso is 120 meters in height. And the water drops from a plateau to an underground river.
Located at Tongging Village, Karo Regency, North Sumatra. Sipiso-Piso Waterfall is quite a distance from the big city and airport. In addition to its reputation as the tallest. Sipiso-Piso waterfall gets fame from its forming history. The waterfall is a result of Toba's volcanic eruption thousands of years ago.
The eruption caused a crack in the Karo flatland and cuts the river. As a result, the water dropped underground and formed what's now is Sipiso-Piso. The ruins of the caldera wall also formed a cave behind the waterfall. The water continues to flow and disembogues into Lake Toba.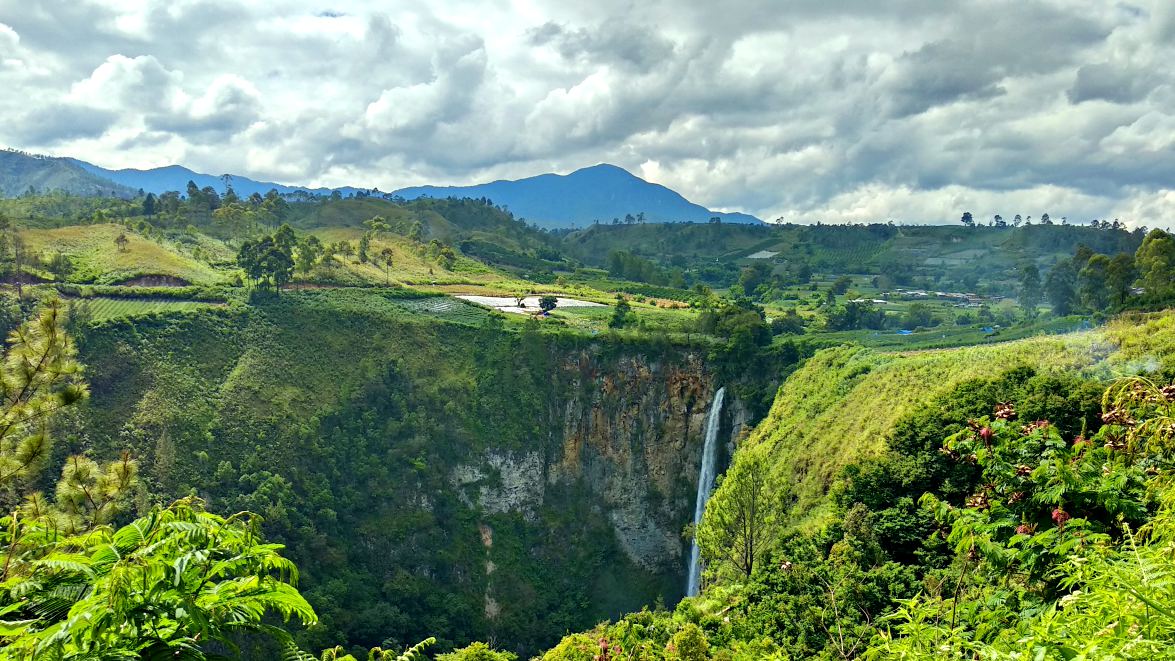 As one of the prides of North Sumatra. Locals love to visit the waterfall because it offers several breathtaking views at once. From its viewpoint, enjoy the expanse of Lake Toba and Samosir Island. Apart from the waterfall itself. Batak cuisine is also one of the reasons why locals keep coming back to the fall. As seafood restaurants are abundant in nearby Tongging village.
The Bottom Of Sipiso-Piso Waterfall
It's not enough to see the Sipiso-Piso waterfall from the observation deck only. For the best experience, head down the stair. Take a deep breath because the journey will be challenging. There are around 500 flights of stairs to conquer. A 40-minute climb or so going down. And even longer when going back up.
However, soon the journey will definitely be worth it. At the bottom, one can see clearly a great force of water going down from 120 m high. The thunderous roar of its waterdrops. The green vast tree and bushes surround the landscape. The pool at the bottom is murky. In the same way, shows how strongly the water hits the ground.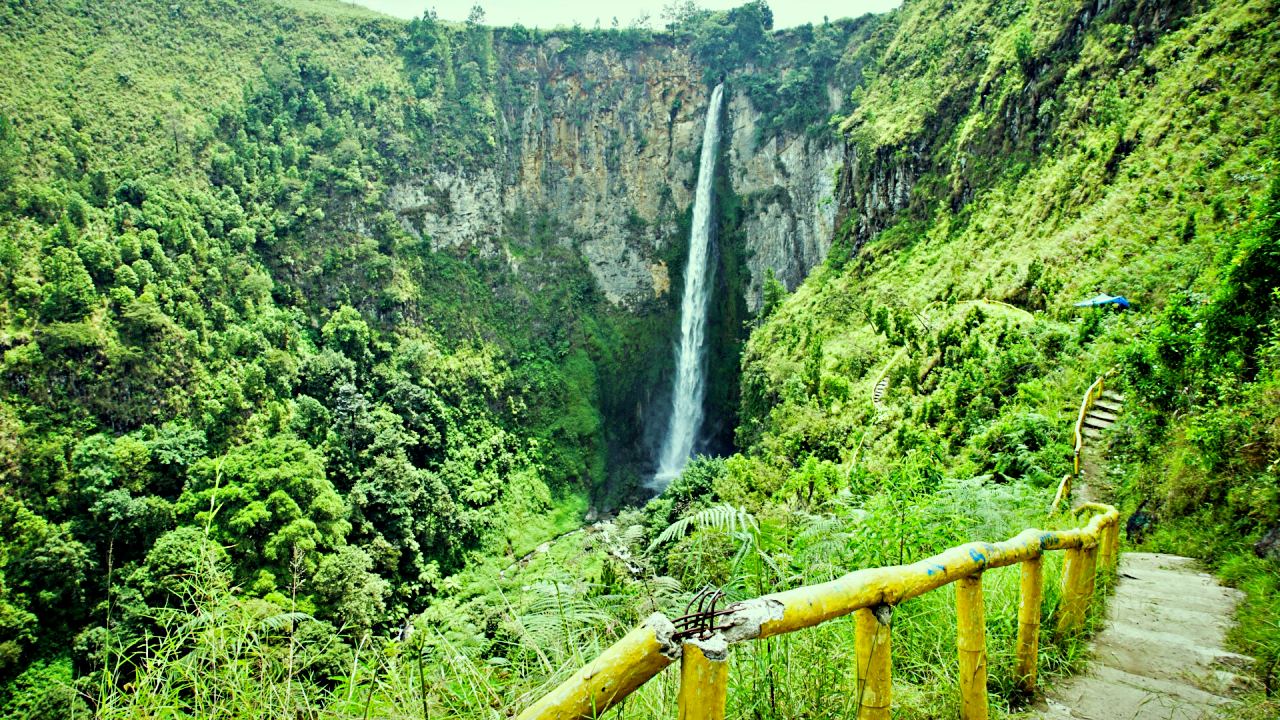 Prepare a raincoat or extra clothes. Do not hesitate to get wet though. Enjoy every drop of water that will wash the exhaustion away. Embrace being refreshed by this natural shower.
Sapo Juma Flower Garden
Located only 4 minutes from Sipiso-Piso Waterfall. Sapo Juma is a highland flower garden. Just like Sipiso-Piso, Sapo Juma is just a great spot to admire the beauty of Lake Toba.
In addition to the picturesque lake, guests can admire the variety of flowers in this garden. Be it a hydrangea, kana flower, cosmos, or bright marigold. Their vivid colors are such a feast to the eye – a fresh break among all the greens.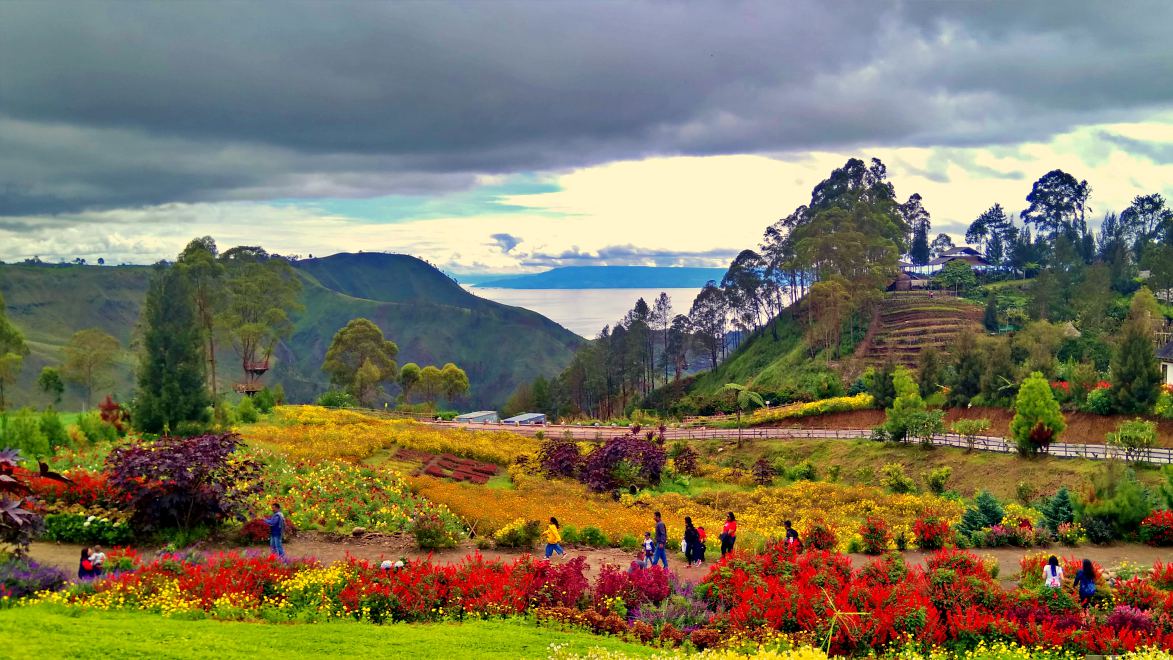 Camping at Bukit Gundul
Imagine waking up in the morning at the land above the clouds. As the fog disappears, Lake Toba slowly unravels itself out of the mist. Visitors can have such an experience by camping at Bukit Gundul. Also known as Bukit Sipiso-Piso, the hill is only a few minutes' drives from the waterfall.
The climb takes 2 hours but tourists can also go by motorcycle or car to the top. Aside from camping, the hill is an even better broad landscape to admire Sipiso-Piso waterfall. Enjoy a clearer view of Karo highland, Mount Sibuatan, and of course lake Toba itself. Floating clouds are not a rare sight too. Wear warm clothing here as the temperature could drop all of a sudden.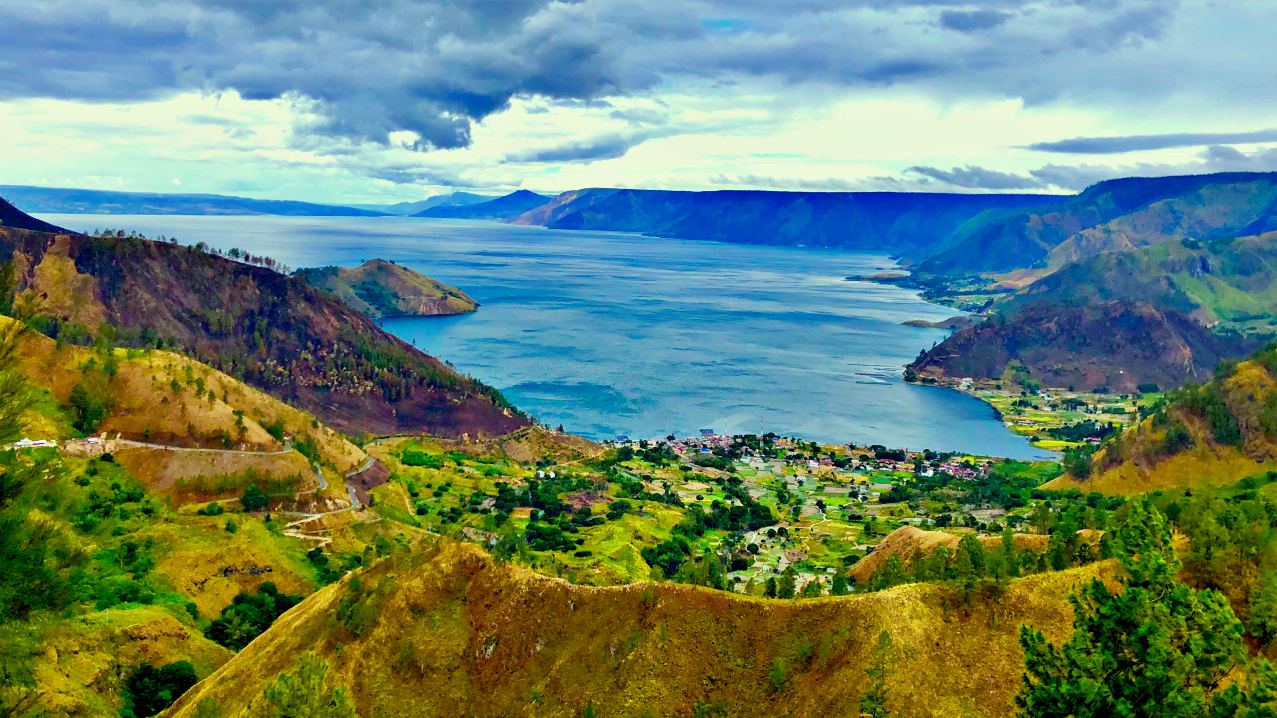 Batak Delicacies
After all the hiking and outdoor activities. The thought of warm rice and grilled fish is enough to make the stomach growl. Dine in the restaurant nearby and taste various dishes made from freshwater fish. Try Arsik, a fish grilled with a Batak spice called andaliman.
Andaliman pepper grows only in Batak highlands. And is, in fact, the specialty of this region. Complete the dishes with sambal tuktuk, a specialty of Tongging Village. It's quite similar to any Indonesian chili sauce. However, andaliman in the ingredient gives an additional distinct taste similar to Szechuan pepper.
Also, if one dares, try Batak's extreme dishes such as Saksang. Pork cooked with spices and its own blood. Or another fish dish Naniuara. A sushi-like dish where fish is served raw with only spices as a condiment.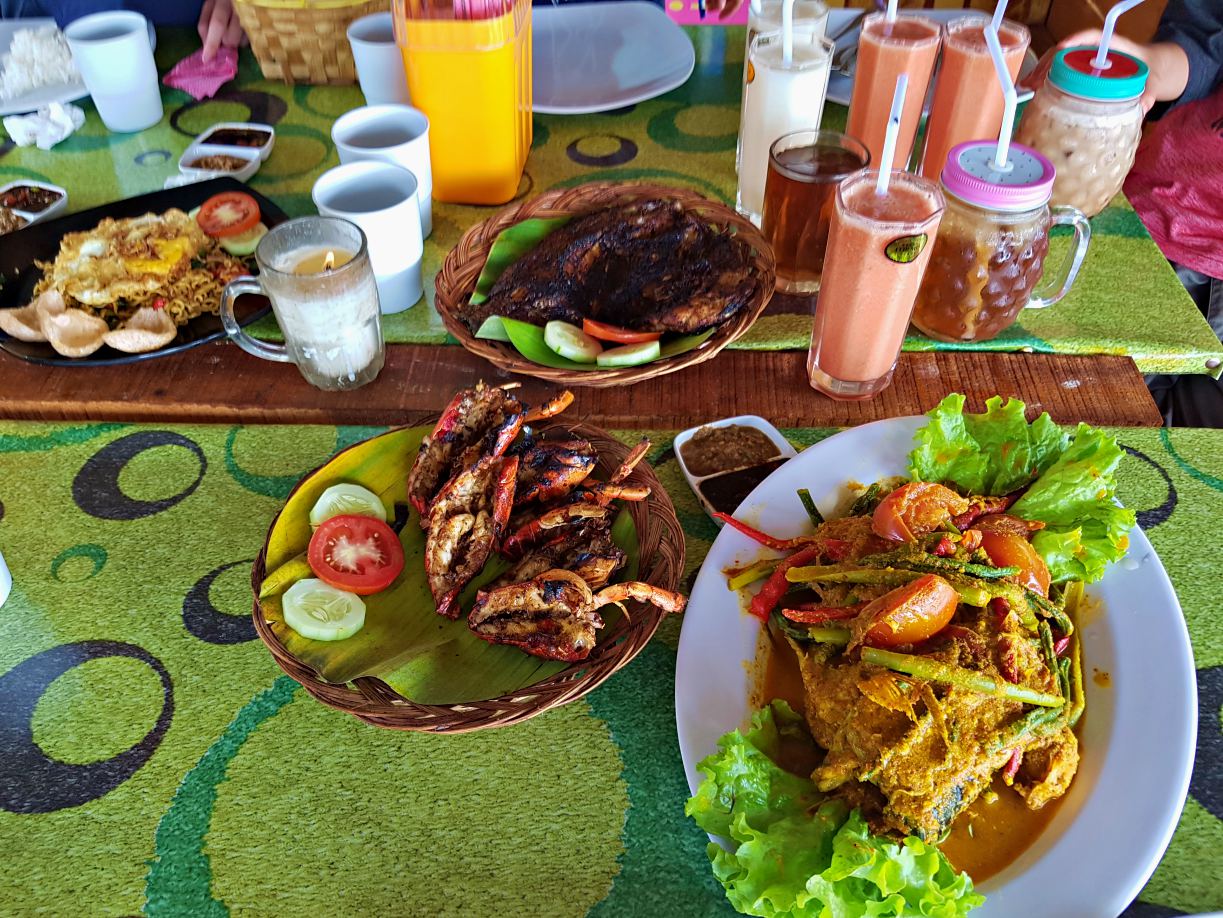 Sipiso-Piso Waterfall Opening Hours
Sipiso-Piso Waterfall is accessible for 24 hours. However, it's best to go during the daytime for safety. Sapo Juma flower garden opens daily from 8 AM to 5 PM.
Sipiso-Piso Waterfall Opening Hours
Sipiso-Piso Waterfall
Open 24 Hours
Sapo Juma Garden
08:00 – 17:00
See: Lake Toba, Activities & Transportation Guide.
Sipiso-Piso Waterfall Entrance Fee
The entrance ticket for tourists is Rp7.500, and the additional fee for car parking is Rp10.000. As for Sapo Juma garden nearby, the entrance ticket cost Rp20.000 per visitor.
Sipiso-Piso Waterfall Entrance Fee
Waterfall
Rp7.500
Sapo Juma Garden
Rp20.000
See: Guide To Explore Samosir Island, Top Spot, Museum & Tips. 
Facilities
Facilities are decent at Sipiso-Piso. There are parking spaces and public toilets. Gift shops and restaurants are plenty around its entrance. The government has built several viewpoints to watch this waterfall and Lake Toba from a good angle. As well as huts in the middle of the stair to take a rest. As for accommodation, the closest is at Village Tongging below.
See: Bukit Lawang Ecovillage, Activities & Ticket.
How To Get To Sipiso-Piso Waterfall
From Medan, travelers can head to Berastagi by public bus and stop at Kabanjahe Town. The fare is around IDR 40k. Tourists can find a bus that operates directly from Kualanamu International Airport. From Kabanjahe, continue to Sipiso-Piso by a minibus heading to Siantar.
If travelers come from Lake Toba's town Parapat, the journey takes 2 hours and a half to Siposo-Piso. Tourists can rent a car with a fare of around Rp 1 million for a 7-seated minivan. Renting a motorcycle is also an option. However, be prepared as the road condition is pretty bad in some spots. Renting a motorcycle costs from Rp 70,000 to Rp100,000 a day.
See: Prepaid SIM Card for Tourist, Price & Provider List.
Address & Location
Sipiso Piso waterfall is located in Pengambaten, Merek, Karo Regency, North Sumatra 22173.