Samosir Island
Entrance Fee: Rp5.000
Opening Hours: 08:00 - 20:00
Telp. Number: -
Address: Jl. Pulau Samosir , Tomok, Simanindo , Samosir , North Sumatera , Indonesia, 22395.
Samosir Island is indeed interesting. First, it's located within a lake instead of the ocean. Lies in the middle of Lake Toba, the largest volcanic lake in the world. Second, its size at 630 km² square is almost as big as Singapore. Samosir Island has an active volcano, thriving towns, and villages. In addition, there are two little lakes inland.
Lake Sidihoni and Lake Aek Natonang, these two lakes lie in different districts on Samosir Island. The mainland itself, Samosir is a volcanic island. It is created after the eruption of Mount Toba that happened over 75,000 years ago. The highest point of the island, Mount Pusuk Buhit, still is an active volcano.
Samosir island is a fertile one. Dominate by lush green blankets for most of the part. Rice fields and lakeside provide jaw-dropping vistas for sore eyes. Nature is not the only thing attracting tourists to this northern part of Sumatra.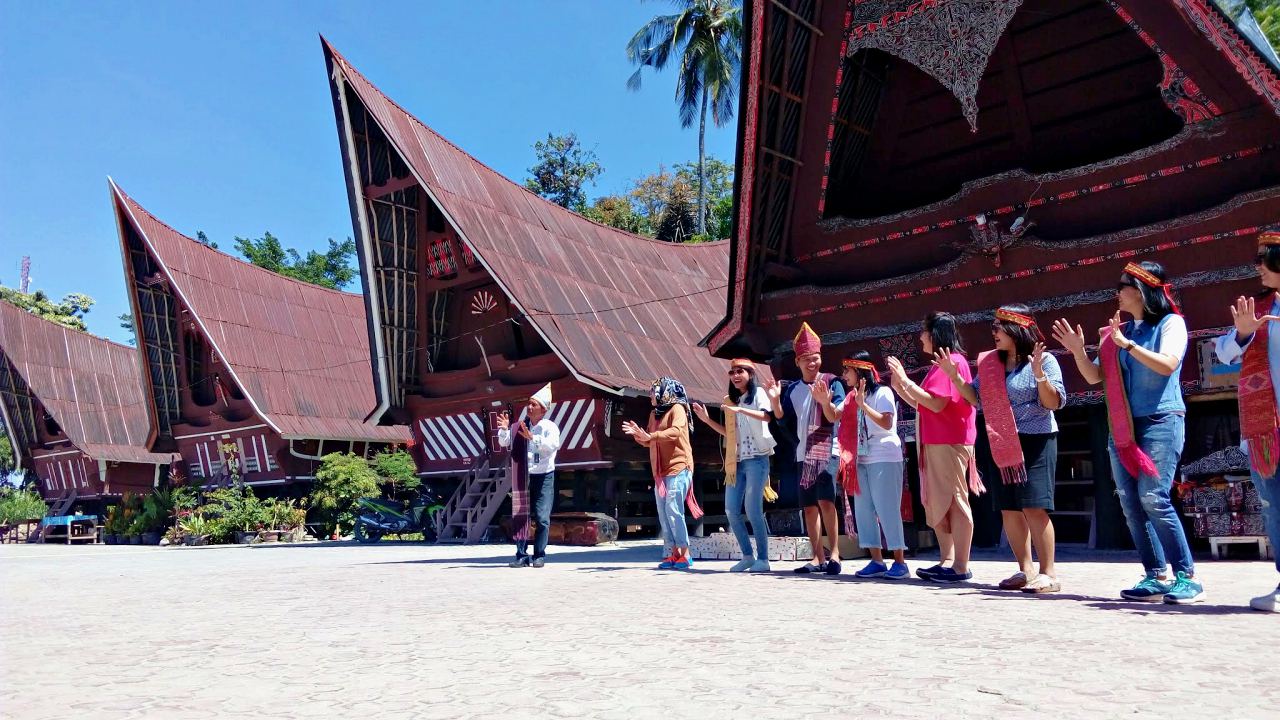 Samosir island is the center of Batak Toba Culture. An ethnic tribe that has been residing on this island for centuries. The locals maintain their village life and culture for a long period until today. Get a glimpse of their daily life and tradition. In short, Samosir Island is the best place to see one of the oldest Indonesian tribes.
Tomok Village The Gate Of Samosir Island
Tomok Village, people know the village as the main entry to Samosir Island. The exotic village is like an official village built for tourism. They have a museum, Batak traditional houses, and traditional performances. The Gorga traditional house with its saddle-shaped roof. And their elaborate details and architecture are something worth seeing.
Plant and flower-shaped patterns, carving of breasts and gecko, thatched roofs. All are mostly painted in color black, red, and white. To learn more about the tribe, tradition, and village life. Don't miss and visit the Batak Museum in Tomok Village.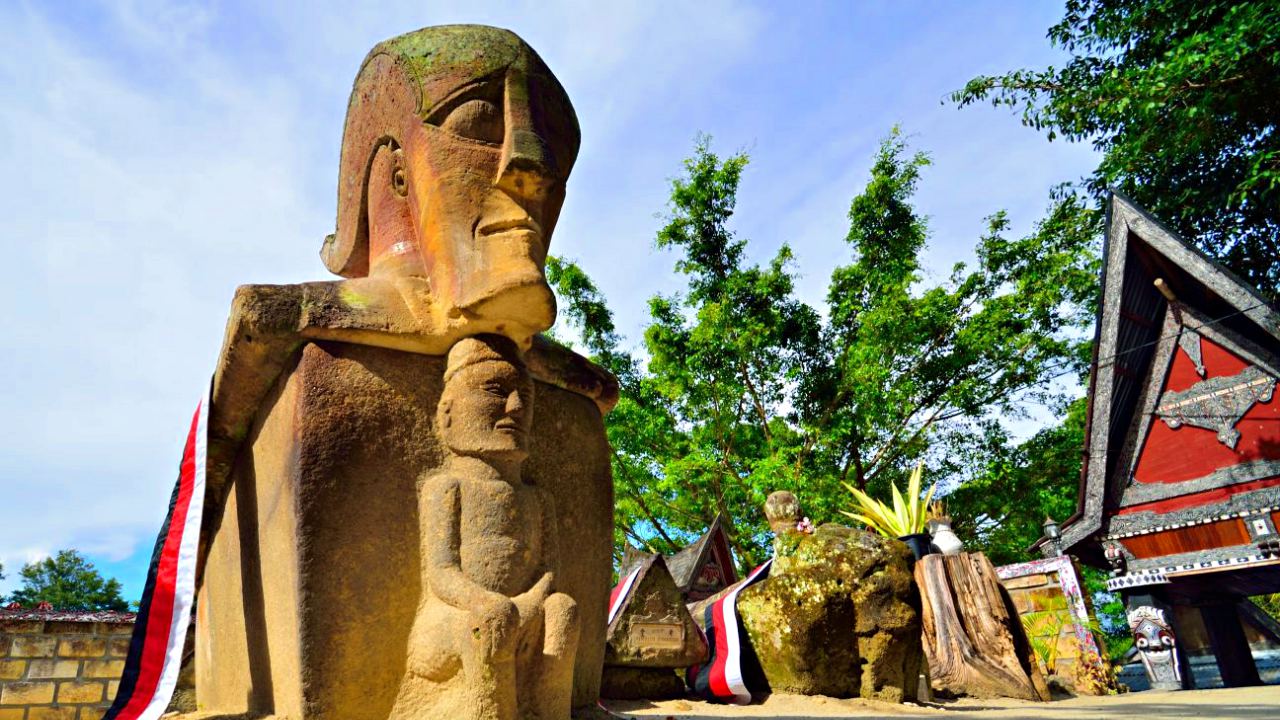 Tomb of the Sidabutar Kings
After navigating quite a row of souvenir stalls at Tomok, find the burial ground of King Sidabutar. The ancient site holds several sarcophagi carved from a block of stone.
Examine the carvings at the tomb- part lion, part human- they symbolize the king and his wife. King Sidabutar's tomb is 460 years old. The myth says King Sidabutar is the first man to ever step on Samosir Island.
Sigale-gale Dance Performance
Sigale-gale is Batak's traditional puppet dance. A long time ago, dance is the only way to communicate with the dead. The deceased son of the King never returns from the war. Sigale-gale dance performance used to be the King's way to talk to his son. The dance will call the spirit. The spirit will then move the puppet to let people know their presence.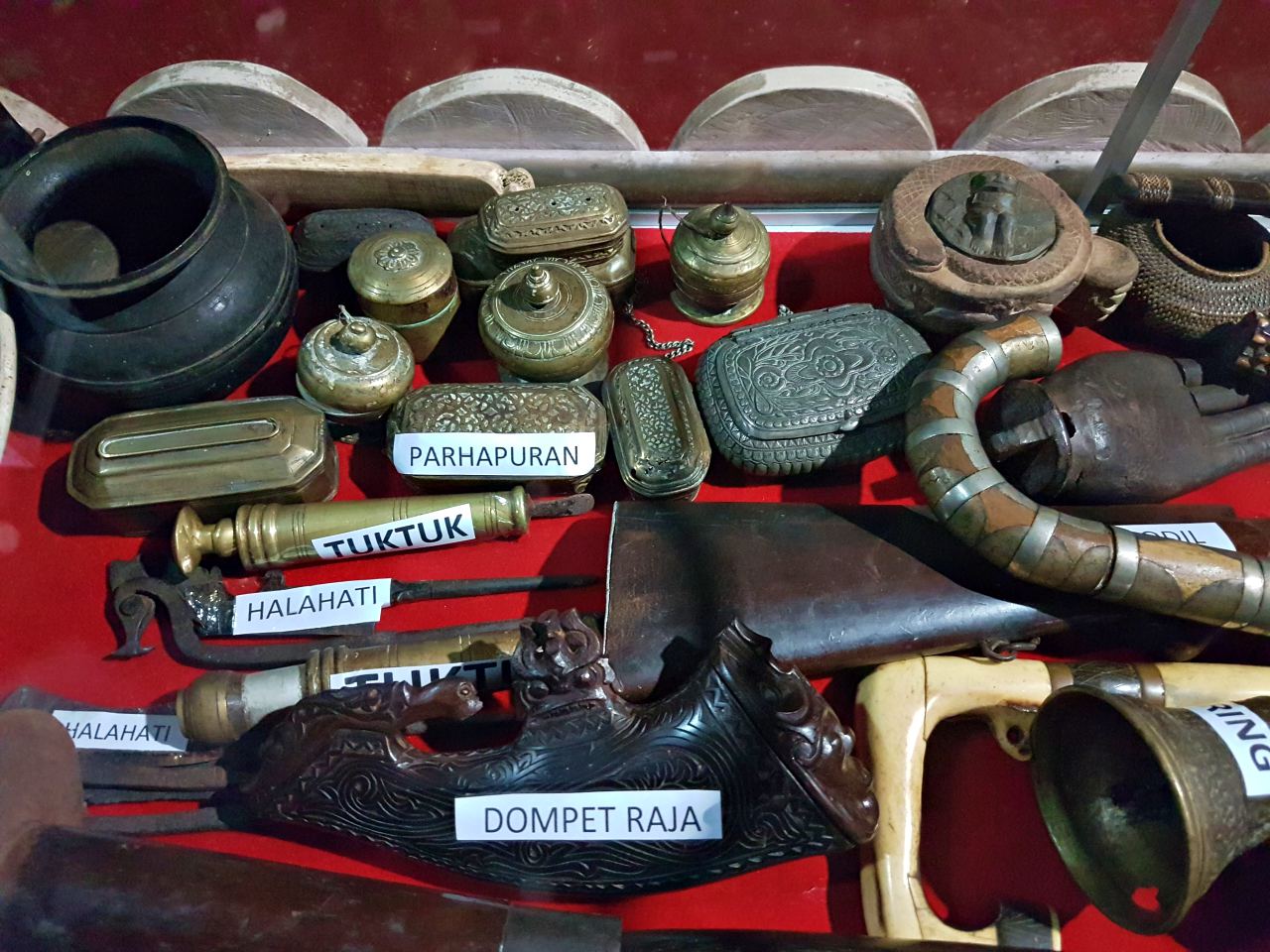 Watch this puppet move and dance along with 8-10 real human dancers. Nowadays, it's a machine that moves the Sigale gale puppet – there is no reason to be scared. Tourists can enjoy the performance of Sigale gale every day at Tomok Village.
The Stone of Justice
Batak's ancient King, Raja Siallagan, had a high standard of justice. In order to maintain the order of his tribe, he built "Batu Persidangan" or the trial stone. Whenever someone committed a crime. The king and his advisers would hold a court.
People will come, and the king and advisor will determine the punishment for the criminal. The punishment is either chained or if the crime was severe, beheaded. Luckily such practice no longer exists at Huta Siallagan Village.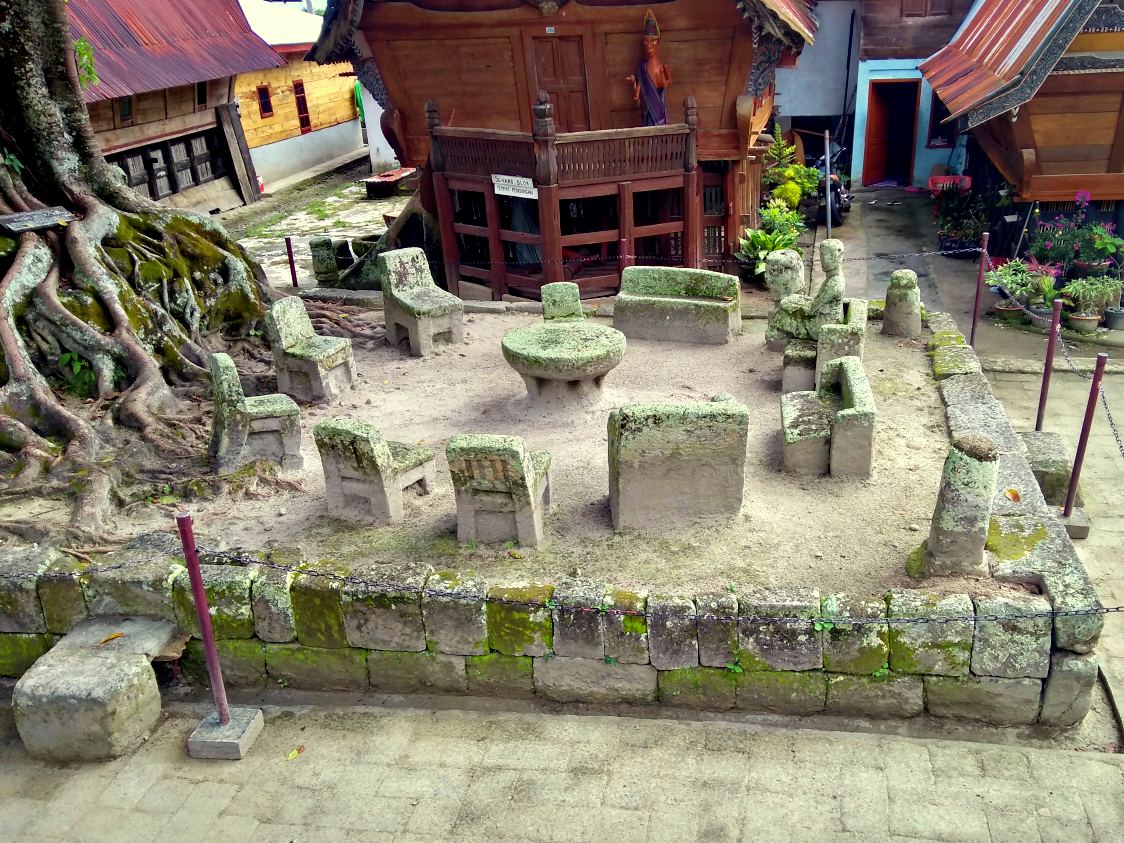 The trial stone serves only as a remembrance of the past. Only good things persisted as tourists walk around this stone-fenced village. Notice that the houses here are still intact and functioning. Despite its centuries-old existence. Huta Siallagan Village is just  6 km away from Tomok Village.
Teletubbies Hills Pusuk Buhit
The hills at Pusuk Buhit are believed to be the first settlement of the Batak Tribe at Samosir. Locals climb this highest peak of the island to seek blessings from their ancestors. Pusuk Buhit is considered sacred by the Batak people. On its summit, offerings such as lime leaves and cigarettes can be found on every corner.
The mystical aroma aside, trekking at Pusuk Buhit is the best way to see Lake Toba from a height. On the way to the top, it's hard not to stop every several minutes to admire the magnificent view. Mounds of hills are covered by green vegetation.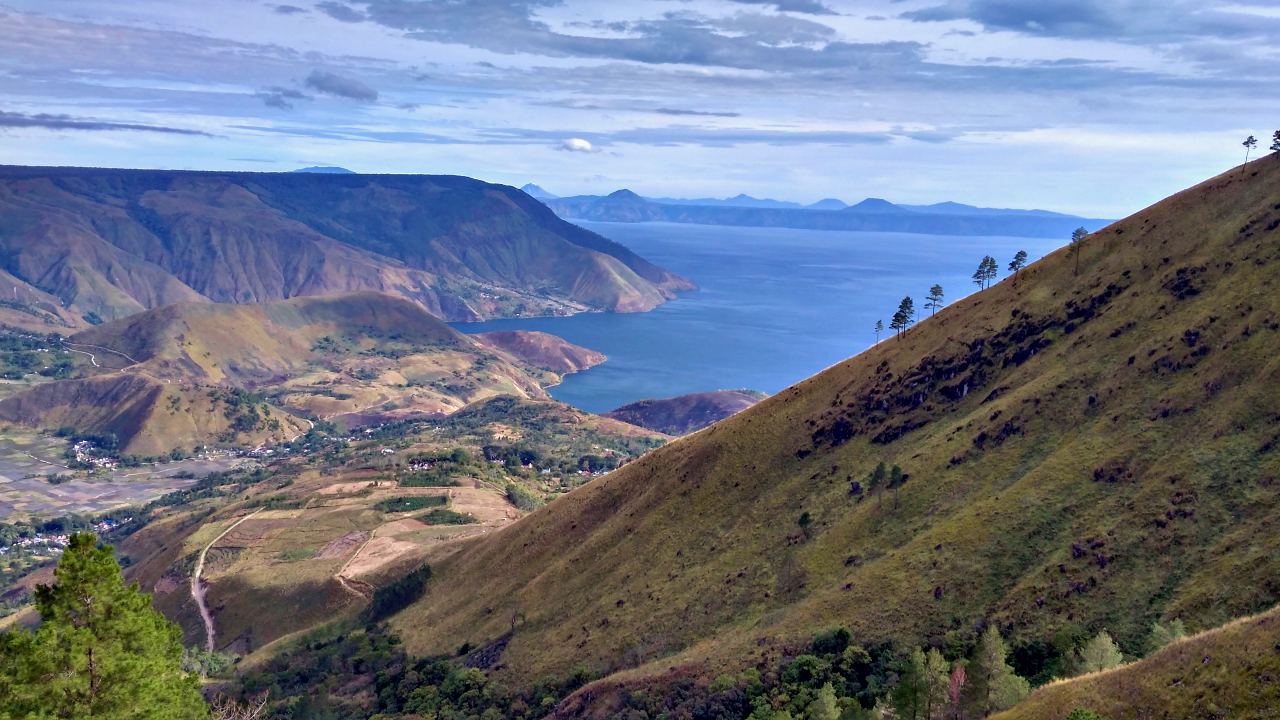 They roll afar, with Lake Toba serving as the fence and the background. Locals also call this place Teletubbies hills, inspired by the much-loved children's show.
Pangururan Hot Spring
Pangururan hot spring lies at the foot of Pusik Buhit Mountain. It is rich in sulfur and the temperature is very hot. It's impossible to bathe in the water directly. Instead, visit the local bathhouse.
Locals channel the water to smaller pools and mix it with regular water. With a cheap entry of Rp15,000, dip and relax while the warm water rids the sore muscle from trekking activity.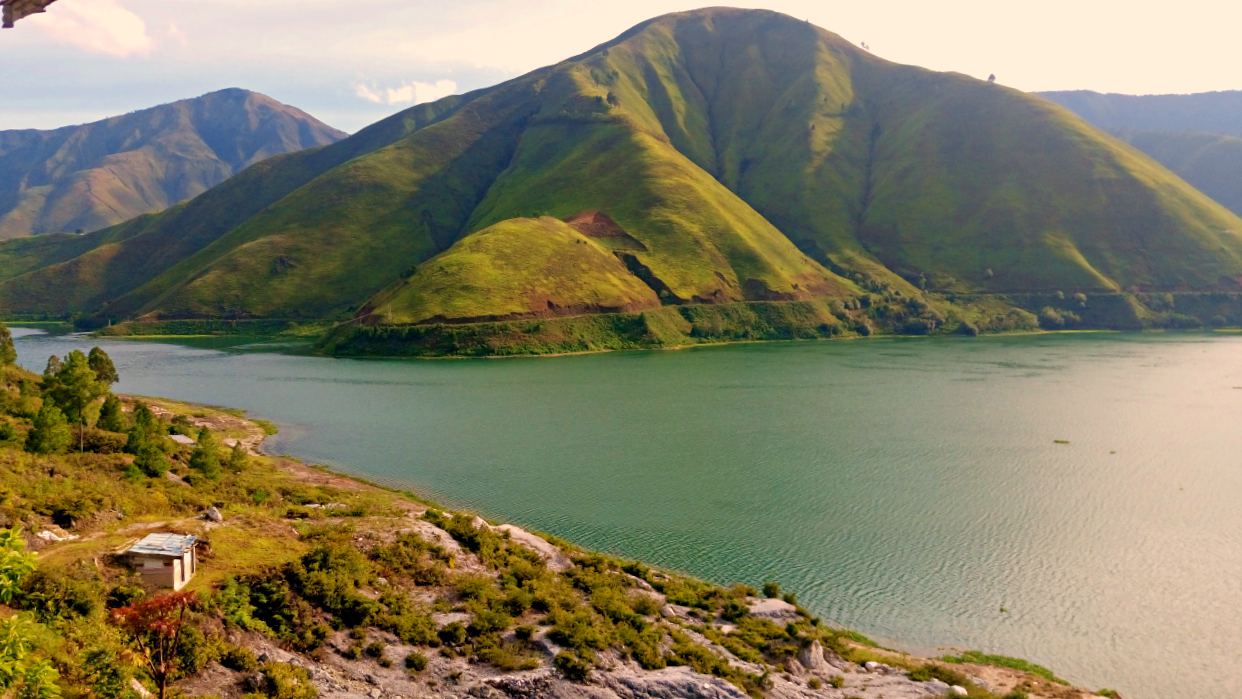 Ulos Textile
Make a quick stop at Lumba Suhi Suhi village. This village on Samosir Island is the center of the art and craft of Ulos. The traditional woven fabric of Batak. As the symbol of pride and beauty, Ulos in this village are made from the highest quality.
Local women weave this piece of textile from the best material. And use natural coloring only. The pattern varies, complex and intricate. To bring home a piece, prepare around IDR 300k-400k. The highest quality of Ulos can cost millions.
See: Guide To Explore Bakara Valley & Top Attractions.
Samosir Island Top Spot, Opening Hours & Entrance Fee
The entrance to Batak Museum at Tomok Village is Rp5,000 per visitor. The village itself opens for visitors daily from 8 AM to 8 PM. Sigale-gale is free to watch. But to participate in the dance costs Rp80,000 per group. Each group's maximum is  10 people. The ticket to Huta Siallagan's trial stone is Rp10,000.
Samosir Island Top Destination Opening Hours & Entrance Fee
Tomok Village
08:00 – 20:00
Sigale-Gale Dance
08:00 – 18:00
Batak Museum
Rp5.000
Sigale-gale Dance
Rp80.000
Huta Siallagan Trial Stone
Rp10.000
See: Guide To Explore Lake Toba & Top Things To Do.
Facilities
The town around Samosir such as Parapat and Tuktuk is equipped with decent tourist facilities. Hotels and homestays abound with room rates starting from Rp200,000/night. Do not worry about food because restaurants and warungs are plenty though. Other facilities such as souvenir shops, money changers, vehicle rentals, and ATMs are also available both at Parapat and Samosir Island.
See: Indonesia SIM Card, Price & Provider.
How To Get To Samosir Island
From Medan's Kualanamu International Airport, it's recommended to join a shared minibus directly from the airport. The fare is IDR 80k-100k per person. Only slightly more expensive than by bus (IDR 50k).
Tourists will also have the option of flying to the new Silangit International Airport at Siborongborong. At the south of Lake Toba. Since December 2018, there is a free shuttle bus from Silangit Airport to Parapat. At Parapat, There's a public ferry available from Ajibata Pier to Tomok Pier, Samosir Island.
There's a ferry every half an hour with the earliest departure being at 08:30 AM. The latest ferry schedule is 9 PM and the fare per passenger is Rp8,000. To get around the island, visitors can rent a motorcycle at a rental service around Tomok with a rate starting from Rp70,000/day.