Bukit Lawang Eco Tourism Entrance Fee: Rp150.000 - Rp225.000 Opening Hours: Open 24 Hours Telp. Number: - Address: Bukit Lawang, Bukit Lawang , Bohorok, Langkat , North Sumatera , Indonesia , 20774.
North Sumatra offers more than Lake Toba as a popular tourist destination. Situated 90 kilometers northwest of Medan, Sumatra, Bukit Lawang is also among the list of places worth visiting in Sumatra. The humble tourism village is mostly popular for its Orang Utan Observation Center.
Bukit Lawang is a part of Gunung Leuser National Park. The park, which protects numerous wildlife, is a UNESCO World Heritage Site. Among the animals protected here are several species of birds, plants, and mammals, especially the Orang Utan (Pongo abelii).
Bukit Lawang, which is located at the edge of the park, serves as a gateway to Gunung Leuser's jungle life. Many visitors like the idea of spending time at the edge of the Bahorok river. The river runs through the village deep into the jungle.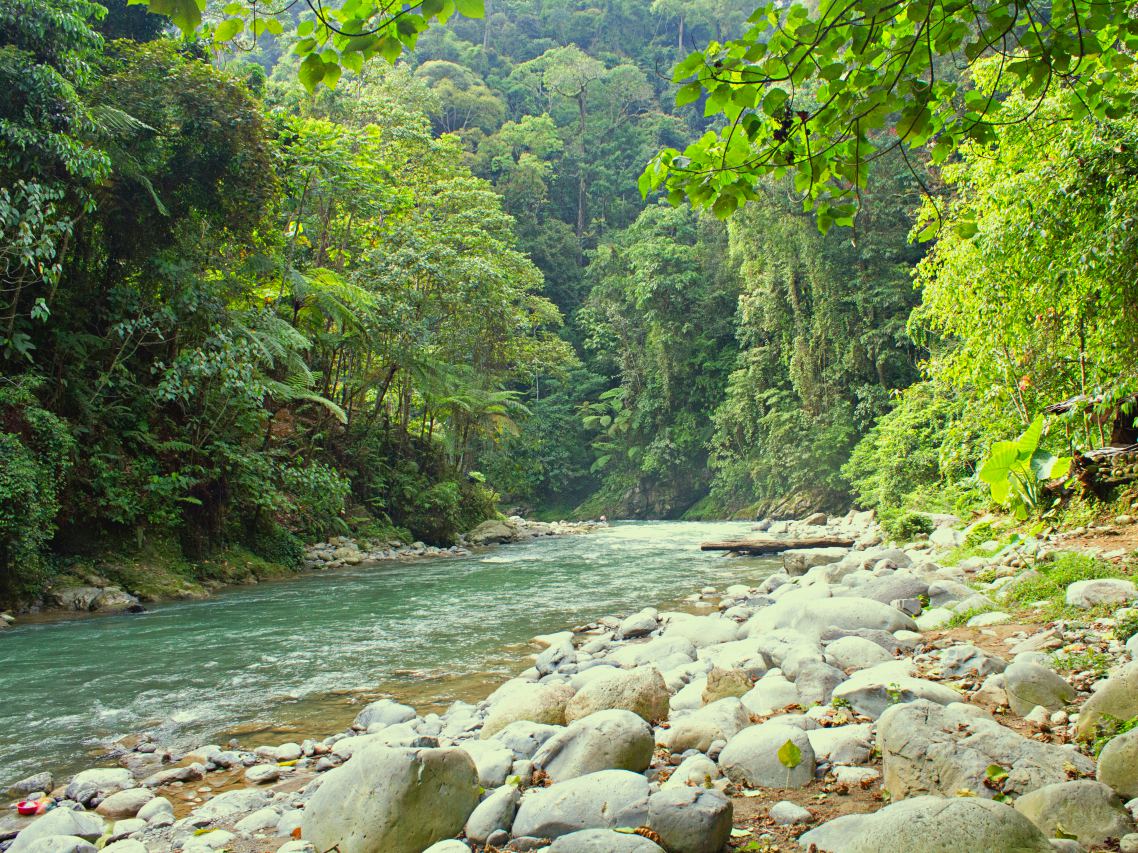 The ecotourism here is both calm and adventurous. It is because, besides nature, the area is also packed with fun activities. From cave exploration to tube rafting. Before turning into ecotourism, the Bahorok river suffered from a tragedy. In 2003, it was devastated by floods due to illegal logging.
Jungle Trekking & Wildlife
Depending on the tourist's preference, there is plenty of trekking option. From light trekking 3 hours, 6 hours, to overnight trekking. Travelers with children or having limited time can opt for the short trek. Although short, expect quite many encounters with wildlife.
Orang Utan is not a strange sight. And so are other animals such as gibbons, Sumatran peacocks, and flying squirrels. For a more thorough jungle experience, sign up for the overnight treks. Some tour companies have 2 days and two-night packages.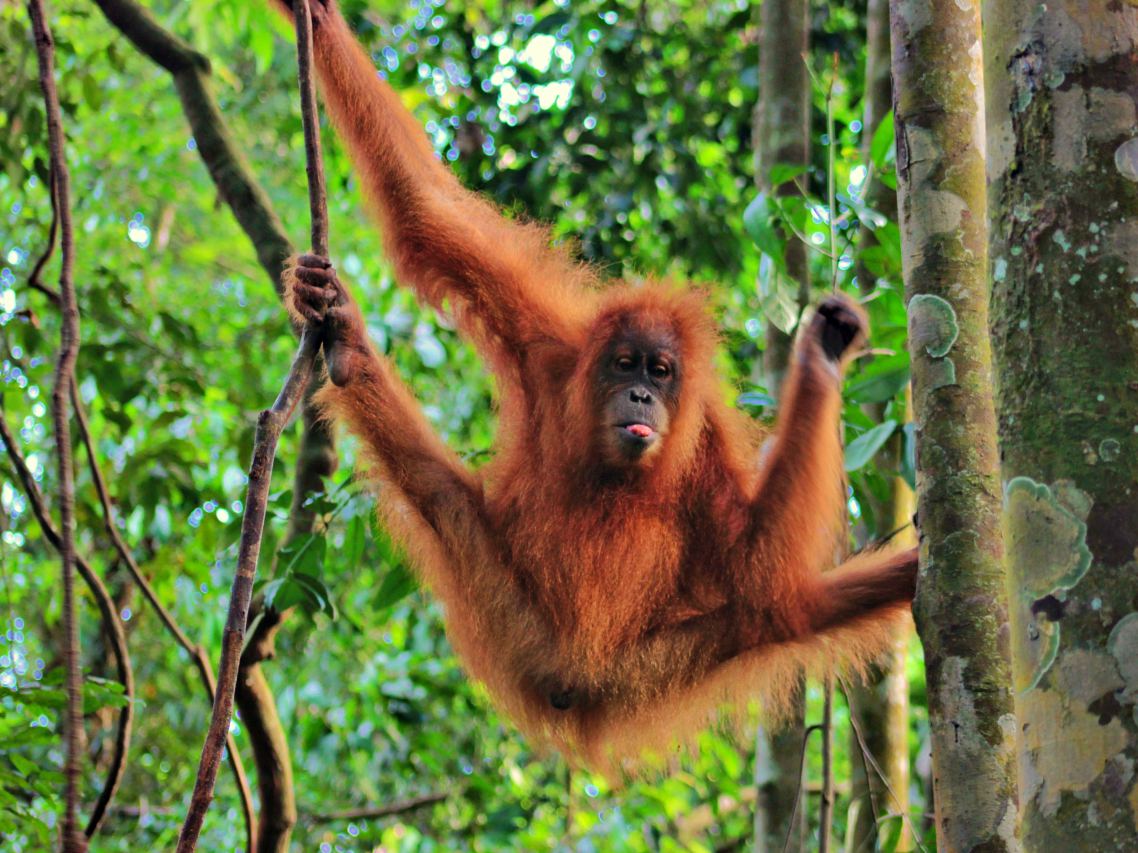 While some also offer a 5-day long journey. Whichever, prepare stamina because the trek is quite rigorous. With up and down paths. It also requires several hours of hiking each day. However, all the struggle will be worth it. Deep jungle exploration reveals more wildlife for the eyes to see.
Discover hidden waterfalls along the way. Enjoy the more spectacular view as trekkers go deeper into an area rarely untouched by humans. If lucky, prepare to meet Sumatran elephants and even tigers!
Bukit Lawang Bat Cave
The bat cave at Bukit Lawang isn't the headquarter of Batman, despite its name. However, the cave does have so many bats. This nocturnal creature is hanging upside down on the cave's ceiling. Enter this cave and prepare to be welcomed by their glowing yellow curious (or judgy!) eyes.
For entrance, prepare to pay Rp25,000. The bat cave isn't the only cave around Bukit Lawang. Deep in the jungle, Goa Air is also the home of bats and other peculiar animals. Tourists reported the sighting of a large spider.
Along with the sleeping snakes, blind frogs, and giants centipedes, among other weird crawlers. Want to feel like in Indiana Jones movies? Bukit Lawang's caves are the answer.
River Tubing
Have fun gliding on the river with this activity called "Tubing" or tube rafting. Strapped on a used rubber tire, let the currents bring visitors down the river on a splashy adventure. The river can be quite tricky.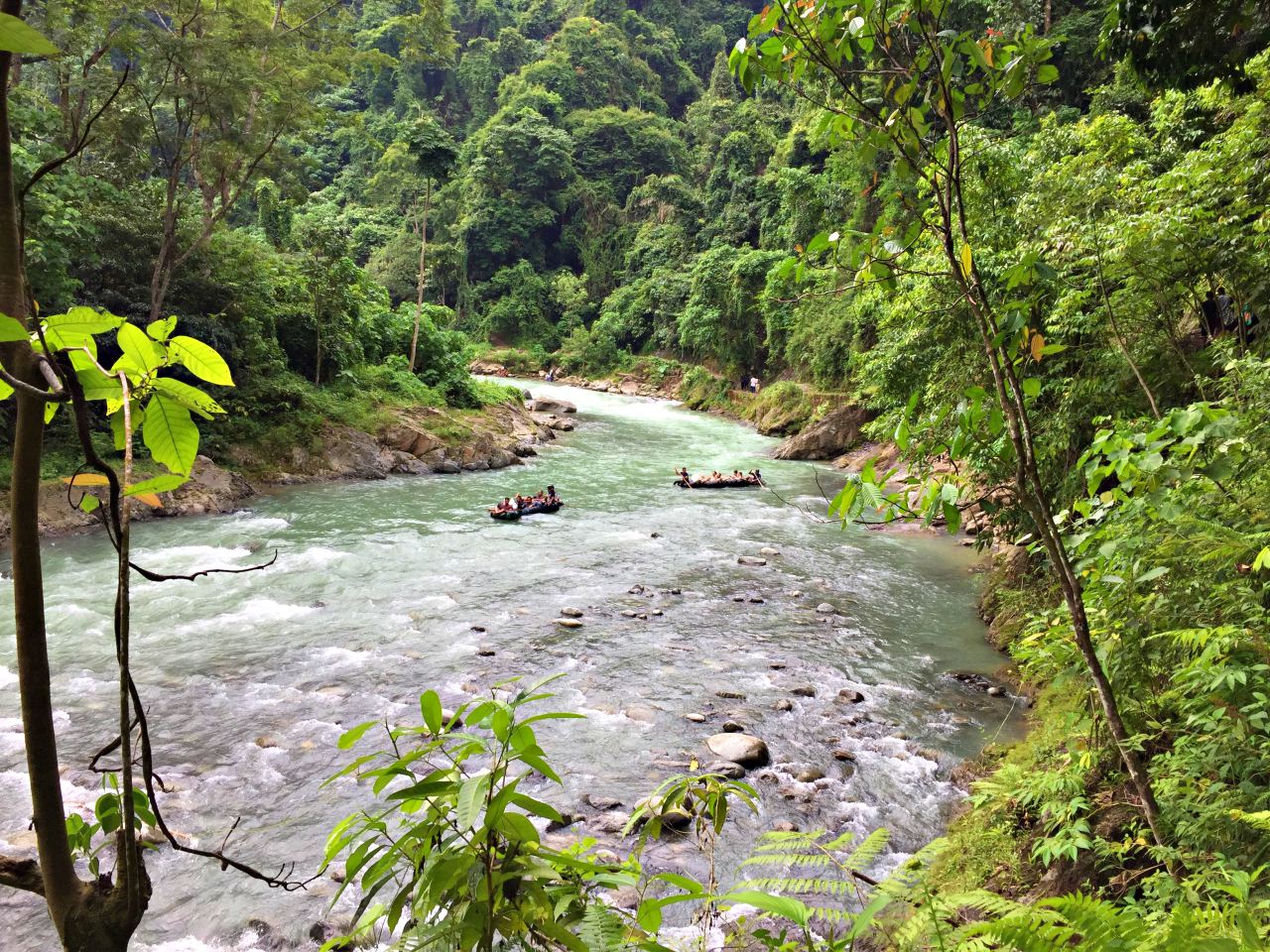 It is recommended not to do tubing during the rainy season since the water volume can change drastically. River tubing can also be an option to go back to the village after trekking the jungle.
Go Around The Village
In between trekking, hiking, or rafting, spare some times to look around the village. Bukit Lawang residents are not only friendly, but they are also environmental-aware. Still fresh in their mind is the 2003 flood.
The devastating flood has woken up the village's awareness. The importance of sustaining their delicate environment. The memory of losing loved ones has made them hate illegal logging. To this point, they will instantly alert to the sound of chainsaws.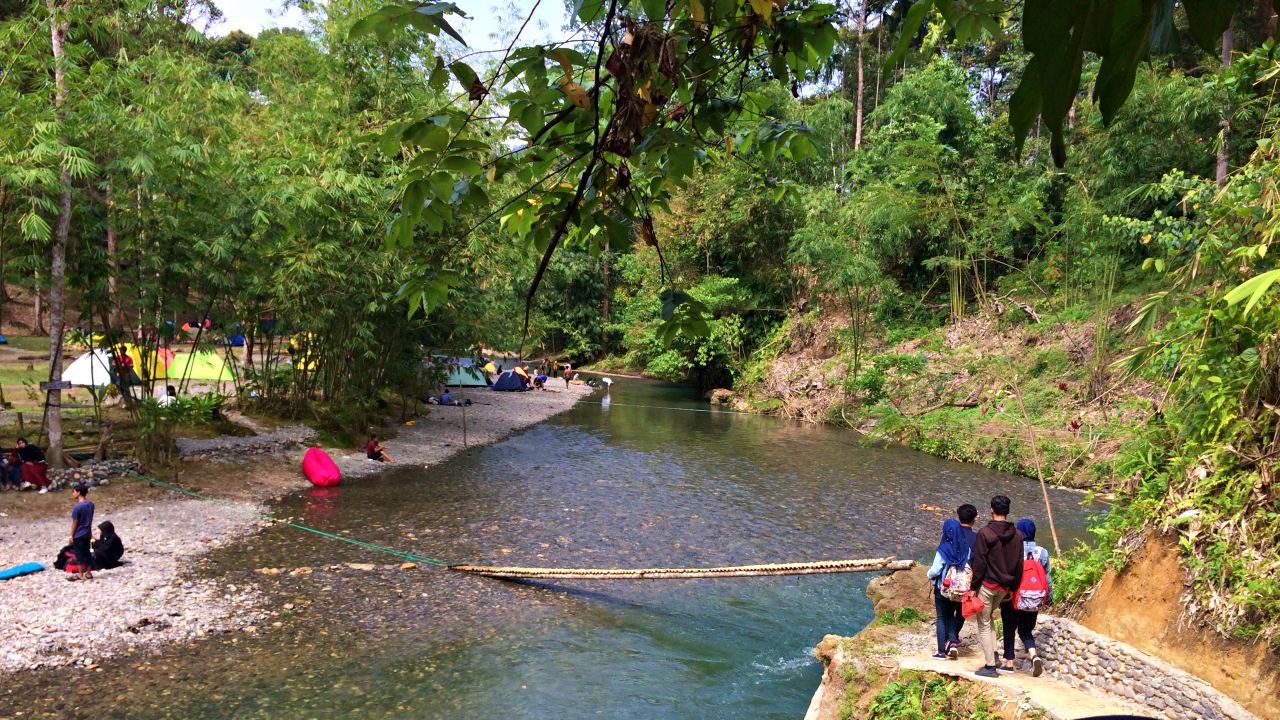 The villagers also do other environmental preservations. Chat with them and discover how they diligently plant trees to avoid land erosion. A family can voluntarily plant up to 40 plants along the Bahorok riverbank.
See: Guide To Explore Sipiso-Piso Waterfall.
Bukit Lawang Ecovillage Opening Hours & Entrance Fee
Bukit Lawang Ecotourism village open 24/7. A guided tour price range starts from IDR 500k for a half day. Tourists can bargain and compare packages offered by other companies in this village. The package does include the permit fee. Prepare some cash to pay small fees such as parking, toilets, fees for crossing bridges, tubing, and entrance to caves.
Bukit Lawang Opening Hours & Entrance Fee
Ecotourism village
Open 24 Hours
Leuser National Park Entrance Fee
Rp150.000 (Mon-Sat) / Rp225.000 (Sunday)
Caving
Rp10.000
Wildlife watching
Rp10.000
Canoeing
Rp25.000
Caving
Rp10.000
Canopy Trail
Rp25.000
See: Samosir Island, Top Spot & Things To Do. 
Facilities
Guesthouses are available throughout the village. With rates as cheap as Rp100.000/night. During the rainy season, pick an accommodation built at least 3-5 meters away from the river. Just as a precaution against the flood.
Bring enough cash because the nearest ATM is 7 km from the village (in the town area). Almost every guesthouse has warungs and there are several gift shops in the village.
See: Guide To Explore Lake Toba & Top Activities.
How To Get To Bukit Lawang
From Medan Kualanamu Airport, tourists can take a tourists minivan heading directly to Bukit Lawang. The fare is around Rp200,000 to Rp300,000 and it takes 2,5 hours to get to Bukit Lawang. The cheaper way is by public bus. However, it takes longer. Sometimes extending to 4 hours depending on the bus waiting time.
First, visitors need to go to Pinang Baris Bus Station by taxi (IDR 40k). Then take a bus (orange color minivan) until the last stop at Gotong Royong Terminal. Then, continue the journey with a motorcycle taxi for IDR 15k. Bukit Lawang is a small village, therefore, there is no need to rent a vehicle to get around. The entire spot is easy to get around on foot.
See: Guide To Choose Indonesia SIM Card, Price & Provider's Coverage.
Address & Location
Bukit Lawang is located in Bohorok district, Langkat, North Sumatera 20852.