Sekumpul Waterfall
Entrance Fee: Rp20.000 - Rp200.000
Opening Hours: 08:00 - 17:00
Telp. Number: -
Address: Jl. Raya Bebetin, Bebetin, Sawan, Buleleng , Bali , Indonesia , 81171.
The tropical lush jungle in the northern areas of Bali is the finest place for concealed hidden gems waterfalls. One of the most popular water attractions that are worth exploring is Sekumpul Waterfall in Sawan. It is blessed with not only one or two water streams but seven stunning waterfalls.
With over 80 meters of spilling water, Sekumpul waterfall is also named the tallest waterfall in Bali. Although this tourist destination seems only to suit adventurers. The locals have improved by building well-maintain and sufficient facilities. So that it'd be easier for tourists to access the waterfall.
Sekumpul waterfall has a charming picturesque landscape. The walls of falling waters are completely covered with dense wild vines. There is a narrow pool on the bottom side of water steams hiding between massive rocks.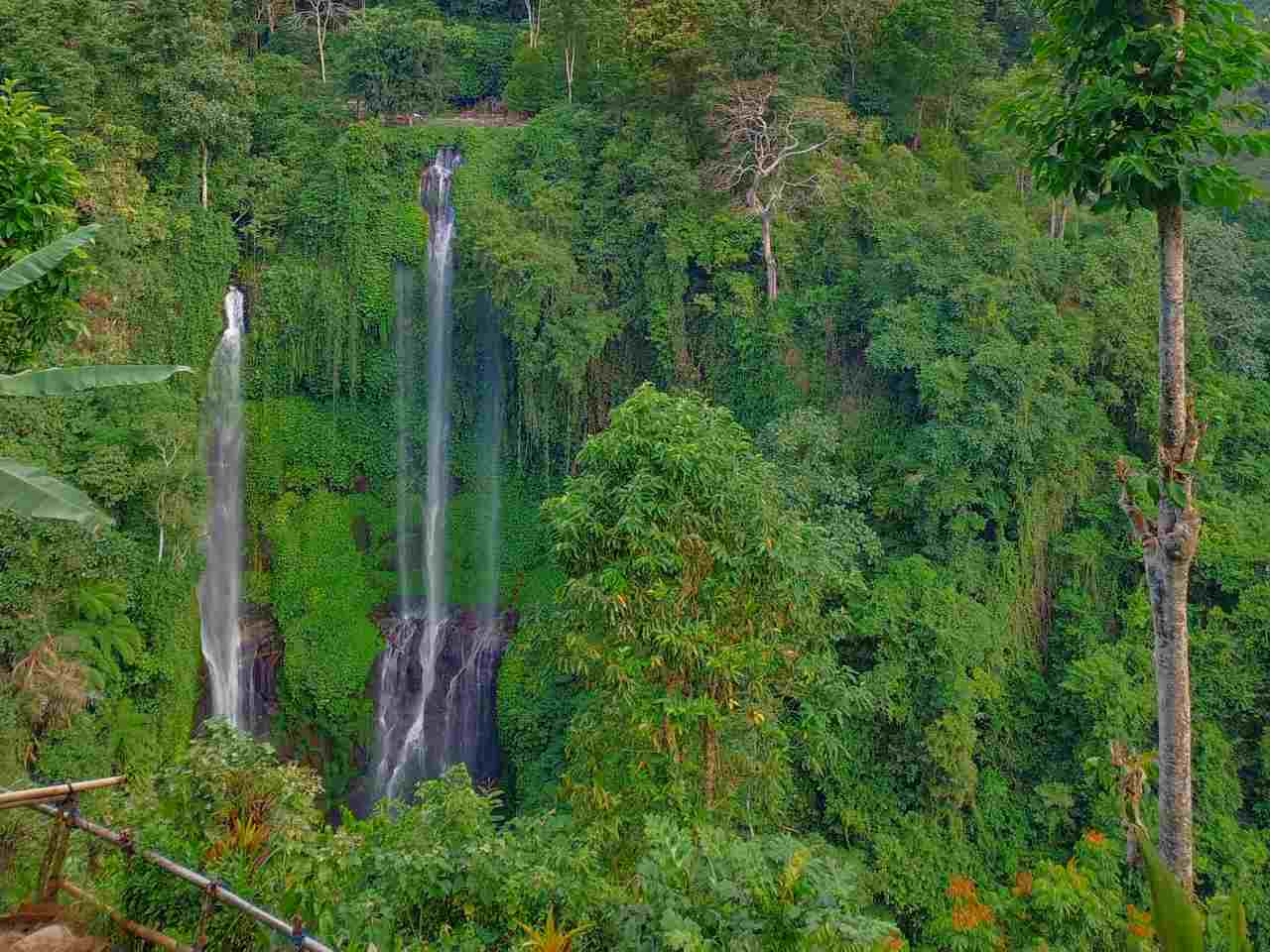 It somehow creates a beautiful rainbow when the sun hit the splashing water. There is a bunch of activities tourists could do here. First, take a dip into a crystal clear pool. Then posing a yoga by the waterfall side. Or simply taking pictures to enjoy the moment.
Sekumpul Waterfall Entrance Fee
Sekumpul Waterfall entrance ticket is Rp20.000. The entrance ticket, however, only allows tourists to enjoy the views from a distance. Meaning that trekking down to the waterfall is not allowed. To get down to the waterfalls including all water activities, visitors will be charged between Rp125.000, and Rp200.000 per person.
Sekumpul Waterfall Entrance Fee
Ticket
Rp20.000
Short Track *)
Rp125.000
Long Track **)
Rp200.000
*) The tour packages include a local guide who will help tourists navigate the routes and take pictures. Bottle water, safety equipment, and insurance are included too. The Rp125.000 ticket is a medium trek that includes Sekumpul and Hidden Waterfalls. It takes nearly an hour.
**) Second, the long track includes Sekumpul, a Hidden waterfall, and finish in Fiji which cost Rp200.000. Alternatively, there is secret access to see Sekumpul Waterfall/Grombong waterfall and Fiji waterfall all at once. It only cost Rp20.000 and provides the same experience as the tour. Find warung Fiji and walk 300 meters down from there.
See: Guide To Explore Banyumala Twin Waterfall & Tickets.
Sekumpul Waterfall Opening Hours
Just like other waterfall destinations in Bali. Sekumpul waterfall opens early morning from 8 AM  to 5 PM. Keep in mind, that this waterfall is located in the middle of a dense forest and far from residential areas. Visitors must leave the spots before 5 PM. There is no light except at the entrance. The best time to visit the waterfall is around 10 AM to 3 PM.
Sekumpul Waterfall Opening Hours
Every day except Nyepi day
08:00 – 17:00
See: Guide To Explore Gitgit Waterfall, North Bali.
Trekking to Sekumpul Waterfall
Trekking down to Sekumpul Waterfall is far from easy. A very steep trekking path is quite challenging with roughly 300 hundred heavy stairs. The distance from the entrance to the waterfall is approximately 300 meters. And it takes between 15 to 20 minutes to get to the waterfall.
And since the waterfall location is in the middle of a tropical jungle. Sekumpul waterfall trekking path is surrounded by cloves, coffee, breadfruits, and durian plantation. Countless creeping plants and giant trees here and there. And last, once visitors pass the bridge, it's just a few more steps away.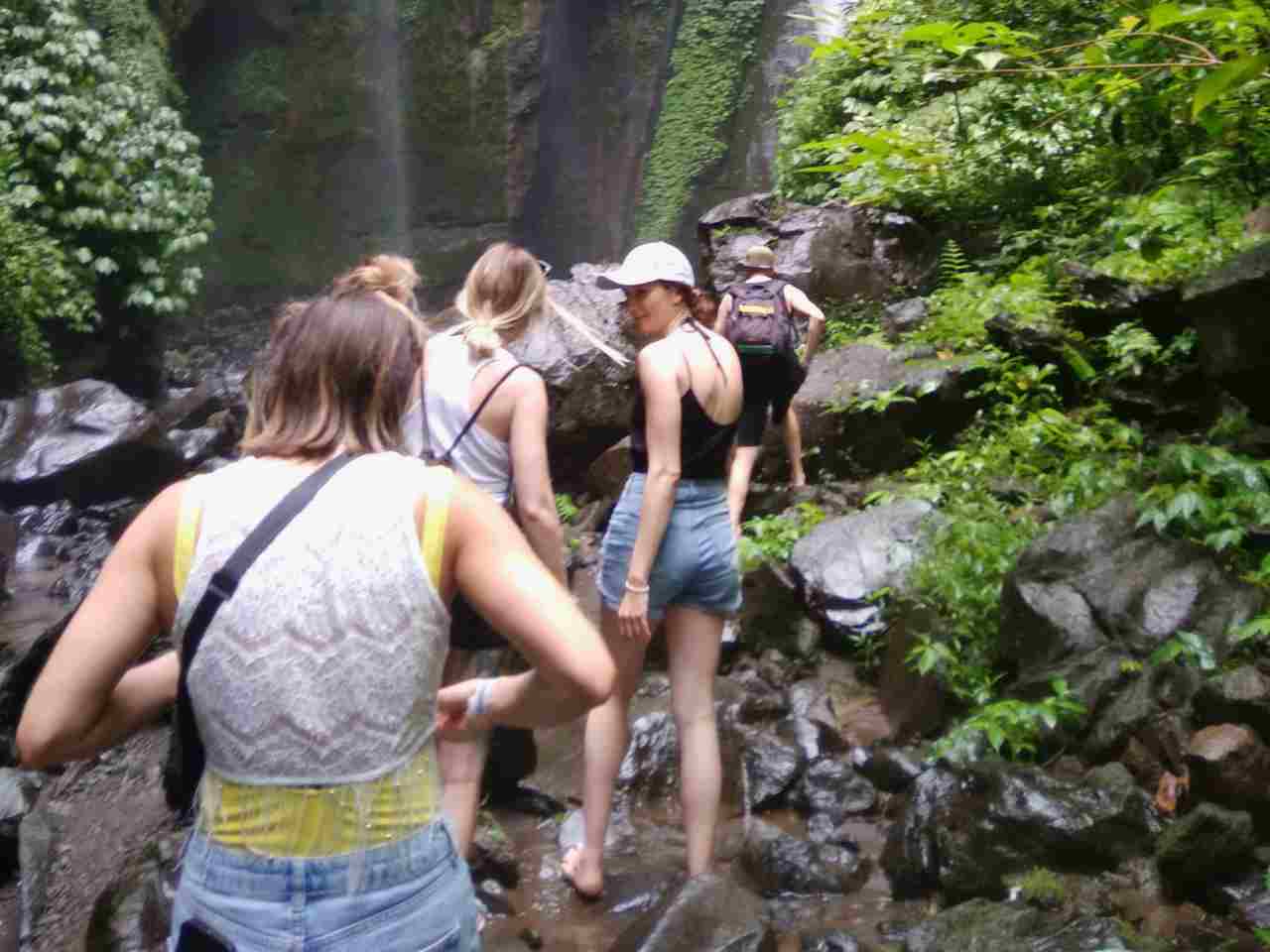 Waterfall Viewing Deck
Even with a well-maintain stairway, trekking to Sekumpul Waterfall is still not an easy walk. Therefore, an option to observe the stunning pouring water from a distance is available for tourists who are not sure about going down.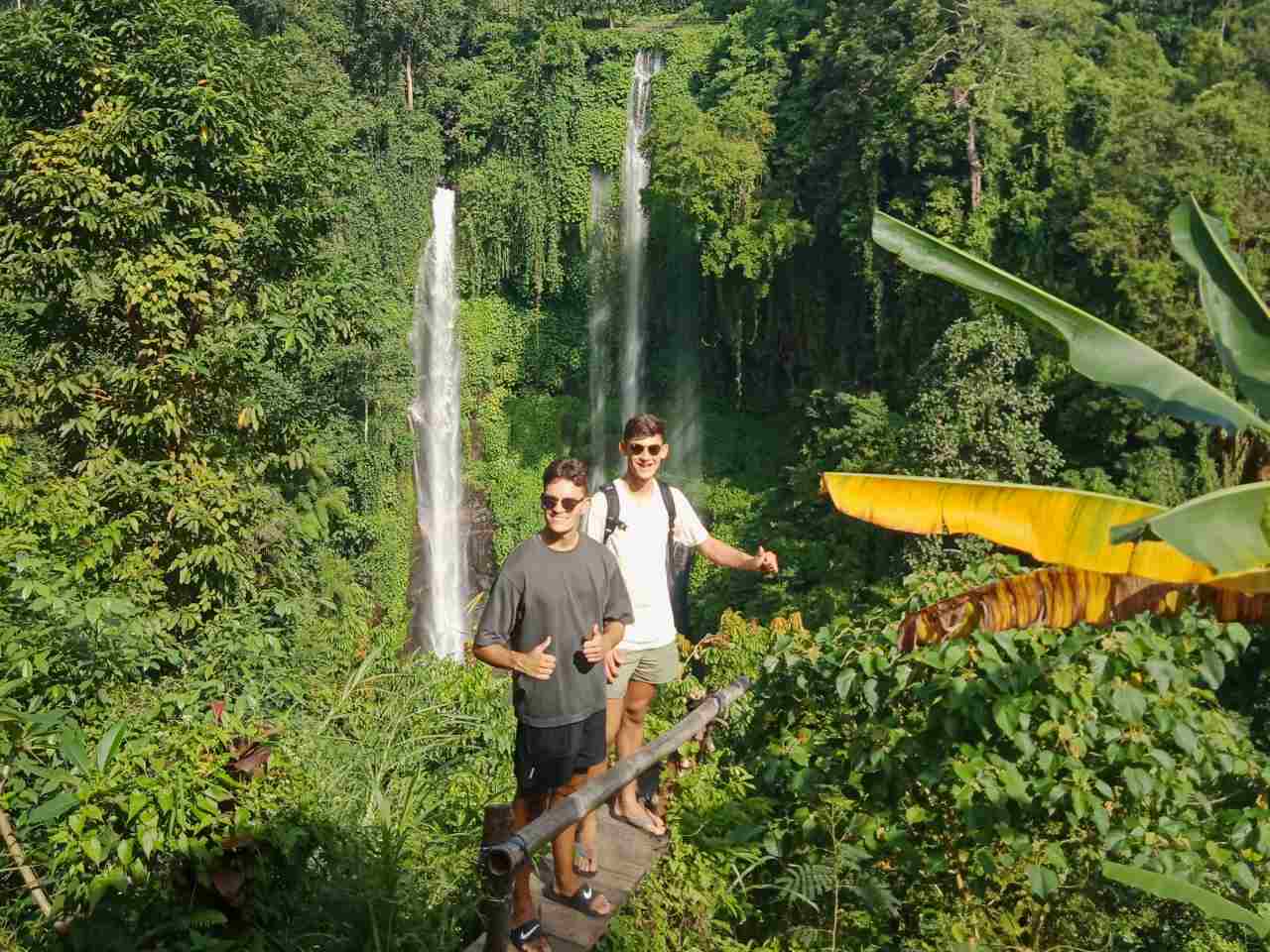 There are several viewing points to stop and enjoy the waterfall from nearly equal heights. Many choose to take pictures from several viewing points above. Because it captures the utmost jungle lush background with a misty-looking of twin waterfalls.
See: All About Aling-Aling Waterfall, North Bali, Complete Guide.
Local Warung (Food Vendors)
Trekking down to the waterfall is very demanding. Pump the energy upfront by taking lunch at a nearby local warung. The food vendors generally serve Indonesian dishes like fried rice, noodle, mixed vegetable, and fried chicken at affordable price points.
The in-house coffee production is also worth trying. It has plentiful specialty coffee and tea. For example, chocolate coffee, spices coffee, rosella tea, lemongrass tea, and the list goes on. The best highlight of this warung is a swing that overlooks the great views of rice paddies and green hills.
See: Guide To Banjar Hot Spring, North Bali.
Facilities
Just like every waterfall in North Bali, Sekumpul has well-established facilities. There are toilets, parking areas, restaurants, local warung, and a coffee shop near the premises. Photos spots like swing and nest, rest area are available. And last, accommodations like a guest house to stay overnight are available too.
See: Top Destinations in North Bali, List, and Guide.
How To Get To Sekumpul Waterfall
Sekumpul waterfall is 25 km away from the tourist area, Lovina beach. It's 70 km from Ubud and nearly 80 km from Canggu. To reach this place, travelers have several options. From south Bali, catch the Damri Bus that heads to Singaraja, the downtown of North Bali.
The bus fare is Rp35.000 and it operates at one time at 8 AM and arrive at 12:30. Once arrived in Singaraja, travelers can rent a motorbike for just Rp60.000 to Rp120.000 per day rent. However, due to Covid last year, when no passengers were allowed to travel. Until now the Damri bus has not operated yet.
At this time, car rental and scooter rental are the options. A car with a 4 to 5 passengers capacity with a driver costs around Rp600.000 to Rp800.000 for 8 hours tour.
See: Tourist SIM Card, How To Buy, Price & Internet Package.
Address & Location
Sekumpul waterfall is located in Jl. Raya Bebetin, Bebetin, Sawan, Buleleng, Bali 81171.