Banjar Hot Springs
Entrance Fee: Rp10.000 - Rp75.000
Opening Hours: 08:30 - 17:30
Telp. Number: -
Address: Jalan Banjar, Banjar , Banjar , Buleleng , Bali , Indonesia , 81152.
There are plenty of geothermal baths in the world but nothing quite like Banjar Hot Springs. Not just a typical hot bath, Banjar Hot Springs offers a traditional Balinese charm combined with a scenic tropical setting. The hot springs feature tiered pools created with architecture similar to Balinese Temples.
It is located at Banjar village, Buleleng regency, only 20 minutes from Lovina Beach. The pools at Banjar Hot Springs are built with stones and adorned with Balinese-style carvings. The water spout from the dragon's statue mouth. In Balinese belief, dragons are the guardians of rivers, springs, and wells.
These mythical figures are believed to bring health and fertility. The hot spring itself has existed for hundreds of years. However, the pools are built by the Japanese back then, during the Japanese occupation.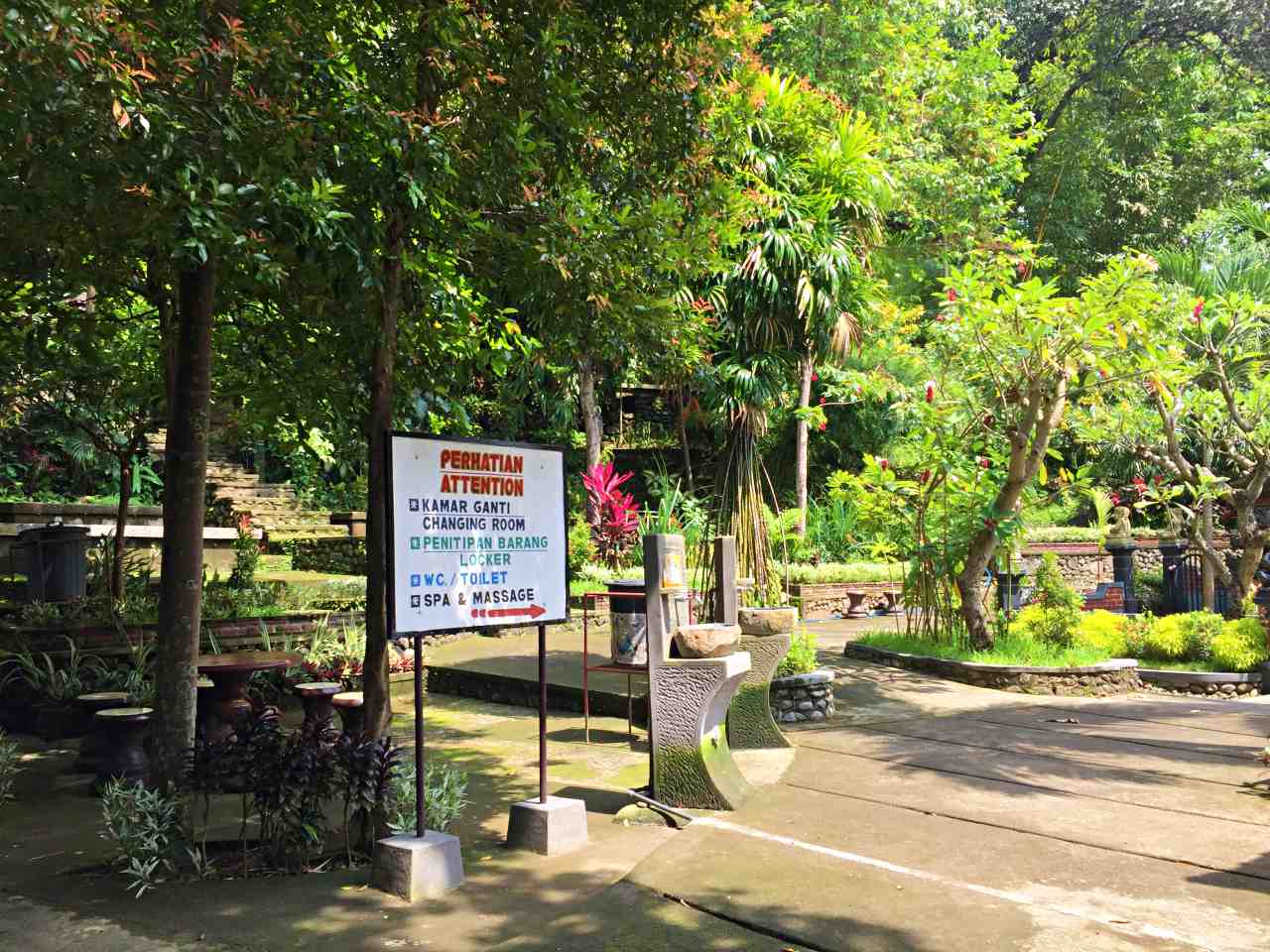 The murky green water in this hot spring has a 26% sulfur concentration. And the water temperature can reach up to 38ºC. Not only loosen up the tired muscle. The sulfuric in the water spring could help to cure skin diseases and boosts skin health.
Banjar Hot Springs Entrance Fee
The entrance ticket is Rp20.000 for adults and half-price Rp10.000 for children. The price doesn't include additional services such as a massage and private jacuzzi use. For massage, it cost Rp75.000/hour. While using the private Jacuzzi Rp15.000 per hour for adults and Rp10.000 for children.
Banjar Hot Springs Entrance Fee
Children
Rp10.000
Adult
Rp20.000
Massage
Rp75.000/hour
Jacuzzi
Rp10.000 (children) / Rp20.000 (adult)
See: Lovina Beach, Dolphin Tour & Watersport Activities.
Banjar Hot Springs Opening Hours
Banjar Hot Spring opens from 8:30 AM to 5:30 pm daily. Avoid going to hot springs during the school holiday. It's the most peak time to visit. Like every other tourist destination, Banjar Hot Springs is closed during Nyepi Day.
Banjar Hot Springs Opening Hours
Every day except Nyepi
08:30 – 17:30 WITA
See: Guide To West Bali National Park & Top Things To Do.
Banjar Hot Springs Rustic Balinese Style Pools
Bathing at Banjar Hot Spring is an unforgettable experience. Rustic stone pools, covered with green algae, an area surrounded by lush tropical gardens. There are three sections of the pool. At the topmost one, hot water spews out the mouths of eight dragon showers.
Kneel down under one of the dragons to enjoy a gentle shower here. This pool is only one meter deep, so it's quite shallow for a relaxing dip. The second pool's hot water flows into the pond through five dragon showers. The depth starts at 1 meter and gradually declines to 2 meters.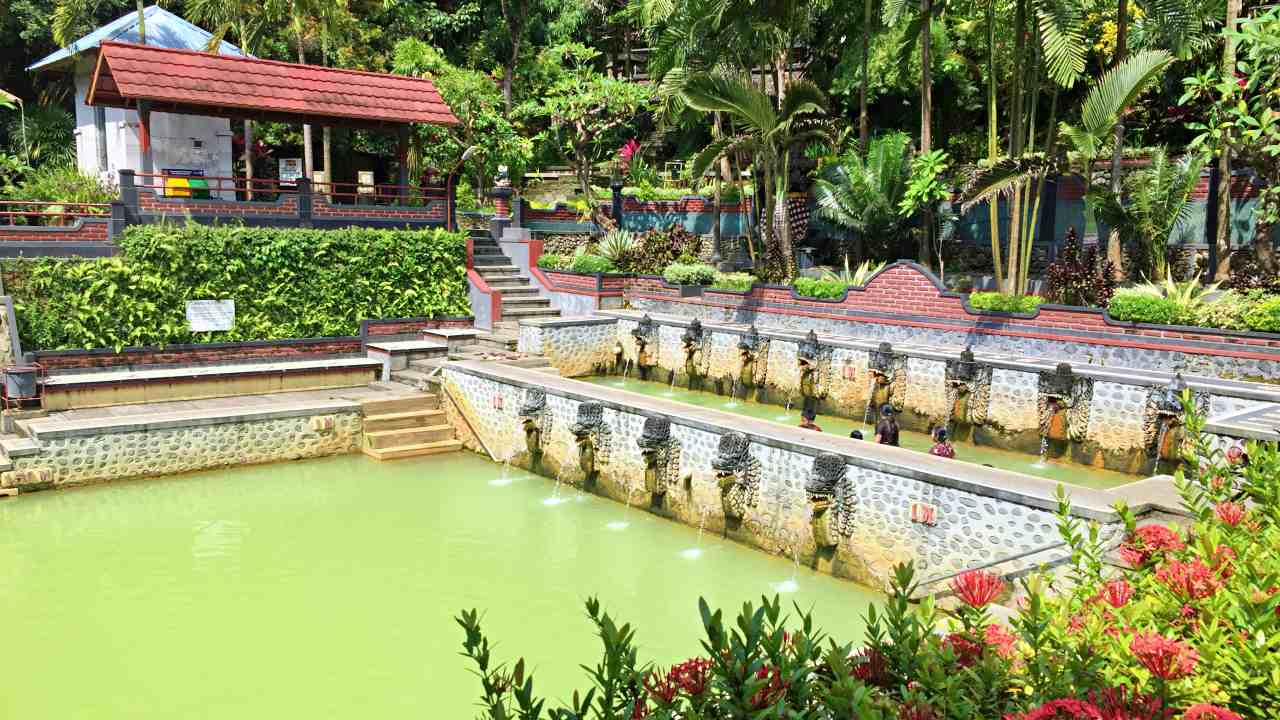 At 10 meters wide, this pool is the largest and the guests' favorite. Do a swim here, but be careful, as the sulfuric content can irritate both eyes after a long swim. The third pool is only waist-deep. Queue among visitors to enjoy showers from the 3-meter tall waterspouts at this pool.
Observe locals as they stand with their backs exposed. Allow the water pressure to give a massage. Later follow them and enjoy a relieving sensation as the hot water hits the body's rear, hitting some sore spots.
Banjar Hot Springs Private Jacuzzi
For visitors who would rather bathe separately from the crowds. There are two secluded Jacuzzis located south of the restaurant. These two pools charge hourly but they're worth the undisturbed experience.
The surrounding greenery provides natural fences, shielding from prying eyes. The water is shallow enough that visitors can just sit at the bottom. Complete the luxury feel by ordering a beverage. Bintang beer would be a perfect companion.
Balinese Spa & Traditional Massage
Get relaxed even more by booking a massage session. A Balinese traditional massage is a combination of manual therapy and aromatherapy. Say goodbye to exhaustion. As a skill hands knead, stroke and deep-pressure tensed muscles and stimulate more blood flow.
The aroma of essential oil will help to relax the mind and relieve stress. Besides, it's good too for the skin. The spa treatment is located near the jacuzzi pool. There is no need to book ahead.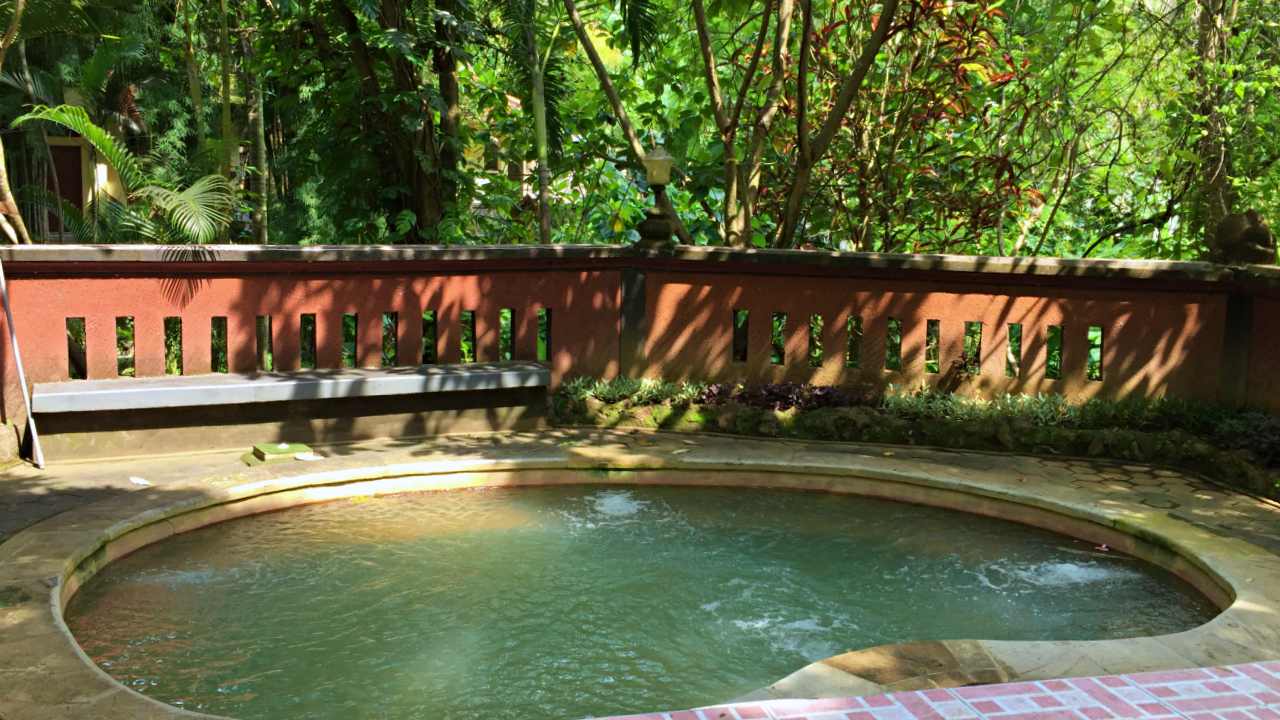 Brahmavira Arama Buddhist Temple & Monastery
Only 1,5 kilometers from Banjar Hot Springs there's a Buddhist monastery. Brahmavira Arama is built in 1970, perched on a secluded mountain. Pay a visit here before or after the hot spring. The place offers a serene and spiritual experience. A fresh break after the crowds at the bath.
See the miniature of Borobudur Temple. Around the garden, there are Buddha statues with various poses. The most notable ones are the gold statues from Thailand and Sri Lanka. Walk around dormitories where monks live daily. There are also libraries, meditation rooms, and lecture rooms.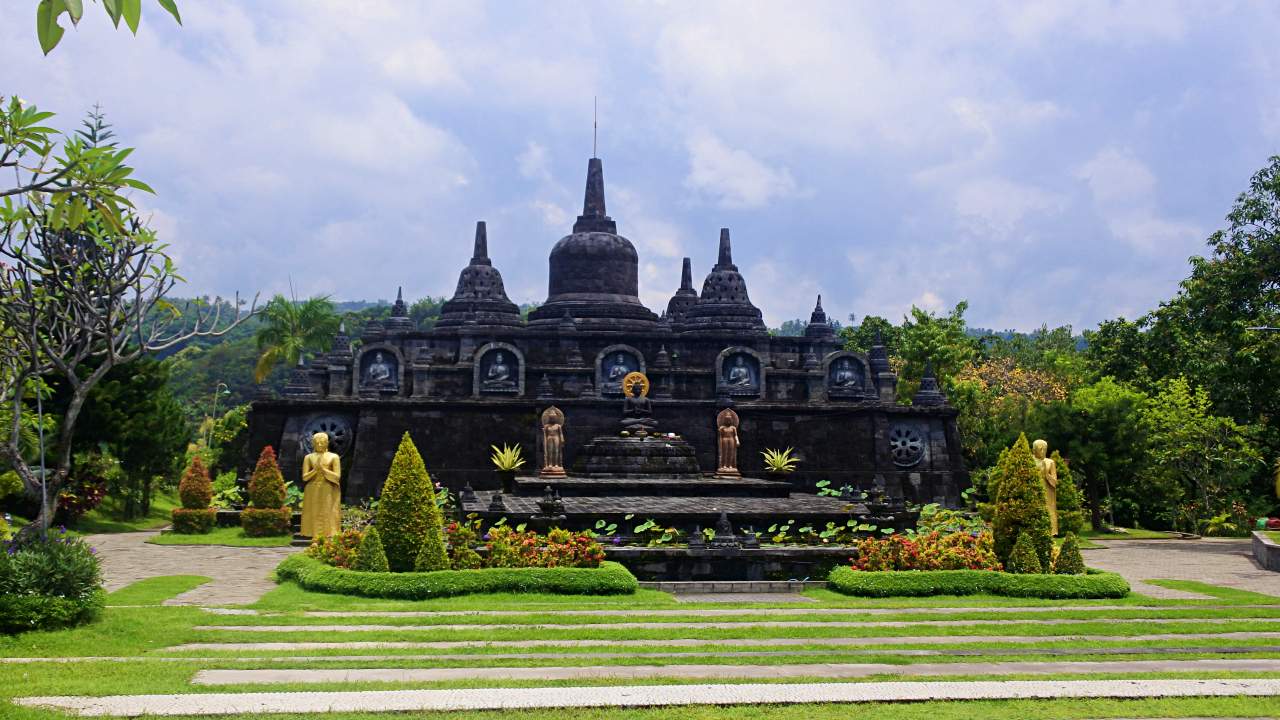 Although the place is greatly influenced by Thai architecture, the Balinese touch does not at all disappear here. Balinese-style gates adorn the garden and there are ponds decorated with Bali's mythical figures. Just like at a Hindu temple, a strict dress code is required when visiting.
See: Indonesian SIM Card, Price & Coverage.
Facilities
There are two parking lots available at Banjar Hot Springs. The car parking lot and the one for a motorcycle near the ticket office. Other basic facilities include a pay toilet, changing rooms, and showers. Parking for the scooter costs Rp2.000 and Rp5.000 for a car.
Visitors can store belongings during the bath in the locker room, available at a charge. For souvenir shopping, there are rows of gift shops extending from the entrance to the pool area.
See: Guide To Explore Aling-Aling Waterfall, North Bali.
How To Get To Banjar Hot Springs
Banjar Hot springs are only 10 km from Lovina beach. Getting there is a combination of using the public minivan car and motorcycle taxi 'ojek'. Find the van with Singaraja-Seririt route. Make a stop at Polsek Banjar intersection. Then catch and ride the motorcycle taxi to get to the hot springs.
However, the public van is not reliable since there is no fixed schedule. The ride-hail app is available but it might be limited to the bike only.  In that case, the option is limited to renting a scooter and driving to get there. The scooter rental is scattered in the Lovina beach area.
The price range from Rp50.000 to Rp120.000 depending on the type of scooter. While a car rental with a driver typically costs Rp400.000 to Rp650.000.
See: Bali Airport Guide, Public Transportation To Downtown
Banjar Hot Springs Location
The hot spring is located in Jl. Banjar, Banjar, Buleleng Regency, Bali 81152.