Taman Nusa Cultural Park
Entrance Fee: $19 - $29
Opening Hours: 09:00 - 17:00
Telp. Number: -
Address: Jl. Taman Bali , Sidan, Gianyar, Gianyar , Bali , Indonesia, 80582.
Indonesia is widely known as a nation with a vibrant cultural diversity that lives throughout 17.508 islands. As an archipelago nation is nearly impossible to visit one by one to learn about each origin. That is why Taman Nusa Cultural Park is established in 2013, to become the learning center of Indonesia's cultural heritage.
Taman Nusa is located in Sidan village, Gianyar, 45 minutes away from Ubud. This site is developed on approximately 10 hectares with over 60 ancestral classic houses. It includes museums, Borobudur monuments, theatres, and open-air spaces. Practically, the cultural park displays the diversity of Indonesian cultures.
Apart from the cultural education feature, Taman Nusa arranges music and dance performance. Visitors will have a chance to practice some popular dances and play musical instruments. On top of that, there is an opportunity to craft some Indonesian traditional batik and Tenun from local craftsmen.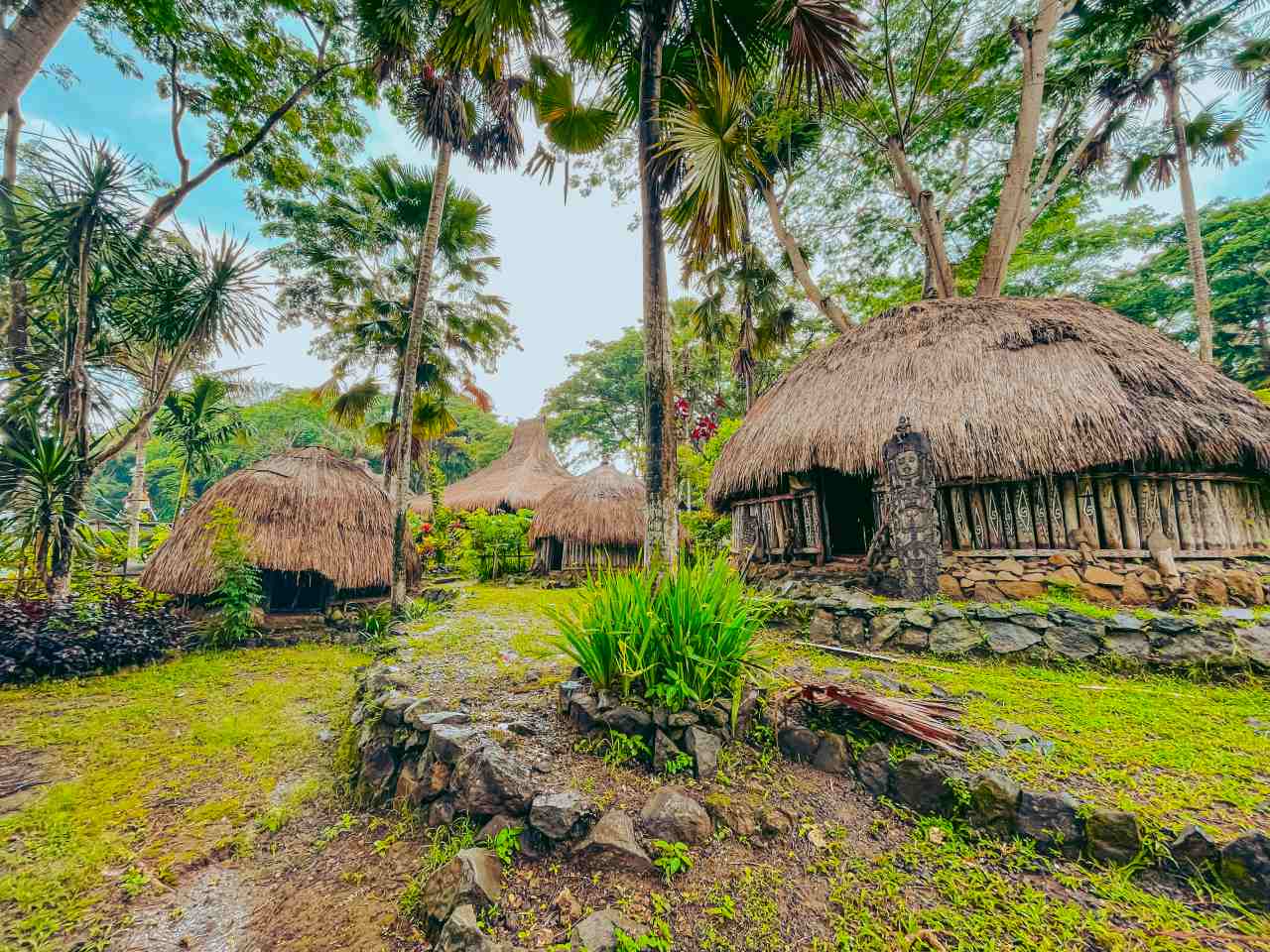 Taman Nusa Bali Entrance Fee
There is 3 different package ticket to explore Taman Nusa, Cultural Park. The cheapest one is $29 for adults and $19 for children. The package includes a pass to the museum, exploring Indonesian culture. In addition to that tourists will get to see Indonesian traditional houses and Borobudur replicas. What's more musical and dance shows as well as traditional arts and craftsmen are included.
Taman Nusa Cultural Park Entrance Fee
Cultural Package
$29 (adult) / $19 children
Javanese Package (additional photo wearing a traditional costume)
$39 (adult) / $29 children
Barong (additional barong performance)
See: Hidden Canyon Beji Guwang Guide & Things To Do.
Taman Nusa Bali Opening Hours
The cultural park is open every day from 9 AM to 5 PM. The best time to visit is in the morning before 10 AM to enjoy the dance performance.
Taman Nusa Cultural Park Opening Hours
Every day
09:00 – 17:00
See: Kanto Lampo Waterfall & Cave Guide To Explore.
Indonesia Prehistoric Era To Present
There are many cultural elements to explore in Taman Nusa Cultural Park. It has a great overview of collective arts in Indonesia. All are categorized by period from the Prehistoric Era, Bronze, and Kingdom age. Until Indonesia pre and post-independence and the present day.
For instance, it showcases the natural tribe and houses of each province. To make it even more fascinating, visitors are welcome to see inside the traditional houses. Along the way, there is an iconic replica of the Borobudur temple. As well as the military figure, Gadjah Mada in the Majapahit Empire.
And last, the statue of the first president and vice president, Ir. Soekarno and Bung Hatta. In addition, the views of the rice terrace and Melangit river are something to look forward to. Throughout the cultural tour, there are many Instagram-worthy spots to capture. Don't worry the staff here are friendly and ready to help visitors take dazzling photos.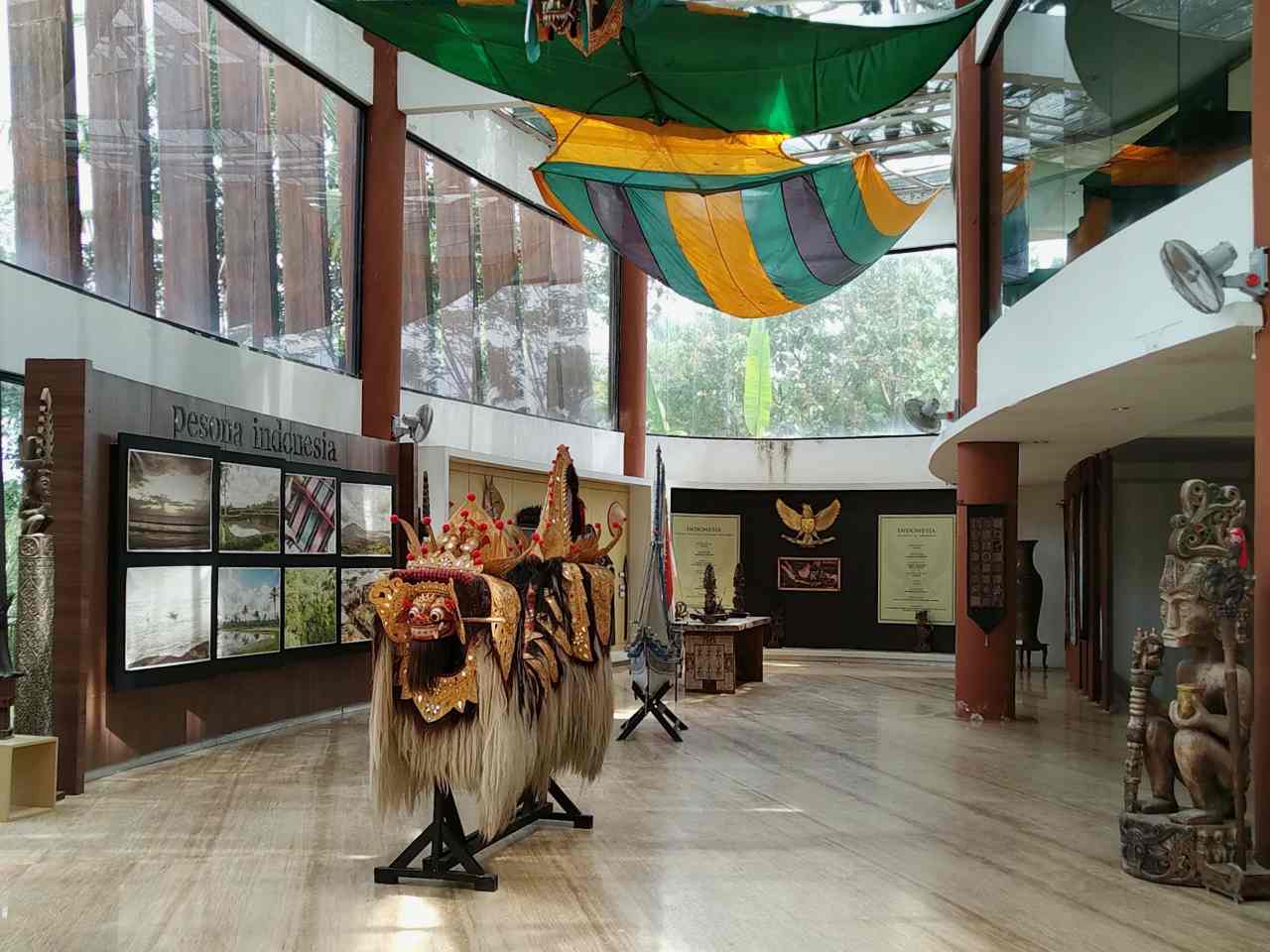 Handicraft Experience
Taman Nusa offers in hands experience in crafting some heritage clothing pieces like Endek and Tenun Ikat weaving. It's originally from Bali, East, and West Nusa Tenggara developed in the 70s. Both are the handwoven fabric that is widely used by the locals to perform religious ceremonies and rituals.
There is also the UNESCO intangible cultural heritage of batik. This famous Indonesian garment is hand-dyed, which allows visitors to paint some art patterns in the fabrics. And the most interesting part is this activity will be guided by the finest local craftsmen.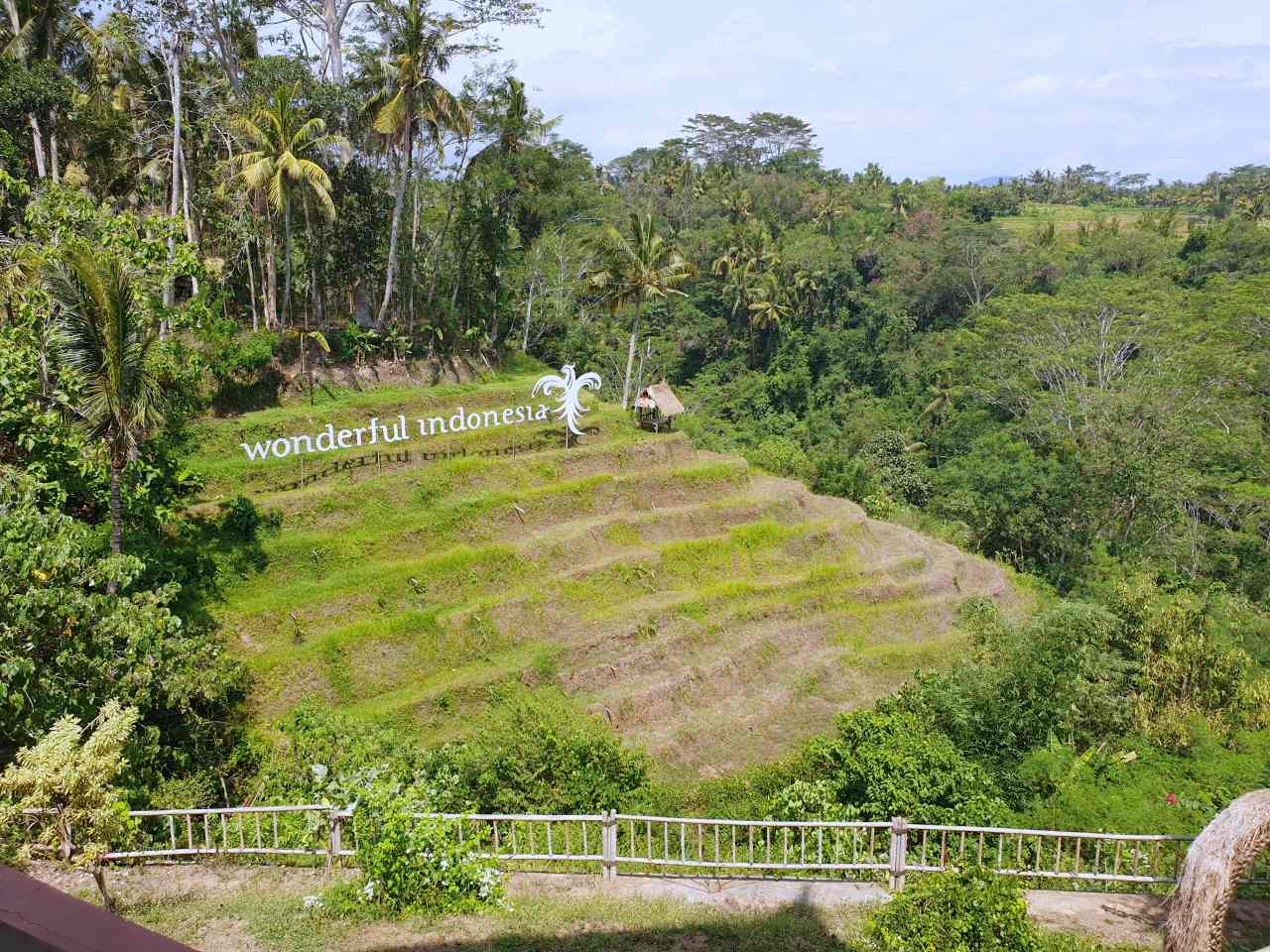 Similarly, there is another handicraft-making to try as well. Such as pottery of pre-historic daily equipment, weave dried leaves mat that is produced from coconut leaves, and screw pine. Visitors could also engage in egg painting, and flower arrangement to create Canang (a daily offering of Balinese Hindus).
More on the list is the Pinisi boat building which is an art ship craft from South Sulawesi. It is an indigenous tribute to Indonesian ancestors that is best known as Archipelago's explorers.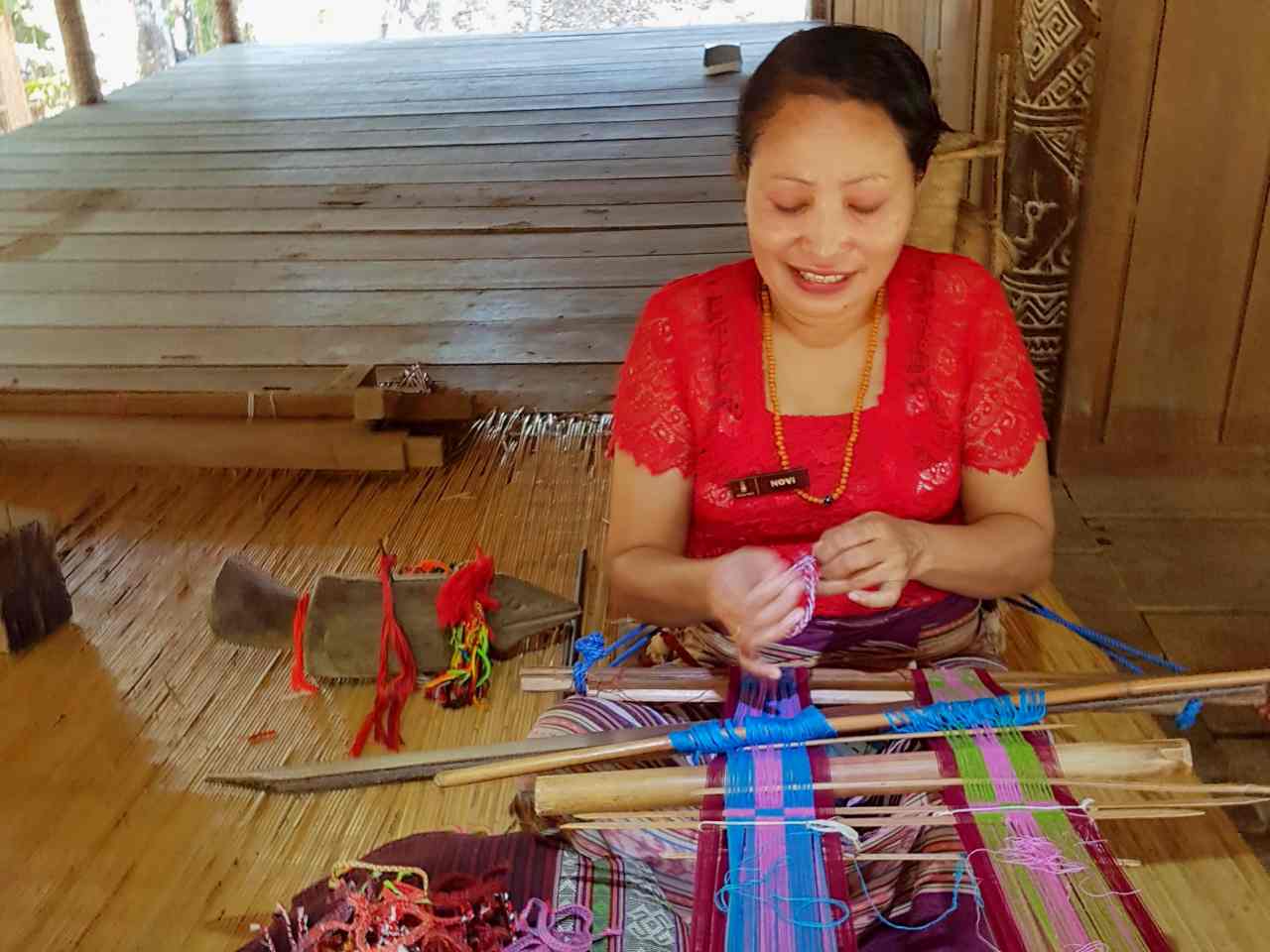 Music and Dance Performance
The rich culture of Indonesia is reflected as well in various musical instruments and traditional dances. In Taman Nusa Cultural Park, visitors are welcome to follow dance practices like Maumere and Nagekeo originally from East Nusa Tenggara. It is beginner friendly dance that most locals feel like a Zumba dance.
There is more outdoor entertainment such as the Plate dance, Yapong Betawi, and Pendet from Bali. Another to add to the list is watching the mythology of the Barong Dance inside the theatre. On the other hand, there is a musical instrument collection to take a look at here at Taman Nusa.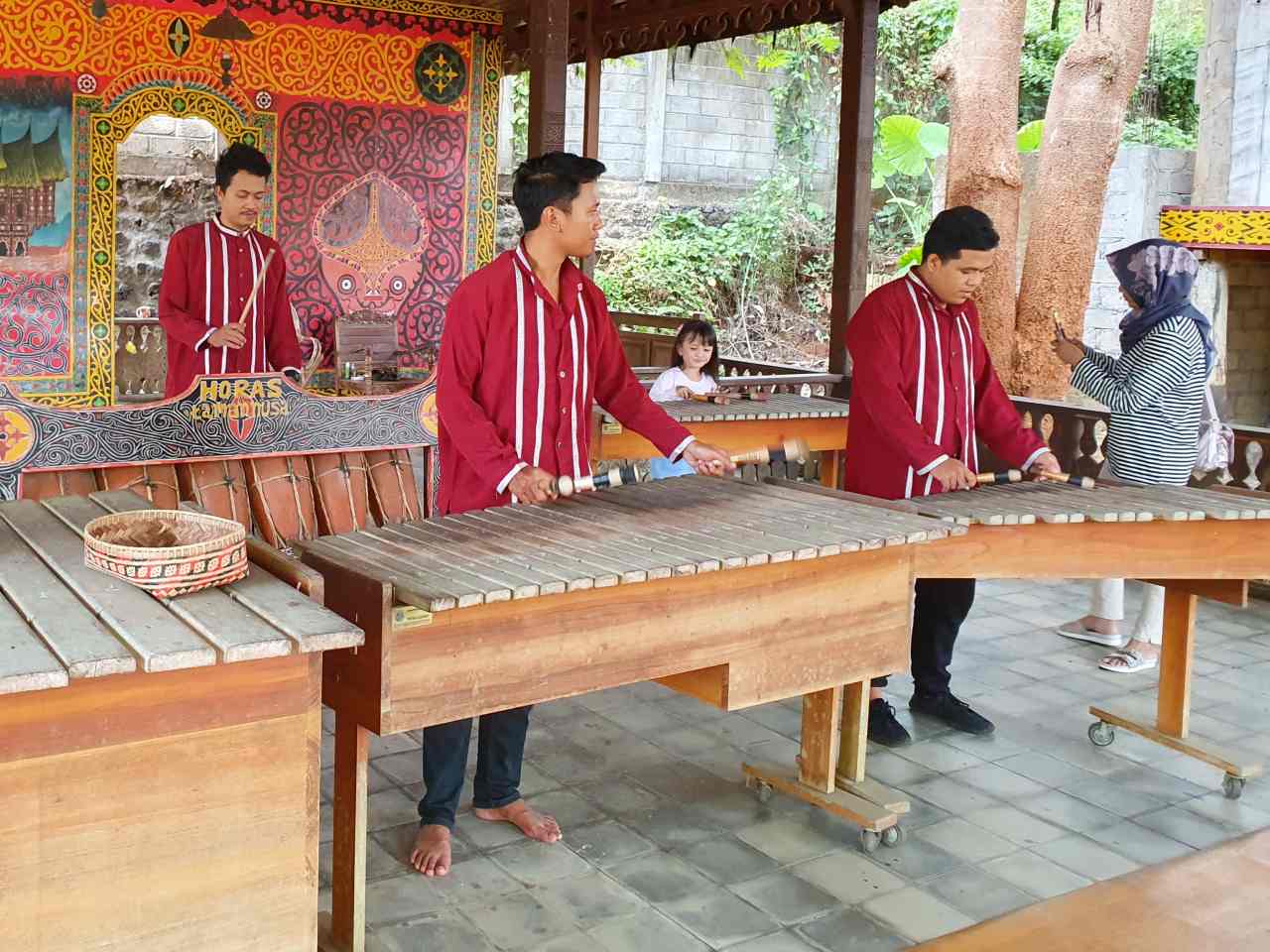 Gamelan, Kolintang instrument, Arumba, Toba, and Tabuh Rindik are among the collections. Generally, most instruments are made from natural materials like bamboo, wood, clamshell, palm leaves as well as copper and iron. Angklung workshop is available on this site too.
See: Guide To Explore Gianyar Night Market & Street Food.
Facilities
Taman Nusa Cultural Park has complete facilities to support visitors' needs. There are rest areas, a theatre, an exhibition space, souvenir shops, restaurants, cafeterias, rooftop views, and performance stages. There is a cool feature, a smart audio guide with three languages, Indonesian, English, and Mandarin.
See: Tourist SIM Card, Where To Buy & Package Price.
How To Get To Taman Nusa Cultural Park
The cultural park is located close to the borderline between Gianyar and Bangli. It is over an hour to reach it from Denpasar. The best route is via Jl. Prof Ida Bagus Mantra then follows the sign to Gianyar/Kelungkung. Once arrived at Banjar Siyut traffic lights, turn left and head straight to Jl Raya Tulikup.
Taman Nusa is located on the right side of the road. There is no public transport passing through Taman Nusa, so it's better to rent scooters or a car. The scooter rental price range from Rp60.000 to Rp120.000 depending on the type. While for a car with driver, cost starts from Rp600.000 for half day trip.
See: Bali Airport Guide, Airport Transfer & Public Transportation.
Address & Location
The Cultural Park is located in Jl. Taman Bali – Banjarangkan, Sidan, Gianyar, Bali 80582.