Three Colors Beach
Entrance Fee: Rp10.000
Opening Hours: 08:00 - 16:00 WIB
Telp. Number: 0812 3333 9889
Address: Jl. Sendang Biru, Area Sawah/Kebun, Tambakrejo, Tambakrejo, Sumbermanjing , Malang , Jawa Timur , Indonesia, 65176.
Three Colors Beach in Malang, East Java, offers calm water of three different colors. This unique fact contributes to its name as tiga warna means three colors in English. The water near the shore is translucent and it is green in the middle. It turns to dark blue, typical sea color, about ten meters from the coast.
It is thanks to the wavelength of the sunray and the depth of the water. As it is part of Clungup Mangrove Conservation, it only welcomes 600 people per day. This is the maximum number and it cannot go any higher than that. Therefore, prior booking is crucial by directly contacting the official.
For group visitors, ensure that it is no larger than ten people. That is to allow other visitors to go in groups as well. The entire terms and conditions may seem strict, well, because they are. The officials take their job very seriously to keep the environment safe and unharmed.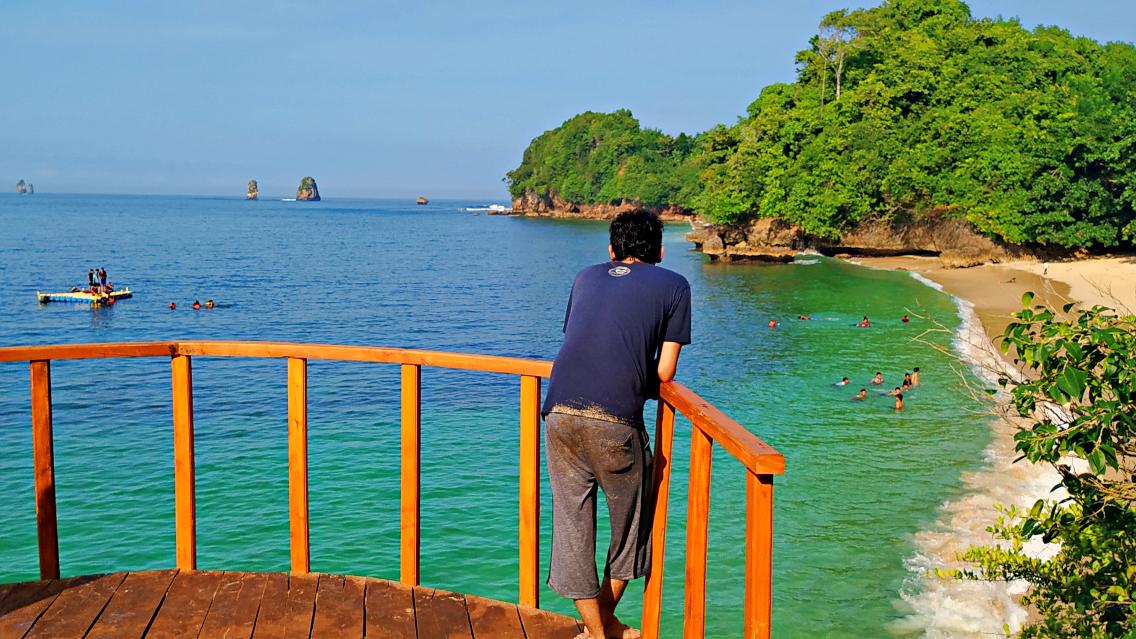 That's why they limit the number of tourists who drop a visit to the beach. Also, everyone has to go on foot for at least an hour to reach it. It is, of course, for the sake of mother nature itself.
Three Colors Beach Entrance Fee
To explore the beach, visitors will have to reserve their spot by calling the conservation office. Each tourist has to pay Rp 10.000 per person for the admission fee.
Three Colors Beach Entrance Fee
Local & Foreign
Rp 10.000
See: Bromo Volcano Entrance Fee & Top Things To Do.
Three Colors Beach Opening Hours
Tiga Warna Beach's open every day except Thursday and each visit is limited to two hours. Since the trek can take at least an hour, explorers should come before 12.00 AM. That way, there will be enough time to walk there and back before dark. Make the reservation only during the operational time, from 8 AM to 4 PM.
Three Colors Beach Opening Hours
Every day except Thursday
08:00 – 16:00 WIB
See: Exploring The Little Niagara, Tumpak Sewu Waterfall.
Three Colors Beach Trek Through the Wild
There are two tracks that will take explorers to Three Colors Beach. The first one is the By-Pass, which is the fastest and easiest route. It takes about an hour to get to the beach, passing scenic fields and plantations. The terrain is flat and yes, most of the path is dirt. However, the trees and shrubs around give some green touch, and shades, to the journey.
The second track is Full Track, suitable for adrenaline junkies with a heart for adventure. Do not expect the terrains to be comfortably flat—it is hilly! Adventurers will go up and down a few hills and pass some other beaches. It takes about two hours even up to three hours to Three Colors Beach. Vacationers are free to choose one track, or both, to go and get back.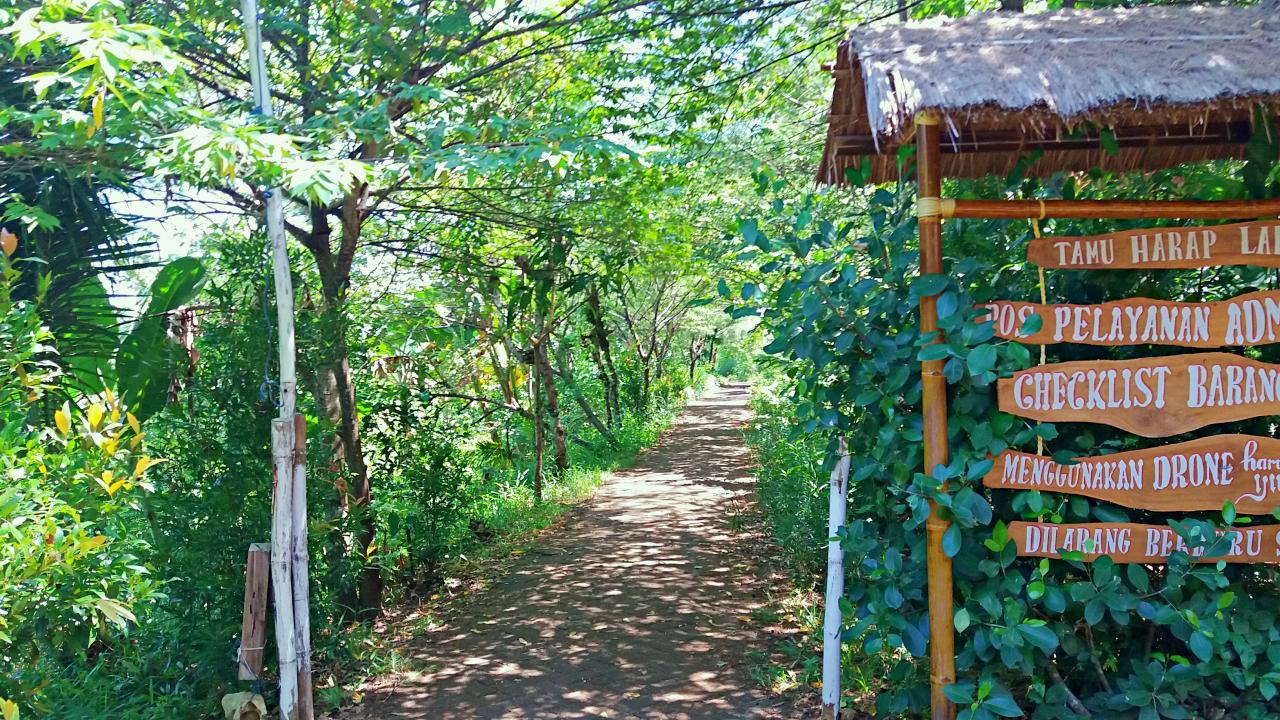 Swim with the Fish
The whole exhausting trip pays off when the beach finally pops up on the horizon. Its white sand flickers under the sunlight as the subtle wave licks the coast. The real attraction lies beneath the three-color water through—rich marine life to admire. Colorful corals and reefs provide a playground for schools of fish of various sizes.
Travelers can get intimate with the sea critters since it is a nice snorkeling spot. They seem unafraid of humans as some would love to mingle around. To have the best snorkeling experience, vacationers should come when the tide is normal.
When the tide is high, any swimming activities are prohibited due to safety reasons. During low tide, there are not so many snorkeling spots to enjoy.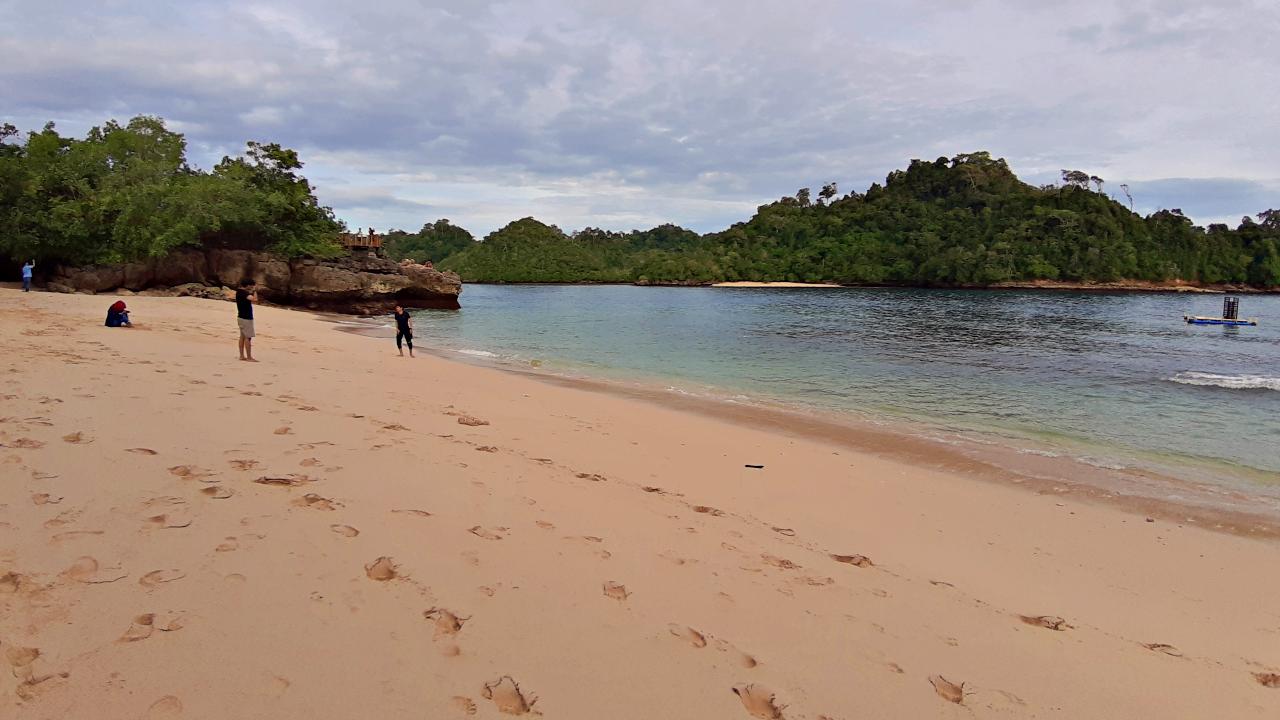 Let's Set Up a Tent
To preserve its beauty, the officials ban everyone from camping at Three Colors Beach. Despite being a "no camping" area, adventurers are allowed to camp somewhere else. Clungup Mangrove Conservation owns many other beaches such as Clungup, Gatra, Savana, and Watu Pecah.
Please communicate with the guide or park rangers to decide where to erect the tent. Campers must pay Rp 25,000 to "borrow" a piece of land at the camping ground. It costs another Rp 25,000 to rent a tent and other outdoor gear.
If explorers bring their own tent, they only need to pay for the camping ground. Although there are some food stalls, everyone should bring his or her own supplies.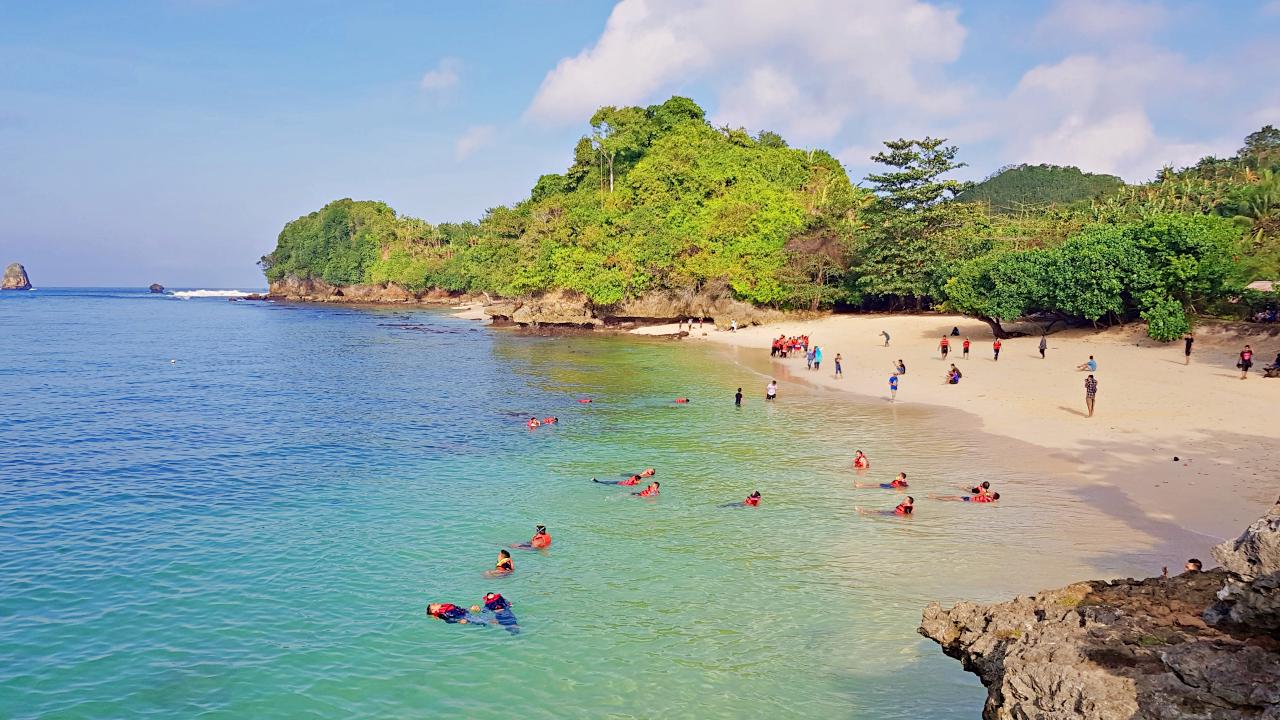 Leave Nothing but Footprints
Unlike any of Indonesia's tourist attractions that go easy with garbage, it's a big no-no here. Once visitors step into the check-in post, the Rangers will warn them about littering. If they leave just one object, like an empty plastic bottle, they will be charged. The fine for one item is Rp 100,000—it effectively prevents everyone from littering.
Plus, no one should ever think that they can get away with it. The rangers and guides will carefully inspect every inch of the beach for any rubbish. In other words, it requires everyone to be a responsible and considerate tourist. This method has been successful at keeping Three Colors Beach and the entire conservation clean.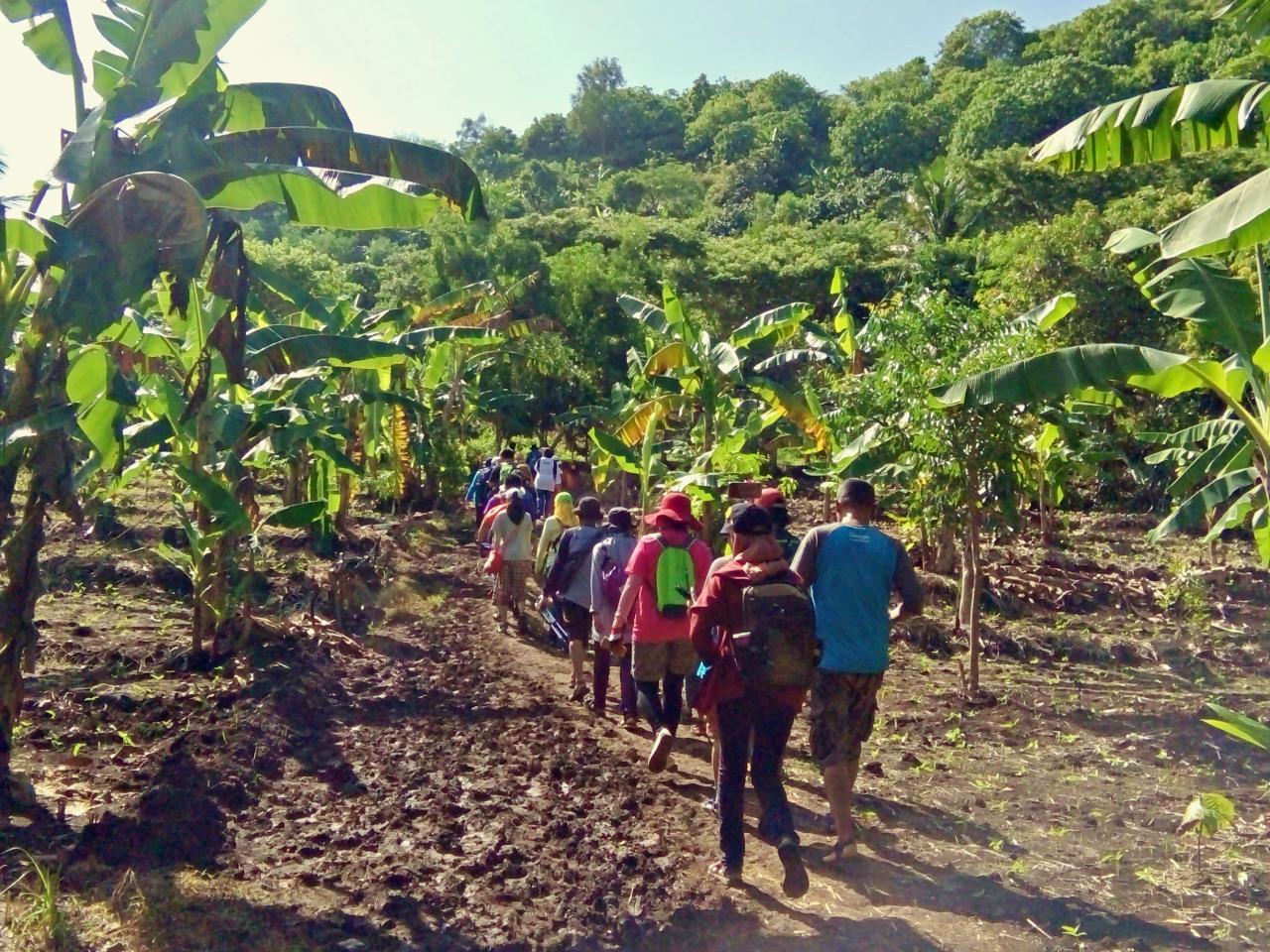 Three Colors Beach Facilities
Visitors must go with a guide all the time for safety reasons. One guide costs Rp 100.000 per ten tourists—every ten people pay Rp 10.000. Other than providing camping and outdoor gear, the officials also rent snorkels, goggles, and fins. Swimmers have to pay only Rp 20.000 for each of the items. It is mandatory to wear a life vest when snorkeling to prevent anyone from drowning.
Three Colors Beach Facilities
Guide
Rp 100.000 /10 person
Snorkeling gear rent
Rp 20.000
See: Fun Tubing at Coban Rondo Waterfall, Malang.
How to Get To Three Colors Beach Malang
Since it is in Malang, better start the trip from this city. The route is Malang – Gadang Turen – Goa Cina Beach – Clungup Mangrove Conservation (by private vehicle). It takes about 2.5 hours up to three hours for this 73-kilometer journey.
As for public transportation, go to Malang's Terminal Gadang to catch a bus to Turen. From Turen, take a bus to Sendang Biru and stop at Clungup Mangrove Conservation.
See: Indonesian SIM Card, Price & Coverage
Three Colors Beach Address & Location
The conservation beach and area located right at Jl. Sendang Biru, Tambakrejo Forest Area. Sumbermanjing, Malang, East Java 65176.