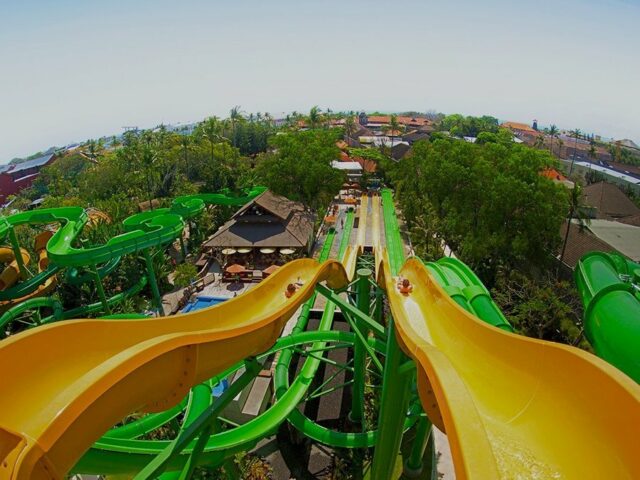 Planning exciting fun activities in Bali for the young family member. Waterbom Bali with the world-class rides and attraction could be the options. Span in a 3.8 hectares area. Waterbom Bali developed an Eco-friendly environment and manage to maintains more than 50% of the park as green space.
Winning various award and known as the top water park in Asia for 2017. Waterbom Bali also offers an enchanting green garden where visitor can relax and enjoy the tranquility of the tropical magical island.
Waterbom Bali Attraction
Visitors from various range of age will be thrill by choice of rides in different adventure levels. There are 3 stages of adventure level offers in Waterbom Bali based on visitor age. The mellow level suitable for family traveling with young kids. The moderate and extreme rides for adults and kids with a minimum height requirement.
Mellow Level  
Funtastic Rides – The water canon, slides, wheels, ropes, and giant dump buckets will keep kids entertained. The area has been designed to international safety standards and closely supervised. So parent can sit back and relax. Note : children under 6 years old must be accompanied and supervised by an adult.
Lazy River – Sit and relax while drifting along the lazy river. Circling around the green tropical gardens.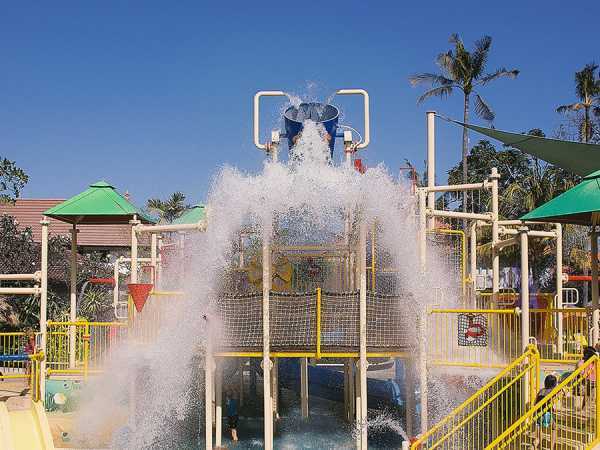 Adult & Children (>6 years old) Rides & Attraction
Moderate Level
Superbowl – Ride alone or with a friend. The rides will whip riders around the open and translucent tube. At rapid speed and landed at a perfect pool splashdown. Note: the minimum height to ride is 122 cm.
Constrictor – The 250 meter long rides. Sit back and let the ride go around and slide through almost 90-degree turns. The tube slide can be enjoyed alone or with a friend. Note: minimum height to ride is 122 cm.
Python – Either with friends or kids. These rides are fun and fit for 4 people. With a life-raft style tube, riders will be able to see each expression. While the tube will drop and swing through the 6m phyton's belly. Be ready to get a good shock in a middle way.  Note: the minimum height to ride is 100 cm.
Extreme Level
Twin Racer – Up for challenge and competition. Make sure to try the twin racer.  Go by the head first. The mat ride will launch into the closed spiral tube before revealing position and land in the big drop. Note: minimum height for the rider is 110 cm.
Smash Down 2.0 – The 26-meter drop in a second will pump the adrenaline. Get into the capsule and be ready to experience a vertical drop. Note: minimum height is 122 cm.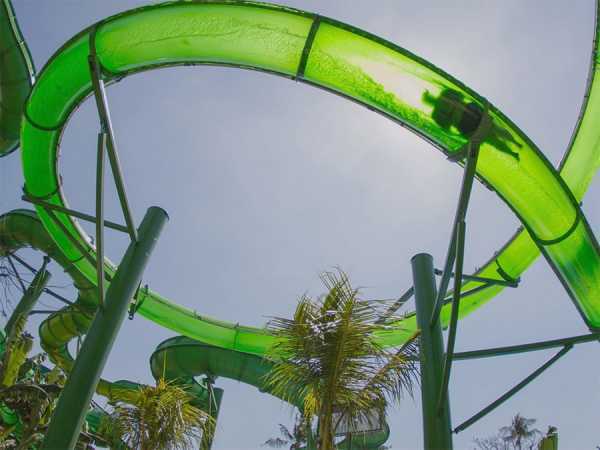 Fast n Fierce – Jumped up in this vertical slide and feel the speed. The controls are all yours. Note: minimum height for a rider is 120 cm.
Climax – Another vertical drop rides every visitor must try. The countdown timer on the trapdoor will set the adrenaline rush racing. Note: minimum height and weight for the rider is 120 cm and 45 kgs.
Be determine to try all the extreme rides. The double twist ride will  trap riders into another drop. Not sure between choosing open or close tube. Try the green viper rides. Bored with the color slide tube. Riders can jump into the clear tube of Pipeline. Eyes open and take a glimpse at Kuta skyline.
Waterbom Facilities and Services
Waterbom Bali offers facilities and services to ensure all of the guest experience the most enjoyable time during their visit. Besides the safety standard applies in all of the attraction arenas. The complete facilities will make guest having a private space and feel relax after the fun and tired activities.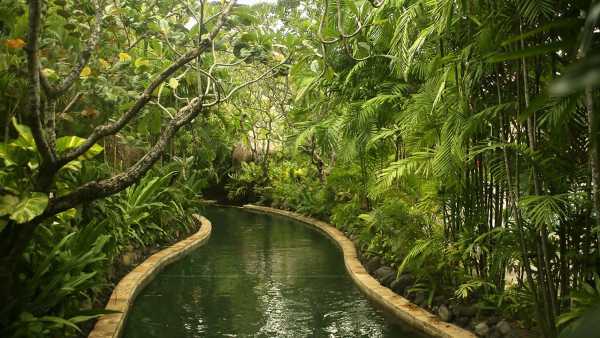 Private Gazebo
The entire 51 gazebos will be the best place to chill and sit back with the kids or friends. Surrounded by the tropical garden, the gazebo provides 3 different maximum capacity.
Regular gazebo up to 6 people
Family gazebo up to 8 people
Private Family up to 12 people
List of Gazebo
Price in IDR
Gazebo Regular – Pleasure pool area
300.000
Gazebo Regular – Kids area
250.000
Gazebo Regular – Lazy River
250.000
Gazebo Family – Kids Area
350.000
Gazebo Family – Slide Central
400.000
Bookings through the Waterbom Bali website valid for selected visit date only. Tickets must be selected to purchase a gazebo.
See: Explore and Enjoy Traditional Dance in Bali Landmark, Garuda Wisnu Kencana.
Safety Lockers and Towel Hire
Safety lockers with key-less access provided for the convenience of the visitor in placing their valuable belongings. There is 3 storage location and around the park, so visitor won't have to be walking around the park. The towel hires also available in the same location with safety lockers.
Facilities
Price in IDR
Regular Locker
25.000
Family Locker
35.000
a deposit of Rp. 30.000 is applied to each locker and will be returned at the end of the day
Towel hire
10.000/piece
a deposit of Rp. 30.000 is applied to each towel and will be returned at the end of the day
See: Kecak Dance and Top Sunset Spot, Uluwatu Temple.
Professional Photo
Capturing the best moment of the day. Make sure to visit Photobooth to see and choose shots from the whole day's fun activities.
First Aid Center
The first aid center located inside the park and staffed by professional medical personnel to handle minor emergencies.
Restaurant & Bar – Need a break and starving after a long hours of fun. Waterbom Bali has a wide range of food. All of the food is made fresh and prepared right after the order. Lounge bar provide a wide selection of beverage, and a place to chill or get competitive by playing water volleyball in the pool.
Waterbom Operational Hours
Waterbom Bali Operational Hours
Monday to Sunday (except Nyepi day)
09:00 am – 06:00 pm
See: A Quick Stop In Ubud, Visit The Sacred Monkey Forest
Waterbom Bali Entrance Ticket
The pass for Waterbom Bali is available from 1 day to 2-day pass. The guest can also enjoy the package and get benefit from additional services like massage or avoiding a queue. Entrance Ticket can be purchased directly at the Waterbom Bali ticket counter or through Waterbom Bali official website.
Payment for online reservation is acceptable using one of the following method : debit card or credit card with VISA, Mastercard, American Express, JCB logo. All booking are non refundable.
Waterboom Bali Entrance Ticket
Entrance Ticket
Children(2-11 yrs old) in IDR
Adult in IDR
Family (2 adults + 2 children) in IDR
1-day pass
327.000
455.000
1.435.000
Funtastic package (Admission, Lunch, towel)
430.000
555.000
–
Additional Facilities: 
*VIP Entry to all rides, lunch, towel, a digital copy of photos, 1 of the following: 30 min flow ride, 60 min massage or reflexology, 20 min euro bungee session + 1 bucket water blast balloons, hair braiding or manicure.
**Access to the entire park and all slides, 1 pizza & 1 glass of soft drink available from any restaurant.
Waterbom Bali Address & Location
Jl. Kartika Plaza Tuban, Kuta, Kabupaten Badung, Bali 80361. Telp: (0361) 755676