Krisna Funtastic Land
Entrance Fee: Rp50.000 - Rp150.000
Opening Hours: Tuesday to Sunday, 16:00 - 22:00
Telp. Number: -
Address: Jl. Seririt- Singaraja, Temukus, Banjar , Buleleng , Bali , Indonesia , 81152.
Krisna Funtastic Land is one stop recreational theme park that is established in Temukus, North Bali. It is popularly known as the local favorite get-away spot with families. This site has over 16 exciting rides for kids to try with advisable high limits. Within the amusement park area, there is a Balinese souvenir Krisna Oleh-Oleh and Krisna Waterpark too.
The best time to visit Krisna Funtastic Land is around the evening. Exploring this theme park feels like coming to lantern festivals. It has many decorative statues and international landmark installments with vibrant light. Restaurants and food stalls offering food and refreshments are available as well.
This park is also close to the famous spots, Lovina Beach and Banjar Hot Springs. It's not so far too from the capital Singaraja. It will roughly take 30 minutes rides to reach the theme park. And only 15 minutes away from the tourist-staying area in Lovina.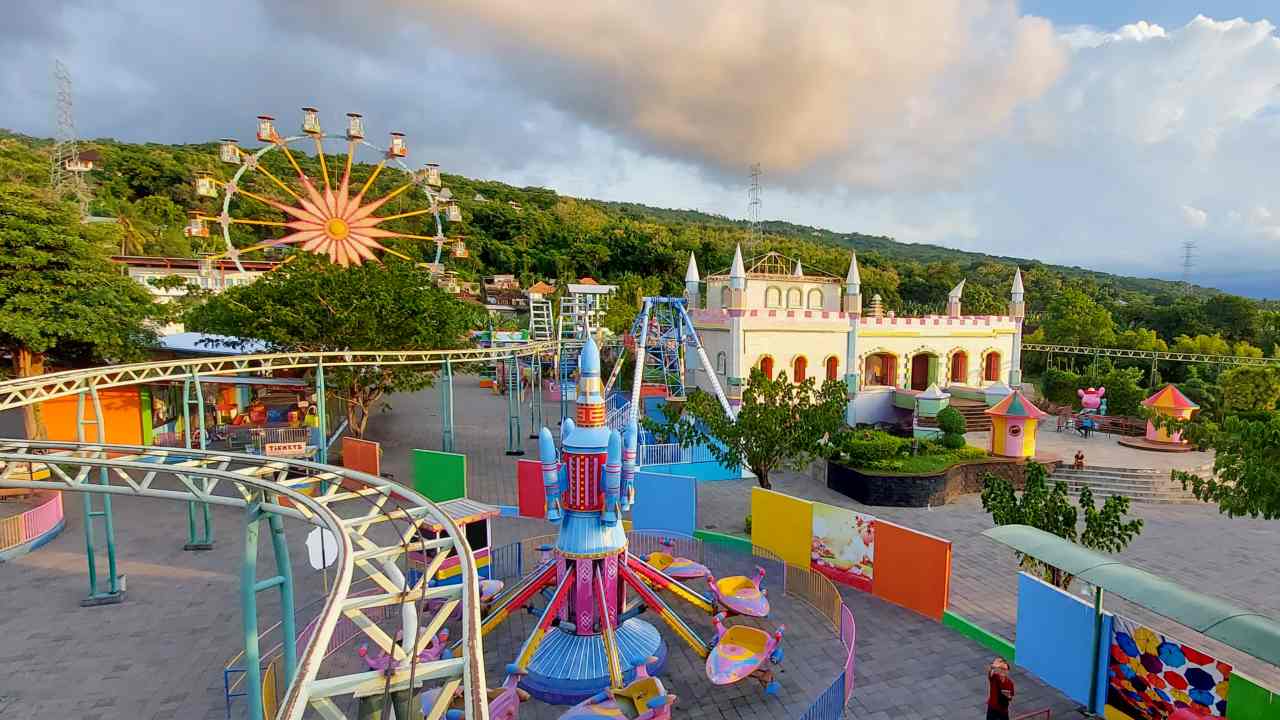 Krisna Funtastic Land Entrance Fee
The regular ticket for international tourists costs Rp50.000 with an additional cost of Rp25.000 for each ride. While the canal attraction and pass ticket cost Rp150.000.
Krisna Funtastic Land Entrance Fee
Regular Ticket
Rp50.000
Pass Ticket
Rp150.000
Canal
Nearby: Banjar Hot Springs Guide & Entrance Ticket.
Krisna Funtastic Land Opening Hours
The theme park is open from Tuesday to Sunday from 4 PM to 10 PM. On Monday this site is closed. The best time to visit Krisna Funtastic Land is on weekdays because the ticket is cheaper. And there is not much crowd flocking to this place.
Krisna Funtastic Land Opening Hours
Tuesday – Sunday
16:00 – 22:00
Nearby: Guide To Explore Brahma Vihara Arama Temple.
Krisna Funtastic Land Fun Rides
The theme park has lots of fun attractions to try. Carousel, ferries wheels, bumpers cars, ship swings, and coaster trains are some of the ride options. These exciting rides mostly appeal to kids since it has attractive cartoon ornaments. Visitors with entry passes only will have to pay Rp17.000 to Rp25.000 for each ride.
For younger visitors, there is an adrenaline rush of floating rides. It's the best feature to enjoy the overall park views from a bird's eye level. The extra retreats in Krisna Funtastic Land are 360° degrees wheel rides.
Or else ride the classic fairy boat. It fits approximately six adults. This ride offers a brief tour of this park through the canal. Which copies the famous Venice gondola ride. Further on the list is 5D Cinema Theatre. It has special seat and studio effects to simulate real-life experiences.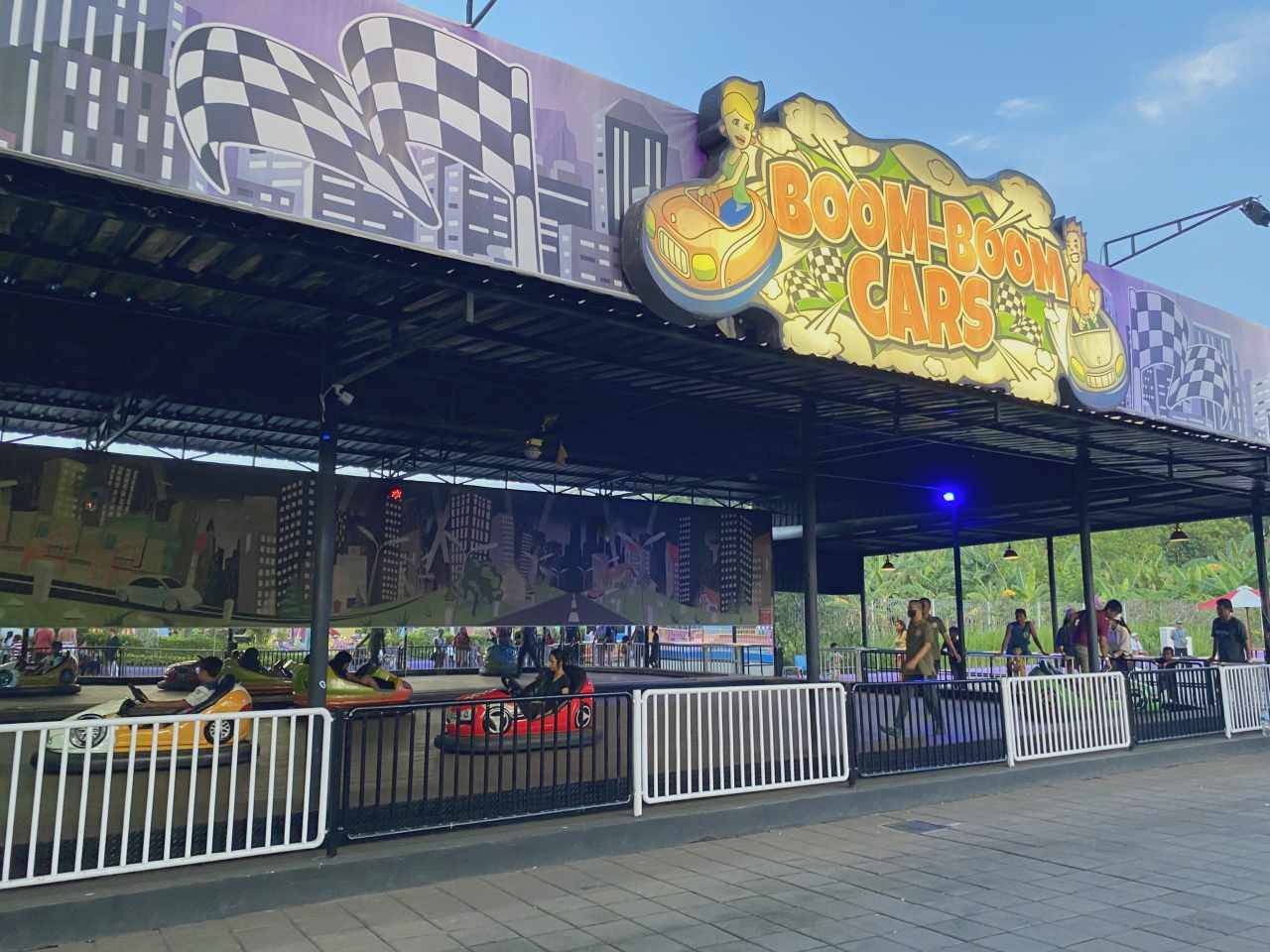 Picturesque Illuminates Objects & Figure
Krisna theme park also builds an iconic Statue of Liberty and a replica of the romantic Eiffel Tower. Those add overseas getaway vibes that are certainly worth snapping some selfies with. Along the way, several animal and comic figures are installed with colorful lights.
The so-called lampion castle offers fascinating night light with some art elements. What's more, Krisna Air is the top highlight of this place as well. This is a plane parked in the theme park, visitors are welcome to see the inside of the plane.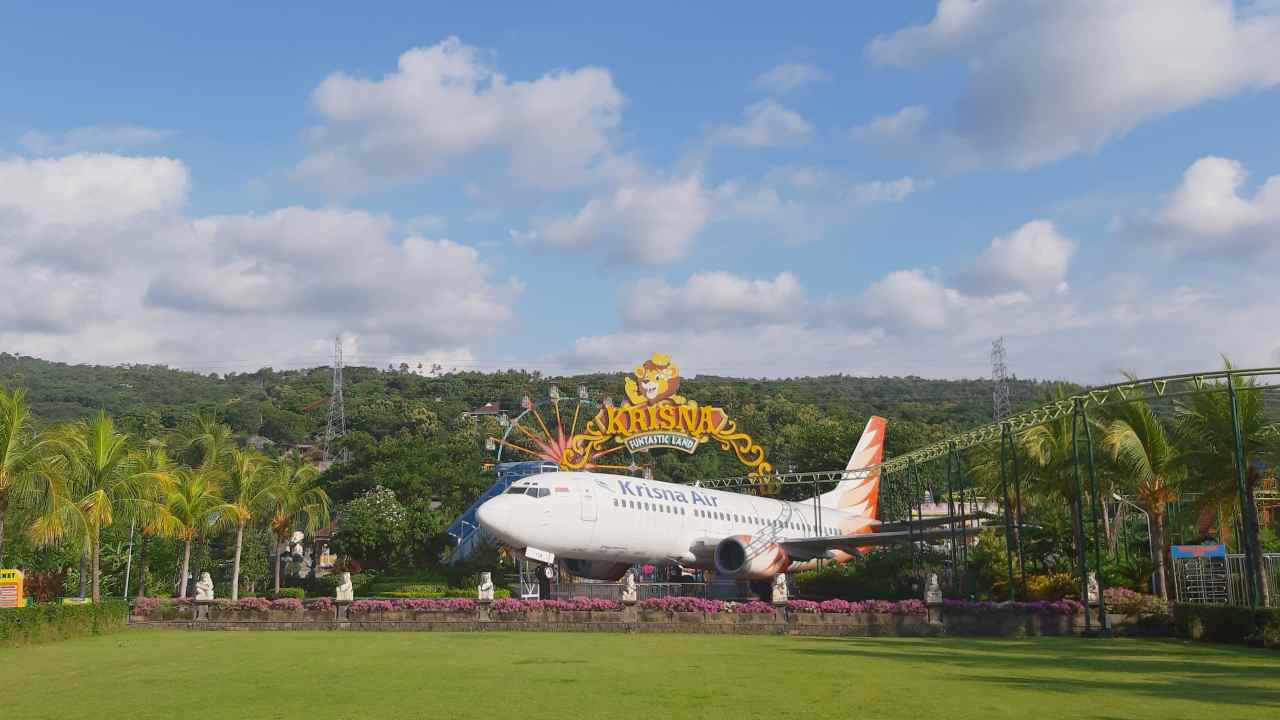 Krisna Water Park
Under the same management, there is a water park destination that opens from 11 AM to 5 PM. The main attraction is a massive wave pool that has a sunroof to protect visitors from intense sunlight. It also has plenty of water attractions to relish such as a water slide, lazy river, and kid's pool with showering toys.
The water bucket shallow pool, splash pads, and water shooters are available as well. The entrance ticket is slightly more expensive than Krisna Funtastic Land which is Rp75.000 for adults and Rp25.000 for kids. A special family passes cost Rp200.000 that applies from Tuesday to Sunday.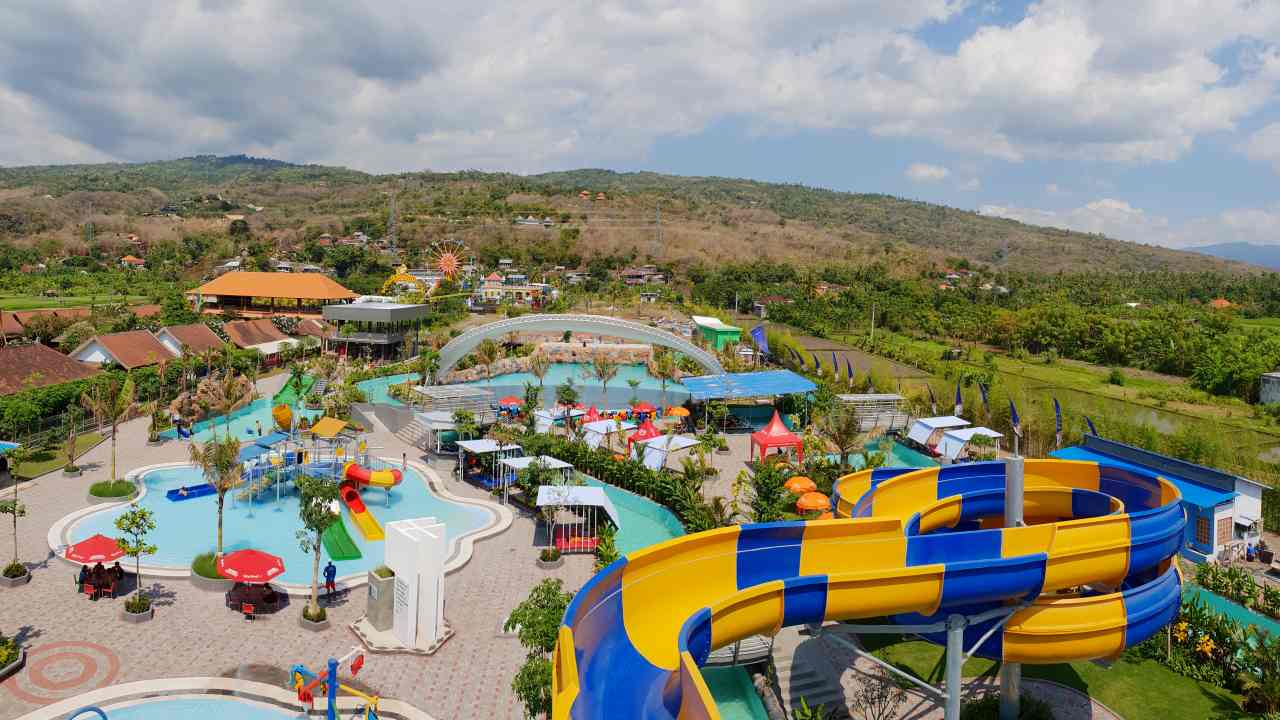 Supplementaries like lockers, towels, inflatable balloons, and gazebo sofas are available for rent. The rental price starts from Rp10.000 to Rp 50.000. The facilities inside the waterpark are quite complete, like a food court, toilets, changing rooms, and an inbuilt bar that allows visitors to enjoy beverages while swimming.
See: Guide To Explore Banyumala Twin Waterfall & Ticket.
Facilities
Krisna Funtastic Land theme park has complete facilities to ensure visitor pleasure. It includes a food court, lockers, sitting areas, toilets, an indoor playground a souvenir, and a clothing shop. The coffee shop and ATM machines are located near the parking area.
Accommodations like hotels, villas, and bungalows are broadly available near Krisna Funtastic Land and Waterpark. In fact, there are lots of hotels and homestays lining the main street of Singaraja, Lovina Beach, and Seririt.
See: West Bali National Park Guide & Tickets.
How To Get To Krisna Funtastic Land
Krisna Funtastic Land is located on the north side of Bali which is Jl Raya Singaraja Seririt. It is only 10 minutes away from Lovina Beach. Due to COVID-19 Outbreak in the past 2 years, the DAMRI bus line to Singaraja is currently not operating. The bus fare is 35k for a one-way trip from Bali Airport to Singaraja.
Therefore, the choice is limited to either renting scooters or cars. Renting a scooter will cost between Rp60.000 to Rp120.000 for day rent. A car with a 4 to 5-passenger capacity with a driver costs around Rp600.000 to Rp800.000 for 8 hours tour.
See: Tourist SIM Card, Internet Package & Where To Buy.
Address & Location
Krina theme park and Waterpark are located in Jl. Seririt- Singaraja, Temukus, Banjar, Buleleng, Bali 81152.