ARMA Museum
Entrance Fee: Rp80.000 - Rp750.000
Opening Hours: 09:00 - 18:00
Telp. Number: + (62 361) 976 659
Address: Jalan Raya Pengosekan Ubud, , Ubud , Ubud , Gianyar , Bali, , 80571.
Paintings and carving is something inseparable from Ubud. As the city inspired and create both the best painter locals and foreign. A series of masterpieces from the art expert displayed in the museum based in Ubud. ARMA Museum is just one of the art museums that exhibit art paintings.
ARMA Museum offers hundreds of collections of paintings from legendary artists and new artists. The museum can easily be spotted by the Balinese style and carvings. On the other hand, the location is just convenient and not far from the main Ubud street.
ARMA museum Ubud offers a different atmosphere compared to other art museums. The other museum commonly has a gloomy, and indoor exhibition. Meanwhile, the Agung Rai Museum of Art (ARMA) is designed in a bright and open-air place. In addition to that, the museum has a spacious yard and a lush garden surrounded by paddy fields.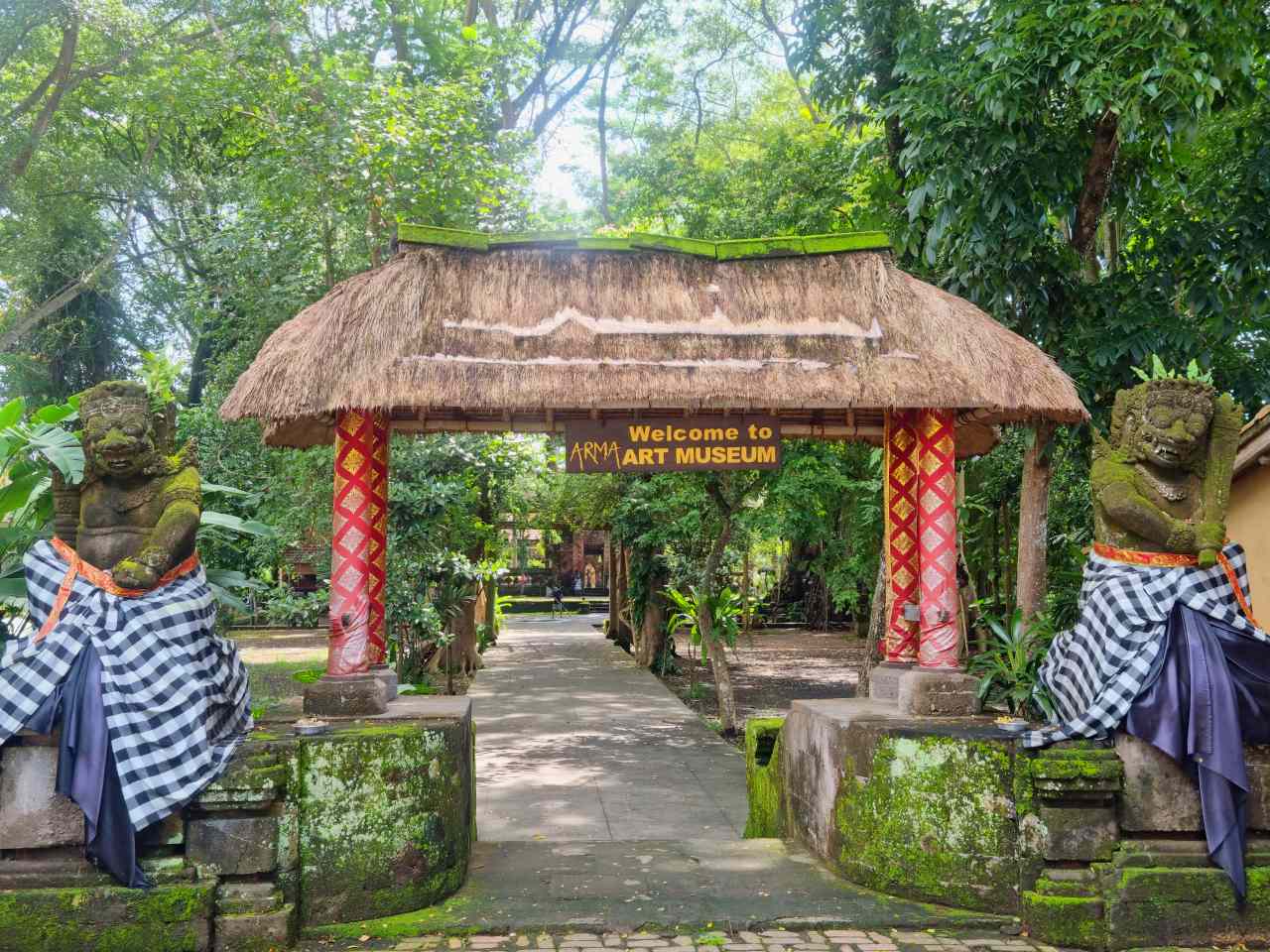 ARMA Museum Entrance Fee
The entrance fee for international tourists is Rp100.000 and it includes complimentary coffee/tea that could be redeemed in ARMA Cafe. While there is no charge for children under 3 years old.
See: Guide To Explore Ubud Art Market.
ARMA Museum Opening Hours
Agung Rai Museum of Art opens from 8 AM to 6 PM. Nonetheless, since having a tour of this museum will spend many times, most visitors come in the morning. Besides, all of the classes and exhibitions are started in the morning as well.
ARMA Museum Opening Hours
Every day except Nyepi
08:00 – 18:00 WITA
See: Complete Guide To Explore Tegenungan Waterfall.
ARMA Museum Establishment
The presence of Agung Rai Museum of Art has a background that contributes to enlivening Balinese art history. The founder, Agung Rai, as the museum's pioneer, must be counted as well. The man is a Balinese collector that has been exposed to art during his childhood. Interaction with phenomenal painters in the workshop got him too deep.
Agung Rai is one of the famous Balinese collectors. And building an art museum is one of his dreams. The beginning of Agung Rai's encounter with the painters started in 1980. Back then, there are not many collectors and Agung begins to buy paintings that he feels create strong emotions.
Until in the long run, he decides to exhibit his entire collection. And express the spiritual connection he felt through the collection. Collecting paintings from various legendary locals artist is one of his efforts in preserving Indonesian artwork through the foundation.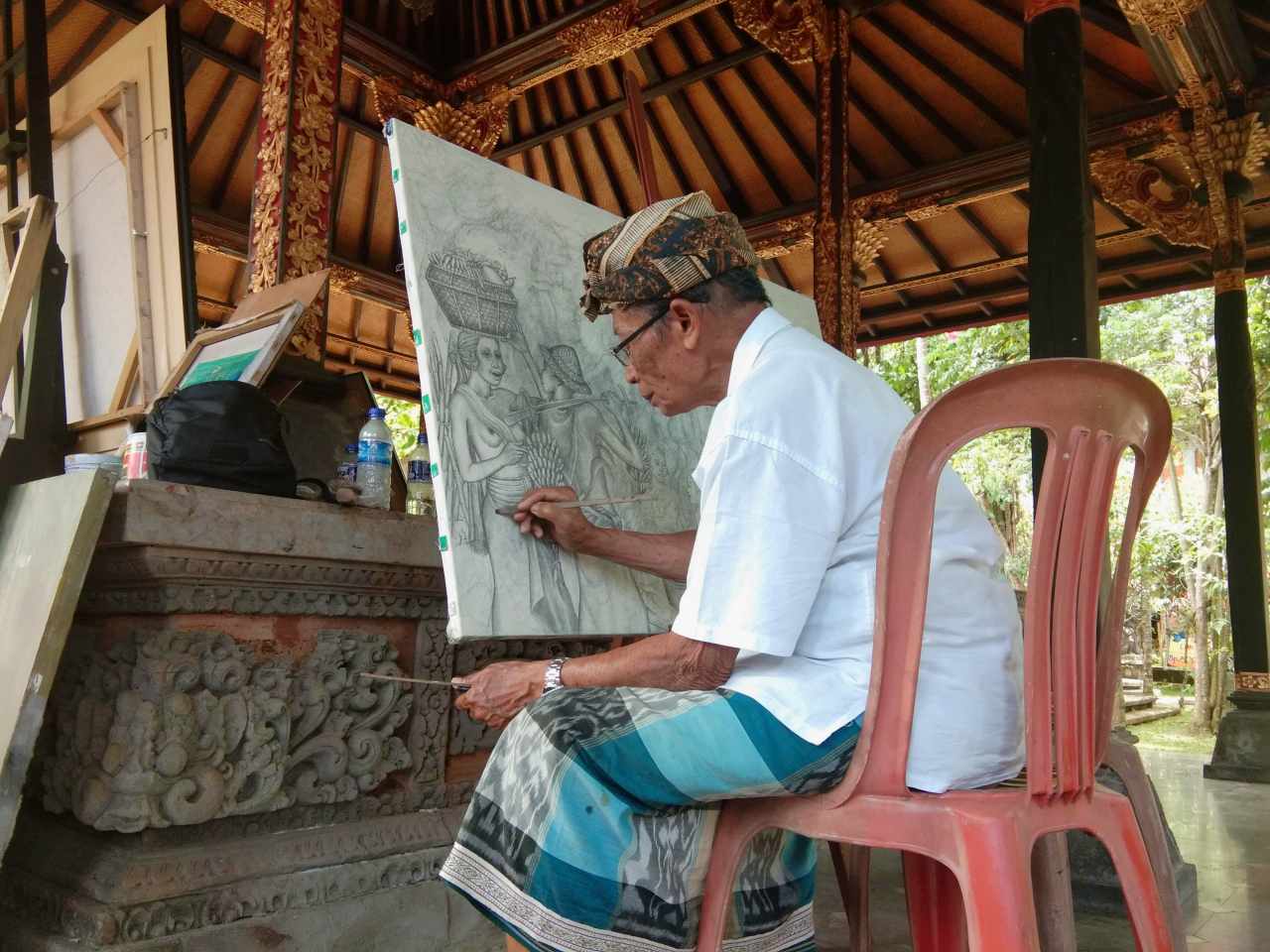 In December 1989, the museum was finally built. Nonetheless, that was not the end of Agung Rai's effort. The man also tried to get authorization for the museum. After 7 years, Wardiman Djojonegoro, the Indonesian former Education, and Culture Minister. Finally authorized and inaugurated Arma Museum.
Today Arma museum through the foundation continues to support the art and culture of Indonesia. Preserving and developing the art of Bali in particular. Promoting Balinese painters and supporting the community through art for generations.
ARMA Museum Art Collections
The paintings in Agung Rai Museum have been collected for years. In fact, some are Indonesian artworks from 80 years ago. The most impressive paintings that are displayed in the museum come from the Batuan era (1930-1940).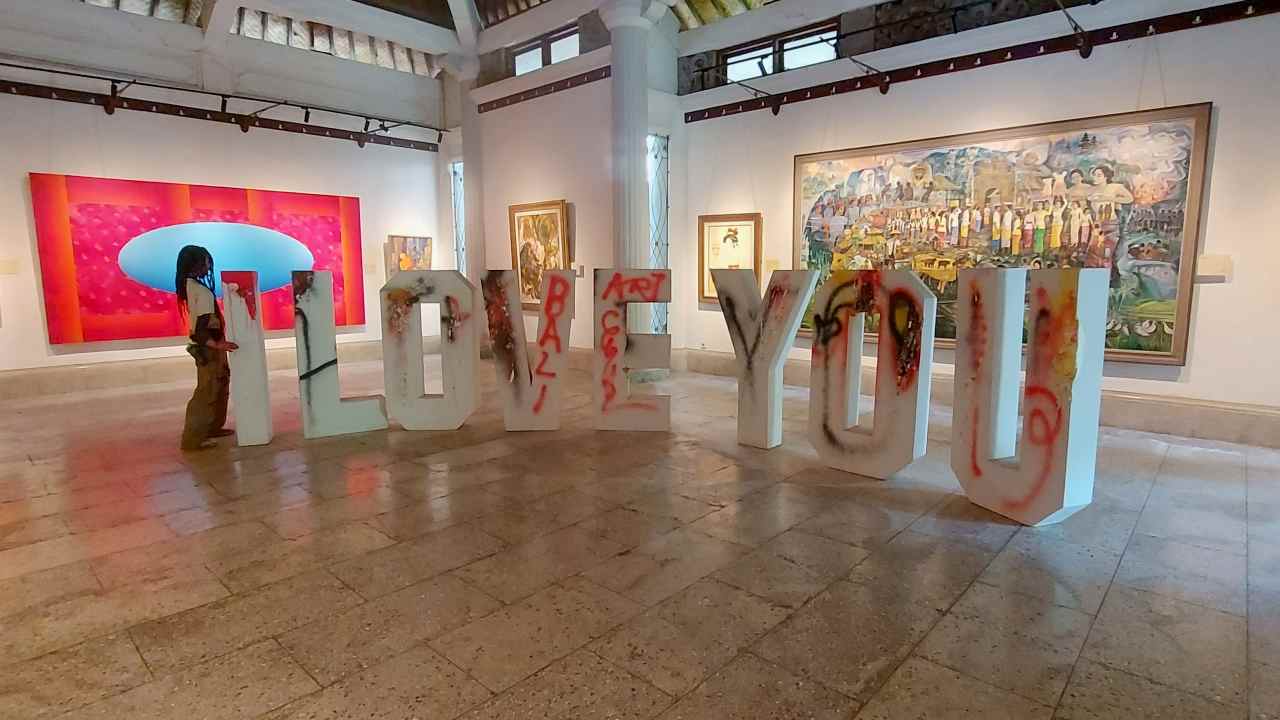 Some of the artworks are made by Balinese famous Batuan painters such as I Gusti Nyoman Lempad. In the painting, people can see Balinese typical activities through art. Nyoman Lempad tells a story of Balinese art through a painting titled "Dance Lesson".
Another legendary, Ida Bagus Made's painting titled Tumbal represents a story of strong Hindu heritage. The painting shows a man and a woman who came out from a Semara dragon. In Hindu culture, Semara is the symbol of the Gods of love.
ARMA museum also displays collections of famous Indonesian painters. Artists from different genres, such as Affandi, Srihandi Soedarsono, and Hendra Gunawan. The artworks of international artists Spies and Blanco are part of the museum collection too.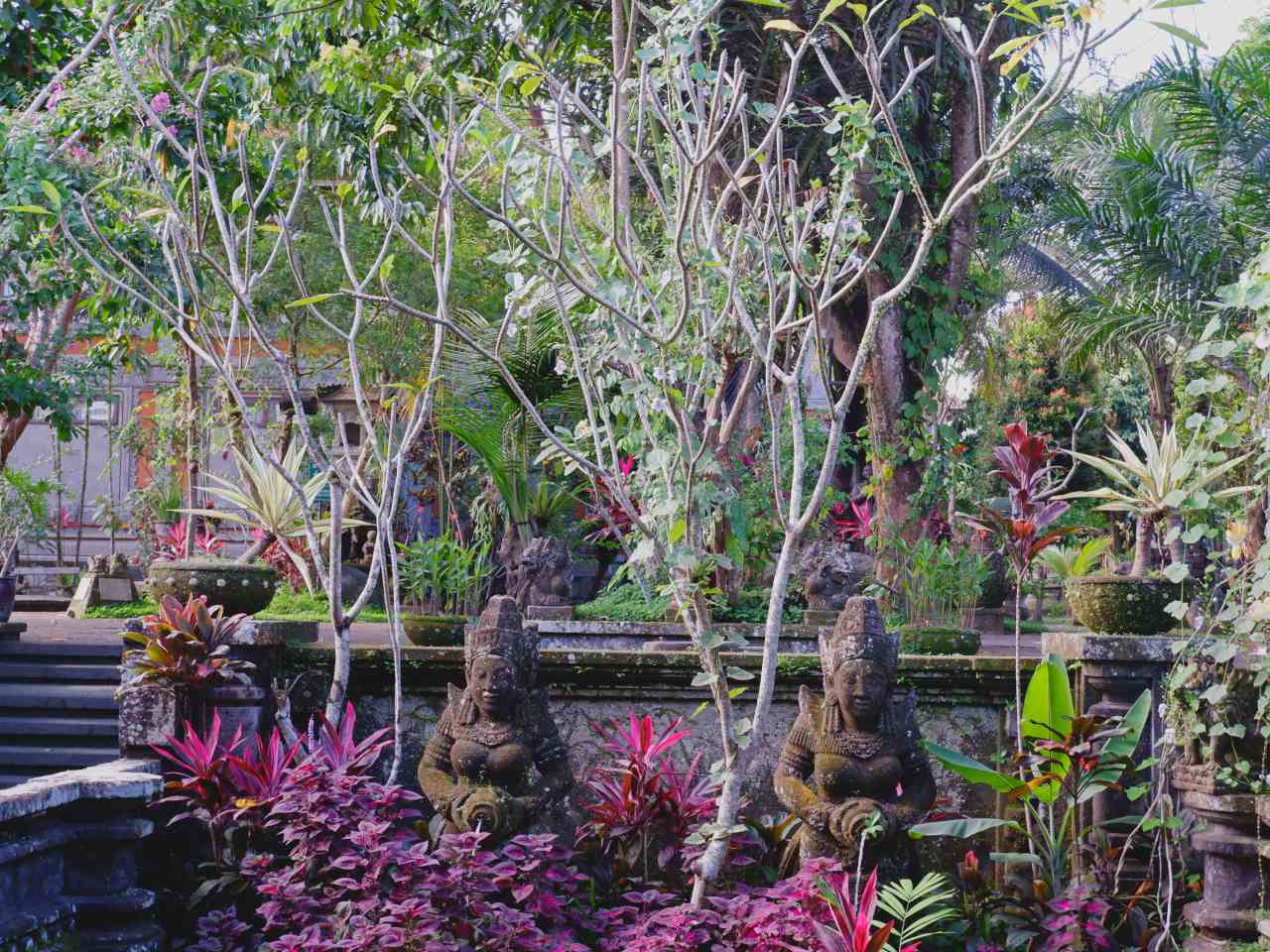 Walter Spies and Antonio Blanco are the artists that play a huge role in the development of Balinese art in Ubud. For their services, Spies and Antonio's collections are stored in a special place in the museum. Visitors can see the greatest artworks displayed on every side of the museum. Each painting sets in artistic frames that are all vintages.
Cultural Workshop
Experience Balinese culture and get close to knowing what the locals do. It is part of activities to bind with Balinese culture. Here ARMA museum offers various activities for visitors to learn woodcarving, cooking, batik class, and a dancing lesson. In addition, tourists could also learn to make offerings. It's something important and the daily routine of Balinese people.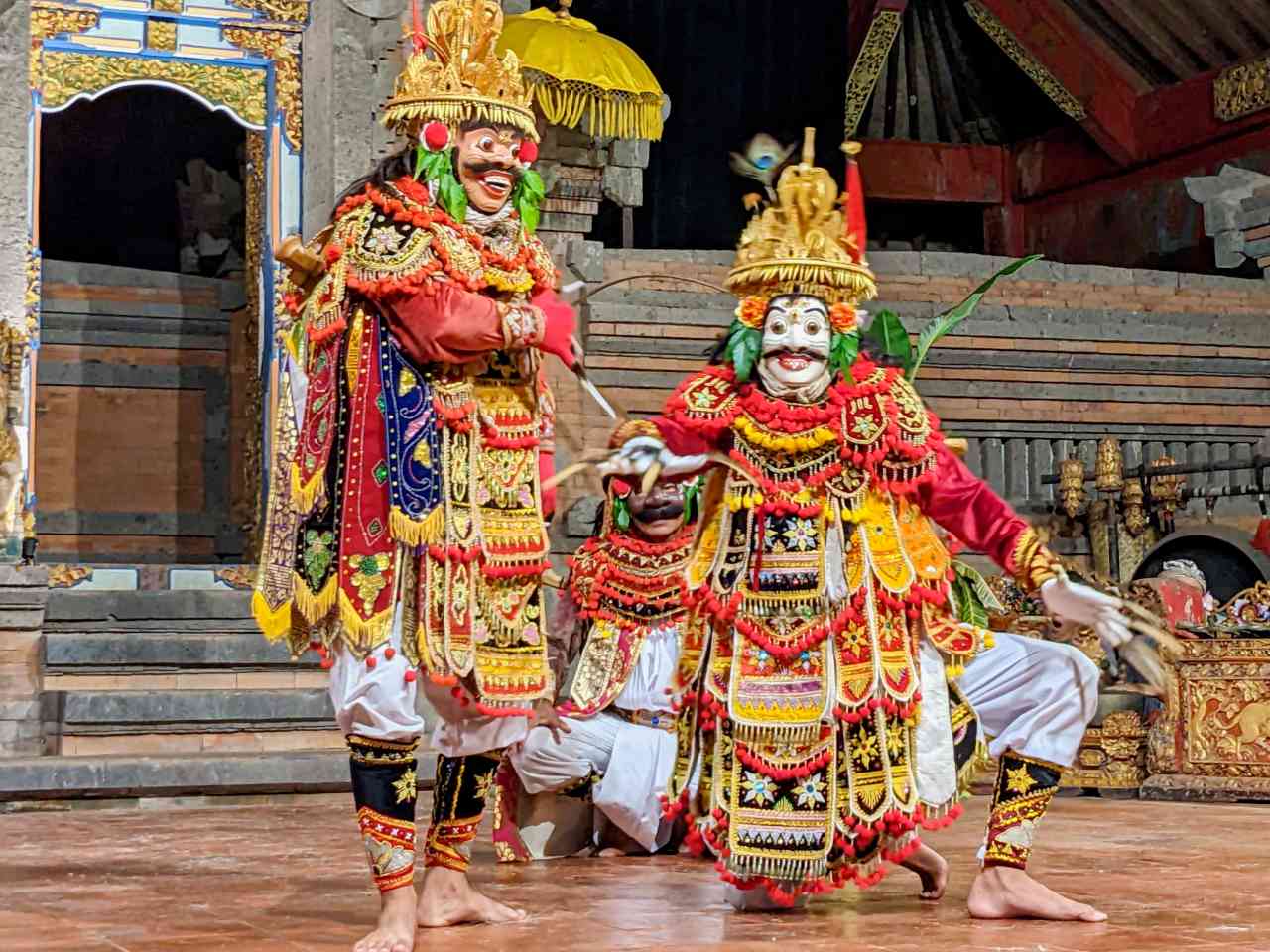 The cultural workshop is dedicated to various visitors ages. And for tourists coming with the children, there is a Balinese traditional dance class that is worth trying. The cultural workshop takes place in a spacious hall outside the galleries. The outdoor section is also the spot for a painting, silver, and handicraft class.
See: Melukat ritual & Guide To Explore Tirta Empul Temple.
ARMA Museum Dance Performance Schedule
The list of attractive things about the Agung Rai Museum of Art does not stop at the workshop. Furthermore, tourists can watch a Balinese dance performance. There are theatre, dance, and music performances as well. The performance is held 4 times a week and takes place on a large stage in the museum area.
Balinese Dance Performance Schedule in ARMA Museum
Kecak Rina Dance
Every full moon and New Moon
Legong Dance *
Sunday 07:30 pm
Topeng Jimat *
Wednesday 07:00 pm
Barong and Kris Dance *
Friday 06:00 pm
Legong Telek *
Tuesday 07:30
* Except Full Moon & New Moon, Terms and Conditions apply.
See: The Dozen Year Painting Collection in Puri Lukisan Museum.
ARMA Museum Cultural Workshop
The cultural workshop class is subject to availability and demand.
ARMA MUSEUM Cultural Workshop
Class
Price Quote in USD $
Golden Hour Village Tour
50.00/3-4 hours
Rindik Instrument Class
25.00/2-3 hours
Yoga Class
50.00/2-3 hours
Hindu Astrology Class
44.00/2 hours
Bali lecture class
44.00/2 hours
Bali history class
44.00/2 hours
Egg Painting class
44.00/2 hours
Silver jewelry class
45.00/3 hours
Lontar Leaf Painting
35.00/2 hours
Balinese offering class
35.00/2 hours
Balinese Painting Lecture & Tour
55.00/2 hours
Balinese Painting Class
44.00/2 hours
Balinese Batik Class
44.00/2 hours
Woodcarving Class
35.00/2 hours
Balinese Cooking Class
50.00/2 hours
Handicraft Basket Class
44.00/2 hours
Hinduism Practice Lecture
44.00/2 hours
Balinese Architecture Lecture
50.00
Balinese Gamelan Class
25.00/2 hours
Balinese Dance Class
25.00/2 hours
See: Tegenungan Waterfall Ubud, Activities & Entrance Fee
ARMA Museum Dance Performance Admission & Dinner Package
The traditional dance performance takes place in an open stage area inside ARMA Museum. There are 2 admission options, visitors can choose to see the dance performance.
ARMA Museum Balinese Performance Admission
Kecak Rina Dance
Rp100.000
Kecak Rina Dance + Dinner
Rp175.000
Legong Dance
Rp80.000
Legong Dance + Dinner
Rp155.000
Topeng Jimat
Rp80.000
Topeng Jimat + Dinner
Rp155.000
Barong & Kris Dance
Rp80.000
Barong & Kris Dance + Dinner
Rp155.000
Legong Telek
Rp80.000
Legong Telek + Dinner
Rp155.000
See: The Royal Residence, Peliatan Royal Palace.
Facilities
As the museum offers a beautiful view inside. Enjoying the view through the café must be amusing. The café-restaurant has both an indoor and outdoor space with a different concept and wide selection of cuisine. The museum store is available and sells souvenirs. In addition, the visitors can enjoy savory Balinese food in the museum's café.
See: Airport Transfer & Bali Airport Transpotation Guide.
Address & Location
ARMA Museum is located in Jl. Raya Pengosekan Ubud, Gianyar, Bali 80571.